If you wear an A cup bra – celebrate! Because of your small cup size, pretty much all clothing looks amazing on you. Just look at A cup queen Paris Hilton!
Having smaller A cups makes your body look more slender and modelesque. That's a plus if you want to wear trendy tube tops and bikinis without looking overly provocative and racy.
In this definitive A cup breasts guide, you'll learn how to properly measure your cup size to see if you have A cups. There are also some bra recommendations to make your boobs look and feel amazing.
We'll also answer some of your burning questions. Is an A cup too small? How can you tell the difference between an AA and A cup? And how do you style outfits with such small boobs? All of that and more are coming up, so stay tuned.
What is an A cup size?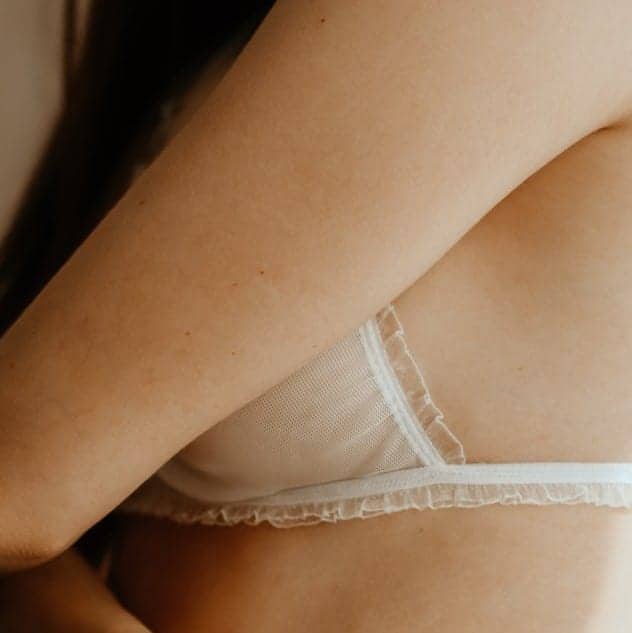 It's important to remember that everyone's breasts are unique. They come in different shapes, sizes, and perkiness. No one will have breasts that look the same as someone else's.
But when it comes to shopping for bras, there has to be some way to standardize sizes to ensure you're getting a bra that will fit you properly. That's where getting your cup and underbust size will come in.
See, every bra size consists of one number and one letter, like a 36C or a 38B. Getting your accurate bra size measurements involves a little bit of math. But don't worry—it's easy to do and requires just two simple steps. Here's how you do it.
Step 1: Measure your band length
Take your tape measure and wrap it around your body, aligned right on your ribcage. On an exhale, read your measurement in inches. Your number will usually fall somewhere between 26-44. This is your band size, aka how wide your chest area is.
Step 2: Measure your bust
Next up, place your measuring tape a bit higher so it sits on the fullest part of your breasts. This measurement in inches is your bust size. But hold up, you're not done yet!
Step 3: Get the difference between band and bust
Subtract your band length from your bust size. Each inch in the difference of the two corresponds to a certain cup size.
Check out this rundown of the most common bust and band differences and their corresponding cup sizes:
So if your boobs stick out by one inch from your chest, you're an A cup.
Of course, sizing charts are different depending on what brand you're buying from. Some lingerie brands like Pepper have their unique matrix for naming their bra sizes.
Notes on the A cup breast size
An A cup is considered one of the smallest bra sizes, so it's a common size that's super easy to find in lingerie shops. However, it shouldn't be confused with an AA cup, which is even smaller than an A. But more on that later!
It's also worth noting that A cups will look different on various body types and band sizes.
So it doesn't mean that if you have A cups, your breasts will always look small.
If your body is smaller and more slender, it will look proportional to your petite physique.
Examples of how different A cup bra sizes look
Let's take a look at these three real women trying on bras. They all wear an A cup bra, but with varying band lengths. This seemingly small difference in their band size can make their boobs look dissimilar.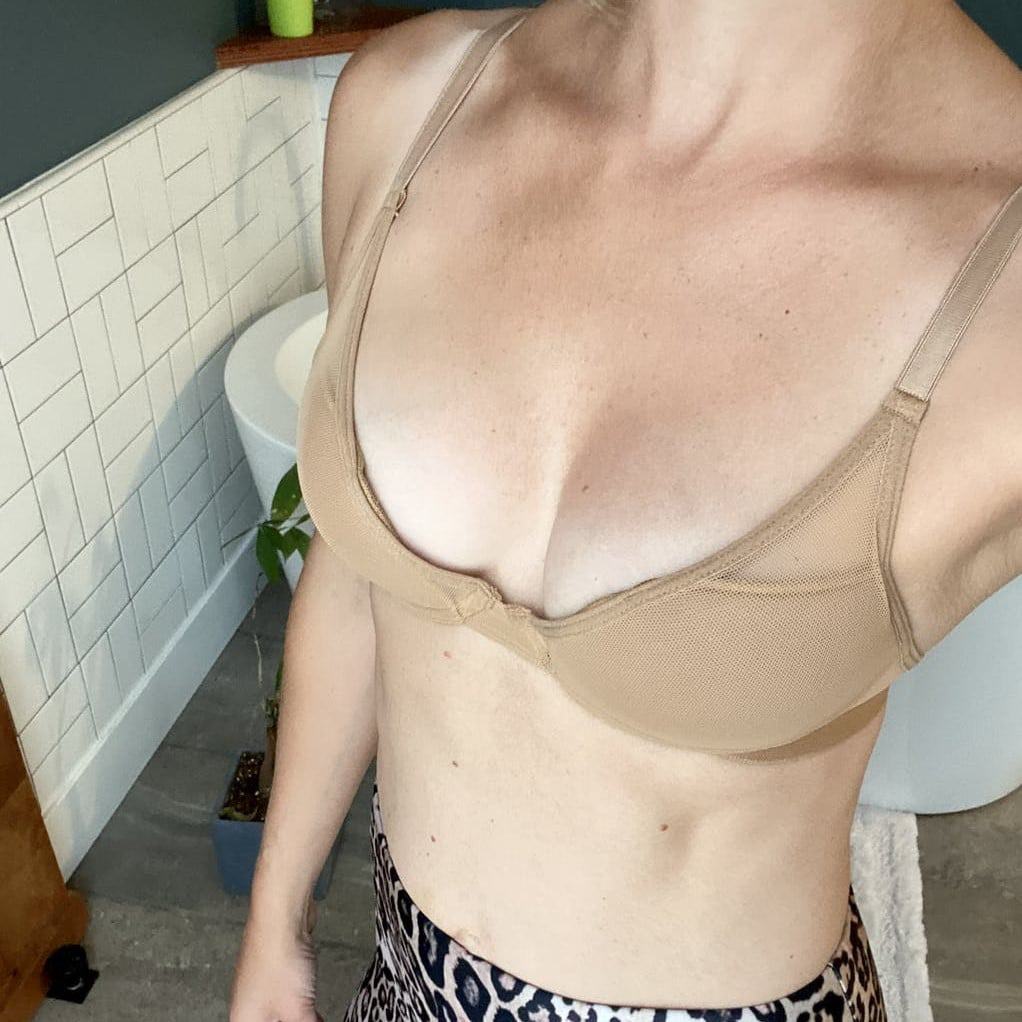 32 A Cup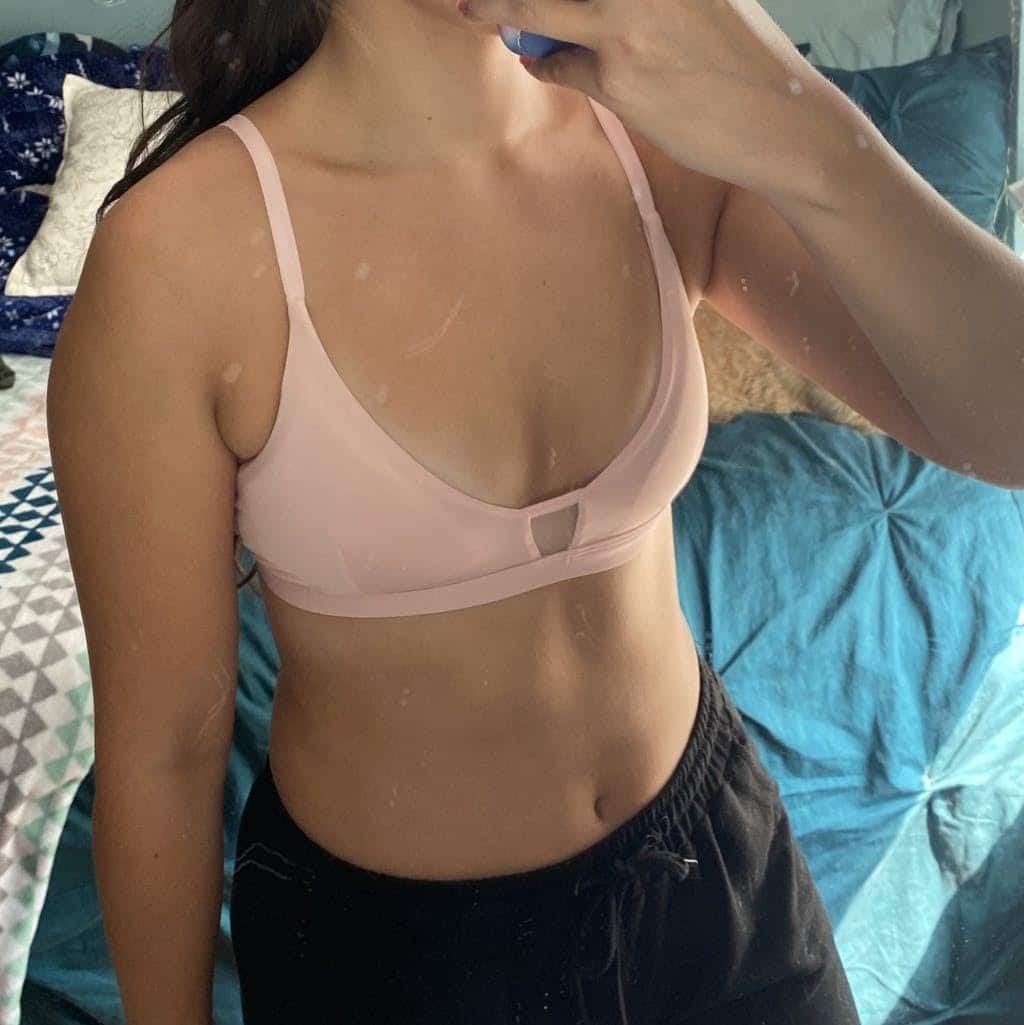 34 A Cup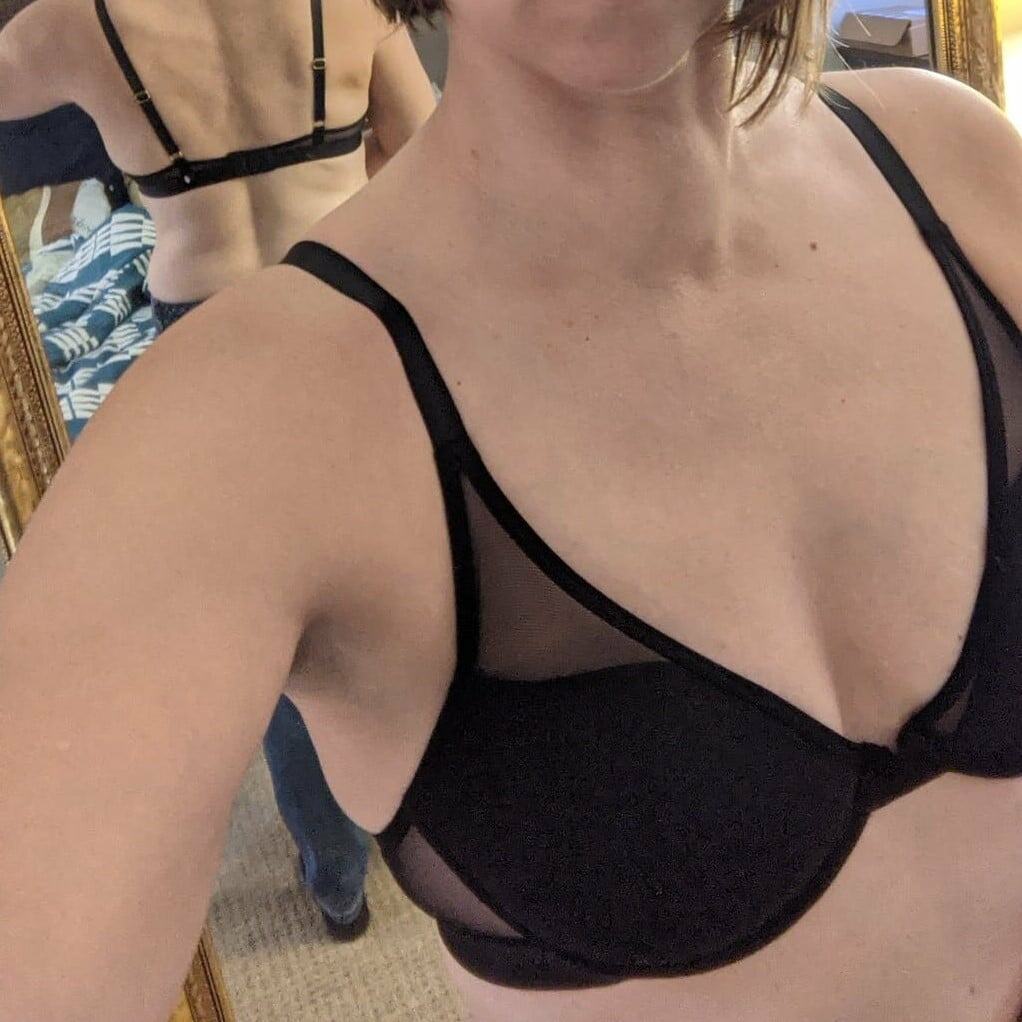 38 A Cup
The women in the blush-toned bra and black mesh bra wear bras in sizes 34A and 38A, respectively. Their bigger band sizes indicate that they have wider bodies. This makes their A cups look small or at least average in fullness.
But if you look at the woman in the nude-colored bra, you'll notice that her boobs look large compared to her body. Granted, they're not huge, but they still look fuller and more flattering.
This is because she wears a 32A, her band size suggesting that she has a small, petite frame. Smaller A cups tend to look a bit bigger against this kind of athletic frame.
Boobs will always look different, even if they're all A cups. That said, every A cup size will have sister sizes that are more similar to their size than other A cups with different band lengths.
You May Also Like: Angara Jewelry Review: Your New Go-To for Custom Fine Jewelry
To get your sister's sizes, you have to go up a band size and down a cup size. You can also do it the other way around—down one band size and up a cup size. So if you have a 34A, you can get away with wearing a 36AA or a 32B.
You can use these sister sizes as an alternative when you go to a lingerie store that doesn't carry your cup size.
How do A cup breasts look like?
All A cups jut out about just one inch from your chest area, so they more or less look small. However, there will still be small differences in how proportional they look against certain body types. A cup will look bigger on more petite frames, and smaller on plus-size, curvier girls.
A cup breast will also look different depending on the bra model. For example, a plain T-shirt bra with no underwire will make your boobs look more modest than in a push-up bra.
Take these two bras for example.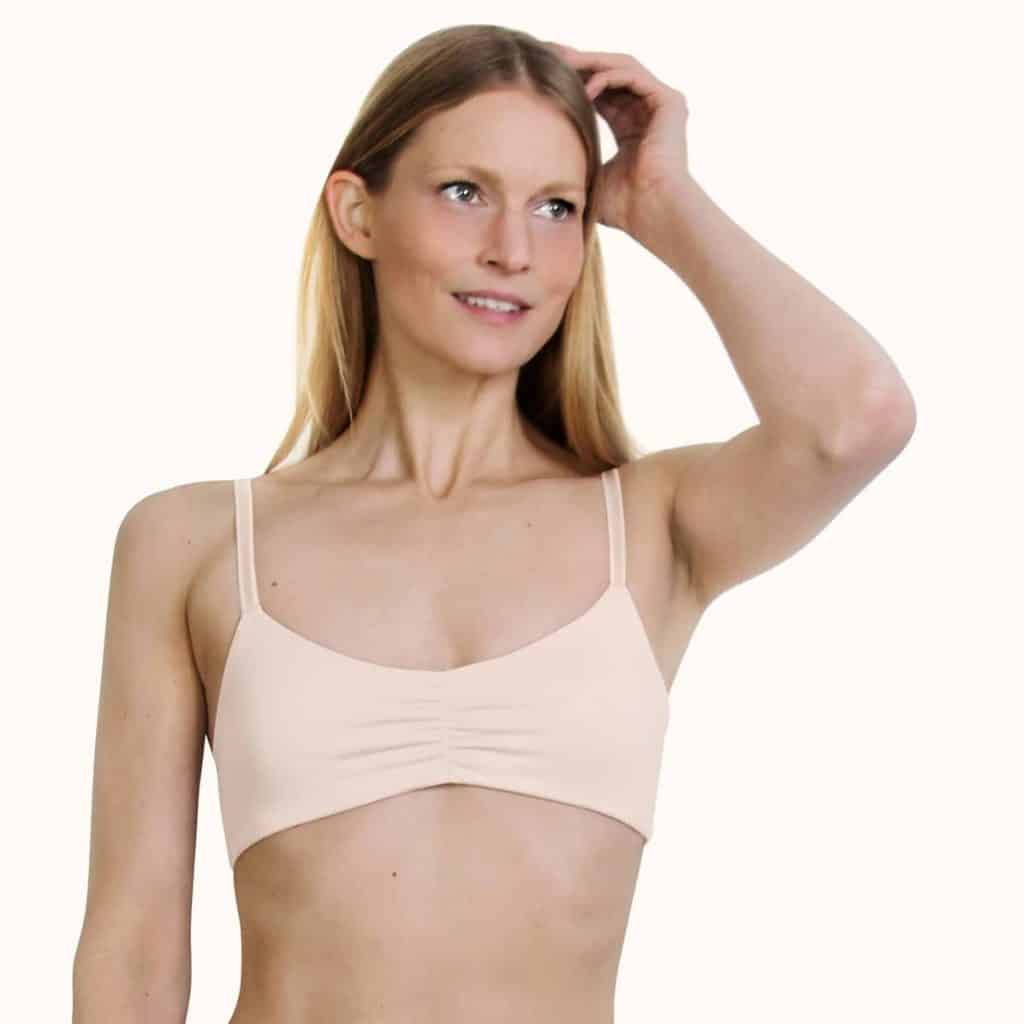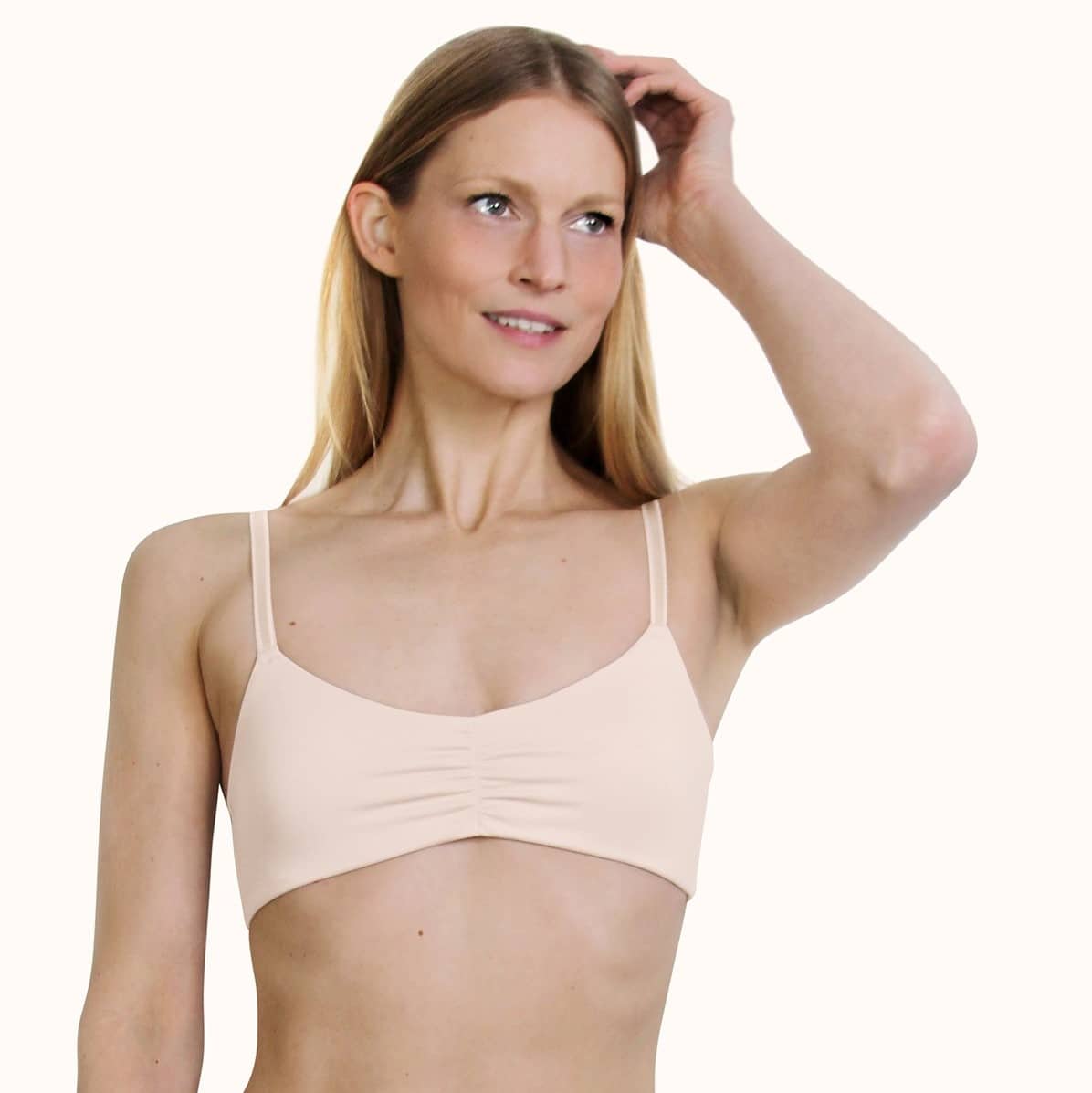 The Alysa is a wireless T-shirt bra that pushes the breasts back against the chest, kind of like a bralette. This specific bra model also has a cut similar to a tank top. This gives A cup boobs a smaller appearance.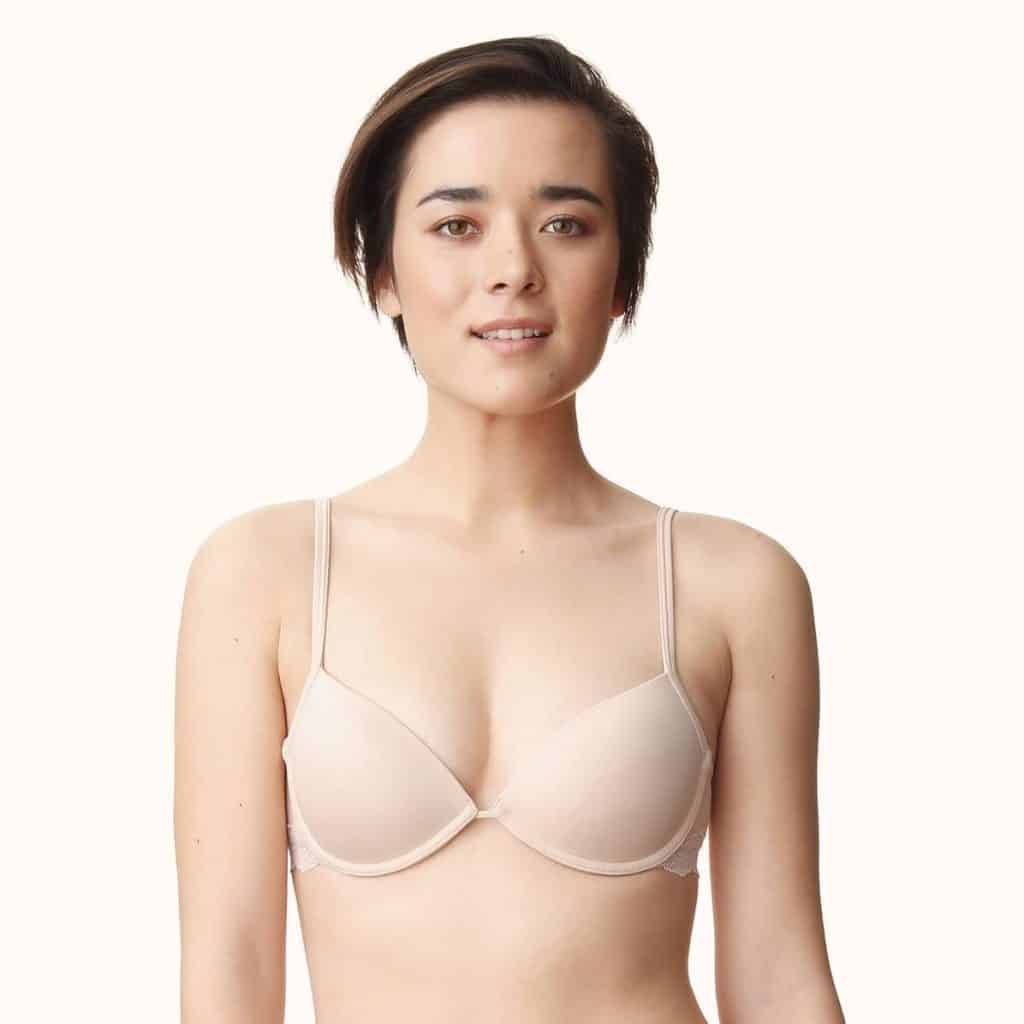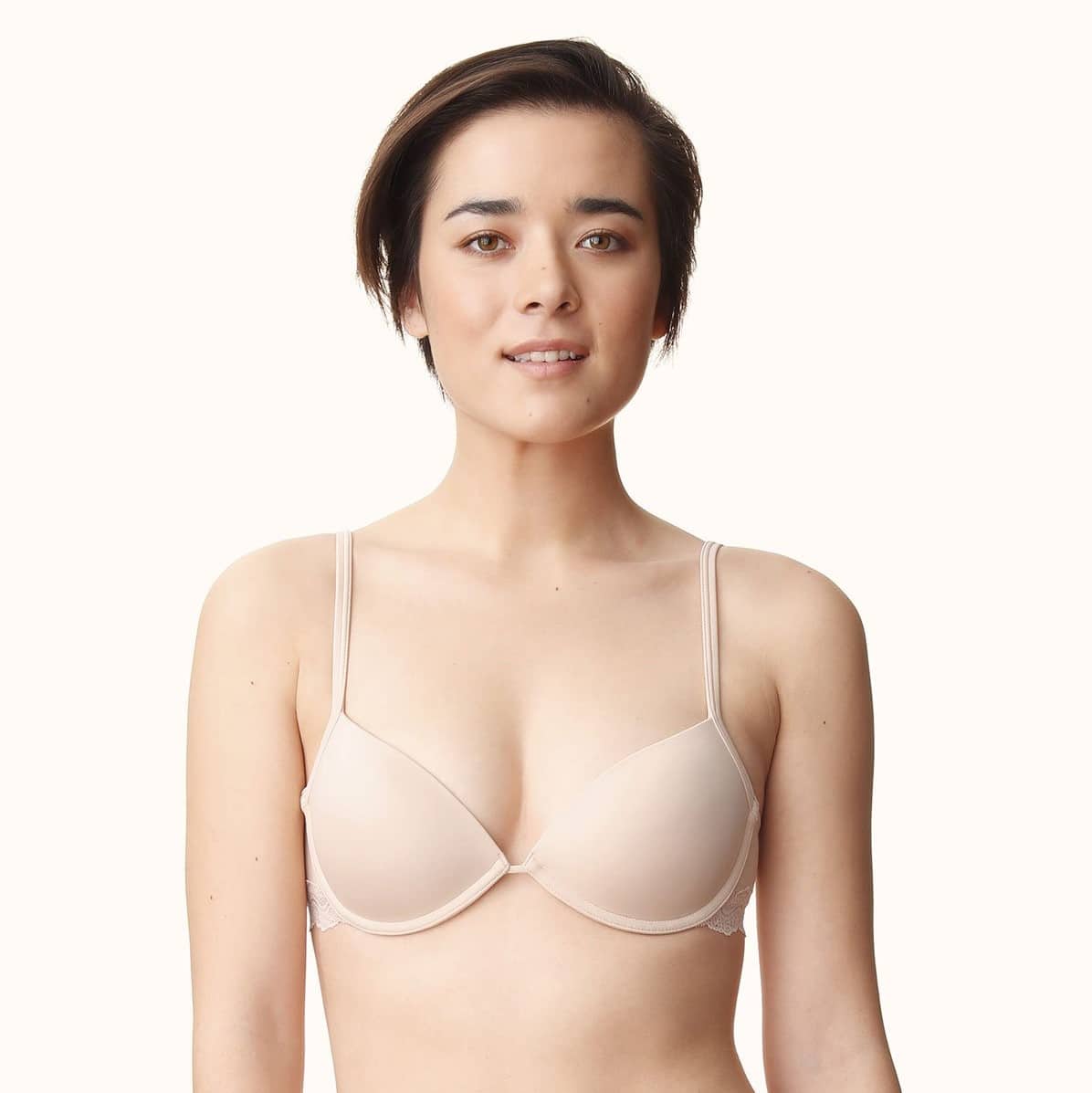 Meanwhile, the Zoe bra from the same brand has an underwire for support. It works to push up your breasts, giving the illusion that it's bigger and fuller.
So while the models in both photos wear an A cup, their boobs look vastly different because of the bra designs.
Is an A cup size small?
Yes, an A cup is considered small in the world of lingerie. It's two sizes down from a C cup, which is the gold standard for lush breasts. It's also three sizes down from a D, the first of what are considered the larger bra sizes for women.
What is the difference between an A cup and a AA cup?
If you're familiar with larger bra sizes, you'll know that a DD is larger than a D, and an EE is larger than an E. But it's the opposite when it comes to A and AA cups.
An AA cup is a bit smaller than an A cup, so it's perfect for preteens still going through puberty. It's also suitable for adult women with small frames and an athletic build.
While an A cup suggests that your boobs stick out by one inch from your chest, an AA cup juts out just half an inch. Some people consider AA cup bras merely a way to cover up their nipples. It's similar to a bandeau or bralette.
Note that this isn't how all lingerie stores define the difference between an A and AA cup. Brands will have their sizing chart when it comes to cup sizes. So when shopping for an A or AA cup bra, double-check with a store's sizing chart to ensure that your bra will fit you well.
Related: D Cup Breasts – Perfect D Cup Size Example, Comparisons & Best D Cup Bras
Best Bras for A and AA cup boobs
It can be difficult shopping for A cup bras. Most lingerie companies focus on B and C cups more often than not. And it's even more challenging to pick up a cute, trendy bra if you're an AA cup.
We've put together a list of the three best bras you should try if you have an A cup or lower. All of them are designed by lingerie brand that specializes in smaller bra sizes. Check them out!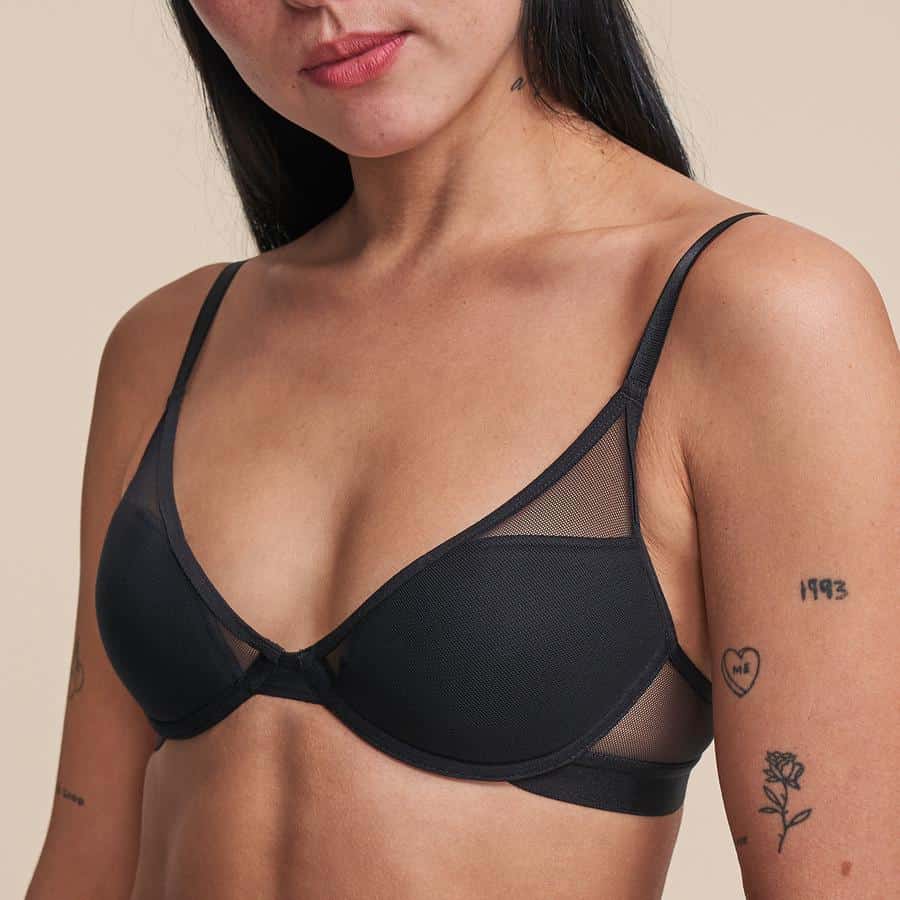 This bestselling mesh bra brings together sexiness and comfort. It's very flattering because an underwire pushes your boobs up a bit without being uncomfortable. This is thanks to Pepper's Authentic Lift™ design, which brings out the natural contours of your boobs.
The bra is designed for the utmost comfort so that it doesn't restrict you from moving around. It has shallow cups, allowing your boobs to rest and sit close against your chest. It's also made with sleek elastic so that your bra doesn't ride up your body and feel tight.
You can even get this bra in a bundle option. If you get two, you can save $10!
Related: Is G Cup Size Big? See G Cup Breasts Examples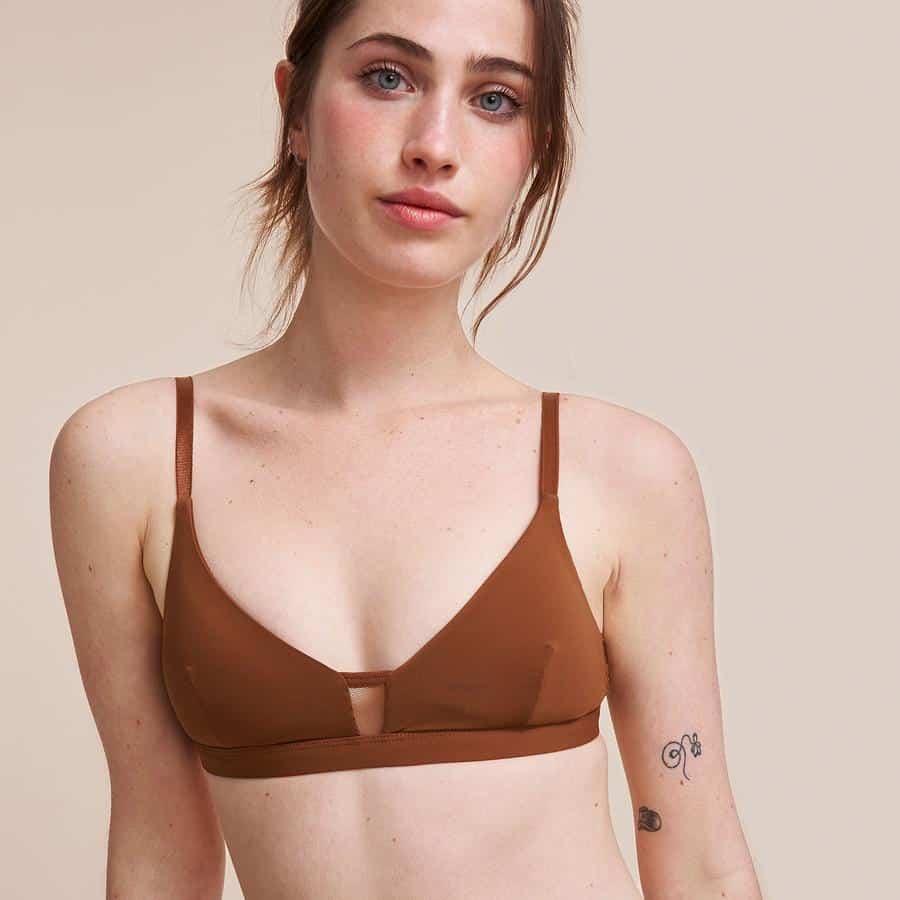 Pepper Limitless Wire-free Scoop Bra
Another Pepper bestseller is this wire-free bra. It's made with a unique ultra-soft fabric that hugs your curves. This fabric is lightweight, breathable, and adds a lift to your boobs without the discomfort of wiring.
This is a good bra to wear if you stretch and move around a lot. It's not technically a sports bra because it has a lot more style to it than functional workout clothes. It has removable pads in the cups, so you can wear it under your day-to-day outfits, too.
Pepper Laidback Lace Bra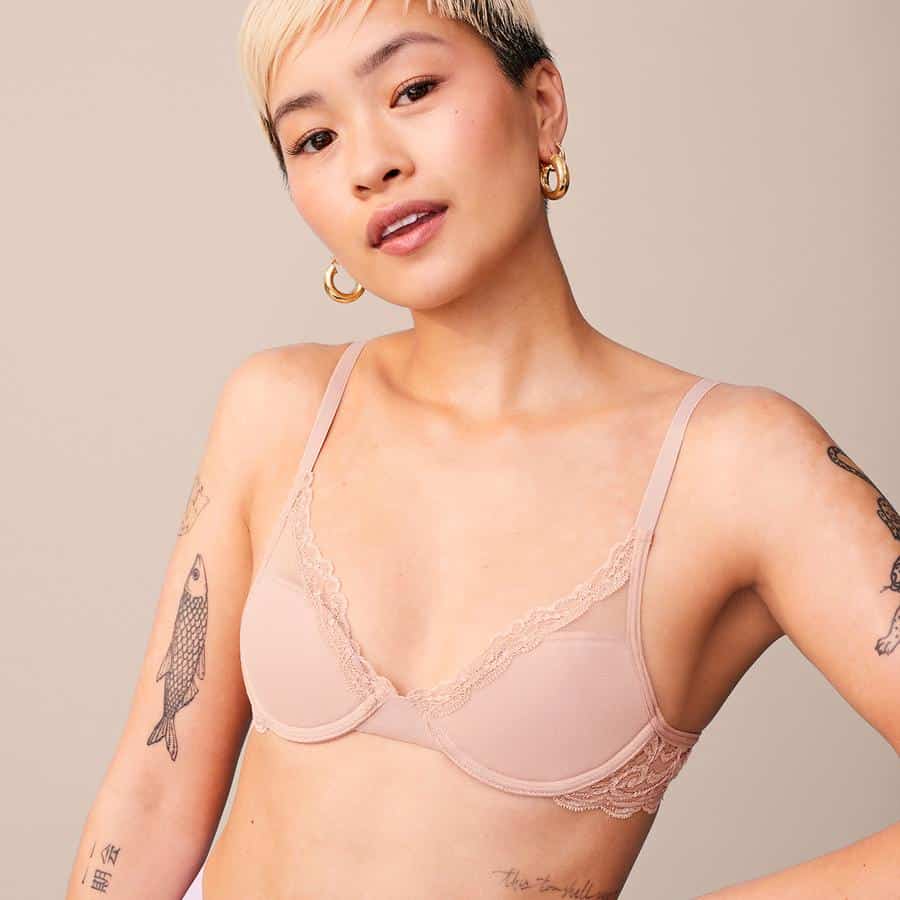 If you want something a bit sexier and have more attitude, you'll enjoy this breathable lacy bra. Unlike most lace bras, this one doesn't feel bulky or heavy on your chest. Instead, it has an uber-comfortable fit that will make you want to wear it daily.
The bra is built with Pepper's signature Authentic Lift™ design to hug your boobs to show off your natural curves. While it does have an underwire, it's optimized to curve in a comfortable position so it never hurts.
You can get this bra in three sultry shades—black, sienna rose, and coral.
Celebrities with an A cup breast size
There's a misconception that if you have smaller breasts, clothes won't look nice on you. It stems from insecurity many A-cup ladies have about their boobs not filling out a dress or tank top properly.
But as you can tell by the style of top celebs and models like Keira Knightley, Kate Moss, and Alicia Keys, small boobs can look chic.
All these gorgeous women flaunt A cup breasts, but they wear them with pride. When stepping out on the red carpet or stage, they wear outfits that flatter their boobs and make them look modelesque.
These three fashion icons are living, breathing examples of how small boobs can't stop you from looking your best. Turn to them for fashion inspiration when you feel lost about how to style outfits with your A-cup breasts.
A cup VS B cup comparison
A B cup is one bra size bigger than an A cup. Having a B cup means that the difference between your bust and band size is two inches, in contrast to an A cup's one-inch difference. You can check out our B cup breasts guide by clicking here.
If they have the same band sizes, a B cup will always be bigger than an A cup. So if you're comparing a 34A and 34B, the 34B bra will accommodate fuller breasts.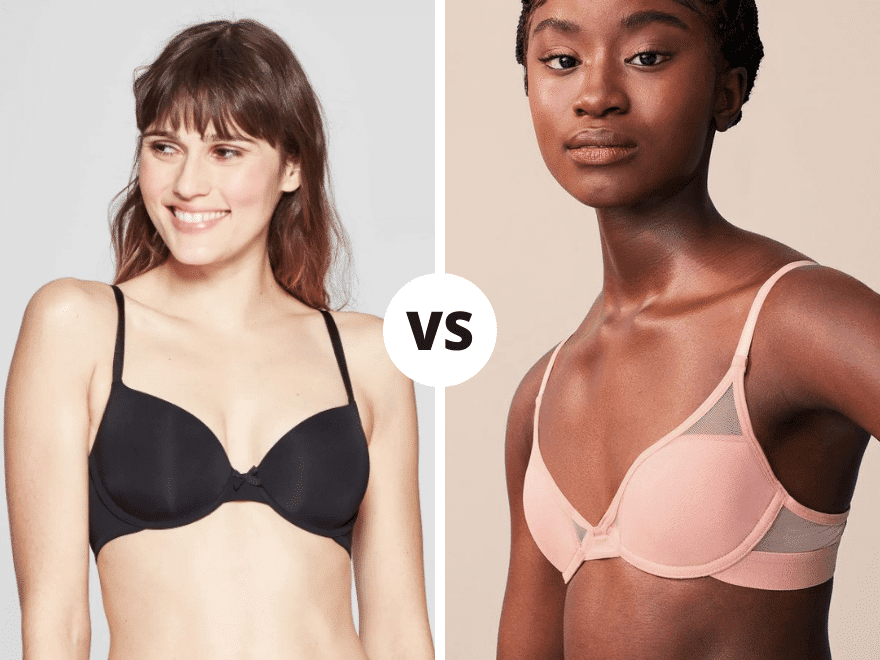 Take a look at these two models. One is an A cup, while the other is a B cup. While both of their breasts are small, you'll notice that the woman wearing a B cup bra has fuller breasts.
That said, A and B cup boobs can still be similar in size and volume if they have differing band lengths. For example, a 36A and a 34B cup are sister sizes. This means that someone with a 36A size can fit in a 34B bra comfortably, and vice versa.
Final Words
All bra sizes are beautiful! As long as you pick out the best bras to flatter your silhouette, your boobs will look fantastic whether they're big or small. Use this article as your guide to measuring your cup size correctly and hunting for the best A cup bras.
A and AA cup-size boobs are among the smallest out there. But it's not as rare as you think it is. Most lingerie should carry a wide range of bra models for you if you have breasts this size.
Think your boobs are a bit bigger than an A cup? Check out our B cup breasts guide here to see the five best bras for you!