DooFood Review – We've tried the Korean Meal Kits, and here is what we think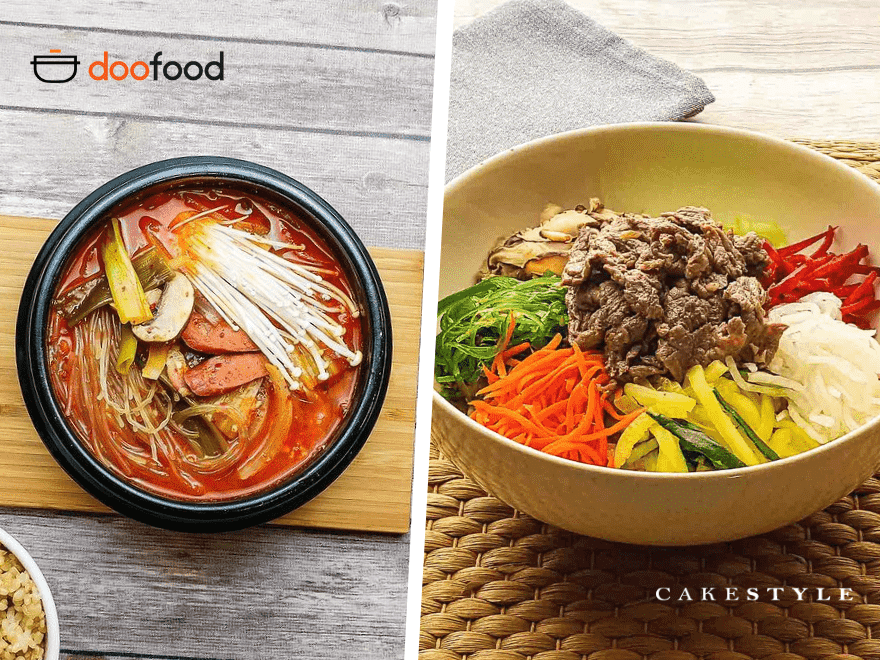 From storing gochujang sauce in the pantry to going on late KBBQ nights with friends, Korean cuisine is all around us. It's all the rage even in the US today, thanks to the "hallyu" or Korean culture wave.
But anyone who loves Korean food knows it's a struggle to prepare at home. It's especially so for beginner cooks with no Korean background. In addition, there are tons of spices, chili pastes, and specialty meats in Korean cooking. So, it can take a while to master how to cook even one Korean dish.
If you love Korean food but don't know how to make it, this review is for you. Today, we're talking about DooFood—the Korean meal kit that helps you whip up K-cuisine at home. As long as you have a pan, a bit of olive oil, and 15 minutes to spare, DooFood helps you prepare Korean food in no time.
We've tried 4 of the brand's bestsellers. Here's what we have to say.
About DooFood
DooFood was founded by a Korean-American who loves Korean food but doesn't enjoy making it. And that's very understandable. Korean dishes are difficult to prepare because of the unique cooking methods involved. It takes hours to marinate, boil sauces, and chop up all the veggies to make one meal.
So, in 2017, this Korean-American launched DooFood, a prepped Korean meal kit service. Each kit allows anyone to create Korean dishes in 10-15 minutes instead of hours.
It comes with prepped and cut ingredients. You don't have to bring a knife to chop anything up. All that's left for you is to put them in a pot or pan and cook them! The meal kits are unbelievably easy to cook. Even someone with zero cooking experience can make the food in minutes.
The goal of the company is to allow every American household to try authentic Korean cuisine at home. So, they make it as easy and convenient as possible for you to cook Korean dishes. So, you get the ease of cooking and delicious, flavorful meals all at once.
DooFood is based in Queens, NY, where they started their service. In 2019, they expanded to the Northeast and Midwest. And last year, they started delivering their meal kits nationwide.
The brand has a small but growing Instagram account. Here, they post photos of their delicious meals and announcements for the delivery services.
Ordering from DooFood
DooFood has over 90 Korean meal kits available. They have every Korean comfort meal, from teokbokki (spicy rice cakes) to jajangmyeon (black bean noodles). Of course, they have fan favorites like bulgogi, stews, and Korean BBQ.
After picking what Korean meal kit you want, the rest is simple. Choose a delivery date and place your order. Then, wait until your order arrives at your doorstep, and get cooking!
The ingredients in the kits are pre-washed, pre-cut, and ready to cook. They're high-quality, non-GMO, and have no MSG or sub-therapeutic antibiotics.
These ingredients stay fresh for 5-7 days. Make sure that all meats and proteins are kept in the freezer. Meanwhile, vegetables always go in the fridge.
Most recipes only require a hot pan and some olive oil for cooking. A few of them use a colander. But none of the kits need you to chop up ingredients with a knife.
You don't need a subscription to place your orders. Just order as you wish according to the dates you want. Note that the minimum order is $60.
The company provides free shipping to areas within two days of ground transit from New York. This includes the Northeast states and a few others, like Georgia and Illinois. A bit farther states require air transit, which costs $35.
Our DooFood Meal Kit Reviews
Bulgogi BBQ: The all-time favorite Korean beef dish
Arguably the most popular Korean dish out there is bulgogi BBQ. It's flavorful and has veggies to match but isn't so intimidating for those new to Korean food.
This kit is awesome for someone who wants to make dinner in five minutes. Just throw in the beef, onions, carrots, scallions, and some sauce in a hot pan with olive oil, and you're as good as done. The hearty meal has 480 calories, so it's light but filling.
Spicy Pork BBQ: Korean meat with a kick
If you want something with that signature chili taste of Korean cuisine, try this pork BBQ. Add the pork, onions, king oyster mushrooms, peppers, and scallions to a hot pan with oil. Stir well, and you're all set to eat it in five minutes!
Even if this is spicy meat, it also has a little bit of sweetness to it. That way, the flavor profile has so much depth and versatility.
Rice Cake Soup with Dumplings

This soup is worth trying if we're talking about new flavors. It tastes great and is very easy to make. You'll find yourself just following these directions without reading the instructions ahead.
And they're so easy; you won't believe how fast you can get dinner on the table. So give this one a go one day.
Kimchi Stew with Pork Belly: The most popular Korean stew
You can't talk about Korean food without mentioning kimchi. Making a stew out of this cabbage dish is one of the most popular ways to eat it.
This one takes a little longer to cook, at 13 minutes, but it's still super easy. Just toss the meat, onions, and sauce in to cook it in a pot. Then, add water, kimchi, and paste sauce. Please bring it to a boil, add your tofu and vegetables, and you're done!
This stew is spicy, fresh, and intensely flavorful. It's the perfect treat on a cold, rainy day.
Pros and Cons
Pros:
Delicious, authentic Korean food
Easy to cook, so it's perfect for beginners
Ingredients are always fresh, never frozen
Faster than ordering food delivery
Delivers nationwide
Choose from 90+ Korean dishes
Non-GMO and no MSG
The menu is frequently updated
Cons:
The minimum order is $60
Shipping is expensive for states far from New York
DooFood Customer Reviews
A few YouTube videos of happy customers showing off their yummy, easy-to-make Korean food.
The So-So Life channel posted an unboxing and cooking video for DooFood's udon noodles kit. They show how the dish is a one-pot meal that is more than enough for two people.
RebeccaReviews had a more detailed review of Korean Meal kits when she tried it out. She and her partner show the bulgogi BBQ cooking process step by step, guided by the kit's detailed instructions. "This is good. I like it," they said at the end of their cooking. "A+ for the taste!"
They also praised how the ingredients are color-coded. That makes it easier to know which ingredients go with each dish.
DooFood vs. Wooltari
You might be asking, why buy Korean meal kits when you can get food from a Korean retailer, like Wooltari? Well, the biggest difference is that Wooltari foods are frozen. Meanwhile, DooFood ingredients are always fresh.
Buying from DooFood also gives you the experience of cooking Korean food authentically. Distributors like Wooltari essentially make you heat frozen food.
| | | |
| --- | --- | --- |
| | | |
| | | |
| | | |
| | DooFood is company wirh authentic Korean Meal Kits with homemade quality and fresh ingredients | Wooltari is a Korean food retailer |
| | | |
| | | Frozen PK Kimchi stir-fried meat - $9.45 |
| | | |
| | | |
| | Free shipping for Northeast, East of Illinois, and North of Georgia. | Free shipping on orders over $199. |
| | All ingredients are packged in an insulated box with frozen gel ice packs just before the shipping. | |
| | | |
Is DooFood worth it?
Yes, they worth it if you want to try cooking authentic Korean food in 15 minutes or less. It's awesome for beginners in the kitchen.
If you're a Korean cuisine fan, you'll love DooFood. It's an excellent way to eat fresh, high-quality Korean food. Since a Korean-American prepares it, you get all the strong, authentic flavors you can't recreate alone.
Remember that the minimum order for doorstep delivery is $60. But we bet that minimum won't be too hard to meet once you see the extensive Korean menu. So try them out today and tell us what you think!