HOW TO STYLE A STRIPED TEE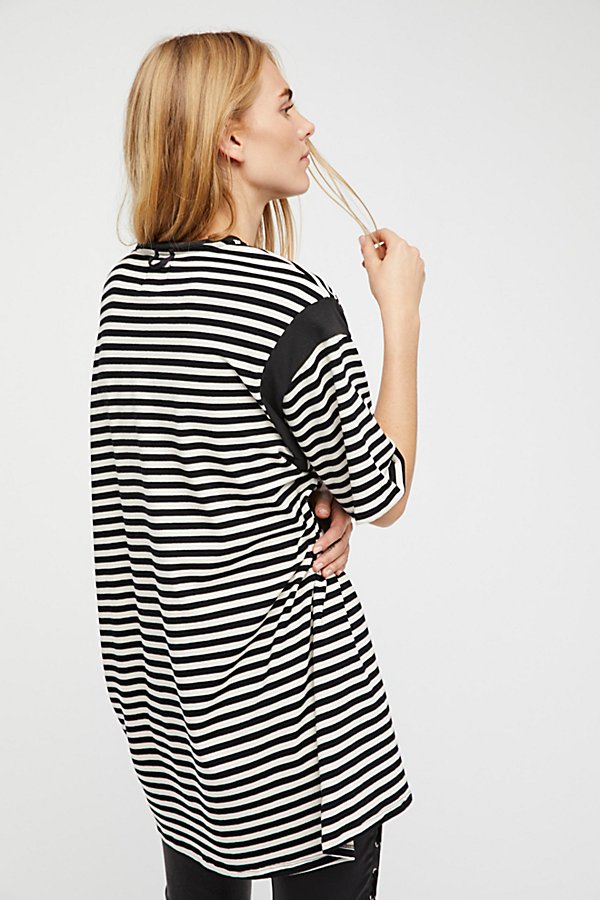 Stripes are a classic look that never goes out of style, and they're having a major fashion moment right now! No matter your style, a striped tee (or tank) is a great staple piece for summer. Since stripes can be tricky to wear (we've all heard that horizontal stripes are a major fashion don't), we put together two outfits to demonstrate how to effortlessly style stripes for a classic or edgy look.
Polished and Classic: Even though 4th of July is over, there's still a place for red, white, and blue in your wardrobe! In the look on the left, we paired this 3/4-sleeved striped tee by Olive & Oak with white cropped skinny jeans by Paige Denim. The color combination reads preppy or nautical, but I also think it gives off a chic, French vibe, especially when paired with the gold flat sandals, satchel bag, and stud earrings. This is a great weekend look for when you want to take your comfy clothes up a notch.
Bold and Edgy: The look on the right shows off one of our favorite ways to pattern mix – combining stripes and florals! Pairing two graphic patterns together may seem risky, but as long as they have contrasting scales (the floral print on the skirt is much more concentrated than the wide stripes on the tank) and complimentary color palettes, you're safe to mix them! We pushed the look all the way to the edge by adding a bold statement necklace and bright shades, so we kept the sandals and bracelet pretty simple to let the other pieces shine. Even though this outfit incorporates horizontal stripes, the high-waisted pencil skirt defines the waist to make sure the overall look is flattering.
As an affiliate partner of various brands and sponsored content, CakeStyle may earn commission on qualifying purchases. Disclaimer | Advertise With Us