Bras are made to offer women support and comfort all day long, whether at the office, working out, or out and about.
Of course, not every woman feels the need to wear a bra, but those who do prefer it for their comfort and appreciate a good fit.
The fit is the most critical aspect of bra shopping. Something too tight will leave you feeling sore and uncomfortable. A bra that fits too loose will not offer the support necessary to do your daily activities. On the other hand, a bra that fits just right will have you ready to take over the world! Okay, maybe not so much. But – the right fit is so important, and it feels good.
The one-shoulder bra could be the breath of fresh air you are looking for. Today we made a list of the best one-shoulder bras, according to customers. I won't lie to you, after seeing them, I've already ordered a сouple for myself.
Now dive into our review to find a perfect bra for you!
1. Running Girl One Shoulder Sports Bra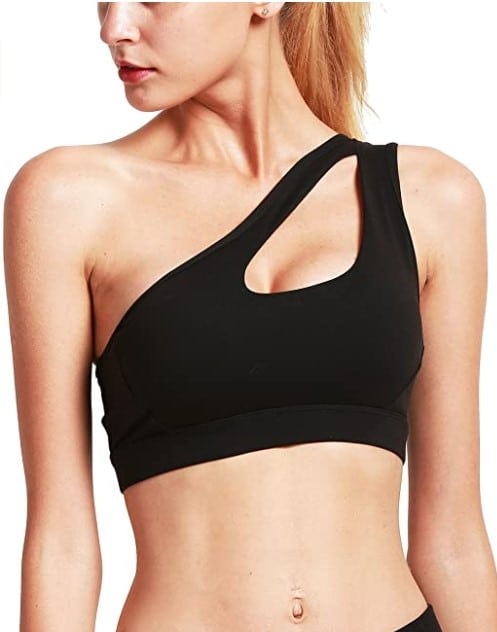 Best Sports Bra
Pros:
You can wear it as a bra or bare midriff top
Ideal for everyday active lifestyle such as sports, gym, yoga, walking, or even going out for a lunch date
Comfortable
Fits a variety of chest sizes
Cons:
Take measurements before buying, some women find the sizes run small
Running Girl one-shoulder sports bra is a bestseller on Amazon. It is perfect for multi-use, including yoga, pilates, or just a personalized workout routine.
It is also perfect for post-surgery and needs something extra comfortable for support that won't constrict their chest area too much.
The strap is located on the left shoulder, and it is comfortable and cool to touch. The fabric is a four-way stretch and sweat-resistant, designed not to shrink. It is smooth and provides long-lasting comfort, which we need in a bra!
This bra is the best fit for A to C cups.
2. Ouyishang Strappy Yoga Workout Sports Bra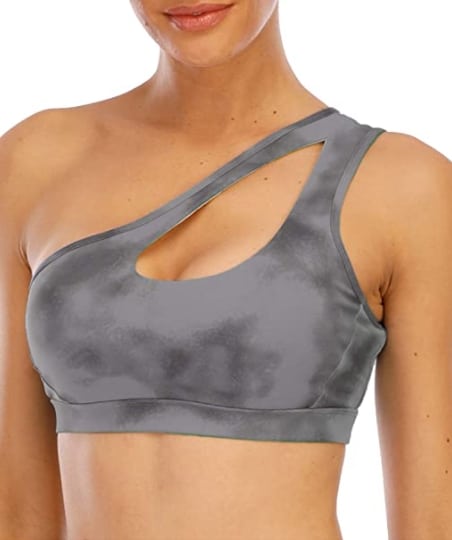 Best Yoga Bra
Pros:
The bottom of the tie-dye sports bra will not roll up, and it will not be too tight
Lot's of stretch and breathable fabric makes your chest and curves look and feel great
4-way stretch and moisture-wicking fabric
Cons:
Not for a high impact activity
This strappy bra is available in two different tie-dye colors. It's strappy and twists with ease, providing ventilation to keep cool. Some people have found it even helps to reduce stress!
The medium support is ideal for an everyday active lifestyle like working out, playing sports, or doing yoga and leaving you to feel fashionable at the same time.
It is padded with removable pads for your comfort. It can be worn under any top you own and look great without one as well.
3. Armorina One Shoulder Metallic Crop Bra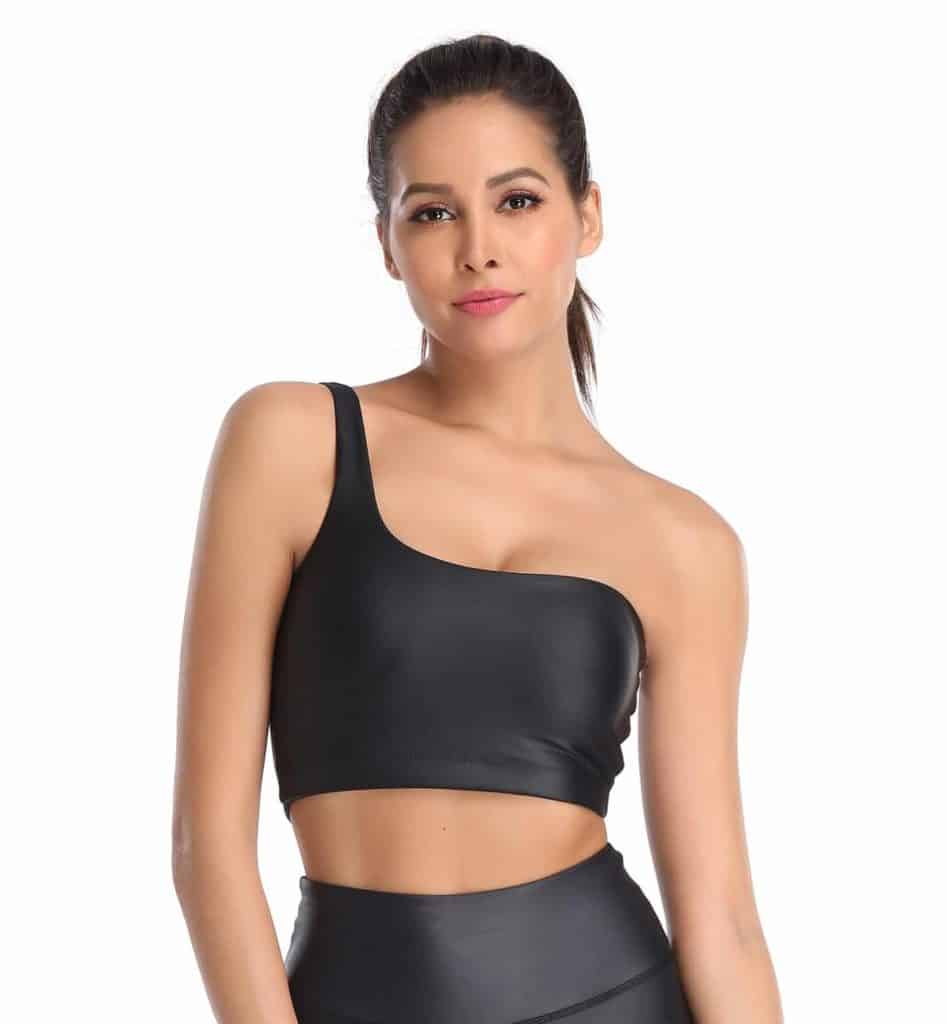 The Most Stylish Bra
Pros:
Looks great and chic
Versatile can be used for workouts as well as going out
Cons:
This style is not for everyone
Armorina has this super chic one-shoulder bra. The piece is versatile and excellent for indoor workouts or an outdoor date night.
This one shoulder metallic crop bra has removable pads and is consistent with medium support. It is also moisture resistant, a fantastic feature for those who sweat during their workouts.

You'll be sure to look stylish during your workout in this one-shoulder bra.
4. Melyum Women's One Shoulder Sports Bra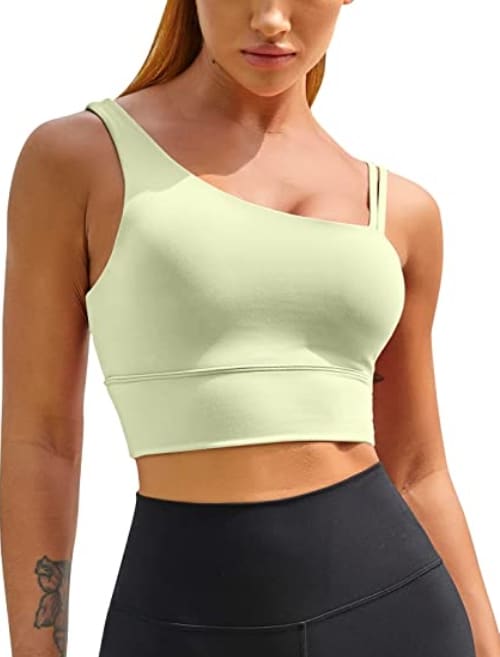 Best Bra for Small Breast
Pros:
Seamless and soft, made of ultra-soft breathable fabric
Has supportive straps on the right shoulder
Suitable for all body styles, even girls who struggle to find bras that fit their chest area
Cons:
Some customers complain that the small double strap falls down
This one-shoulder bra is available in black and white, as well as five more gorgeous pastel shades. It could be worn as a crop top and not just a bra, as it does cover the upper part of the abdomen.
The elastic strap of the push-up shoulder bra provides medium support and will provide you with all-day and long-term comfort.
The longline sports shoulder bra has high elasticity and is absolutely wire-free and lightweight, suitable for women of all shapes and sizes. The padded crop top and shoulder bra give you a great and natural shape.

This one-shoulder bra is ideal for low to high-impact workouts.
5.
Airlift Excite One Shoulder Bra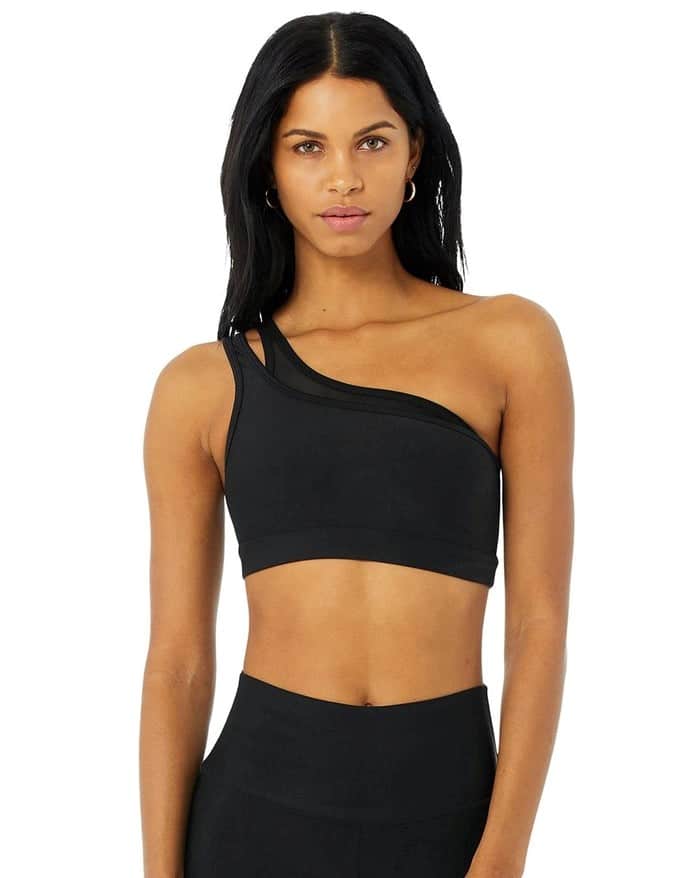 Best Non Padded Bra
Pros:
Perfect for light, everyday support
Odor resistant
Cons:
There is no padding if you are into some additional support
Airlift symmetrical bra is layered of sculpting performance over sheer micro-mesh fabric that is perfect for working out in style. We love the peek from the straps in the off-shoulder strap. This piece would look excellent solo with high waist jeans or leggings.

Another feature to mention is that this particular top is odor resistant and moisture resistant.
It offers light support convenient for everyday activities and is designed to fit every size.
6. Youloveit One Shoulder Sports Bra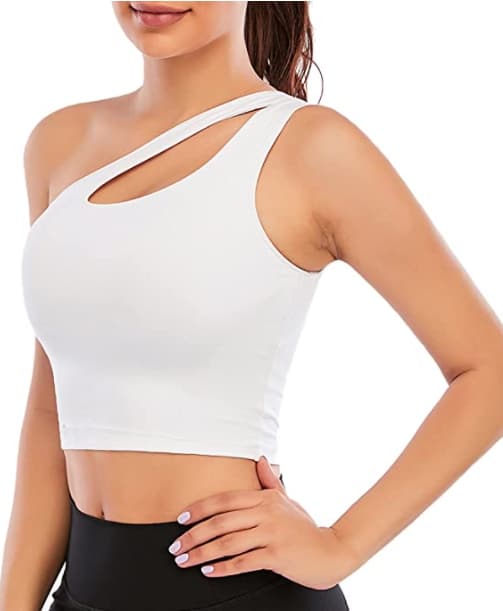 Best Support
Pros:
Built-in sports bra to provide additional support
Mesh lining that is breathable and uses quick-drying materials to provide you with more coverage
Cons:
Make sure you take your measurements before ordering as it can run small
This particular shoulder sports bra is made of lightweight and moisture-resistant material that will keep you refreshed during an exercise. It is mainly made for working out and keeping you comfortable.
This workout top has a built-in bra to provide enough support and has removable pads for easy insertion or removal.
The shoulder strap of our longline sports bra is on the left side.
Bottom Line
With the variety of shoulder bras available, you'll be sure to find one that fits you perfectly! We definitely think any of the tips mentioned are worth it.