What We Do
Knowing that your time is valuable, we work tirelessly to provide unbiased review lists on the most in-demand products as well as styling guides on how to wear the trendiest pieces. We believe that by providing trusted and detailed guides we can make your life a little better and less overwhelming.
You may not have the time to shop or the guidance to know what will work for you. That's why we offer our fashion experts' advice! We want to help you build the wardrobe of your dreams without compromising your valuable time.
How We Do It
In order to provide content that's relevant to you, we use big-data algorithms to analyze trending topics you may be interested on. Our team takes their time to carefully analyze and compile the most detailed information about different topics: top-rated products from a specific brand, the hottest trends from this season, styling advice on how to wear a trendy piece, among other topics.
We research user reviews, social buzz and trends, best-seller lists and recommendations from leaders in the fashion industry to provide you with trustworthy information so you can relax and shop without the hassle.
We do our work to save your time. We make discovering sustainable style a piece of cake!
We've been featured in:

---
---
Mallory Sills, Stylist
Content
Content Mallory is a professional personal stylist and makeup artist. She lives in Chicago with her yorkie, Chloe. A true fashion fanatic, she's been immersed in the industry for over two decades. During her free time, she enjoys working out, reading a good book, and spending time with friends and family.
---
---
Melissa Fiorentino, Stylist & Trends Forecaster
Content
Melissa Fiorentino is a stylist, and trends forecaster, specializing in women's fashion trends. She is the author of the official CapsuleWardrobe.co book, and a staff writer at Cake Style. When she's not working as a personal stylist, or predicting the next big fashion movement, you can find her creating UGC for Cake Style's brand partners.
---
Celina Morales
Partnerships
Her love for fashion and arts has given Celina the opportunity to live in four different countries in the last decade. From working with a haute-couture designer to developing a private label for a department store, she has acquired a deep knowledge of the fashion industry.
---
Our Mission
We want to help you step up your fashion style by providing you with the best guidance on what to buy. Shopping with confidence is our ultimate goal for you!
Having an overwhelming amount of shopping possibilities only results in frustration. However, dressing stylishly and according to your lifestyle is something you shouldn't leave out of the game. We know that how we dress impacts directly on how we feel, and we're here to help you feel your best.
We hope you can trust us like a friend who gives you the best fashion advice.
---
Our Story
CakeStyle was founded in August 2011 by Cecelia Myers and Millie Tadewald. Inspired by the constant shopping and style frustration from colleagues, Cecelia decided to offer a solution to their complaints in order to simplify their experience with fashion.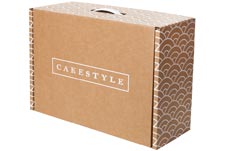 Cake Style started as a virtual personal styling service for women who wanted to step up their style, providing hand-selected outfits based on each user's wants and needs. Members filled out a 21-question survey about their style, size and requests and received a curated box containing four to six complete outfits with pieces from designer brands like Diane Von Furstenberg or Elie Tahari.
However, keeping our desire to simplify women's shopping experience, we decided to pivot into a platform where they could easily find the best recommendations from experts on fashion, trends, beauty and lifestyle products. We understand that most people find themselves too busy to engage in the overwhelming and time-consuming experience of shopping, and we want to do our contribution.
---
FAQ
What's the "Advertiser Disclosure"?
We usually add affiliate links to our posts and may earn commissions for the traffic we refer. However, our main goal is to provide you with unbiased information so that you can decide on your own what's best, and we only include products and brands we back. You can rest assured knowing that our published content is fact-checked and reviewed to ensure that the information provided is accurate. If you find something outdated or untrue, please let us know so that we can correct it right away.
Can I suggest content for Cake Style?
We would love to hear your suggestions! You can send us an email and our team will review it. Please note that we can't guarantee that your request will be accepted.
How do you rank your lists?
Our lists are created with the help of big data algorithms that researches, aggregates and index information from the most popular online shops, blogs and magazines. Reviews, best-seller lists, ratings and editorial recommendations are key elements that help our algorithm find the best content for you.