10 Stores Like Dolls Kill for Rebels and Fashion Misfits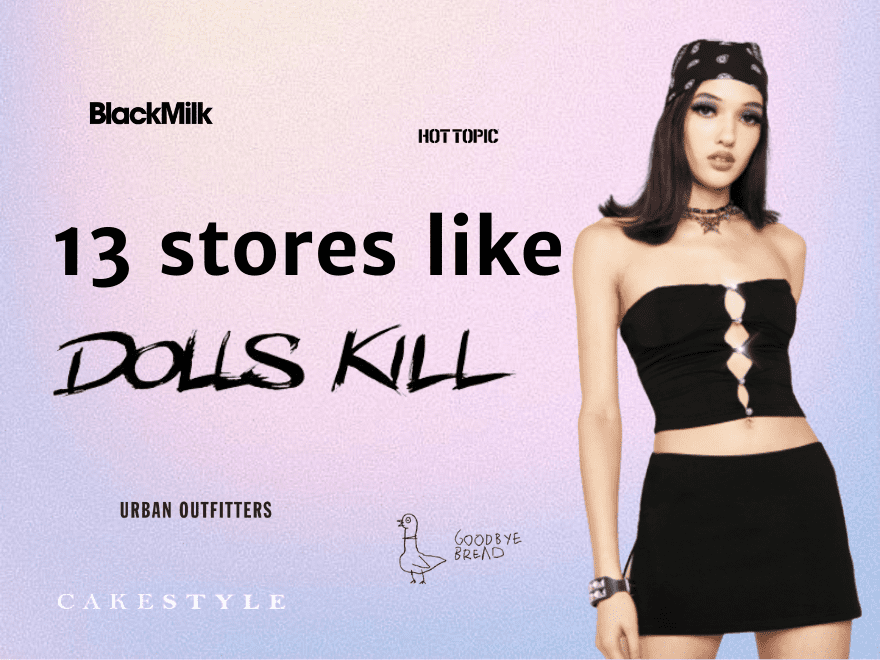 For goth fashion lovers and cosplayers, Dolls Kill is a go-to store. It offers various outfits for festive moments like Halloween, glam festivals, and the general fashion rebels who dress to spook! But what happens when you can't find just that perfect item you're looking for on Dolls Kill? A store can only offer so much.
We have compiled a list of ten online boutiques that offer suitable quality outfits as affordable as Dolls Kill while still styling you to kill. They also sell products for rebels and fashion misfits, making them stand out. These online stores are:
HOT TOPIC
If you love pop culture, you definitely should check out Hot Topic! Fashion apparels for guys and ladies that help you resonate with your favorite pop bands are available at the store—going out for a concert or show?
As an affiliate partner of various brands and sponsored content, CakeStyle may earn commission on qualifying purchases. Disclaimer | Advertise With Us
You don't want to miss the chance of rocking outfits made especially for the love of your favorite artists.
Hot Topic has products for customers from age thirteen upwards. This store offers more than outfits; it is a whole community in the USA spilling with a love for music and selling art made from it.
---
URBAN OUTFITTERS
Since 1970, Urban Outfitters has delivered outfits for all seasons to fashion moguls in the USA. It is pretty more expensive than other stores in this category, but it offers discount sales every once in a while, and you can hop on that!
Products ranging from vintage wear to beauty accessories are sold at the boutique. It is a retailer that takes your fashion game to the next level by offering millennials and hipsters alternative outfits.
All orders made from Urban Outfitters also come with zero shipping cost.
---
LAZY OAF
Like Dolls Kill, Lazy Oaf is a store made especially for non-conformists of fashion standards.
They sell outfits inspired by youth nostalgia and teenage rebellion, and their products sometimes have a cartoony feel to them. Outfits from Lazy Oafs promote flippancy of societal norms and stand you out in a crowd of boring people with boring wear.
A peek at the online store website would expose you to the quirky and colorful retro-based fashion wears they sell and the distinctive outfits that create a warped sense of humor.
With Lazy Oaf, you can always keep it weird.
---
NASTY GAL
You are a party girl, and you haven't shopped from Nasty Gal? Then you might be missing a lot. Nasty Gal offers varieties of trendy clothes for young ladies to rock at parties and have fun. Being a store for only women, you are the price and can never run out of options.
The wears are comfortable and sexy and seek only to bring out its shoppers' fun and adventurous part. There is no better choice than having a good time while still making heads turn and looking your best!
---
GOODBYE BREAD
For emerging fashion outfits and accessories, Goodbye Bread has got you. Based in the USA, Goodbye Bread curates a selection of unique brands, with products ranging from dresses, to shoes and bags to fit. They run a product return policy of 60 days and offer free shipping for orders above $80.
You can share fashion ideas and get inspired while still shopping at Goodbye Bread to stay ahead of fashion evolution, kill your best looks, and rock your unique fashion sense.
---
ASOS
Now here's an online store with plenty of options to choose from. Asos is a UK-based global fashion and cosmetic retailer online store that sells looks for all seasons. Whether you want simple, classy, or graceful sophisticated clothing, you get it all on Asos.
Coupled with the fact that these wears are affordable and for all genders, Asos has a collection of various brands to choose from. You get all you need to take your style to the next level.
---
MOTEL ROCKS
Motel Rocks is a UK company that promotes fashion inspired by the youth market. It's a women's fashion boutique that majors in selling indie vintage fashion wear, printed wear, bags, and complementary accessories.
Outfits from Motel Rocks, like Dolls Kill, are trendy and affordable. And unlike Dolls Kill, they are focused only on women's wear, which means you never run out of style!
For orders above $100, Motel Rocks offer free shipping of products.
---
GENERAL PANTS
A store that brings together the most OK edit of fashion wears from music, art, and other urban cultures in one place. It is the purveyor of fashion internationally but is based in Australia. You are allowed to curate your style with General Pants by combining fits inspired by different purposes.
As well as selling international brands, General Pants also sell local brand wears ranging from streetwear to skate clothing to surf wear.
They run a 30-days item return policy and offer free shipping of goods for orders above $99. You have low to no risk of getting a lower quality of outfits than you paid for.
---
PRINCESS POLLY
In just two years, Princess Polly has made a name as the powerhouse for teenagers and Gen Z fashion in the USA.
This online store started as a walk-in store in a beach-side apartment in Australia. It is the perfect choice for trendsetters looking to blow up their social media with hot looks in fresh styles.
Outfits for festive periods and colorful seasons can be purchased at Princess Polly at affordable prices. There are also available discounts for new customers!
---
BLACK MILK
If you're looking to stand out in as simple an outfit as sexy leggings, you definitely must check this store out.
Black Milk is an online fashion store based in Australia that majors in selling form-fitting dresses and cosplay outfits.
Shopping at Black Milk makes you find various styles that accentuate your figure and keep you looking your best or steal the look of your favorite movie character. This is why it's another good substitute for Dolls Kill.
---