Fur parents like having their beloved pets plastered on everything. Whether it's a pillow, mug, or painting, anything that reminds them of their fur baby makes them happy.
But if you're obsessed with your pet, you could take it a step higher and get a stuffed animal that looks like them. It may sound eccentric for some, but it makes total sense for pet owners.
That's what the brand Petsies aims to deliver. They want to bring good memories of furry family members to their owners with cute, huggable replicas of their pets.
Let's take a closer look at what the brand offers.
About Petsies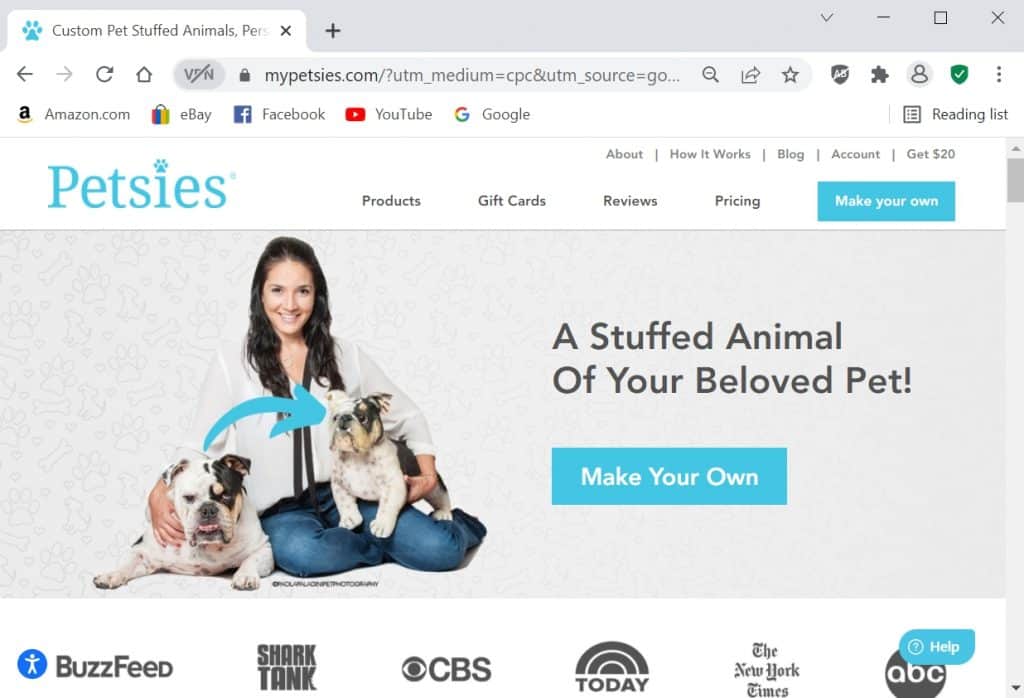 Petsies is owned by Florida brand Budsies, a renowned plush manufacturer. This company launched in 2013, and they've made more than 100,000 custom plushies since.
Petsies' goal is to celebrate the lives of your beloved pet through plushies, pillows, and more. You can get products that look just like your cats, dogs, bunnies, birds, and even horses! They use faux fur, so don't worry about animal cruelty.
Every pet is unique and has its own story to tell, so each plush is custom-made. You can also get socks, keychains, and pillows. The team behind Petsies is pet-obsessed too. So, they understand the demand for these products.
Petsies has a K9 program that honors fallen K9 doggies by creating plushies of them. They're donated to the officers who trained them when they were alive. It's a terrific way to remember what dogs do for their country.
The brand has brought happiness to many fur parents' lives. So, they've been featured in top publications like The New York Times, Buzzfeed, and more.
Today, Petsies has 77k followers on Instagram and 57k likes on Facebook. In the latter, there is a strong community of happy customers.
Petsies is great for those who:
Are crazy fur parents
Have recently lost their beloved pet
Want a unique plushie that looks like their fluffy family member
How to order from Petsies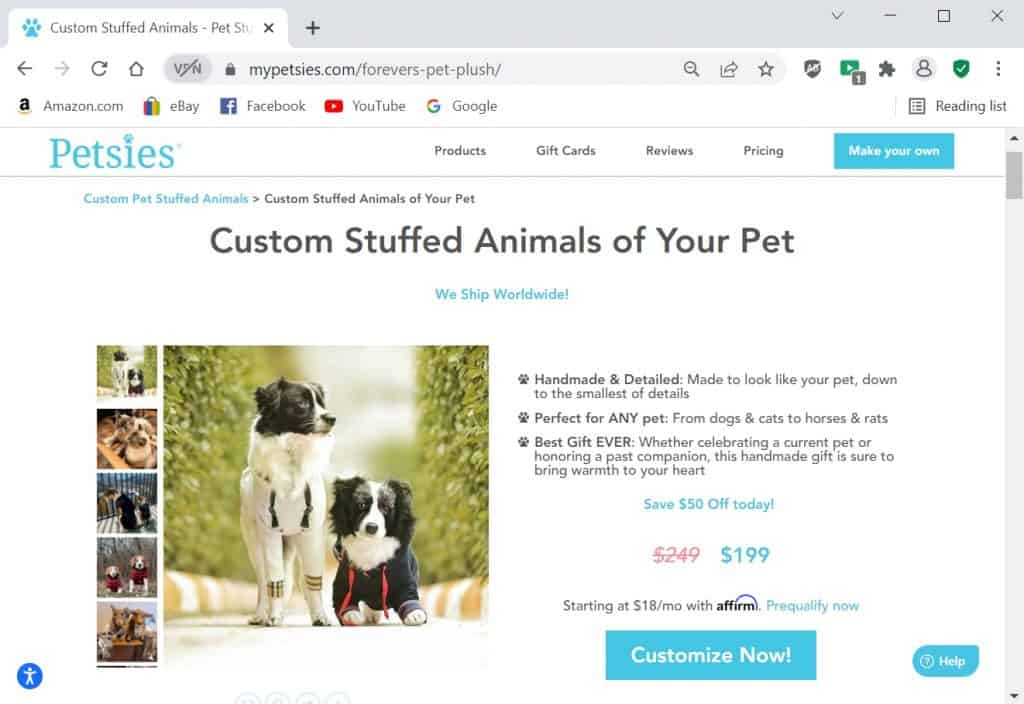 Because each Petsies product is unique and custom-made, the pricing reflects the hard work the artists and designs put into it. Here are a few base prices to give you an idea:
Stuffed plushie (with airbrushing): $199
Pillows: $49-79
Socks with fun patterns: $28
Keychains: $19.95
Face masks: $25
Everything made by Petsies is with the utmost care. Products are handmade, from fabric-cutting to stuffing. The team comprises highly-skilled artists to make sure your products come out looking just like your adorable pet.
Petsies offers a 90-day warranty. So, if your product arrives with a defect or gets one in the first three months, they can replace it. They may also patch it up and repair the plushie for you for free.
The company ships worldwide. The fee is based on the total weight of your items. It usually starts at $13.95 for plushies.
Petsies Custom Stuffed Animal Review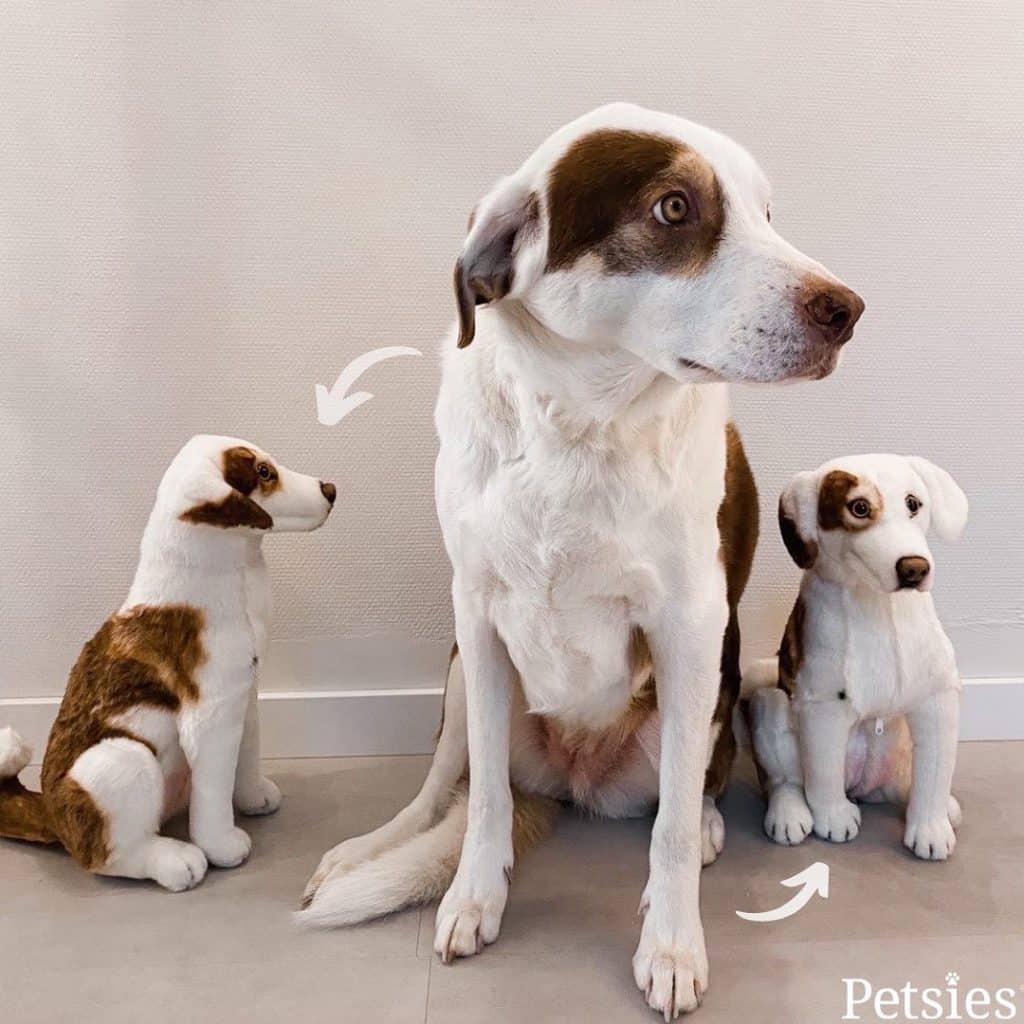 Each stuffed animal is made by hand to look exactly like your pet. All you have to do is send a photo of your beloved dog, cat, horse, bunny, bird, or any other pet. Petsies will take care of the rest.
You can choose between two sizes: 10-inch and 16-inch. Plushies are made with premium polyester fur. They're also airbrushed with details to make the final product look close to the real thing.
Because plushie-making is a craft that requires time and attention to detail, turnaround times differ. They usually go anywhere between 5-and 10 weeks.
The team sends you a "sneak peek" final images. You can give feedback, and they'll make revisions to the stuffed animal before sending it home to you.
What do customers like about it?
How similar the replica looks to their pet
The fine details that make it realistic
Petsies Custom Pet-Shaped Pillow Review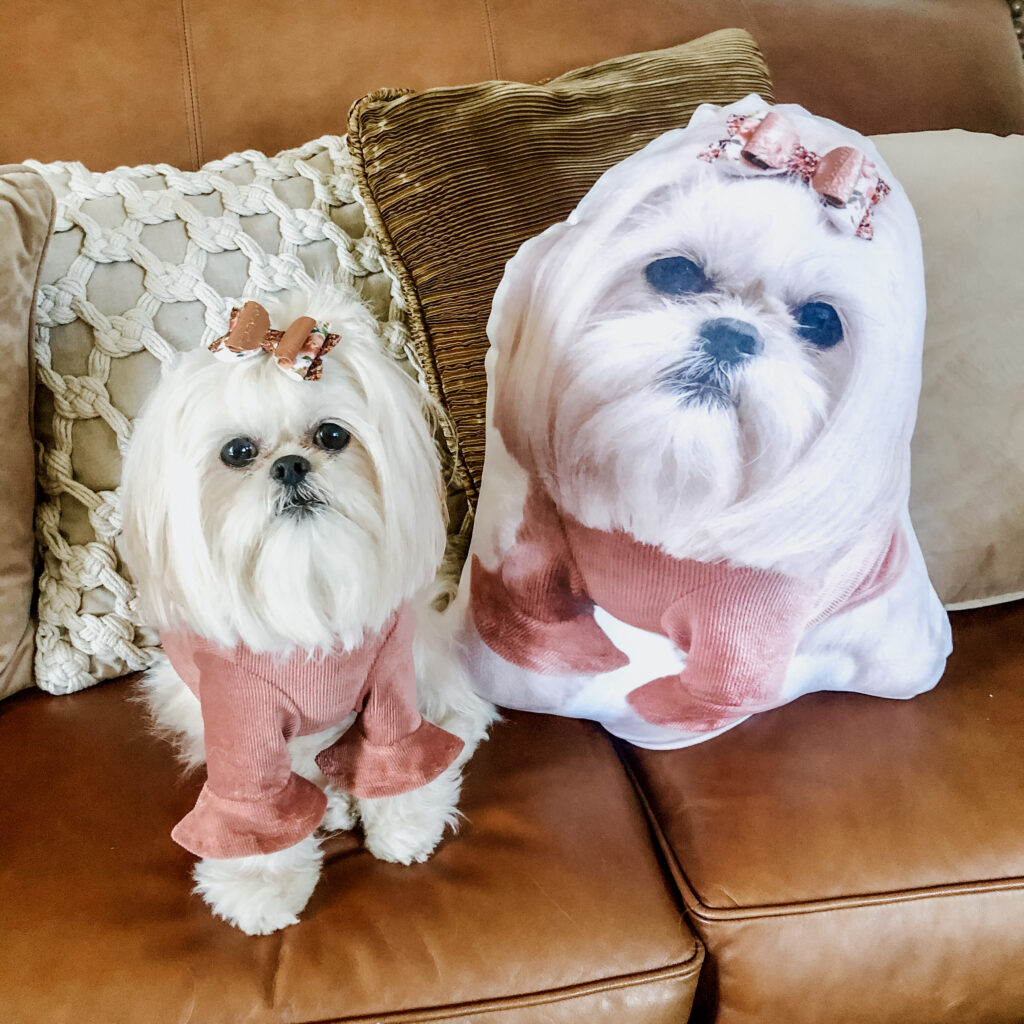 Want something more huggable? A pillow with your pet's photo will be perfect for you. That way can still give your pet a loving squeeze when they're not around.
Pillows are made with soft and high-quality polyester, making them super cuddly. You can choose a custom shape to match your pet's silhouette. There are four sizes available (small to XL).
Send Petsies your favorite high-quality photo of your pet. Make sure their body parts aren't cut out in any of them. That image is then printed on both sides of the pillow.
What do customers like about it?
It's a fantastic gift
Fluffy yet sturdy
Petsies Custom Photo Pillow Review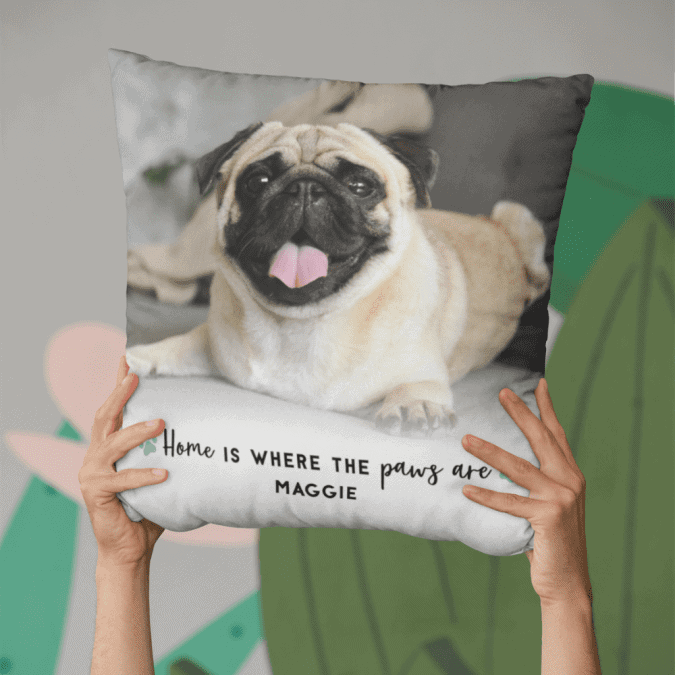 If you want something cuddly but straightforward, you can get your pet's photo printed on a classic square pillow. You can even add cute quotes that remind you of your pet for this service.
Petsies also allows you to upload your pillow design to their page if you'd instead put it together yourself. That makes it heartfelt and unique from ordinary throw pillows you'll find at a store.
Because this product is easier to produce, it can ship within seven days.
What do customers like about it?
Great as a gift
Can add cute quotes on the pillow
Petsies Pros and Cons
Petsies Pros:
Each product is 100% unique to your pet
Handmade for top quality
Attention to detail for plushies
Ships worldwide
Offers 90-day warranty
Affordable pricing
Petsies Cons:
They don't offer free shipping
Plush might not look exactly like your pet due to limitations with faux materials.
Petsies Reviews
The Petsies website has tons of great reviews from happy customers. Their total rating is 4.8 out of 5.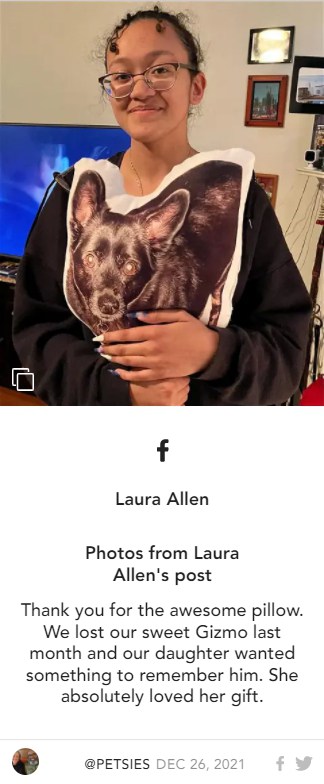 They've also published a video of reactions from kids receiving their stuffed animals. The reactions are positive and heartwarming.
Many people also tag Petsies on their Instagram photos. In these posts, they happily show off their plushies.
But on TrustPilot, the score is just average. Some people complain that their plushies didn't come out as a replica of their pets.
However, the Petsies team is transparent about issues like these. They can't always get a realistic finish because of the constraints of faux materials.
Besides, even the highly-skilled Petsies artists can't replace your natural pet. What you do get is a remembrance of your much-loved fur baby. That way, you can keep your fluffy companion in your heart for years to come.
Curious about the process? Check out this video of how a doggie plush is made!
Petsies VS Cuddle Clones
Stuffed Animals
Shaped Pillows
Square Photo Pillow
Pet Socks
Face Mask
Pet Keychains

Plush Clones
Posters
Pillows
Coffee Mugs
Golf Accessories and more

Petsies shipping is $13.95

Cuddle Clones shipping is $20.00
The biggest competitor of Petsies is Cuddle Clones. But in many ways, it looks like Petsies is a tad bit better.
Prices for Petsies start at $199 for plushies, while Cuddle Clones start at $249. Shipping with Petsies will save you around $6-7 dollars compared to Cuddle Clones.
You can choose between different plush sizes at Petsies. Meanwhile, you're stuck with just one size at Cuddle Clones.
Petsies has an added service of sending you final photos of your plushies. This is so that you can make final comments and revisions if necessary. Cuddle Clones doesn't do this.
Petsies get you your products faster, too. Turnaround time is six weeks, while Cuddle Clones gets it done in eight.
Is Petsies worth it?
Petsies are a terrific gift for pet lovers and those who want to remember their lost pets.
The prices are relatively affordable, so you get bang for your buck. They also have free shipping, which makes it even more convenient.
It's so worth it if you want to keep memories of your beloved pet. After all, for fur parents, keeping their pets close to their hearts is priceless.
Read This Next: