Bagsmart Review: The Best Functional Bags for Students in 2022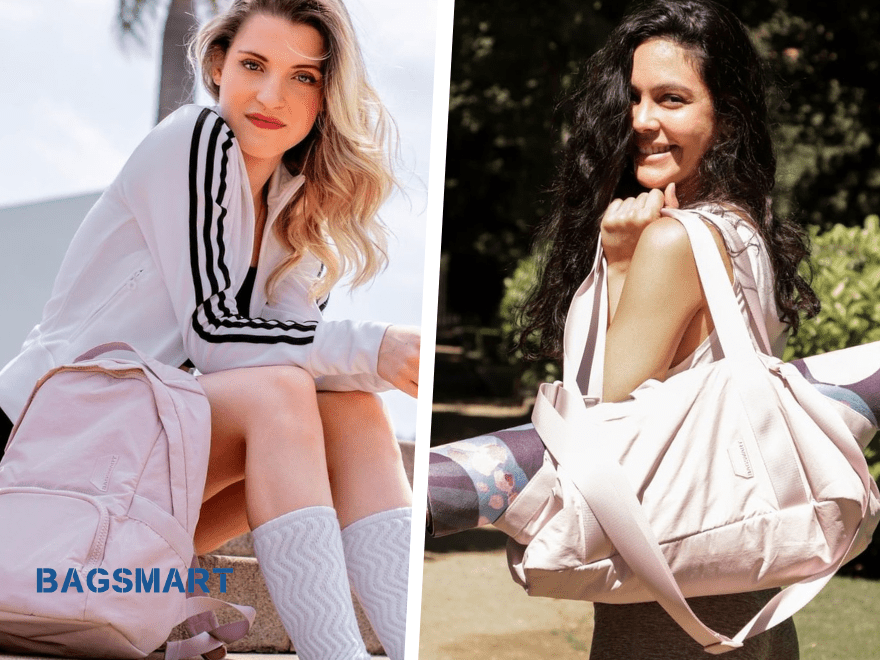 Are you're looking for a sturdy, comfortable, stylish bag? We've found a company that creates ergonomic bag designs that might be up your alley.
Bagsmart creates bags that make your life easier. They hold everything you need without looking bulky or frumpy. The best part is that they look sleek yet simple, thanks to a minimalist vibe.
So, why should your next bag be from Bagsmart? Read what we think of the brand to see why it's worth your time.
About Bagsmart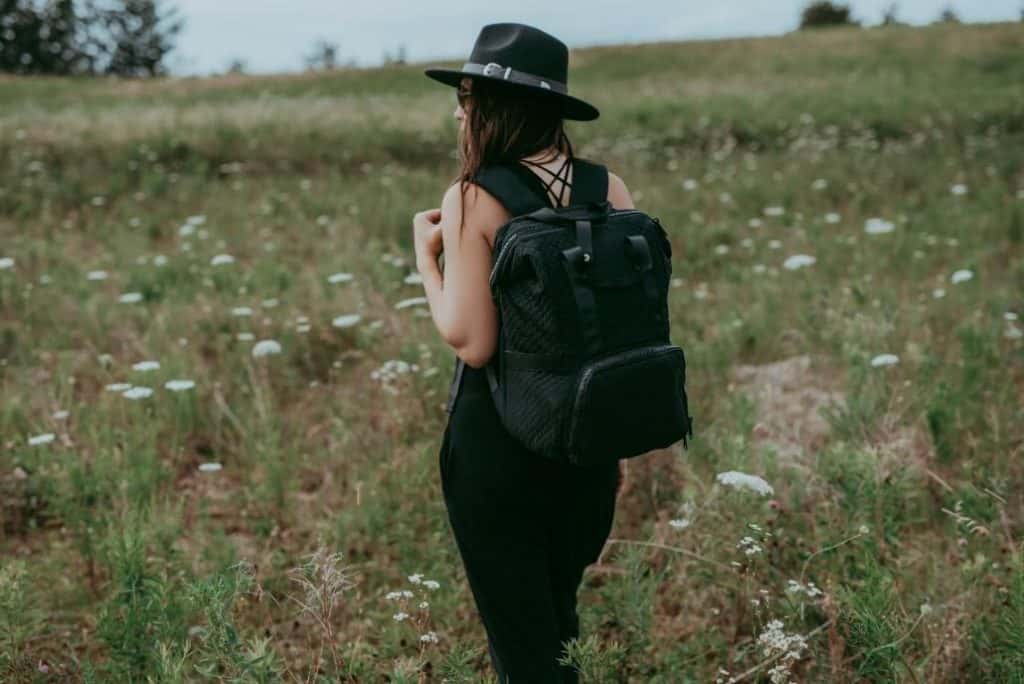 The company was founded with the idea that there is a different way for pnomadic urban lifestyles. They're inspired by design and committed to creating products that help nomads overcome all boundaries within their city and to successfully manage their diverse daily lives.
The bags at Bagsmart aren't just sleek and stylish. They were also designed to allow anyone to carry more of their stuff. In addition, they're made with high-quality materials, ensuring longevity. That way, you and your bag can be prepared for anything. Bagsmart offers laptop bags, backpacks, camera bags, totes – everything you might need this new school season.
Most of them come in various colors, so there's always something for both men and women. In short, there's a bag for you, whatever your lifestyle, needs, and aesthetic taste.
The best part is that Bagsmart's pricing is affordable. They also offer 15% off your first order, which decreases the bag's price even more. And if your order goes beyond $90, you get another 20% off!
Today, the company has gotten so big that it expanded to 149 countries worldwide. They have a growing Instagram account with over 15,000 followers. On the platform, plenty of happy customers tag them in photos of them wearing their stylish bags.
Bagsmart Best Sellers Review
Horatio Laptop Backpack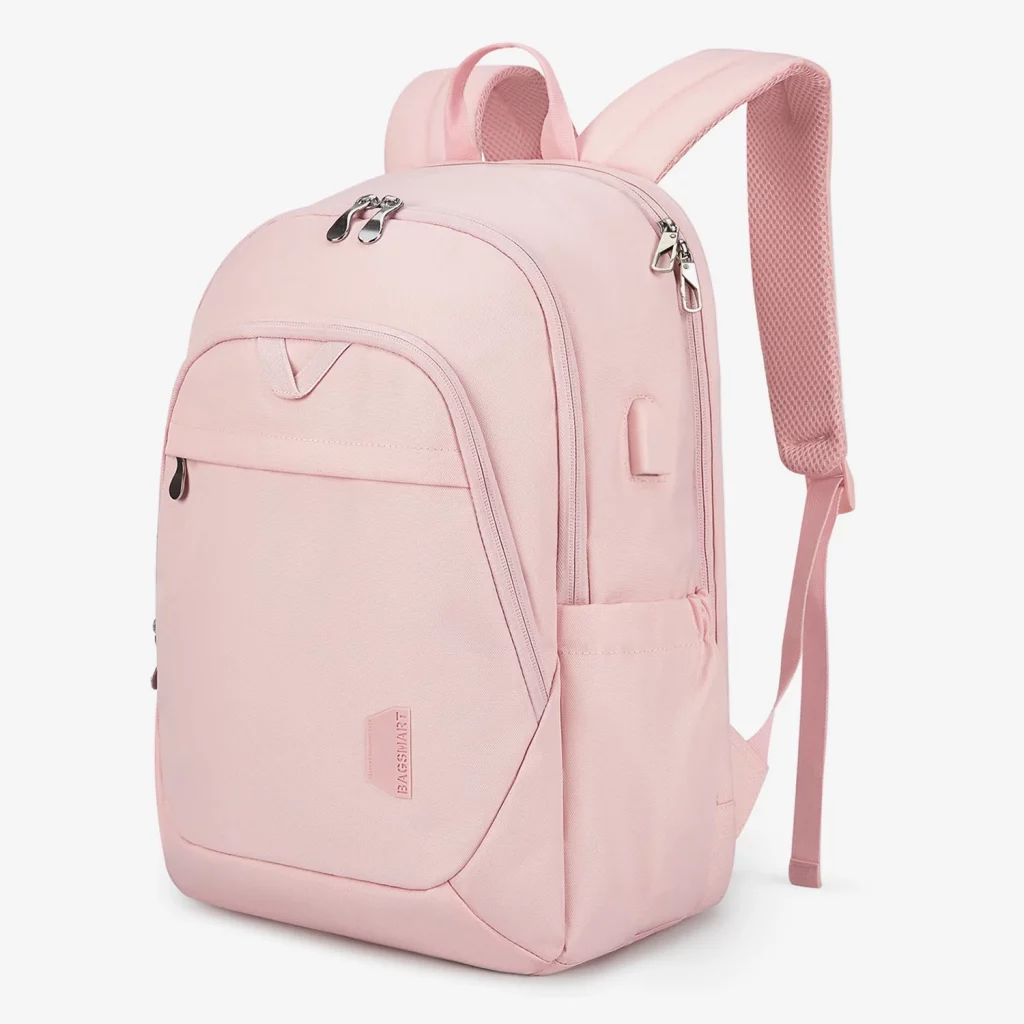 Everyone knows how hassle it is to bring your laptop around everywhere. This backpack was designed specifically to store your laptop without looking bulky.
The modern design is sleek and simple but very chic. It's made with water-resistant polyester. There are two-way zipper closures to give you easy access to your things.
But its most important pockets are the big ones that can fit even a 17.3-inch laptop. These pockets are lined with EVA foam to protect your device. It even has a hidden back zipper for anti-theft purposes.
This bag is available in three colors—pink, gray, and black. In addition, you can get it in medium or large. The best laptop backpack if we talk about quality for the price.
What customers like about it:
Lots of compartments for storage
Sturdy and well-built
Carries big laptops and chargers
Zoraesque Tote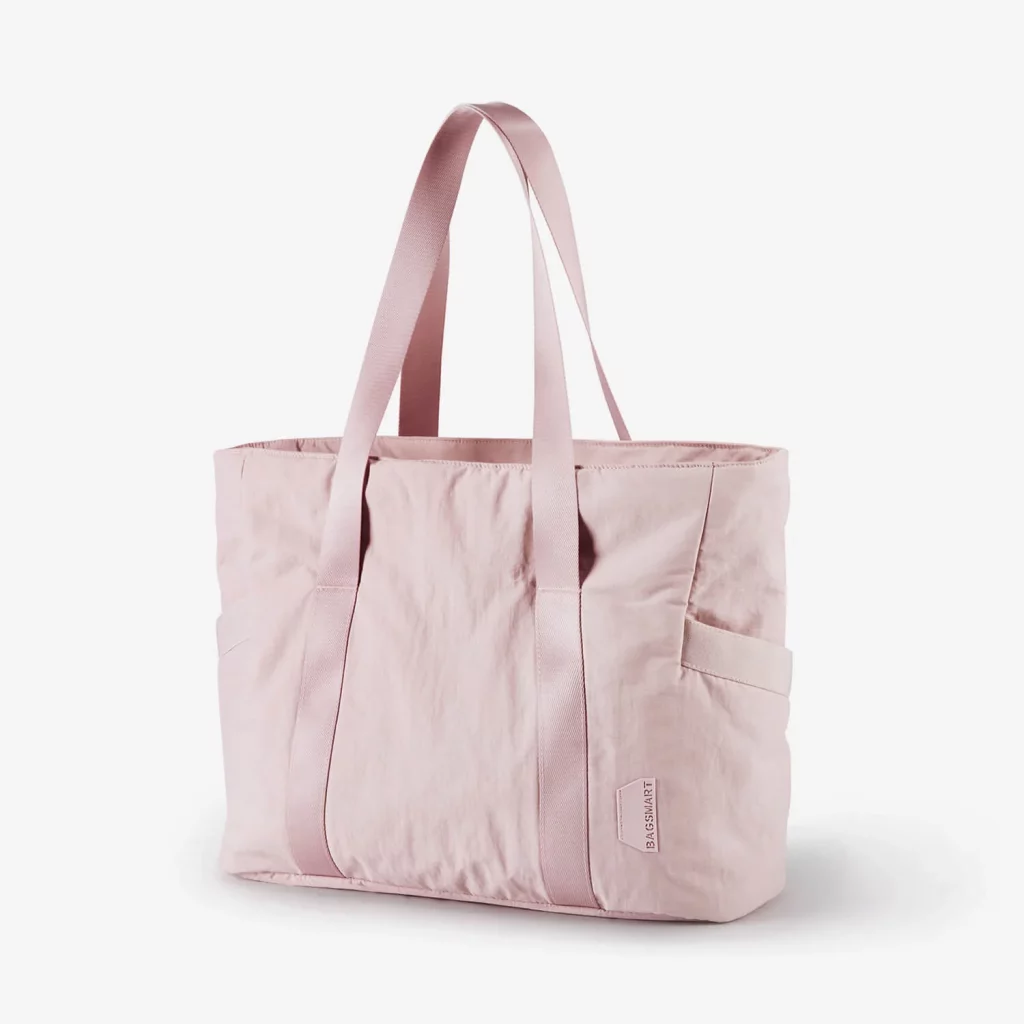 This bag is a modern, more ergonomic take on your classic tote bag. It can fit laptops, clothes, chargers, and everything you will find handy this new school season. There are three main compartments and two side pockets to properly hold your things.
It is perfect for girls, and especially nursing students find it useful. With its soft top handle, it's super easy to hold at work, at school, or going out with friends.
Are you heading to yoga after a long day? You'll love the fixed buckle that holds your yoga mat in place.
What customers like about it:
Lightweight but carries lots of things
Great for school and work
"The Space Saver" Toiletry Bag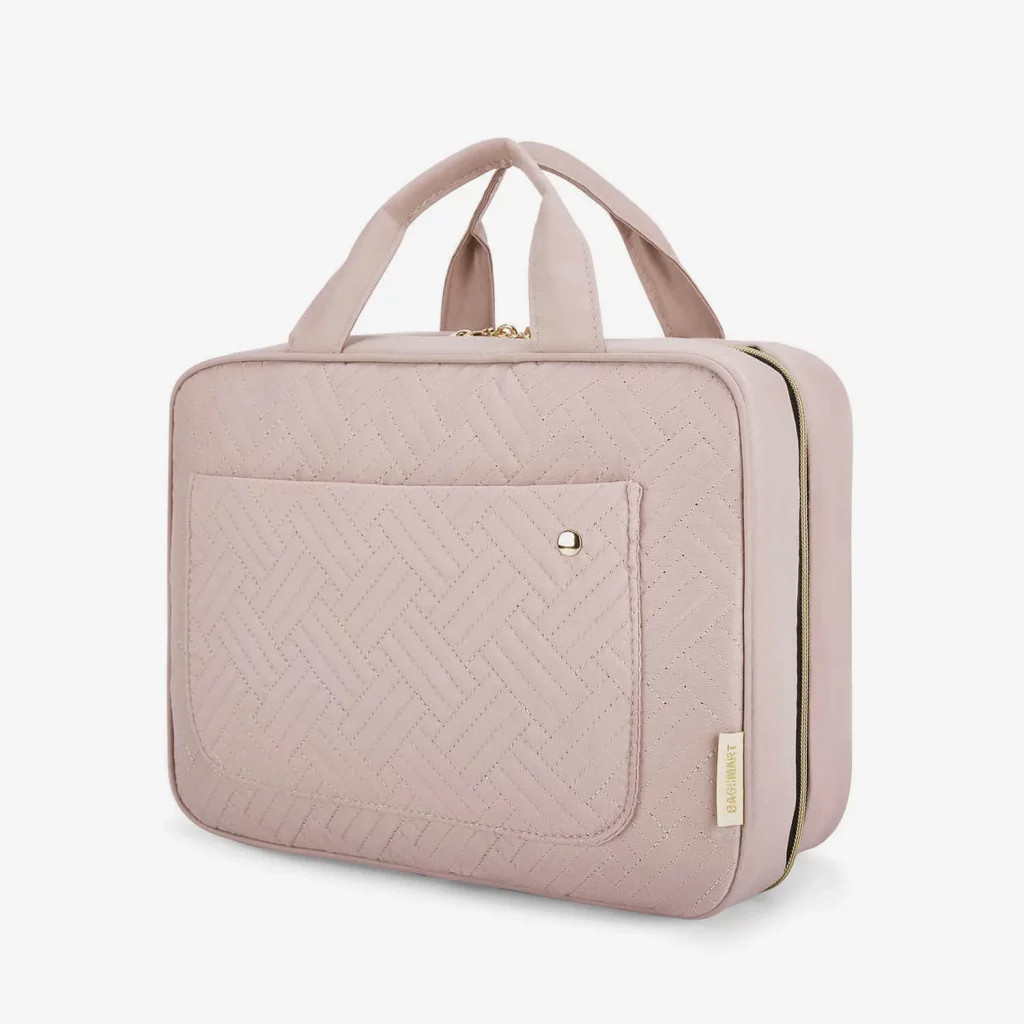 Most toiletry bags have only one huge compartment where you throw all your bathroom stuff. This is a packing nightmare. So, they designed a toiletry bag with many pockets to better organize your toiletries.
The compartments in this bag have smooth zippers and transparent windows. This gives you easier access to your things when you need them. There's also a soft-top handle to make carrying it comfortable.
What customers like about it:
Perfect for traveling
Easy to organize toiletries
It fits well in carry-on
Pros and Cons
Pros:
Awesome for students and traveling nomads
Sleek, stylish designs for Back to School 2022 season
Wide range of bag types
Affordable 
Made with durable, high-quality materials
15% off your first order
Get 20% off for orders over $90
30-day return policy
Lifetime warranty for all bags
Cons:
Free shipping is exclusive to orders above $50 only
Bagsmart "The Space Saver" Toiletry Bag vs Dagne Dover Toiletry Bag
Off the bat, there are lots of differences already in terms of appearance. For example, the Bagsmart one looks bigger, allowing for more space. It also has more compartments.
Name
Name
"The Space Saver" Toiletry Bag
Description
Description
Has several storage compartments with transparent windows and zipper closures; allowing easy viewing of & access to items; equipped with elastic straps to keep your products in place
Toiletry Bag with a room for lots of toiletries and made of tear-resistant textile
Shipping
Shipping
Free shipping over $50
Free shipping over $75
Returns
Returns
30 days return window
30 days return window
Price
Size
Size
Available in medium and large sizes.
Available in S and L sizes
Water Resistant
The Dagne Dover boasts lots of room for your products. But the more things you add to it, the bulkier the bag will look. Meanwhile, the Bagsmart one is designed to maintain its sleek shape. It also holds your products in place using elastic straps to avoid that bulky, stretched-out look.
The "space saver" option also has extra features you can't find in the competitor bag. For example, it has a soft top handle for easy carrying. In addition, it has an internal metal hook design, which is rare in other brands.
But the kicker is that with all these differences, the Bagsmart bag is half the price of the Dagne Dover one. Bagsmart's is worth $30, while the Dagne Dover bag is worth double at $60. So when it comes to value for money, Bagsmart is the clear winner.
Bagsmart Customer Reviews
The brand scored a high score of 4.5 out of 5 at Review Meta. In addition, many people buzz about the brand on social media sites, especially YouTube.
For example, ErinBlake shares in a video what she usually puts in her tote. She says it fits her laptop, books, and even her 40oz Hydro Flask. She then goes on to show how many compartments there are in the bag and how sturdy the zippers and pockets are.
She even praised it for being very easy to clean. "I've spilled coffee on it, and I just had to wipe it off!" she said. "This is fantastic as far as materials go."
An older review is one from OneTechTraveller, who talked about the Bagsmart camera backpack.
He gave praises to the bag's ergonomic design. "It doubles up as a universal [bag]," he said. "So, if you want to have it for everyday use, it offers tons of storage. Especially with the flexible dividers [that] I found super useful."
Is Bagsmart worth it?
Their bag designs are ergonomic, provide ease of use, and can fit most of your things. And while they're made with top-quality materials, they're still affordable. So you get value for money and a durable bag for the academic year ahead.
There are plenty of awesome reviews of the brand too. So, you know customers enjoy their products and find them helpful.
If you're looking for a reliable, ergonomic bag to see you through the semester, try one from Bagsmart. You won't regret it!