If you have been loving the clear handbags that are popping up on stylish women everywhere recently, then this Margo Paige review is for you.
We feel that it's time to start focusing on quality products instead of fast fashion, and Margo Paige agrees. With carefully designed clear bags and a few elegant clothing items, you can live with unedited style.
What makes Margo Paige's collection so unique is the fact that it's designed to be seasonless. You get a real less-is-more feel with these neutral, timeless designs.
Let's take a more in-depth look at their best-selling products and why you might consider getting something for yourself.
About Margo Paige
Margo Paige is a sustainable handbag and apparel brand that offers stylish and functional bags that won't completely break the bank. This Texas-based brand is known for its sleek designs but with a specific emphasis on the clear, multifunctional handbag.
Besides offering clear handbags, they have a small selection of Athleisure pieces that go up to size XXL.
If you're looking for sustainable brands to wear, Margo Paige is the way to go. They've set out to help foster a change from fast fashion to thoughtfully made items with a longer lifetime.
But it's not only that, the company only works with manufacturing partners with high labor standards and pays living wages. They also have an innovative take-back program that ensures that products are recycled when their life is over.
Margo Paige's Bestsellers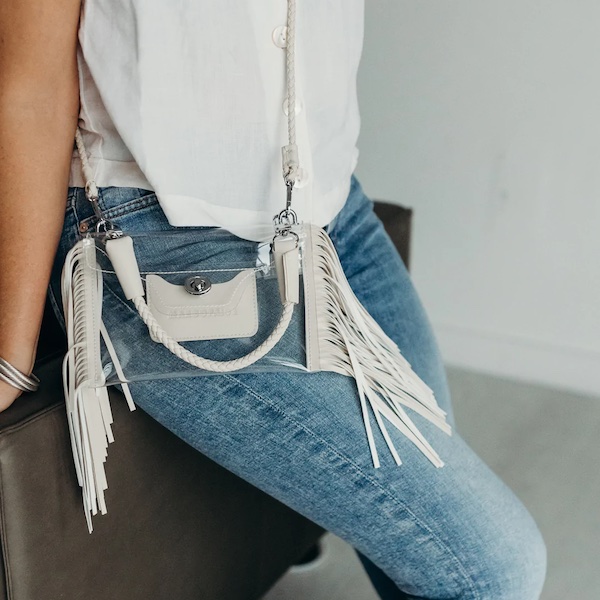 1. Clear Fringe Crossbody
Fringe is always fun, and picking this crossbody bag means you can add a little color to your outfit (in black or taupe) without violating the rules. At 8.5 by 5.5 inches, it meets the required regulations for most venues. If you want something fashionable and fun, this is the choice for you.
Sustainability
This bag meets Margo Paige's sustainability requirements. It's made of 100% clear, artificial renewable, and degradable PVC. But recycled doesn't mean disposable – it's made to be durable and long-lasting, so you'll be able to enjoy it for years to come. The faux details are also made sustainably, and it can be returned via their end-of-life recycling program.
Why We Love It
The clear material is both necessary and fashionable
The fringe adds a little movement to an otherwise practical bag
Easy to clean
How to style it
Color coordinate your accessories
Add a small battery-powered light if you're headed out on the town at night
Pair with stylish cowboy boots for a full western look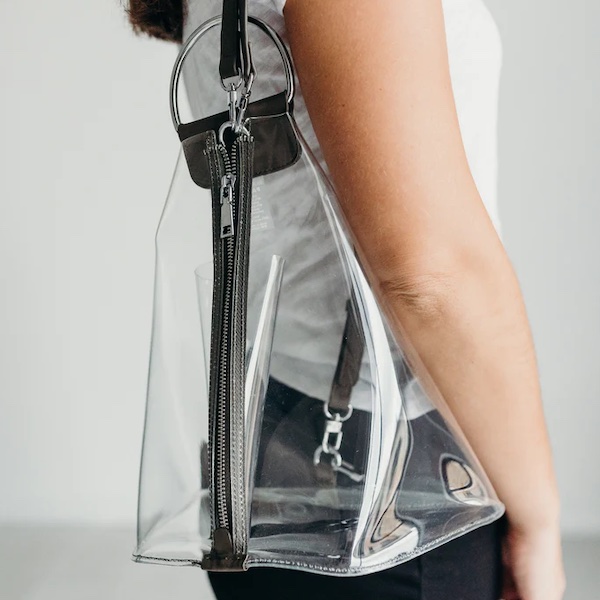 2. Clear Backpack
The triangle shape of this clear backpack makes it look and feel unique. It's the perfect everyday bag – big enough to hold what you need, but small enough so you don't end up overpacking.
Not only does this work as a convenient and fashionable backpack, but there's also a third longer strap that can be used as a shoulder strap. Designed to be lightweight, durable and versatile, you can take this backpack to an NFL game or you can head out to dinner. It fits both occasions!
Sustainability
Like other Margo Paige clear bags, this backpack is made of clear, durable, recycled PVC. You can return it at the end of its (long) life as part of the end-of-life recycling program (for a 20% discount on a future purchase).
And the faux-details are made of non-animal material making it furry buddy friendly!
Why We Love It
Comes in two colors (for the strap and zipper elements): black and olive
Event-venue friendly design
Convenient every-day design
How to Style It
Keep it casual with a pair of jeans and a simple t-shirt
Pair with monotone accessories for an elegant look and feel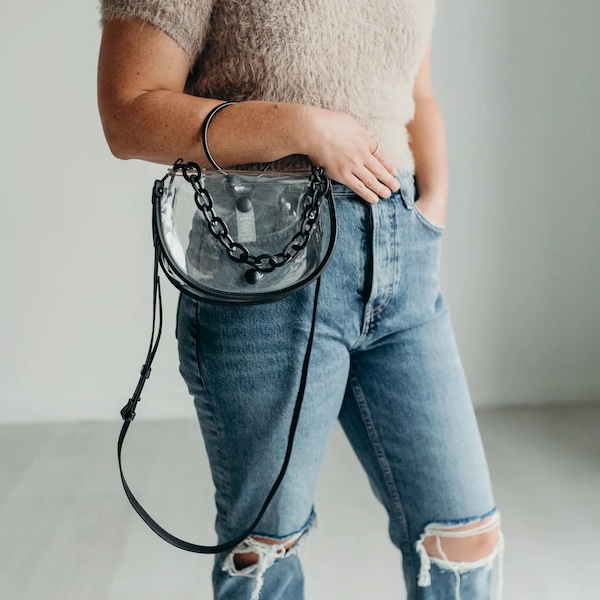 3. Semi-Circle Crossbody
If you're looking for a small, chic clear bag option, this Semi-Circle crossbody is for you. At 9 by 2.7 by 6.6 inches, it's the perfect size to store your phone, keys and wallet.
Luckily, it's not big enough to end up bringing along a bunch of things you don't need. It's also versatile and features a small hand-held handle along with a long crossbody strap.
Sustainability
As with other Margo Paige items, it's made from recycled PVC materials that can be recycled again through their take-back program. The material is durable so you can expect to keep the bag on you for a while. Finally, all of the accents and detailing are animal-friendly.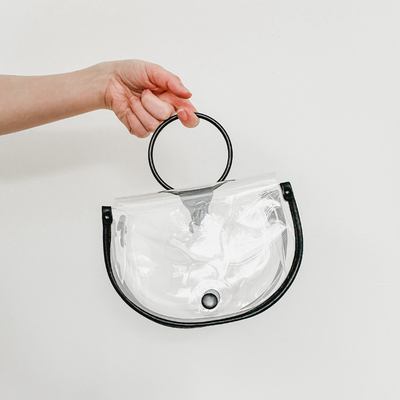 Why We Love It
Easy to care for, simply need to wipe down with a soft cloth or a wipe
Sustainably built with an elegant design
Enough space to fit everything you need but not too much to make it heavy
How to Style It
Lean into the chunky chain look with a funky pair of combat boots
Pair with casual jeans and a cozy sweater in the fall
Don't forget to include your favorite bright-colored accessories inside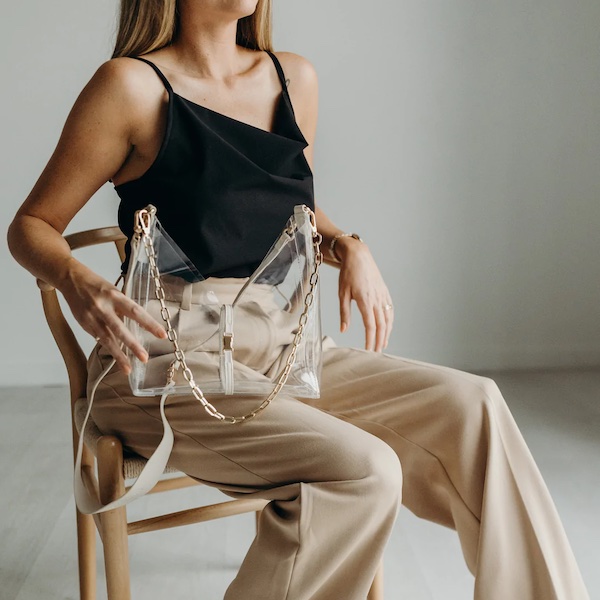 4. Cut Out Crossbody
If you're looking for a clear bag with light accents, the Cut Out Crossbody is for you. With elegant taupe accents and a gold chain, this small sustainable bag is perfect to pull out for your next event. It's a versatile choice for an everyday bag, but you can also dress it up if you need to.
You May Also Like: PatPat Clothing Reviews: Is this cheap baby store legit?
Sustainability
Made of durable, recycled PVC, this bag is built to last for a long time – and at its affordable price, it's mighty worth it. The faux detailing features are animal friendly. Best of all, this bag is designed by women and made in partnership with sustainable companies.
Why We Love It
Pretty, sleek design that's a great size
Easy to care for and wipe down
Can fit your favorite travel-sized items along with your phone and wallet
How to Style It
Add more gold to your look to make the chain pop
Pair with some elegant heels and a pair of light pants for business-casual
Bring it to the beach and pair it with your favorite sundress
Why Clear Bags?
Clear bags seem like a bit of a gimmicky fad, but there's some real practicality behind them. In 2013, the National Football League adopted a clear bag policy in an attempt to enhance public safety.
The policy states that each person is allowed to bring a clear bag – either a one-gallon Ziplock-style bag or another clear bag that is 12 by 6 by 12 inches. And most venues have followed suit.
We're willing to bet you're not stoked about wearing around a Ziploc bag to your favorite sporting or music event, which is where Margo Paige comes in. Breeze through security checks and attend in style.
Is Margo Paige Worth It?
Margo Paige makes elegant, unique transparent bags with a timeless design. They are both responsibly produced and easily priced (they're all under $100), and a perfect for adhering to the safety guidelines of sporting and concert events.
If you're looking for a great transparent bag and want all eyes to be on yours, this is the brand for you.
Pros
Margo Paige makes elegant, sustainable bags (and a few select items of clothing). They responsibly source their materials and produce their products, ensuring they're eco-friendly, multifunctional and durable.
While they have limited styles available, they're all made elegantly. The clear bags are perfect for music festivals and events, and they have two-day free shipping within the US.
Cons
Specifically, Margo Paige offers great clear bag options but there are only a few choices to pick from.
Margo Paige vs Kelly Wynne vs Sheer Gear: Who Has the Best Clear Bags?
[affiliatable id='130152′]
Read This Next: