Our Earth Breeze Review After 2 Weeks use: Are The Laundry Sheets Worth It?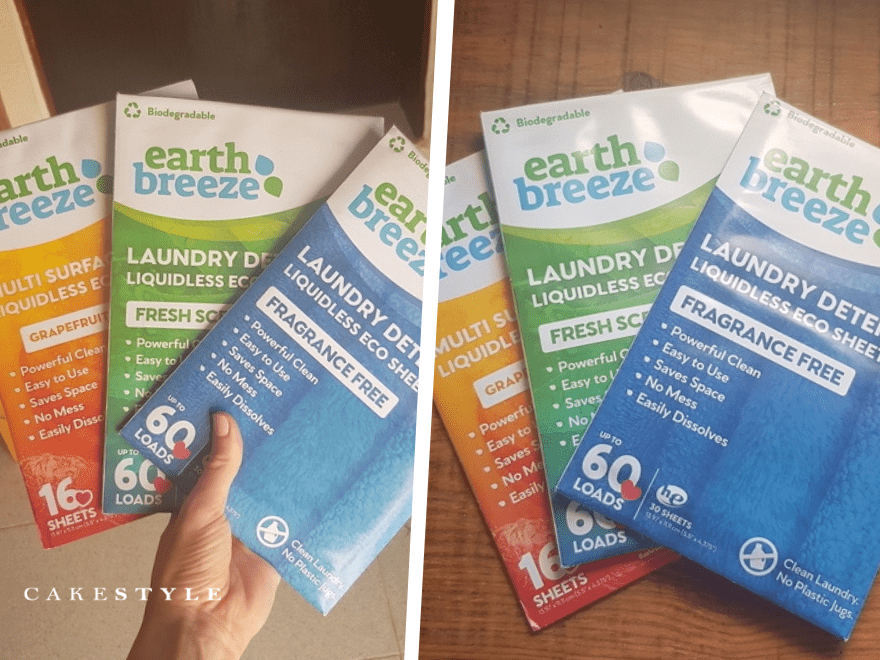 Let's take a deeper look at our Earth breeze review. Is Earth Breeze the ecological revolution it claims to be? If so, do their laundry sheets work when compared to classic detergents?
As someone committed to doing my part by living a greener life, I am always looking to try the best eco-friendly cleaning products. So after hearing about Earth Breeze, I was curious about their claims and had to test it out for myself.
In this article, I'll reveal my honest Earth Breeze review and share my experiences.
As an affiliate partner of various brands and sponsored content, CakeStyle may earn commission on qualifying purchases. Disclaimer | Advertise With Us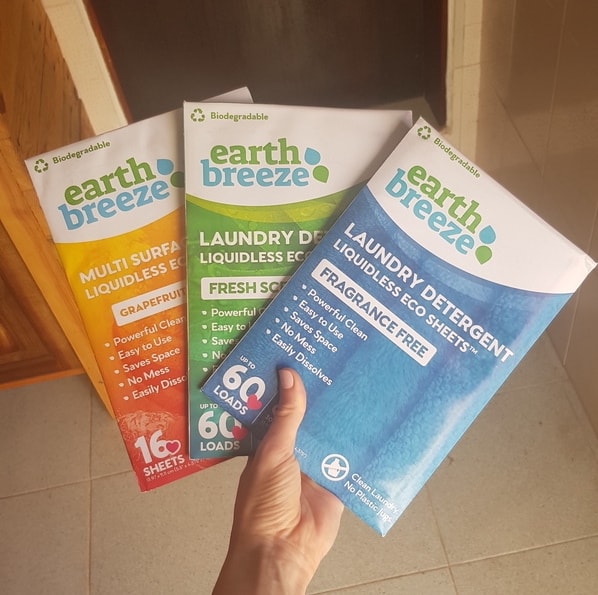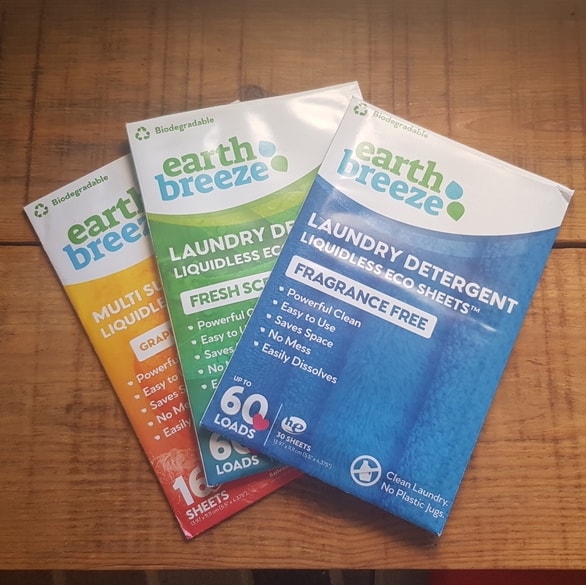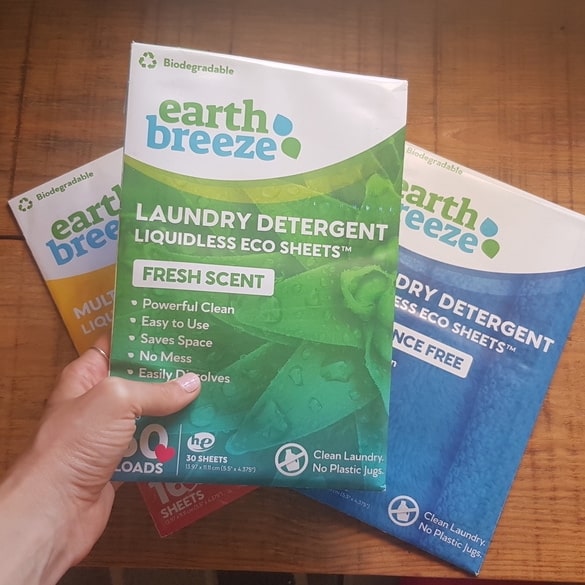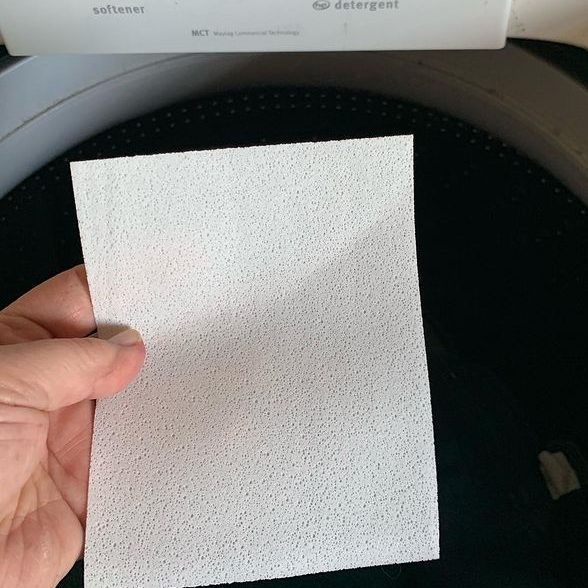 Top line:
Price:
Tide Pods: $0.22/load
Kirkland Pods: $0.14/load
Earth Breeze: 0.20/load (w/ subscription)
Wash:
Smell: Fresh scent is mild but nice
Stains: When Compare to Tide Pods, stain fighting was the same
Environmental impact:
Earth Breeze commits to reduce plastic waste and the carbon footprint by 90%.
The brand is a member of 1% For The Planet.
I live in a small space, so I'm always trying to save space. The packaging size of Earth Breeze is compact and easy to organize.
Also, I'm a big traveler, so it's great to know that this will fit easily in my suitcase if I go away for a longer trip.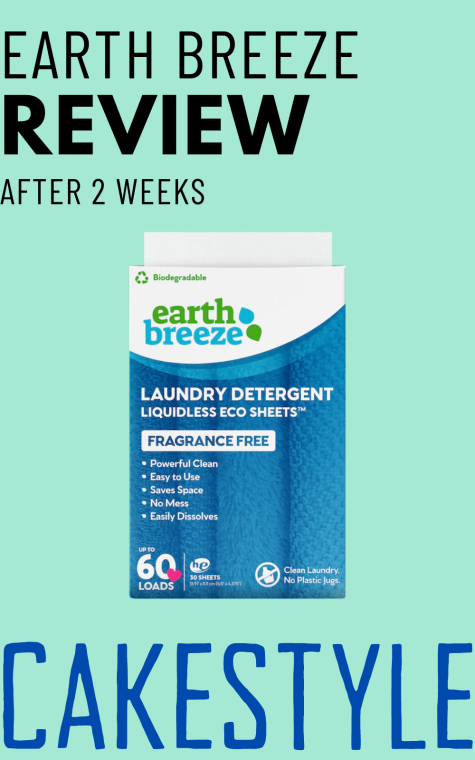 My Earth Breeze Experience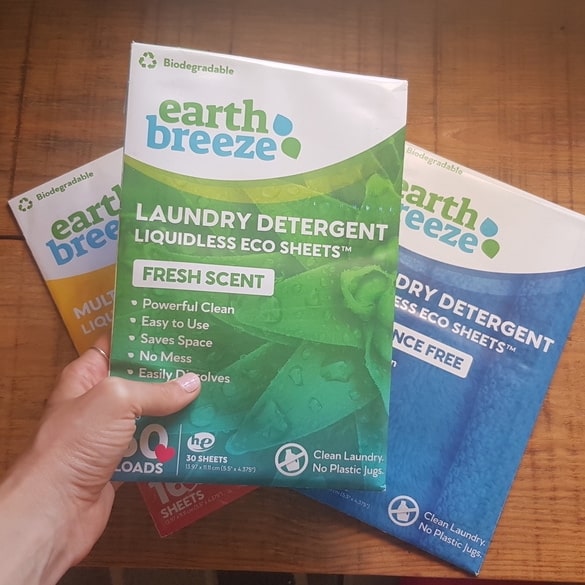 For the first time, I utilized half of the stripe and it had kind of an odorless scent. I suppose due to the absence of smell I was accustomed to I wasn't certain whether it cleaned effectively. However, I still hung my garments and put them on.
Next time I tried using two half sheets again, and this time they smelled really good.
They didn't have quite as strong an odor, but they were still pretty good. This time I felt happy. I didn't feel irritated or uncomfortable wearing my clothing and undergarments.
I will move house soon so I like I don't need to carry two separate bottles with liquids (soap and detergent) anymore; instead, I just need one bundle of laundry sheets.
I've also tried Earth Breeze Hopecloth. These ones I've been using for five straight nights and they haven't looked or smelled bad at all like regular ones from the supermarket. They're also easy to wash and they're very cute.
About Earth Breeze
Earth Breeze creates laundry detergent sheets that are supposed to replace classic water and chemical laundry detergents, that litter the planet with chemical and plastic waste.
These laundry sheets promote a more sustainable lifestyle. They are cruelty-free, bleach and dye-free and vegan, and animal friendly.
The company has cut out all the plastic from their product, packaging, and shipping. This leaves you with not only clean clothes but a clean conscience.
Aside from reducing plastic consumption, the brand is a proud member of 1% For The Planet. By supporting its mission you can rest assured that you are helping the planet in more than one way.
The company offers a subscription plan that helps you save 40% percent off the original price. Their subscription program starts at $12 per month.
Our Pick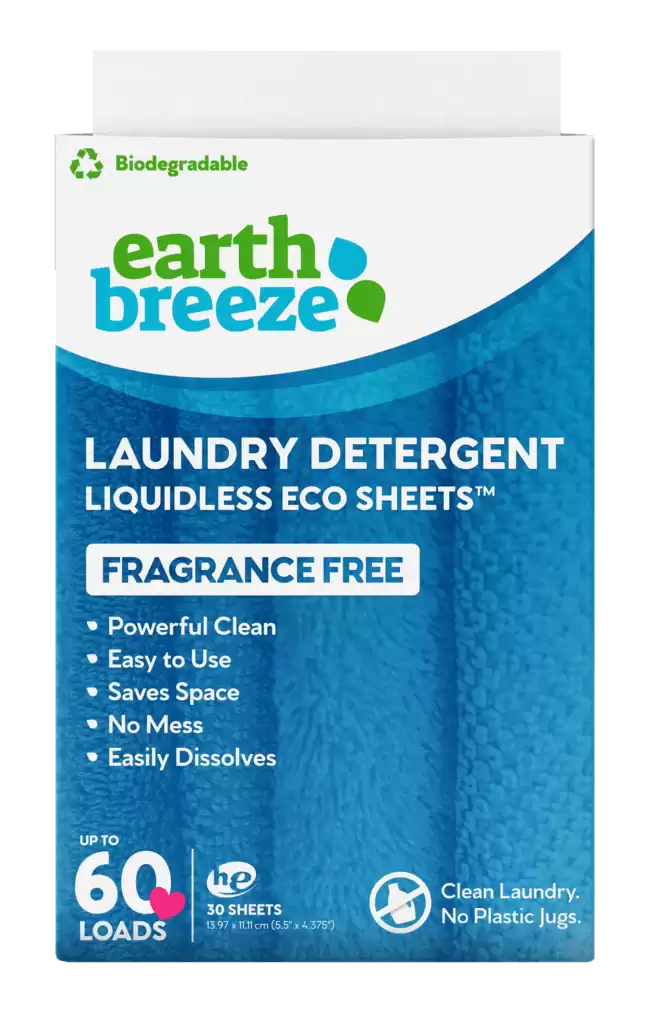 The Pros and Cons
Many people are interested in protecting the planet. Here is a list of the pros and cons of eco-friendly laundry sheets to get a better idea of the value.
Pros:
100% plastic free and biodegradable packaging
Money saving subscription plan starting at $12 per month
100% satisfaction guaranteed or money back
Cancel anytime without penalty
Great for traveling
Baby friendly formula
Vegan ingredients
Cruelty free
Pthalate and phosphate free
Reduces carbon footprint
Cons
May be less effective for strong stains
Includes chemicals polyethylene glycol, and alcohol ethoxylates
Delivery time
Not widely available in stores
Earth Breeze VS Traditional Detergents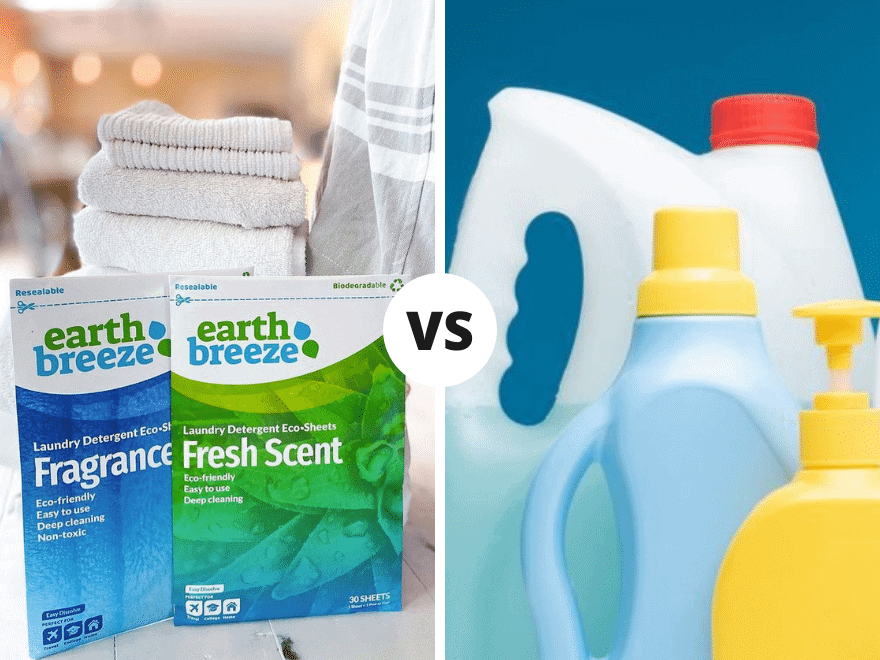 Traditional detergents are often made up of up to 90% water. Detergents are being shipped around the world containing water, a resource that is available in homes.
Earth Breeze uses the water already consumed during a machine wash. The sheets dissolve in hot or cold water. You place them in with the laundry or where you would pour liquid detergent.
Traditional laundry detergents can use up to 40 grams of product in 1 load of clothes.
The brand uses 3 grams of the product. That's simple math even for me.
Some people complain about pod detergents leaving residue.
With Earth Breeze, you don't have to worry about any residue.
Traditional detergents can be messy. Liquid detergents pour down the sides of bottles. Laundry detergent sheets do not create any kind of messy situation. However, the laundry strips are just as effective as traditional detergent
Unfortunately, Earth Breeze is not yet available in mainstream stores. Hopefully, one day saving the planet will be the status quo and not the exception to the rule. The best way to receive laundry detergent sheets is to sign up for their subscription program online.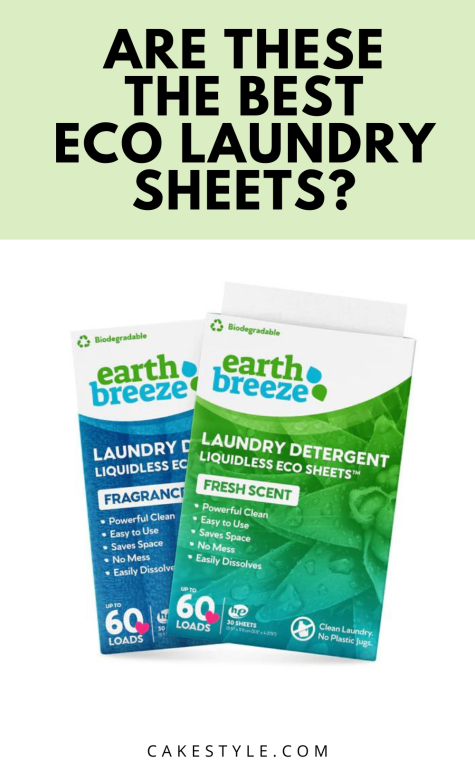 Earth Breeze Laundry Sheets Review
Their laundry sheets come in 2 scents: fragrance-free one and another that is a fresh scent.
A single package is for 40 loads. 1 strip is used per load.
A one-time buy of 60 loads is $20 and that goes down to $12 per month with their subscription-based model.
Our Pick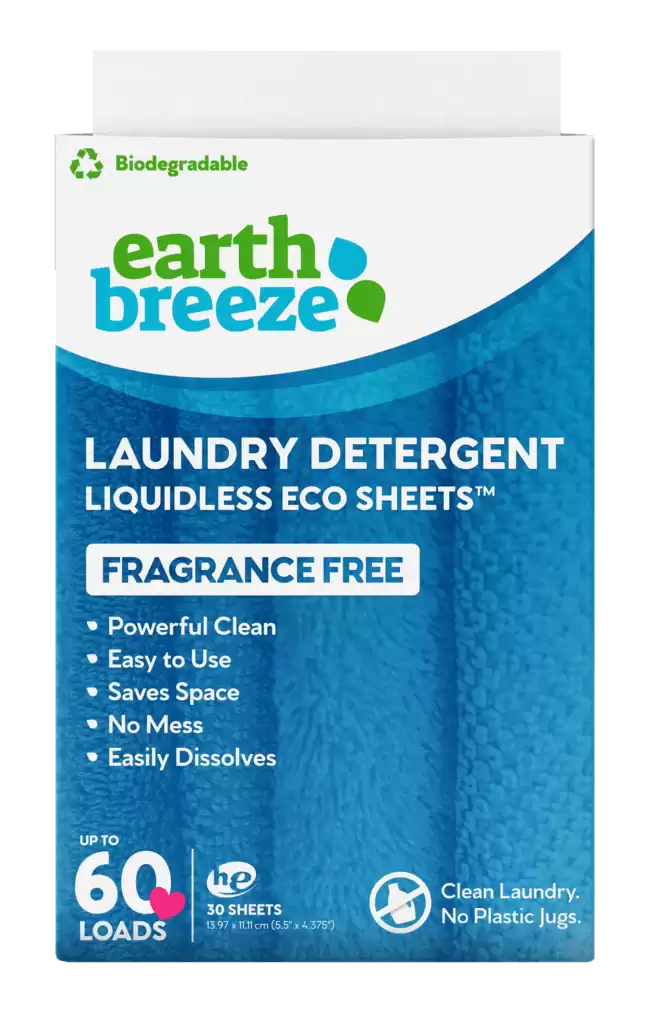 Does Earth Breeze work?
After using Earth Breeze for several weeks, as well as reading many online reviews and watching YouTube videos about the company, this product is worthwhile.
They may be slightly more expensive than traditional detergents, yet, that's a price I'm willing to pay to do my part to help the environment.
Earth Breeze Reviews
Earth Breeze YouTube Reviews
Kristen, from the YouTube channel Strolling Through Life reviewed laundry detergent sheets. Her channel often reviews sustainable products. She used the Fresh Scent laundry sheets.
She said the following:
"It does really well with getting scent out of clothing and kind of giving nice fresh scent. It did a great job with sportswear and workout-wear."
She made a great point that Earth Breeze is perfect for college students living in a dorm and don't have a lot of space.
She also had some curry stains which didn't go out after the first wash. However, curry is a notoriously difficult thing to wash out of clothes, even for conventional detergent.
Another content creator named Lauren Nowicki from the YouTube channel Lo Without Limits reviewed Earth Breeze.
Both Lauren and Kristen had a small problem with the mailing packaging. Although the packaging is biodegradable, the envelope that it was sent in was not recycled paper.
Overall she was impressed that Earth Breeze took a coffee spot out of her jeans. Their laundry detergent sheets also took out a large stain on her white shirt. In the end she said that she was "a big fan".
Earth Breeze Customer Reviews
People in the zero waste community of Reddit were curious about Earth Breeze products. A user asked if anyone could share their experience.
User ikaytlin responded:

The company also gets some great reviews on Trustpilot with a 4.4 rating out of 5.
One of the things that stand out is the customer service. Many people applaud them for their availability and great customer services.
One user, Liz commented: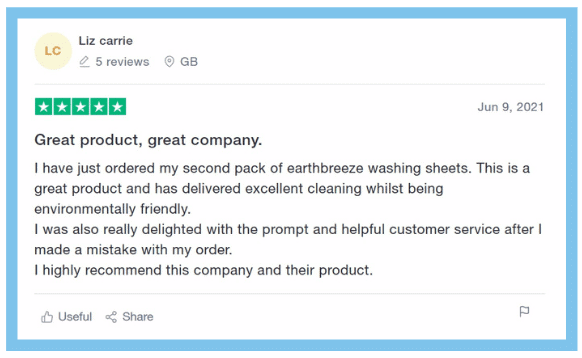 Taking all the reviews into consideration I would check out Earth Breeze. The great thing about the company is their money back guarantee and the fact that you can cancel the subscription at any time without penalty.
FAQ
What Ingredients Are in Earth Breeze Laundry Sheets?

The brand is committed to be transparent, cruelty-free, and animal and planet friendly.

Their vegan and eco-friendly ingredients include:

Glycerol
Primary Alcohol Ethoxylate
Sodium Dodecyl Sulfate
Sodium Acetate Trihydrate
Polyvinyl alcohol
Polyethylene Glycol
Fragrance (for Fresh Scent)
Deionized Water
Starch (corn)
Is Earth Breeze Eco-Friendly?

I have already extensively talked about the wasteful use of plastic jugs. With Earth Breeze laundry strips even the packaging is zero waste. The cardboard that the strips are packaged in is 100 percent biodegradable.
The Environmental Impact of Earth Breeze

You may not realize it, but laundry waste is a huge problem. Over 700 million plastic jugs end up in landfills and oceans each year. It is estimated that 8.4% of plastic is reused. Isn't it better to reduce plastic consumption from the source?

Small changes can make a big impact if we work together. The cost of transporting Earth Breeze products is minimal considering that they are super lightweight.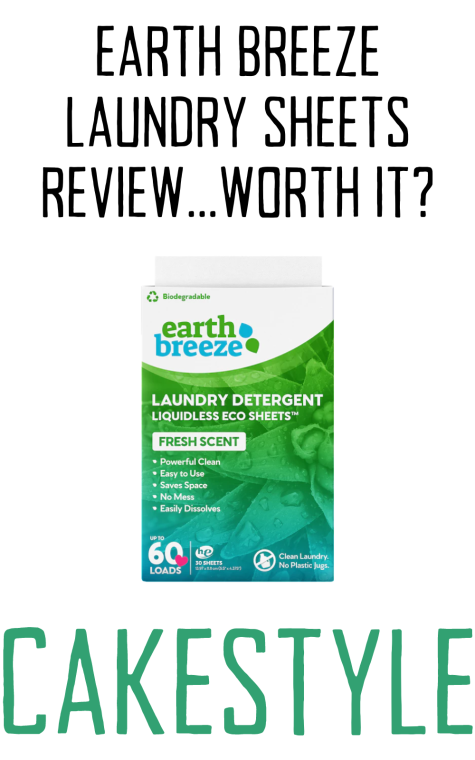 Is Earth Breeze worth it?
It is a product worth trying if you are committed to the environment.
Some people complained about the power of laundry detergent sheets to get out harsh stains. Haven't people been complaining about those same stains with traditional detergents for years now?
In my case, Earth Breeze is an easy choice for its environmental benefits and its hypoallergenic formula.
Our Pick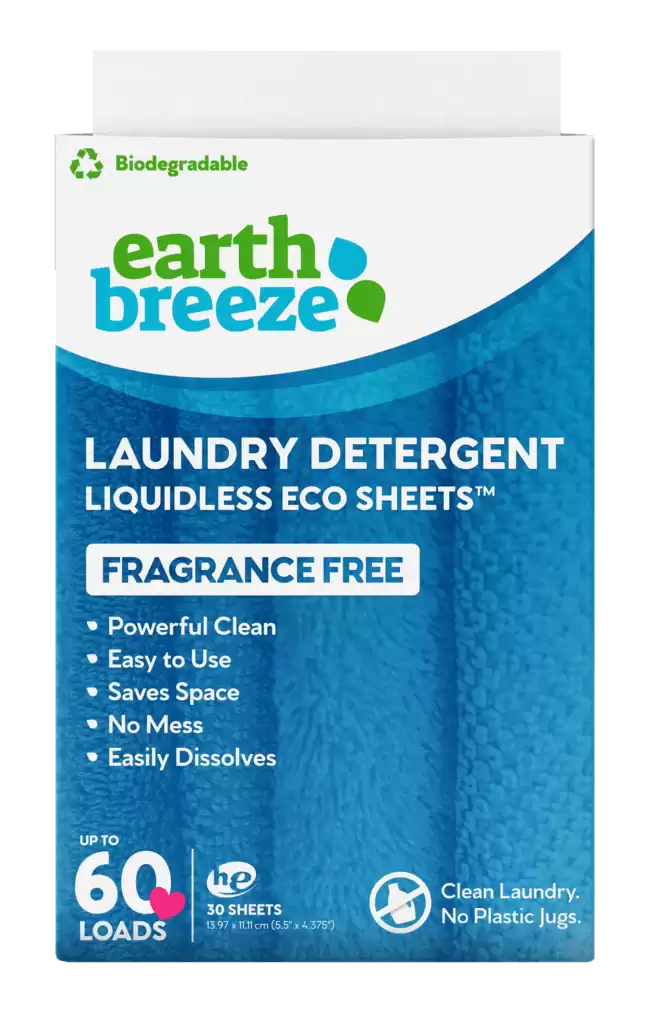 Although Earth Breeze is not going to solve the planet's environmental problems alone, it's a step in the right direction.