This Spanx tights review is a must-read. My experience testing out the top 5 Spanx tights for tummy shaping is here. Otherwise, finding a great pair of tights that are comfortable and make you feel your best might take some time.
Not only do these top 5 Spanx tights styles make your legs look chic and sophisticated, but they also help you shape your figure like no other undergarment.
Tights are often thought of as ill-fitting undergarments that only enhance your muffin top. Waistbands are also another major problem as they usually need to be pulled up every few minutes.
However, we've made everything easier for you by compiling the best and most comfortable Spanx Tights to give you plenty of options to choose from. They stay in place all day long and slim down your figure, making you feel confident wearing any type of outfit you choose.
So read on to find out which one is the best for you!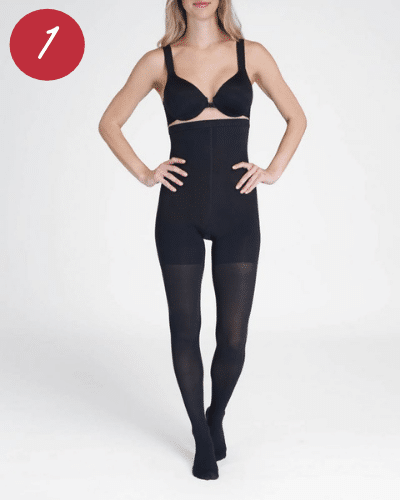 BEST FOR: slimming your figure and making you feel confident
USERS SAY: "These are as soft as cotton pajamas, super comfortable, and I love the high waist (it hits me about an inch below my bra) that stay in place all day long. They're easy to take on and off but still provide a nice slimming effect"
Effective tummy-tucking tights: Spanx's tight-end Tights are a good option for women whose main concern is their stomach area. Whether you have a muffin top you want to conceal or you simply want to sport a tight, sexy look, these tights will do the trick.
Luxe yarns for all-day comfort: Many high waist tights might hold in your problem area, but they fail at making you feel comfortable. These, however, are made of luxe yarns that ensure not only a smooth look but also a comfortable experience.
Soft waistband for added comfort: The waistband is ultra-soft and won't dig in or roll down.
Designed to make you feel your best: They feature a built-in, high-waisted, and mid-tight shaper that ensure a smooth and flattering shape, making you feel confident the moment you put them on.

PROS: they're ultra-soft and comfortable and do their job at holding everything in. One of these tights' best characteristics is its ultra-high waist that hits right below your bra, making them ideal for skin-tight outfits.

CONS: not the best option for plus size women as they might find it difficult to find a perfect size and fit
---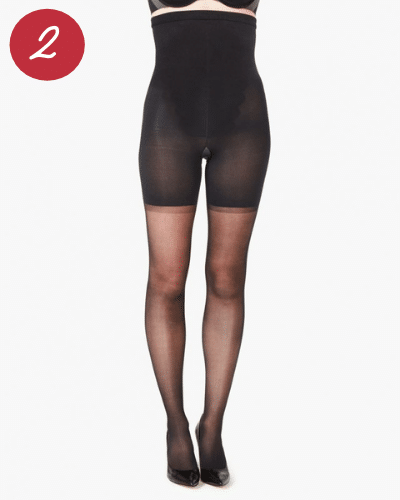 FUN FACT: These tights come in six different colors to ensure you find the one that best matches your skin
LOVED FOR: Their ultra-high waist and shaping fit
Technology that gives you a smooth look. These Spanx tights feature an innovative technology that disappears on your legs, giving you a flattering and sophisticated look. A great option for those who don't enjoy showing their bare legs, these tights make sure that you look "better than naked".
Perfect for bodycon dresses: their built-in and high waist shaper design makes these Shaping Sheers ideal for tight outfits such as bodycon dresses. Your problem area is effectively held in thanks to the high-quality yarn and scalloped shaping panel.
No need for undies! Keeping in mind your comfort and convenience, these tights feature a cotton gusset, leaving the need of undies completely up to you.
However, you should be careful with the size, as some users have shared that they "look fragile" and might rip easily. Our recommendation would be to just go with your regular size because these tights are true to size. Going for a smaller one might split the seams.

PROS: controls tummy and gives you plenty of color options to match your skin color. The need of undies up to you.


CONS: they can be easily ripped, so choosing the right size is crucial
---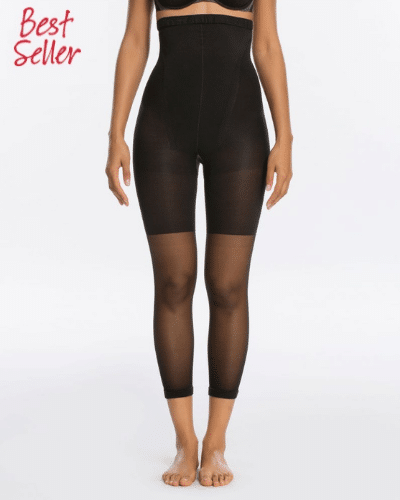 WHY YOU NEED IT: if cellulite showing through your white pants is a common issue, these capri tights are a must-have
BEST FOR: Shaping your figure while smoothing your skin, giving you a flawless finish
High-quality tights that let you wear your pants comfortably: these footless tights make your outfit look flawless thanks to their patented design that smooths your legs and booty.
They're great for layering under tight or see-through pants, but you can also wear them with a pair of shorts and mid-calf boots.
Two options to choose from: high or regular waist. Whether you want to slim your figure or simply want to wear something that will flatter your legs, the footless Higher Power Capri gives you the possibility to target your main issue.
Users have enjoyed their comfort and fit, saying that there's no "sausage effect". These tights won't squeeze your skin, so you can rest assured knowing that you'll be able to wear them comfortably throughout the day.
Sleek and lightweight material: to ensure all-day comfort, these capri tights are made of luxe yarns that are also highly effective in targeting your cellulite or any imperfections you may have on your butt and legs.
They also have an adjustable leg band that accommodates to your desired length. If a custom fit is a plus, these tights are a great option for you.

PROS: adjustable leg band to customize the length and highly effective in "airbrushing" leg and butt cellulite

CONS: these tights don't have a slit in the crotch. Also, you need to be careful when you put them on, as users say that they're "quite fragile"
---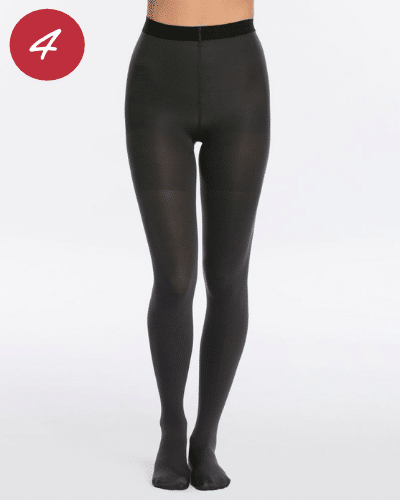 LOVED FOR: their strong and thick material and their "2 in 1" feature
STYLE WITH: plaid skirts and booties for a cute fall look, or a cozy knit dress layered under a leather jacket for a cool winter look.
Shaping your silhouette. These reversible mid-thigh tights feature a strong and thick material. Suits for tailored or tight outfits, they make sure you have everything held in. However, keep in mind that they don't feel as tight as most Spanx tights.
Great investment tights that will last a lifetime. Thanks to their high-quality and thick material, these tights won't rip easily. That's why even though they're not the most budget-friendly option out there, you can consider splurging on these knowing that they will truly last a lifetime.
Their best feature is that they're reversible. So if you're still hesitant about the investment, think of them as buying two for the price of one. Many users agree that they're "truly reversible" and that the color differentiation is slight.
They're also a great option to keep in hand for colder months. Users have written reviews such as "I spent the whole winter and some of the spring in them" and "best leggings for the cold winter". Furthermore, they're great for layering under skirts or winter dresses.

PROS: High-quality and durable tights that are also reversible. Great option for late autumn and winter.

CONS: Not as tight as other Spanx products, but still shape your silhouette nicely
---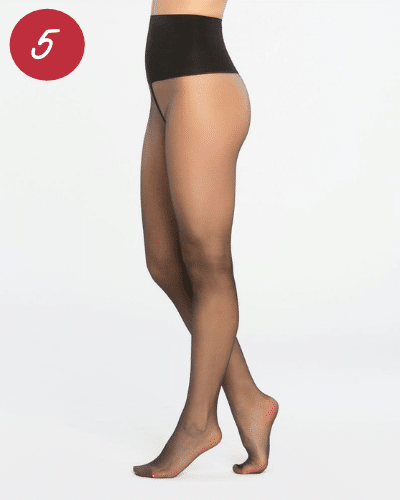 FUN FACT: these tights come in two different colors: "naked" and black. The naked color is perfect for a natural look
USERS SAY: "Fit is great and they stay put. I will never buy a different brand of tights again."
A great option for women who want to feel in control. The built-in tummy-targeting waistband is highly effective in keeping everything tucked in without feeling uncomfortable. Users have fallen in love with this feature, writing reviews like: "Prevents that awkward muffin top that is common with tights" or "It's strong and flattens your stomach without you feeling you can't breathe."
No mid-thigh shaper. Which gives you the possibility of wearing them with any type of hemline. You can comfortably wear skater dresses or skirts knowing that they don't have the "biker short effect".
They feature a soft and comfortable no-dig waistband that stays put all day. You won't need to be adjusting your tights every few minutes thanks to the signature Spanx waistband that's been designed to prevent this common issue.
The Tummy Shaping Sheers also comes with a cotton gusset that makes wearing undies optional.
However, these may not be the best option for those who constantly rip their tights. Many users have shared that these tights could be ripped easily.
Our suggestion is that you should take off any jewelry before putting them on as they could snag the tights, and try not to put them next to embellished garments.

PROS: you can wear any type of hemline you like, and the sheer look is a great option if you want to give your legs a "natural" look.


CONS: they can be ripped quite easily
---
Buying Guide: How to choose the best pair of tights?
Tights are a must-have item that can save your outfits. Whether you want them to shape your silhouette and tuck in your tummy or to keep your legs warm whenever you wear a winter dress, tights are something you might want to keep in hand.
But how do you choose the right style? These are some of the considerations you may want to keep in mind before deciding which tight to buy:
Look carefully into Spanx Size Chart for Tights
The hosiery size chart gives you height and a weight options, not measurements. So first you should make sure that your true height and weight are up to date.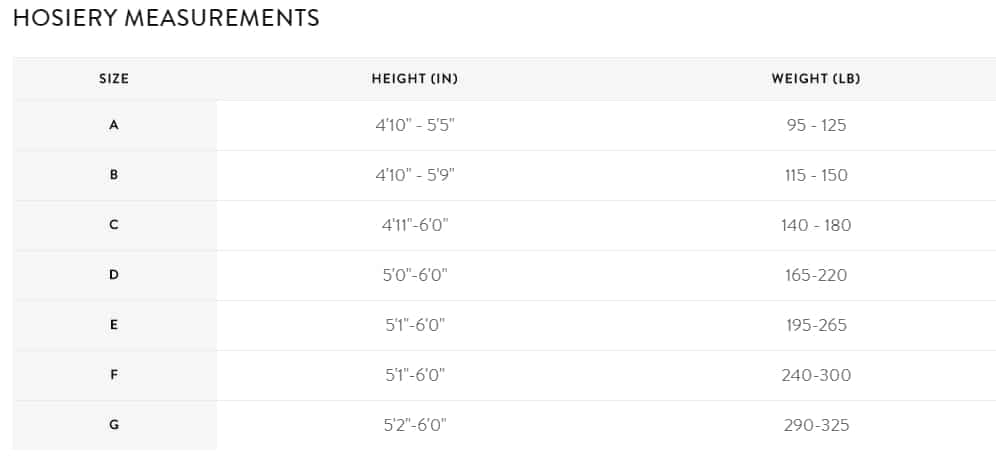 Their size chart is really easy to understand, and has a large margin between each size. Most users have shared an excellent experience with the fit and size, so rest assured that finding the perfect fit is possible.
Consider the weather
Taking into consideration the weather or the season is crucial when choosing tights. Think about the season you're in: how's the weather? Are you going to get cold if you wear thin tights? Or maybe it's simply too hot to even think about wearing tights?
A great option for those who are heading into colder months is the Reversible Mid-thigh Shaping Tight. They're thick and durable and many users agree that they have kept their legs warm during the cold season.
If it's hot out there, a sheer tight such as the Tummy Shaping Sheers might be ideal for you. Wear them with your favorite mini short or skirt for a stylish summer look.
Consider your outfits and style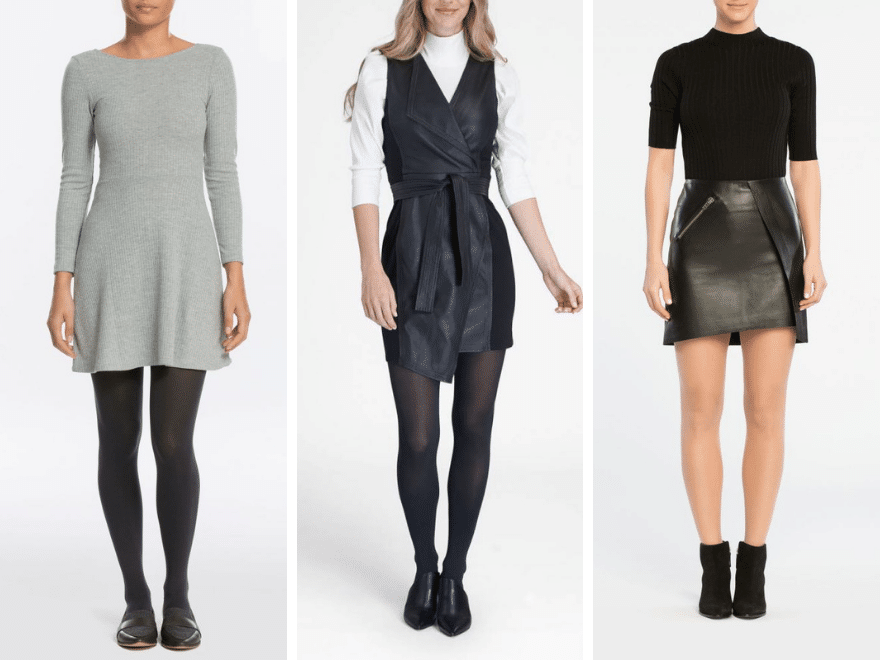 Think about the type of outfits you will wear on the next few months. Maybe you have a special occasion for which you're planning to wear a bodycon dress, and choosing great shaping tights is your number one goal. Tight End Tights or High Waisted Shaping Sheers are two options you should consider if this is your case.
Or maybe your main issue is the cellulite that shows through your pants. The Footless High Power Capri will help you airbrush your skin and let you wear your favorite pants comfortably.
Also, keep in mind that many tights feature a mid-thigh shaper "short" that will show if you're wearing mini dresses or skirts. A nice alternative that will prevent this from happening are the Tummy Shaping Sheer tights.
Other features to take into consideration
There are other features you should keep in mind when choosing the right pair of tights. Some, for example, include a cotton gusset that leaves wearing undies completely up to you. These are ideal for those outfits that are skin-tight and show your underwear line.
Furthermore, if the extra pounds around your stomach area is a main concern for you, styles that feature ultra-high waists that hit below the bra such as Tight-End Tights and High Waist Shaping Sheers are a great option that will target your problem.
| | | | |
| --- | --- | --- | --- |
| | | | |
| | Tight-End Tights®, High-Waisted | Perfect tights for tummy shaping | |
| | High-Waisted Shaping Sheers  | Most versatile tight option | |
| | Footless Higher Power Capri | Best tights for a flawless finish | |
| | Reversible Mid-Thigh Shaping Tights | | |
| | | Best tights for a natural leg look | |
---
The Ultimate Winner
Choosing the right pair of tights is a very personal decision that will depend on your specific needs.
However, based on ratings and features, the Tight-Ends Tights are probably the best option for those who are open-minded and simply want a great pair of tights that will shape their silhouette.
Read this next: