4 Best Spanx Underwear for Women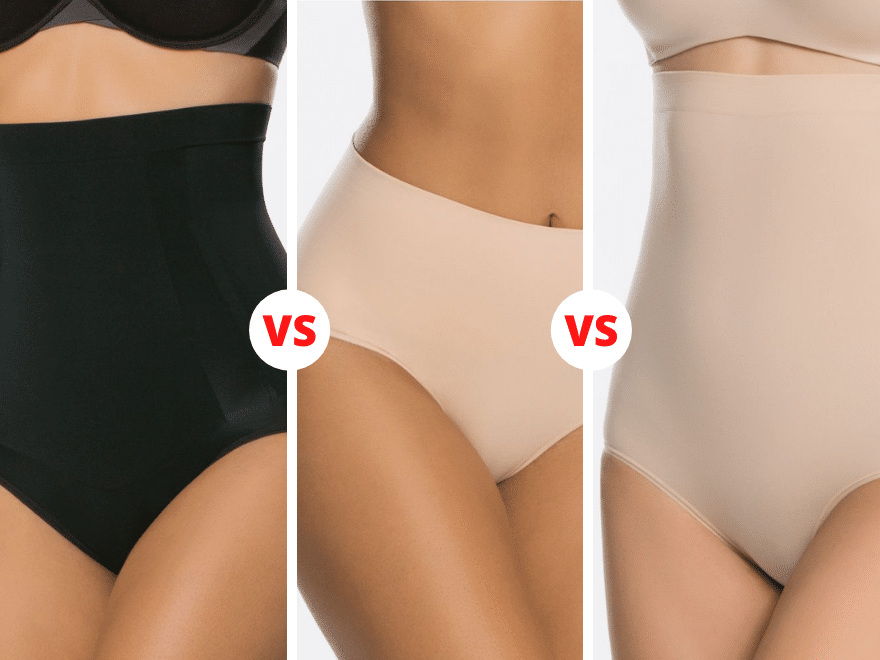 Curious about what the best Spanx underwear is? Rejecting an outfit simply because you don't have the right underwear can be frustrating. Many underwear fit terribly, give you visible lines, or won't hold in your stomach as you'd like to, and whether we like it or not, panties can make or break the perfect look.
That's why we've decided to compile the 4 best underwear from Spanx that will make you forget these problems.
These options have all the features necessary to give you a great experience: from supporting your tummy enough as to wear with bodycon dresses, to making you feel comfortable and cute daily.
As an affiliate partner of various brands and sponsored content, CakeStyle may earn commission on qualifying purchases. Disclaimer | Advertise With Us
Higher Power Panties – Must-have basic underwear to flatten the stomach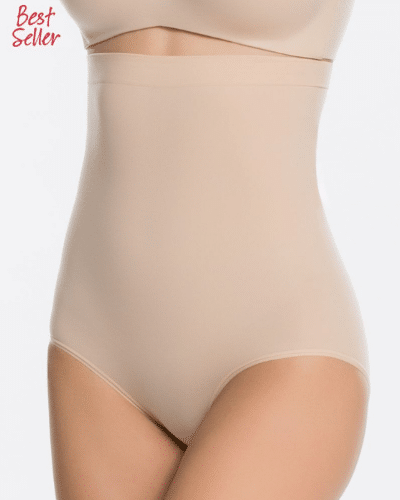 FUN FACT: these panties go in regular and plus sizes
WHAT THEY DO: shape your silhouette thanks to its all-over support
Feature an ultra-high waist design to avoid muffin tops. The Higher Power panties are a great option for women who feel self-conscious about their tummy or their muffin top. These go all the way up right below the bra, offering full support on your problem area.
Perfect for boosting your confidence, especially for those women who have recently gained weight. Many women over 50 have enjoyed these panties because they slim down the figure and control everything without slipping down or cutting in the middle.
Also, have a center-seam free for added comfort. Apart from tucking in your tummy, these panties also give your full-comfort thanks to their lightweight, all-day shaping that leaves out any seams at the center. They're also really soft, thanks to the luxe yarns that offer a smooth result.
Besides, these panties have amazing reviews on Amazon. With more than 2,800 reviews, they reached a 4 out of 5-star rating, with almost 60% of users giving these panties complete 5 stars.
One of the benefits that stand out the most, apart from their tummy-tucking features, is that they stay put all day, even though they have a high waist design.

PROS: holds in your stomach effectively and stays put all-day; many users agree that they don't roll down when they sit or bend over.

CONS: the material isn't as thick as other Spanx products, so be careful while wearing them.
---
OnCore High-Waisted Brief – Most comfortable for daily wear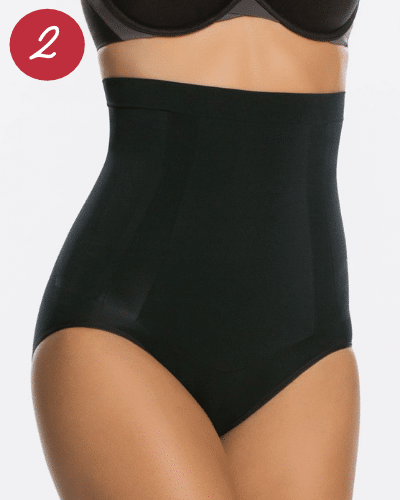 WHY YOU NEED THEM: to wear anything you want with confidence, as these panties have been designed to sculpt your figure
USERS SAY: "Comfortable to wear and don't roll down while wearing. Fits true to size and holds me in just wear I need it without making me feel like I'm suffocating."
"Lightweight and powerful" as Spanx describes them, these panties are a great choice if you're looking for slimming shapewear. They feature a bonded tummy panel and side panels that hold in your problem area without suffocating you. You can move freely and wear them all day long thanks to their comfortable sculpting features.
They come with hook and eye closure. That makes them easy to manipulate whenever you go to the restroom. Also, bra straps are included in case you want them to hold your panties, although it looks like these can be easily unhooked.
However, these straps may not be needed because they stay in place. Many users are impressed with this benefit, writing reviews like: "I can't believe this high waist brief does not roll down on me….I'm IMPRESSED, to say the least!" or "Highly recommend. Stays in place and doesn't roll down."
Thin and invisible to the eye. So you can rest assured that no one will know your secret. A great option for hot summer days, their material is ideal for wearing under any type of garment: from jeans to bodycon dresses.

PROS: comfortable even in heat and humidity, stay in place, and have a hook and eye closure at the bottom

CONS: since these panties are designed to hold in your tummy, eating too much while wearing them might make them extremely uncomfortable.
---
Everyday Shaping Panties Brief – Best for shaping your tummy and behind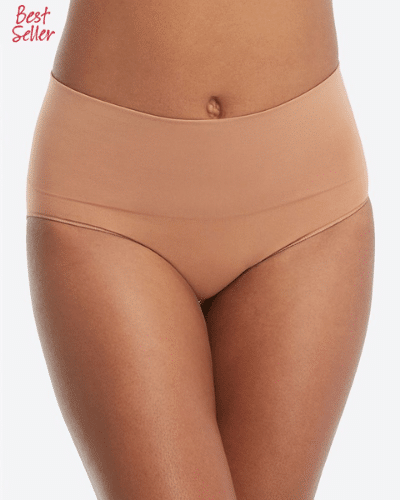 FUN FACT: you get three for the price of two if you buy them on Spanx's website
LOVED FOR: the seamless and smooth look that makes them ideal to wear under lightweight dresses or even tight bottoms.
Perfect for daily wear: If basic panties are what you're looking for, the Everyday Shaping Panties are a great option. They have five color options to choose from, giving you full versatility to wear them with anything you want.
They're comfy and help you shape your lower belly and behind. If muffin tops are not your main concern, these panties will help you control your lower belly without squeezing you.
However, not the best option if you truly want to tuck in your stomach. Since these are basic panties and don't have a high rise, they will not provide enough support to hold in your problem area, only your lower belly.
A bestseller style, these panties have received a 4.1 out of 5 stars on Amazon, with a total of 754 reviews.

PROS: the feature that stands out the most from the reviews is their soft fabric that gives you comfort all day long; there is no visible panty line and it available in 5 different colors.

CONS: if the muffin top is your main issue, these panties won't work for you. Also, women with thick thighs may find them uncomfortable since the leg opening is on the right side.
---
Spotlight on Lace Brief – Best shaping briefs to feel sexy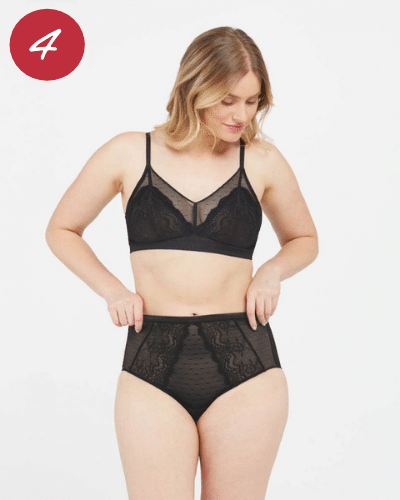 WHY YOU NEED IT: this brief offers a comfortable and luxurious shaping that will make you feel your best
FUN FACT: a matching bralette is also available!
Pretty and flattering. With graduated mesh that targets the lower belly, these panties feature a luxurious and super-smooth fabric with lace details. If you're looking for underwear that's sexy and comfortable, these are the ones.
Has a high waist that helps to keep your tummy under control. But don't expect a high-rise fit, as these ones hit right below the belly button.
Offer medium support. So for a smoother effect, you should check out other Spanx options with a higher rise and support.
The best feature is probably the comfortable and soft waistband that characterizes Spanx's undies. These move with you and prevents that digging-in that enhances the muffin top.
Wear it with tight clothes. The Spotlight on Lace brief undies promise don't give you any visible panty lines thanks to their stretchy lace leg-opening.

PROS: cute design, luxurious feel, and perfect to wear under tight clothes or see-through pieces thanks to their stretchy lace leg-opening

CONS: don't do much at shaping your tummy as other Spanx options, and they could bunch up a little at the sides.
---
Buying Guide to Spanx Panties: How to choose the right underwear
Spanx is well-known for its high-quality and flattering underwear, so basically you really can't go wrong with this brand.
However, knowing exactly what you look for is essential for a great buying experience, especially since Spanx has many (and different) options to offer.
These are some of the considerations you need to keep in mind in order to choose the right undies:
Take your time to find your correct Spanx underwear size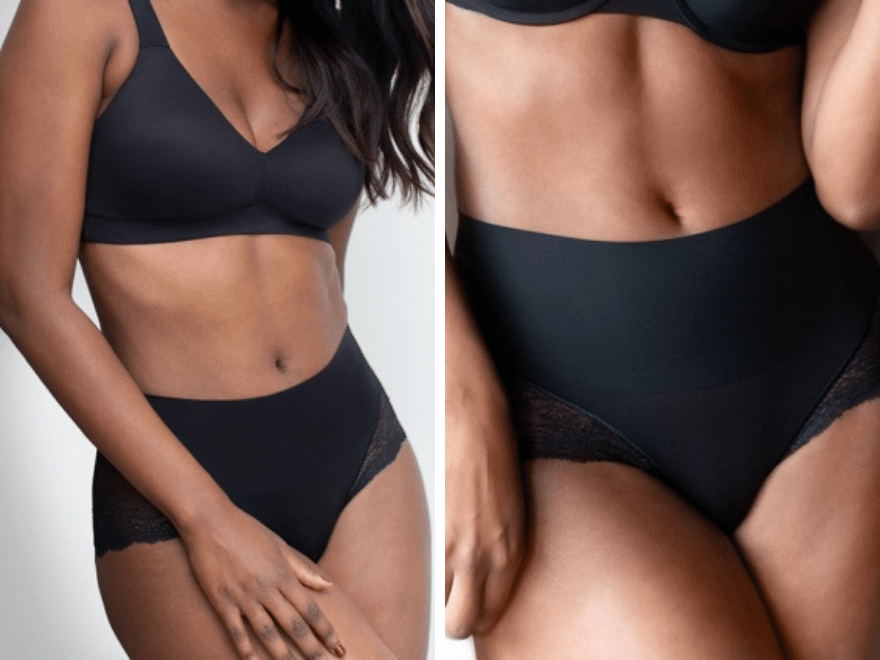 What works for you from another brand may not be the case for Spanx, so before you jump in to make your decision, take time to look carefully into their size chart.
Double-check if your usual size is Spanx's size as well. Our suggestion is that if you find your measurements fall within two sizes, go for the largest option.
Keep in mind that plus sizes may not be available for some styles.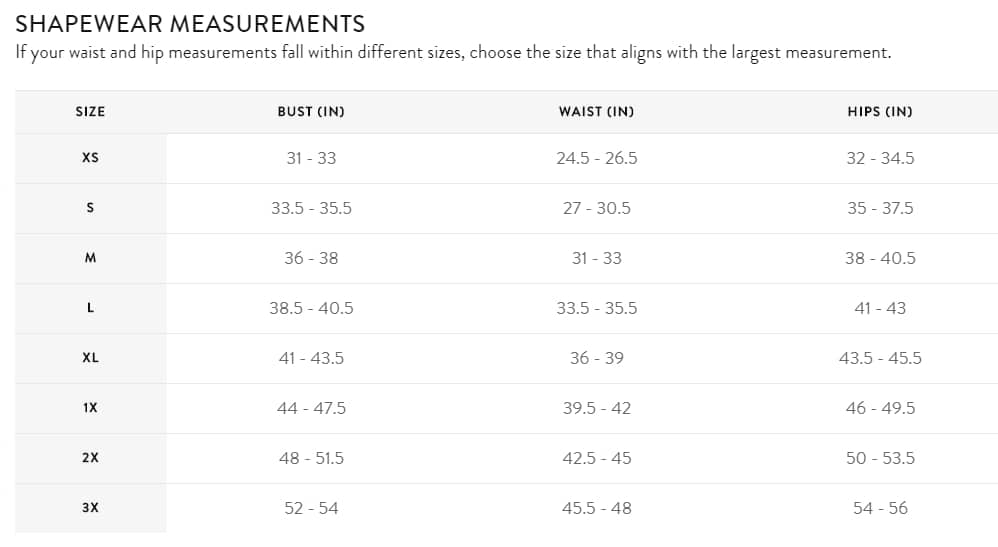 What level of tummy support do you expect from your undies?
This is a crucial question you need to ask yourself. Some styles are amazing at targeting your problem area, while others are better for women with a flatter stomach.
If you truly want underwear that will smooth out any imperfection while effectively holding in your tummy, styles such as the Higher Power Panties or OnCore High Waisted Brief are great options.
On the other hand, if your stomach or muffin top isn't an important issue, going for styles that offer medium to low support might be more comfortable for you.
The Everyday Shaping Panties Brief and Spotlight on Lace Brief are two options that are better suited for women who fall into this category.
Consider the occasion of use
Panties for daily wear aren't the same as those you wear on special occasions.
You might be willing to wear tighter underwear for events that require a tight outfit, so choosing panties with a higher rise and support level will be ideal.
On the other hand, if you're looking for something comfortable and flattering to wear daily, a regular high-rise or even mid-rise panty that hugs your tummy will be enough. Styles such as the Spotlight on Lace or Everyday Shaping Panties are two options you can consider if this is your case.
---
FAQ
Do you wear underwear with Spanx?
Since Spanx is famous for its shapewear, it's normal to get confused about how their products work. Its shapewear is designed to be worn by itself, but if you feel more comfortable wearing something underneath, it's completely up to you. However, the four panties included in this article are underwear, so there's no need to wear anything with them. You can check out their section of underwear styles where you can find other options as well.
Which Spanx is better for tummy control?
As a rule of thumb, any style that has a really high rise will always be better. That's why the Higher Power Panties and the OnCore High-Waisted Brief styles are the best options for it. For future reference, you can double-check the support level for each style on Spanx's website.
Should your size down in Spanx?
We would definitely recommend you to go with your true size. Spanx has a complete and size chart where you can easily find yours, all you have to do is take your measurements to make sure your size is up to date. If you find your measurements fall within sizes, we would suggest going for the larger option.
The roundup winner
Choosing the perfect panties strongly depends on your preferences. Also, knowing what you expect from them is crucial in making the right decision.
If flattening your stomach is your main goal, the Higher Power Panties are a nice option that is comfortable enough to wear all day long. However, if you're simply looking for new go-to underwear for daily wear, the Everyday Shaping Panties are the best choice.
Read This Next: