How To Style Spanx Faux Leather Leggings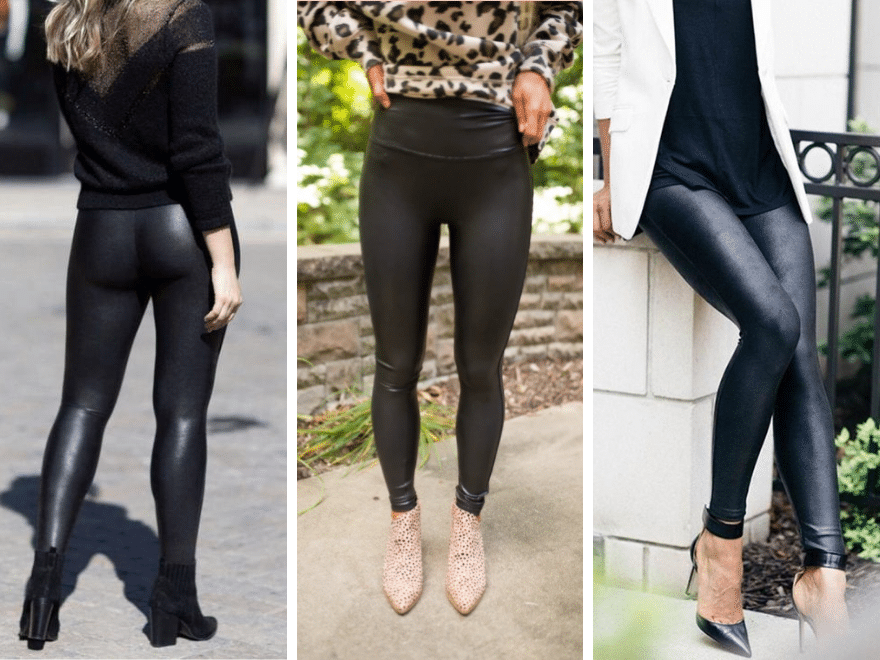 Spanx is known for its shapewear which is why they were able to create a faux leather legging that stands out from the crowd.
Over the past couple of years, Spanx Faux Leather Leggings have gained a cult-like following. Let's get into some of the reasons why Spanx Faux Leather Leggings are so popular.
While they have a leather-like appearance, they are faux leather making them more affordable, comfortable, and vegan friendly.
As an affiliate partner of various brands and sponsored content, CakeStyle may earn commission on qualifying purchases. Disclaimer | Advertise With Us
Yes, that means these leggings offer support that's similar to their shapewear. They give you that great smoothing effect we all love and makes these leggings fit and feel vastly different from other options.
How to Style Spanx Faux Leather Leggings
One of the favored qualities of Spanx leggings is their versatility. They're a garment that can be styled countless ways to create so many different outfits.
The faux leather texture provides a soft sheen effect that adds dimension and added style without making too much of a statement, giving you this great middle ground so they're incredibly easy to style and fortunately, they're incredibly comfortable to wear.
Personally, we find the wide waistband a design detail that makes these even easier to wear. Because of the higher waistband it's easy to style them with everything from a cropped shirt to tunic, and everything in between.
What to wear with Spanx Faux Leather Leggings
Now that we've established faux leather leggings that are versatile, comfortable, and stylish let's chat about a few outfit ideas so you know what to wear with the leggings.
With a Leather Jacket
The leather on leather? Yes, please!
This combination is the epitome of edgy chic. Whether you style leather leggings with a leather blazer or a leather moto jacket you will be left with a great look that's super easy to throw on.
If you have a leather jacket that's in a color other than black, like maroon or green, for example, feel free to rock them with the leggings. Wearing a leather jacket in a different color will give you an edgy color-blocked aesthetic.
Anytime you need to get ready in a pinch, this is a great go-to look to lean on.
---
With a Poncho
Ponchos are making a major comeback this season, fortunately, they also happen to look great paired with faux leather leggings.
Mixing different textures like a knit poncho with faux leather adds instant style and a unique twist to just about any outfit, it also tends to give an outfit even more of a fall vibe.
Because these leather leggings are black, you can wear just about any color or printed poncho of your choosing.
---
With a Denim Jacket
Add a casual element to faux leather leggings with a denim jacket to complete the look.
Let's face it, denim jackets are a staple in every woman's wardrobe. Anytime you want to throw on an outfit that's casual but still cool and stylish, leather leggings and a denim jacket is the best outfit to wear.
Complete the look with a simple t-shirt or a graphic tee if you want something a little extra. You can't go wrong with leggings and denim.
---
With a Vest
One of the easiest ways to style leggings to make them look and feel different is by layering different third pieces with them. Third piece items are garments like jackets, vests, etc.
That being said, vests are another fun choice to wear with leather leggings. If you work in more of a casual work environment, this can potentially be a work-appropriate outfit. But if it doesn't work for your office, it's also fun for brunch or a casual outing with friends on the weekend.
Get creative with your vests! Whether it's leather, knit twill, or something else it will be a great layering piece to wear with leggings.
---
With a Long Cardigan
Ah, the fall staple for women everywhere: the long cardigan. There's a good reason this is a go-to piece during the fall and winter months. It's comfortable and warm!
The good news? You can wear your favorite long cardigans with faux leather leggings. The leather texture of the leggings has a way of elevating the entire look of a casual long cardigan.
---
With a Fluffy Sweater or Coat
Notice a theme here? Faux leather leggings are a great foundation piece to wear with just about any other textured garments, fluffy sweaters and coats included.
We don't know about you but as the temperatures start to drop we begin resorting to primarily wear fluffy, warm pieces like sweaters and coats.
The good news is you can still look on-trend, thanks to Spanx faux leather leggings. The juxtaposition of fluffy material with the edginess of the leggings makes for the coolest cozy weather outfit.
---
Summary
As we mentioned before, one of the main attributes that sets these Spanx Faux Leather Leggings apart from others is the fact that they offer Spanx's shapewear benefits.
Don't be intimidated though, I know some women hear 'shapewear' and instantly think 'uncomfortable.' Spanx really did it right with these leggings and made them with tummy control but with 'medium control' so you can still breathe, move and live comfortably.
Really all the medium tummy control does is give you a smooth, shaped effect to your stomach, hips, and thigh area. The thick waistband is what really helps create this natural tummy control element.
Cover image sources: