You know the brand Spanx, but do you know the best Spanx bras? Bras are the hidden gem that can make us feel and look our best. But let's face it: finding THE one is a real struggle.
That's why we've done the research to find the best Spanx bra styles! This ultimate guide includes options for every type of need: from lifting your girls to whole new heights to minimizing your chest comfortably.
Keep in mind that each bra style offers different features that cater to different needs.
Before you dive into this list, ask yourself what is exactly you're looking for: a supportive sports bra for the gym? New and comfortable bras for daily wear? Or maybe just a simple and easy bralette to lounge around the house?
Knowing exactly what you need will make your life much easier. Once you're ready, follow us as we guide you through the reviews of the best bra styles from Spanx that will help you discover the perfect one.
| | | | |
| --- | --- | --- | --- |
| | | | |
| | Bra-llelujah!® Full Coverage Bra | Most comfortable bra for daily wear | |
| | Up For Anything Strapless™ Bra | Best strapless option for a perfect fit | |
| | Low Profile Minimizer Bra | Most suitable bra for large chested women | |
| | Pillow Cup Signature Push-Up Plunge Bra | Perfect bra for a natural lift | |
| | Bra-llelujah!® Lightly Lined Racerback Bra | | |
| | Bra-llelujah!® Unlined Bralette | Most comfortable alternative to regular bras | |
| | | Most supportive bra for working out | |
Bra-llelujah! Full Coverage Bra – Most comfortable bra for daily wear

Pros: Front clasp closure; nothing on your back. A front-clasp closure makes putting it on much easier than regular bras and helps you smooth out your back. You can also wear fitted clothes comfortably thanks to its t-shirt silhouette that gives you full coverage and holds everything in place all day long.

Cons: The stripes are quite wide. The only thing you need to take into consideration with this bra is that its wide straps might not go well with summer clothes that have spaghetti straps.
---
Up For Anything Strapless™ Bra – Best strapless option for a perfect fit
From large-chested to small-chested women, the Up For Anything bra gives you support and comfort all day.
The best strapless bra for large bust: As opposed to most strapless bras, this one stays in place thanks to Spanx's SmartGrip™ technology and With Me® tape. Users have shared that this smart grip sticks to their bodies and they never need to adjust it.
Has a natural counter and the shape isn't notable: The seamless design promises a smooth fit and the memory foam cups offer a natural look.
Worth the money: Furthermore, although this one might not be the best budget-friendly option out there, it's worth the investment. A comfortable strapless bra made of high-quality material is not something you can easily find.
Must-have for summer dresses and dresses with open shoulders: If summer's around the corner, this bra will be a good addition to your wardrobe.
FUN FACT: The Up For Anything bra comes with removable and adjustable straps to give you full versatility.
USERS SAY: "Best strapless I have ever purchased. Does not fall. I never have to adjust"

Pros: Invisible to the eye. This bra lets you wear anything you want: from open-shoulder dresses to spaghetti-strap tops.

Cons: It can leave dents if you are wearing it all day long.
Low Profile Minimizer Bra – Most suitable bra for large-chested women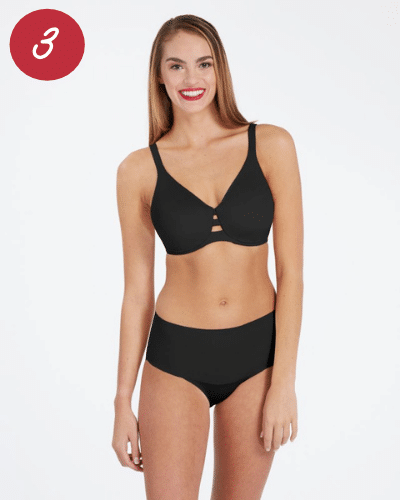 WHAT IT DOES: minimizes your bust and gives your girls the support and coverage they need
WHY YOU NEED IT: to wear anything you like without worrying about wardrobe malfunctions
The Low Profile Minimizer bra really minimizes your size and balances the silhouette: Specially designed for large-chested women, the Low Profile Minimizer Bra from Spanx is capable of reducing size up to 1 inch in the most natural way possible. Its innovative sling technology enhances your natural shape while giving you full coverage.
If you hate when bra is pulling or stretching your blouse in the breast area – you should try this one: This minimizer bra also features cushioned underwire and straps, which translates to a comfortable every-day wear bra. The brand's goal with this style is to "make sure you always feel your best", as they understand that pulling shirts and wardrobe malfunctions are a common issue for women with a large bust.

Pros: It's a comfortable, flattering, and ultra-soft bra that also has side support that helps you keep the girls front and center. Also, it doesn't have any padding in the cups, leaving out any unnecessary dimensions. You can always add silicone disks if you need to cover the nipples.

Cons: Our only suggestion if you're a short girl is to keep in mind that this particular bra has a wire that's quite high in the middle, so it might not work as well as you would like to.
Read: The Best Bras For D and E Cups
---
Pillow Cup Signature Push-Up Plunge Bra – Perfect bra for a natural lift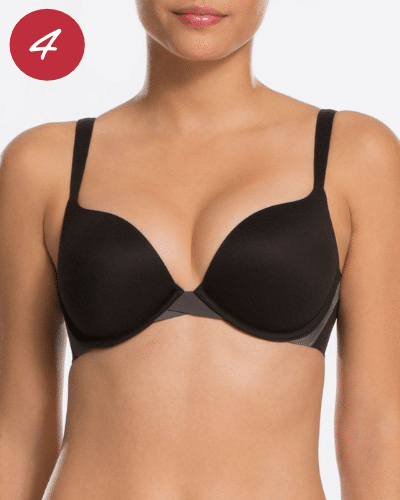 LOVED FOR: its lifting effect that makes your shape look completely natural
FUN FACT: some users have called this push-up bra their "magic bra", adding that it lifts their girls to "whole new heights"
Great choice for small bust: This push-up bra from Spanx features gel padding that provides a natural and sexy lift, perfect for women who have a small bust or for anyone who wants to enhance their curves.
The push up you want to wear: Thanks to the ultra-soft Pillow Cups made with the 3D latest technology, your girls will get the attention and comfort they need. Many push-up bras only end up in weird-fitting outfits that make you feel uncomfortable, but this one makes sure you look natural above all.
Magic design: The seamless design along with the soft underwire channel are other features that provide a flattering shape by smoothing outback and/or side fat.

Pros: The soft straps that characterize Spanx's bras are another element that adds comfort as well.

Cons: Some people have shared that they had some trouble finding the right size for them. The cups are on the smaller size compared to regular push-up bras, so you might need to order one size larger.
---
Bra-llelujah!® Lightly Lined Racerback Bra – Best back-smoothing bra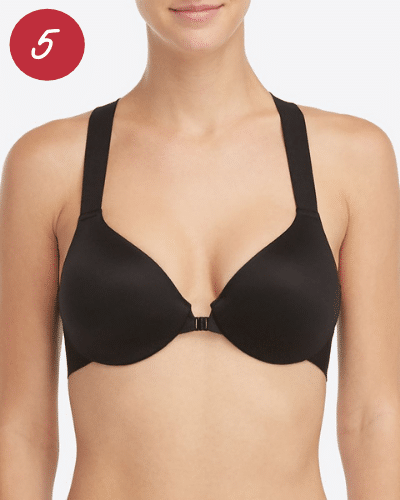 You can say "bye" to the fat on your back: Spanx's Bra-llelujah! racerback bra is a fan-favorite among women who are often annoyed by the back and/or side fat that other bras usually enhance. This one, on the contrary, focuses on offering comfort while flattering your natural shape and getting rid of any imperfections.
It comes in two different variations: If you order a size 36C or larger, the back will have criss-cross straps to secure full support and comfort. However, for smaller sizes, the straps will be sewn together at the back's center (a kiss-back design, as Spanx calls it).
No extra size: This racerback bra also features lightly lined cups that will give you a natural shape and ultra-soft SPANX SMART straps for added comfort. This is a great option if you're looking for a bra that will hold everything in its place without having to add size.
Women usually go for the Bra-llelujah! bra because it allows them to wear their favorite racerback dresses or tops.
USERS SAY: "Unbelievable, I didn`t know a bra could be this confortable."
WHY YOU NEED IT: this Bra-llelujah! bra helps you smooth out any imperfections on your back and is easy to wear with your racerback tops

Pros: The sides aren't high at all, which offers more versatility to wear any type of sleeveless outfits you choose.

Cons: Some users weren't happy with have criss-cross straps as they were expecting a "kiss-back design".
---
Bra-llelujah!® Unlined Bralette – Most comfortable alternative to regular bras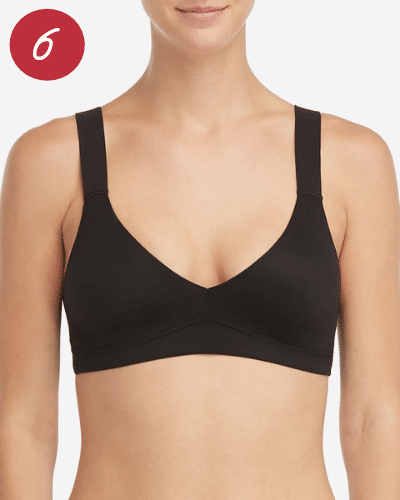 Alternative bra: If you're looking for an alternative to regular bras, Spanx's Bra-llelujah! unlined bralette is great option. Users say this style is so comfortable it will make you consider sleeping in it.
It is great bra for women after plastic surgery: Its super-soft material makes this bralette ideal for women with post-mastectomy breast reconstruction or other plastic surgery. That's just how soft and comfortable it is.
It's not uncommon to read reviews from women who've gone through this type of surgeries admiring this bralette. One customer, for example, wrote on Amazon: "After surviving Breast Cancer and looking for the perfect bra following reconstructive surgery I finally found it"
Easy to wear all day: A simple style that leaves out unnecessary wires, padding and hardware, Spanxs's bralette is also easy to put on and wear all day, and the bottom part make almost V shape so there won't be any uncomfortable rollers.
The signature dig-free SPANX SMART Straps™ offer enough comfort and support as to wear it with any outfit you choose.
FUN FACT: the patented all-hosiery back also helps you smooth out lumps and bumps
LOVED FOR: how comfortable and flattering it is for women who've had mastectomies

Pros: If you prefer regular bras to bralettes, the Bra-llelujah! bralette is still a fabulous option for just lounging around your house.

Cons: Some users give this bra low scores because it may be not the best option for large chest.
---
High Impact Sports Bra – Most supportive bra for working out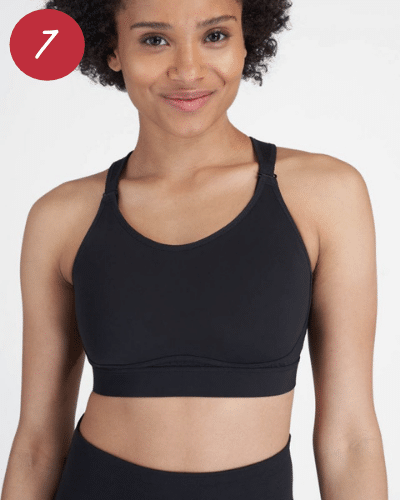 BEST FOR: high-intensity workouts that require jumping or running
FUN FACT: This bra is made of chlorine and saltwater resistant fabric so you can perfectly jump into the pool in it.
Great support: Women who enjoy working out regularly should try the High Impact sports bra from Spanx. Not only does it offer complete comfort with its t-shirt style and breathable fabric, but it has also been engineered to give your girls the support they need, even during high-intensity workouts.
Full-coverage: Whether you're walking or running, dancing, or jumping, its full-coverage design will offer maximum support and containment without choking you; it fits just tight enough to let you do your workout comfortably.
Focus on workout not on your bra: The bra features cushioned straps that stay put and away from the neck, letting you focus entirely on the workout and not on your bra. You can move freely knowing that your girls and the straps will stay in place.
Keeping in mind women's common issues with regular sports bras, this one was designed to combine both support and comfort.

Pros: This bra style is adjustable in the front and back, which makes it not only breathable and supportive, but easy to put on as well.

Cons: Some users have complained that it is difficult to fasten the hooks at the back without the help of another person.
---
Buying Guide: How to Choose the Right Bra Style from Spanx?
Each woman's bust and lifestyle is different. What works for your best friend might not be the best option for you.
So how do you choose the perfect bra style? There are a few things to take into consideration that will help you decide which is the right one for you.
Consider your body shape and breast size
Most women are wearing the wrong bra and it's all because they haven't taken the time to measure their breasts correctly. But the shape also plays a key role here.
For example, if you have a "slope" breast type, bras such as the Bra-llelujah! bralette is ideal because they will give you a natural look without needing the unnecessary full coverage from other types of bras. That's why knowing the size AND shape of your breasts is crucial when choosing the right bra.
You also need to take into consideration that your size may vary from time to time, so make sure you update your size before buying anything. The bras you bought two years ago may not be doing your girls any favor now.
Consider the occasion of use
Do you need a comfortable bra for daily wear? Or maybe you just need one for those racerback tops you love so much?
Asking yourself this type of question will also help you determine how many bras you need. For example, if you need to update your daily wear bras, buying Spanx's Bra-llelujah! Full Coverage bra in two or three different colors might be what you need.
You also need to think about your lifestyle. For example, if summer is just around the corner, the Up For Anything Strapless Bra would be a great addition. Or maybe you've been working from home lately and you feel like wearing comfy clothes, then the Brah-llelujah! Unlined Bralette might be just what best fits your current lifestyle.
Choose the features that best fit your needs
You also need to consider the different features that these bras offer. Some have wide straps and front clasp closure, which is a great option for women with large chests.
Another example is the Low Profile Minimizer Bra, which features a built-in sling that keeps your girls in their place while reducing your size, a quality that makes it ideal for women whose shirts are usually pulling.
If, on the other hand, you want to lift your girls, the gel padding on the Pillow Cup Signature Push-Up Plunge Bra will do the trick.
Look through Spanx's size guide carefully
Once you've determined your breast size and shape, as well as the bra style you need, take your time to look carefully through Spanx's size guide. Keep in mind that bra sizes may vary from brand to brand, so don't take this part lightly, especially if you've never worn this brand before.
If you have friends who have bought Spanx bras before, ask them about their fitting experience. Remember that the way your bra fits you has the power in determining how comfortable you feel and how good you look.
The Roundup Winner
Spanx is well-known for its comfortable and high-quality bras, so basically you can't go wrong with any of their styles.
However, a best-seller is a fan-favorite for one reason and the Brah-llelujah! Full Coverage Bra is definitely the one you should go for if you're flexible on price and style. Extremely versatile and comfortable, this bra is perfect for every woman.
In addition, the Up For Anything Strapless Bra is a must-have item as well. Whether we like it or not, there will always be occasions in which we won't be able to avoid wearing a strapless bra, and Spanx's Up For Anything is simply the best option.