Top 5 Spanx Maternity Shapewear & Leggings Reviews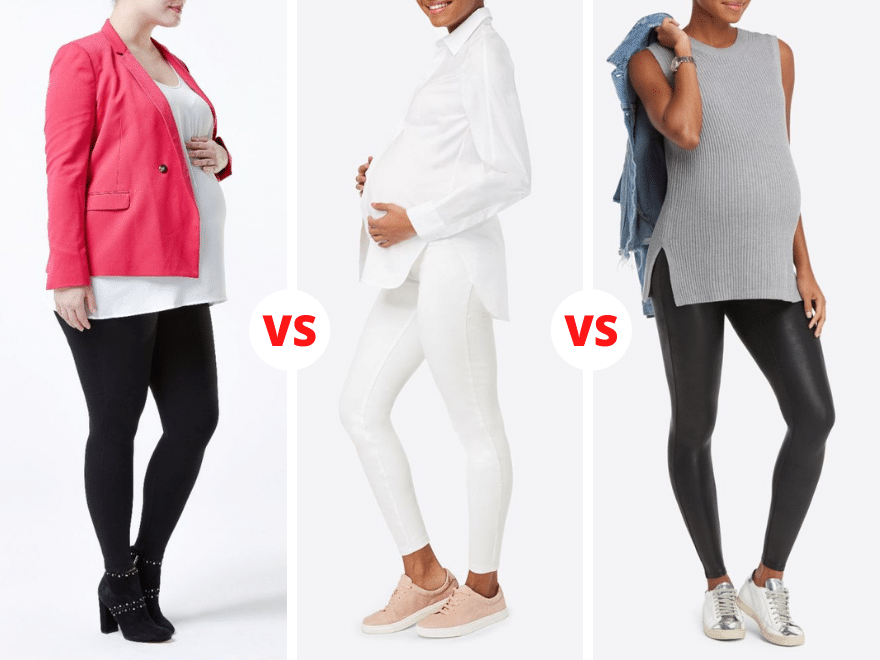 Yes, Spanx maternity shapewear is a thing! Expectant mothers are often afraid to wear other brands of maternity leggings and shapewear because of harmful pressure in the pelvic and belly areas.
Sherry A. Ross, a specialist in women's health, informs that wearing shapewear while pregnant depends on 3 things:
the quality of the product
the way an expectant mother wears it
the time a pregnant woman wears shapewear.
We have analyzed reviews on various websites to provide a detailed and truthful review of the Top Spanx Maternity styles. We have also consulted health specialists to clear out whether shapewear can hurt a baby and a mother-to-be or not.
As an affiliate partner of various brands and sponsored content, CakeStyle may earn commission on qualifying purchases. Disclaimer | Advertise With Us
Quick Spanx Maternity Styles Review: Tips to Consider and Keep in Mind
Spanx has introduced 5 styles of maternity leggings. At first glance, they look similar. Indeed, each style has peculiarities a caring mom should consider.
If you want to buy the best style, you should study our review which reflects all pros and cons of the Top 5 Spanx Maternity Styles.
---
---
BEST FOR: the best option is to wear them in the I and II trimesters of pregnancy.
OUR TIPS: to make them serve longer, one needs to follow the instructions of Spanx. The cloth does not fit ironing and you should wash them gently in cold water.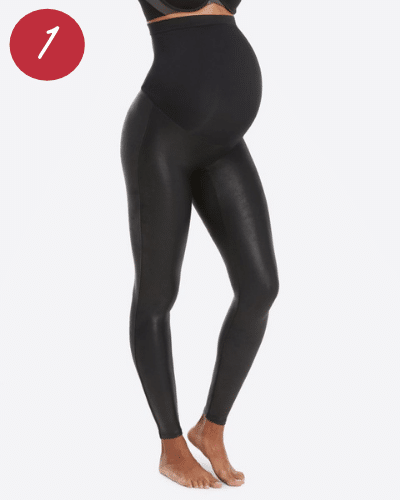 ---
---
Faux-Leather leggings let women look stylish and sexy even during their pregnancy. These vegan leather maternity leggings type makes hips and buds slimmer due to the thin and tight material. The waist part, on the contrary, stretches and prevents discomfort and pain. It might become a perfect choice for those whose term does not exceed 20 weeks.
It will keep you and your baby warm. The manufacturer promises comfortable wearing in winter.
Great range of sizes. The size corresponds to standards (from XS to 3X). So, one might be free to select the exact size.
You will love them if you already experienced Spanx Faux Leather Leggings.
PROS:
stylish
good quality
thin, has zero center seams
are good for winter
CONS:
a bit pricey ($110)
sag and demand constant pull up the waist.
---
---
FUN FACT: they might fit you before and after pregnancy. The belly part is not tight and 'grows' together with the mom's tummy.
USERS SAID: "The belly panel allows for growth so if you decide to go this route (which I highly recommend), buy your pre-pregnancy size and these should be useful nearly throughout an entire pregnancy."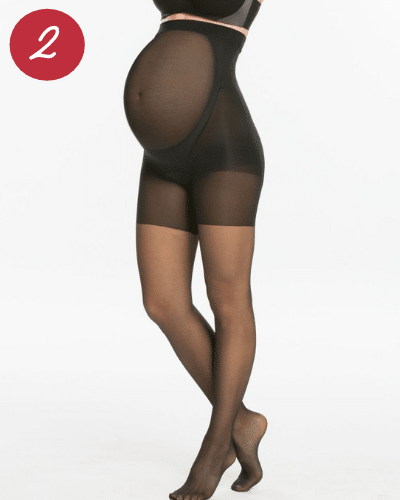 ---
---
These sheer tights stay in place and not rolling or riding down. Genuine shaping sheers are comfortable. You might wear them for many hours and not worry about discomfort or pain. You could forget about all-the-time rolling and riding down.
Very comfortable belly panel. They support your lower back part and your belly, but not tight, exactly what pregnant women want to feel.
The product has 4 sizes from A to D. One should be attentive and read the information concerning their size characteristics.
PROS:
provides enough support for the waist part
fits perfect for summer dresses
makes the silhouette look nice
cheap ($28)
very gentle in the waist part for not to hurt the baby.
CONS:
one must be careful with the choice of the size
only hand wash cold
covers bras in low-height women.
---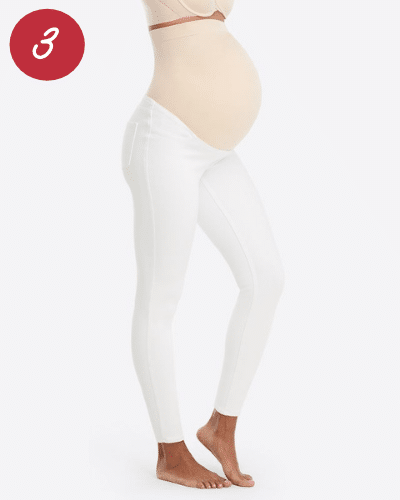 STYLE WITH: with these jeggings, it's easy to remain stylish and match your favorite shirts.
LOVED FOR: super stretchy and looks more like real jeans, but feel really comfortable.
---
90% positive feedback. Compared to most Spanx Mama Leggings, these have 90% positive feedback. They look like jeans but are more comfortable thanks to top-quality material and they do not have a seam.
Moreover, there are 3 colors (black, white, and twilight rinse) and Spanx offers 5 sizes (from XS to ML) that are precise. You might forget about the discomfort provided by extra tightness and looseness. They don't ride down and shape the body appropriately.
You May Also Like: B Cup Breasts – Perfect B Cup Size Example, Comparisons & Best B Cup Bras
Customers highlight its stretchy and comfy material. They are extra comfortable before, during, and after pregnancy.
Be gentle. Jean-ish Leggings needs a gentle machine wash and only cold or tepid water. One can iron them at low temperatures.
PROS:
stylish and perfect for fans of jeans
the waistband grows together with the belly
2 hip pockets.
CONS:
its dye comes off
a bit costly ($110)
---
---
LOVED FOR: the cloth does not create a 'greenhouse effect' and let the skin breathe.
WHAT IT DOES: it provides compression, smoothing and skin breathing without being too restricting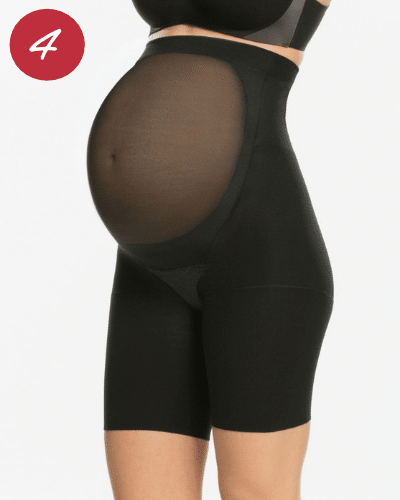 ---
---
This style fits those who like dresses and skirts but don't want to wear stockings. The shorts got 5 stars on Mumzworld due to the high-quality fabric and perfect shaping of the belly, hips, and bottom.
You May Also Like: Is G Cup Size Big? See G Cup Breasts Examples
Support from the very first days. Mama Short supports the waist part perfectly, and due to that, the product provides comfort within 9 months.
Feel comfortable in any kind of situation. The waistcloth expands together with the growing belly. So, one should buy a pre-pregnancy size to feel comfortable. You might not worry about your meals because the waistcloth covers the body gently.
Be careful with the belly panel. You should remember not to rip them up to prevent tearing. Our tip is to not pull anywhere near the sheer panel on the front and don't pull up on the front even if you're extremely gentle.
There are only 2 universal colors: black and bare. We recommend paying attention to the size guide. Spanx gives A, B, C, and D sizes.
PROS:
24/7 comfort
soft and stretchy fabric design
good shapewear
relatively cheap ($32).
CONS:
one should be careful with the belly part that has thinner material
it might get damaged if a woman puts them on wrongly or too quickly.
---
---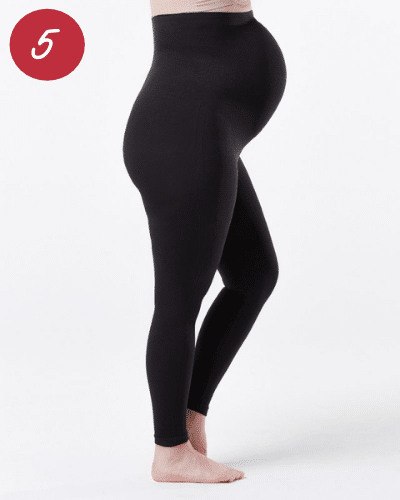 We can divide reviews of these leggings into 2 halves. The first half of mommies regard them as super comfortable and soft. They appreciate thick fabric that keeps them warm in fall and winter. The second half finds the cloth a bit thin for cold seasons.
FUN FACT: some users find these maternity leggings perfect for wintertime while some think these leggings too thin to be worn in cold weather.
LOVED FOR: the biggest advantage is a seamless design that makes them stylish.
---
Fits true to size. 100% of reviews underline their size accuracy. There are 8 sizes to fit everybody (from XS to 3X).
Great choice for tall women. They are long enough, so tall women find this feature very useful and beneficial in winter months. Medium and low height women may find this feature disappointing because they have to roll them up.
There are two colors: very black and port navy. The cloth demands gentle wash in cold water and no ironing.
PROS:
super comfy before, during, and after pregnancy
perfectly shape the body
good quality cloth
the waistband supports the belly and relieves back pain.
CONS:
the cloth is 'sticky' and picks up hairs and fibers
the seamless design fits only shaping, but it's a bad idea to wear them as pants
---
Buying Guide: FAQ and Answers
Customers often ask questions concerning their goods. We have investigated websites of top-rated online stores to learn questions women ask about Spanx Leggings.
We have also analyzed the answers of the manufacturer and women who have already bought the product.
---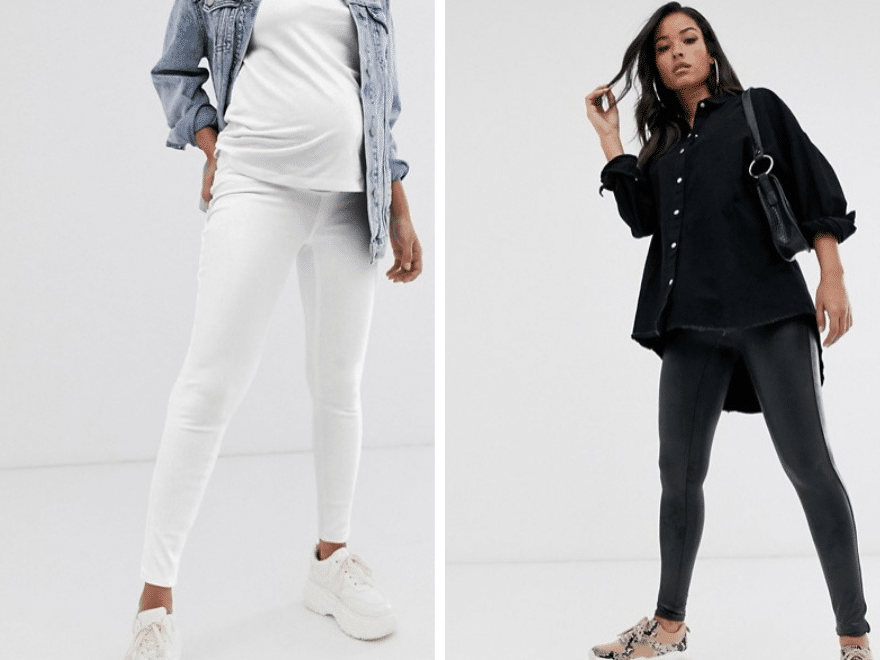 ---
I am between 1X and 2X. Which size to order?
Don't worry if you are between sizes; the best option will be to order the larger size. You might gain extra pounds, and smaller leggings will create unnecessary pressure and discomfort.
How to choose the proper size?
You should study the leggings size guide on Spanx official web page. There are two categories. The first one deals with average sizing from XS to 3X and the second one is less common (A, B, C, D).
The next thing is to decide whether you will wear them for all 9 months. In this case, it will be better to buy your regular size or +1 because the waistband grows together with your belly.
---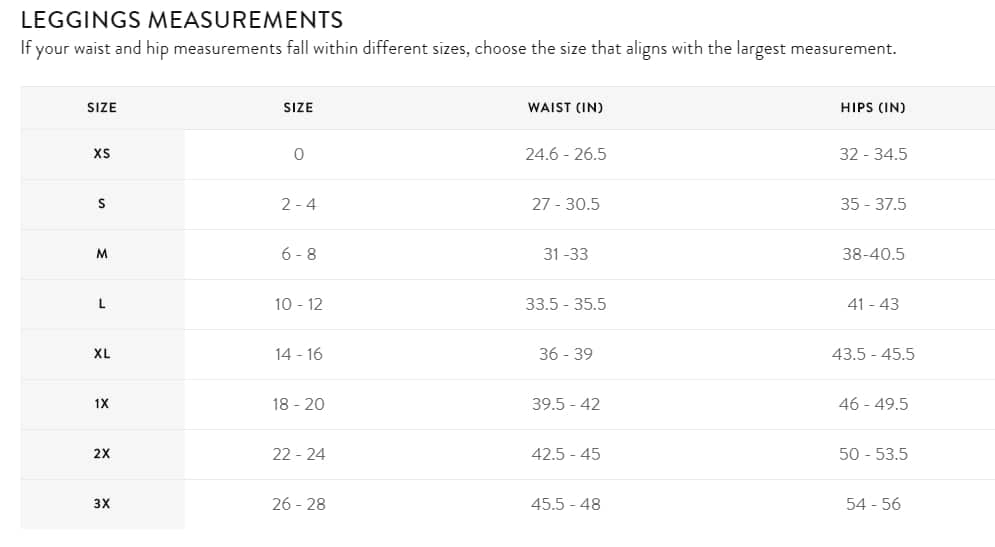 ---
Are they warm enough for winter?
As far as you can see, shorts and thin leggings fit summer and warm spring and fall. Other styles have thicker fabric. So, you might wear them in cold seasons. This feature is very important. The best variant is to get 2 pairs: one for warm weather and one for cold days.
What are the most important things to consider when selecting product?
Mostly, you need to regard 3 basic things: PURPOSE, SEASON, and STYLE. You need to answer the following questions.
Do I need to support my growing belly? (search for the style that offers such an option)
Do I want to shape my body and hide extra lbs? (the best variant is a seamless style with cotton insets that prevents the formation of irritating camel toe)
Do I want to wear them in winter or summer? (pay attention to the fabric and the length of the leggings)
Moreover, study customers' reviews to know how gentle the waistband is.
Is it OK to put on leggings when pregnant?
Yes. The only thing you should regard is the quality of the fabric and its stretching abilities. Your leggings are not to be very tight and squeeze your waist part of the body. One should look for 'maternity' marking on the product. It means that the leggings are tested by moms and created for expectant mommies. Besides, it is better to prefer breathable fabric to feel comfortable the whole day.
How to take care of Spanx maternity products?
To make them durable, you should wash them only in cold or tepid water. Never iron the product or apply the machine dry. Each item must lay flat when getting dry. If your leather leggings squeak, you may apply a little body lotion, as Spanx recommends. Try to wear them regularly. Do not put them on sharply to prevent tearing.
| | | | |
| --- | --- | --- | --- |
| | | | |
| | Spanx Maternity Leather Leggings | The best option for I and II trimesters of pregnancy | |
| | Mama Mid-Thigh Shaping Sheers | They might fit you before and after pregnancy | |
| | Mama Ankle Jean-ish Leggings | Super stretchy and looks more like real jeans, but feel really comfortable. | |
| | | Does not create a 'greenhouse effect' and let the skin breathe. | |
| | Mama Look At Me Now Seamless Leggings | The biggest advantage is a seamless design that makes them stylish. | |
---
Conclusion
We hope that this guide will help you select great leggings to enjoy your pregnancy. Our information is reliable. Honestly, we prefer the truth and always look for websites that do not hide it. That is why our Spanx Maternity Roundup Review provides complete data concerning each style.
Amy Ann Arnold, the fashion blogger on Straight A Style, regards the faux leather Spanx as the "best leggings to feel comfortable and sexy when pregnant."
Your choice should depend on season and purpose. If you want to feel sexy and warm, faux leather and ankle jean-ish leggings might suit you best.
Read This Next: