Modlily Review: Is their low-priced apparel worth it?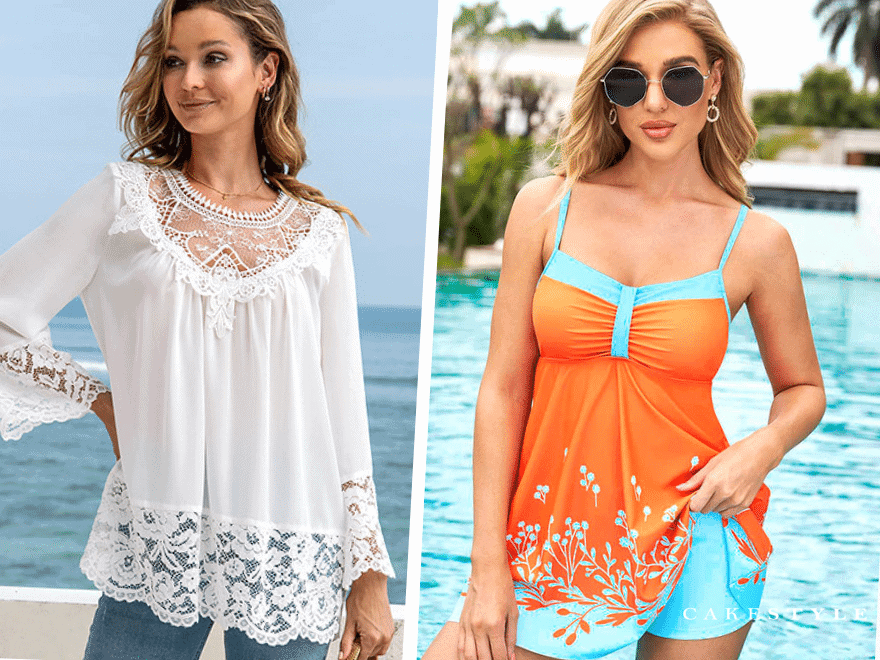 Most trendy fashion brands rely on a strong social media presence to show off their cute pieces. They try to take over Instagram through many posts a day or tons of influencer partnerships.
But you know a clothing brand is really good when it still sells like hotcakes even when it's not super active on Instagram. Such is the case with Modlily, one of the most affordable fashion labels I've come across online.
Modlily doesn't feel the need to oversell itself on social. But, I still managed to come across them from friends gushing about their clothes.
As an affiliate partner of various brands and sponsored content, CakeStyle may earn commission on qualifying purchases. Disclaimer | Advertise With Us
Is this quiet brand even legit? And are the nice but low-priced clothes worth it? Check out my experience buying from Modlily here.
About Modlily
Modlily is a Shanghai-based online fashion boutique. They carry thousands of clothing pieces—from swimwear to casual chic—at very affordable prices.
Their main goal is to empower fashion lovers by being able to shop and resell high-quality clothes all around the world. Modlily only sources the best pieces made of quality fabrics. It also tries to streamline the payment process and delivery.
While Modlily's primary place of business is listed in China, their return address is in America. This is to make exchanges quickly and easily for those in the US.
Some people online are worried that Modlily is a scam. But based on the hundreds of reviews left by happy customers on the Modlily website, it's a legit brand. The customer service team is very helpful and responsive, too.
What Is Modlily?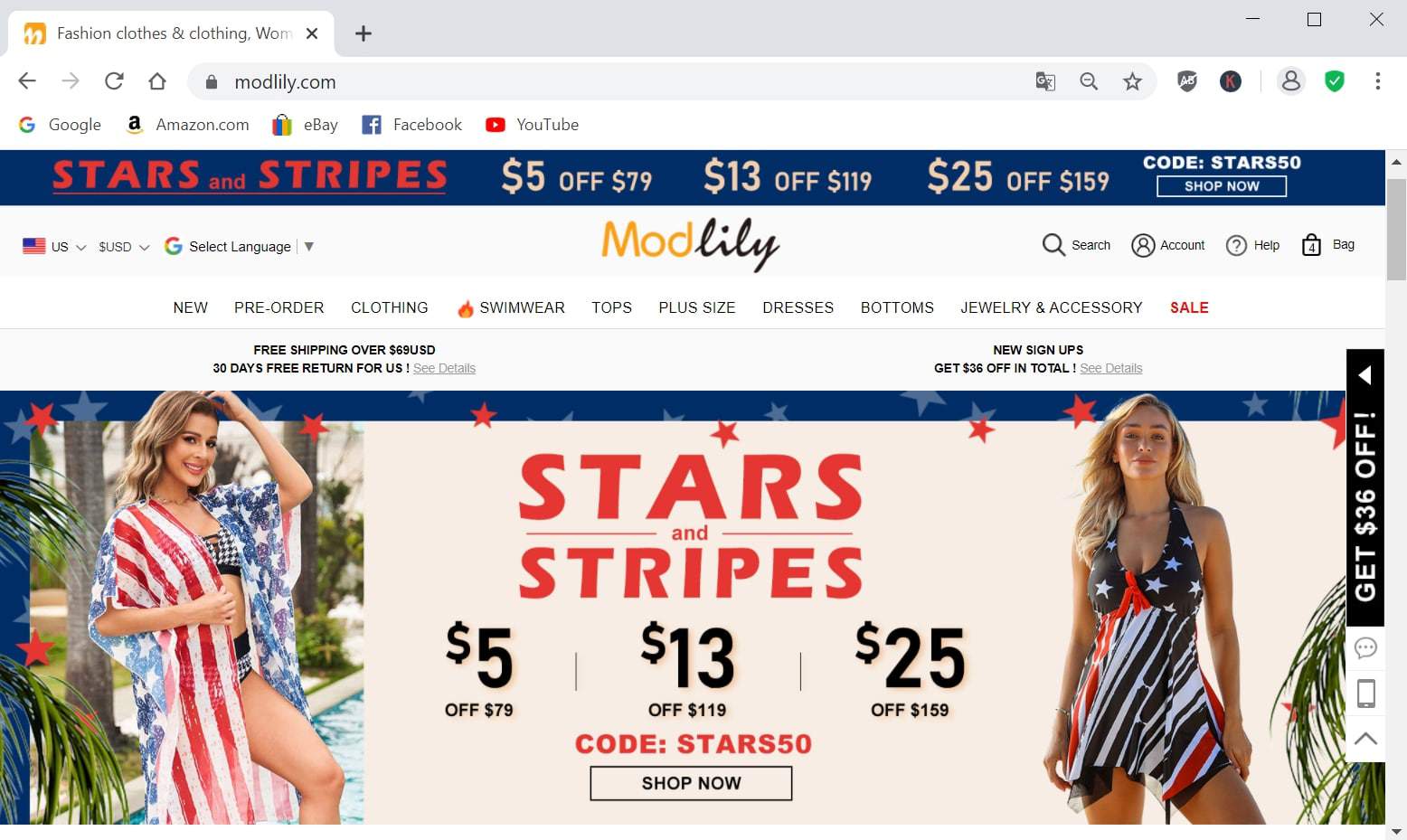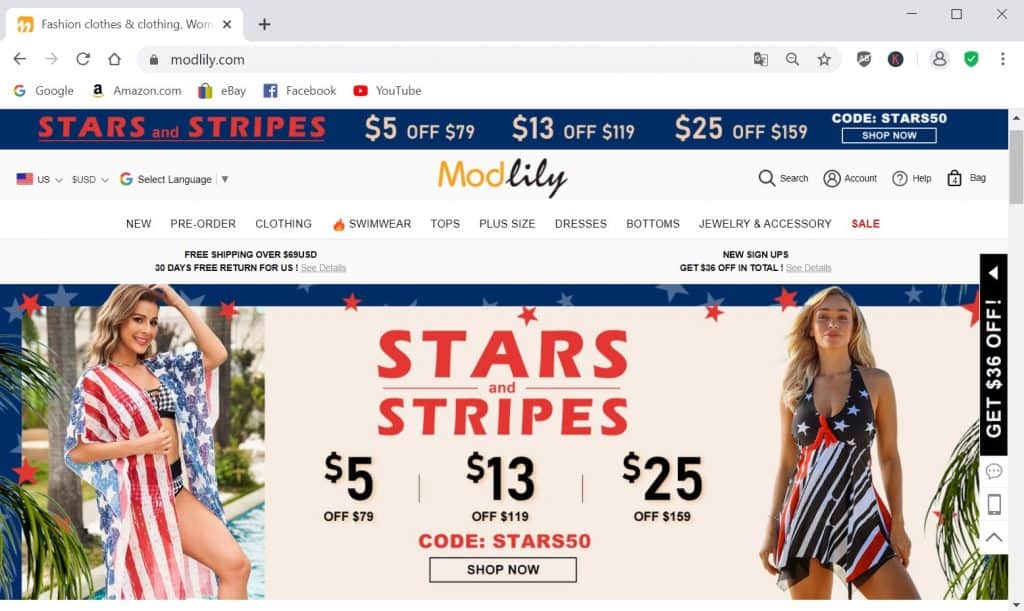 Modlily boasts a huge range of apparel for women. They have everything you need in your wardrobe, be it summery tops, smart casual dresses, or cute swimwear. You can even check out lingerie, outerwear, and sports-inspired clothes on the site.
There's also a ton of fun accessories you can shop for. This includes dainty jewelry pieces, waterproof phone cases, hip bangles and anklets, and more.
The brand makes sure to cater to every shape and size. They also have their own plus-size section to make shopping easier for curvy ladies.
Modlily has been featured on Buzzfeed as one of the internet's cheapest clothing brands.
In the article, they said that one of the Modlily one-pieces was "spot-on" to what was shown on the website.
Modlily ships worldwide, accommodating over 200 countries. It's a terrific brand to shop from wherever you are in the world. Plus, they give everyone a $36-off discount after registering, making it super worth it.
What Is It Like To Order Modlily?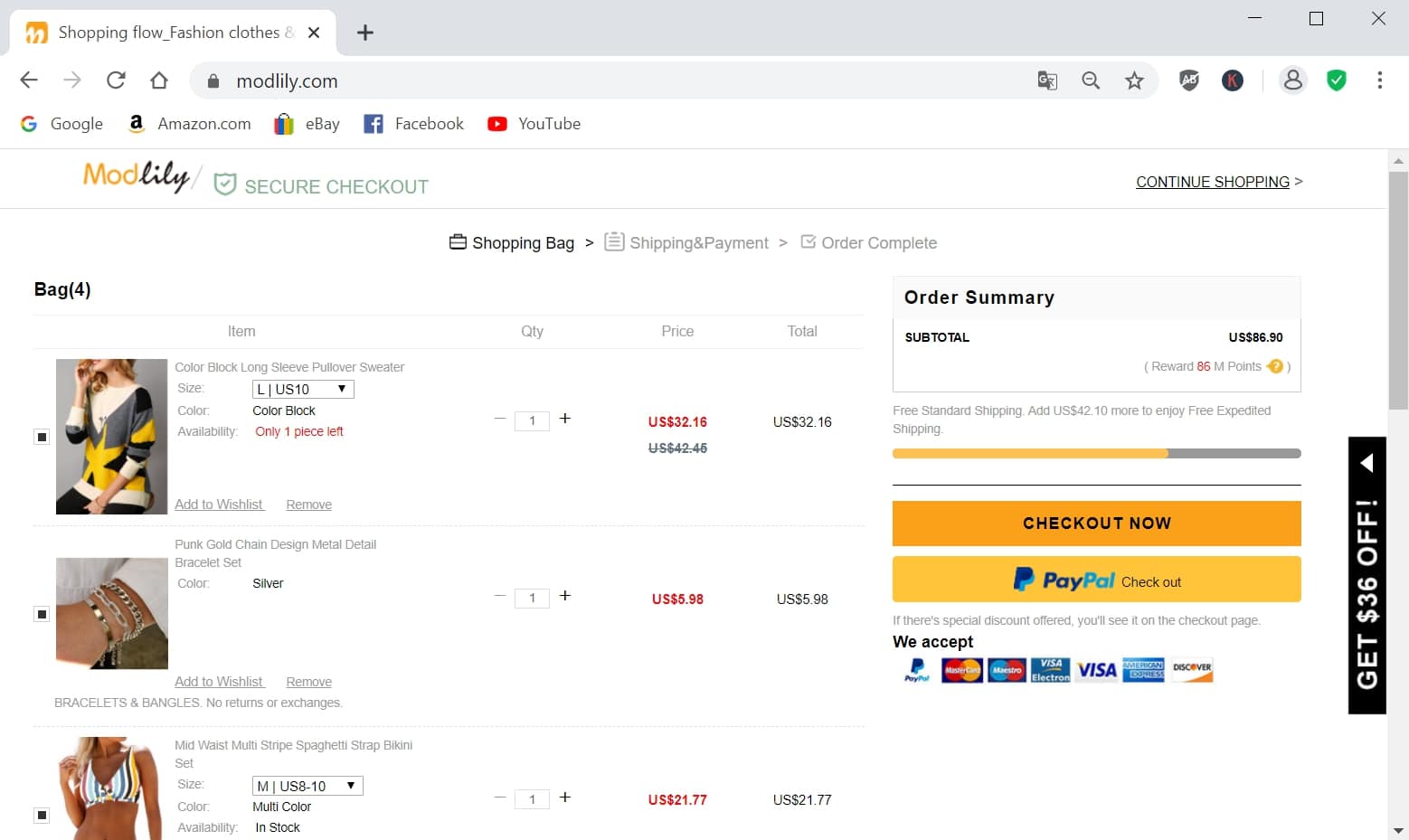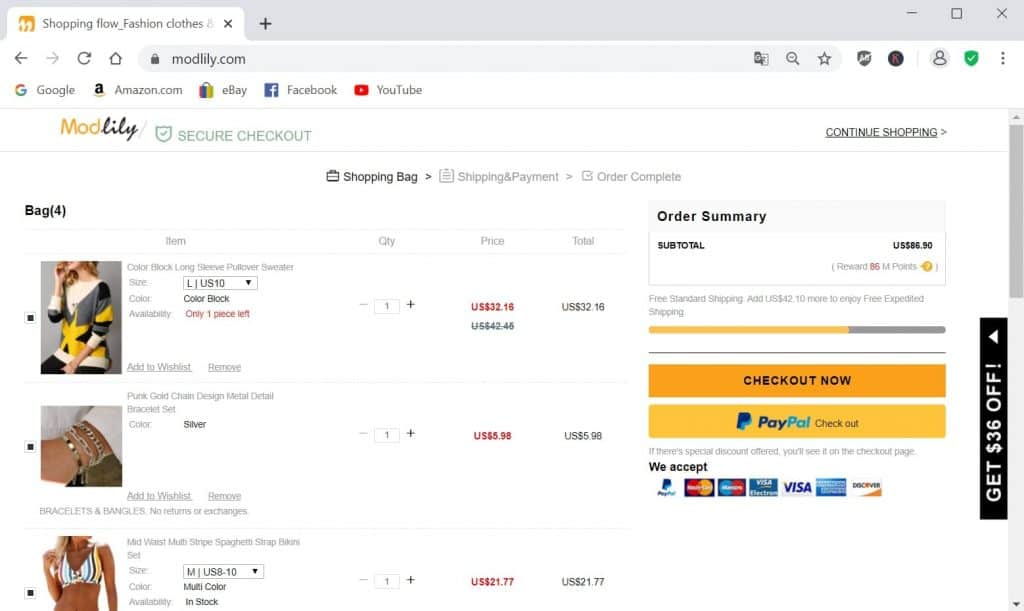 Although Modlily has many clothes to choose from, it's not confusing to shop on their website. Everything is broken up into categories, like tops, dresses, swimwear, and accessories.
Though Modlily offers pieces in a wide scope of categories, its crème de la crème is in their swimwear. They're most known for their unique types of swimsuits, like the swimdress and tankini.
You get free shipping for every order worth over $69.
Shipping usually takes around 9-14 business days. That may be a bit longer than other clothing brands, but it's totally worth it for the low prices and free shipping.
And if you aren't happy with any of the clothes you purchased, you can always return them. Modlily offers free returns and exchanges up to 45 days after receiving your package.
How Do Modlily Clothes Fit?
Modlily clothes generally fit great, unlike clothes from other shops that feel like they're smaller or looser than they looked online.
The sizing chart on each Modlily product makes it easy to determine if a piece will fit you properly. It's also a great go-to guide for figuring out the correct size for each article of clothing.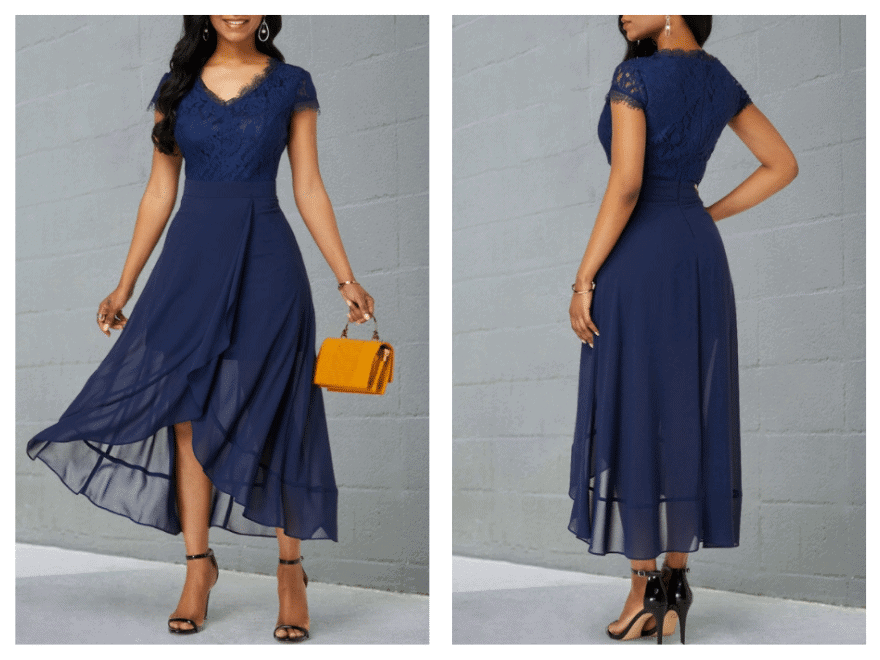 Take this flowy Lace Patchwork Chiffon Dress, for example. It's true-to-size and flatters all body shapes. One happy buyer even stated in her review, "I am a chubby person with short legs, and yet I look like a movie star in this dress!"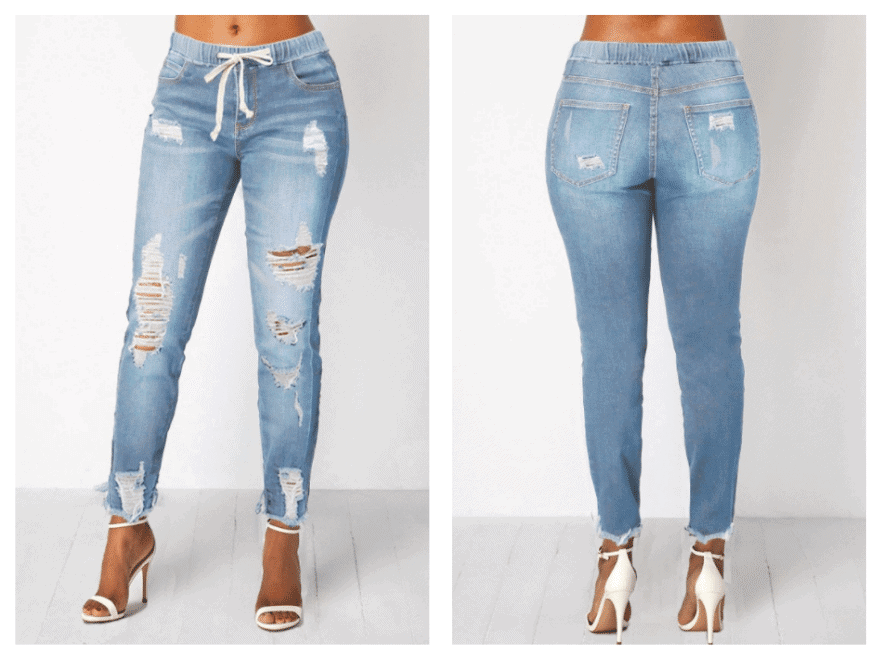 Another example of Modlily's fit is this pair of Shredded Elastic Waist Pocket Jeans. Because of the stretchy fabric, the pants fit great on anyone. And they're super comfy because of the breathable cloth.
"They look like thick quality cotton jeans but feel like I'm wearing pajama bottoms," raves one customer.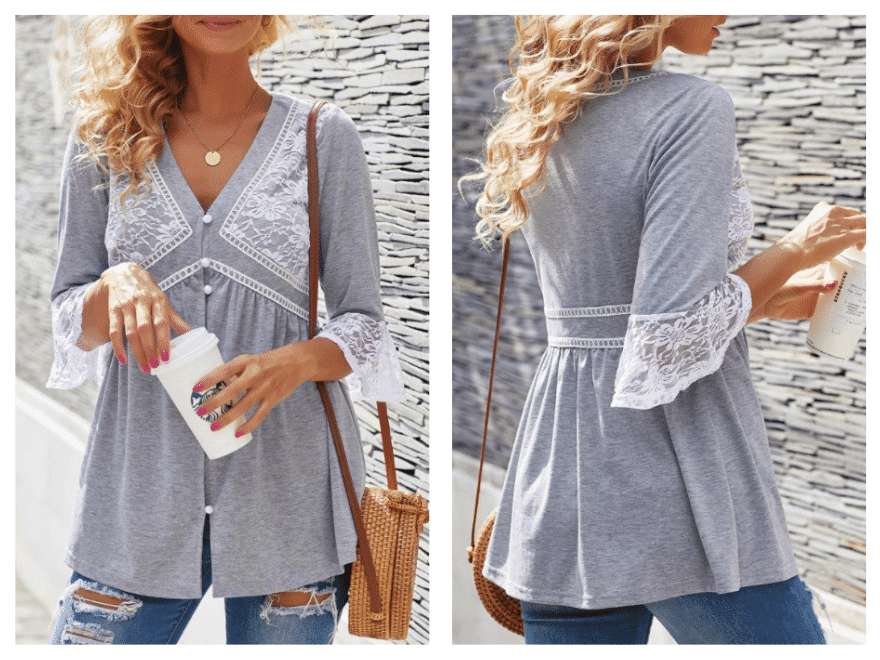 Lastly, check out the fit of this Lace Panel Button-Up. The soft fabric and dainty lace make this piece super comfortable and snug. The fit is absolutely perfect matched with leggings for keeping warm on a breezy day.
For each type of clothes there is a size chart to help you find a correct size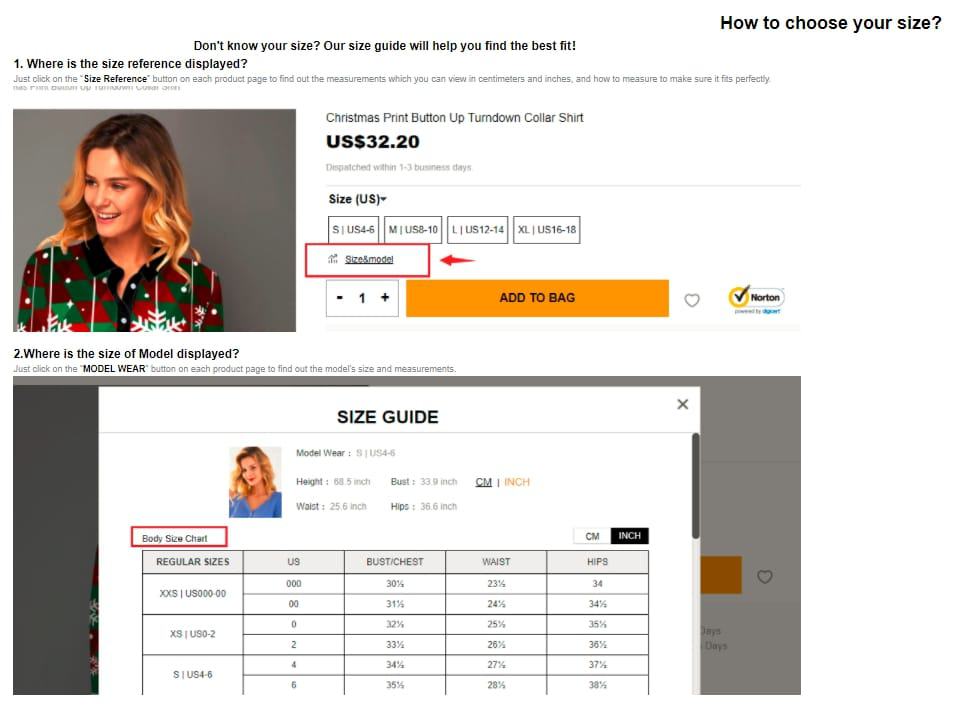 Modlily Swimdresses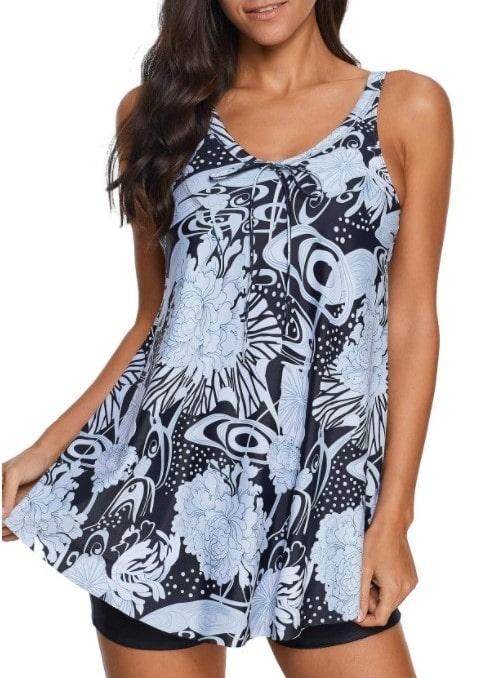 Asymmetric Floral Print Swimdress and Shorts
If you're a bit conservative but still want to go in the water looking cute and summery, this is the swimdress for you. The grey and black ensemble includes a pretty swimdress top and black shorts.
The top has a modest V-neck that doesn't expose much of the chest area, which is terrific for more modest women.
"This swim dress covers up all flaws," says one happy customer. "It is long enough to cover what it needs to."
Get this pair for just $25.98.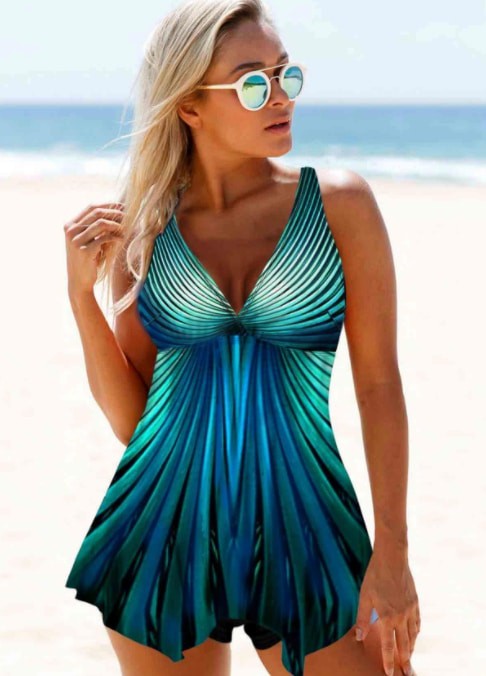 Cyan Printed Swimdress and Shorts
Get that sea siren look with this cyan swimdress and black shorts pair. It has wide straps, so it's very supportive for those with a bigger chest area even with wire-free support. The neckline dips a bit low too, for a more sultry look.
The material is silky and true-to-color, so it's perfect for ladies who love glitz and glam.
Feel like a mermaid with this swimdress for $29.99.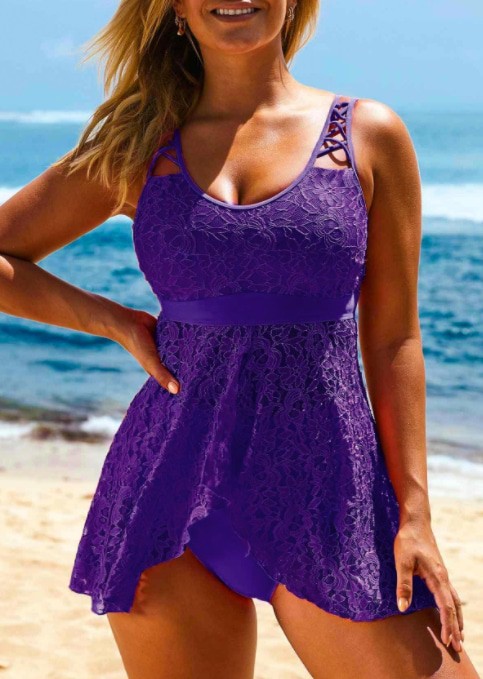 Tulip Lace Swimdress and Panty
For a more girly look, try out this lace swimdress paired with a panty. The lace is soft and comfy, not itchy on your delicate skin. It comes in four different colors—purple, red, green, and peacock blue.
This dress gives off a flattering silhouette. It shows the right amount of decolletage without being too revealing.
Show off that hourglass figure today for just $42.
Modlily Swimsuits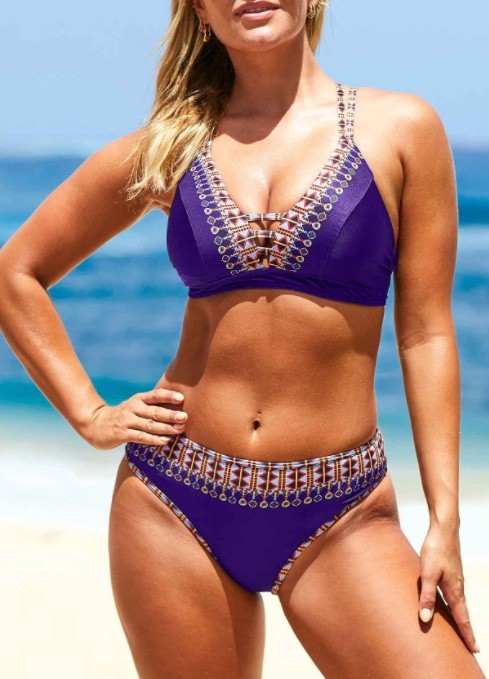 Purple Tribal Print Bikini Set
Go the more eccentric route with this tribal-print two-piece. The bikini top has removable pads, so you can adjust it to your comfort level.
It also gives nice support. The bikini bottom is middle-waisted, so it's perfect for covering up the lower belly. It's excellent for water sports like kayaking, not just lounging around by the pool.
Flaunt this edgy bikini design for just $26.98.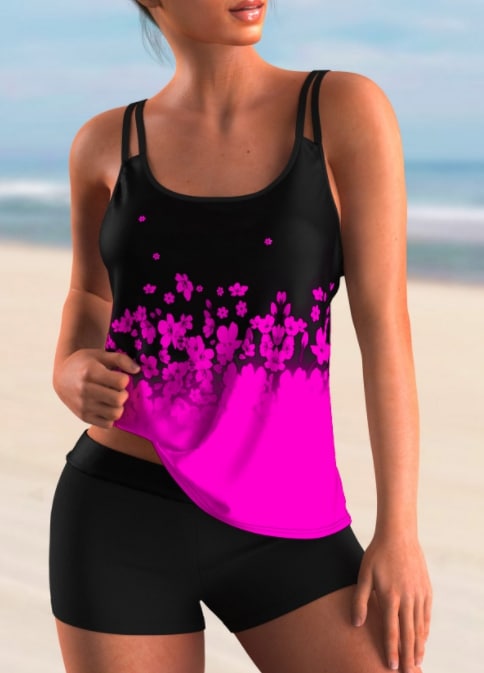 Floral Print Ombre Tankini Set
This bright ombre tankini comes in a whopping ten colors, ranging from a bright cyan to a moody navy blue. It features contrasting tones in an artistic ombre effect.
The spaghetti straps on the tank top are adjustable. The pads are removable as well. This makes it super comfortable for those who aren't used to wearing revealing bikinis.
"It hides my tummy well," says one user. "I don't have to worry about it hanging out or bulging!"
Cop this flattering tankini for only $29.77.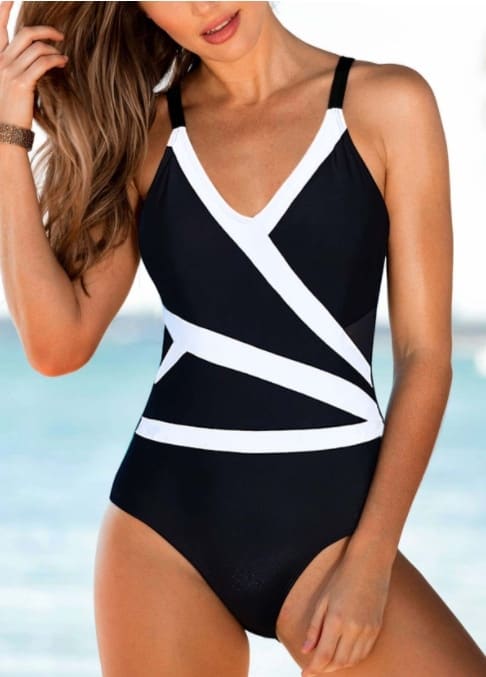 For a sleeker, chicer one-piece, check out this black and white V-neck piece. It has a geometric pattern thanks to the thick, two-toned stripes all over the design. This suit hugs your waist, making you look slim and slender.
This is great if you're trying to hide extra rolls in your body but still want to feel sexy.
"I have a lot of loose skin from pregnancy and weight loss, and this suit conceals it all beautifully!" said one reviewer.
Amp up the sexiness with this piece for $23.77.
Modlily Tops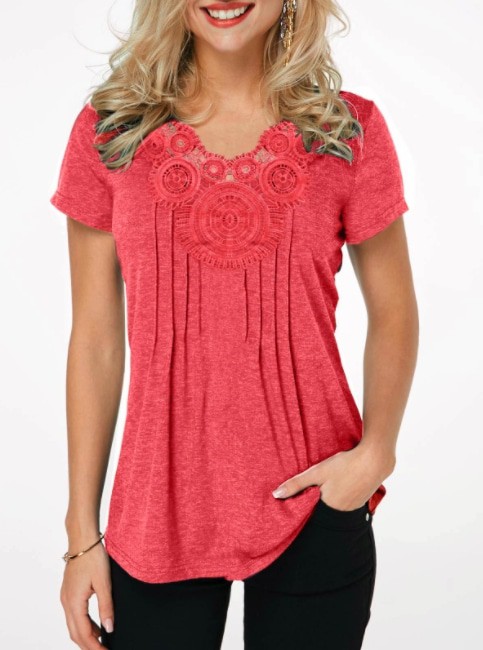 Crinkle Short Sleeve Coral Red T Shirt
This dressy T-shirt has a delicate lace detailing at the front for a classy feel. It has a doily pattern and flowy hem for a more feminine look.
The fabric is super soft to the touch thanks to its combination of cotton and polyester.
Try out this girly top for $24.98.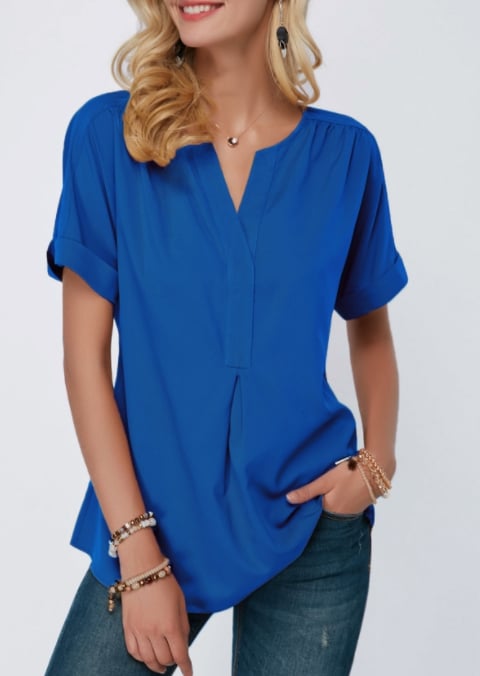 Royal Blue Short Sleeve Blouse
If you want a pop of color, try out this royal blue blouse. It has a rich and vivid jewel blue tone for a regal look. You can use this basic top for any occasion, from casual lunches to business meetings.
This top's polyester and spandex mix make it light and breathable.
"The color is rich and the material is light and perfect for summer," says one reviewer. "It hangs beautifully on me!"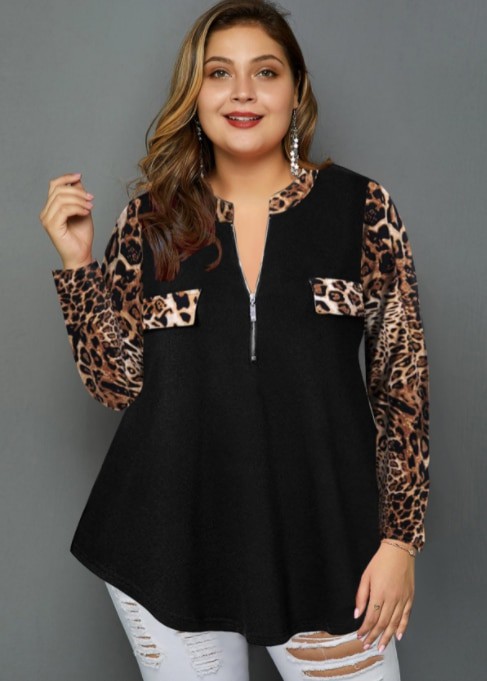 Elevate your outfit to something more vivacious and sexy with this zip-up, long-sleeved top. The playful leopard print is excellent for making a statement.
The zipper at the neckline also adds to the kittenish look.
This is the perfect top for wild nights out, and it only costs $29.79.
Modlily Reviews
Modlily's Instagram account hasn't been active in over a year, so there haven't been that many tagged photos of them. However, their website is filled with tons of good reviews from satisfied shoppers.
On other rating platforms, Modlily scores quite high as well. They have 2,979 reviews on TrustPilot, garnering a satisfaction score of 4.2. A huge majority of users at 53% rated the brand as "excellent."
Meanwhile, there are 1,876 Modlily reviews on Sitejabber. Here, they score a 4 on many aspects of the website, including quality, service, value, and shipping.
Modlily Video Reviews
You don't have to take our word for it. So many content creators also love Modlily! In this haul video, YouTuber Libertad Green shows off her fave Modlily purchases.
Here, she shows her audience three tops she got from the site which she absolutely loved.
"I love this blouse because it's so comfortable!" she says enthusiastically about her last blouse. "I think it's a kind of synthetic fabric and it comes in different shades," she gushes on about its color range.
Modlily Pros and Cons
Modlily Pros:
Huge range of clothes, swimwear, and accessories for women
Affordable prices for high-quality fabrics and designs
They have an app on Android devices for easier shopping
Ships worldwide to over 200 countries
They offer free 45-day free returns within the US
Free shipping for any order worth $69 or more
The website offers online support in case you need any help
Sale tab allows you to look through the cheapest pieces first
Modlily Cons:
The Modlily Instagram page has been inactive for more than a year
Shipping takes long, getting to your doorstep in 9-14 business days
Modlily VS Modli VS Cupshe
It's natural to compare less-known brands like Modlily to fashion giants like ModLi and Cupshe. But are the latter two brands that much better than Modlily?
Let's start with comparing it to ModLi, a swim brand focused on modest beachwear. Right off the bat, Modlily already has way more swimsuit options than ModLi. This is because ModLi only carries clothes that cover up a lot of skin. Meanwhile, Modlily has a range of bikinis, tankinis, swimdresses, and more.
ModLi is also a bit more expensive than Modlily, even if you can get pieces from the latter for the same quality. So when it comes to value for money, Modlily wins.
Next up, we have Cupshe, another popular clothing brand known for their swimsuits and beachwear. Although they have a huge swim collection like Modlily, they don't have as many accessories.
Modlily offers tons of accessories, like jewelry, belts, flip-flops, and more. These are things that Cupshe doesn't offer. So when it comes to completing a beachy swim outfit with finishing touches, Modlily is way better.
Tops, Buttoms, Dresses, Sportwear, Intimates, Swimwear including Plus size options
Accessories

Great range of modest swimwear including Swimdresses, Swim tunics, Swim shorts and more

Swimsuits: Bikinis, One piece swimwear, High waste, Low rise, Tankinis
Beachwear: Сover ups, Kimono cover ups, Tunic cover ups, Plus size options
Accessories

Price example for swimwear

Free shipping for orders over $69

Free shipping for orders over $45

Free shipping from 49$ for USA

$36 off after registration (coming in four coupons)

10% OFF - On your first order over $65

Free returns up to 45 days

Free return but with a flat fee of $5.95
up to 45 days

30 days, shipping at your cost

Great collection of women clothes and accessories


Huge range of modest swimmingsuits
Choose a set or create your own set


You can make your choice with many swimdresses, swim tunics and swim shorts

Choose a set or create your own set

Great design and trandy models


It has an App for both iOS and Android devices

Free delivery over 49$ for 5-7 days

Some users complain about the delivery and the time it takes

There is no clothes or additional beach accessories


A lot of models available just in one color
Modlily Promotions and Discounts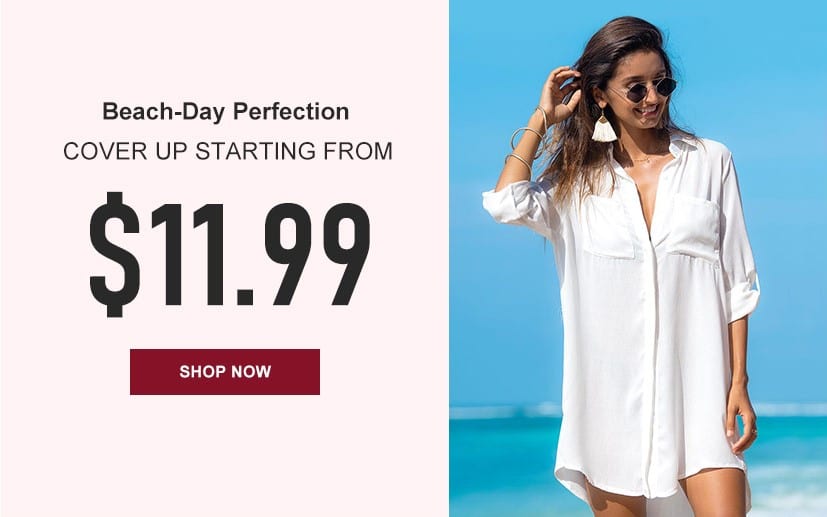 After signing up for an account on the Modlily website, you automatically get $36 worth of discounts. These come in four shopping coupons you can use for separate orders. $36 is a lot of savings, so it's a great incentive for registering on the site!
FAQ
Modlily Location
The Modlily HQ is in Shanghai, China. However, they have a warehouse in North America to make returns easier for shoppers in the US.
Modlily Coupon Code 2021
Modlily has special sales and discounts throughout the year. If you're lucky, you could come across some of their discounts when you hit a certain price on your order. For example, you can get $5 off your $79 order, or $13 off your $119 order, and so on.
Modlily also has a special Sale section. Here, you can look at the biggest deals you can get at any given time.
Are Zulily and Modlily the same company?
No. Modlily is a fashion company based in Shanghai. Zulily is a Seattle-based LLC that specializes in clothes, toys, and home products
Modlily Returns
You can get free returns up to 45 days after receiving your order in the US. If you're outside of the US, returns can be made up to 30 days after getting your package.
Is Modlily worth it?
Yes, Modlily is worth it if you want cheap, comfortable, yet high-quality clothes. Plus, there's a bonus of free shipping for orders worth $69. And when you couple that with the $36 discount after registering with the site, you're bound to get huge deals!
Modlily is an excellent fashion hub because of its range of categories, from casual wear to swim. It's definitely a smart boutique to choose from if you want a one-stop fashion shop for your wardrobe.