There is something really luxurious about using facial oils. They make you feel pampered like you are doing something extra special for your skin. I have been using Osmia Organics Nectar Vital Rose Drops Formally known as Vital Rose Drops) every night for the past several weeks and I absolutely love them!
These drops make an excellent addition to your face serum or cream. I have been using them in place of face serum and they have been working wonderfully for my skin.
I was hesitant to use a face oil because my T-zone is oily (the rest of my face is dry), but these drops have been non-greasy and my skin feels softer and more hydrated in the morning.
In this article, I'll reveal my experiences and share my Osmia Organics Nectar Nourishing Drops review.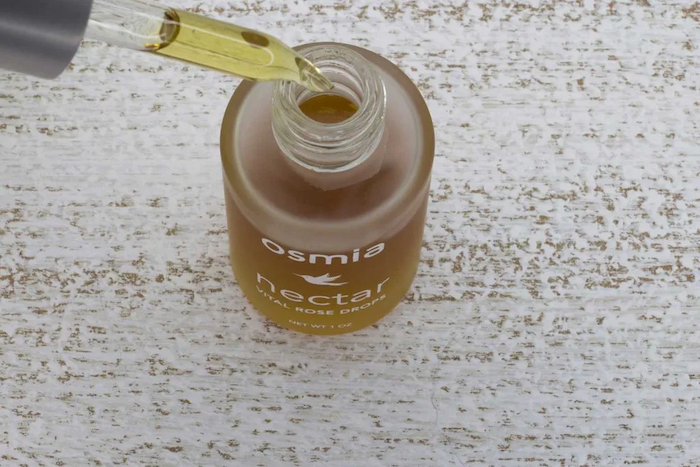 Osmia Organics Nectar Vital Rose Drops Review
The first thing that I noticed about these drops is the amazing scent. They have a very fresh, clean smell that is not at all overwhelming. The second thing I noticed is how quickly they absorbed into my skin.
I only need to use a few drops and my whole face feels hydrated and soft. The next morning, my skin looks radiant and glowing. I even received some compliments on how glowing my skin was when I layered the oil under my makeup.
About Osmia organics
Osmia Organics is based out of Colorado. Their line of skin and body products are all made with natural, organic ingredients and are free of harsh chemicals. You won't find any parabens or synthetic fragrances in their face creams and soaps! Their most popular product is their Black Clay Facial Soap, but their Nourishing Drops are not far behind!
What's in the nectar nourishing drops?
The rose drops are a blend of many (organic) oils. Safflower, pumpkin, argan and prickly pear are just a few that are a part of this oil blend.
Nectar Vital Rose Drops Carthamus Tinctorius (Safflower) Oil, Argania Spinosa (Argan) Oil, Cucurbita Pepo (Pumpkin) Seed Oil, Opuntia Ficus-Indica (Barbary Fig) Seed Oil, Rosa Rubiginosa (Sweet Briar) Seed Oil, Santalum Spicatum (Australian Sandalwood) Seed Oil, Rosa Damascena (Bulgarian Rose) Oil, Jasminum Officinale (Jasmine) Flower/Leaf Extract,
All of the oils in this product are great for your skin, especially if you live in an area with dry winters. I like to keep it simple with my beauty products. I don't want to put a bunch of different products on my face, so I love that these drops can take the place of a serum or an oil.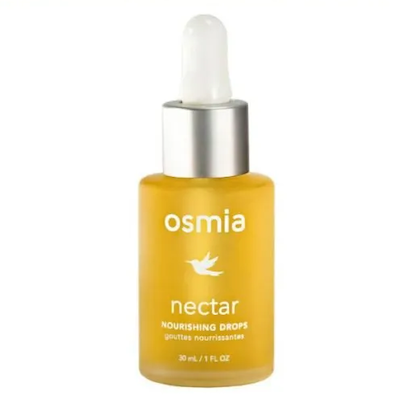 Benefits of using oil in your beauty routine:
Safflower oil – an anti-inflammatory that can help to reduce redness and irritation.
Pumpkin seed oil – full of vitamins, minerals and antioxidants that are great for your skin.
Argan oil – can help to improve skin elasticity and protect against environmental damage.
Prickly pear oil – full of Vitamins C and E, which are great for brightening your skin.
Sandalwood oil – has anti-bacterial and anti-inflammatory properties.
Rosehip oil – can help to improve skin tone and texture.
Where Can I Buy Osmia Organics?
You can purchase Osmia Organics products on Amazon and the Detox Market.
How much do Osmia nourishing nectar drops cost?
Osmia is a luxury brand, and the drops are a luxury beauty product at $98 a bottle. That being said, the bottle will last you a long time. You only need a couple of drops to really use the product. I've been using it nightly for a few weeks and I've barely made a dent in the bottle.
You can also order a sample of the rose drops so you don't have to commit to the full-size product. Don't forget to sign up for the Osmia mailing list to stay on top of discounts as well!
Osmia Organics Nectar Vital Rose Drops Review – Conclusion
I would definitely recommend Osmia Organics Vital Rose Drops to anyone looking for a luxurious, effective face serum. They have quickly become one of my favorite skincare products!
I have been using these drops in combination with the Osmia Organics Purely Simple Face Cream, as well as their blemish treatment, and it's a match made in heaven. These would work great with any basic facial cream.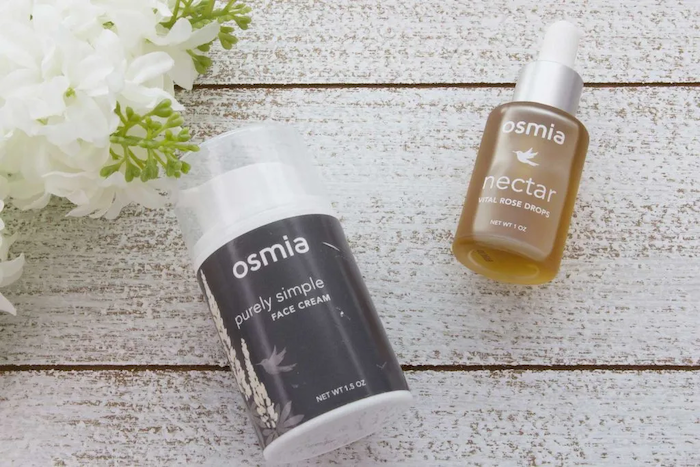 If you have sensitive skin, I would recommend doing a patch test before using this product all over your face. I have not experienced any adverse reactions, but everyone's skin is different. Let me know if you have tried this product or anything else from the Osmia Organics line!
Read This Next: