Two key compounds keep our skin youthful and elastic; collagen and elastin. As we age, our body's ability to produce these declines. This causes a reduction in the structural support of the skin, leading to fine lines, rough texture, and uneven skin tone.
The solution to this universal problem? Vitamin C.
Recently, skincare brand Geologie launched a new product featuring Vitamin C and ferulic acid as its star ingredients. This product promises clear and glowing skin in a matter of weeks.
We decided to put that to the test. Here's our take on the effectiveness of the new product.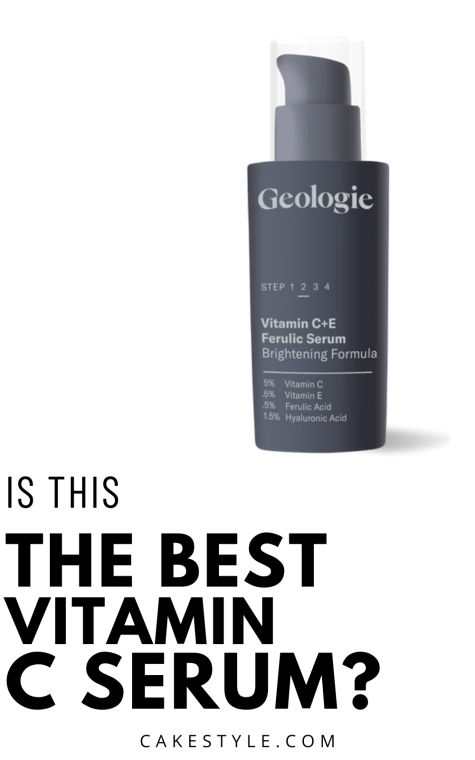 About Geologie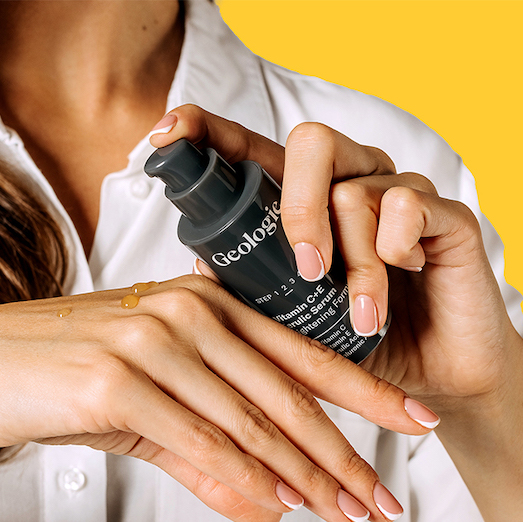 Geologie's ethos is a commitment to using only clinically-proven active ingredients. Geologie doesn't fill its products with ingredients that sound good but don't work. Instead, the brand is all about transparency, honesty, and ingredients that work.
Many of Geologie's products are unisex, which is different from many big skincare brands that target women only. The brand is clearly to distinguish itself from drugstore brands that don't work and overpriced luxury products, where you're paying for the packaging.
One of the things we most appreciate about Geologie is that they keep it simple. People can think that the most ingredients a product have, the more effective it is. This simply isn't true. As long as skincare has the right active ingredients, it will do what it promises.
Most of the products are designed to address a specific concern, like dullness or dryness. That means you can take a tailored approach to your skincare, depending on your individual needs. Geologie works with a dermatologist to make sure all their skincare is not only safe but works.
Dr. Steve Xu, a well-known dermatologist, heads Geologie's Medical Advisory Board. Steve works closely with Geologie's cosmetic chemists to develop formulations.
The 14-time award-winning skincare brand has been recognized in Men's Health, HypeBeast, Byrdie, Esquire, & AskMen Grooming Awards. Geologie is constantly growing, as shown by its steadily increasing social media accounts.
As it currently stands, the brand has 21k+ followers on Instagram and 85k+ followers on TikTok.
Want to find out about the brand's other products? Check out our reviews about Geologie products here.
Vitamin C+E Ferulic Serum Review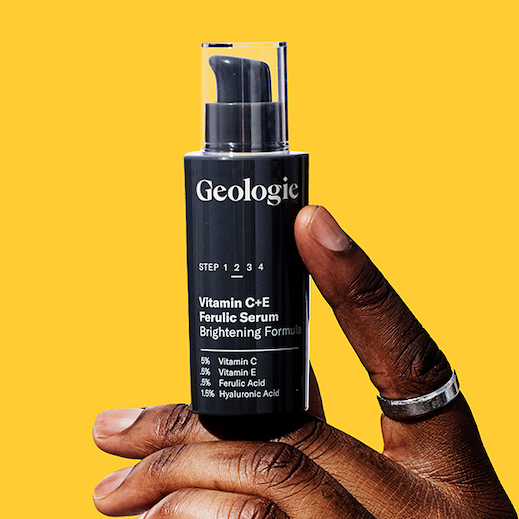 We were impressed with Geologie's new Vitamin C+E Ferulic Acid Serum. This skin-brightening formula comes with anti-aging and antioxidant benefits, and it's suitable for everyday use.
Vitamin C appears as a common ingredient in beauty products. Vitamin C serums can reduce the damage caused to the skin if they're used regularly over time. In short, this active ingredient is a skincare savior.
Whether you have dry, oily, or spot-prone skin, this serum will work. Although the price isn't as cheap if you don't have a subscription, it's affordable for most people.
One of the things we liked most was the protective element. The serum is formulated to protect the skin against free radicals and other environmental stressors. These stressors break down collagen, resulting in dull, dry, and aged skin.
The texture is gel-like, so you don't have to worry about leaving a greasy residue on your skin. Geologie has even thought about the packaging. The bottle has been created especially to promote the stability of Vitamin C and overall formula efficacy. Now that's impressive!
Vitamin C+E Ferulic Serum Active Ingredients
5% Vitamin C
The serum contains a highly potent, stable form of Vitamin C. This ingredient promotes collagen production, brightens skin, and reduces signs of aging.
0.5% Vitamin E
Vitamin E helps to protect against free radicals and replenishes fatty acids, keeping skin plump and youthful.
0.5% Ferulic Acid
This is a plant-based antioxidant. It enhances the effect of Vitamin C + E and targets wrinkles.
Hyaluronic Acid
Hyaluronic acid is a popular skincare ingredient that keeps skin hydrated and has anti-aging properties.
Full list of Ingredients:
Water/Eau, Aloe Barbadensis Leaf Juice, Propanediol, 3-O-Ethyl Ascorbic Acid, Pentylene Glycol, Glycerin, Hydroxyethyl Acrylate/Sodium Acryloyldimethyl Taurate Copoly, Niacinamide, Polyacrylate Crosspolymer-6, 1,2-Hexanediol, Ferulic Acid, Panthenol, Sodium Hyaluronate, Tocopheryl Acetate, Caprylhydroxamic Acid, Tetrasodium Glutamate Diacetate, Sodium Hydroxide, Curcuma Longa (Turmeric) Root Extract, Pyrus Malus (Apple) Fruit Extract, Terminalia ferdinandiana Fruit Extract, Myrciaria Dubia Fruit Extract.
Vitamin C+E Ferulic Serum Reviews
This is what some users had to say about the product.
'Love this stuff! It enhances the skincare regime when used together. My skin looks healthier and brighter.'
'Pleased with results so far.'
'Into my first week of use and seeing a smoother look on my face. The only con is that the smell is a little bit "medicine-y" but once you get past that, the results outweigh this minor con. Planning on ordering this again.'
Pros and Cons
Pros
Cons
Geologie Vitamin C+E Ferulic Serum vs. SkinCeuticals C E Ferulic serum
Want to see how Geologie's offering compares to competitor SkinCeuticals? We've created a handy comparison spreadsheet so you can see which one best suits your skin.
[affiliatable id='133960′]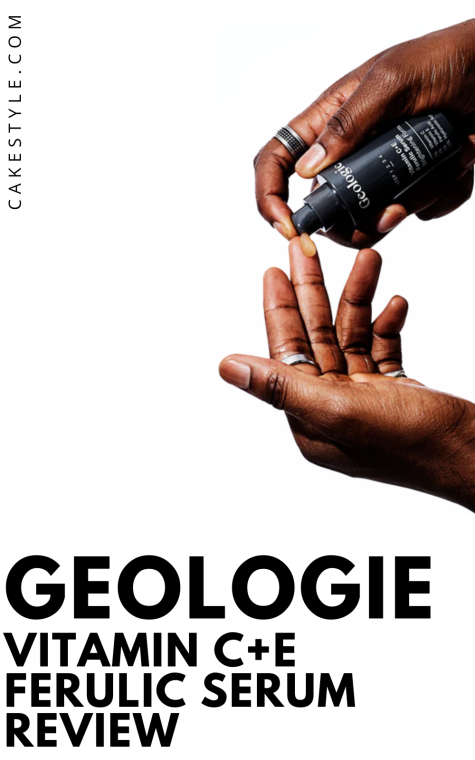 Is Geologie Vitamin C+E Ferulic Serum Worth It?
If you're struggling with dull, dry skin, or simply want to reduce the chances of fine lines and wrinkles, you'll love this serum. It's easy to use, non-greasy and works well for both men and women.
There aren't many reviews of the products on the market yet, but don't let this panic you. Geologie is still a young brand, and this product is very new. We expect many more positive reviews to come in the future thanks to its excellent results.
Our favorite thing about the serum is its science-based approach. Instead of using ingredients that sound fancy but, in reality, do nothing, Geologie uses clinical evidence for its products.
With the high-quality ingredients and effective results, we'd recommend this serum.
Read this next: