If you haven't switched to vegan nail polish yet – let today be the day. If you're like me, you probably love getting your nails done. But after a while, you may notice that your nails are yellowing and becoming brittle. They break easily and just don't look healthy anymore. Well, that's damage from your nail polish!
Years ago, when I noticed my nails were looking damaged, I decided to do some research and discovered that the main culprit was my drugstore nail polish (and the nail polish remover!)
Most nail polish contains a number of chemicals that can be harmful to your nails, including toluene, formaldehyde, and dibutyl phthalate. These chemicals can cause your nails to become yellow and brittle. Simply put, painting your nails can be really hard on them.
So if you must paint your nails, it's important to use a clean, vegan nail polish brand.
If you feel like you really want to give your nails some color, there are some options out there.
Here are the best vegan nail polish brands to buy:
1. Zoya
Zoya is a vegan nail polish brand that offers luxurious polish in gorgeous shades.
2. Gabriel
Gabriel: I always talk about Gabriel because I just love them so much. They're so affordable compared to luxury clean beauty brands. Plus, look at all those colors! They even have a nail polish remover.
3. Huella
Huella sells ethical, clean, cruelty-free nail polish. They have a great range of colors and you can feel good about painting your nails with them.
4. Kure Bazaar
Kure Bazaar: These polishes are 10-free and available at The Detox Market.
By the way, Detox market is just one of my favorite clean beauty shops. See my list of the best places to shop for eco-conscious beauty products.
Also, opt for a vegan nail polish remover that is free of harmful chemicals. This is the one I use and it works perfectly.
What if you want to skip nail polish completely?
If you're looking for the best way to keep your nails healthy and strong, I would recommend going all-natural. No nail polish at all! After a while, you won't even miss the polish because you'll love the look of your natural nail! Besides, you can still get manicures with your natural nails.
Here are some ways to keep your nails natural and healthy:
Keep your nails clean and trimmed. This will help prevent breakage and splitting.
Use a nail file to smooth out any rough edges. Rough edges can get caught on things and tear your nail.
Use a cuticle cream or oil to keep your cuticles moisturized. This will help prevent them from drying out and becoming brittle. After using your face serum, rub it into your cuticles!
Massage your nails and cuticles regularly. This helps increase blood flow and promotes nail growth.
Wear gloves. When you're doing any type of work that involves your hands being in water for long periods of time. This will help protect your nails from becoming weak and brittle.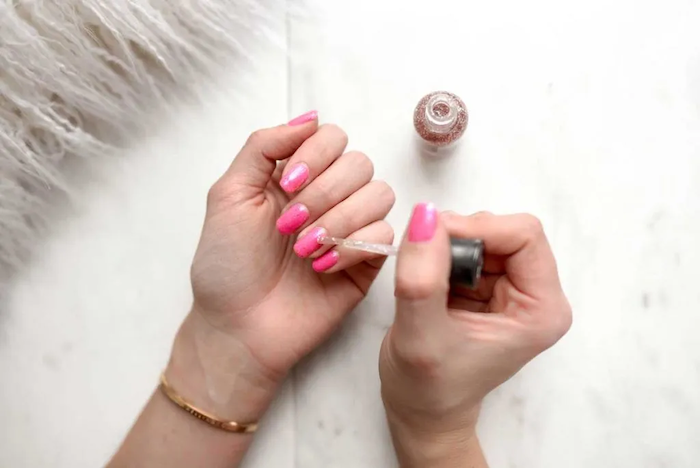 Here are some reasons you might want to keep your nails natural and nail polish-fre. Consider it a challenge!
Natural nails are low maintenance.
Is there anything worse than getting a fresh manicure, only to look down and see that some of the paint is chipping off already? With natural nails, that is not a problem! You can put the effort in to keep your natural nails, clean, smooth and looking their best. Using a clear polish a good way to transition to a natural nail.
Natural nails are healthier.
When you use harsh chemicals on your nails, it can cause them to become dry and brittle. This can lead to your nails breaking and splitting. When you use nail polish remover, it strips away the natural oils from your nails, which can leave them dry and weak. By keeping your nails natural, you're skipping all the chemical nonsense.
Natural nails look more, well… natural.
This is a personal preference, but many people think natural nails look nicer than fake ones. They can look more elegant and sophisticated. Wearing natural nails is also a good way to show off your manicure skills too! Also, you never have to worry about your bright red nails not matching your outfit.
They're less expensive.
Let's be real. Manicures are getting pricier every single year. If you get your nails done every two weeks, that adds up to some significant cash over time. When you take care of your natural nails, it doesn't have to cost an arm and a leg. You can save a lot of money in the long run.
Natural nails can make you feel good
Wearing artificial nails can be a constant reminder that you're not happy with your natural nails. Embrace them and love them for what they are! By keeping your nails natural, you're sending a message that you're comfortable in your own skin and you love yourself just the way you are.
Take the time to show your nails some love, and they will reward you with their beauty! Skipping the nail polish is a small price to pay for healthy, strong nails. I keep a nail file next to the TV and work on them a little bit when I'm sitting on the couch.
If you know of any other clean nail polish brands, let me know in the comments below! While I love the natural look, I do need to paint them once in awhile (especially around the holidays). Tell me all about your natural nail journey and some of your tips for keeping your nails looking and feeling their best.
Read This Next: We found the Sephora of nail care!