100% Pure review: We've seen a big trend over the last few years — a trend that we love — towards using natural and organic beauty products.
From skincare to makeup, these products are made with ingredients derived from natural sources like fruits and plants, and provide a more holistic approach to skincare.
One of those companies providing natural products is 100% Pure. They opt to offer the most pure, healthy products for your skin, while also focusing on sustainability.
But not all beauty products are created equal, and we wanted to see if 100% Pure products are worth the hype.
About 100% Pure
Founded in 2004, 100% Pure is a cosmetics and skincare brand that uses natural, organic, non-toxic ingredients in its products.
It was founded with the goal of creating healthy, high-quality products that are free from harmful, synthetic chemicals and artificial fragrances.
They offer a little bit of everything, including:
Skincare products like cleansers, toners, moisturizers, facial oils, serums and eye creams
Makeup products, including foundations, concealers, blushes, eyeshadows, mascaras and lipsticks
Hair care products: shampoos, conditioners, hair oils and styling products
Body care products: soaps, lotions, scrubs and deodorants
Not only do they offer a variety of products, but they have specific lines to help with specific issues like acne, pigmentation, oily skin, and anti-aging.
100% Pure Bestsellers Review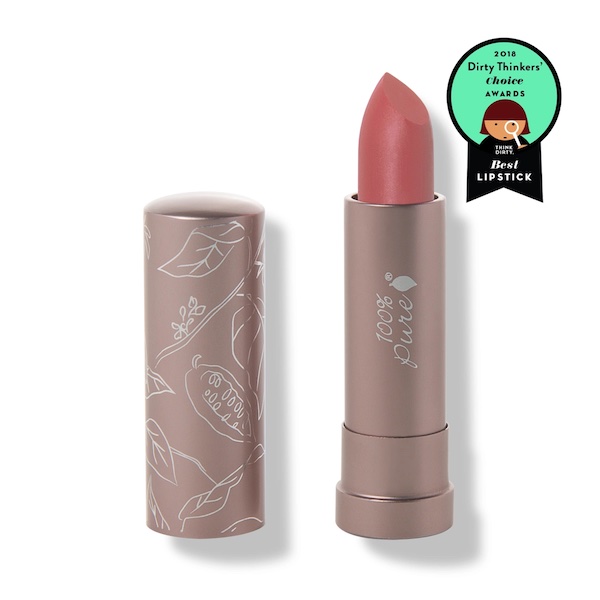 1. Fruit Pigmented® Cocoa Butter Matte Lipstick
Who doesn't love a gorgeous, full-coverage matte lipstick? This innovative cocoa butter lipstick has been made with a vegan, cruelty-free formula and gets its long-lasting, rich color from real fruit.
These lipsticks are made for all skin types. They're available in 18 different natural but gorgeous shades from blueberry to peach.
The nourishing blend of cocoa butter, vitamin E and shea butter to moisturize and protect your lips from dryness.
Why we love it:
Full coverage with a luxe matte finish
Uniquely pigmented with natural colors to choose from
Long lasting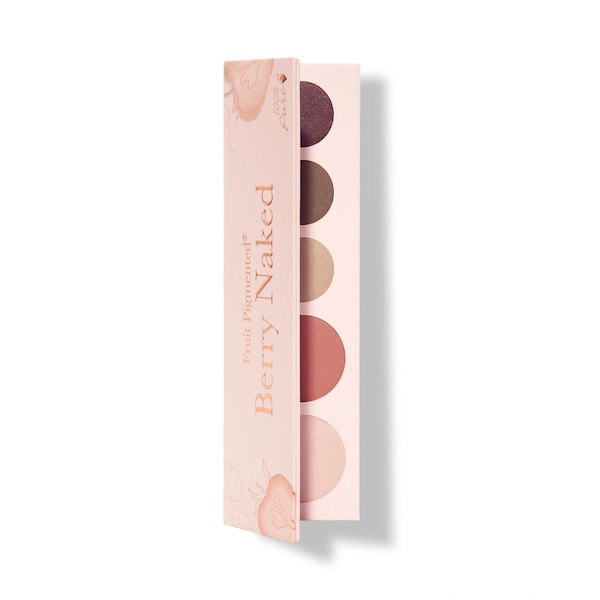 2. Fruit Pigmented® Berry Naked Palette
The Berry Naked Palette is again, fruit pigmented, and features a poised combination of blush, nude and metallic tones.
The powders can be used as blush, highlighter, and eyeshadow, making it an easy grab-and-go solution for those who want an all-in-one experience.
In line with their other products, this palette is made of natural ingredients, vegan and cruelty-free.
Designed for all skin types, each of the colors is created from natural, vitamin-rich fruits and vegetables. It includes:
Ilume: a pale, dusty pink
Afterglow: a rustic peach-pink
Vivid: Deep, charcoal-purple with ruby flecks
Splendor: A dark-taupe brown with a charcoal under shadow
Beam: a gold nude with soft sparkles
This vitamin-rich makeup looks and feels great. We think you'll love it.
Why we love it:
Compact but has all the essentials you need to finish daily make up
Stays on all day long
Colors are natural and calm but well-pigmented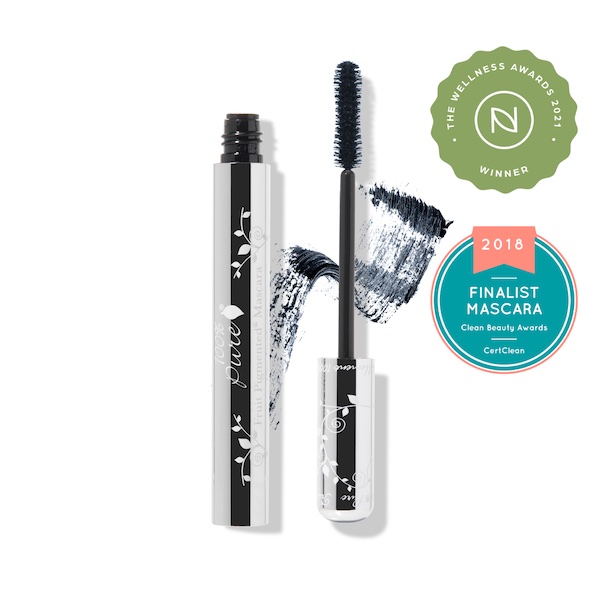 3. Fruit Pigmented® Ultra Lengthening Mascara
Who doesn't love a solid mascara?
The Ultra Lengthening Mascara both lengthens and separates lashes. It boasts no clumping, smudging or flaking, while also applying each lash with conditioners and natural pigment.
The slim hourglass wand gives you a sleek, glamorous chic.
The natural formula contains black tea, wheat and oat protein and provitamin B5.
The color is derived from a combination of black tea, cocoa, and berries, and the formula is free from toxic petrochemicals like coal tar and Teflon.
If you're looking for something natural that makes your eyes pop, this is the product for you.
Why we love it:
No gross chemicals
Makes your lashes pop
Doesn't irritate or bother your contacts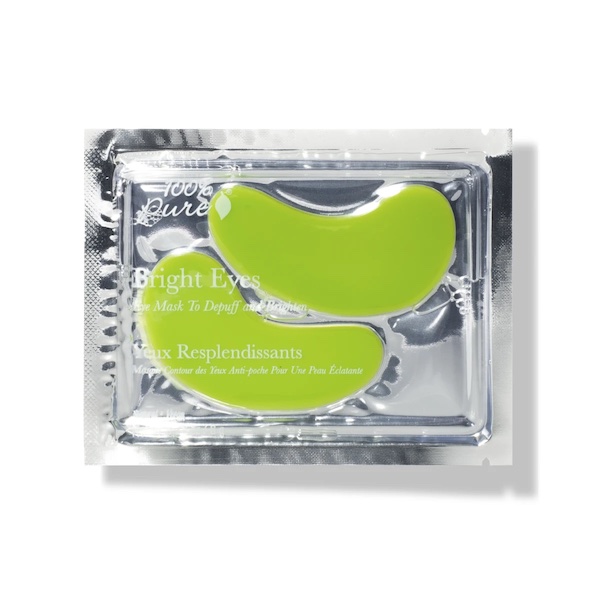 4. Bright Eyes Masks
Made with cooling cucumber and natural caffeine, the 100% Pure's Bright Eye Masks help de-puff the eye area and provide you with the refresh you need. They're built with hydration in mind to help intensely quench and soothe your skin.
These little masks are easy to use — simply put them on and let the nourishing juices soak in.
You simply need to wait about 20 minutes for your skin to absorb the 95% organic aloe juice and 5% plant cellulose solution. Once absorbed, massage anything remaining into the skin.
It's a refreshing routine that will quickly be a must-do.
Why we love it:
Provides instant results (really, who can wait?)
Perfect to use first thing in the morning
Visibly reduces puffiness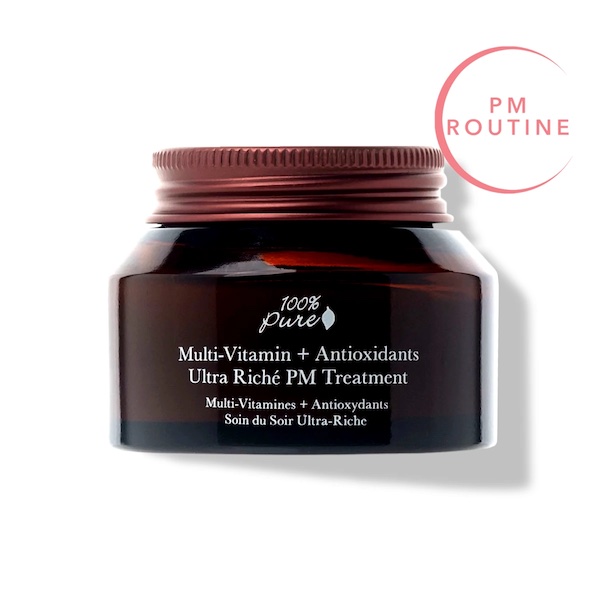 5. Multi-Vitamin + Antioxidants Ultra Riché PM Treatment
If you're looking for a luxurious nightly cream, the Ultra Riche PM Treatment is a multi-vitamin powerhouse. It's made with vitamins A and C, and works to combat daily damage and signs of aging.
Designed with normal, dry and combination skin types in mind, it softens and moisturizes, restoring a youthful glow.
It's easy to use — simply apply a small amount to clean skin on top of your nightly serum. It's perfect for your face and neck, and make sure to use sunscreen the next morning.
Why we love it:
Provides much-needed nightly nourishment
Makes your skin feel great the next day
It's thick, so you only need to use a little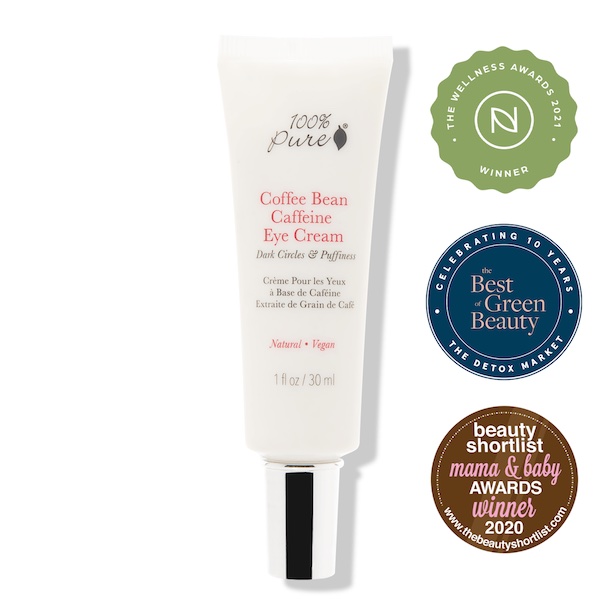 You May Also Like: Cruelty-Free Makeup For Mature Skin (Top Brands)
6. Coffee Bean Caffeine Eye Cream
No one loves puffy eyes and dark circles, but we all get them from time-to-time.
The Coffee Bean Caffeine Eye Cream is made of a combination of caffeine (from your favorite morning drink) and green tea. It works to de-puff the eye area, brighten dark circles, and boost circulating for a youthful eye-area glow.
It's a gluten-free product, packed with anti-aging vitamins and antioxidants that's perfect for the hard-working mom.
Plus, it's easy to use!
You simply apply a dime-size amount to your ring finger and (very) gently massage your eye area —including both the upper and lower lids. It's rejuvenating and gentle enough to be used in the AM or PM.
Why we love it:
Feather light formula
Visibly brightens skin under the eyes
Provides a refreshing wave of hydration
100% Pure Ingredients
100% Pure cosmetics are made with a variety of natural and organic ingredients that are derived from plants and other natural sources. Some of the common ingredients used in 100% Pure products include:
Fruit: anti-oxidant rich fruits, including: raspberry, blueberry, pomegranate, and acai, make up both ingredients and pigment
Vegetable extracts: rich in vitamins and minerals, veggies, including carrots, tomatoes, and cucumber, are used to protect and nourish
Natural oils: rich in fatty acids and other nutrients oils such as Aragon, coconut and avocado help moisturize and nourish skin
Plant extracts: with soothing and anti-inflammatory properties, plant extracts such as green tea, chamomile, and aloe vera are used
Spices: also with anti-inflammatory properties and antioxidants, spices like turmeric and ginger are used in some products
Other plant and herbal extracts, along with essential oils are also used in some products.
100% Pure Pros and Cons
Pros
We love 100% Pure beauty products.
Not only do they have a wide range perfect for any situation, but they also're gentle to your skin, both sustainable and environmentally friendly, made with all-natural ingredients, cruelty-free and vegan.
They're basically our dream beauty brand all rolled up into one. Their products are also made in the USA, and they hand you free samples with your order — technically, we could also call this a "con" because we know your budget is going to grow!
Cons
We couldn't find a TON of cons to go along with the 100% Pure product line. But we did find that some of their products were a tad bit pricey, so they might not fit into everyone's budget.
Is 100% Pure worth it?
It's hard to tell you whether or not 100% Pure is perfect for your skin, simply because everyone's different. But if you're interested in trying out natural skin products, we'd highly recommend them.
They have everything you need to build a comprehensive makeup and skincare routine, regardless of your skin type or concerns. If you've got a little room in your beauty budget, we'd recommend giving them a chance.