It's time to share our Seoul Ceuticals review! If you are searching for a great K-Beauty routine for glowing skin, this is it. Seoul Ceuticals provides Korean beauty-influenced skincare products that truly work.
Their customers report dramatic before-and-after experiences, ending up with gorgeous, youthful glowing skin.
But while they've clinically proven their results — do their products really work for everyone?
I decided to test out a few of their best-selling products to see for myself.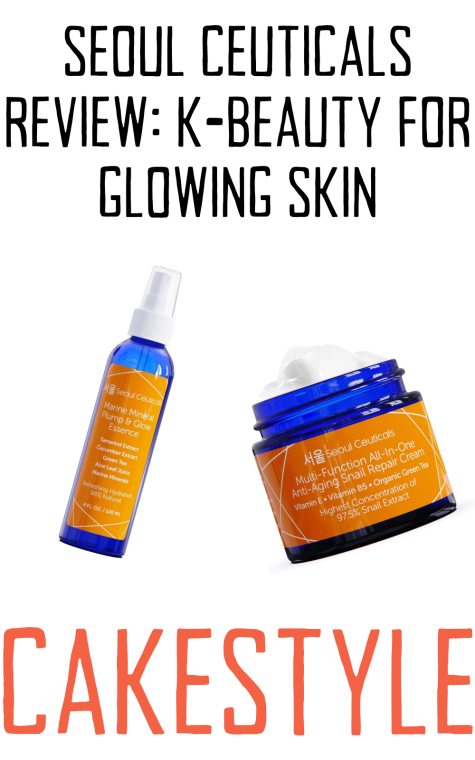 About Seoul Ceuticals
Seoul Ceuticals believes in providing affordable skincare that works.
Their research and development dove into the elements of Korean Beauty and designed a formula that truly fulfills the promise of flawless, glowing skin.
They work with quality ingredients, including elements unique to K-Beauty like green tea and snail mucin, that help to dramatically improve the appearance and overall health of skin.
Built on the values of providing potent, pure, effective and accessible products, they're determined to help their customers achieve and maintain radiant, healthy skin.
They provide individual skincare products, as well as bundles that take the guesswork out of your skincare routine.
From skintype concerns related to acne, dryness, and oil to serving up results related to anti-aging, brightening, and a glowing, Seoul Ceuticals has a K-Beauty skincare routine for everyone.
Seoul Ceuticals Ingredients
Ingredients are really what make a skin product, so Seoul Ceuticals focuses on providing the best. They source theirs right from South Korea, and use components like:
Turmeric
Ginseng
Kola
Hyaluronic Acid Jelly
Centella Asiatica
Aloe
Rice Ferment
Snail Mucin (Seoul Ceutical's website says "absolutely no harm is done to the snails during the collection of snail mucin.")
We love that these K-Beauty products are cruelty-free. In fact, testing on animals is illegal in Korea. (Note to the rest of the world: catch up!)
Seoul Ceuticals Bestsellers Review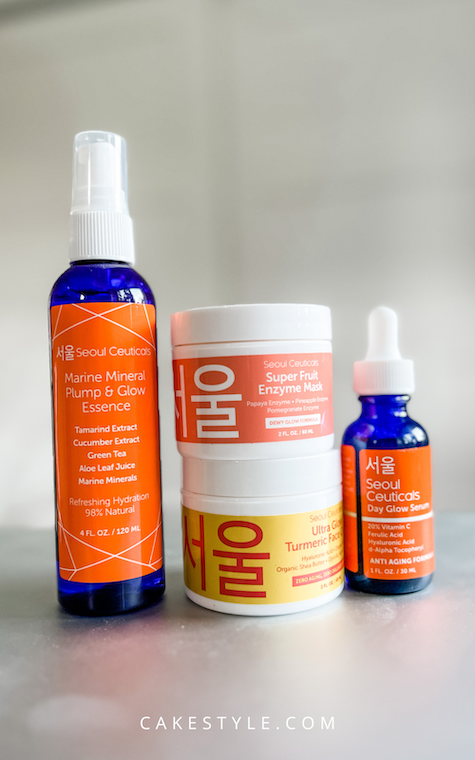 For this Seoul Ceuticals review, I got the K Beauty Routine for Glowing Skin set of 4 items.
I will share my experience using them below, as well as share some other best sellers too.
First, lets look at the four items I received, in the K Beauty Routine for Glowing Skin set.
1. Marine Mineral Plump & Glow Essence
Marine Mineral Plump & Glow Essence is a prepping mist built to increase hydration and help provide a healthier, youthful glow.
Made of a unique blend of aloe vera, Japanese green tea, Tamarind extract, marine minerals, and cucumber extract, this product is designed to deliver healthy nutrients and antioxidants that both protect and repair your skin.
You want to apply this prepping mist after you cleanse your face but before you put on your moisturizer.
Close your eyes and spray all over your face (avoiding your eye area), or simply apply using a cotton pad. Day or night, doesn't matter — whenever works best for you!
If you're looking for a brighter overall complexion, this is the spray for you!
I mist this on my face first thing in the morning (after cleansing) and again before I go to bed, before the Day Glow Serum.
Why we love it
Can use it on any type of skin
Provides hydration when you most need it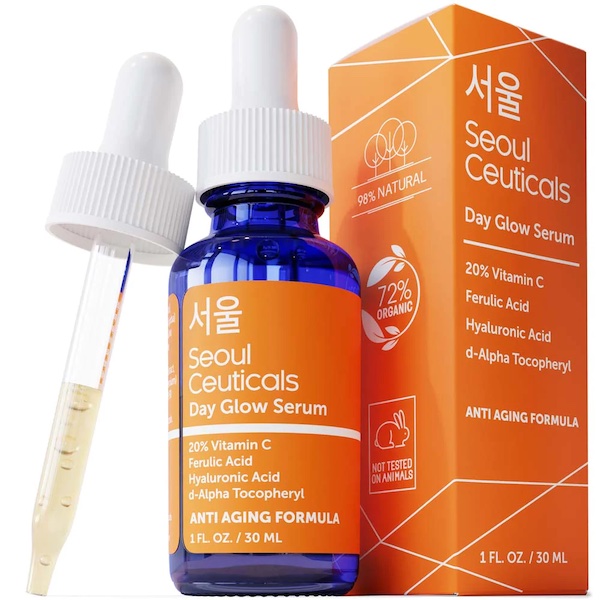 2. Day Glow Serum with Vitamin C
Serums are all the rage, and it makes sense — they can help take a basic skincare routine to something considerably more impressive.
Seoul Ceuticals' Day Grow Serum is a best seller that can help you fade sunspots and leave you with a brighter, more youthful complexion. It's created to help keep your skin appearing clean and fresh by:
Shrink pores
Reverse ageing and sun damage
Reduce acne scars, fine lines, crows feet, wrinkles
Prevent breakouts
Clear acne
This serum is built to be used daily each morning after you've already cleansed, exfoliated and toned.
When you're ready, drop 2 or 3 drops into the palm of your hand, then use your clean fingertips to absorb when you're ready.
I absolutely love the way my skin feels refreshed and soft immediately after application, and several hours later. It smells lovely, too.
It's made out of Ferulic Acide, Vitamin E, Vitamin C, and Hyaluronic Acid. It helps prevent further damage and clean up what's already been done — all for considerably less than other choices.
Why we love it
Provides a healthy glow
Anti-age support
Great antioxidant with 20% vitamin C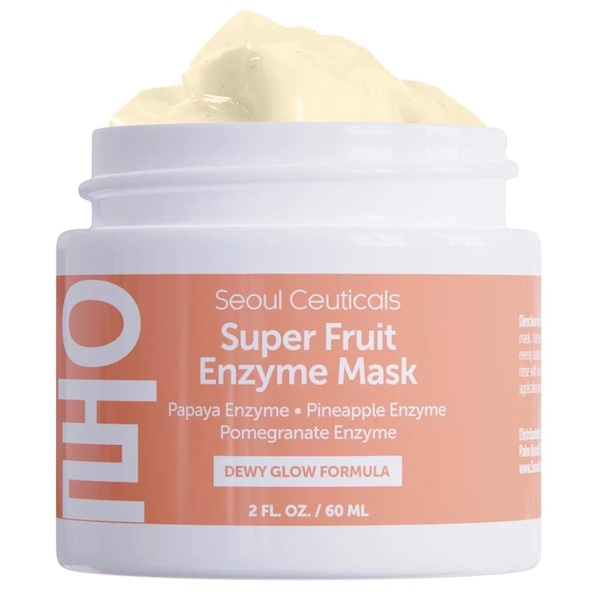 3. Super Fruit Enzyme Mask
The Super Fruit Enzyme Mask mixes together some delicious-smelling fruits — papaya, pineapple and pomegranate — to create a mask that helps brighten your skin and restore an overall natural glow.
Apply this mask evenly on top of your clean, dry skin, and let it sit for 20 minutes.
Make sure your skin is not wet, but be prepared for this creamy mask to stay moist. Once the 20 minutes is up, you can wash it off with lukewarm water.
Usually, I find it hard to find the time to stop what I'm doing and put on a skincare mask. But since I was writing this Seoul Ceuticals review , I had good reason to make the time.
And, I ended up really loving it!
With long-term use, this non-traditional clay makes is designed to transform non-perfect skin and help improve the texture, smoothness and tone. It works best with regular usage, and can be used up to three or four times per week.
Why we love it
Free of Parabens and fragrance
Provides an instant wow effect
Works for both oily and combination skin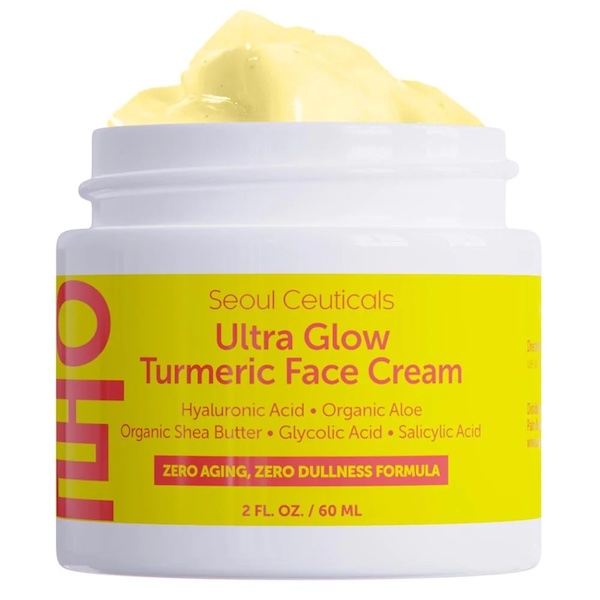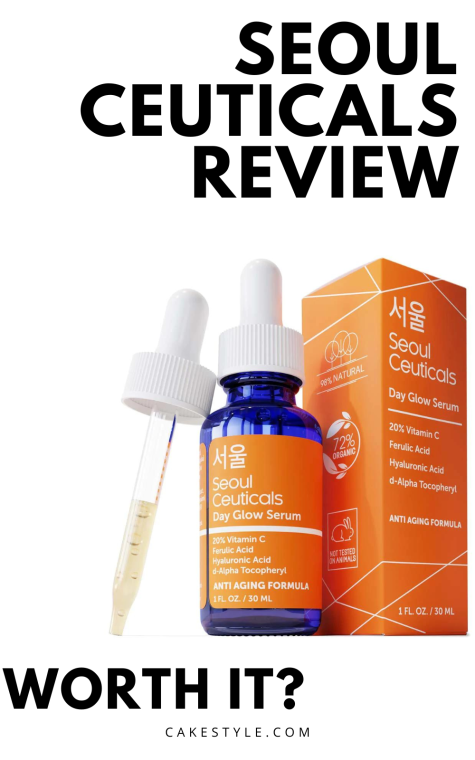 4. Ultra Glow Turmeric Face Cream
If you're looking for a moisturizer that brightens and rehydrates, the Ultra Glow Turmeric Face Cream is it.
The moment I put it on, my face felt remarkably soft. And when I work up, my skin looked super glowy, without being greasy looking.
Not only does this promise to improve the appearance of skin that's aging, dry or dull, but it also restores moisture and provides a healthy, youthful glow.
If you add this to your daily routine, fine lines, wrinkles, and dullness could be a thing of the past.
This moisturizer combines the powerful forces of antioxidant turmeric with gentle exfoliation and hydration to create a powerful, skin-focused product.
Use it right after you apply your serums on a regular basis to see long-term visible results!
Why we love it
Hyaluronic acids and aloe provide great hydration
Doesn't encourage breakouts
Other best sellers: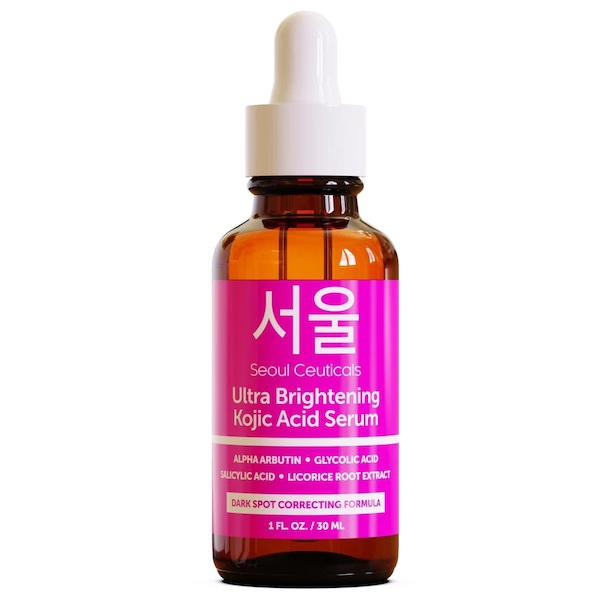 5. Ultra Brightening Kojic Acid Serum
If you have hyperpigmentation and sun damage, this is the daily serum your skin needs.
This Ultra Brightening Kojic Acid Serum is a powerful brightening serum that helps to improve the appearance of aging, scarred or sun damaged skin.
This serum contains kojic acid which is naturally derived from mushrooms and known for its skin-lightening properties, as well as vitamins A and E that help nourish and protect the skin.
It helps reduce melanin production, lightens dark spots, and evens out skin tone.
Customers who use this product can expect to notice a more luminous complexion with fewer visible signs of discoloration, hyperpigmentation, and age spots over time.
Not only does this serum effectively brighten the skin but it also provides long-lasting hydration, leaving the complexion looking smoother and softer.
With regular use of this product, customers should experience brighter and more even-looking skin with a healthy-looking glow.
Why we love it
Helps lighten sunspots and hyperpigmentation
Helps fade scars from acne and sun damage
Feels fantastic on your skin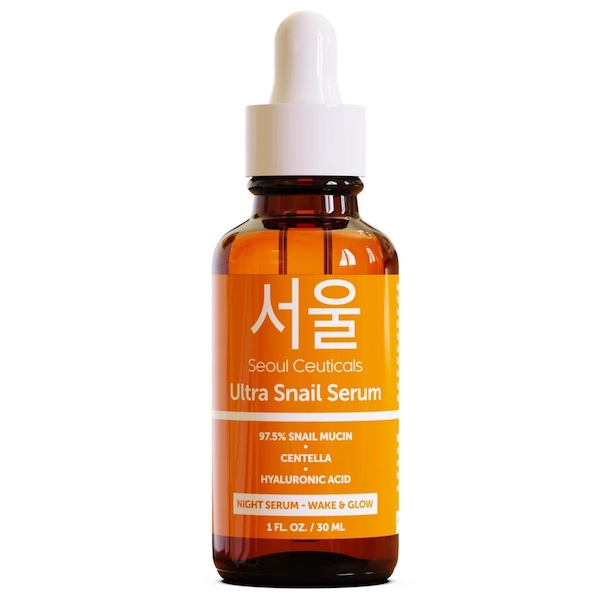 6. Ultra Snail Serum
A lot happens to your body when you sleep, and you can add skin rejuvenation to the list with Seoul Ceuticals' Ultra Snail Serum.
Made of a combination of snail mucin, hyaluronic acid and centella asiatica, this serum is built to help revitalize, replenish and moisturize your skin.
In particular, the snail mucin can also help restore elasticity, plumpness, and smoothness to your skin. Use it to restore a radiant glow while getting ride of the appearance of fine lines and wrinkles.
Apply 3 or 4 drops nightly to freshly cleansed skin, then massage lightly until it's absorbed. Follow with your nighttime moisturizer, and use nightly to improve cell turnover and stimulate collagen production.
Why we love it
Diminishes the appearance of wrinkles
Tightens pores
Gives you a silky, smooth finish
Seoul Ceuticals Pros and Cons
Pros
Seoul Ceuticals carefully chooses the ingredients in their products. They are all:
Many of the products are vegan
All of the products are cruelty-free
Paraben free
Gluten free
Fragrance free
They're made with quality ingredients that provide fast, noticeable results (that vary). Plus the products are made in the USA and very affordable!
Cons
While Seoul Ceuticals creates quality products, some of them do contain active ingredients that might not be right for everyone's skin.
Make sure you check the ingredients list of any product you're planning on using before you do. You can also try a spot test to be sure before using it on your whole face.
Plus, while it depends on the particular product and skin type, some customers have reported getting breakouts from certain products.
Again, it's a highly variable occurrence that has to do with your specific skin chemistry — so make sure to test things out, but stop use if they don't work for you!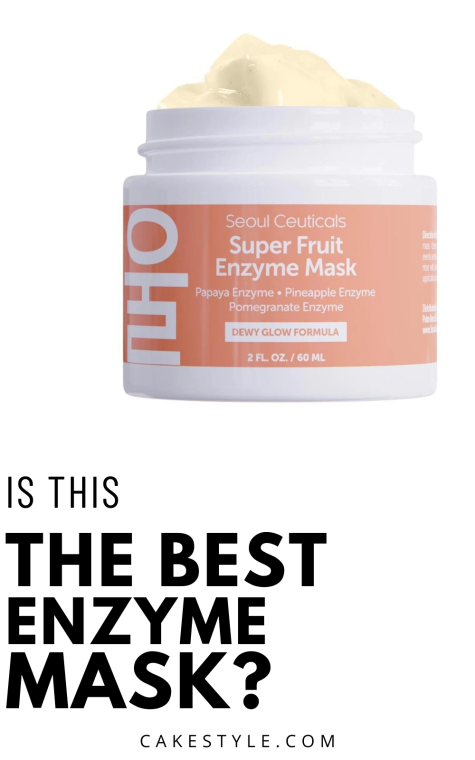 Is Snail Mucin Cruelty-Free?
Snail mucin is the natural 'slime' that snails excrete, which protects them from cuts as they slither around.
But don't worry, the way this mucin is collected for use in Korean beauty products is done without hurting or bothering the snails.
How is snail mucin collected?
The snails are placed in a dark area with a mesh floor. Snails like being in dark environments. The mesh floor allows for the mucin to collect beneath, naturally as the snails wander about.
In Korea, animal testing is illegal (good!). And when it comes to the quality of the mucin for use, happy snails produce quality mucin. So snail breeders take care to look after them, and provide them with a good environment.
Not only are Seoul Ceuticals products cruelty-free, but they use proven ingredients that effectively provide long-term results with consistent use.
Is Seoul Ceuticals worth it?
Seoul Ceuticals is an affordable skincare solution for those looking for brighter, more youthful skin.
Not only are the products cruelty-free, but they use proven ingredients that effectively provide long-term results with consistent use.
What's best about their system is that there's no set number of steps or a routine you have to do. You can pick and choose what works best for you, and create your own skincare program.
Focus on you, your skin, and design the beauty routine that leaves you with the look and feel that you want.
If you're looking for that healthy Korean glow, but want fast shopping and a good price, this is the brand for you!
If you want to give these products a try, they've offered an additional discount using the code NEW10. Test them out and let us know what you think!
What To Read Next: