Finding the perfect engagement ring is crucial. Considering there are so many options, decision fatigue is real thing, and that's where CustomMade comes in.
This unique company works with you to design a custom engagement ring online, so you (or your significant other) can truly have the perfect ring.
No matter what that looks like, their team of designers works with you to create something special.
What is CustomMade?
CustomMade believes jewelry should be as unique as the person wearing it — and isn't that just the truth?
Originally founded in 2009, CustomMade had an ambitious premise: they wanted to make it easy to have something beautiful and unique made for you (or your partner, depending on who's designing it).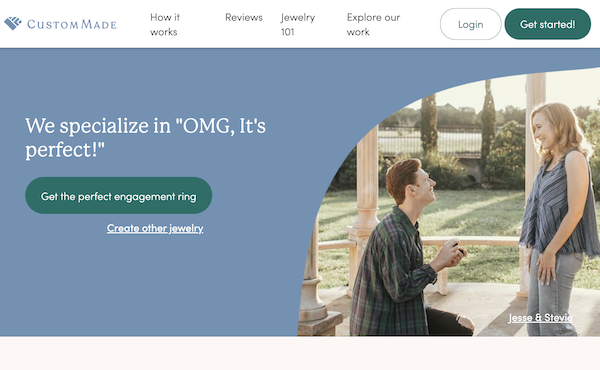 It was started as an open marketplace, but in 2015, the company decided to fully revolutionize how jewelry was made.
Nowadays you fill out their interactive questionnaire, and based on their answers, their designers create something memorable for you.
But it's not as plain as them guessing blind, you get designs to pick from that can be modified. They're not happy until you are.
Why CustomMade is a fabulous place to buy an engagement ring
CustomMade is LOVED by its customers, and the pictures in the review section show how unique and beautiful their rings are.
They offer a complimentary design service (though you do have to pay a $100 deposit) so you get exactly what you want.
Not to mention, there's a team of experts on-hand that are there to provide you guidance on design and price, so you're sure to get what you want.
It's important to find the right ring for that special someone, but you don't want to break the bank.
CustomMade has bargain prices for their supplies, and if you find something elsewhere but if you find a lower price elsewhere, they'll match it.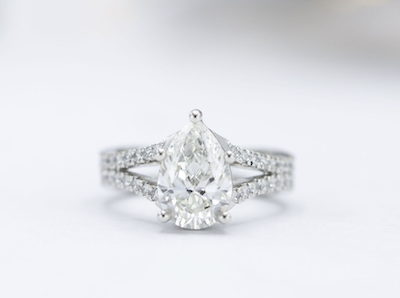 So not only are you getting something custom, but you're going to get the best price around.
Finally, they offer a satisfaction guarantee. If you don't love the thing they designed, they'll remake it for free.
CustomMade Pros
If you want something truly gorgeous and unique, CustomMade is the place to go.
You'll truly get a gorgeous, once-in-a-lifetime kind of ring.
While there isn't an online storefront where you can shop for ideas, you can check the reviews that all feature professionally-shot photos of their previous work.
We're firm believers that you should be able to sport a stellar and unique engagement and that's why we love CustomMade.
Related: Our Top 10 luggage picks
CustomMade Cons
As it is a custom design service, we understand that it would be hard to give pricing estimates, but still, it would be nice to get a rough estimate of what to expect to pay.
Of course, it's hard to predict exactly what a custom ring is going to cost, but a ballpark idea before you get started could be helpful.
How to order an engagement ring from CustomMade
The process with CustomMade is pretty straightforward, and even a little bit fun…
You start by filling out a series of interactive quizzes. These let you choose between colors, band styles, cuts, and costs, so you can tell them what you're thinking about. The good news is that you can choose whatever you want, so if you can't decide or you simply don't know they can accommodate.
From there you pay the $100 deposit, and your personal Jewelry Consultant contacts you so you can discus the design and pricing in a little more detail.
Once you've got the details nailed down, CustomMade create a sketch for you.
When you've approved the sketch, the designer finalizes everything from ring style to diamond selection. They then create a 3D computer model of the ring for you.
When you've approved the design, your ring is created at one of their US facilities.
Once the ring is complete, CustomMade takes professional photos for your approval before shipping the ring, insured, to your door.
Overall, the process of using CustomMade to design a custom engagement ring online is smooth and collaborative.
It's set up to help ensure you have a pleasant process designing the ring of your dreams.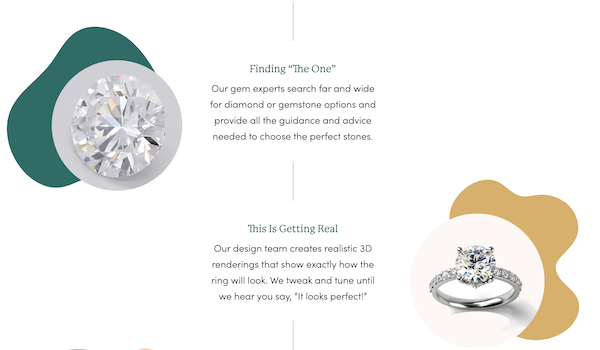 Is CustomMade Worth it?
CustomMade truly makes gorgeous jewelry that's designed to match your tastes. If you want something unique for your proposal, this is where you can get it.
But it's important to point out that you will be looking at a bit of an extended time from idea to finished design, so this isn't exactly the best last-minute idea.
This process is for you if you want to pop the question with a beautiful surprise.
But, if you're on a limited budget, you might want to contact them ahead of time to make sure they can accommodate it.
All-in-all, we really enjoy CustomMade, and we think it's worth checking out if you want to design a custom ring online.