Popping the question to the love of your life requires a lot of prep, like building your confidence and planning cute gimmicks. But the star of the show of any proposal is the brilliant ring you'll be holding when you get down on one knee.
An engagement ring isn't just a piece of sparkly jewelry. It's a symbol of your eternal love for someone special that you're ready to spend the rest of your life with.
And since your love is one-of-a-kind, it only makes sense that your engagement ring is just as unique and striking. That's where Barkev's comes in.
Barkev's is a jewelry company that offers both classic and modern engagement rings. To help you decide whether it's the right brand for you, we've come up with this brand review.
Here, you'll find some of the most gorgeous Barkev's rings, what it's like buying from them, Barkev's top promos, and more.
About Barkev's
Barkev's is an online jewelry shop that focuses on engagement rings. Established in 1981, it's an expert in sourcing the finest gems and embedding them in beautiful band designs.
All of the brand's rings are made in sunny Los Angeles, CA, where the factory is located.
True to its motto of "Think outside the box," Barkev's carries some of the trendiest ring designs. While they do offer classic diamond cuts and band styles, they also have rings in edgier shapes and twists.
What is Barkev's?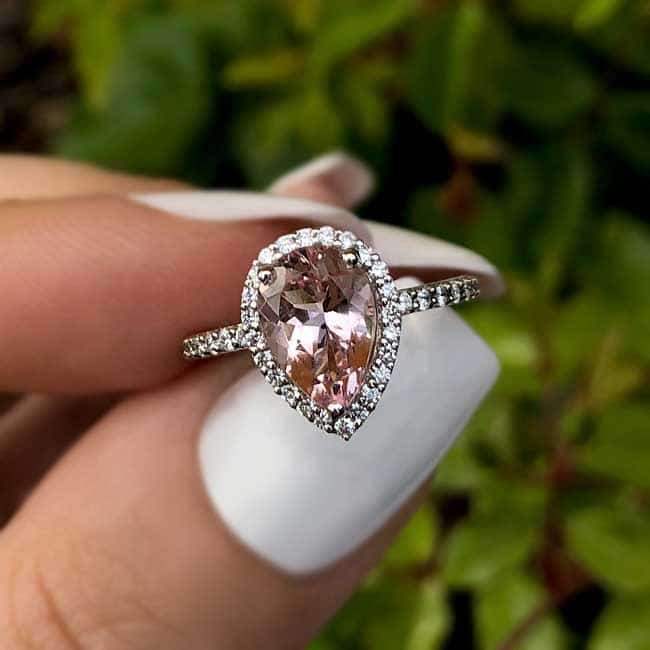 Barkev's offers gems and stones outside of the box, including morganite and black diamonds. There are tons of styles to choose from, whether you want a simple solitaire cut or glitzy, extravagant settings.
It also offers other artisanal jewelry pieces, like necklaces, bracelets, and earrings.
Lurking around the website doesn't let you glean that much about real customer experience. There aren't too many reviews or buyer photos on the site. Their FAQ page isn't set up either, making it difficult to answer simple queries about their services.
But the fact that Barkev's boasts over one million likes on Facebook and 54.4k followers on Instagram means they're well-loved.
What is it like to order from Barkev's?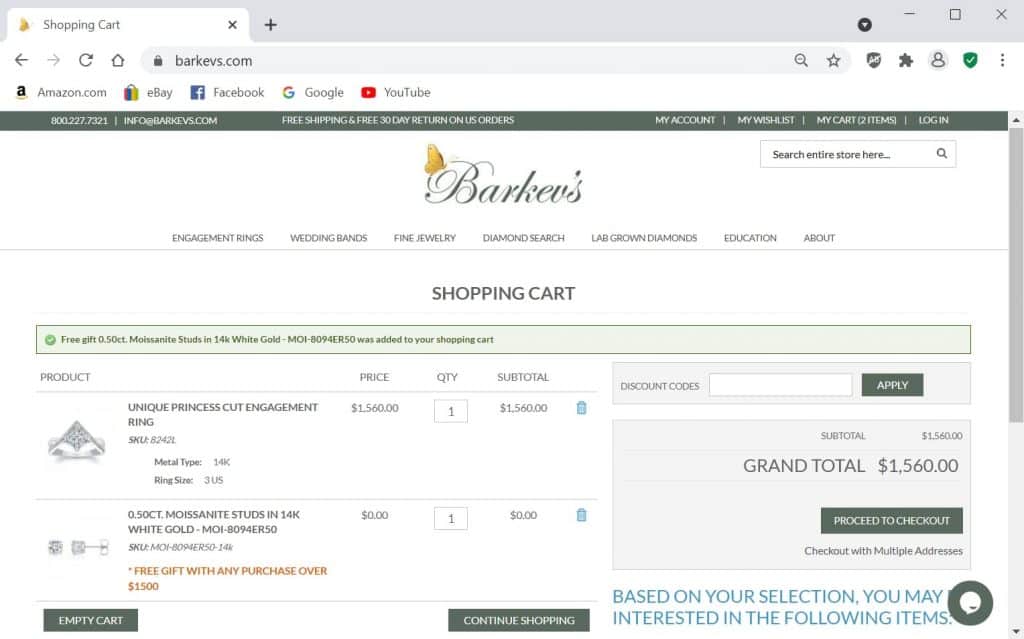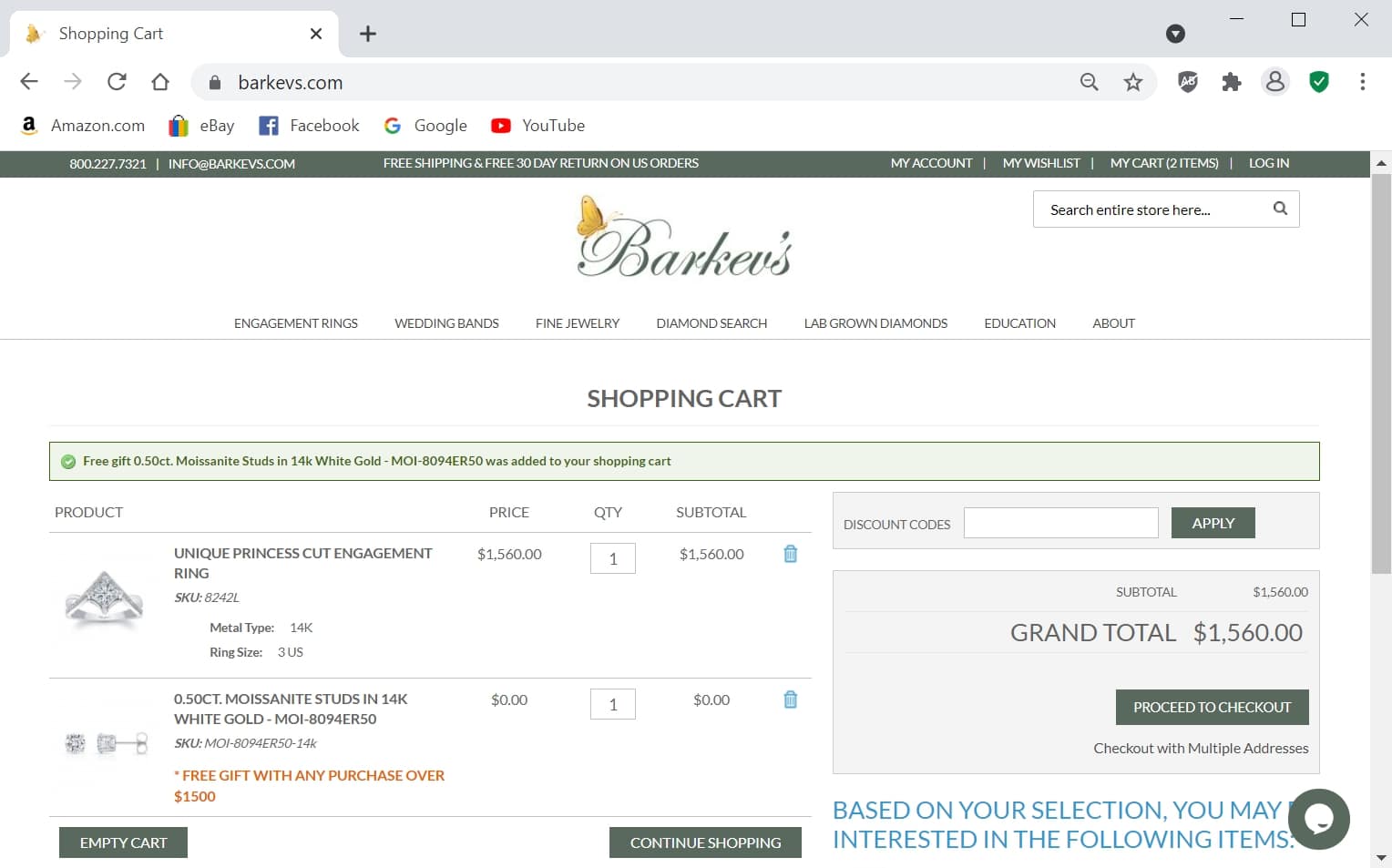 Going through the different jewelry offerings on the Barkev's is quite simple. You can filter and range your preferences according to the type of gold, stone, and shape you want. That makes the site super easy to navigate even if they have hundreds of offerings.
What's awesome is that the price is affordable. They even have some gorgeous rings for below $1,000. You can also save a few bucks by purchasing jewelry sets instead of individual pieces.
And if you're not completely sure you want to purchase a specific ring, you can opt for their home viewing program. They can send you an exact replica of any ring you want so you can touch and feel and see it in person.
However, note that this feature is only for US residents. There's also a $200 deposit (refundable) required for every ring you'd like to sample at home.
You May Also Like: JTV Jewelry Reviews: 5 Best & 5 Worst
Barkev's Rings Reviews
Looking for the perfect engagement ring that will suit your style? Here are some of the most gorgeous options on the Barkev's website:
Barkev's Rose Gold Engagement Rings
Tired of the same old gold and silver rings? Go against the grain with rose gold! These rings have uniquely warm bands with a pink tint.
This gives them a softer look compared to the typical platinum and white gold bands.Gemstones also sparkle beautifully and shine brighter against rose gold bands.
Two-Tone Princess Cut Pave Engagement Ring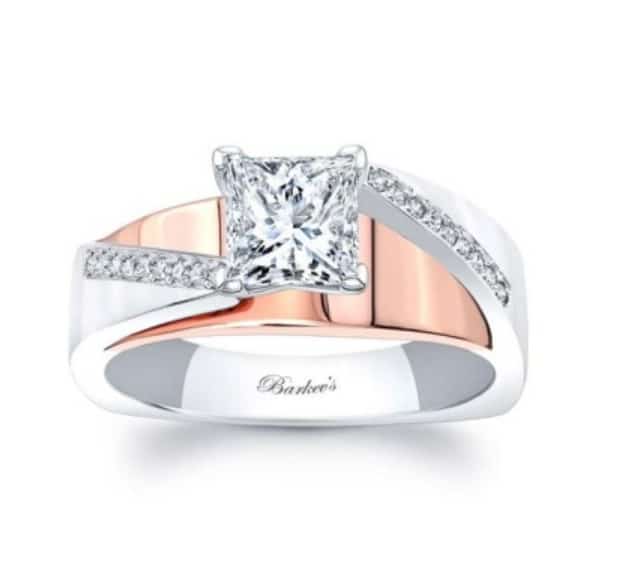 Two-Tone Princess Cut Pave Engagement Ring
In this ring, white and rose gold intertwine to bring out your center gemstone's beauty. The two gold colors are split for extra brilliance.
It's perfect with a princess-cut diamond for a touch of classic elegance. But if you want, you can also switch it up and go for a sapphire. Change up the tones in the contrasting band colors. There are options to change the gold to a more yellow, pink, or white tint.
Treat your bride-to-be like royalty with this soft yet lavish 18-stone ring for $1,625.
Unique Rose Gold Pear-Shaped Engagement Ring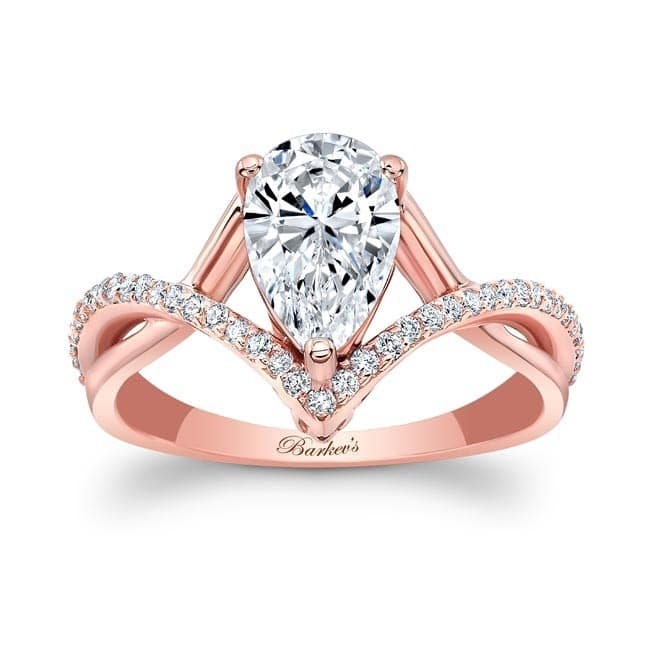 Unique Rose Gold Pear-Shaped Engagement Ring
Round and princess cut diamonds may be classics, but go for something more romantic with a pear-shaped gem instead. This one sits like a queen in the middle of a rose gold twisted shank. It also flaunts a brilliant row of shining diamonds for added glow.
You can check out the model's video on the product page to see it from all sides. This will help you fully appreciate the shape and sharp, angular twists of the ring.
The ring is available in three different colors. You can also choose between 14k and 18k gold types. This 43-stone ring is the perfect statement piece to wow your princess and make her your queen.
It starts at $2,030.
Rose Gold Diamond Leaf Ring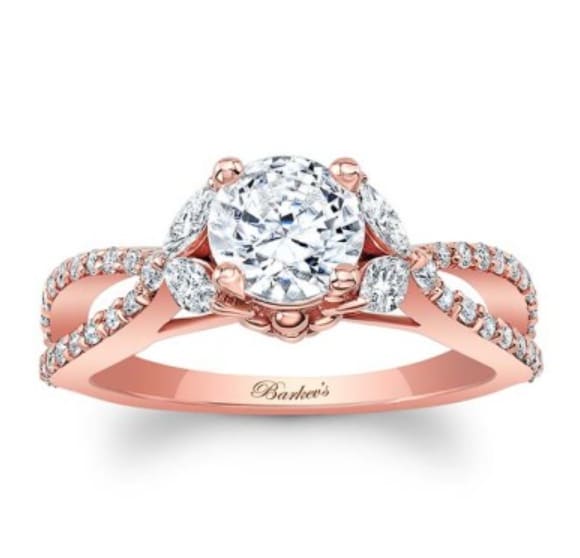 Rose Gold Diamond Leaf Ring

Have a bride who's keen on nature and the outdoors? This rose gold ring's leaf design is sure to steal her heart. Marquise diamonds frame your center stone, making it look like a flower among leaves. The band's shank is also lined with diamonds for a scintillating shine.
All 46 stones in this 3.9-gram ring are sure to enchant and sweep your bride off her feet.
Snag it for your dream wedding proposal at $2,900.
Why choose a rose gold engagement ring?

Rose gold adds a more feminine touch to the ring, making it perfect for blushing brides. Let the warmth and sensuality of your relationship translate into your engagement ring with a rose gold band. It's also ffor ladies who want a more vintage look to their ring.
Barkev's Diamond Engagement Rings
Diamond rings are classics in the realm of engagement rings. They're timeless and have brilliant shine, making them a favorite gemstone among brides all around the world.
But because they're so common in jewelry shops everywhere, it can be hard to pick out the perfect one. There are so many cuts to choose between, from a classic princess cut to a more atypical marquise shape. You could even go for a baguette-shaped diamond as an ode to art deco.
Twisted Engagement Ring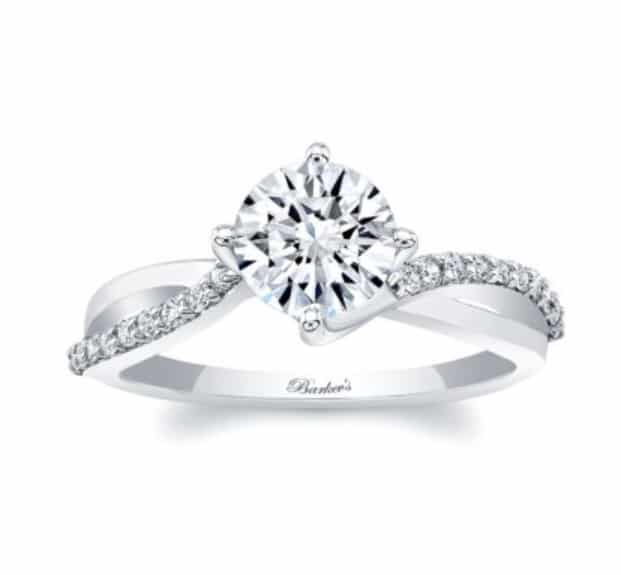 Twisted Engagement Ring
A curved, diamond pavé-set band gracefully snakes its way around a classic white gold band in this ring. In the center, prongs hold up your gorgeous centerpiece — a round-cut solitaire diamond. This is a gleaming white gold ring that hits the sweet spot between modest and glittering.
You can choose to change your center stone to morganite, moissanite, aquamarine. Whichever you choose, your bride will be sure to fall in love with a ring so chic and luxe.
Get it for just $1,260.
Princess Cut Engagement Ring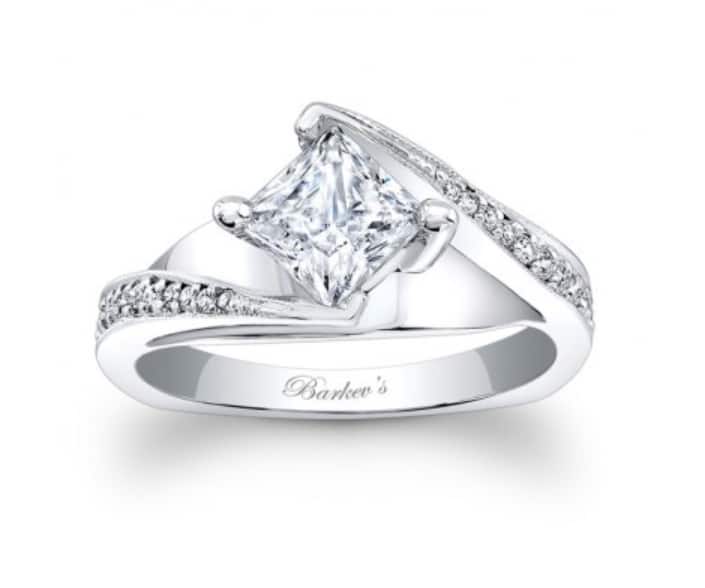 Princess Cut Engagement Ring

Go big or go home with this dazzlingly dramatic princess-cut diamond ring. It simply screams decadence while remaining elegant.
The thick white hold band has linings of pavé-set diamonds. Cathedral shoulders to house a gorgeous, classic princess cut diamond in the center.
It's as gorgeous as it is indulgent—perfect for any bride who knows she should only get the best of the best.
Make sure your fiancée flaunts the most brilliant ring in any room she's in with this ring for just $1,665.
Hidden Halo Ring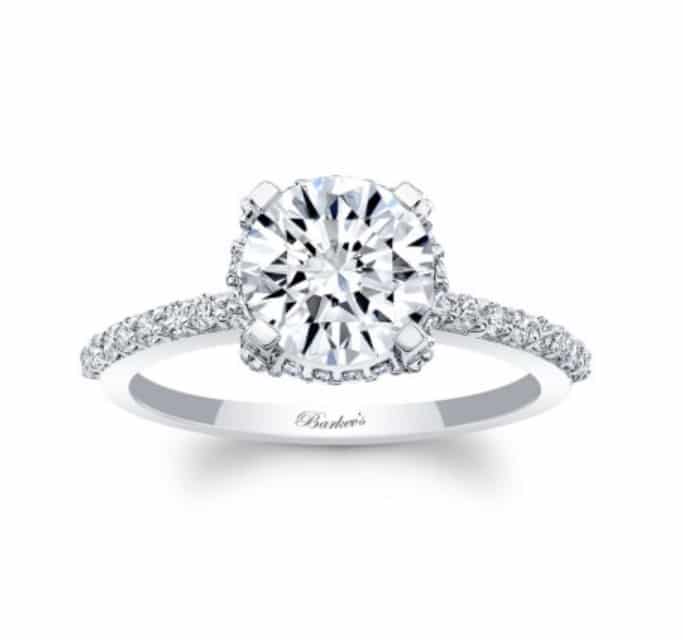 Hidden Halo Ring
This ring is the kind of classic engagement piece you see on TV. It's a thinner white gold band encroached by tiny diamonds all around it. And it has a stunning center diamond piece held upright by a diamond-encrusted prong.
It's a true classic that shines and glimmers from any angle. Get it at $2,405 for lady who loves timeless pieces but doesn't mind being the center of attention in a crowded room.
Why choose a diamond engagement ring?
While diamond rings are the most common for engagement pieces, they can also be the most fun to customize. You can choose between tons of shapes, sizes, and settings. And whatever style you go for, you'll still end up with something that looks timeless and glowing bright.
Barkev's Morganite Engagement Rings
Morganite gems are an excellent alternative to diamond rings. They're more affordable but still have a stunningly unique color. Morganites have a sweet, delicate peach tone, making them perfect for hopeless romantics.
They look great when encased in white gold bands or lined with diamonds. These features make any morganite gem shine gloriously bright.
Rose Gold V-Shaped Morganite and Diamond Ring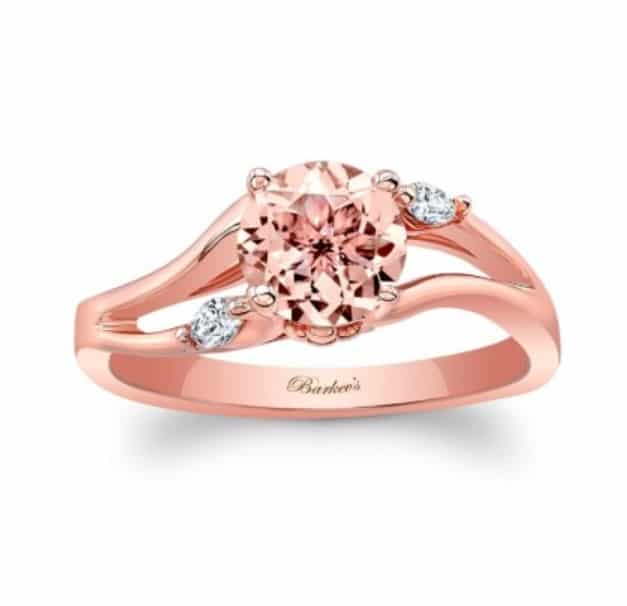 Rose Gold V-Shaped Morganite and Diamond Ring
This artistically curved rose gold band hugs the morganite with V-shaped split shanks. It's accented by marquise-shaped diamonds, keeping the morganite the center of attention. The warm look of this ring is perfect for femme yet fiery brides.
There are only two stones in this ring, but it definitely packs a punch. Get it for just $1,465.
Pear-Shaped Morganite Ring MOC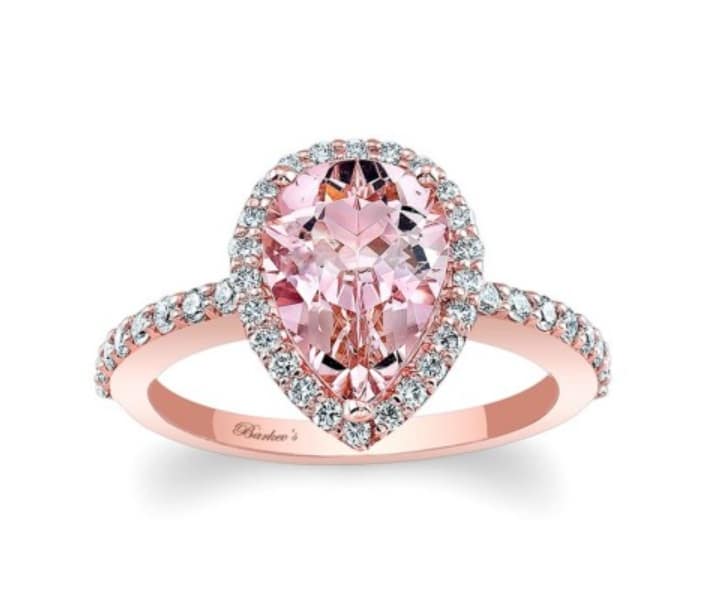 Pear-Shaped Morganite Ring MOC
Let the love of your life feel like the ultimate diva with this pear-shaped morganite and rose gold ring. The classic halo band is littered with tiny diamonds in a pavé setting, making the finger glimmer from every angle.
While the design is simple and dainty, the warmth and peachy sheen of the morganite makes the ring look absolutely vibrant.
Get it for $3,105.
Rose Gold Modern Bypass Morganite Engagement Ring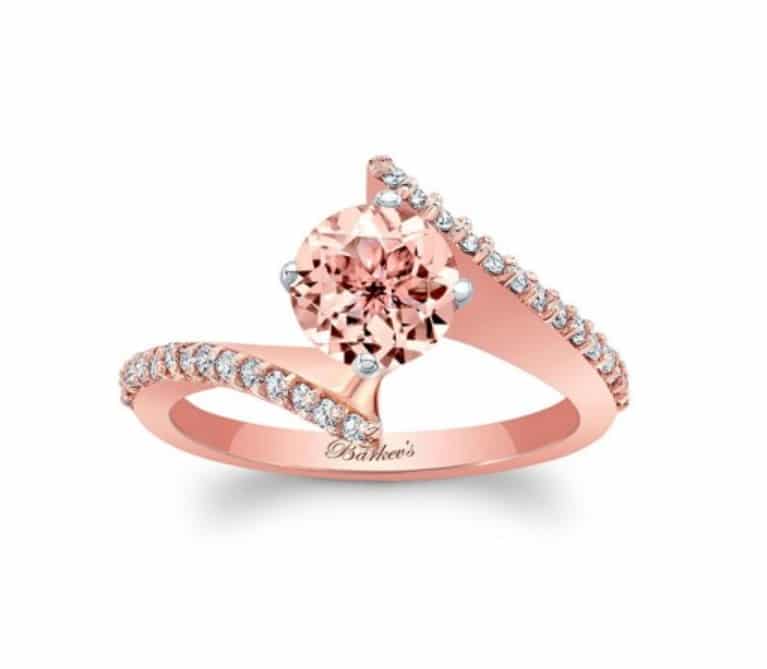 Rose Gold Modern Bypass Morganite Engagement Ring
Go a more adventurous route with a bypass band. This type of band makes your morganite look like it's floating. The ridges of the band are lined with prong-set diamonds, making it look utterly enchanting.
You can change up your gem piece to moissanite and blue sapphire, if the style fits you better.
This 28-stone ring is a catch for just $2,215.
Why choose a morganite engagement ring?

A morganite ring is perfect for women who want something different from other brides-to-be. While it's not a typical gem in any ring, its uniqueness gets people talking. It's the ultimate symbol of a love that is not like the rest.
Barkev's Black Diamond Engagement Rings
Black diamonds are real diamonds that were tinted with a darker hue for an edgier look. They were all the rage in the 90s, but are making a comeback today for their vintage vibe. These little diamonds are the perfect addition to classic designs to make them look modern and striking.
Unique Pear-Shaped Moissanite Black Diamond Accent Ring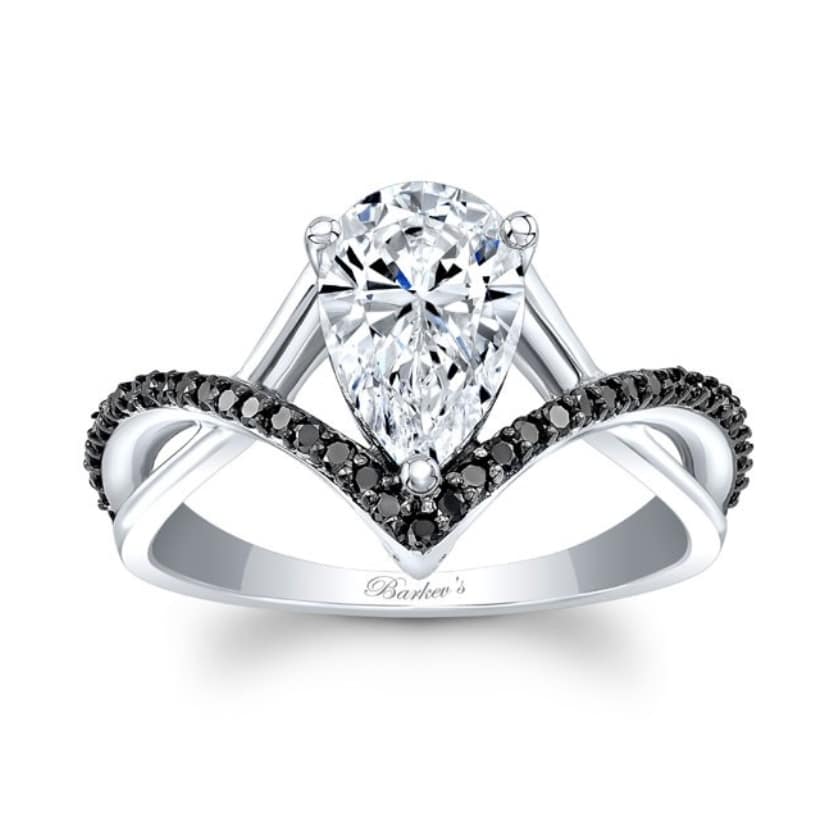 Unique Pear-Shaped Moissanite Black Diamond Accent Ring

Black diamonds sit on the shank of this ring in rows of melees. They provide a sleek, attitude-filled accent to the stunning pear-shaped moissanite centerpiece. The magical gem piece takes the shape of a dainty teardrop.
This is an excellent engagement ring to tame a bad girl and make her a forever girl.
Black Diamond Sunflower Ring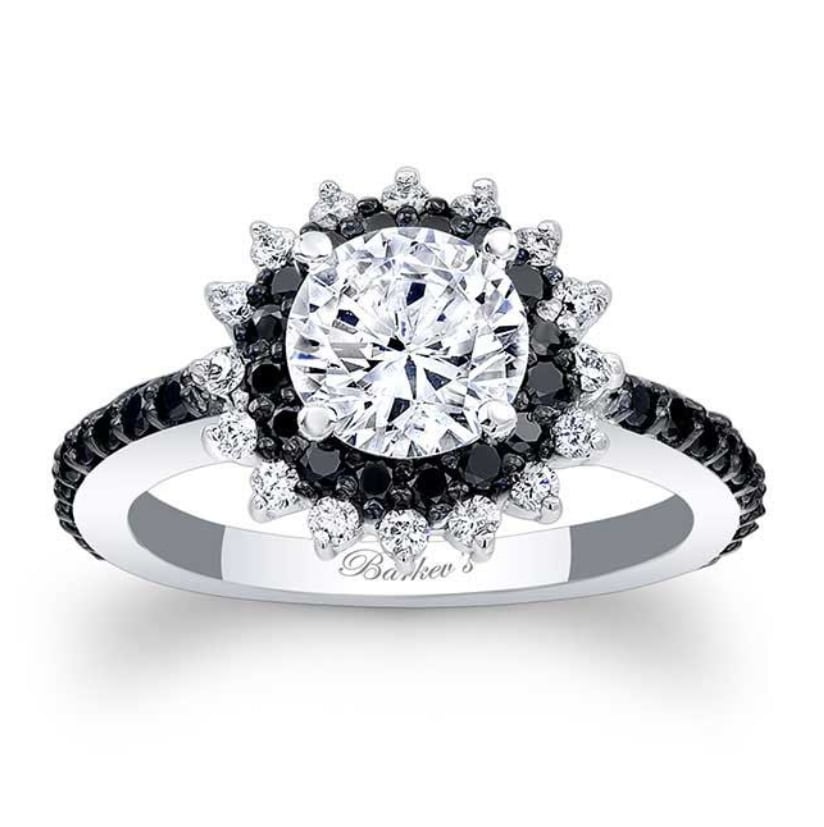 Black Diamond Sunflower Ring

This sunflower-inspired ring is sure to bring a bright and sunny smile to your bride's face. It has a classic halo band lined with black and white diamonds for immense sparkle. At the center, sits a round-cut diamond littered with tiny black diamonds for contrast.
If you want to bring something innovative and fun to the table, get down on one knee with this ring in hand.
It's worth $3,055 on the website.
Split Shank Black and White Diamond Ring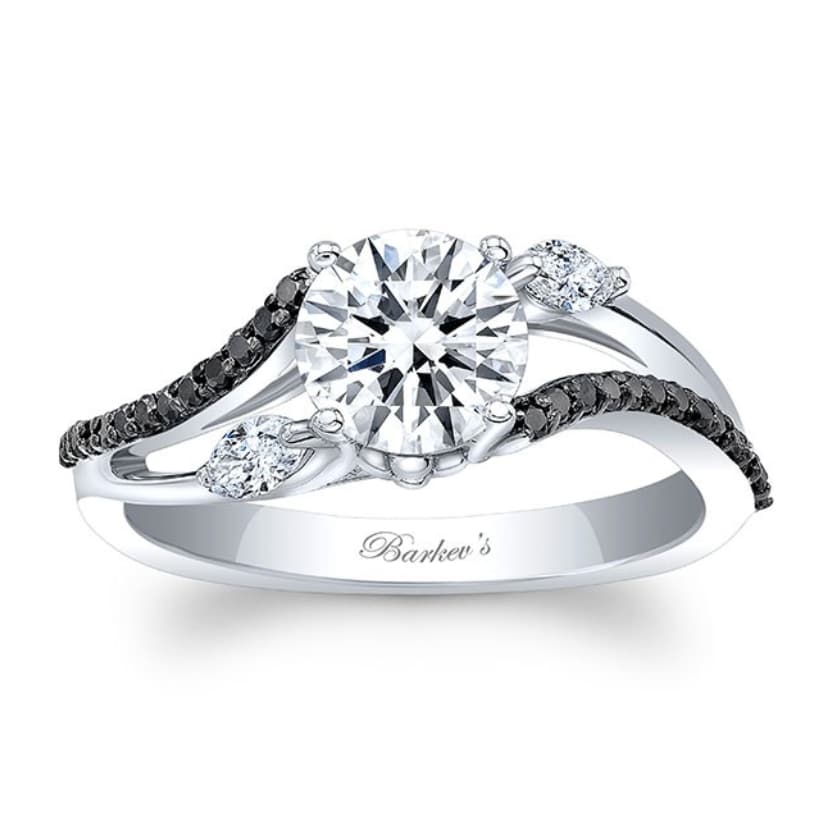 Split Shank Black and White Diamond Ring

Sleek and timeless meets grungy and sultry in this black and white diamond engagement ring. Little black diamonds and marquise-cut white diamonds sit on alternating split shanks. These shanks showcase a fabulous round-cut diamond as the centerpiece.
Cruella de Vil, who? This 26-stone ring is the ultimate luxury piece for any rebel queen.
Get it for just $1,670.
Why choose a black diamond engagement ring?

Black diamonds are perfect for spicing up engagement rings that look a bit too conventional. If your lady love has a rebellious streak, she'll fall head over heels for any of the unique rings above!
Barkev's Reviews
As with many websites selling luxury goods, the Barkev's site isn't sprawling with reviews. This is likely because the products are expensive, so buyers only purchase jewelry from them on special occasions.
But the handful that we did find on the website only had amazing things to say about their experience with the brand. Eric from Florida gushes about the help provided by the service.

Stephen, another happy customer from Indiana, was ecstatic about the moissanite ring he got for his girlfriend. "My parents thought it was a diamond!" he said, praising the quality of the ring's moissanite center stone.

Barkev's Pros and Cons
Like all brands, Barkev's has its fair share of excellent things it can boast and things people might dislike about it. Here are some of the pros and cons we've found about the brand:
Barkev's Pros:
Offers a wide range of jewelry
You can personalize your own design
There are free gifts included in the package for any order over $1,500 (Note: when we visited the site, they were giving away cute stud earrings!)
Free shipping for US addresses
You get free 30-day returns if you're within the US
Multiple financing options to choose from at checkout
You can opt to see a real-life sample before purchasing your ring
Barkev's Cons:
It's quite difficult to look for customer reviews on their jewelry
Is Barkev's worth it?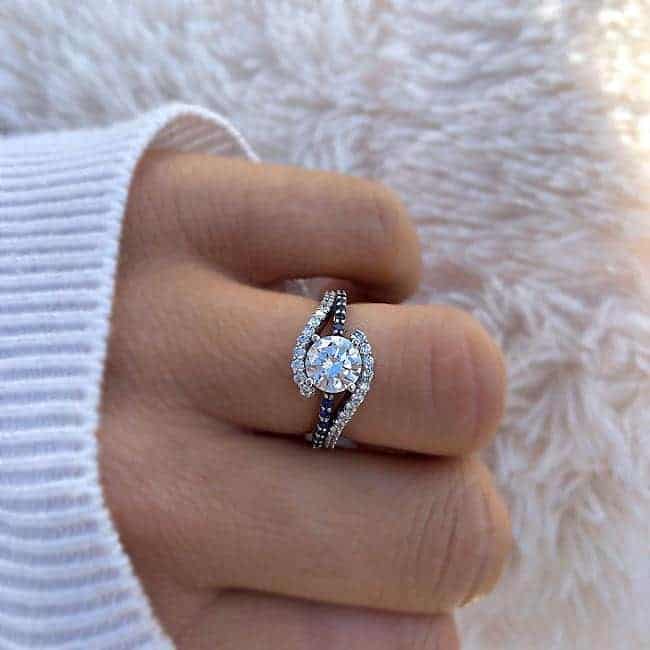 Barkev's is definitely worth your money if you want to make your engagement ring as unique as possible. It's an excellent go-to for those who want to be in control of how their jewelry will look like.
But it's also the right choice if you want to browse through ready designs. You can find rings that are simple and minimalist, but also ones that have modern twists. Needless to say, there's something for every jewelry lover at Barkev's.