We have the most comprehensive Blue Nile reviews to share today, to help you decide if Blue Nile jewelry is right for you. It can be a challenge to find the perfect diamond engagement ring or statement jewelry piece.
You need to hop from one jeweler or retail store to another to see all your options. And the worst part is that there's no guarantee that you'll find the ring you envisioned at the end of it.
So, it would be smarter to focus on one jewelry retailer that offers quality and a wide variety of options.
Blue Nile is an online retailer that fits that description. Their jewelry pieces are of top-notch quality and have gorgeous artisanal designs.
In addition, they have a bunch of offerings to choose from and allow you to customize the perfect ring—a must for meticulous brides-to-be.
Want to know if they're legitimate and what their products look like? Read on to see what we think.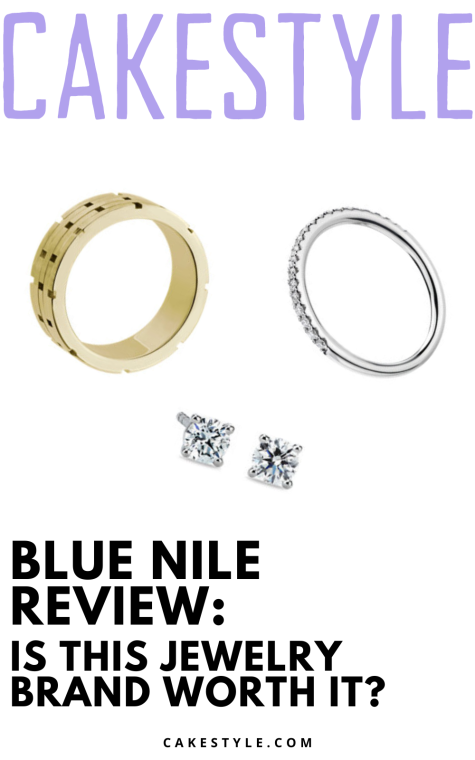 About Blue Nile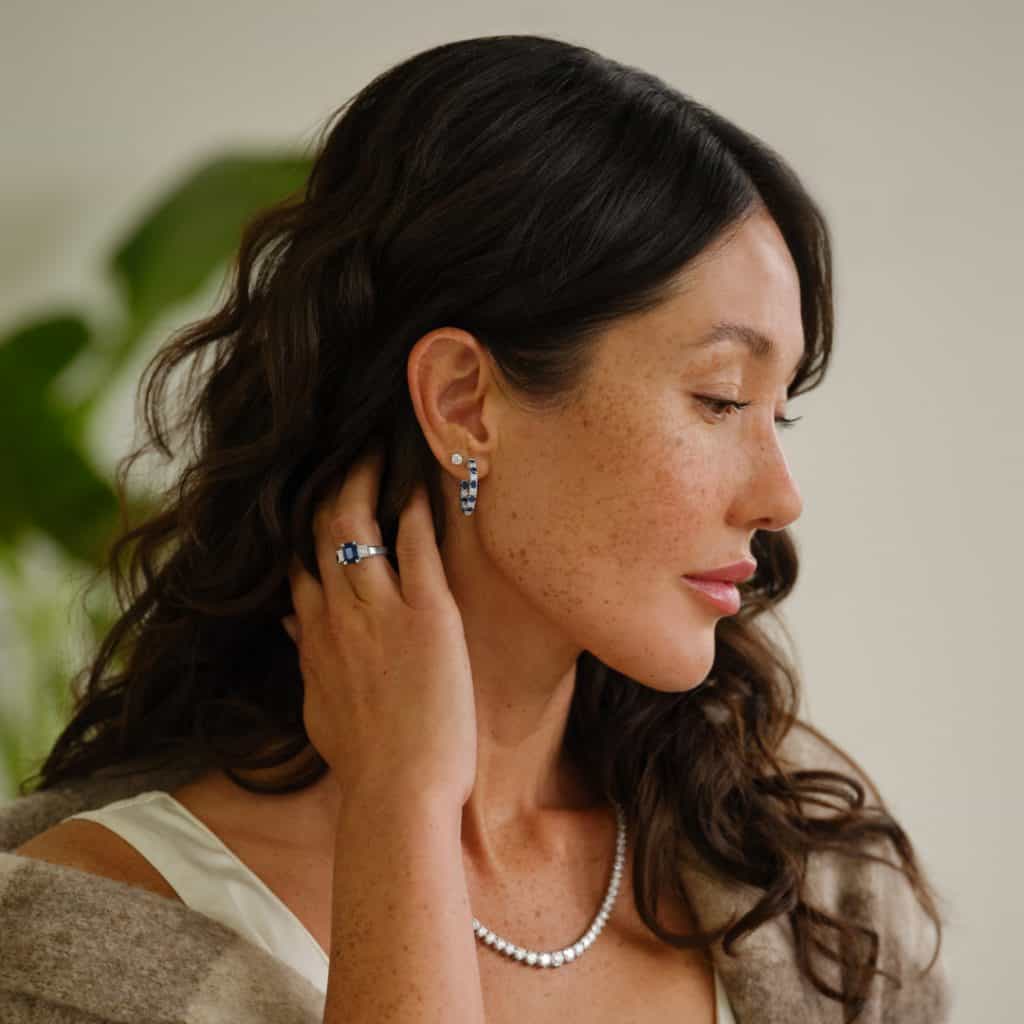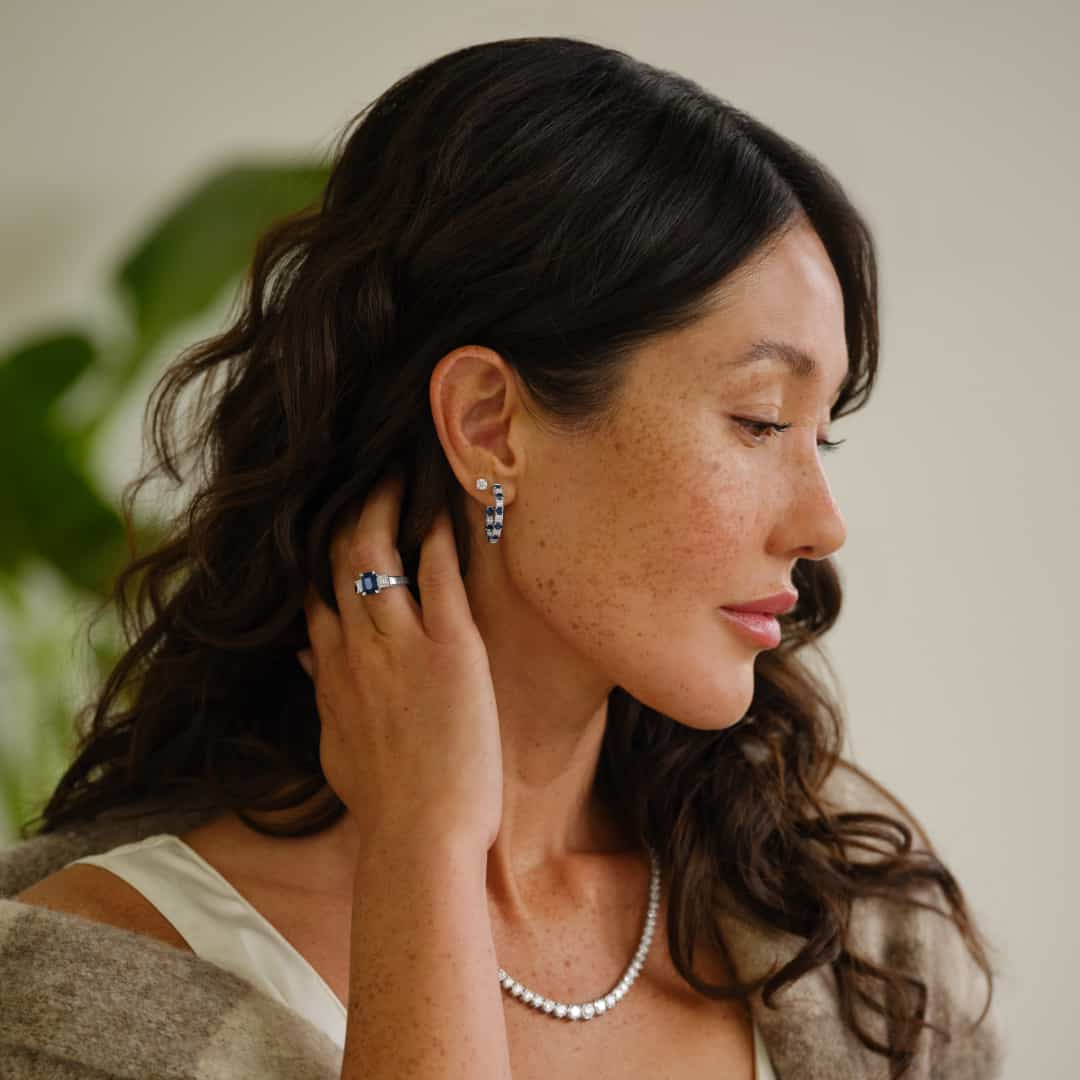 Blue Nile is a diamond and engagement ring company with one goal. They wanted to make it possible for anyone to buy sparkling, high-quality diamonds at an affordable price.
They know that shoppers deserve better jewelry options with impeccable service. So, that's exactly what they sought to do in 1999 upon their launch. Over 20 years later, that's still what they're doing.
Blue Nile's top priority is providing its buyers with fine handcrafted jewelry. They ensure every piece is gorgeous in cut, sparkle, and design.
The jewelry is made from high-quality natural diamonds fashioned by skilled artisans in Dublin. They guarantee the quality of the ring before they ship it out. So you never have to worry about being duped or ending up with a diamond that isn't what you expect.
But it's not only the beauty of the diamonds they care about. They also ensure that their diamonds are ethically and responsibly sourced.
They only get their jewels from reputable suppliers that adhere to the Kimberley Process. This is the movement that aims to reduce the use of conflict diamonds.
The company has over 100,000 available diamonds in every cut, color, shape, size, and clarity. They make for amazing centerpieces in an engagement ring. But the jewelry is so beautiful that you might want to wear it as everyday accessory.
The brand has almost two million likes on Facebook and over 200k followers on Instagram. This is a true testament to how these pieces give joy to couples and accessory lovers everywhere.
Ordering from Blue Nile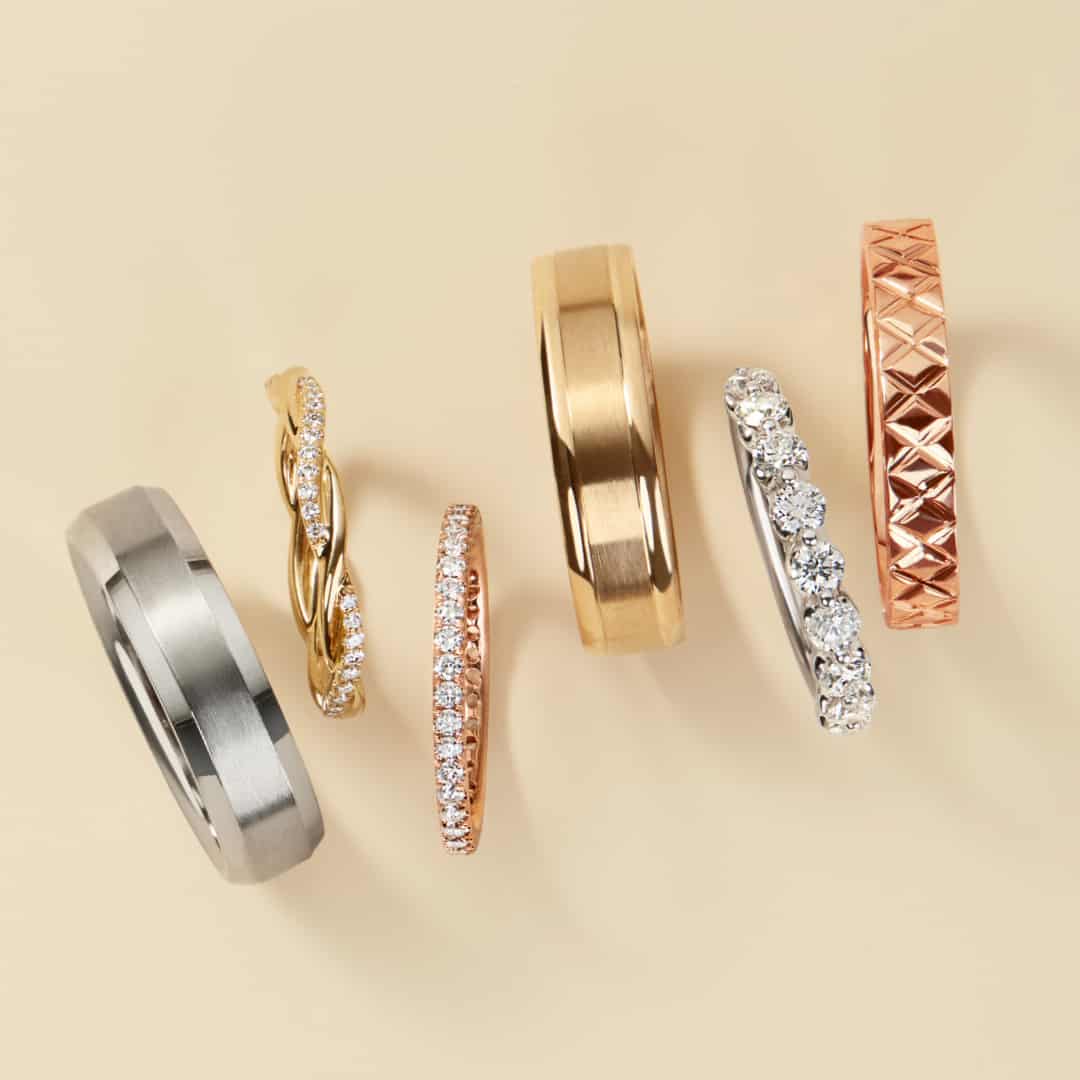 The website is easy to navigate. You can look through different diamonds that you want on your jewelry.
There are diamonds in all shapes, such as round, radian, pear, and more. That way, you can filter the designs down to the style you want.
Alternatively, you can browse the designs for either engagement or wedding rings. If you're picky with how you want your ring to turn out, you can customize your own. You can choose from thousands of bands, metals, and settings for your ring design.
Every diamond the Blue Nile sells is traceable. This means it's been inspected and graded by the prestigious GIA. They also ensure they never use blood diamonds and that no child labor was used to mine them.
Aside from using ethically sourced diamonds, the brand is also eco-friendly. The packaging they come in when sent to you is 100% recyclable.
Not sure how to look for the perfect ring? The brand provides diamond buying advice from experts. They are available 24/7 to answer any of your ring-hunting questions.
They also have some online educational guides. That way, you can get an idea of the perfect piece for you.
You can also book a virtual appointment to see some diamonds up close! They have a showroom in a couple of locations, too, if you want to see them dazzle in person.
The company offers free shipping worldwide. Deliveries are extra secure to give buyers peace of mind.
Each jewelry piece also has a lifetime warranty. That way, you can get your diamond upgraded whenever you please.
We also have a special treat just for you!
Cakestyle readers can check out with the promo code Cakestyle2022 to get $100 off a $1,000 purchase.
This code expires on December 31, 2022.
Blue Nile Bestsellers Review
Here's one more thing that makes shopping at the Blue Nile even more attractive. Currently, the brand offers 50% off engagement rings and everyday jewelry.
You can use the promo code Cakestyle2022 until December for $100 off your $1,000 order.
Not sure what to buy from the sale? Check out some of their bestsellers to see if they'll catch your eye.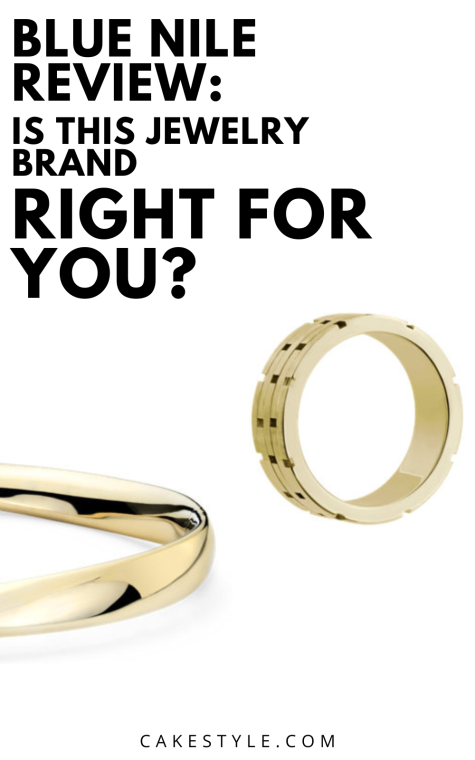 French Pave Diamond Engagement Ring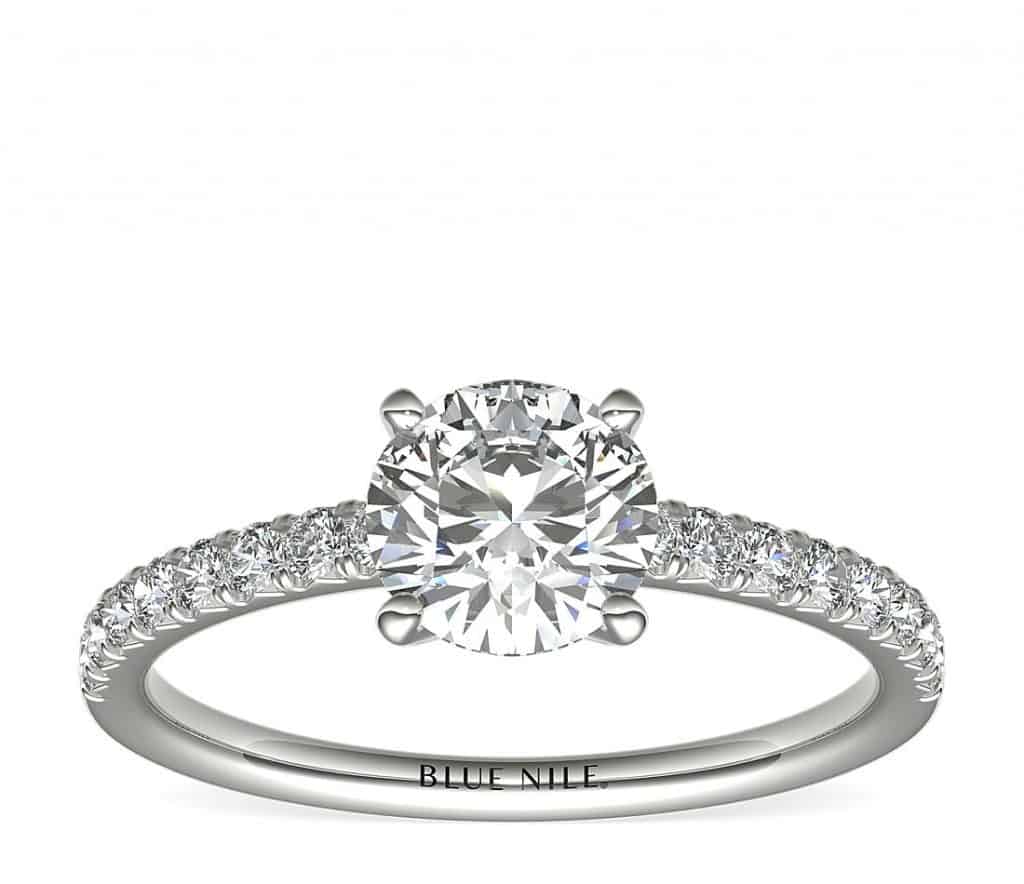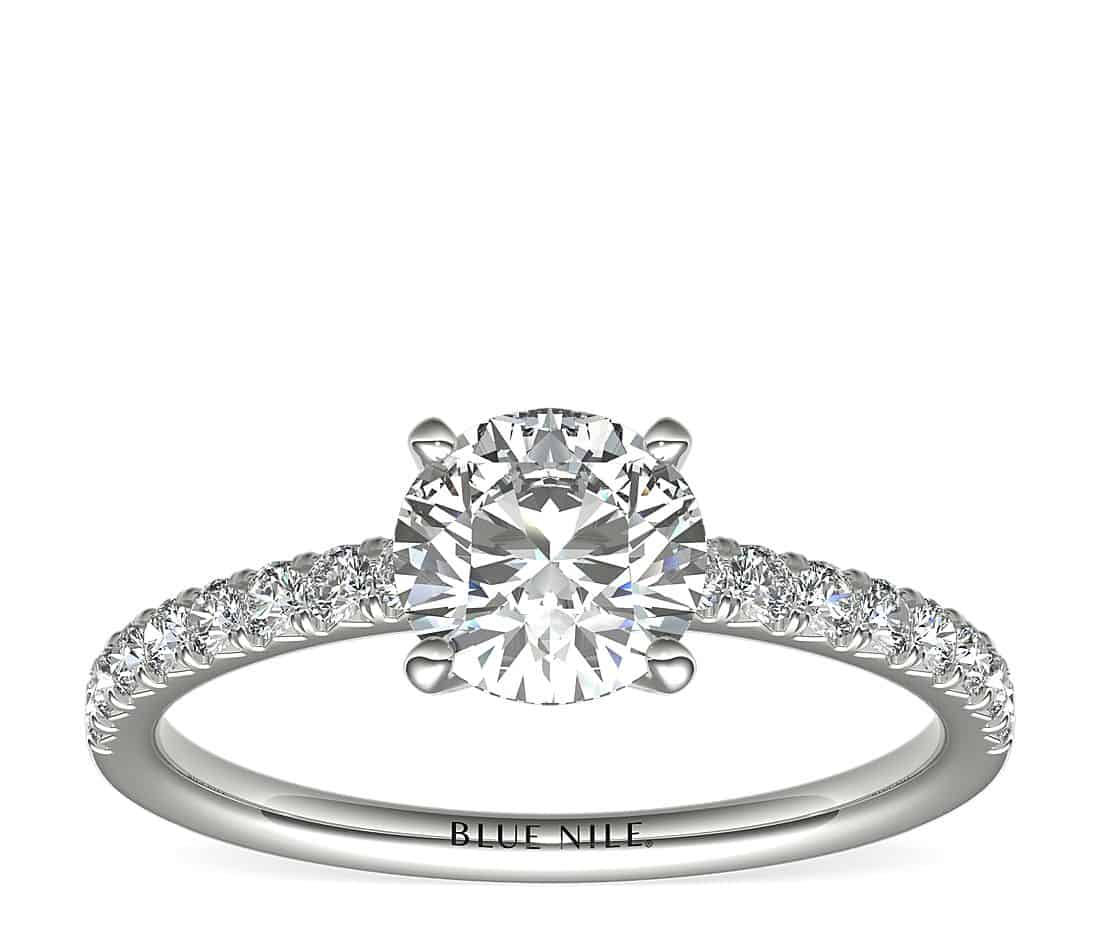 The 0.24 ct. Diamond with pave setting is a classic design for an engagement ring. So, it should be no surprise that it's a fan favorite.
This ring has a gorgeous, sparkly round diamond at the center. Around it sits tons of other smaller diamonds, allowing the big centerpiece to shine.
The platinum setting makes it look very elegant. However, you can always change this to another metal, like yellow or rose gold. You can also choose what diamond you want if you're not a fan of the round shape.
Classic design but has exceptional shine and sparkle
Can customize details of the ring
Mini Channel-Set Huggie Hoop Earrings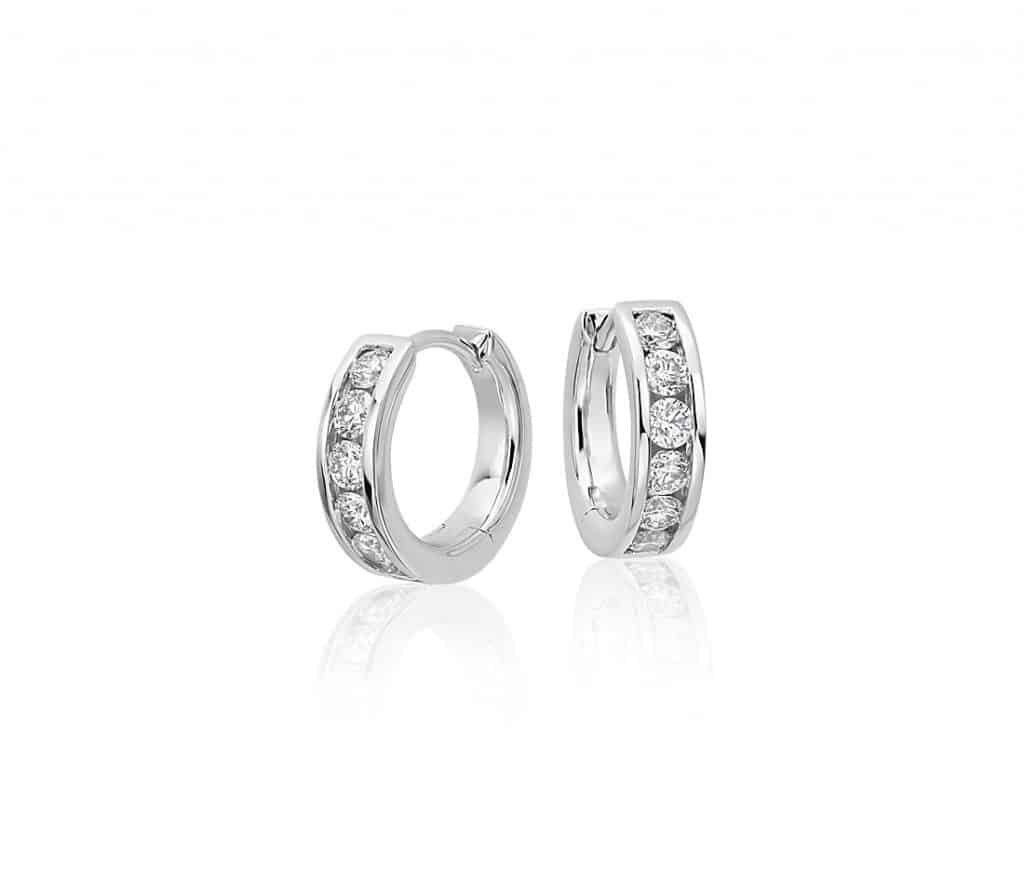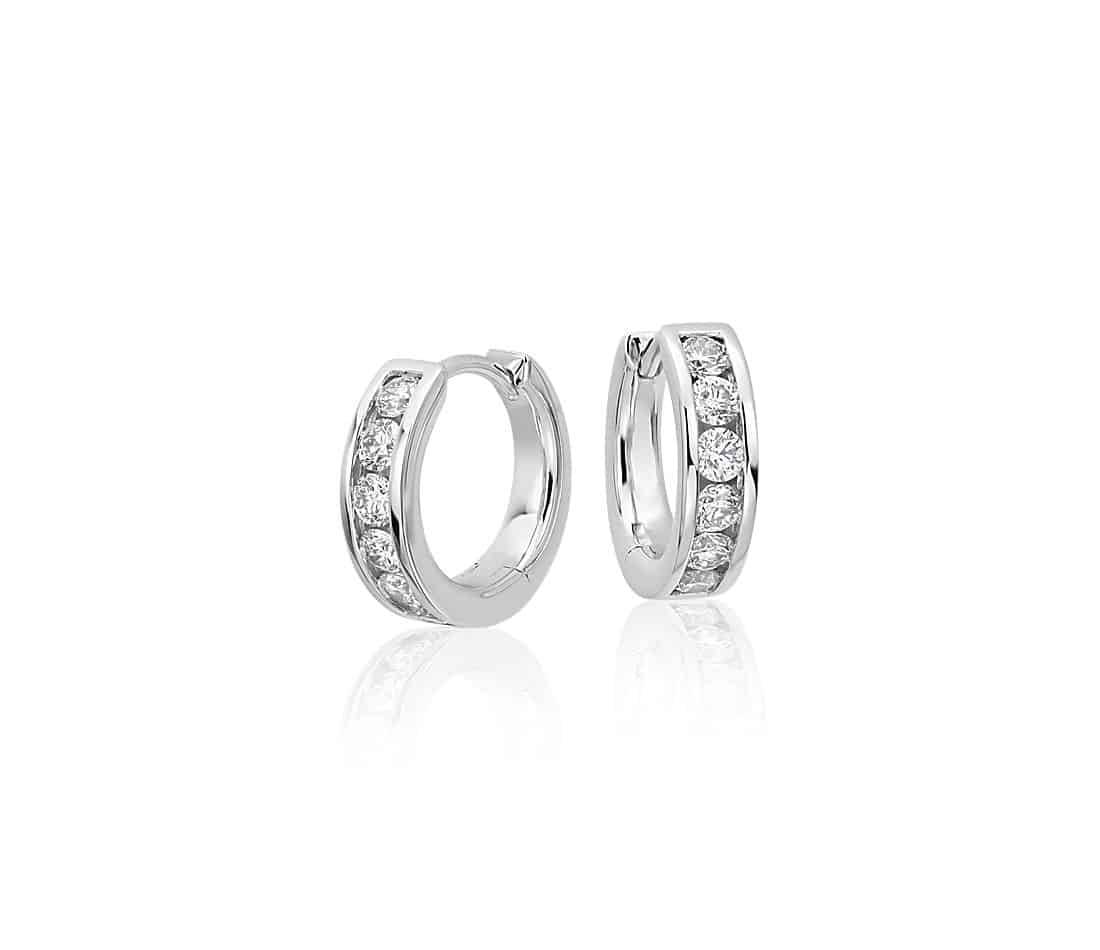 These huggie hoops are set with mini diamonds for a gorgeous sparkle. Unlike huge, dangling hoop earrings, these are petite, emulating an air of simple sophistication.
They're very comfortable to wear, so you can use them daily without tiring your earlobes. And because they're platinum in color, they match any outfit. That said, you can also opt to have it in yellow gold.
What customers like about it:
It can be worn every day
Small and simple, so it's comfortable on the lobes even when sleeping
Sophisticated but not flashy
Have a beautiful sparkle
Petite Twist Diamond Eternity Ring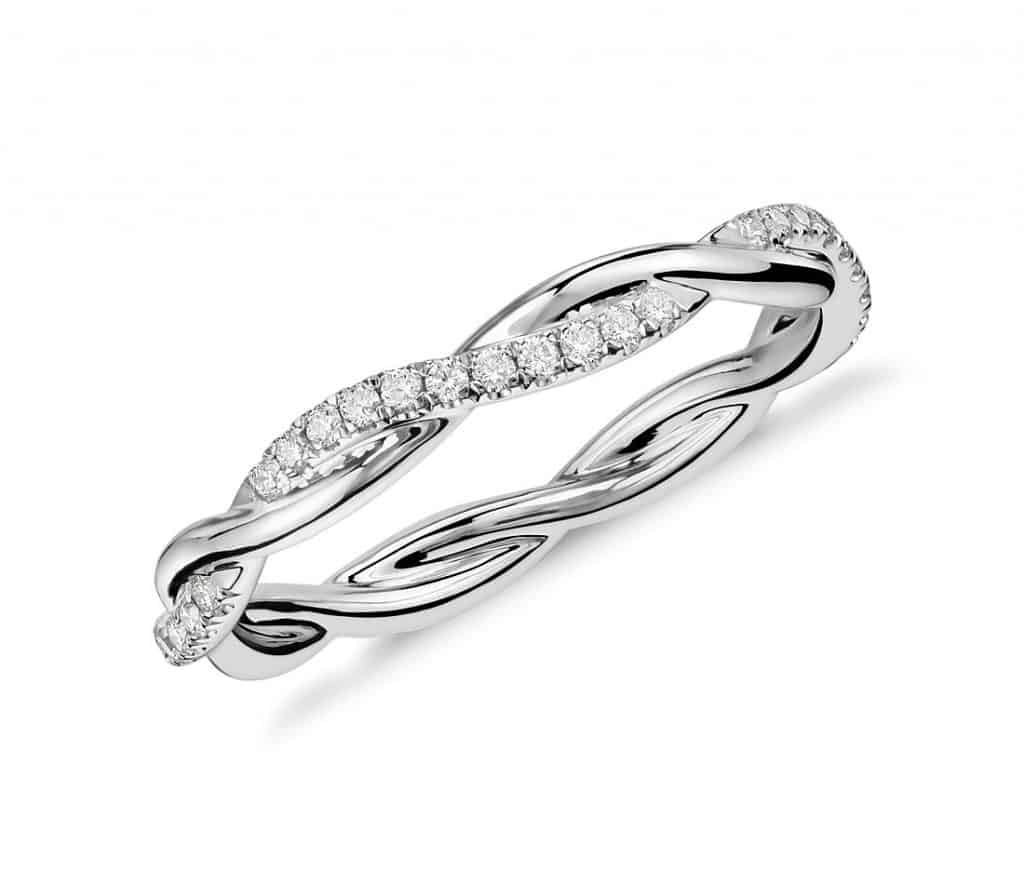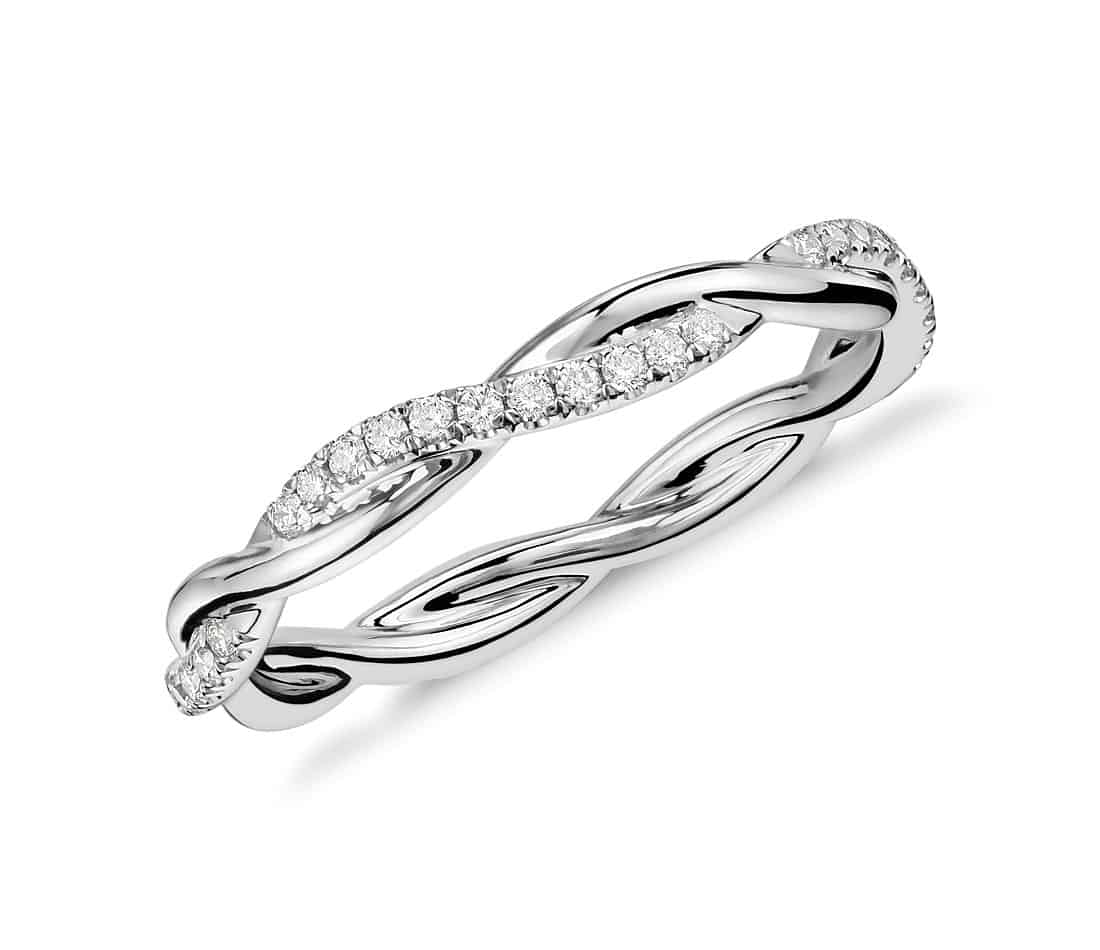 Wedding bands are usually a little more plain-looking than this elegant engagement ring. But that doesn't have to be the case.
This eternity ring draws inspiration from the infinity symbol. Two thin bands are entwined in a twist design, making it look elegant and unique. One thin band is set in a mini to pave, while another stays plain and smooth. This creates a stunning contrast of textures on the ring.
A unique take on a wedding band
Fun, creative design
Classic Four-Prong Solitaire Engagement Ring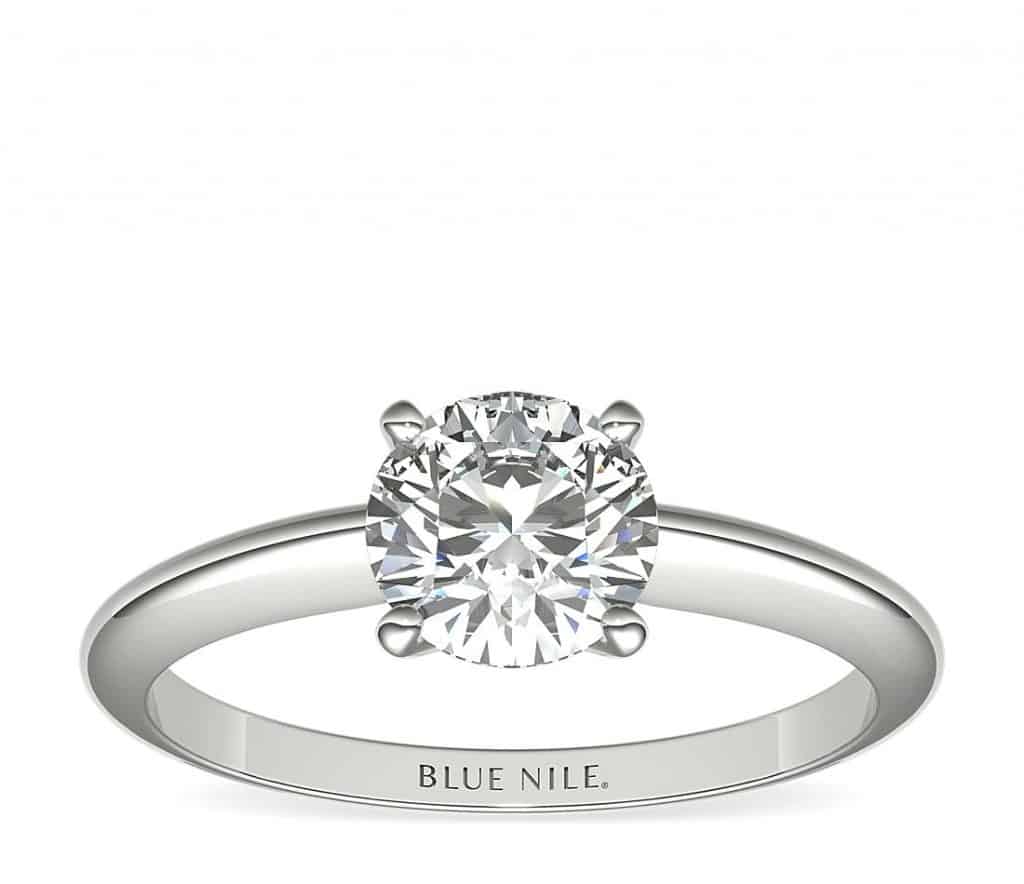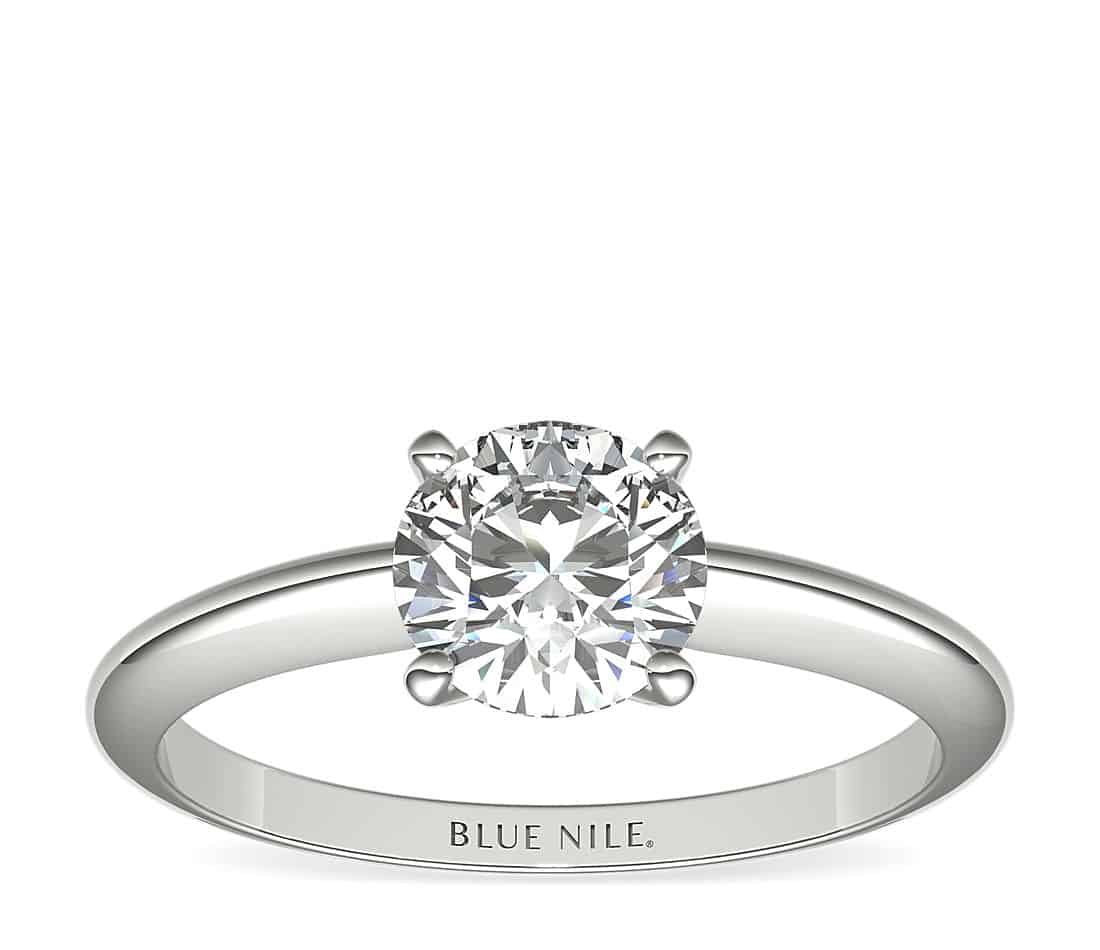 A solitaire cut engagement ring is always a go-to when ring-hunting. Not only is this ring more affordable than intricate designs.
It's also a glamorous way to accentuate the beauty of the main diamond. You won't get distracted by side stones or twisted bands. So, the solitaire cut sits in the spotlight to show off its enchanting sparkle.
This timeless design showcases a smooth, thick, uniform band. In addition, you can choose between multiple diamond shapes and band colors to customize it.
Classic, fuss-free design
Allows the beauty of the diamond to shine
Infinity Trio Diamond Pendant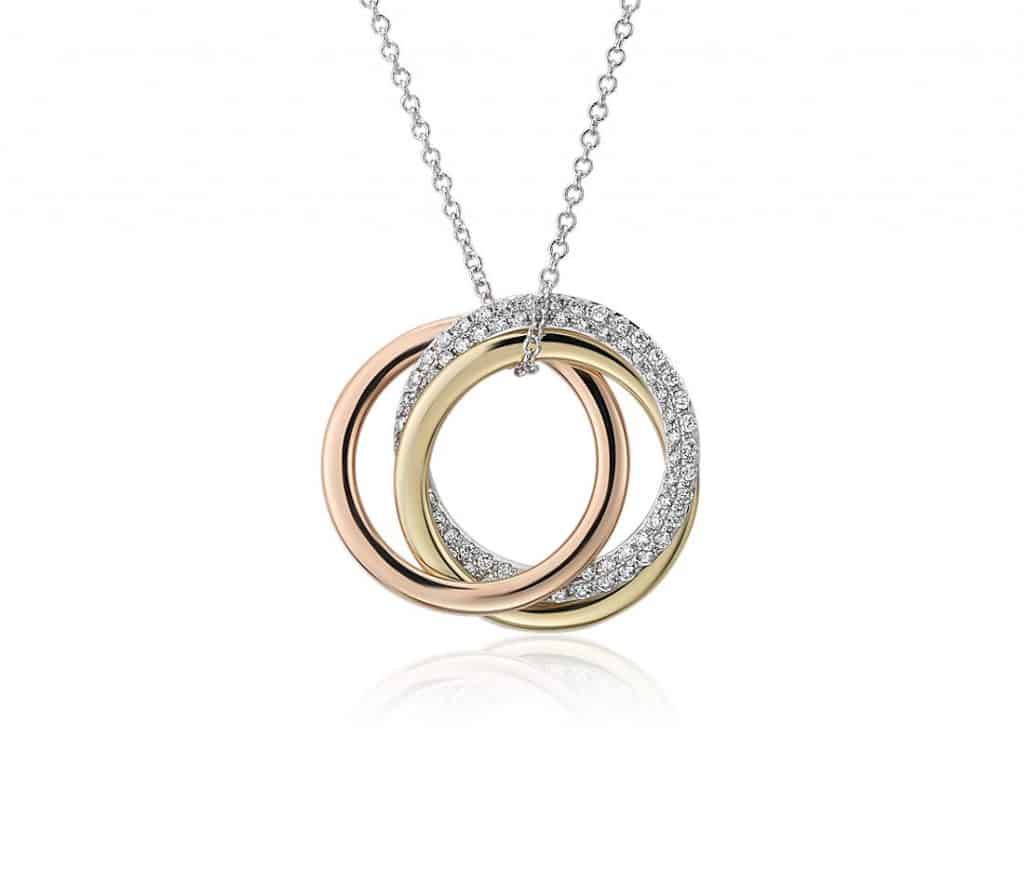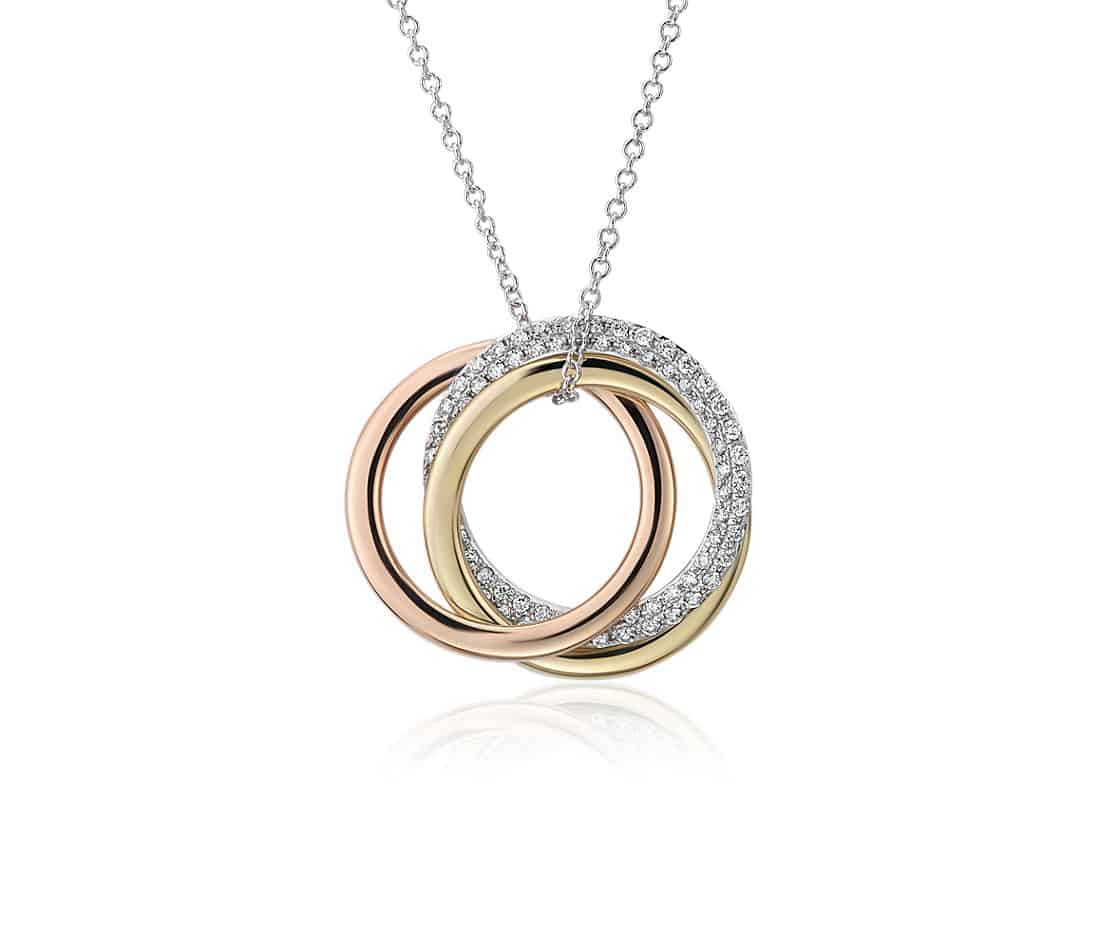 Can't decide between sporting a ring or necklace? Why not do both? Combine your love for diamonds and gold through this infinity trio pendant.
It looks like a group of rings in different wealthy colors and textures put on a stunning chain.
This is a quick way to make your everyday outfits a little dressier. The rose gold, yellow gold, and diamond pave rings will give your look a more luxurious touch.
Bold piece but not over-the-top
We also have a special treat just for you!
Cakestyle readers can check out with the promo code Cakestyle2022 to get $100 off a $1,000 purchase.
This code expires on December 31, 2022.
Pros and Cons
Pros:
Cons:
Blue Nile vs. James Allen vs. Brilliant Earth
Compared to other big diamond retailer brands, Blue Nile has a few features that give them the upper hand among value shoppers.
Name
Name
Petite Twist Diamond Engagement Ring
14K White Gold Classic Engagement Ring By Verragio
Viviana Diamond Engagement Ring
Description
Description
Classic with a twist, this 14k white gold engagement ring features a delicate twist of pavé-set diamonds that will complement the center diamond of your choice.
Verragio engagement ring, featuring 0.45ctw. of round brilliant-cut diamonds to enhance a round diamond center.
This classic engagement ring features shimmering scalloped pavé diamonds that extend half of the way around the ring.
Free Shipping
Returns
Returns
30-day returns
30-day returns
30-day returns
Price
Warranty
Warranty
Free lifetime warranty
Lifetime warranty
Lifetime warranty
First, the brand allows you to customize a ring that you want. This is a popular feature available at other brands, like Angara too.
But a bigger plus for buying at the Blue Nile is that the prices are affordable and accessible. For example, a diamond ring with little diamonds in the pave setting can cost just shy of $900 here.
If you get a similar design from Brilliant Earth, it can cost up to $1,650. On the other hand, the same model might cost you a whopping $2,950 at James Allen! So, Blue Nile is the best option when it comes to value for money.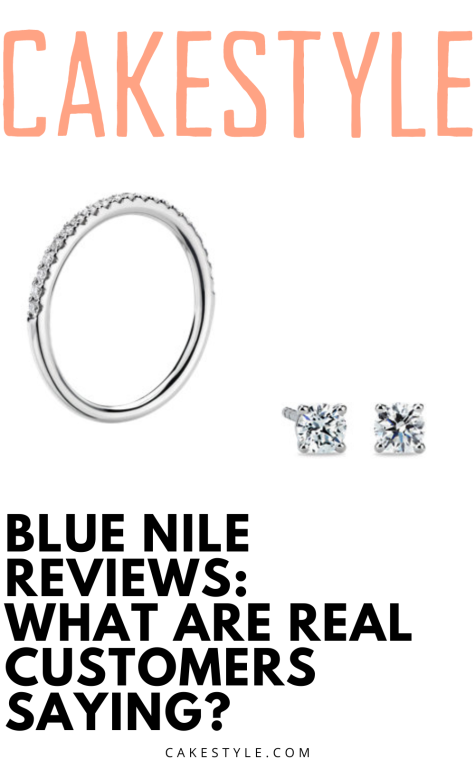 Blue Nile Customer Reviews
The brand has a terrific score on Trustpilot, which has earned 4 out of 5 stars. It also has an awesome 4.12 out of 5 on Sitejabber.
But everyone knows that the real measure of brand love is how people talk about it on social media. So for example, content creators have spoken about how high-quality the diamonds are on YouTube.
For example, ThatGuyOsiris, a GIA-trained diamond expert, showed an unboxing of a classic engagement ring. He was astounded at the quality and beauty of the ring.
"This cut is amazing," he comments as he takes a peek with his magnifying lens. "The side stones are supposed to be of a good [or] high-quality, and it is high-quality. It is gorgeous."
Is the Blue Nile worth it?
Yes, shopping at the Blue Nile is worth it. You can look through a wide range of jewelry of the utmost quality. You also get a lifetime guarantee and can have it shipped (for free!) straight to your doorstep overnight.
The brand has offered a discount for CakeStyle readers till the end of the year.
We recommend you make the most out of it. Hop on the site immediately and find that sparkling diamond piece you've been dreaming of for a discounted price!