Gifts come in many different shapes and sizes. Have you ever thought to buy a meaningful and personalized piece of jewelry as a gift for someone special?
Or, you are looking for a gift for yourself to either go with a new outfit or something that makes you feel beautiful and unique. Finally, you want to remember a special someone and keep close to you, always.
We will explore a brand that offers women the opportunity to create their exclusive jewelry in a few clicks.
So keep reading to find out more about Sincerely Silver!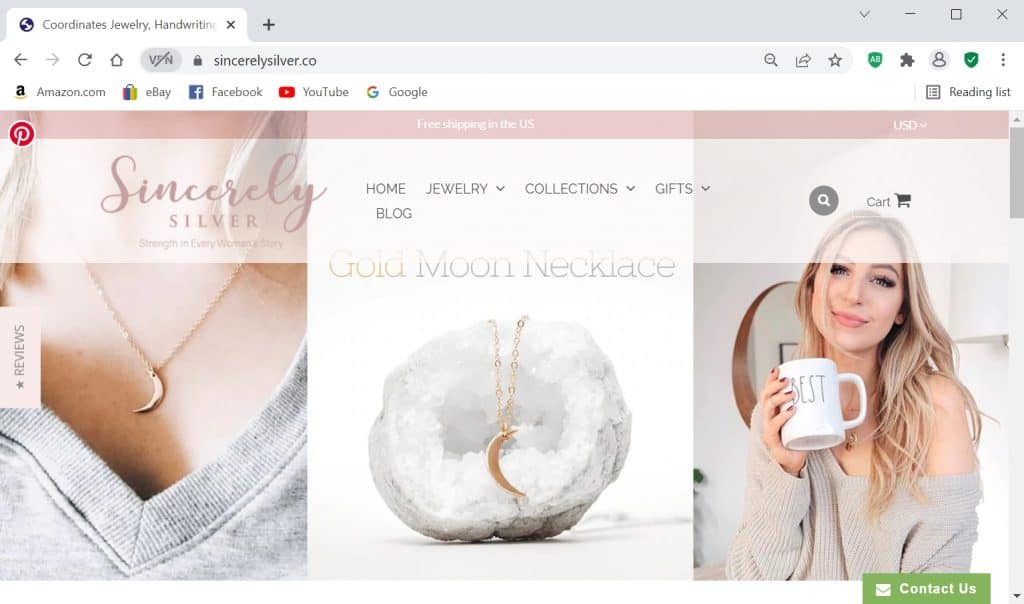 Familiar with Vogue or Glamour magazine? Then you have already heard about this brand!
Sincerely Silver was founded in 2015 as a petite husband and wife business, inspiring women, and created for women. The founders believe that when you wear Sincerely Silver jewelry, it is unique to who you are as a person. It not only looks fashionable, but it is also a piece of your history that deserves to be seen and appreciated by others.
This unique brand is thoughtful, allowing its clientele to create their piece of jewelry for everyday wear or a gift for someone they love.
As before mentioned, the brand is inspired by females of all ethnicities, sizes, religions, and beliefs.
The brand is growing on social media platforms, including Instagram, and collaborates with others who share the same ideas.
What is Sincerely Silver?
As you've figured out – Sincerely Silver is a brand that designs unique jewelry that you can gift to yourself or others.
The brand promises to be one hundred percent transparent with the customers.
They use true silver, steel, gold, and rose gold to craft the jewelry. You can choose from several kinds that include necklaces, rings, earrings, and bracelets.
For example, you can filter through items by collection, bridesmaids, or anniversary gifts.
And is it worth it?
Well, there are thousands of sales and reviews on Etsy with five-star scores. So yes, it looks to us that it is worth it!
Sincerely Silver gives you the option to create a handwritten piece without even having to leave your home! All you need to do is write down or find a message, take a picture, and the brand will incorporate that into the design of your necklace.
And if you're worried about price, don't be. Most pieces are more than affordable, especially if you consider them handmade, personalized, and unique. They have been crafted through a three-step polishing process and multiple quality checks.
Are you ready to put in an order yet? Because I am!
What is it like to order from Sincerely Silver?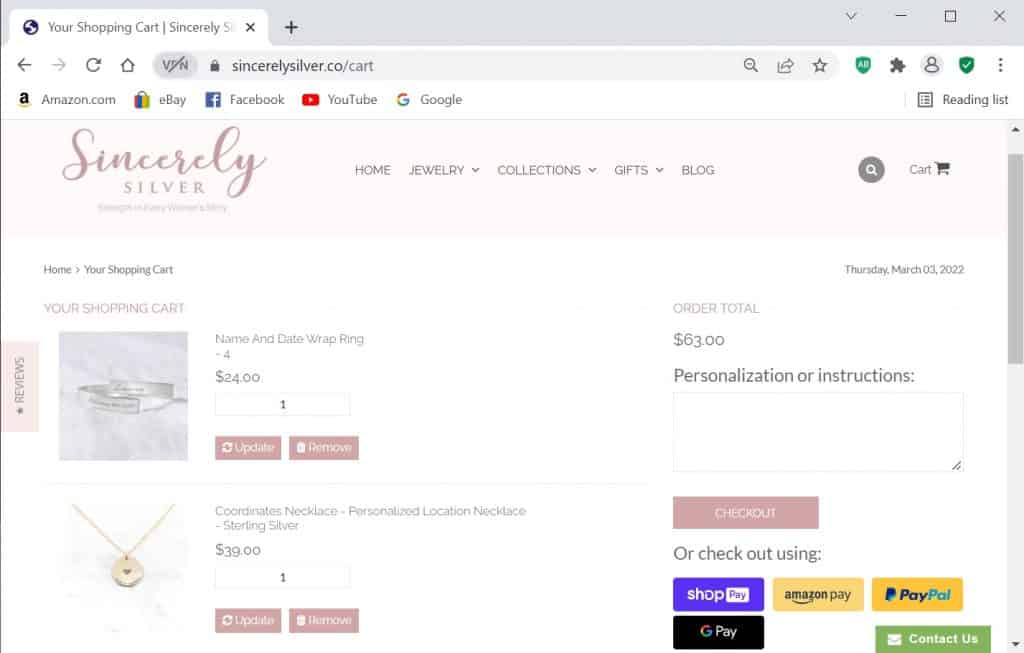 We like this brand because it's minimalistic and timeless in design. Also, it is easy-peasy-lemon-squeezy when it comes to ordering.
All you need to do is first choose a piece.
Next, type a message for engraving, whether numbers, words, or symbols.
After that, you just need to choose the metal – either silver, rose gold, or classic gold. Lastly is size, and that's it.
After placing your order, be ready to receive your package in about two days. It's also worth mentioning that shipping is free.
Also, it has an easy day exchange and returns policy. But, double-check everything is correct before placing your order because solid gold items can not be returned!
Sincerely Silver Jewelry Review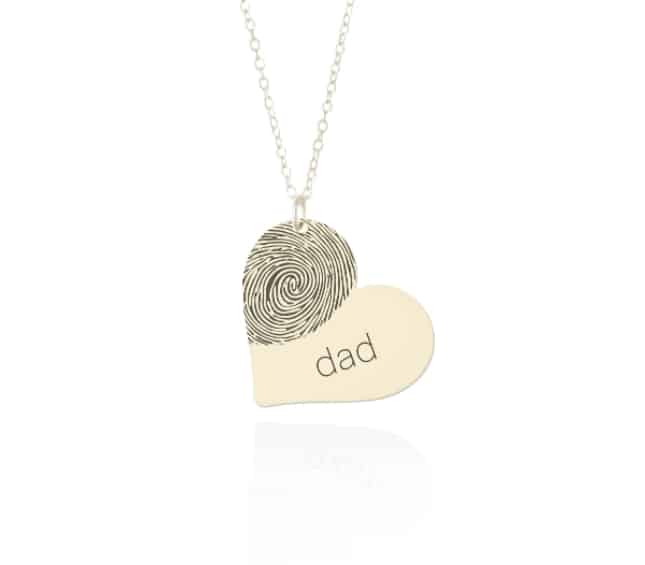 Okay, but how heart-warming is this?
This Fingerprint Heart Necklace is part of the Fingerprint Jewelry Collection and is a beautiful gift to remember those you love.
This is one of the unique forms of personalized jewelry on the market today and is incredibly meaningful to the customer who receives it.
For ideas: You could most get a fingerprint of your grandparents, a newborn, your parents, or even a spouse who may work away. You truly can't go wrong with this fingerprint jewelry.
It is meant to be a stunning keepsake item that will remind you of happy times and keep your loved ones close to your heart.
It is generally 19mm wide and can be made with sterling silver, gold, or rose gold when it comes to sizes.
You May Also Like: JTV Jewelry Reviews: 5 Best & 5 Worst | What's Worth Your Money $$$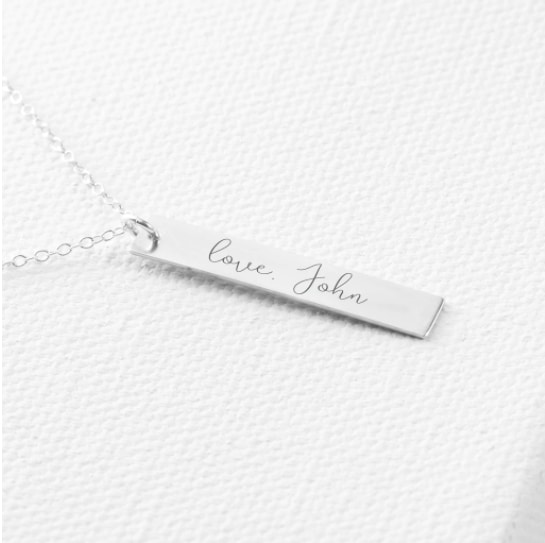 This is a custom bar necklace that uses your or someone else's handwriting. It either comes with an 18" chain, or you can custom the length up to 30" upon request at no extra charge.
If a relative or friend just passed on and you are looking for a way to keep them with you, this signature necklace is a way to keep them close to your heart.
You can customize and engrave any message you want! This piece of jewelry has become popular in recent years, and we can see why. These engraved, handwritten necklaces are unique and cherished by their owners; you may never want to take them off.
All you need to do is either write a personalized message or find one written by the person you want to remember. Then, take a picture of it or use a scanner. Then you just email it to Sincerely Silver, and they will get to work on it!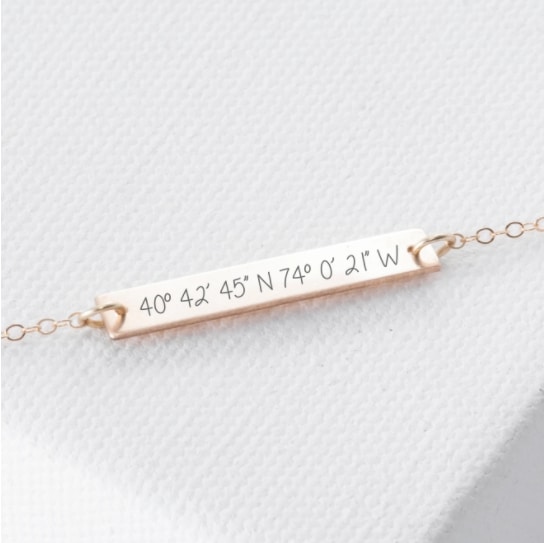 Unique, classy, gorgeous are three words to describe these bracelets.

What's neat about that is if there is a meaningful location to you and someone you love, you can engrave it and gift it to them.
This could include somewhere you got engaged, had your first kiss, found your true passion, or somewhere that just means a lot to you. We create memories in these spots, which become very meaningful to us.
The colors available are silver and gold and come in a chain length of 16", 18", and 20 inches.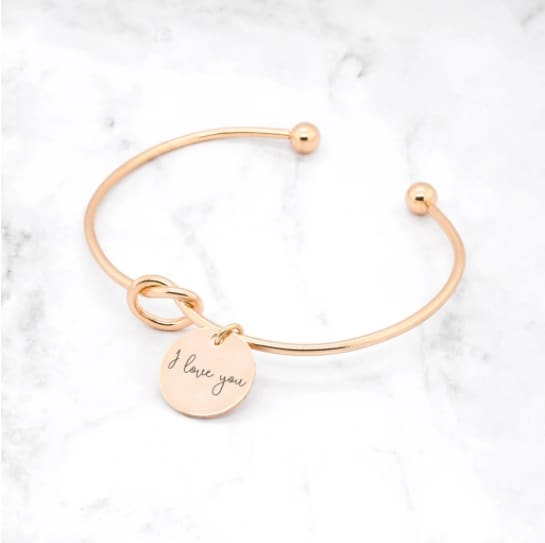 This is a very elegant choice in a bracelet that symbolizes many things between lovers, friends, promises, or family.
Do you have a heartfelt written message you want to remember often? What better way to remember it than engraving it onto a bracelet that you can easily look down and see during your day-to-day activities.
You even have the option to choose certain phrases to engrave into it, such as happy birthday, I love you, best friend, my person, forever yours, and so on. The options are endless.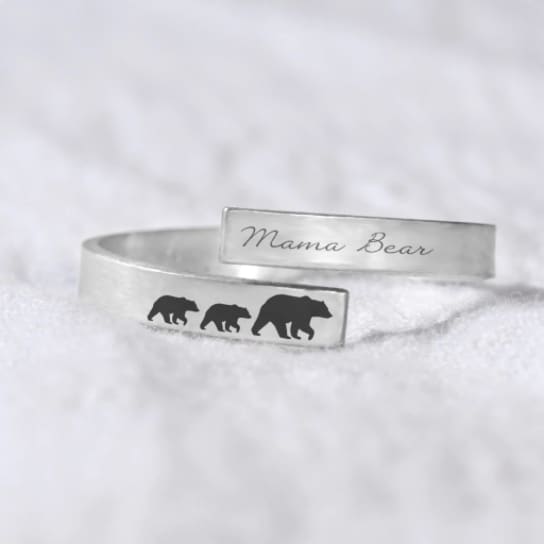 This ring is incredibly heart-warming, wholesome, and a perfect gift for either a new mama, you know, yourself, or for your mama!
You can engrave as many cubs as you want to match the amount of human "cubs" in your own family or that of your friends.
Mama's have the toughest job of all. This is a very meaningful gift and will be appreciated by anyone that wears it; we're sure of that.
This ring comes in sterling silver, and sizes can be found between four and twelve. You can also have between one to six cubs engraved.
Sincerely Silver Reviews
There are reviews from customers on the official website of Sincerely Silver and a dozen mentions on Instagram. To check those out, head to their Instagram page and check out their tagged photos or stories posted.
Sincerely Silver has over fifteen thousand sales on Pinterest with scores of five stars. Unfortunately, however, there are no YouTube reviews yet about this brand. Although you can check below what some customers think about Sincerely Silver's jewelry: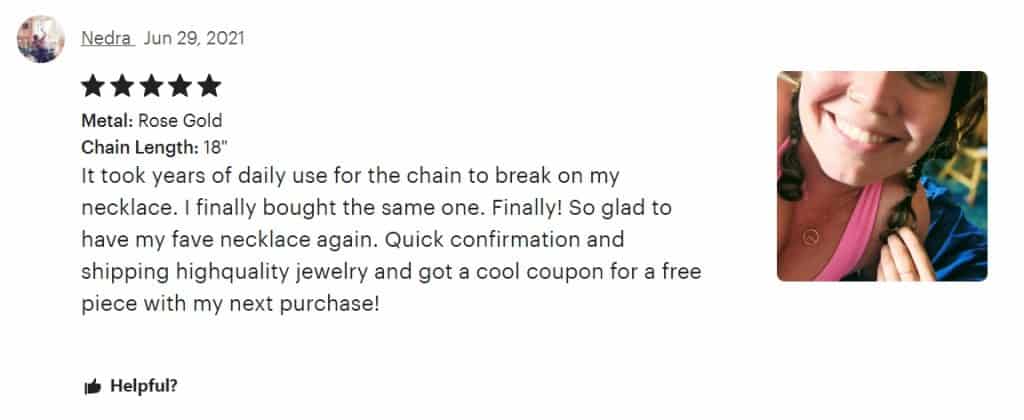 Sincerely Silver VS Made By Mary VS Caitlyn Minimalist
True sterling silver, steel, gold and rose gold

You can choose from some neckleces, rings, earrings and braceletes.

You can choose from some neckleces, rings, earrings and braceletes.

You can choose from some neckleces, rings, earrings, keychains and braceletes.

Free 2-day shipping for the orders

Shipping starts from $5.00

Free First Class Shipping for all US Orders

You may return or exchange any item purchased through our website within 30 days.

This excludes solid gold items.

The brand offer one free return or exchange on unworn pieces with original packaging within 14 days.

No returns, unless there was a mistake made by the brand.
Sincerely Silver Pros and Cons
Sincerely Silver Pros:
Affordable for just about everyone!
Timeless
Personalized and meaningful
Thousands of positive reviews and happy customers around the world
High Quality
Variety
Unique handwritten options
Jewelry pieces for all occasions
Shopify option
Free 2-day shipping
Sincerely Silver Cons:
We can not find additional information about free returns, so be ready to cover expenses if you want to return your order
Make sure spelling is correct before sending in; you cannot return gold
So, is Sincerely Silver worth it?
If you are looking for something special and memorable!
The affordable prices are hard to beat, and the free shipping and variety that is offered. In addition, you can customize it to your liking and make it unique to you or a loved one.
So yes, we believe that Sincerely Silver is worth it.