We found the best travel steamer for clothes! If you travel for business or simply enjoy having wrinkle-free clothes, then a travel steamer is for you.
Steamers are like irons, they get wrinkles out of almost any fabric. But, unlike irons, they don't require a board or clean surface to work on, making them way more traveler-friendly.
Steamers are flexible, easy to use (fill with water and turn on), and fast. You can steam your blazer on the way out the door and still meet your for breakfast in the lobby in 10. And a travel steamer can be folded up and packed right into your luxury carry-on bag.
If you're in the market for a steamer that you can pack with you, we recommend checking these 5 best clothing steamers.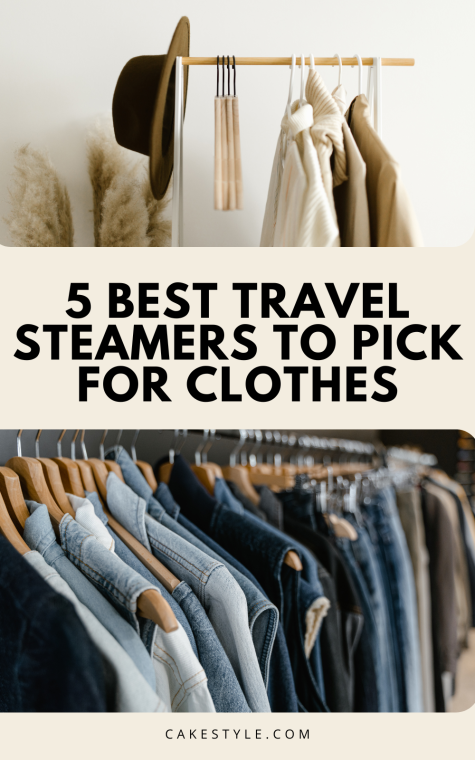 The Benefits Of Using A Clothing Steamer
Here are just a few reasons why we swear by clothing steamers.
Steamers are more gentle on fabrics than a traditional iron
They quickly flatten wrinkles from fabrics
While removing dust, dander, and germs
They can be used on clothes, bed sheets, and curtains
Best Clothing Steamers for Travel
1. H1L Travel Garment Steamer by Kexi
Kexi tops our best travel steamer list. Kexi's H1L is perfect for those who are always on the go.
This quality professional garment steamer has high enough heating capabilities that work with almost any fabric.
Plus, the wet and dry options can help you move from the thickest cotton to delicate high-end silk, leaving all your clothes wrinkle-free and fresh.
Reviewers love this steamer for its packability and ease of use. It has a compact, lightweight design that folds into itself, making it perfect to (gently) toss into your carry-on. But it's powerful enough to spruce up a business suit.
This device pulls double-duty as both an iron and steamer for clothes. So, you can leave your ironing board in the hotel room closet.
It comes in a couple of colors. I purchased my Kexi in green.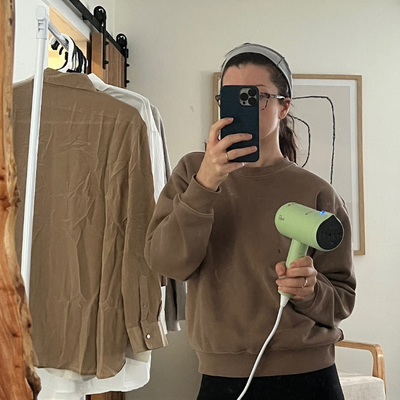 I found that using Kexi was simple. I was able to smooth the wrinkles out of my shirt in one motion. And, I was able to de-wrinkle 5 shirts before needing to refill the water tank.
Kexi's removable water tank is leakproof, so even if there's a bit of water left in the tank the rest of the things in your bag should stay dry.
If you're looking for something quick and easy, look no further than Kexi. You simply need to fill the tank with water, turn it on and start steaming.
You'll be thrilled to know that even if you accidentally forget to unplug Kexi on your way out, it has an instant shut-off feature when it starts to overheat. Safety first!
I highly recommend Kexi as the best travel steamer.
2. Cirrus No.3 Steamer by Steamery
With a modern look, the Cirrus No.3 Steamer is a professional garment steamer that provides a wrinkle-free experience. Lightweight and running on only 1000W of energy, this sleek upright steamer is perfect for the fashionista on the go.
This steamer has an iron plate that serves as both a steamer and traditional iron all-in-one, so there's no need to trade in one for the other. It also features an auto-shutdown that turns it off after 30 minutes of inactivity.
If you want a steamer and iron hybrid, this is the choice for you. You'll always have what you need on the road with you. Plus there's an anti-puff feature that cuts down on water leakage while you're steaming.
Steamery is absolutely one of the best travel steamer brands.
Remember – you paid a lot of money for your expensive clothing – it's important to look after them properly. Don't cheap out on your clothing steamer!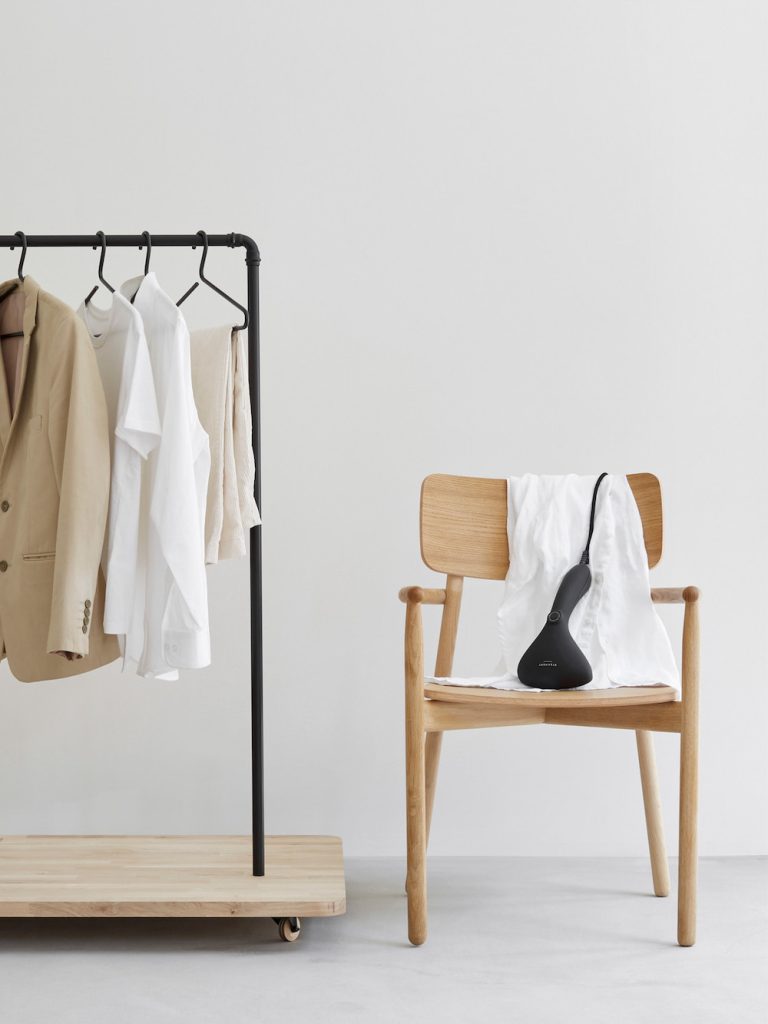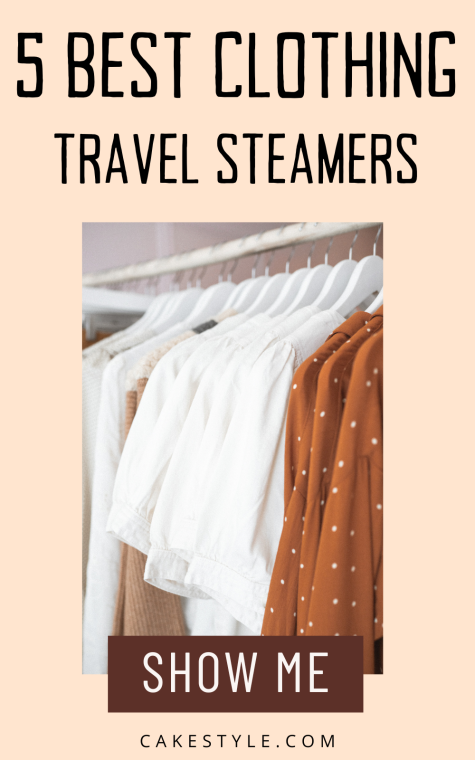 3. Turbo ExtremeSteam by Conair
The Conair Turbo ExtremeSteam portable steamer is a compact choice for travelers.
There are 5 steam setting choices, and its 7.8-ounce tank provides 15 minutes of continuous steam. Whether you need to smooth out some clothes on a trip or freshen up a curtain in your living room, this little device can help you get it done.
This powerful little travel steamer heats up in 40 seconds, making it a breeze to use when you're in the rush. It removes wrinkles from delicate fabrics quickly, leaving your clothes looking fresh.
It also features a 3-in-1 attachment with a pull fabric taut, a bristle brush, and a delicate fabric spacer. It has top-notch ratings. Reviewers report that it's easy to use, heats up quickly, and gets wrinkles out of their clothes.
4. LX-15002 Portable Handheld Steamer by Electrolux
Need something small and portable that you can pack up into your bag and take on the run? The LX-15002 is for you.
Featuring a compact design the Electrolux LX-15002 is perfect for your next trip. Reviewers say this gem of a steamer works fast and well, leaving their suits, skirts, and curtains wrinkle-free.
This device has a 12-foot cord, so you can move around with it. It also has large water tank capacity (for a travel steamer) that gives you 18-minutes of steam. But you do have to sacrifice a bit of speed with its 60-second heat-up time.
This handheld garment steamer can make anything from cotton to silk wrinkle-free. It uses 1500W of power, and features an auto shut-off safety feature.
Simply pick it up, turn it on and start steaming without worrying about burning anything down!
5. 700W by Hilife
Looking for a budget steamer that's light on both weight and power usage? This 700W steamer by Highlife is for you.
Weighing less than 2 lbs, this Hilife steamer packs well in your bag, making it ideal to cart along with you. It has a 240 mL large water tank that provides 15-minutes of penetrating steam, helping you work through the thickest fabrics.
We love that it heats up quickly and works fast to remove wrinkles. While it's not quite as compact as something like the foldable Kexi, they say compact enough to throw in your bag and take to the office.
If you aren't ready to invest in one of the best travel steamer brands listed above, and you just want something affordable, then Hilife is for you.
What to look for in a travel steamer
Not any old steamer is ready to jump in your bag and head out on the road, instead, you want to find the right one. You want something that provides quality steam but also need to be able to pack it in your bag.
When it comes to buying the best travel steamer for your precious clothes, here's what you should consider:
Size
Handheld steamers are ideal for business travelers, and if you're thinking of traveling with yours you want to consider its size. How much space does it take up in your suitcase and what weight are you looking at adding? All of the options we've included work for travel, but the Kexi is particularly good for its ease of packing.
Heat up time
The quicker your fabric steamer heats up, the faster you can get to work. That's especially important if you're on your way out the door and need to iron out a wrinkle you didn't expect to deal with.
There's not much of a difference between 20 and 30 seconds in heat-up time. However, you could find there's a big one between 30 and 60.
Safety features
Clothes steamers get pretty hot, which means safety features are of paramount importance.
Most quality steamers have an automatic shut-off if the device is left on too long or it gets too hot. Honestly, you don't want to burn your clothes, furniture or house!
Best travel steamers FAQ
Can I travel with a garment steamer?
Yes, you can travel with a fabric steamer. As long as there is no liquid inside you can pack this right into your carry-on.
Are clothing steamers worth it?
Clothing steamers make for a great alternative (or addition) to traditional ironing. They tend to be easier to operate and quicker to use.
Is it better to steam your clothes or iron them?
Both traditional ironing and steaming your clothes get rid of wrinkles. A good ole fashioned iron tends to provide a slightly more finished look, but both get the job done and steaming is quicker.
Do portable steamers work?
Handheld steamers work well, but many are built with thinner clothes in mind. If you're working with thicker fabrics, consider a higher-end travel steamer like something by Kexi or Steamery.
Do you travel often for business? We would recommend you get the FoundersCard if so. The FoundersCard is a membership program that gives you discounts and benefits at hotels, restaurants, flights, airport lounges, software and more.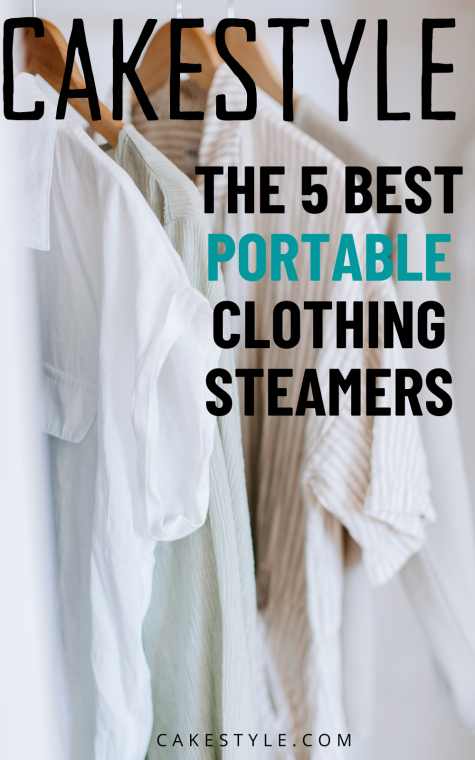 The Best Travel Steamer For Clothes – Conclusion
We hope you enjoyed this comprehensive list of the best travel steamer brands. Which one will you take with you on your next trip?
READ THIS NEXT: