Comparing 2 fan-favorite Spanx jeans. Which One is the Best?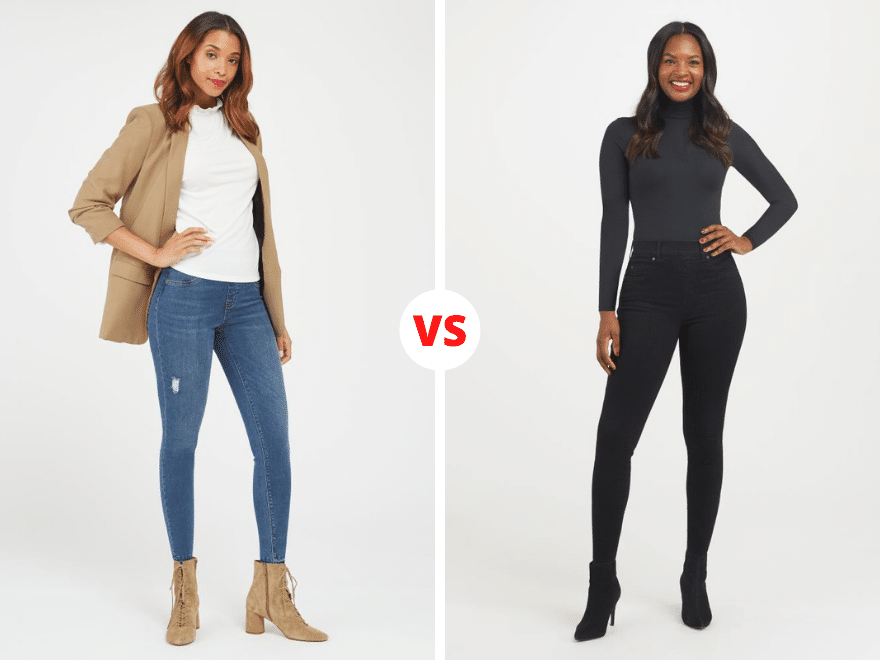 Finding the perfect pair of basic jeans is no easy task. For most women, these jeans need to have several features such as comfort, high-quality, perfect and flattering fit, etc… Which makes the search even more challenging.
That's why we took the time to make a complete guide that compares two fan-favorite Spanx jeans to help you find what you're looking for.
Both have the classic skinny leg that makes them extremely versatile because, let's face it, even though more relaxed fits like mom or boyfriend jeans have become the norm, skinny jeans will always have special space in our hearts.
As an affiliate partner of various brands and sponsored content, CakeStyle may earn commission on qualifying purchases. Disclaimer | Advertise With Us
These two ankle skinny jeans share similar characteristics and will hopefully meet all your standards. Whether you're more into trendy distressed jeans with a frayed hem or a classic all-black skinny leg style, there's one thing we can guarantee: both have the potential of becoming your new go-to jeans.
FUN FACT: you can find these jeans in petite and tall lengths
WHY YOU NEED IT: they're comfortable and versatile for daily wear
Easy and comfortable to wear: Spanx's Distressed Skinny Jeans feature comfortable stretch denim with a flattering high rise that keeps your problem area tucked in. It also leaves out the typical buttons and zipper closure thanks to its elastic waistband that makes putting it on really easy while flattening the front.
These are perfect jeans for a pear-shaped body type: Not only its high rise is ideal for slimming down the natural waistline, but its elastic waistband avoids the unflattering bulk that most jeans have. These features make Spanx's skinny jeans a nice option for women with wide hips who want to create a more balanced silhouette.
A must-have versatile jean style: With its slightly frayed hem, this jean style is great for a versatile and trendy look, as you can easily dress it up or down. They're not too dressy nor too casual, so it's completely up to you to style them as you wish.
Perfect jeans to lounge around the house: comfortable as leggings, these jeans are a great option whether you're going out with friends or staying home all day. The waistband is also really comfortable because it doesn't roll down at all.

PROS: Comfortable and stretchy fabric provides easy movement, and the high rise, flat front flatters the stomach area.
Furthermore, the fit is true to size, the distressing is durable and the fabric won't stretch out.

CONS: These jeans might not hold in your tummy as you would expect Spanx to do.
Also, one customer mentioned that her only complaint was that "the upper thigh rip shows some significant skin through it and it's pretty high up"
---
FUN FACT: it's Spanx's best seller jean style and is available in petite and tall lengths
LOVED FOR: its flattering and comfortable fit
The Ankle Skinny Jeans, Black are a fan-favorite style: it helps you keep your tummy tucked in thanks to its high rise that hits just at your natural waistline. A great option for those who want to hide their muffin top, these jeans are loved for its flattering fit.
Basic jeans that are made of high-quality denim: These jeans also feature a structured stretch-fabric that lets you move freely and comfortably. Also, users guarantee that they won't stretch out after wear, so you can rest assured knowing that these skinny jeans are durable.
A great option for women who are looking for a nice pair of skinny jeans: Users have said things like "I have never felt confident wearing skinny jeans or leggings until now" and "they were so comfortable and looked great from morning to night".
This skinny jean style was designed to be a high-quality, comfortable option: these jeans feature a pull-on design to avoid the front bulk that zippers and buttons give you. It's also fitted through hip and thigh, enhancing your natural curves without being too tight.

PROS: they're comfortable to wear and holds in your muffin top. They're also made of durable, high-quality material

CONS: although they're a bestseller style, you may find that these jeans are not the most budget-friendly option
---
Buying Guide: Which Spanx Jeans is better for you?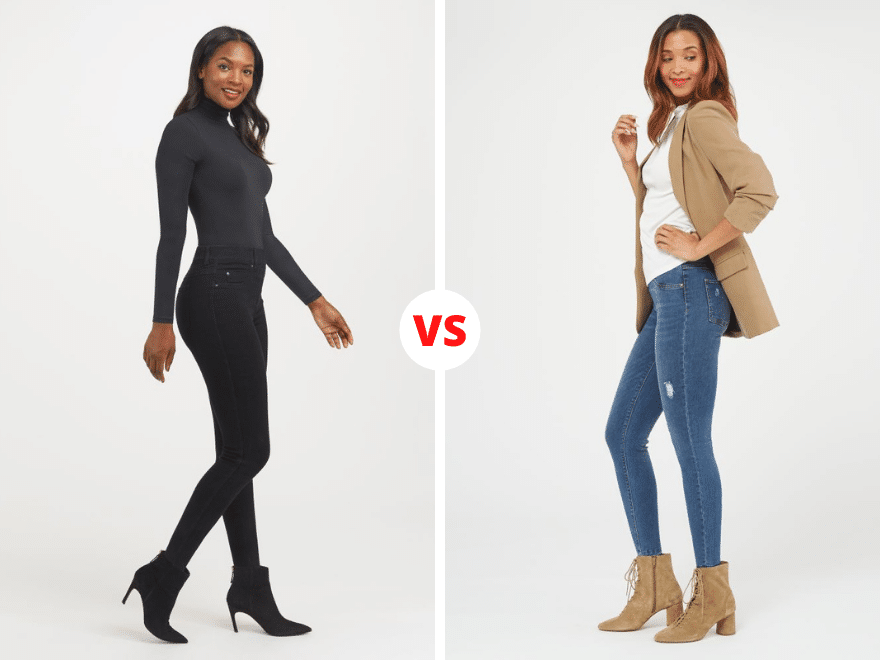 Consider what you truly look for in a pair of jeans
The Distressed Ankle Skinny Jeans is a great option if versatility is what you're looking for.
Users said of the distressed style: "Searched for a month to find the perfect pair of distressed gray jeans for this fall/winter until I finally saw these. Absolute perfection!"
The Ankle Skinny Jeans is probably the best fitting style. Although both have a flattering silhouette, the black version of the ankle skinny jeans is the one that has received the most compliments regarding the fit. So if flattering daily wear jeans is what you're looking for, this is the one for you.
Users said of the black ankle skinny jean: "These jeans are amazing. I am back to my pre-baby weight, but jeans haven't been fitting the same as before and I felt gross in all of them until I put on these Spanx jeans."
Both share similar characteristics
LOVED FOR: how tight yet comfortable both are and the flattering silhouette that they create. The elastic waistband is another loved feature because it helps flatten the stomach area.
WHY YOU NEED IT: these two styles feature a hidden Gut Checkshaping panel that targets your stomach.
Style Spanx Jeans with:
⦁ Oversize sweater for a comfy look
⦁ A tank layered under your favorite jacket
⦁ Trendy blazer for a business casual look
⦁ Any type of shoe: from sneakers and sandals to knee-high boots and high heels
⦁ Half-tucked oversize shirts to sport a casual-chic style
---
FAQ
How should skinny jeans fit at the ankle?
Both skinny jean styles should hit right above your ankle bone to ensure a versatile look that can be styled with flats, sneakers, or high heels. Keep in mind that you can select tall, regular, or petite fit, so make sure that you choose the right length for you. Also, your jeans should fit snugly but not too tight that they feel uncomfortable: you should be able to do a squat a pick something up quite comfortably.
Are Spanx jeans worth the money?
Spanx jeans are not cheap: the Jean-ish styles retail at $99 while the basic denim styles at $128. So it will depend on whether you're willing to splurge on high-quality basic jeans or not. However, keep in mind that finding comfortable and flattering jeans might be a real struggle, so consider Spanx jeans as a nice investment. We'd say they're definitely worth the splurge, especially if you value long-lasting clothes.
How do you find your size in spanx jeans?
Look through Spanx jeans size chart carefully to select the size that will truly fit you. If you find that your measurements fall within sizes, we'd suggest going for the largest option.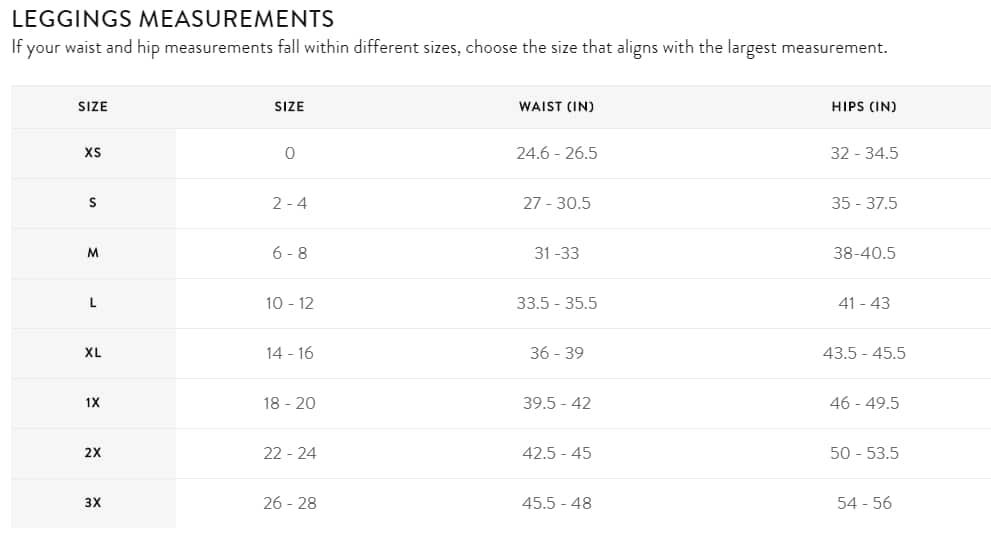 ---
The Roundup Winner
Keeping in mind that the Ankle Skinny Jeans was the one that received most compliments on fit and silhouette, we'd say this one is the winner.
However, both Spanx jean styles are a great option considering how comfortable and flattering they are, so the perfect one will depend strongly on your preferences and what do you expect from the jeans.