You don't want to be stuck at a long table with a bunch of people you don't know? We're not blaming you!
If you're not quite ready for a big wedding but would love to save some serious dough, a small wedding is precisely what the doctor ordered.
Here are eight ways you can keep your wedding on the small side.
1. Have the wedding budget talk
Budgeting with your future spouse might be your first experience with budgeting together as a team. What a fantastic experience! Talking openly and honestly about how little you can afford to spend on your wedding will help you save money for fun date nights after you get married.
It's going to be hard to say no to this budget talk. Just remember that it's a heck of a LOT easier than still having to pay for your wedding on your fifth anniversary!
When I say "budget," I don't just mean how much you can allocate for total expenses; I'm referring to how much you should spend on each specific cost.
To figure out how much to spend on each category, break down the total wedding budget into different types and decide which ones you want to spend most on.
Reception: 52%
Ceremony: 15%
Photography: 10%
Wedding Planner: 10%
Dress and Tux: 8%
Miscellaneous/Cushion: 5%
Those aren't set numbers; they're just the ratios we used. Set your balances based on what matters most to you. You might be willing to spend some money on photos, but flowers aren't important to you. Adjust the percentages accordingly if you care more for one area than another.
2. Commit to an affordable wedding and focus on your priorities.
You've agreed to marry each other. It's now time to commit to an inexpensive wedding. Make sure you set aside time to discuss what you will spend the money on later. It's essential to have this conversation anyway; it helps you prioritize and understand what matters to each of you.
Decide whether to use the saved money to pay off student loan debt or avoid accumulating debt. You might use it for your retirement savings or a college fund for your kids. Maybe you both prefer a long, multi-city European vacation to an extravagant party.
You and your fiancé will soon face countless decisions regarding savings and spending: There are many ways to save money on a wedding, but there are many ways to cut costs. Establishing a guiding star helps you stay thrifty throughout the planning process.
If you're feeling a bit sad about not having the funds for a bigger wedding, research has found that couples who spend lots of money on their weddings tend to have higher divorce rates.
3. Try to keep the number of guests at a minimum.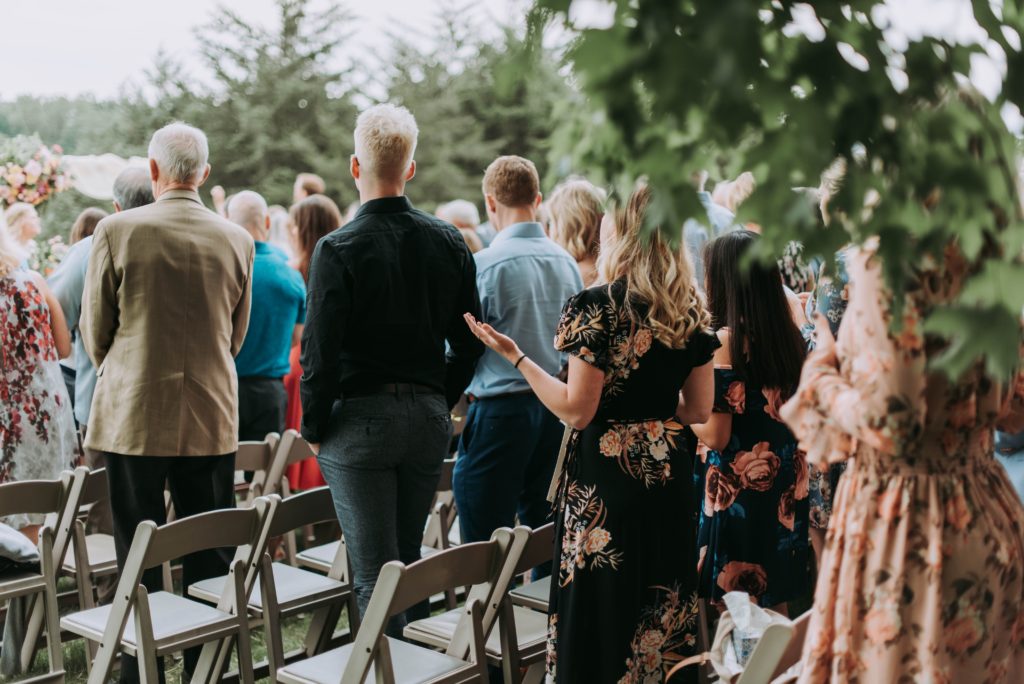 The cost of a marriage is based on the number of guests attending. The number of guests determines not only the size of the venue but also how many meals and drinks you'll have to provide.
Cutting back on the guest list is the most effective way to save money. So what's a small wedding? Some say it's under 100 guests; others suggest 10 to 50 people. We recommend 10 to 50 people for an intimate event.
As you pare down your list, you may realize that it's harder to do than you expected. To make it easier for you, ask yourself, "Have I talked to this friend in the last two months?" They're probably not a good fit for your wedding if you haven't spoken to them in the last two months.
Try saying yes to a different type of dress.
A new wedding dress at a bridal shop can cost thousands of dollars. However, you can save a lot of money thrifting your wedding dresses through a second-hand store such as Once Wed or Still White. You could also choose not to wear a tuxedo and instead opt for a themed wedding with clothes that are unique and comfortable to you.
4. Rethink "traditional" weddind venues
Why not use your reduced guest list to plan your party somewhere else? It could be a scenic overlook at a national park, your favorite brunch spot, or a cozy backyard of a family relative. These venues usually don't require a permit, a large-scale wedding venue, or even a thumb's up from your relative. They're often less expensive than a traditional large-scale wedding venue too.
Also, since your guest list consists of only your closest family and close friends, you have more freedom to choose a date or time that works for everyone. For example, consider a Sunday brunch complete with a stacked waffles "cake" and bottomlessly mimosas!
Many venues offer spaces where you can hold intimate weddings that they don't necessarily advertise, so it won't hurt to ask about all of your options!
5. Consider a restaurant as a place for your wedding
Restaurants are usually associated with celebrations and events but are not necessarily associated with weddings. After all, weddings often require more tables, a dancing floor, a DJ booth, and other requirements!
But that doesn't mean that it's never the case. You can find excellent restaurants with great layouts where you can work around your own floorplan goals. Some restaurants can accommodate weddings and can also possibly save money for you.
It's just a question of finding the right restaurant.
If you're planning to have your wedding ceremony at one location and your reception at another, consider saving by having them both at the same place.
6. Focus on the things that matter—and ignore everything else.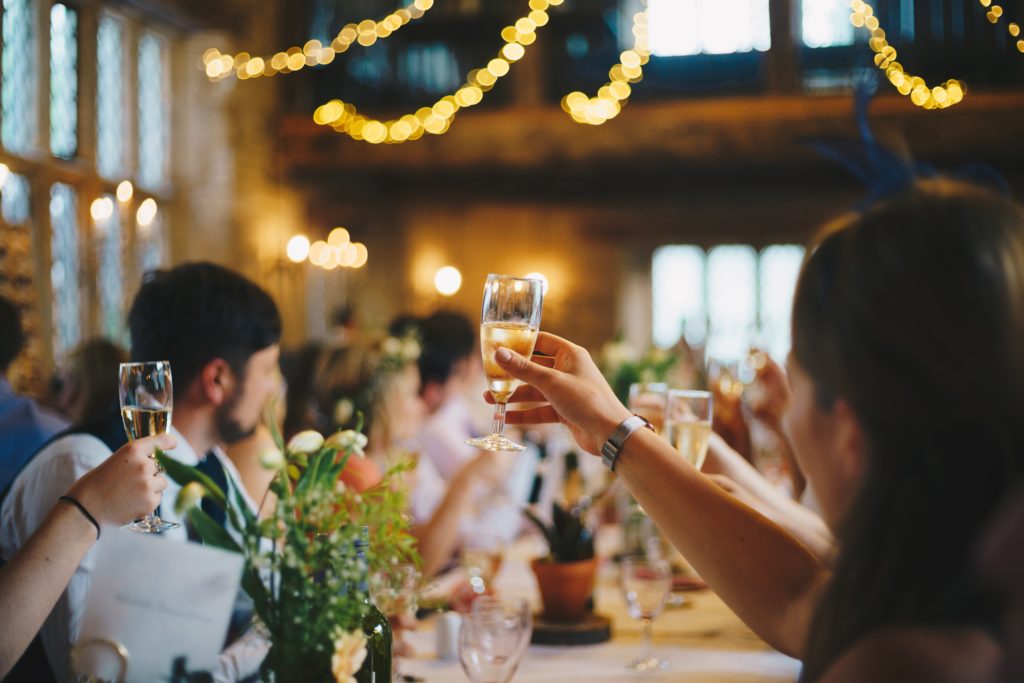 If dancing isn't your thing, then don't hire a DJ. Want a fire pit for roasting marshmallows instead of a fancy wedding cake? Roast away! Are you obsessed with food trucks? Forget the pricey caterer! White washes you out? Strut down that aisle in a colorful dress you scored at your fave consignment shop. Get where we're going with this? You do you, boo.
Forgoing some big-ticket items will not only help trim down your to-do list but also trim down your budget and make your wedding more personal.
7. Cocktail versus full dinner
Cocktails are typically less expensive than a more formal, seated dinner. It will also save you the cost of serving everyone at once. Serving cocktails doesn't automatically mean that you're starving your guests. If you plan your event accordingly and perform plenty of appetizers or consider food stands, your guests will still enjoy themselves and be well-fed.
8. Do it yourself whenever possible
You and your fiancée can save big money by DIYing things yourself, but only if you know the result will be worth the effort! Give yourself plenty of time to finish any DIY projects. Believe me; you don't want to be awake until 3 a.m., the day of your wedding, frosting cupcakes or assembling table centerpieces.
Pretty wedding invitations are lovely, but do you need to spend $800 on them when they end up in the trash? Instead, make your wedding invitations home for less than $1 each. You need a good home printer and a set of invitations from a stationery shop or office supply store.
Don't forget the DO IT YOURSELF online route! Websites like Moo.com let you design and order custom wedding invitations for less than $100. You can even use free design websites like Canva.com. It might not be as fancy as a gold leaf invitation or an invitation printed on an engraved tea towel, but it won't cost as much.
Instead of hiring a catering service, prepare the food yourself! Work with your family to create a menu and shop for groceries at a wholesale store. Then, use inexpensive materials to make floral arrangements and table centerpieces. You can even cut flowers from your backyard if you want.
You can have a beautiful wedding on a budget.
Remember: Your wedding day is for both you and your marriage. And that will last for much longer than one day. Don't get so caught up in the wedding planning that you forget to enjoy the day.
Spending a lot of money on your wedding doesn't mean you're committed to each other, but it can leave your bank account empty.
You can throw a gorgeous, stylish, inexpensive wedding without breaking.