About Ever Pretty
What is Ever Pretty?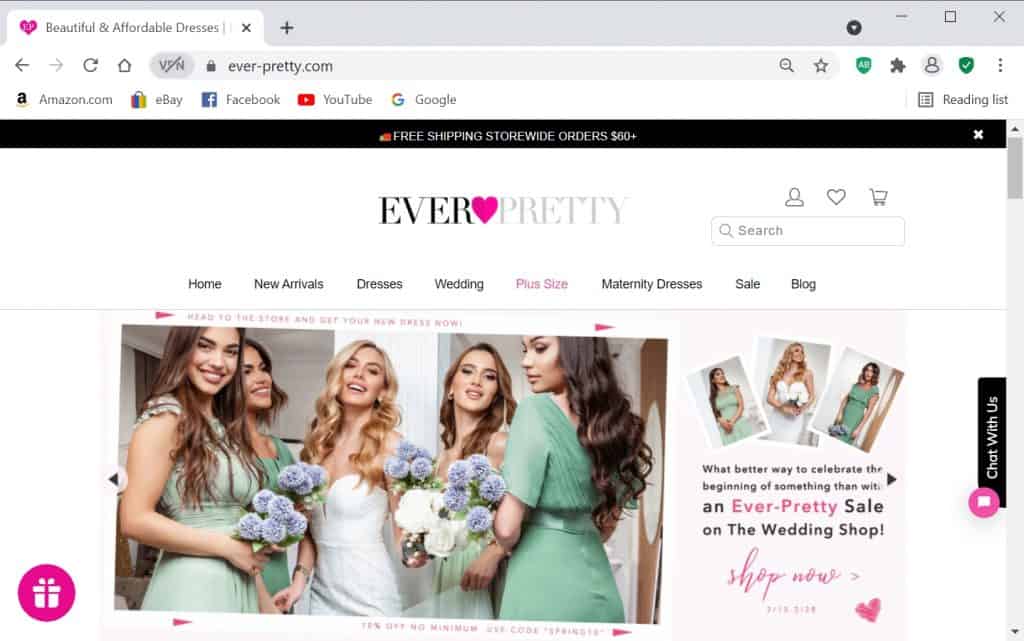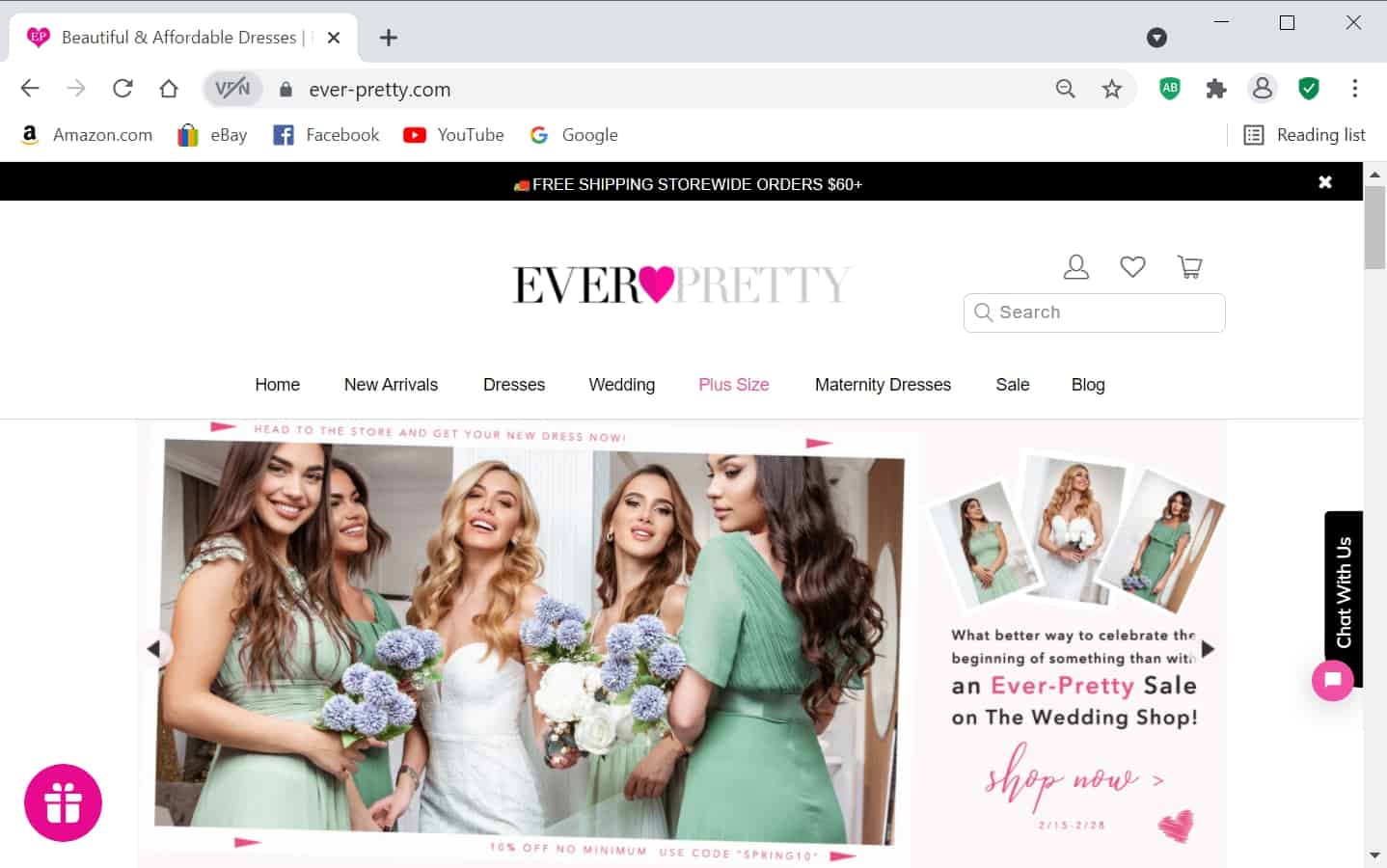 What is it like to order Ever Pretty?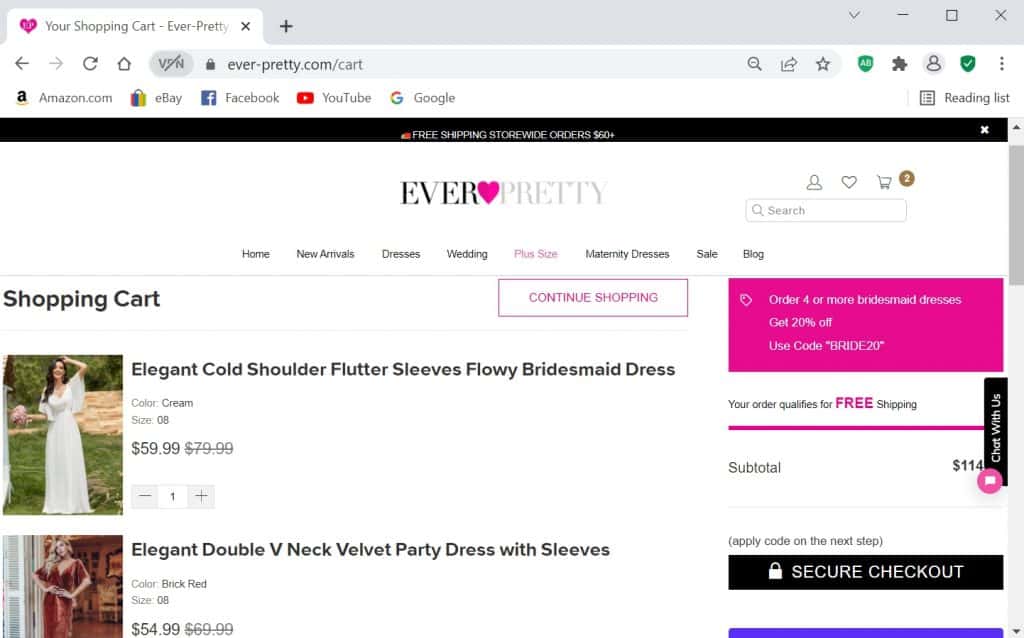 Navigating the Ever Pretty website is hassle-free. You can filter all the products by style, length, color, or occasion. And you can filter them even further later on.
After selecting the wedding dress filter, you can narrow down the selection according to beach styles, mermaid styles, and so on. You can even make it ultra-specific, like wedding gowns for an all-black motif!
Ordering from the site is cost-efficient. First, you get free shipping for any order worth $60 and above. Second, you get a 15% discount on your first purchase.
There's also a permanent Sale tab on the site, so you can go through more affordable dresses if you're on a budget.
Shipping is very convenient too. For example, most dresses are shipped after one business day and arrive at your doorstep between 3-10 days.
And if you aren't happy with your dresses, you can return or exchange them within 30 days. Returns are shipped back within 24 hours, and refunds are processed more petite than a week.
How do Ever Pretty clothes fit?
If your gown doesn't fit you properly, it could spell disaster on your special night. Ever Pretty helps ensure that you get the right size and provide your clothes using their detailed measurement guide.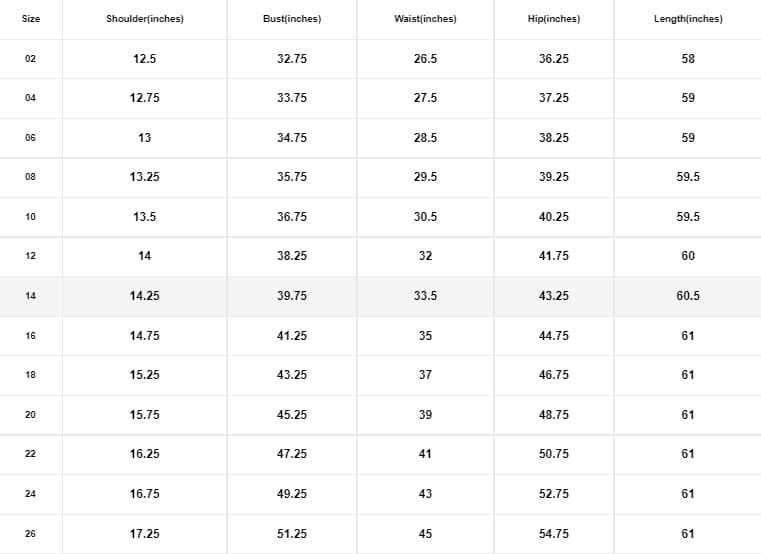 Every dress has its sizing chart as well. So, after taking your body measurements, you can compare them to the graph of the dress of your choice.
Check out how Ever Pretty gowns look on real women!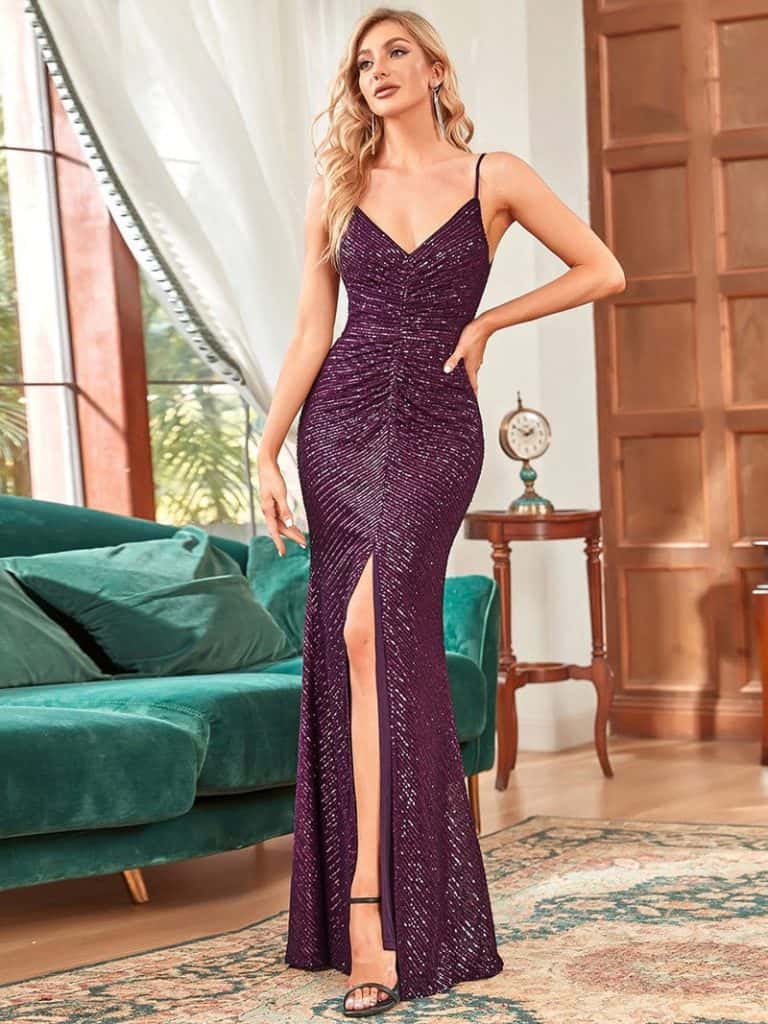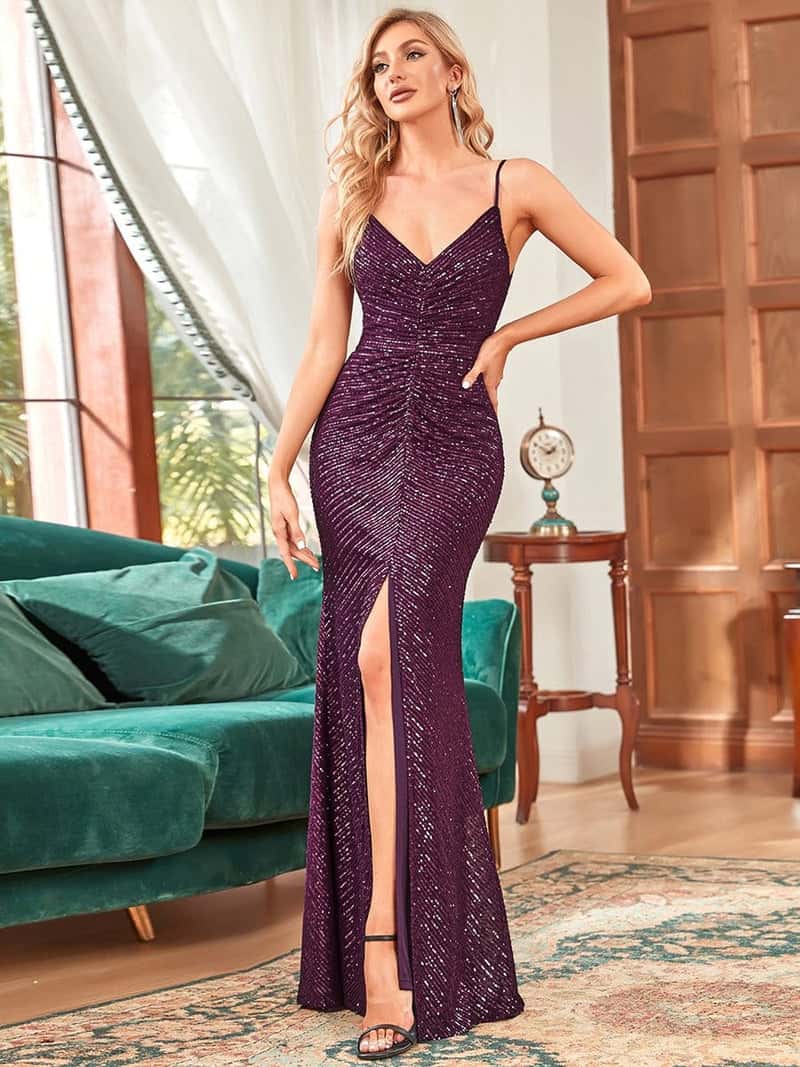 Ruched Fishtail Evening Dress

This deep purple dress hugs your curves just right—exactly as it does on the model!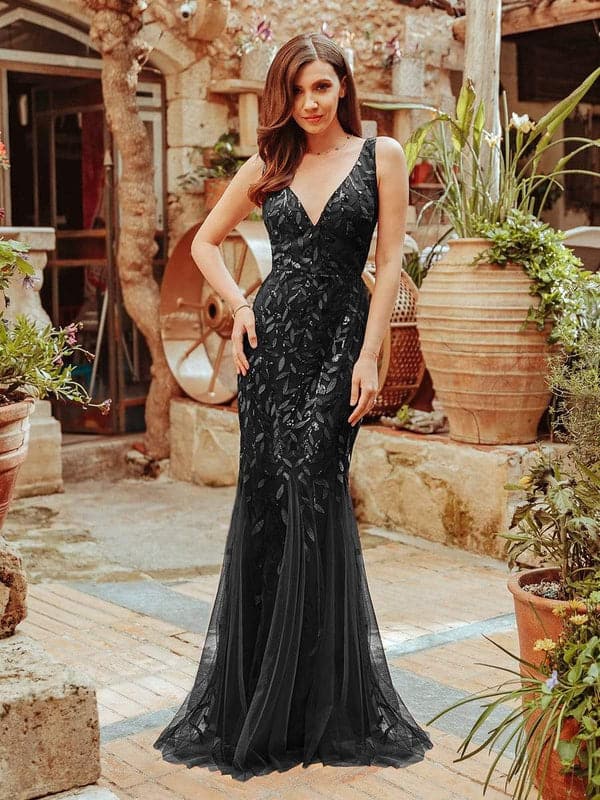 This dress' sequined design looks just like its photo on the website. The fit is also perfect on this blogger, from the neckline to the graceful fall of the skirt.
Ever Pretty Wedding Dress Reviews
According to type and style, here's how some of Ever Pretty's most beautiful dresses fare.
Whether you're looking for a bedazzling wedding gown or organizing your bridesmaids' attire, there's an Ever Pretty dress for you.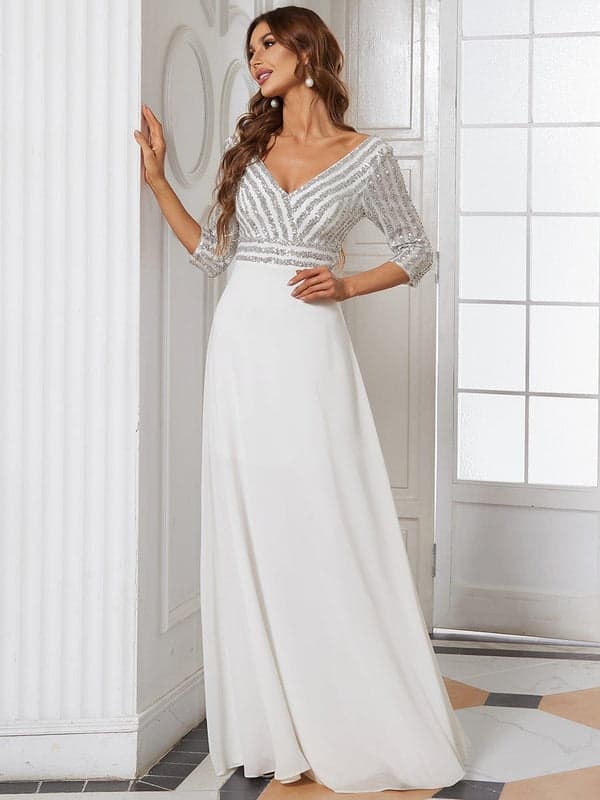 If you want a balance between sparkly and straightforward, this wedding dress is for you. It has long sleeves and a long, flowy skirt, which is great if you're on the conservative side. But it also has a sultry neckline and a bodice filled with sequins to dazzle your guests.
But don't worry—the sparkle doesn't make your dress look too flashy. "The sequins are not overdone and add a great element of class to the gown," says one happy customer.
The zipper at the back is concealed, so it looks seamless. It has high-quality lining but isn't padded so that it won't give you a bulky look.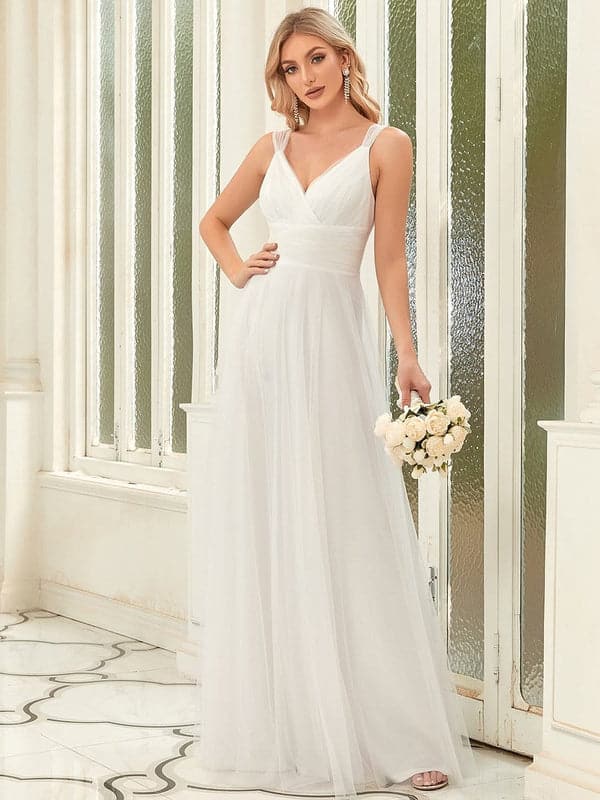 The tulle dress has an elegant silhouette and it's made of soft and airy tulle. That makes it an excellent option for those who want a romantic and feminine-looking design.
It also comes in various soft blush tones, perfect for any blushing bride's entourage.
The neckline is low enough to show a little skin without being too racy. The chest area is also padded. As a result, you can wear it even without a bra underneath. "It's so comfortable and easy to wear!" one buyer remarked.
Ever Pretty Evening Dresses
The key to a magical night is looking gorgeous in the evening gown of your dreams. Here are some of Ever Pretty's best ones.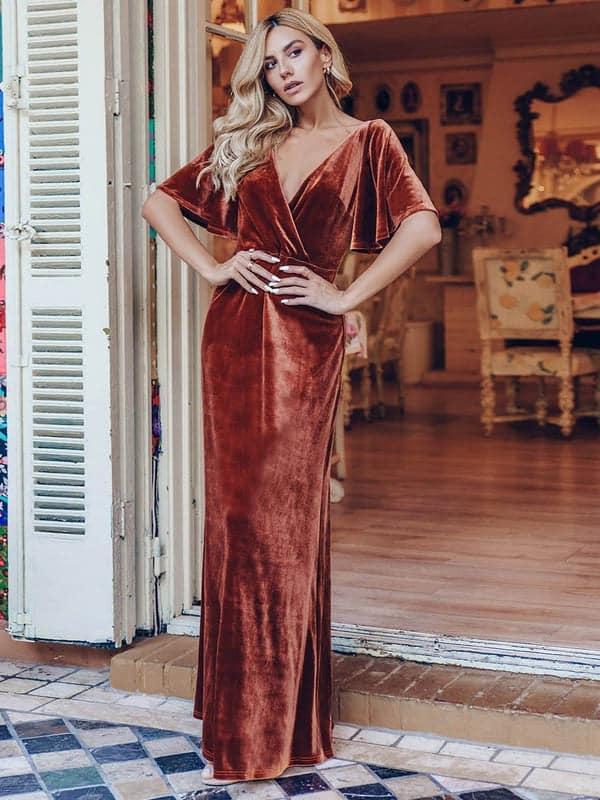 The low-stretch velvet dress is perfect for winter and fall occasions. Not only is velvet super chic during the cold, but the brick red color screams autumn.
It also has sleeves that fall right above your elbows to help cover you up. "The fabric feels nice and has finished edges, and the sleeves are loose and fluttery!" says one customer.
But that doesn't mean this dress is drab. On the contrary, it has a double v-neckline that gives it a sultry vibe.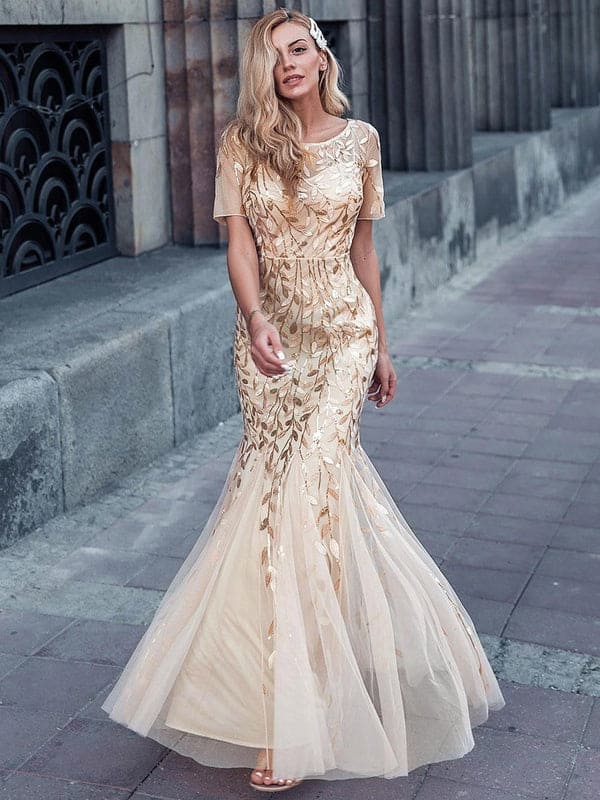 Who says you need to have a low-cut gown to impress prom? Sometimes, golden sequins are enough.
This prom dress might have a conservative round neckline and sleeves. However, it still makes a statement. This is perfect for a teen who isn't ready to wear sexy cuts. The fairytale-worthy design is excellent if you want to feel like a princess on your special night.
The mermaid cut is flattering on many body types. The skirt is flowy and drops elegantly in a fishtail design. As one buyer puts it, the dress is "beautiful, comfortable, affordable" all in one.
Ever Pretty Plus Size Dresses
Ever Pretty has dresses for any shape and silhouette. Plus-size ladies will love these!
Plus Size Boho Chic Wedding Dress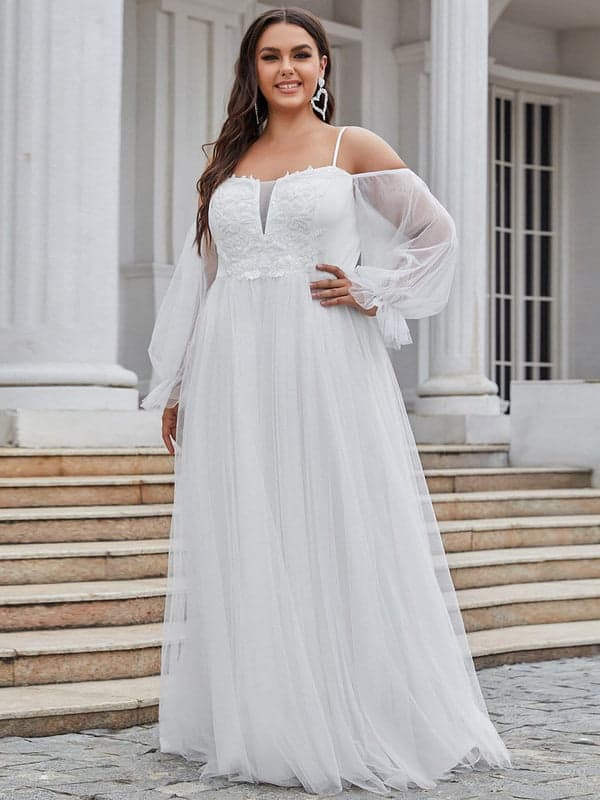 If you love flowy gowns, this dress is for you. The simple bodice, thin straps, and loose skirt are flattering for curvy women. It also gives off a vintage vibe because of its long, flowy, sheer, off-shoulder sleeves.
This is a gown highly recommended for garden and outdoor weddings. Thanks to its flowy material, it will look beautiful floating in the wind.
Since it has padding, you can wear this dress without a bra. This is a massive help to plus-size women who find it a hassle to find chest support for formal wear.
"After looking for months for a dress to wear to a family wedding, I came across this gown," one customer exclaims. "I still can't believe it was a bargain it is!" they continue.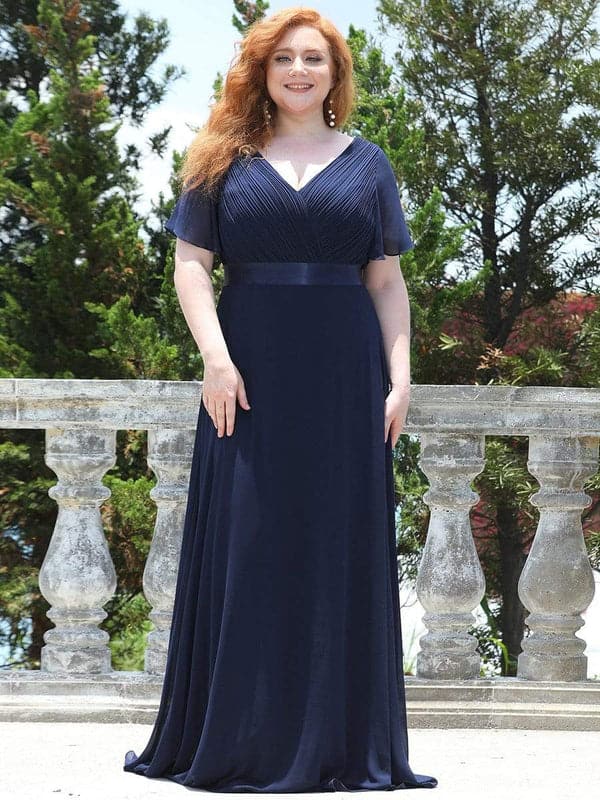 An empire-waist dress is always flattering on plus-sized women. This dress is no exception. It's cinched by the waist, accentuating your curves and beautiful shape. One buyer even says it "hugs the right places and is loose in the right places."
The dress' v-neckline is balanced out with flutter sleeves. This silhouette shows off your best assets while hiding areas you might not be as confident with.
The best part about this evening dress is that it's very versatile. You can wear it at a wedding, a cocktail party, or just a dinner date at a fancy restaurant.
Pros and Cons
Pros:
Product filters make the website easy to navigate
15% off your first purchase
The dresses are very affordable
A wide selection of dresses, from wedding gowns to maternity dresses
Plenty of plus-size options, so there's something for everyone
Most dresses come in a variety of colors
Styles arrange from timeless and straightforward to fashionable
Cons:
Most dresses are polyester, which may be a no-no to those who like organic fabrics
Some say that the dresses run a size or two smaller. So, it's essential to take accurate measurements according to Ever Pretty's detailed guide.
Ever Pretty VS Lulus VS JJ's House
You might compare Ever Pretty to other known evening wear brands like Lulus and JJ's House. But when it comes to specialization and affordability.
All kind of dresses: wedding dresses, bridesmade, evening dresses, coctail dresses, party and casual dresses
Plus size and maternity options

Dresses, casual clothes, denim, shoes and accessories



Wedding dresses, dresses for any occasion, braidsmaid dresses and dresses for mother of the bride

Price example for a wedding dress

Shipping starts from $9, but mostly dresses are offered with free shipping

15% discount for the first order


Sign up for emails and get 15% off any order.

5% off for the first order


Within 30 days.
Return or exchange shipping fee is the responsibility of the customer

Free return for 10 days, 30 days return will cost $7

Free returns within 14 days

Wedding dresses could be even filter by the wedding theme 

Plus size and maternity options

Wide range of trendy clothes aside wedding dresses


Has a good score on the trustpilot

 Almost 100% of the clothes seen on Lulus are exclusive

Wide range of wedding dresses 


JJ`s House promise to deliver high quality dresses

Mostly the garment comprises polyester

 Free return is only for 10 days

Some item are offer free shipping and some not

The most expensive among other competitors
Lulus might be able to compete with Ever Pretty's affordable prices. But because they carry other casual apparel like denim and everyday tops.
On the other hand, JJ's House specializes in gowns, too. However, the price cannot compare. An average JJ's House gown can cost upwards of $200. However, you can get an Ever Pretty dress that's just as gorgeous for a quarter of that price.
You get the best deal on returns with Ever Pretty too. You can return your products within 30 days with them. Meanwhile, Lulus' and JJ's House's free return policy lasts 10 and 14 days, respectively.
Promotions and Discounts
Ever Pretty's dresses are already affordable, but you can get even better deals on the website!
They offer 15% off your first order. They also have a permanent Sale tab on the site for discounted dresses. If you want more bang for your buck, you can lurk on that page!
Discound Codes for CakeStyle readers:
GET10 – 10% off all products; minimum purchase of $80.00
GET20 – 20% off all products; minimum purchase of $200.00
Customer Reviews
Because Ever Pretty is loved in the fashion community, many YouTubers talk about it.
Fashion content creator Fern Roberts posted a brand review for Ever Pretty on her channel. In the video, she gushed about her new party gowns.
She especially raved about the quality of her Sexy Sequined Fishtail Gown in Rose Gold.
Meanwhile, YouTube sweethearts Sadie & P made their challenge with their Ever Pretty gowns. Sadie wears her dresses and P rates them.
All in all, they were both very impressed with the gowns Sadie got. One of their favorite things was the lining of each dress, which was made with care and high quality.
Return Policy
On the off-chance that you're not happy with the dress you bought, you can opt for returns. Exchanges and returns are free within 30 days of purchase.
Refunds are done in as quick as three business days. And if you're opting for exchanges, your new dress will be shipped out 24 hours after processing.
Is Ever Pretty worth it?
Yes, it's worth it for gorgeous gowns on a budget! There are hundreds of dresses in many styles and colors, so you're sure to find something for any occasion.
Plus, you can't beat Ever Pretty's affordability and discounts.
Free shipping for orders above $60 and 15% off your first order. The 30-day return policy is also excellent if you want to try them out for the first time.
Some of our latest post about stores like Ever Pretty: