I was scrolling through Instagram and saw beach lovers with different bodies clad in cute swimwear from the brand Cupshe.

I never heard about this unusual name before, and sure it piqued my interest.
I figured out that Cupshe has existed since 2015 and aims to empower women with any body shape. They have swimsuits that range from extra small to 4XL, so it looks like you can find the correct size easily.
What surprised me, that Cupshe has a quite strong online community with 952k followers on Instagram.
It seems too good to be true, so naturally, I was a bit skeptical and decided to take a shot.
Here's my honest review of Cupshe Swimwear.
What is Cupshe?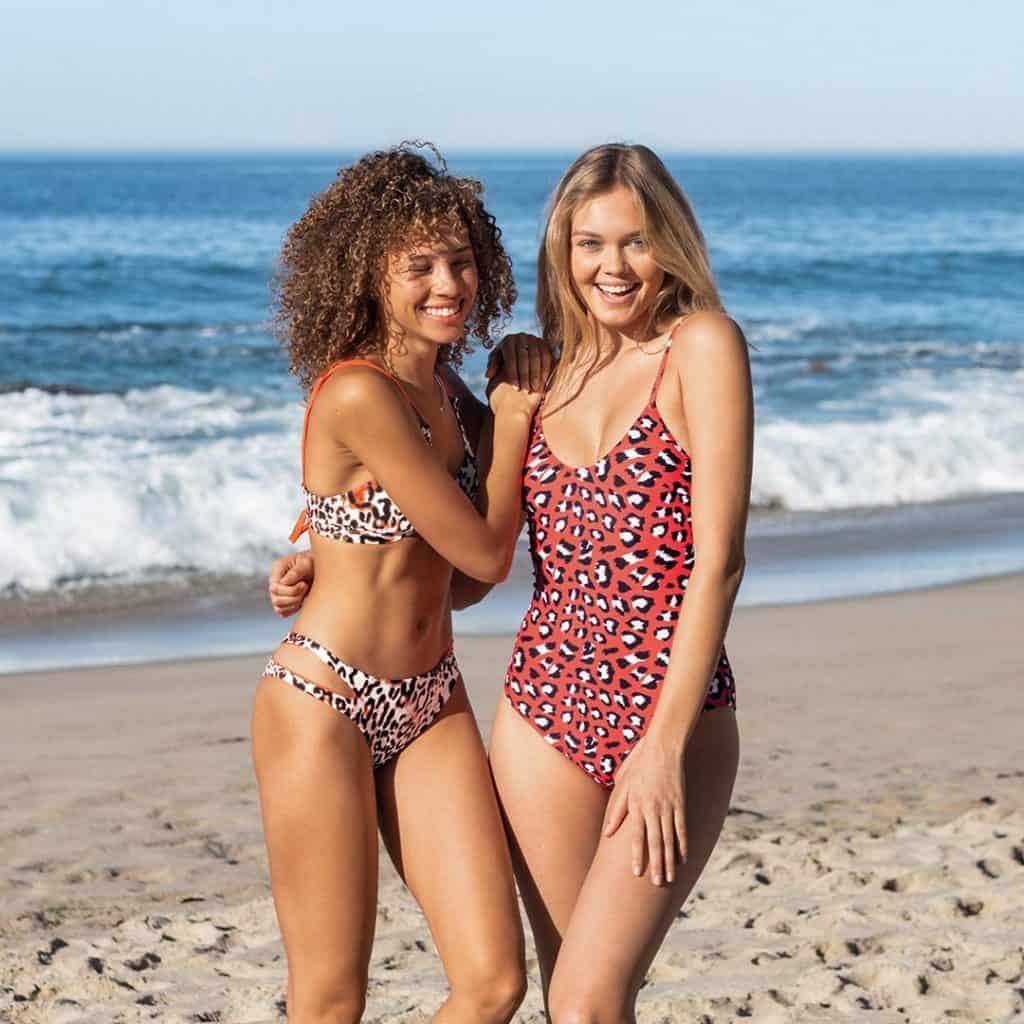 Cupshe was born in sunny California—the perfect place to build a diverse and fashionable beach brand from the ground up.
They sell anything and everything you need for the best: from cute cover-ups to bikinis. Swim apparel is top-class when it comes to durable fabrics, trendy colors, and patterns.
What's important is that they offer plus sizes that go up to 4XL, which I can't say is common in many popular swim brands today.
Cupshe offers discounts that go up to 50% off. Plus, you can still return up to 30 days after buying.
They have a dedicated live chat support team for those with questions and concerns.
And Cupshe website has 228k certified reviews—a good sign for a skeptical shopper like me.
What Is It Like To Order Cupshe?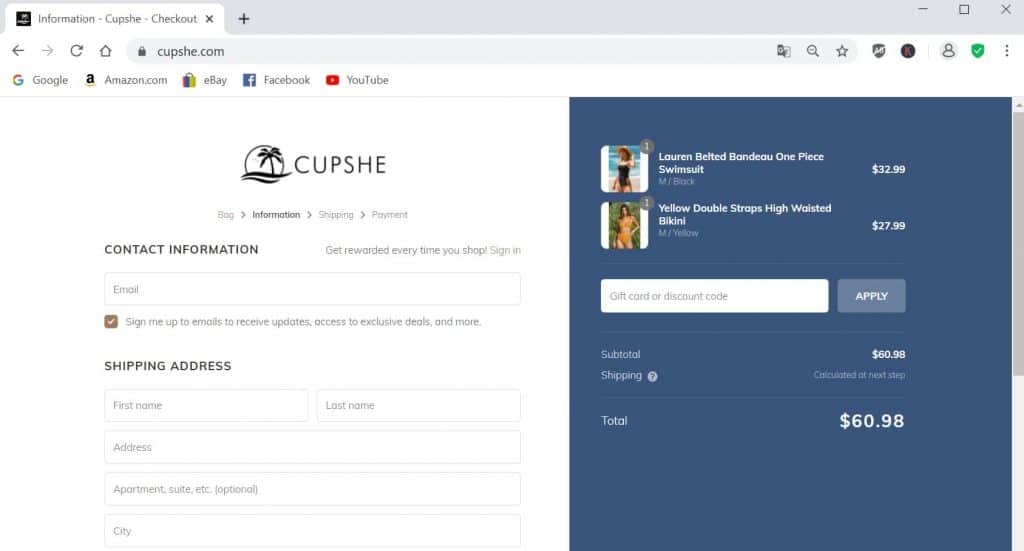 On the Cupshe website, you can explore a wide range of swimsuits, from cute one-pieces to high-waist bikinis.
There's also a cover-up category, where you can shop for lightweight kimonos, summer dresses, tunics, and more.
Do not forget to check plus-size options in many trendy designs.
I like to be creative with my clothes, so I enjoyed the Mix and Match section. That way, you don't have to buy a bottom just to get a cute top, and vice versa. The feature gives you all the power to choose what you want your beach outfit to look like.
You get free shipping within the USA when you hit $49.
In case you want just one or two pieces, shipping is still quite cheap at $2.99.
They also offer expedited shipping to some addresses so you can get your clothes in less than a week.
If you have a tight budget, you'll love their Afterpay feature. With this, you can choose to pay off your clothes in installments instead of upfront. You can pay for your beachwear little by little every two weeks, with no fees.
How Do Cupshe Swimming Suits Fit?
The tricky thing about shopping for swimsuits online is that they could look great on the model, but have a terrible fit on you.
Well, I didn't have that trouble with Cupshe.
I have also done my research looking for photos of real people.
Check out these photos from the Cupshe website side-by-side with real women wearing the same swimsuit at the beach.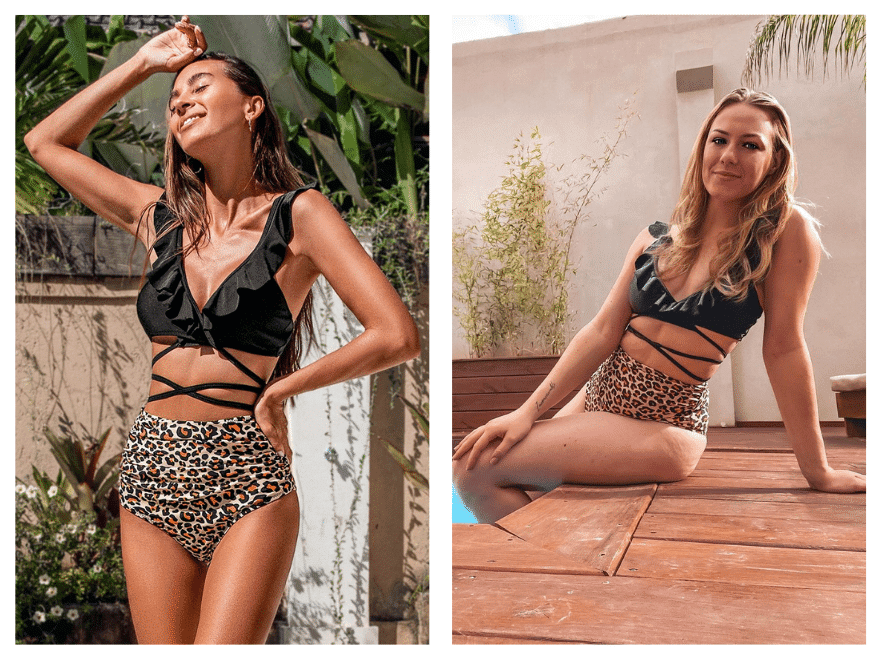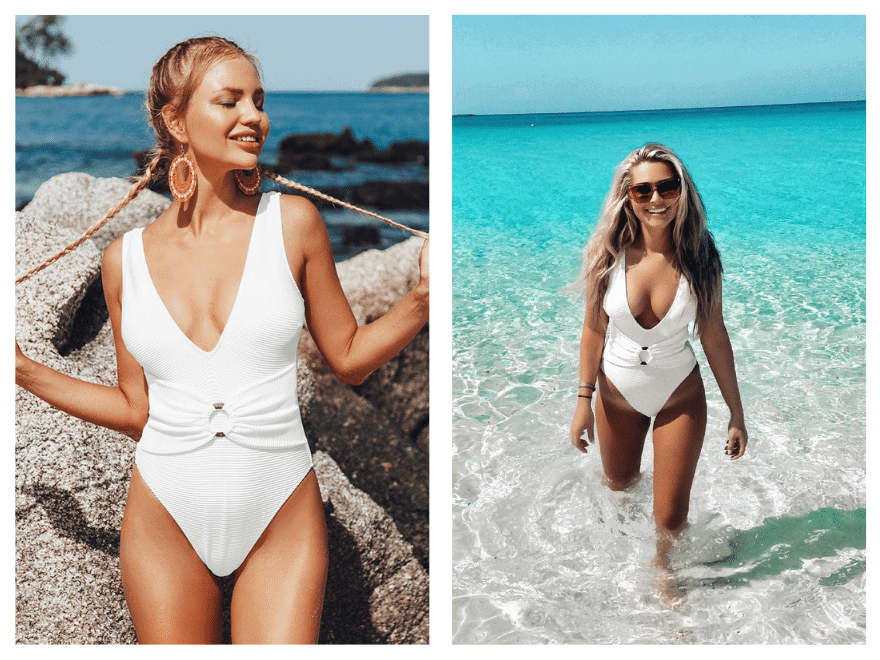 As you can see, when it comes to sizing, the measurements on their charts are accurate and true to size.
But before ordering your swimsuits, update measurements of your bust, under-bust, and hips.
To get accurate readings wear minimal clothing as you take your measurements.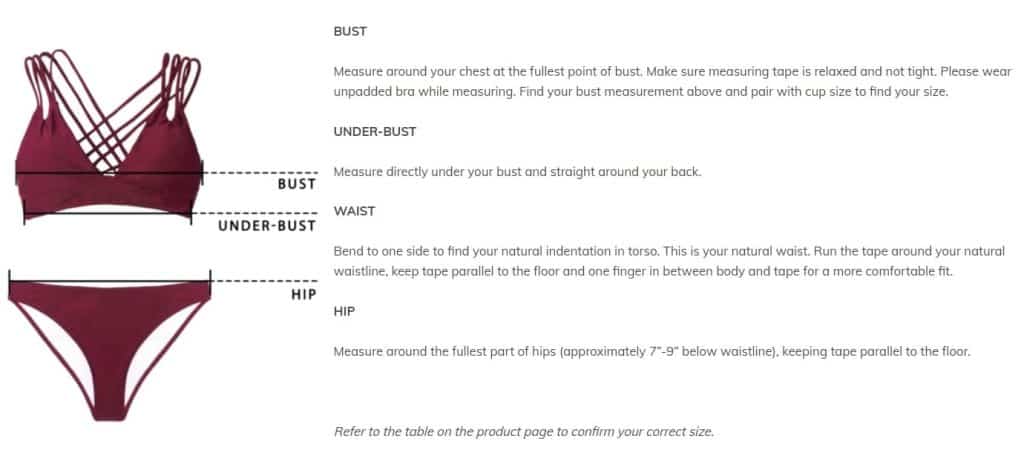 Cupshe Swimsuits Bestsellers Overview
Cupshe designs are typically trendy, comfortable, and somewhere cross between cute and sexy. Here are some of Cupshe's best-selling swimsuits.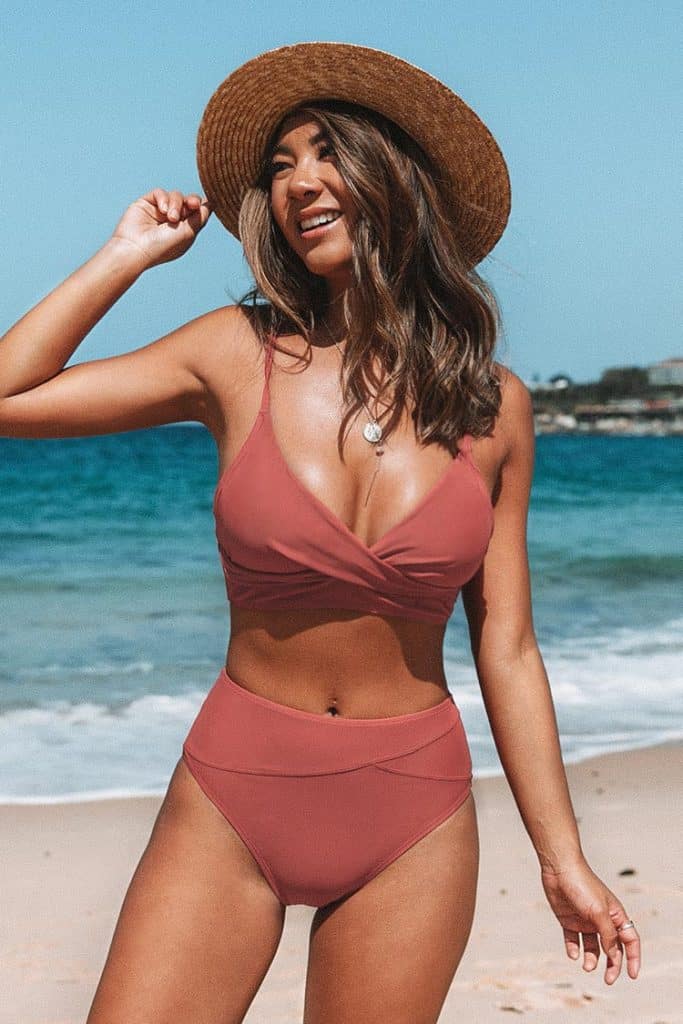 If you're not afraid of showing a bit of skin, check out this marsala-colored two-piece.
The bikini top's deeper V-neck cut shows off your decolletage area without being provocative. It's a sultry cut that is still tasteful to the eye.
This daring cut is balanced out by the high-waist bottoms. It helps hide some skin by the tummy, which is great for those nervous about lower cuts.
The marsala tone is similar to a subdued pink shade. That makes it the perfect balance between a blushing nude and a pop of color.
Ruffle Plus Size Bikini With High Waisted Bottom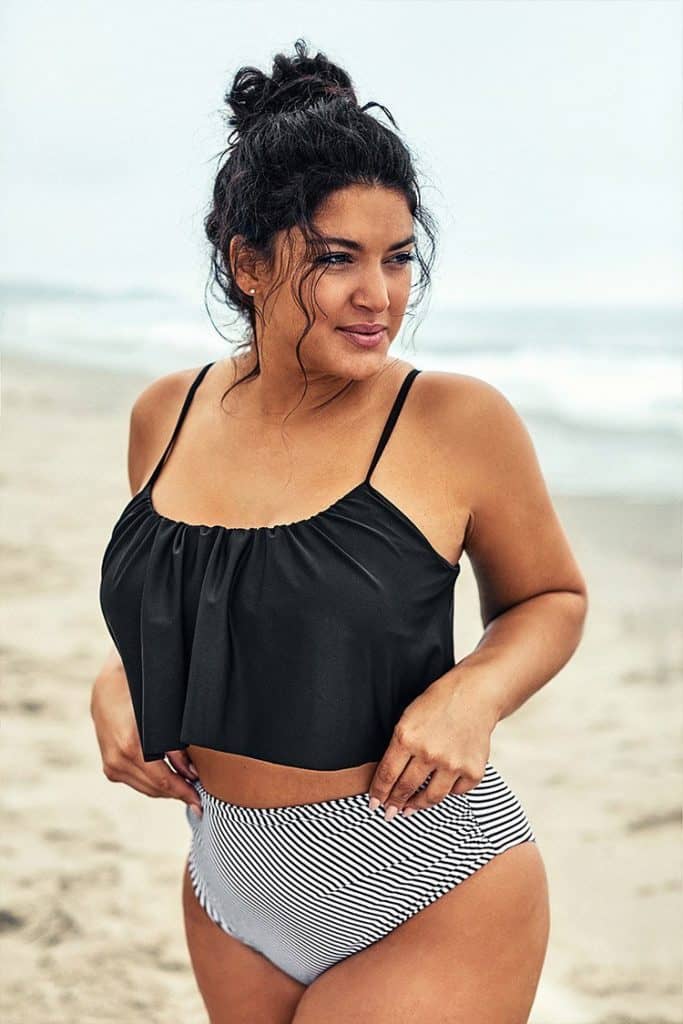 If you're on the conservative side, check out this black and white plus-size two-piece.
The bikini top has a ruffle design which looks like a crop top. The straps are adjustable, so you can expose as little or as much of your decolletage as you wish.
The bikini bottoms has a classic black and white stripe design. It has a high-waist cut to give you coverage in the tummy area.
They're worn together, but also fit well for mixing and matching.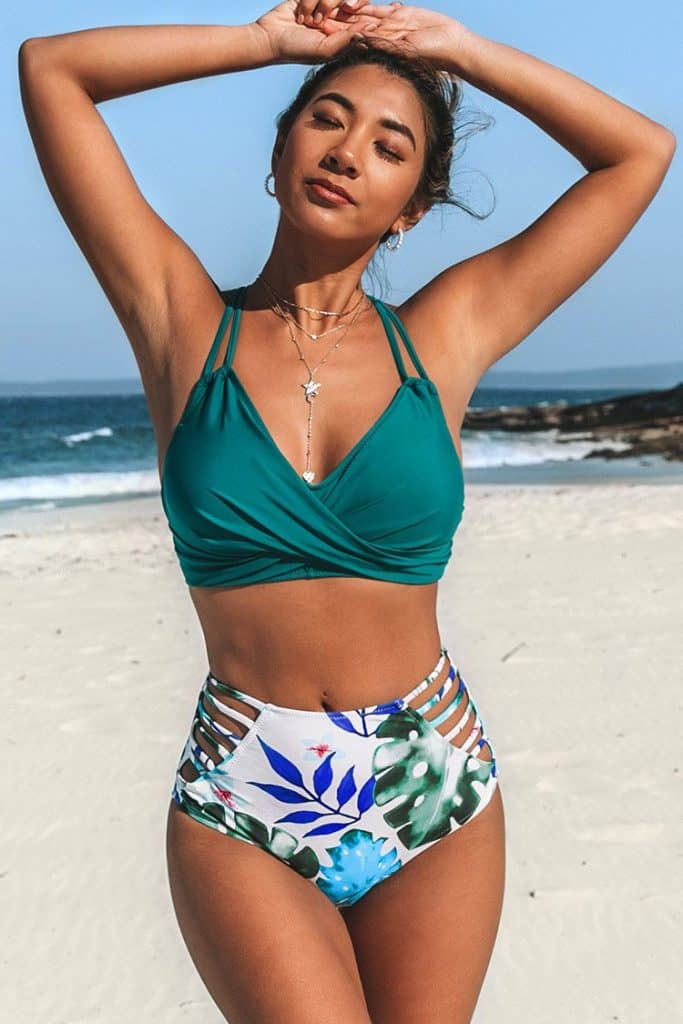 Check out this high-waisted bikini that has written love for nature and flowers all over it. Top has a few folds for some texture.
Slits on the bottom show the right amount of skin.
Green floral print on high-waist bottom looks nice, while the solid green top is extra flattering.
Cupshe vs Beachsissi vs Summersalt vs Shein
Cupshe isn't the only swimwear brand making waves on social media. Other fashionable, trendy brands like Beachsissi, Summersalt, and Shein have a solid fanbase, too.
But what makes Cupshe better than other Instagram-famous swimsuit brands in the market?
Let's first talk about the odd one out—Shein. While it's popular for trendy casual wear and affordability, it's not exactly a premier swim brand. Their forte lies more in everyday clothing.
So even if Shein offers swimwear in their collection, they're not the crème de la crème for bathing suits. Unlike Cupshe and other brands with expertise in swim apparel, Shein may not be the authority for beachwear.
Next up, we have Beachsissi and Summersalt. You can tell by their names that they specialize in beachwear, just like Cupshe.
Beachsissi is known for its trendy and bold boho designs. That makes it a frontrunner if you're looking for exquisite designs.
However, it doesn't have the same range in categories as Cupshe. It lacks variety in cover-ups and plus-size options, which Cupshe prides itself on.
It also gives you only 15 days to make returns. That's a far cry from Cupshe's 30-day deadline for returns, which gives you a longer time to try out your swimsuits before deciding whether to keep them.
Meanwhile, Summersalt is another high-quality swim brand. It offers maternity swimwear, which makes it unique in the swimwear industry.
That said, Summersalt swimwear comes at a high price tag. The usual price they offer is almost double that of the average Cupshe bikini.
They also don't offer free shipping, which can be a pain if you're trying to save money.
Cupshe stands out the most among these four brands. It offers the golden combination of quality, range in cute designs, size inclusivity, and a justifiable price.
Swimsuits: Bikinis, One piece, High waste, Low rise, Tankinis


Beachwear: Сover ups, Kimono cover ups, Tunic cover ups,

Swimsuits: Bikinis, One piece, Tankini,  Surf

Swimsuits: Bikinis, One piece

All covers up and The Sidestroke

Swimsuits: Bikinis, One piece, Tankini, Tops, Buttoms,

Dresses, Tops, Rompers, Accessories

Wide range of other clothes: loungewear, intimates, tops, sweaters, sleepwear, active wear, essentials

Wide range of other clothes for women, men and kids. + beauty section and Plus Size models

Average price for bikini set

Free shipping from 49$ for USA

Free shipping from 59$ for USA

You could try to find some promo codes for free shipping

Free standart shipping for all the orders

10% OFF - On your first order over $65

15% OFF - On your first order over $100
10% OFF over shipping at your cost $79

You could try to find some promo codes for dicounts

20% OFF
For Order Over US$99.00
10% OFF for orders over $29

30 days, shipping at your cost

15 days, shipping at your cost

Free for 30 days from the order

Great design and trandy models


App for both iOS and Android devices

Free delivery over 49$ for 5-7 days

Great range of swimming suits and beach clothes including plus size options

Great design ans wide range of beach clothes


Boho design for beach wear

Wide range of different clothes you could also buy

Most of their factories have WRAP certification

Wide range of different clothes you could also buy


There is no shoes, clothes or additional beach accessories


A lot of models available just in one color

There is no shoes, clothes or additional beach accessories


Pricey comparing to others


Some photo with really bad photoshop so we are not sure if you will get the same product as on a picture
Cupshe What Do Customers Think?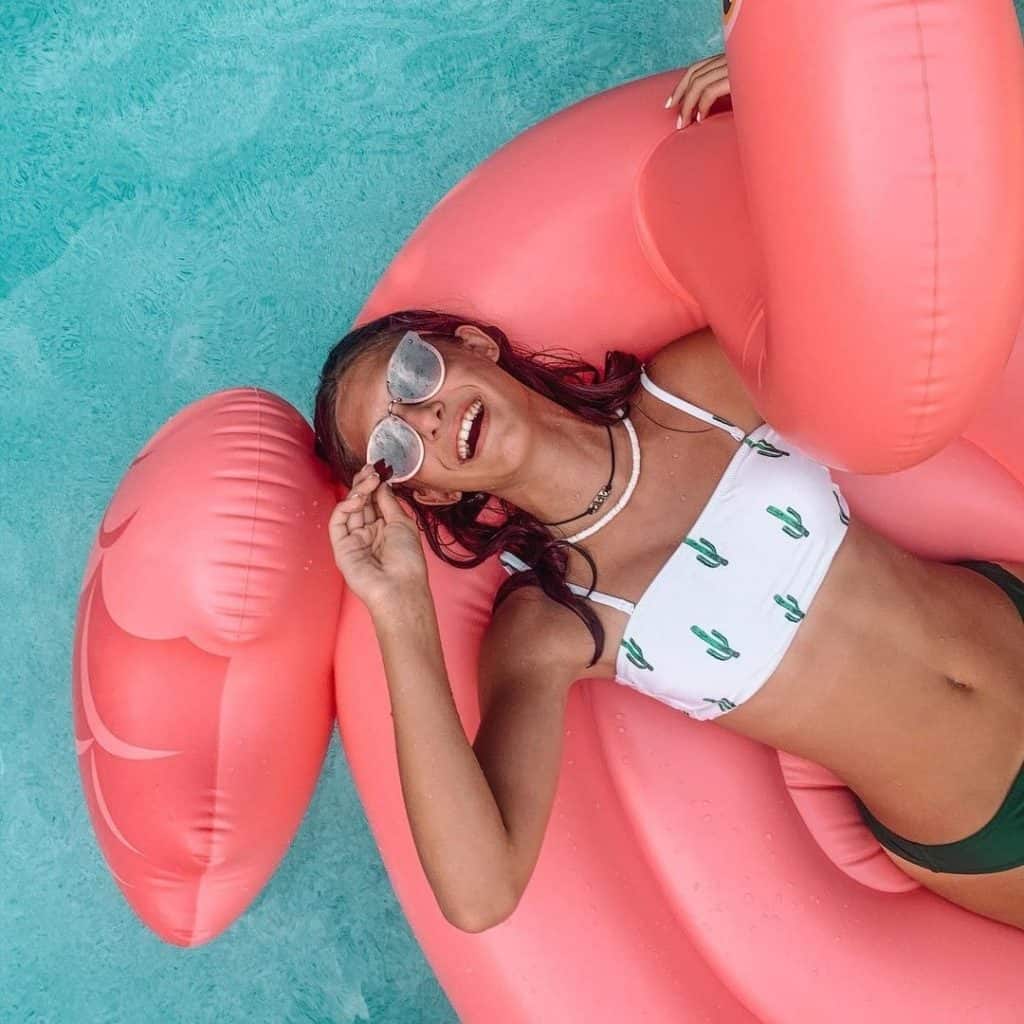 There's no doubt that Cupshe is well-loved by beach junkies everywhere. Just check out how many people tag them in their beach selfies on Instagram! There are thousands of mentions of the brand, and the number keeps going higher.
Cupshe has a rating of 4.22 stars on Sitejabber. That puts them in the top 100 women's clothing brands on the website. Customers give Cupshe a high rating in terms of quality, shipping, and value for money.
They have almost 4,000 more reviews on Trustpilot. Although the score is a bit lower at 4.0, customers on the site still generally perceive Cupshe as an "excellent" brand.
Among the things they praise are Cupshe's dedicated customer service and utmost fabric quality.
Some fans also gush about how the swimsuits are true to size. This is something that's challenging to find in the beachwear industry.
Cupshe PROS and CONS
While my experience shopping for bathing suits at Cupshe was awesome, it also has room for improvement. Here are the things I like and dislike about the brand:
Cupshe Pros:
Wide range of cute and trendy designs that are fit for all sizes
There's an app for both iOS and Android phones
They constantly offer promos of up to 50% off
Free delivery for purchases over $49
Items get to your doorstep between 5-7 days
They have a huge following on Instagram, where real women tag them in their beach posts
Over 5,000 customers on Trustpilot vouch for the brand
Ability to design your own bikini with the Mix and Match feature
You can shop with Afterpay if you want to pay in installments
Cupshe Cons:
Not strong in the shoes and accessories department
Many swimsuit designs come in limited colors
While live chat is available on the website, customers on Trustpilot say they've had a bad experience speaking to customer service
Cupshe Video Reviews
Cupshe isn't popular only on Instagram. So many fashion gurus on YouTube also do unboxing videos on their purchases. And they have only good things to say about their experience.
Fashion vlogger McKenzie Morgan was so excited to shop on Cupshe that she did her try-on video even in the wintertime.
She was very satisfied with her swimsuits. She even noticed the fine details of the designs that she loved and raved about them.
In one of her purple swimsuits, she appreciated a unique cut-out by the cleavage area that was trendy this season.
"I've seen this detail on a lot of swimsuits this summer, so I think that it is going to be pretty trendy," she said.
McKenzie also mentioned that how Cupshe swimsuits came with pads. She loves how you can remove them whenever you deem necessary.
Another fashionista who made her own Cupshe haul video is Mia Maples.
She commended the brand for its soft, double-layer fabrics.
When she tried the swimsuits on camera, she was impressed with how true-to-size they were.
"Fits me really super well!" she said. "Ten out of ten for the fit."
Cupshe Promotions and Discounts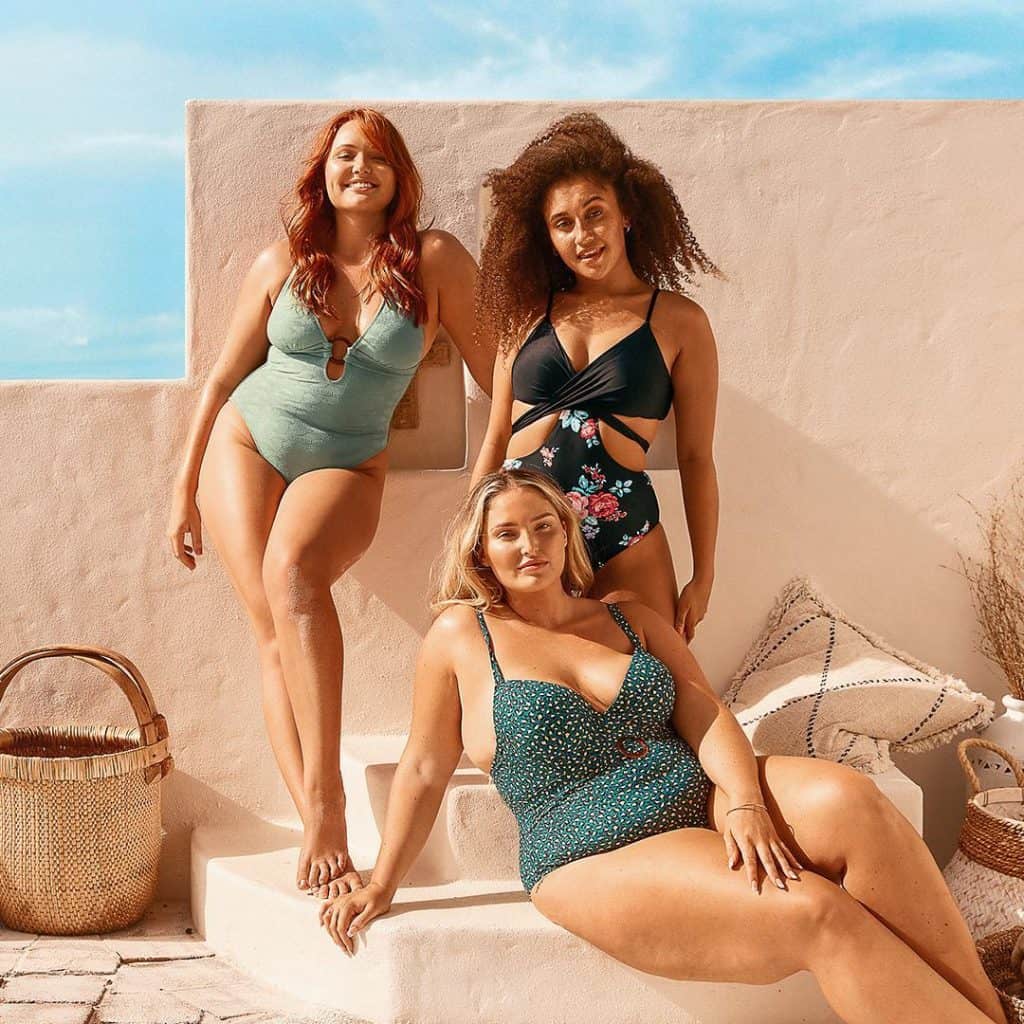 Cupshe offers a bunch of fantastic promos and discounts on their website. You just have to hunt them down!
For example, if you subscribe to their email newsletter, they give you an extra 10% off. This applies to your first order over $65.
They also have season sales where their cutest pieces go for 50% off their original price.
You can also join their exclusive club called the Sunchasers Club. When you enter the club, you can earn loyalty points. You can then spend these points on additional discounts.
One thing you can do to earn points is invite friends to buy from Cupshe. You also get points for merely celebrating your birthday. Consider it a birthday present from Cupshe!
Is Cupshe Worth It?
If you're looking for trendy, attractive swimsuits that come in many sizes, Cupshe is definitely for you.
And if that isn't enough to convince you, all you have to do is remember that they offer tons of promotions. They also have free delivery for orders over $49 and are open for 30-day returns.
So next time you're looking for a fashion-forward and size-inclusive swimwear brand, Cupshe should be your go-to.