Picking the best carry-on luggage can be a real challenge.
There's a ton to choose from at all different price points. From premium luggage that organizes like a good closet, to budget picks that squeeze into the overhead bin; there's a lot to think about.
Do you prefer soft or hard-sided luggage? Do you need a separate laptop compartment? How about a battery pack so your phone is always charged? Will it fit your travel steamer?
If you're not sure where to get started, we've got a list of the top carry-on luggage options below. We've gathered our favorite premium carry-on luggage picks, and here's what we recommend.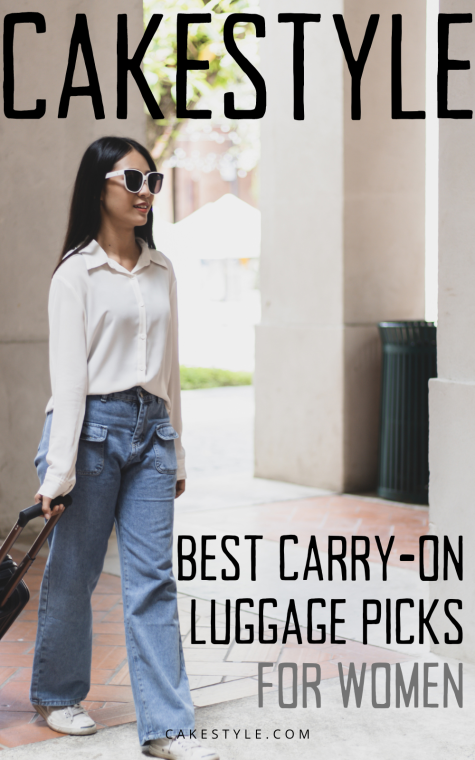 We Found The Best Carry On Luggage for Women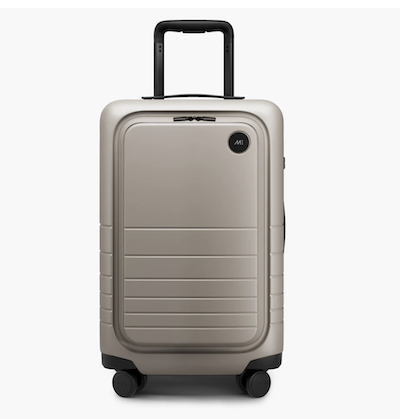 1. Carry On Pro by Monos
Monos' Carry-On Pro is one of the nicest pieces of luggage out there. This Canadian brand focuses on quality and sustainability, and the care in their design shows.
I purchased my Monos Carry-On Pro earlier this Summer and have since taken it on 2 trips. It is extremely durable and well-made.
The Pro is one of their 5 carry-on choices, perfect for the business traveler. It features a front-access laptop compartment that's big enough for a 15-inch device.
The outside is made of durable aerospace-grade polycarbonate with vegan leather detailing and a TSA-approved lock. This bag is 22-inches long, and fits in the overhead bin of most airline carriers.
Weighing in at 7.8 lbs (unpacked), Monos bags are built for the socially conscious and fashionable traveler.
The Monos Carry-On Pro tops my list as the best carry-on luggage.
If you travel often, make sure you get the FoundersCard. It gives you insider benefits at hotels, restaurants, flights, airport lounges, software and more.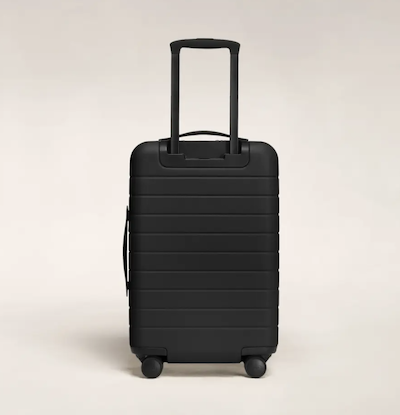 2. The Carry-On by Away
Away is Monos' largest competitor, and their Carry On bag does a good point of rivaling the Monos Carry-On Pro.
Away, as a company focuses on creating travel essentials that improve the experience of modern travel. Because of their meaningful designs, their tech-friendly bags are loved by travelers from all walks of life.
The Away Carry-On is a tad bit lighter at 7.1 lbs, and features a durable, lightweight shell, and TSA-approved locks. The bags can go head-to-head in their sleek designs and packing capabilities.
Where Away stands out is its focus on the traveler tech experience. You have the option to have a removable battery added to your bag which allows you to keep your phone or tablet charged when you're on the go. It also comes with a convenient water-resistant laundry bag.
If you're traveling for business or living a nomadic life, the extra battery life might be for you.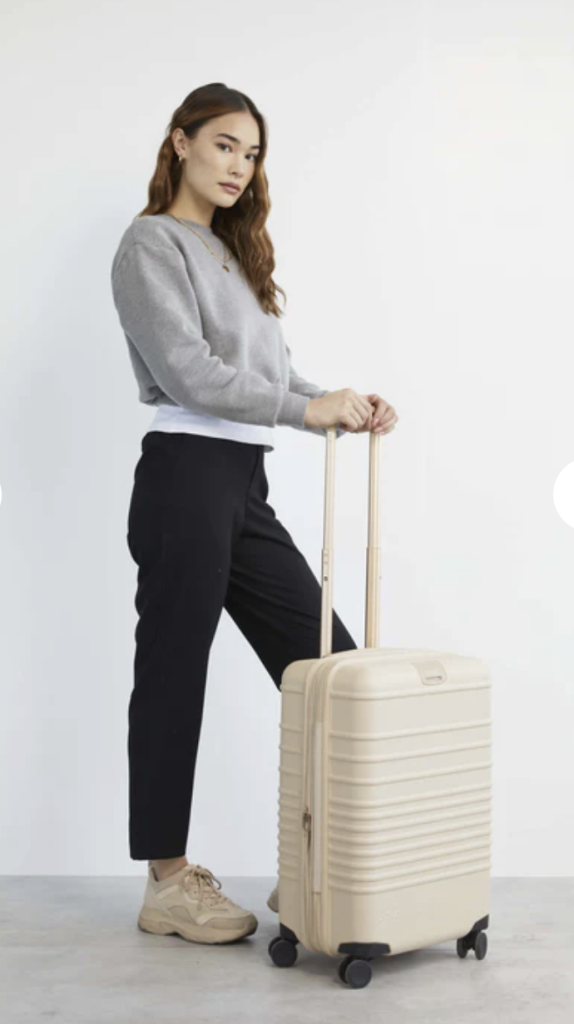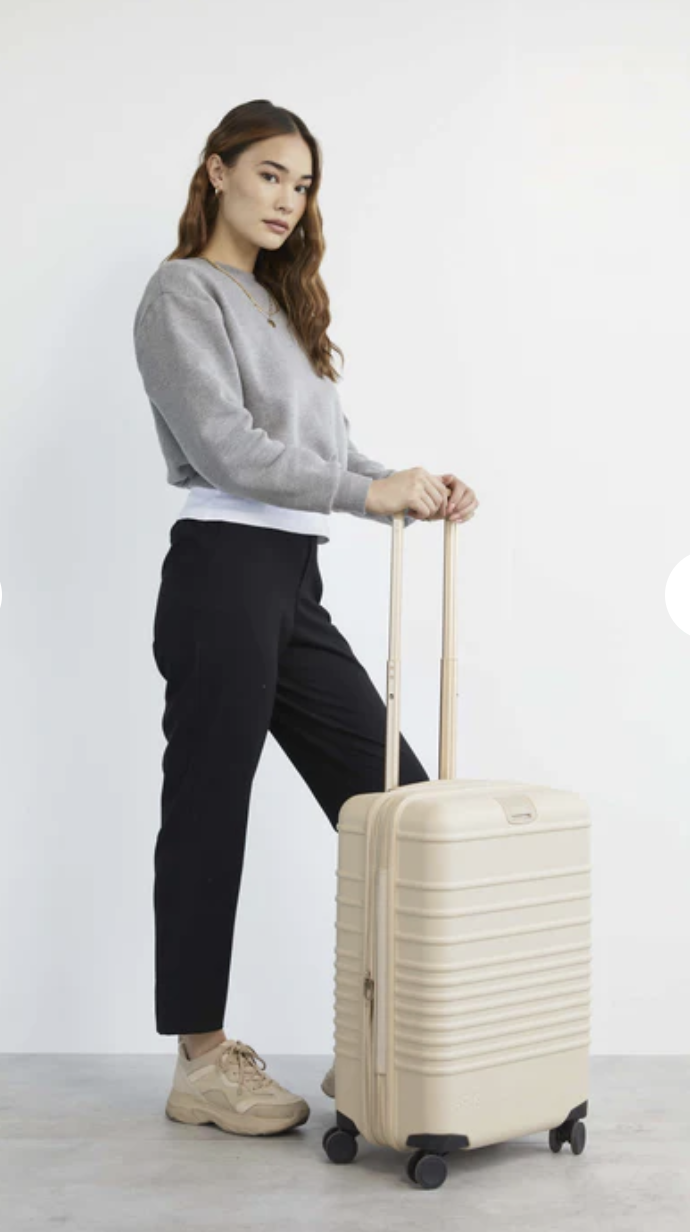 3. The Carry-On Roller by Beis
Made with a durable polycarbonate body and vegan leather trim, Beis' Carry-on Roller is another sleek option for the frequent traveler.
This bag weighs in at 8.36 lbs, which makes it heavier than the first two designer picks. What makes this bag unique is its weight limit indicator, which can help you make sure you're sticking with airline rules and don't have to pay extra.
For organizational purposes, this bag also comes with a separate pouch that you can use for laundry or shoes, and a small zip-pouch for valuables.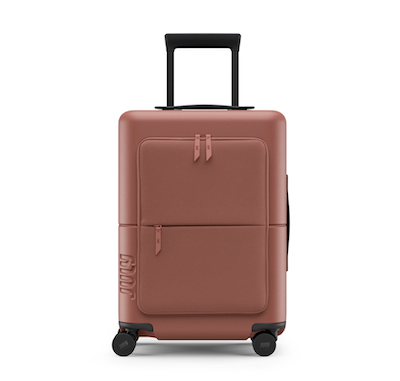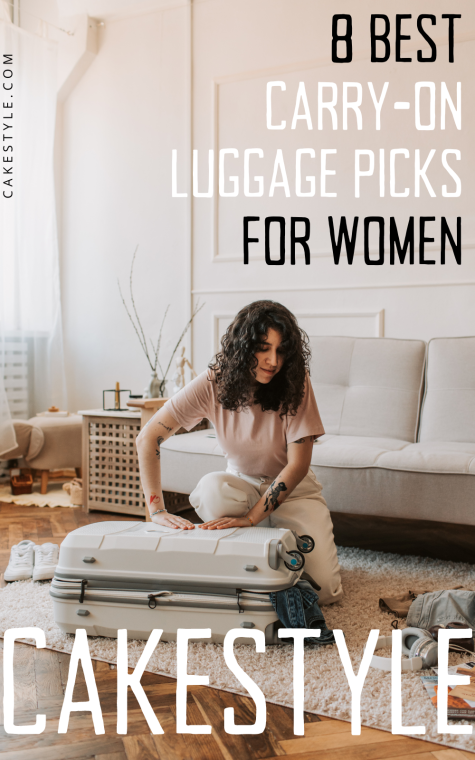 4. Carry-On by July
The July Carry-On is Away's closest competitor with the optional removable USB-C battery pack.
It's a tad bit smaller at 21.5-inches, and weighs in between Monos and Away at 7.4 lbs. July's crush-proof polycarbonate comes in brighter colors that are easy to pick out.
It features an integrated TSA lock, silent wheels, a hidden laundry bag, and an internal Y-strap compression system. However, it doesn't have a compression panel like the first 3 we have on our list.
Tumi's Alpha 3 is a premium soft-sided carry-on that features a hybrid feel. It's the ideal carry-on for the long-term traveler that loves to stay organized.
It features a standard clam-shell open that you find in a hardcase but it also has a front panel that opens, leaving you two options when it comes to packing.
The biggest bonus is that this bag is designed with European and Asian airlines in mind, which tend to have smaller requirements for carry-ons. If you're traveling around the world and want to ooze first-class style, this is the bag for you.
The Helium Aero is a hard-sided carry-on by Delsey Paris that comes in 19 and 21-inch sizes.
Besides its sleek, glossy look it features easy-roll double-spinner wheels, a collapsible handle, and a TSA combination lock. The bag itself is expandable and features an easy-access front compartment where you can store your laptop and tablet.
This bag comes highly recommended, travelers rave about the ease of the wheels, the organization capabilities, and the fact that it generally looks nice. If you love this case and you like to travel with a checked bag too, you can buy the whole set.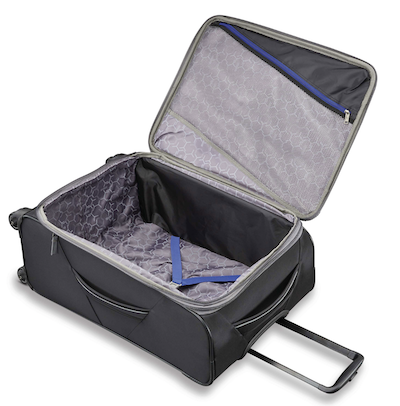 7. Sonic Spinner by American Tourister
For an affordable soft-sided carry-on, American Tourister is a go-to recommendation.
At 21-inches it's a larger carry-on, but it packs small and looks sleek. It features multidirectional spinner wheels, corner protectors, and a 1.5-inch expansion for when you bring your trinkets home.
Travelers report that this bag is lightweight, well-made, and has plenty of room. This bag is big enough for a day trip, a weekend or, if you pack smart, a whole week!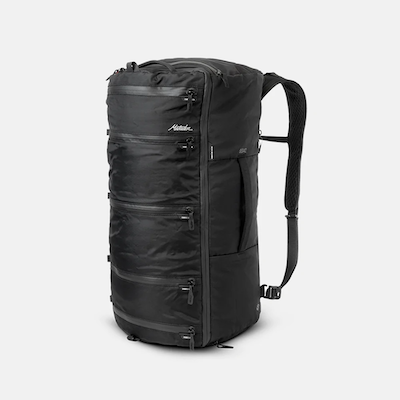 8. SEG42 Duffel by Matador
The SEG42 Duffel technically goes over the carry-on limit at 22.5-inches long, but it's soft-sided and easy to squish if you need to.
This is the ideal bag if you're someone who prefers a backpack over something with wheels that you roll behind you. It's a backpack built for a highly organized traveler featuring pockets and sections to pack your things, including a padded laptop sleeve.
The outer material is not only strong enough to cart around but waterproof, so you can take it on your next hiking trip too! Travelers love the organizational capabilities of this bag.
How to pick carry-on luggage
Picking the best carry-on luggage is very much based on your personal preference, but there are a few things you'll want to keep in mind:
Size
Size is one of the biggest factors when it comes to picking carry-on luggage. You need to make sure it fits into the overhead bin, otherwise, it'll need to be checked. In most cases, that'll be a bag that's less than 22-inches. Ideally, as small and light as you can get it while still being able to pack everything in.
It's worth noting if you travel regularly using the same airline, choose something that fits them specifically. Airlines have become more strict about size and weight post-pandemic, so you'll want to make sure you're following the rules.
Travel needs
Once you know the size you need, it's time to think about what you're planning on bringing along with you. If you're traveling for work, you might be focused on pockets for technology or a sleeve for your laptop.
Something like Monos has a great front pocket for the laptop, but Away allows you to keep your devices charged. It's worth sitting down to think about what's most important for you while you travel and how you pack.
Style
Hardside, softside, backpacks, and duffles — there are plenty of styles to choose from. Hardside is great if you're traveling somewhere wet and rainy, but softside allows for a little extra expansion. You can wheel both through the airport, but you usually have to carry backpacks and duffles.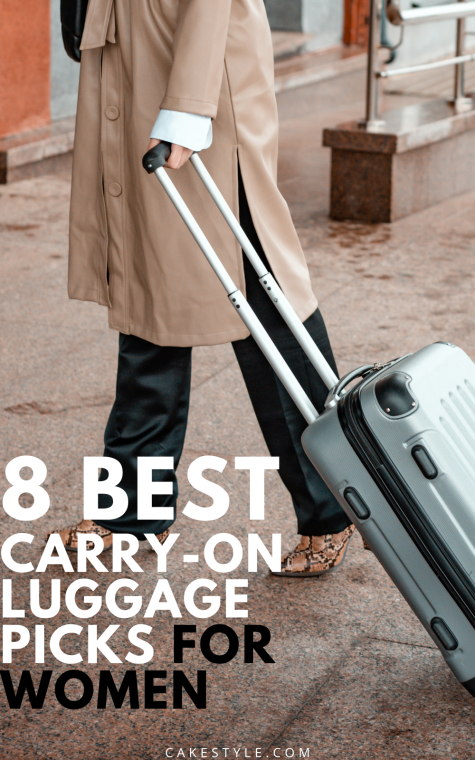 Carry on luggage FAQs
Which type of carry-on luggage is best?
The best carry on for you is going to depend on your personal preferences. However, you'll want to make sure you get something that fits in the plane overhead bin and you can pack all your stuff in. 
Can a 24 inch luggage be a carry-on?
Unfortunately, a 24-inch bag is too large to fit in the overhead bins in most planes. While it varies by airline, carry-ons typically have to be 22-inches or shorter. 
Read This Next:
If you travel often, make sure you get the FoundersCard. It gives you insider benefits at hotels, restaurants, flights, airport lounges, software and more.