It's easy to fall into the rabbit hole of a shopping website with lots of cute tops and dresses that are in fashion. But now more than ever, you should always be vigilant when shopping online. You may end up with something that looks nothing like what you saw on the site. Or worse, you could be scammed.
If you love trendy, affordable brands, you may have heard of DressLily. This stylish outlet offers cheap clothes and accessories. Its prices start at $6,99, meaning great deals are everywhere on the site.
But is the Asia-based retailer a reliable brand? Or is it too good to be true? Let's find out together if you can trust this popular site.
About DressLily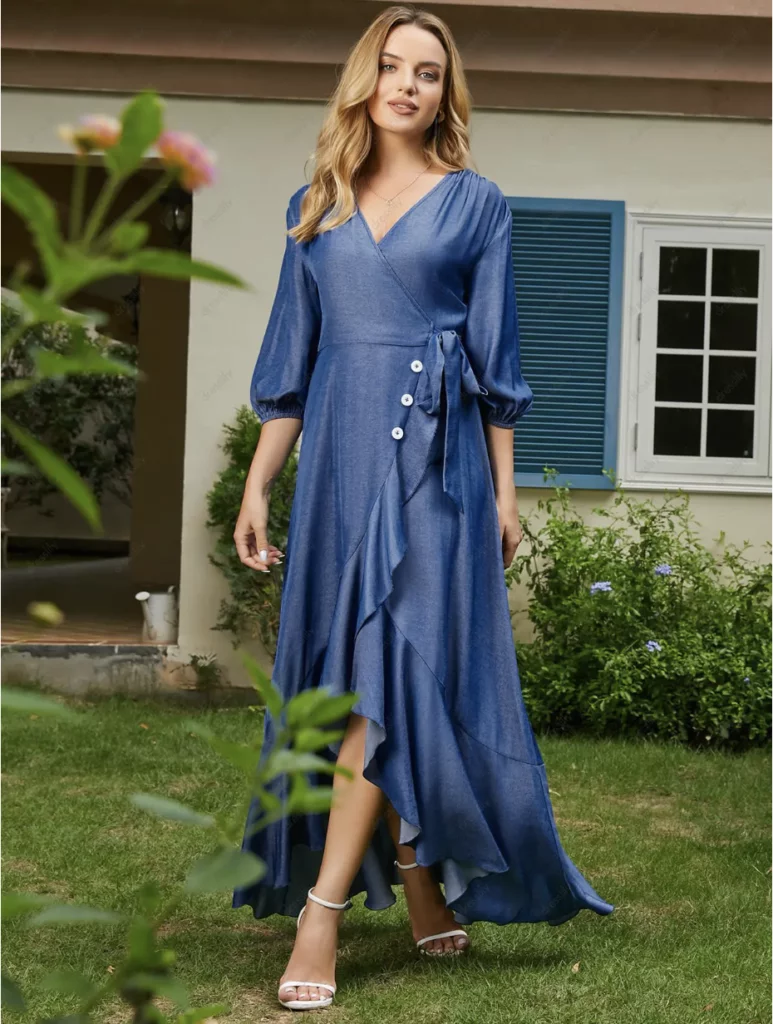 DressLily isn't a new brand. It's an established fashion site, having been around since 2012. Since its launch, the brand has offered beautiful clothes in various styles and designs. The fact that these clothes always come at an affordable price is just a bonus.
The brand is based in Asia, so they can afford to drop the prices so low for their customers. In addition, they can cut costs on the location and manufacturing process. As a result, they can give you awesome prices.
The team behind DressLily believes that every woman deserves to shine. They do their part by providing clothes that make women feel confident and beautiful. There is everything from basics, to glam outfits, to eccentric costumes. They also carry some items for men.
The company has a mobile app that makes shopping much easier. It's also a breeze to get in touch with customer service. You can do it via email, Facebook, or the website's live chat.
They deliver to over 100 countries with free shipping to orders over $59. Because of this, their user base has grown to almost 15 million people around the globe. Everyone also gets 30-day returns, as well as warranties for some products.
Today, the brand has over 700k followers on Instagram. And on Facebook, they have a staggering 11 million likes!
Our Top 5 Dresses from DressLily
Some people may be wary of the company and think they are a scam. But we can give you our word that they are legit. Check out some of our DressLily reviews for yourself.
Vacation Chiffon Midi Floral Sundress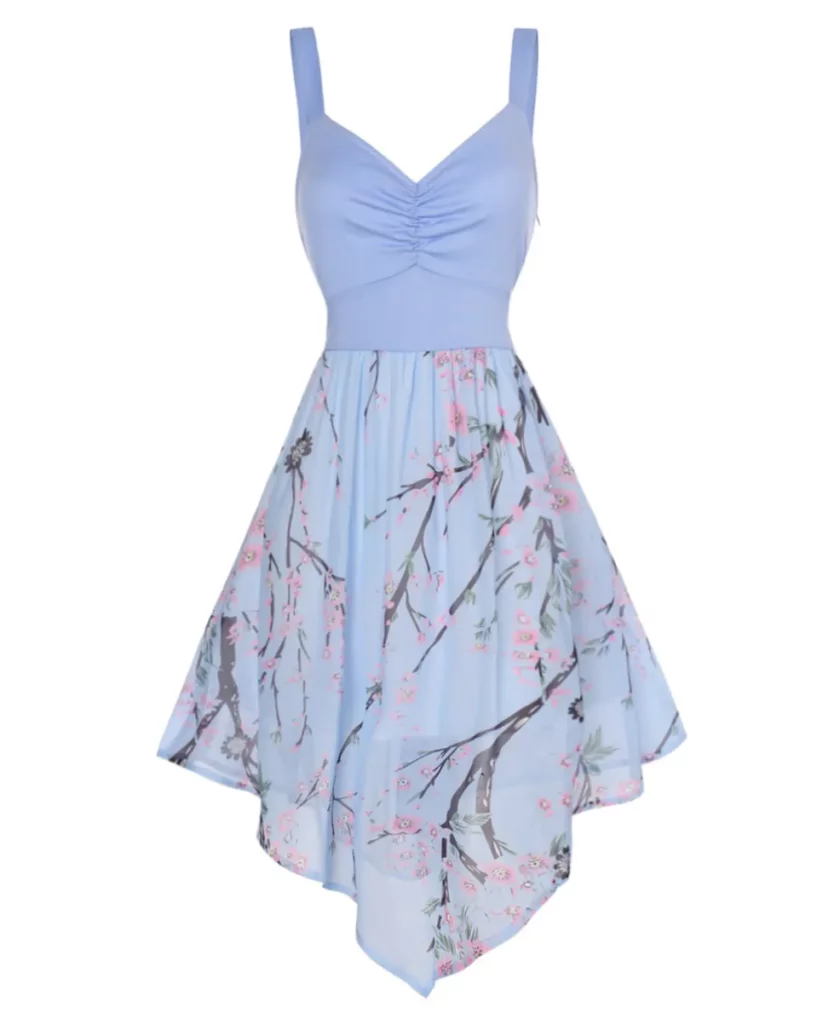 There are a few weeks of summer left, and this sundress would look fabulous to end the season.
This empire-waist dress has a tighter fit in the ruched torso. It then flares into a chiffon floral skirt that feels breathable and breezy. It has a flutter hem to make you look like a fairy at the beach.
It's available in light blue and light green.
What customers like about it:
Gorgeous, girly design
Soft fabric
Summer Flower-Printed A-Line Mini Dress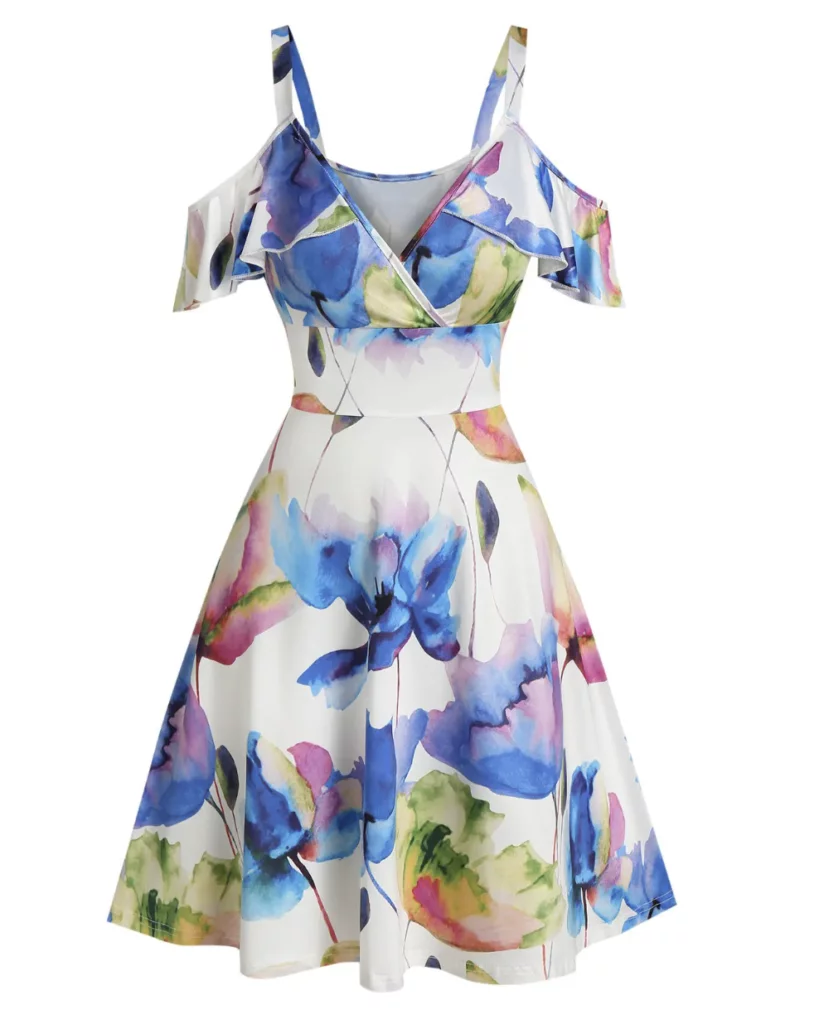 This dress is sexy and girly at the same time. It's perfect for a date at a garden restaurant.
The floral print makes you look fresh and feminine. Some cuts show off your shoulders in a sexy way. But the dress is knee-length, so it covers enough skin to be comfortable.
What customers like about it:
The fabric has excellent quality and doesn't wrinkle
The silhouette makes you look hot!
Flounce Allover Flower Cami Sundress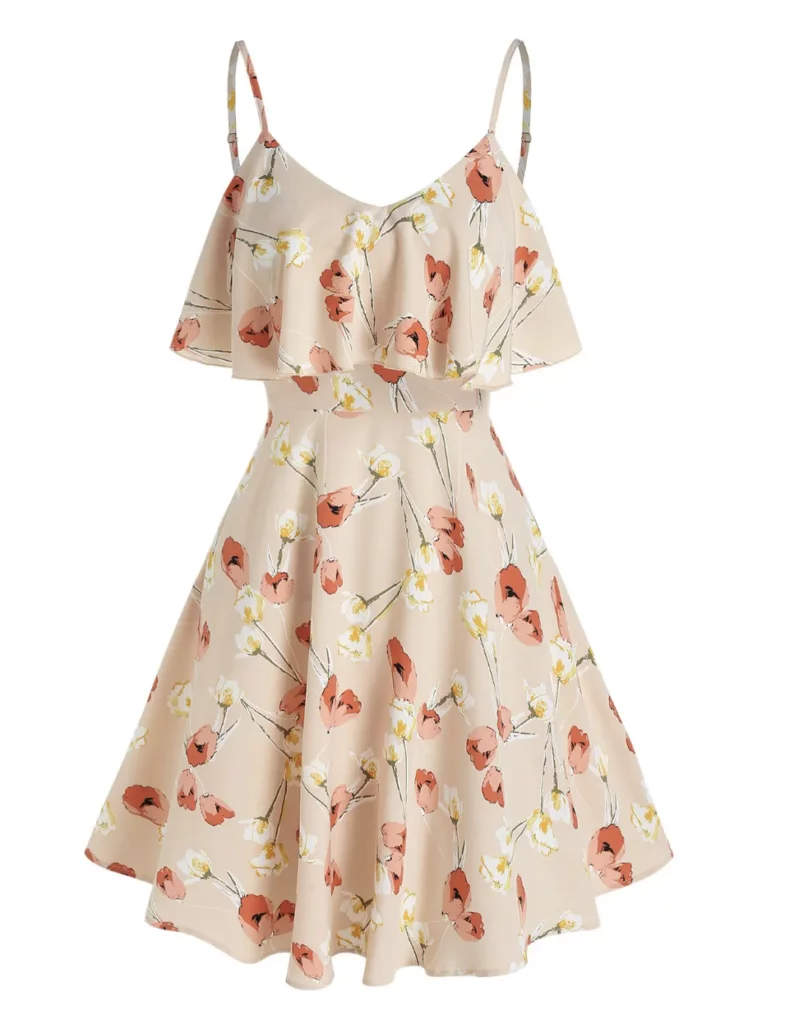 This dress has a cami top with thin sleeves and a flounce overlay for extra playfulness. It flows into a gorgeous sundress skirt. The flowy, floral-printed fabric moves well with your body. It's super breezy and terrific for a sunny day outdoors.
What customers like about it:
Fabric is light and breathable but not see-through
The neckline isn't too low
You May Also Like: L'ange Hair Review: 5 Best Heat Stylers And Hair Care Products
Draped Cowl Front O-Ring Mini Dress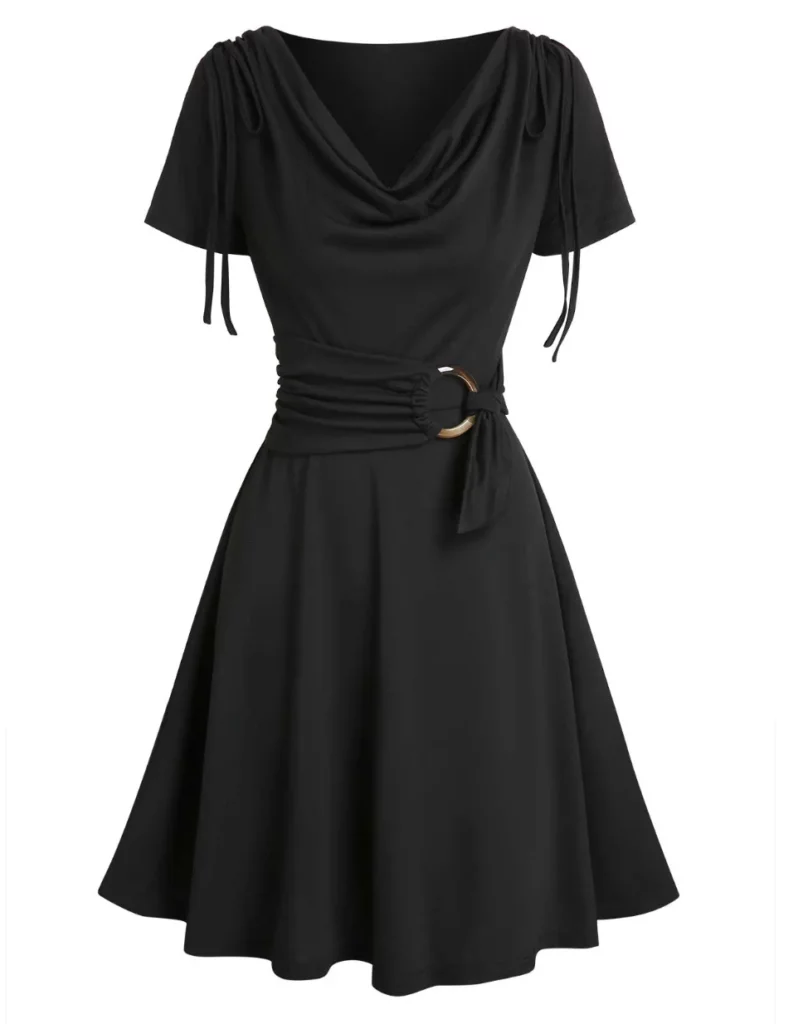 For something a bit more relaxed, check out this mini-dress. It has slouchy fabric that drapes on the torso area for a laidback look. An oversized ring holds it together as a pretty accent. There are also little tie details on the shoulder area for a girly touch.
This dress is available in five colors and sizes S to XXXL.
What customers like about it:
Looks great on all sizes
Cute design
Tie Collar Floral Ruffles Milkmaid Dress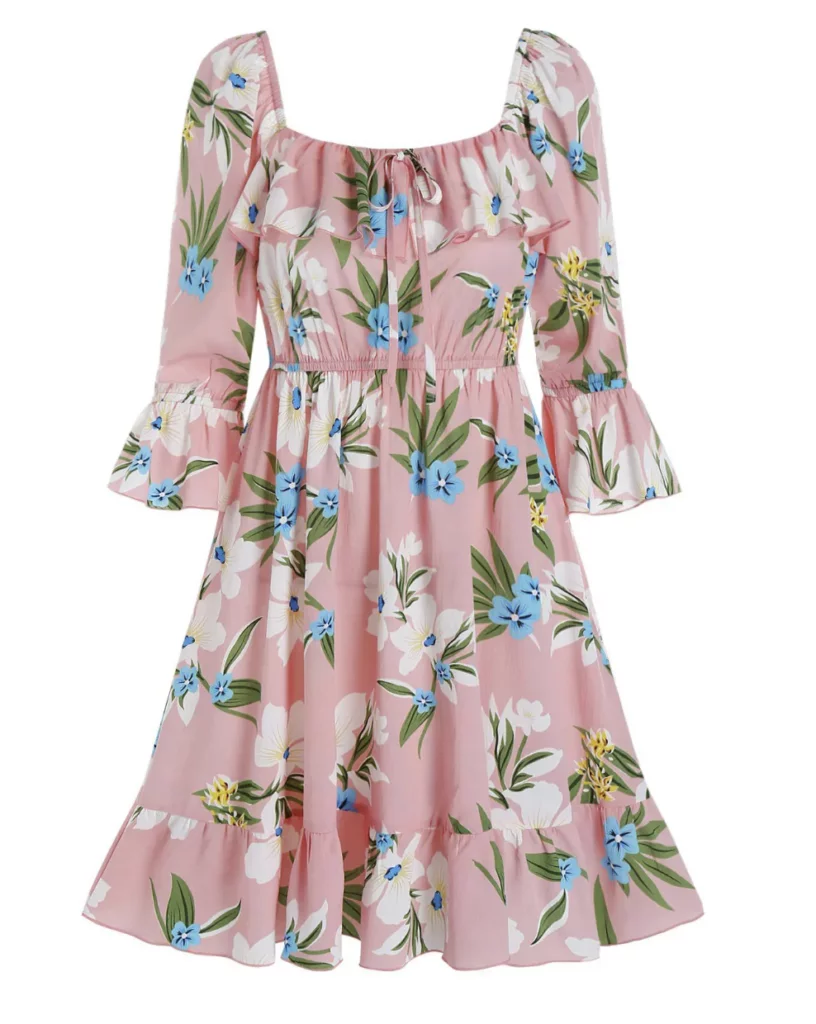 Not a fan of sleeveless shirts? Try this floral milkmaid dress. It has long sleeves, but it's still fashionable and charming. There are subtle ruffles in the sleeves and hem of the dress for a cute, vintage-inspired finish.
What customers like about it:
True to size
Romantic and feminine
Gothic Outfit Punk Lace Set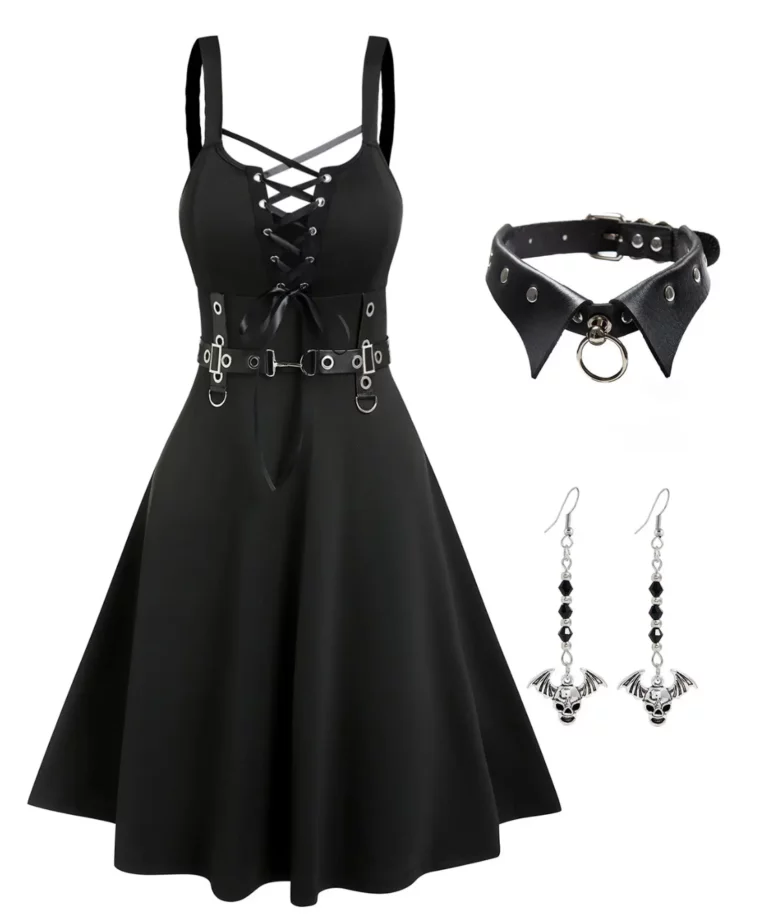 DressLily offers different styles of dresses for every holiday season. It is the perfect destination to find an appropriate dress for any occasion. This Gothic set includes a dress, necklaces and earring.
Let yourself be a bit naughty with this set.
What customers like about it:
Looks exactly like on the picture
Sexy
Halloween Outfit Skull Pattern Lace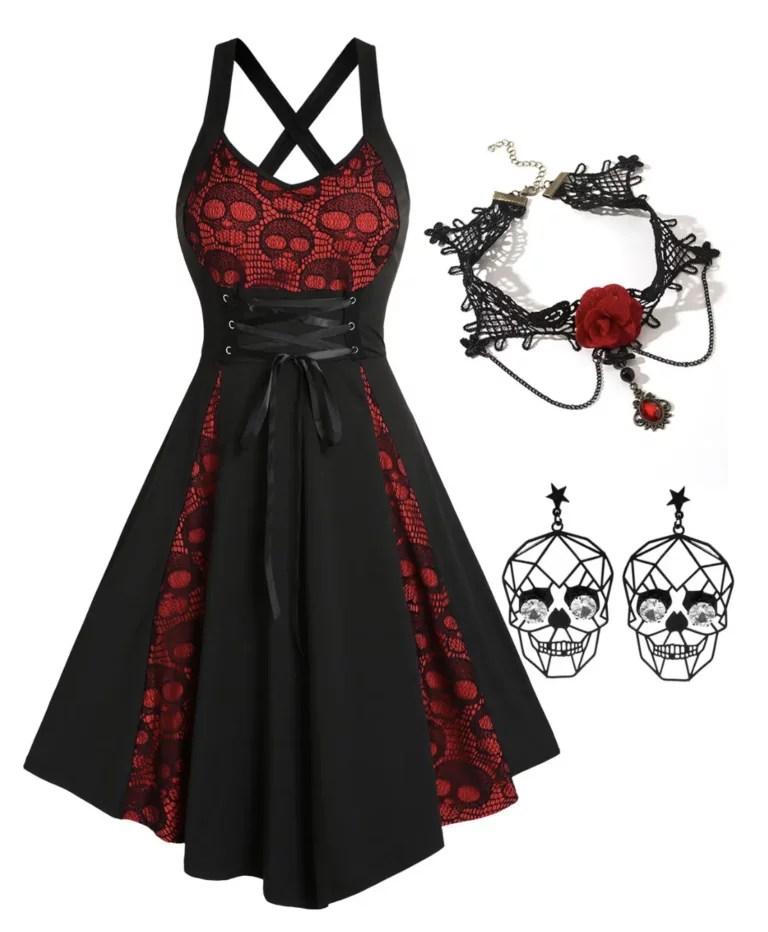 It's time to get into the spooky spirit! With this Gothic style costume, you're ready to go out at any party. Gothic dress consists of a corset and skirt with laces. It can be worn when you want to look elegant but not too sexy.
We also found these cute skull earrings adorable.
What customers like about it:
Fits like a glove
Light and breathable
DressLily vs. Shein
Sure, these two may have a lot in common. But some differences make DressLily a much better option.

Brand Name
Description
Description
This stylish outlet offers affordable clothes and accessories. Its prices start at $6,99, meaning great deals are everywhere on the site.
Asian retailer that offers a wide variety of clothes, shoes and accessories for women, men and kids.
Shipping
Shipping
Free shipping over $59
Free shipping for all the orders
Returns
Returns
30-days return
Free returns within 45 days
Prices
Prices
Starts from $6.99
Starts from $6
App
App
Free app for easy shopping for iOS and Android
Free App for iOS and Android
Special Offers
Special Offers
Discount: 20% OFF, with promo code DL10
15% off for the first order
One big difference between DressLily and Shein is the kind of clothes they offer. While Shein sticks to trendy pieces only, DressLily has unique costumes and theme apparel. So, if you have an eccentric soul, you'll enjoy DressLily more.
DressLily customer support also trumps that of Shein. However, there are lots of complaints about the service of the latter. Meanwhile, DressLily support is easy to contact and offers excellent service.
DressLily Pros and Cons
Pros:
Wide selection of clothes for the whole family
It has unique costumes and theme apparel
Affordable prices
Free shipping for orders over $59
Shopping app for iOS and Android
Ships worldwide
30-day returns
Easy to reach customer support
20% discount with exclusive code: DL10
Cons:
Shipping can be as long as 18 days
Sizing may be a little off because of standard Asian sizes
Is DressLily legit?
It's a legitimate online fashion store affiliated with an e-commerce company in Hong Kong. It's been around for ten years. It has consistently offered low prices for products that are pretty and stylish.
DressLily Customer Reviews
There are lots of the brand reviews online. Most of them are satisfactory, while others complain of delays in shipping. Regardless, DressLily impresses buyers with quality clothing at a low price.
One review is from YouTuber TheCheapChick, who ordered many dresses from the retailer.
She raved the most about the versatility of the brand's selection. "There is a wide variety," she starts. "They even have fancy-type dresses or theme-type dresses. I don't think there is anywhere else you can find such a selection of dresses."
Bridgette Turco also did a review about DressLily. In her video, she tries on some black summer dresses. While Bridgette mixed up some sizes, everything still looked good on her. In addition, she liked some dramatic details these models have and found them cute. Besides, you can see how DressLily models look on curvy girls.
You can check out their tagged photos on Instagram for more photos of women in their clothes!
Is DressLily worth it?
The brand has a wide selection of affordable clothes and accessories. So whether you like girly dresses or simple essentials, DressLily has something for you. So yes, it's worth a try, especially since it's tried and tested by many shoppers.
You even get free shipping for orders over $59 and a 30-day return policy. So that makes it even more worth the buy. Don't forget about 20% discount for the CakeStyle readers with exclusive code: DL10
Just be aware that your orders can take longer than usual to ship since the company is located in Asia. But, if you have the patience for it, you'll be rewarded with beautiful clothes that don't leave your wallet empty.