Picking out eyeglasses is no joke. But, just because they're prescription glasses doesn't mean they should look boring. They're going to be a daily accessory. So, you need to find ones that flatter your face shape and are aligned with your style.
The problem is buying chic; high-quality glasses can sometimes cost an arm and a leg. Some designer brands can cost upwards of $100; others even more.
But who says you have to pay a fortune to cop stylish, well-made eyeglasses?
With a brand like Zenni Optical, you can choose from over 2,500 different frames. The best part is that you can do it without breaking the bank. Today, we'll go through what the brand stands for and some of its bestsellers.
About Zenni Optical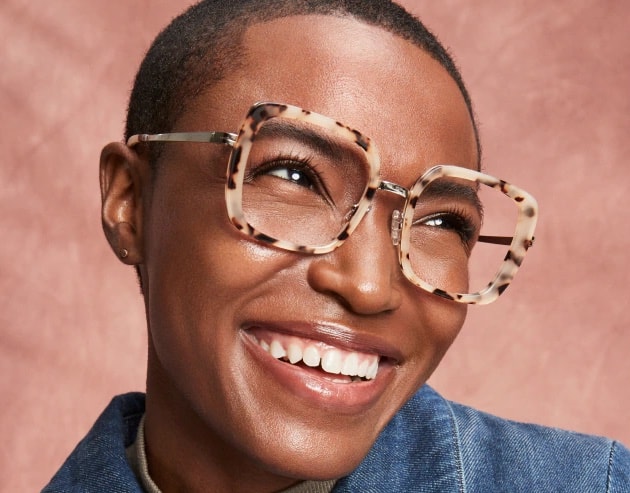 Zenni Optical was founded by two scientists in 2003. The company was born in the heart of San Francisco—a hub of fashion-forward, innovative brands.
The brand was launched on a simple pretense: everyone deserved to see properly, look good in glasses, and not have to pay hundreds of dollars. They believed that all people should have access to high-quality and affordable eyewear.
Inclusion and celebrating diversity sit at the brand's and its team's core. So, they ensure two things for their customers. The first is affordable pricing for all items. The next is a wide selection of eyewear to choose from, so there's something for everyone.
Prescription glasses start at $6.95. But they don't stop there. You can also shop for sunglasses, non-prescription frames, blue-light-blocking lenses, and more! In addition, Free-form, progressive glasses will have a higher but reasonable price of $35.
There are thousands of frames to choose from on their website. That means it's easy to end up with your dream frames in the precise color and shape you want. They're made with state-of-the-art materials to give you the finest quality possible.
Since its inception, the company has sold over 40 million pairs of glasses. They've also collaborated with influencers like George, Claire Kittle, Iris Apfel, and more. 
The brand has built a large, solid community on social media. On Instagram, they have over 325k followers. And on Facebook, they have more than a million likes. Big stars like Rashida Jones have caught on the Zenni bandwagon (the actress proudly sports her pair!).
Ordering from Zenni Optical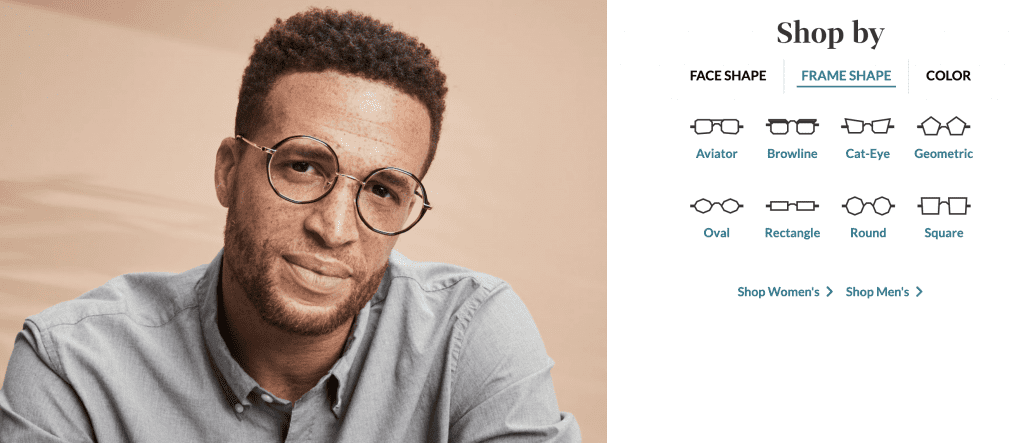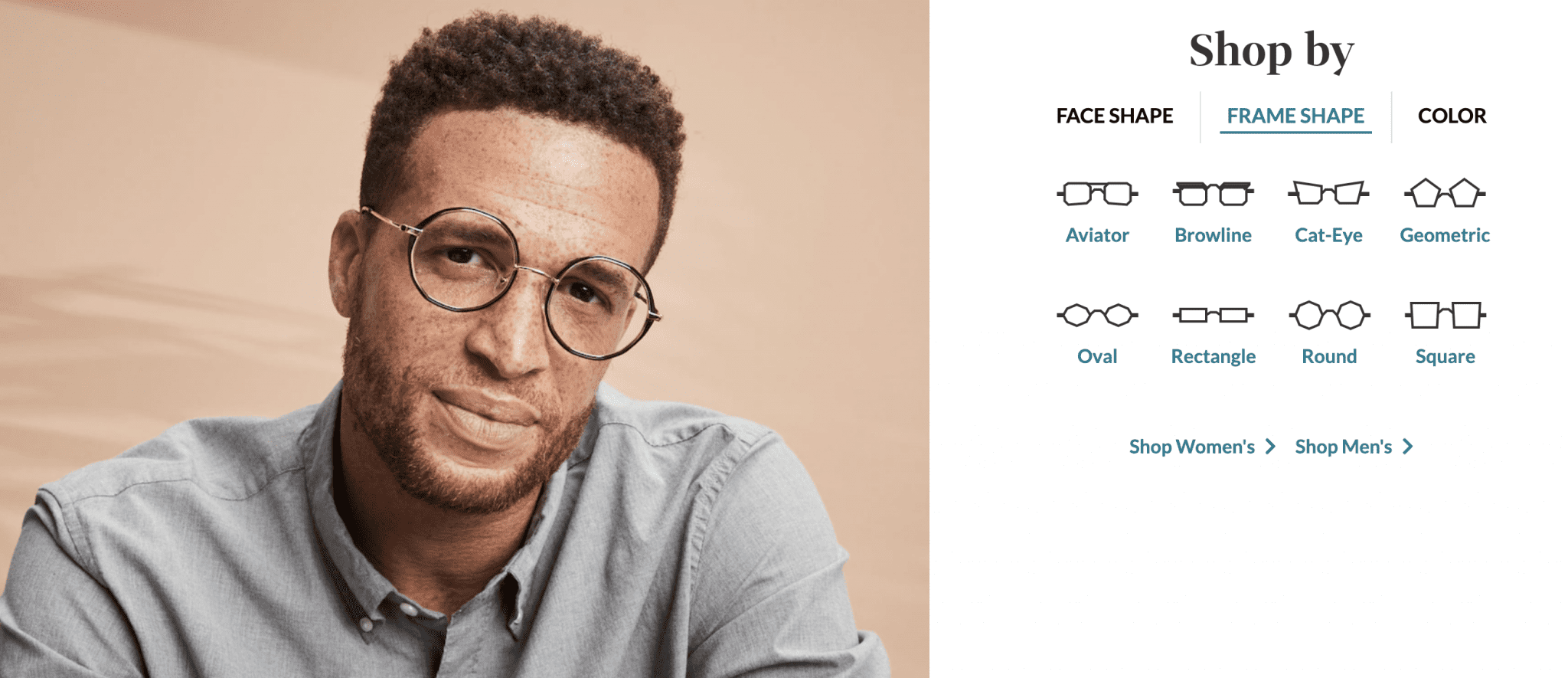 One of the best parts about shopping on the brand's website is its try-on feature. It allows you to check how a certain frame looks on you before you buy it.
Every time you place an order on the website, they send it straight to the factory. There, your frames are custom-made according to your choices. Then, your eyewear goes through every step of Zenni's meticulous quality control process.
After that, your glasses are carefully packed and shipped to you! They come with a simple yet beautiful eyeglass case and a complimentary lens cloth. On a regular day, the brand ships out 7,000 pairs worldwide (in over 80 countries, to be exact).
The brand also boasts award-winning customer service. They have a team that's always on top of every order. So, if you have questions about your order, don't hesitate to contact support.
It only takes 3-5 for delivery, and you get 30-day returns. The only con is that they don't provide free shipping, starting at $4.95.
Pros and Cons
Pros:
Affordable pricing
Wide range of stylish frames
Virtual try-on feature to help you decide what to buy
Over a million social media followers around the world
You get 30-day returns
Just 3-5 days for doorstep delivery
Has collabs with influencers and stars
Excellent customer support
Cons:
Zenni Optical Bestsellers Review
Browline Glasses 1911823


These browline glasses are for you if you want a vintage style with a touch of bookish charm. The round, metal frames complement bold facial features and bigger face shapes. It gives your face a softer look.
This frame design has brow and temple arms that are nice and glossy. This touch gives you that sensitive artist look.
They're available in dark brown with flecks of green and three transparent hues. These are clear, lilac, and honey.
What customers like about it:
Lightweight and comfortable
Perfect for those who love vintage frame styles
Cat-Eye Glasses 2024421


Next up, we have an angular cat-eye frame. This trendy frame is cute on those with rounder face shapes, as it can add a sharper look to the face. But, again, this is an excellent choice for women who want a bit of attitude and youthfulness in their eyewear.
The TR90 plastic frames have a glossy finish. It's available in four colors—black, cream, tortoiseshell, and red.
What customers like about it:
Gorgeous and chic style
Complements broad faces
Comfy and easy-to-wear
Square Glasses 3218617


Another style that will look great on small, round faces is the classic square frame. These square glasses create flattering angles for faces that have delicate features. They're also great if you want to pull off a competent, professional look.
The thin metal rims of the frames make them perfect for everyday wear. It's attractive but never flashy. Add a fashion tint to the lenses if you want flair to this simple frame. It would suit the large size of the lenses well!
These frames are available in black and ultraviolet variants.
What customers like about it:
Simple yet fun and customizable
Frames are thin and lightweight but still sturdy
It doesn't slide down the nose
Very high-quality
Round Glasses 101235


These frames are part of Zenni's "Faithful to the Bay" collection, which honors the 49ers and authentic San Francisco style. In line with this, these round frames are thick-rimmed and have a pop of color to grab attention. It's perfect for anyone who wants to be bold, even in everyday glasses.
The frames are made with hand-polished acetate. It has a keyhole bridge and thinner temple arms for extra pizzazz, too!
You can get these in sea glass, red, and classic tortoiseshell colors.
What customers like about it:
Perfect fit on the face
Superb quality
Durable, so they'll last a long time
Square Glasses 127921

Lastly, we have the ever-reliable basic square frame. It's simple but still looks universally fantastic on anyone. This is awesome for anyone who doesn't want that much attention from their eyewear but still wants to look like a million bucks.
There are loads of color options for these frames. You can go for live glossy colors or matte options, which range from red to tortoiseshell.
What customers like about it:
Super lightweight, making it very comfortable
Durable and lasts years without breaking
Zenni Optical Customer Reviews
The brand has garnered over 130k reviews on Trustpilot. On the site, they have an excellent score of 4.6 out of 6—pretty high as far as Trustpilot goes. There are also thousands of rave reviews on the official website.
Check out this YouTube review from HanahFiles as well. She did a shopping haul of 20 pairs for the brand and showed fans how each one looked when worn. It's an awesome way to see how multiple frame styles look on a real human being.
Zenni Optical vs. Eye Buy Direct vs. Warby Parker
Wondering how the brand fares vs. its top competitors? Then, check out how Zenni Optical outperforms them.
You can find glasses for men, women and kind:
reading glasses, sunglasses,
sport glasses,
blue light glasses, contacts and etc

You can find glasses for both men and women:
reading glasses, sunglasses,
contacts and etc

You can find glasses and sunglasses from Eye Buy Direct and other premium brands

Botanist, starts from $35

Free shipping only from $99

Wide range of stylish frames

Just 3-5 days for doorstep delivery

Has collabs with influencers and stars

Excellent customer support

You can add anti-scratch coating on the lenses

There in no free shipping

Delivery takes up to 12 working days

Free shipping only from $99

Delivery may take up to 14 days
The brand is far more affordable than brands like Warby Parker. For example, glasses start at less than $6.95.
Meanwhile, the cheapest pair at Warby Parker is an astounding $95. Also, Warby Parker seems to have customer service that is quite poor, going by reviews online.
This is a far cry from Zenni's award-winning customer service team, which is great for peace of mind.
Zenni Optical and Eye Buy Direct are both affordable. But when it comes to deliveries and returns, Eye Buy Direct isn't the best.
For example, delivery can take up to two weeks from the brand. Plus, they only have 14-day returns, unlike Zenni's 30-day policy.
Is Zenni worth it?
Absolutely! The company offers a wide range of eyewear styles for an affordable price.
The designs are simple yet attractive. And as long as you know how to pick frames for your face shape, they're sure to be flattering on you. But, of course, the fast shipping and 30-day returns are just the cherries on top when buying from them.
When you need a new pair of glasses but don't want to burn a hole in your pockets, try out Zenni. You get quality, style, and loads of frame options, all for a reasonable price.
Read This Next: