Are you considering buying jewelry from this brand? Make sure you read our Eve's Addiction review first.
Purchasing a unique gift can be a fun experience. You may be purchasing the gift for a dear friend or family member or even treating yourself. But, there are many options available, which can feel overwhelming. Jewelry is always an excellent choice when it comes to a meaningful gift. A custom piece is a beautiful way to mark a special occasion or time in someone's life.
With all the jewelry customization options available, it can be hard to choose the right company. Therefore, we will take a look at a brand that offers a wide range of customized jewelry pieces at exceptional prices.
Enter Eve's Addiction — a company that has pieces that are not only beautiful and high-quality but affordable. They can also deliver to your door in 24 hours. Gone are the days of waiting weeks for a custom piece of jewelry.
But is it too good to be true? Today, we will learn more about Eve's Addiction as a brand and explore some of its most reviewed products.
About Eve's Addiction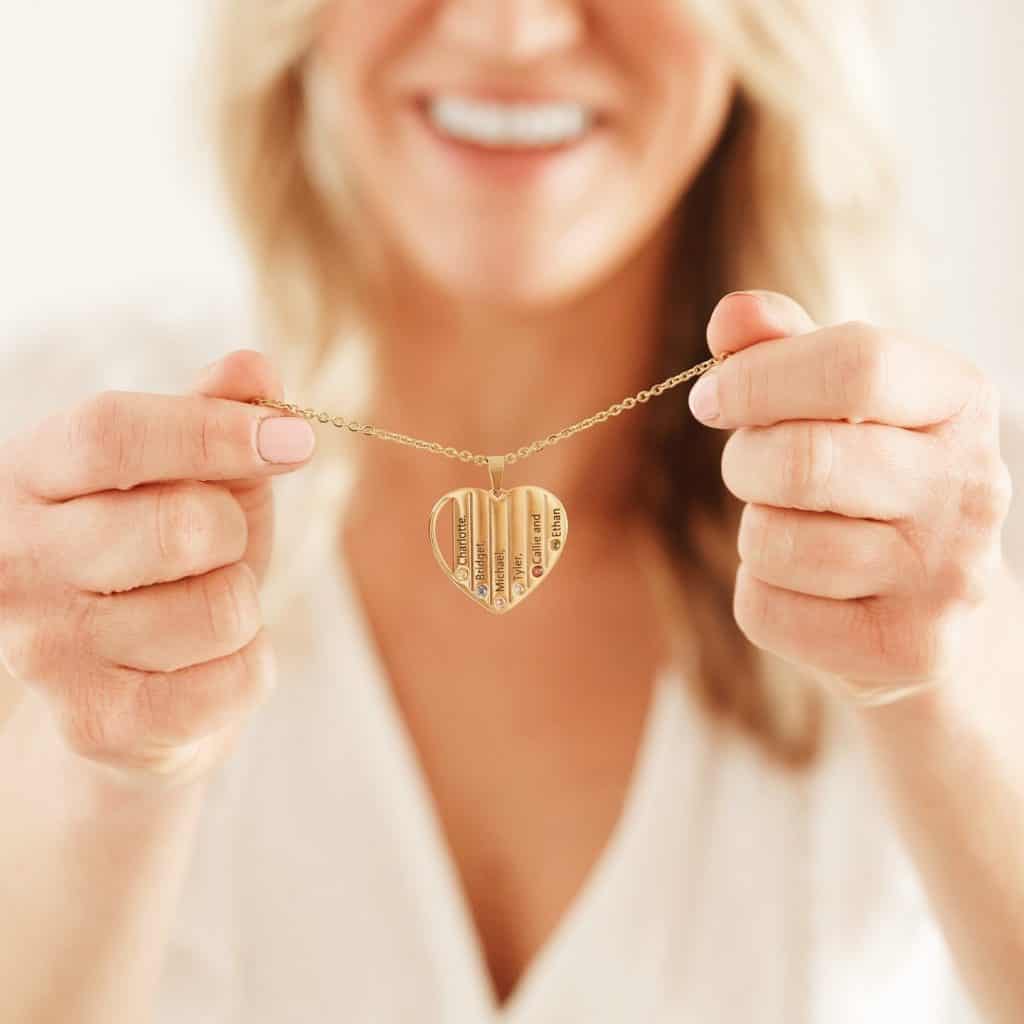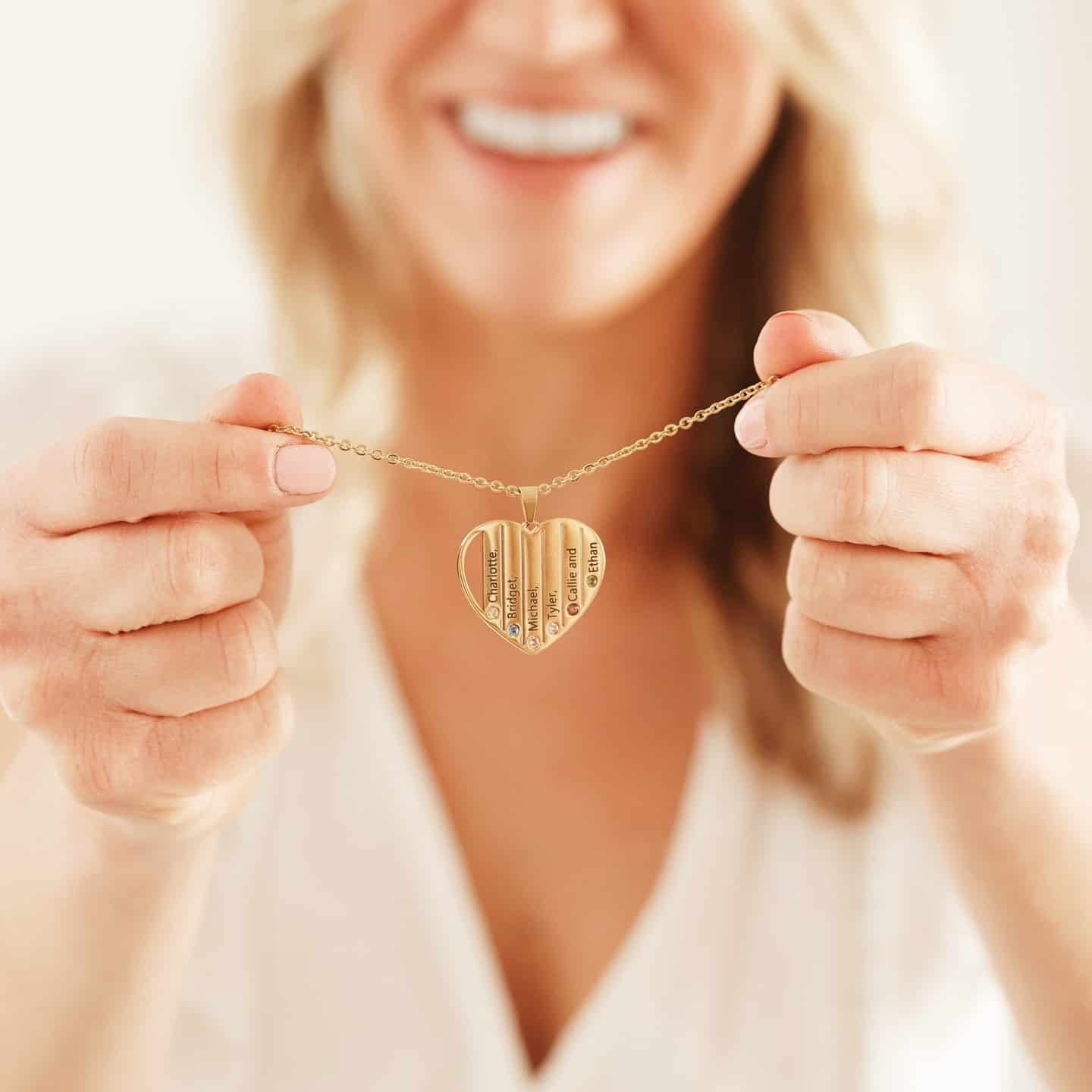 Founded in 2004, Eve's Addiction is a jewelry brand that has made it its goal to gain the loyalty and admiration of its customers. By creating beautiful and quality pieces, they keep their customers coming back year after year.
Eve's Addiction has a custom piece for any occasion when it comes to personalized jewelry. With a brand that keeps up with the latest trends, you can find customized necklaces, bracelets, and rings.
The Eve's Addiction merchandising team works with industry experts to keep up with the hottest jewelry trends. They provide on-trend and high-quality pieces, but they provide them at a competitive price. It combined with fast shipping, makes them an unstoppable brand.
On their website, you can find many custom jewelry options. This includes monogram necklaces, engraved bracelets, coordinate necklaces, birthstone necklaces, and their newest graduation pieces. Each custom piece of jewelry is treated with the highest level of care and delivered in a keepsake Eve's Addiction jewelry box. It makes them an ideal choice for a sentimental gift.
With the highest importance on their customers, Eve's Addiction wants each of their customers to feel special when they put on one of their pieces. They understand how important happy customers are. The brand takes its customer service a step further.
They want to ensure that each shopping experience is easy and seamless. If any issues arise, you can promptly contact them by phone or live chat to resolve any problems.
Eve's Addiction is developing a large following online. They have over 317k likes on their Facebook page and a growing Instagram presence of 17k followers.
This jewelry brand has been featured in the media, including Today, Allure, Vogue, and Buzzfeed.
How to Order From Eve's Addiction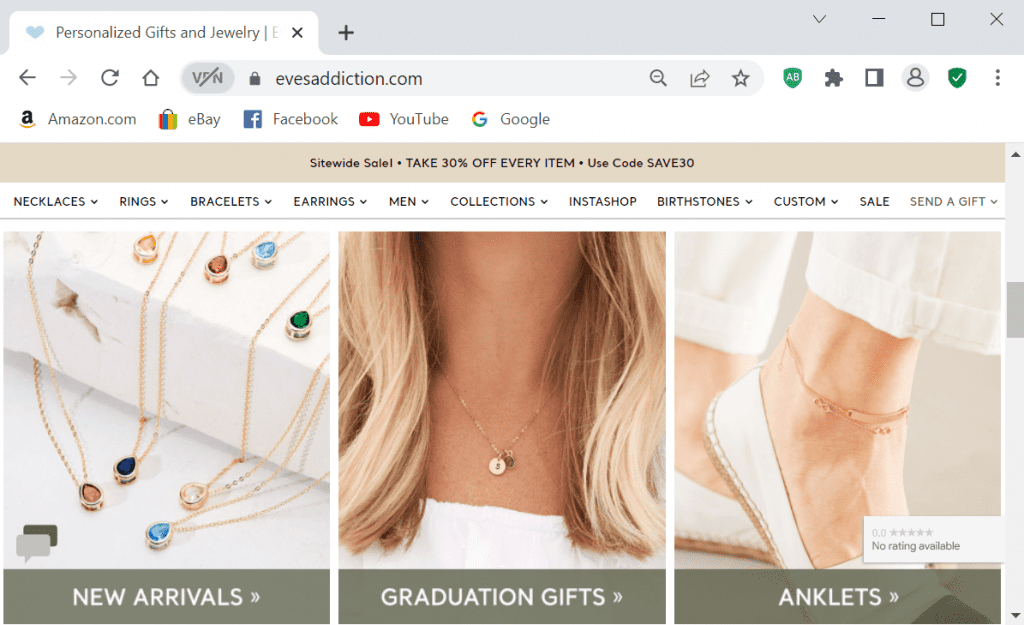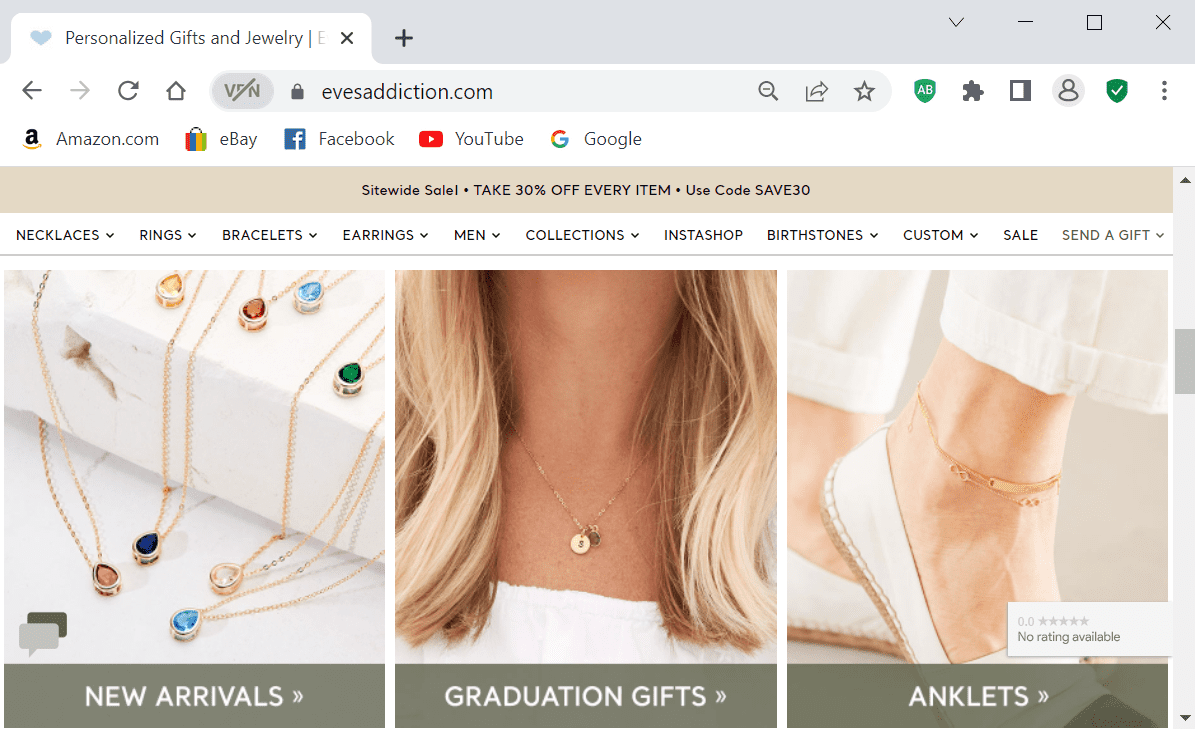 Although Eve's Addiction offers a wide range of products to choose from to purchase, its website is easily navigated. As a result, you can quickly find exactly what you are looking for.
On their homepage, you can find items for special occasions, including Father's Day, graduation gifts, and new arrivals.
The top navigation of their website is divided into broad categories such as necklaces, bracelets, rings, men, and more. When you click on those categories, it will break down into further subcategories such as birthstone necklaces, initial rings, and cubic zirconia earrings.
Eve's Addiction also has a specific sales tab with 30% off. In addition, they also offer sales pieces for special occasions.
The return and exchange window is open for 60 days. This gives you plenty of time should you not be satisfied with your purchase.
If you place your order by 1 pm EST, it will ship within 24 hours. However, this does exclude most monogram and nameplate styles.
If you wish to buy an extra warranty for your pieces, you can buy a 1-year warranty for $9.99. It can give you peace of mind that your jewelry will protect you. This is not only for defects in the materials and artistry but also in your jewelry's everyday wear and tear.
The warranty on your jewelry will cover inspection, cleaning, and refurbishing of your jewelry 2 times throughout the warranty period, sizing, replacement of missing stones, clasp and chain repair or replacement, and earring post or earring back repair and replacement as needed.
There is free shipping with a purchase of $50 or more from their website.
Eve's Addiction Jewelry Reviews
Interlocking Hearts Custom Birthstone Locket
This custom birthstone locket is a beautiful gift with a beautiful filigree design. It can display the birthstones of up to 5 special people in your life or a loved one.
The interlocking heart design can be made in beautiful sterling silver, gold, or rose gold. It is on a 16-inch rolo chain with a 2- inch extender.
What customers like about it:
Beautiful necklace with a dainty chain
Feminine design
Great craftsmanship
Birthstones are a great reminder of loved ones
Dogeared Accomplish Magnificent Things Sterling Silver Necklace
For someone going through a tough time or entering a new chapter in their life, this beautiful sterling silver necklace is a perfect reminder of strength. It is a subtle yet sentimental piece of jewelry with a gorgeous starburst charm and a 16-inch rolo chain.
It comes on a sweet card, "Make a wish and put on your necklace. Then, get ready to accomplish the incredible! You can do whatever you set your mind and your heart to." This necklace is the perfect gift for yourself or someone you love.
What customers like about it:
Dogeared
Delicate and beautiful
Exactly as expected
Custom 2 Heart Birthstone Infinity Ring
This ring is perfect if you are looking for the perfect piece of jewelry to feature the birthstones of someone special. It comes in sterling silver, gold, and rose gold and features two birthstones. It is the perfect way to display your birthstone and your spouse's, the birthstones of children or even grandchildren.
The two cubic zirconia hearts elevate at the center for everyone to see. You also have the option to engrave this stunning piece of jewelry. This ring measures approximately 6 x 6 millimeters and weighs 3.5 grams.
What customers like about it:
Beautiful ring
Hearts are a perfect size
Easy to customize
Custom Bezel Set Birthstone Gold Name Bracelet
Have you been looking for the perfect gift for your mom or best friend? This stunning bracelet allows you to customize the name engraved on it. You also can select one birthstone to feature. The birthstone is set in the bezel next to the name.
You can take the customization a step further and choose your font. You have many metal options, and this bracelet can be made in sterling silver, gold, or rose gold. This bracelet is on an 8-inch chain, with a .25 carat birthstone and a spring-ring clasp.
What customers like about it:
Pretty and comfortable
Great way to remember someone who has passed
Gorgeous bracelet to give for a special occasion
Personalized Spread Your Wings Graduation Necklace
If you have someone who is about to be a graduate, this necklace is a unique way to remember this time in their life. This necklace features a ⅝ inch sterling silver wing charm, a hand-stamped initial charm and a birthstone charm. You can customize an exceptional piece of jewelry with this item.
The birthstone bead is ¼ inch long, and you have the option of 12 popular birthstones. In addition, you can add the graduate's initial with the ⅜ inch initial charm.
This beautiful necklace comes on a gold foiled card and a keepsake box. This makes it ready to give right upon delivery.
What customers like about it:
Perfect graduation gift
Great size and style for everyday wear
Can buy multiples for any graduates in your life
Eve's Addiction Pros and Cons
Eve's Addiction Pros:
Wide range of excellent quality products
Offers a beautiful selection of personalized jewelry
Affordable
60-day return and exchange
24-hour shipping option
Free customization
A gift box comes with every order
Eve's Addiction Cons:
Some people complain about their customer service
Eve's Addiction Reviews
On the brand's official website, they have 4.8 out of 5 stars with over 400 reviews. In addition, photos of customers' personalized jewelry are on their social media channels.
There are Youtube video unboxings with Eve's Addiction products. For example, Youtuber Reviews by Alexis has a great video of a couple of gorgeous Eve's Addiction pieces of jewelry.
She states that she doesn't mind the darker color of the meta because the price of the products didn't cost an arm and a leg.
Eve's Addiction vs. Kendra Scott vs. Jared
Eve's Addiction is not the only jewelry brand to offer customized jewelry pieces. But, how does Eve's Addiction compare to the other two?
Gold Plated Silver, Rhodium Plated Base Metal,
Stainless Steel, Sterling Silver

Yellow, rose and white gold,
Gold Plated Brass,
Sterling Silver

White, yellow and rose gold,
Sterling Silver


Personalized jewerly for women and men:


Jewerly for women and men:

Jewerly for women and men:

Free shipping for all the orders
Eve's Addiction offers a broader range of customizable jewelry pieces at a lower price than the other companies. They also offer a longer return window which is great for gift-giving. This allows the person to exchange or return for a more extended period if they wish to do so.
Is Eve's Addiction Worth It?
After careful review, we think Eve's Addiction is worth it. They offer a vast variety of customizable pieces of jewelry. You can find a piece of jewelry for almost any occasion and any particular person in your life.
Their prices are competitive compared to similar brands. An extended return window is a huge bonus as well. Their jewelry is high-quality for an affordable price. If you want to try out one of their pieces, you can always purchase it from their sales page.
You can buy the warranty for $9.95 or receive your package with free shipping with a $50 purchase. With this peace of mind, their products are very much worth it.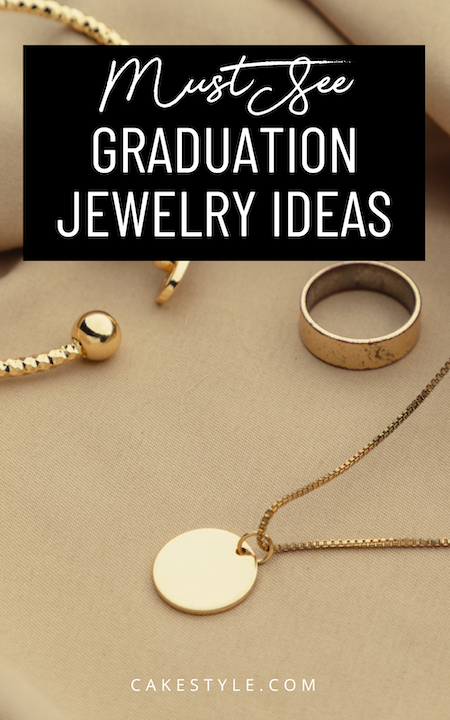 Reads this next: Angara Jewelry Review: Your New Go-To for Custom Fine Jewelry