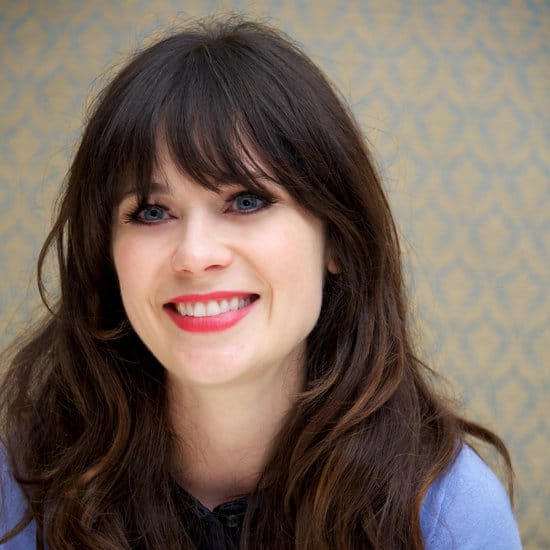 Whether starring in the latest indie film, making us laugh in her hilarious sitcom New Girl, or dressing for everyday life, Zooey Deschanel always manages to look chic and fashionable. Her dark, blunt bangs are a signature in the beauty world, and her fashion choices have gained a cult following as well.
Zooey is a personal style icon of mine – I may or may not have gotten my hair cut to mimic her 'do, and I envy the fact that she always looks like she stepped straight from Anthopologie (always with her own personal twist, of course!). Whether you're as much of a fan as me or not, it is undeniable that Zooey has mastered the art of developing a signature style. A true style icon knows what works with her body and then completely owns that style and makes it her own. That is exactly what Zooey has done – how many times have you seen photos of her in an A-line dress? Even though she repeats the tried-and-true silhouette, she still looks fun, quirky, and original every time she wears it. My favorite thing about Zooey's style is that she inserts her point of view into her TV and movie personas. Check out the slideshow below to see some of the best stylish shots of Zooey on- and off-screen!
As an affiliate partner of various brands and sponsored content, CakeStyle may earn commission on qualifying purchases. Disclaimer | Advertise With Us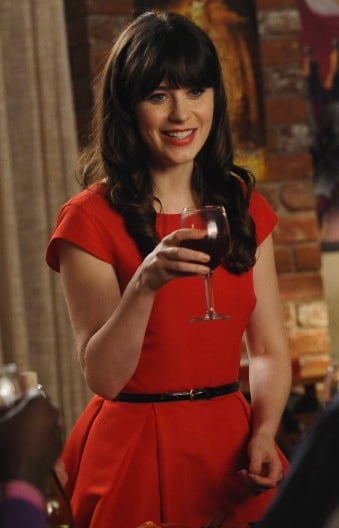 Ted Baker on New Girl
Zooey's character Jess on her hit show New Girl happens to wear a lot of our favorite CakeStyle brands! Here, she is pictured in this classic red dress by Ted Baker. I love how she accessorizes the dress with a skinny black belt. The look is classic and retro-inspired, in true Zooey fashion.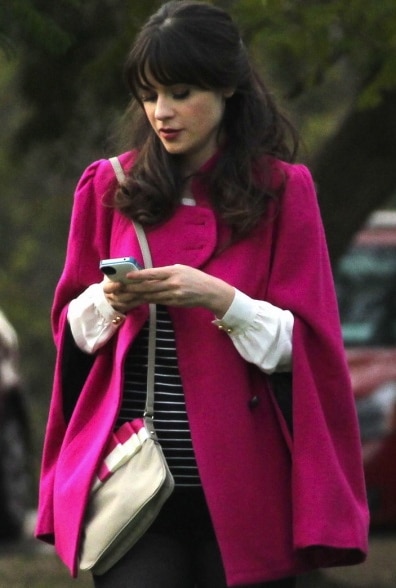 Corey Lynn Calter on New Girl
Corey Lynn Calter, another CakeStyle favorite, also makes an appearance on New Girl! Here, Zooey wears this orchid-colored cape over a monochrome outfit. It's the perfect pop of color, especially for brightening up a winter day!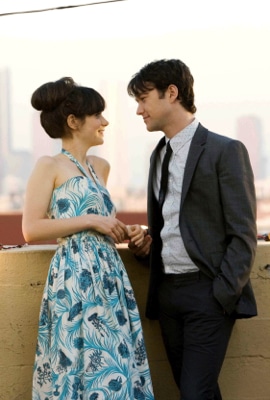 Printed Sundress in 500 Days of Summer
In one of my favorite movies of all time, 500 Days of Summer, Zooey opts for a printed sundress in a rooftop-party scene. The turquoise color of the print looks stunning with her hair color and skin tone, and I love how the print is a bit more interesting than traditional florals.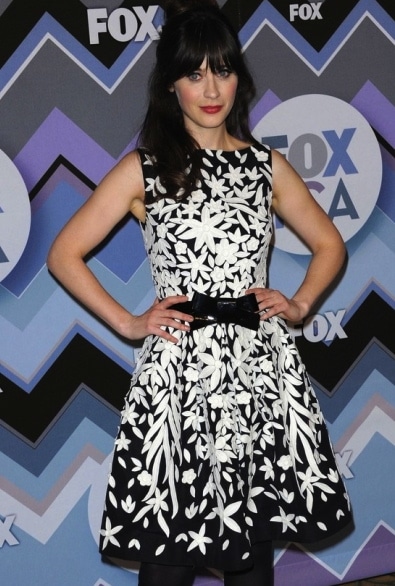 Three-Dimensional Pattern
This black-and-white dress that Zooey wore to the TCA Winter Panel appears to be a print at first glance. However, the 3-D effect was actually created with an applique technique to attach these wool felt flowers and leaves. The result is stunning – the dress combines the black-and-white and graphic-print trend in the most dynamic way possible.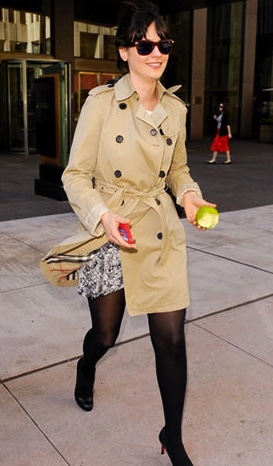 Classic Trench Coat
Zooey looks chic as ever running around town in a classic Burberry trench coat. Her black-and-white patterned frock peeks out underneath the coat, and she keeps the look casual-cool with her oversized shades.
[images topnews.in, wwzdw, dress like new girl, trespass magazine & marie claire]