Our Honest Chicwish Reviews: (Is This Store Legit)?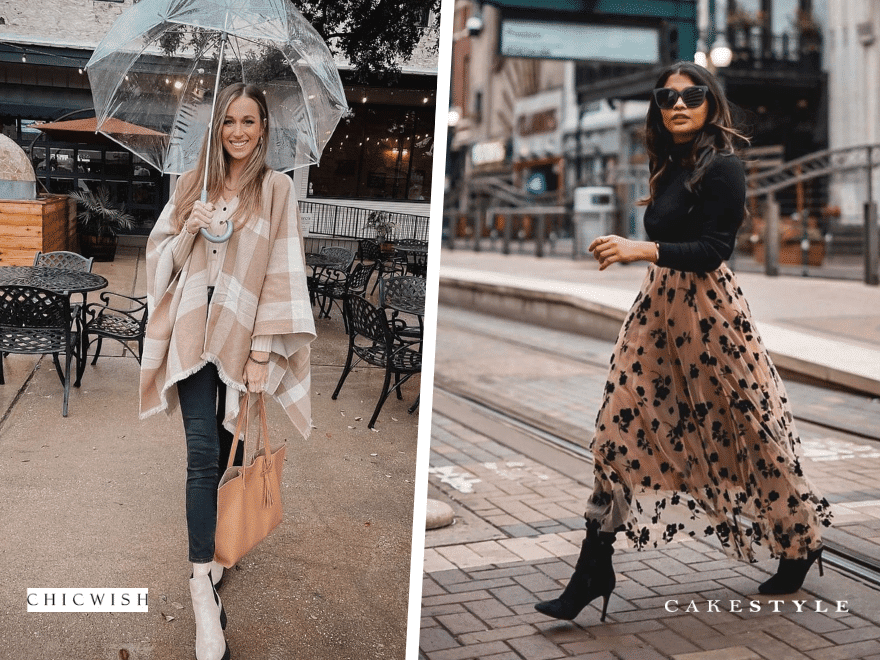 How does a clothing company stick out from the hundreds of online apparel sites available at our fingertips? Chicwish may just have it all.
Affordable, high quality, and trendy, Chicwish has everything you are looking for, catering to a wide range of customers with a large selection.
There are numerous styles available to choose from for all ages. In addition, Chicwish is very active on social media, constantly updating its followers with new and trendy pieces.
As an affiliate partner of various brands and sponsored content, CakeStyle may earn commission on qualifying purchases. Disclaimer | Advertise With Us
But is this chic brand worth checking out?
About Chicwish
Originally Chicwish had the idea of catering to the younger generation by adopting a sense of chic style while keeping the quality excellent and affordable. Chicwish has since dedicated eight years to the fashion industry, ensuring that every item hand-selected is of high quality and uniqueness. In addition, it now caters to all ages with a wide selection of all sizes.
Chichwish has two official addresses in the US and UK and a 4.36-star rating at sitejabber.com with honest reviews from real customers. In addition, if you go to the Chicwish Instagram page, the apparel company shares live stories of its customers wearing and showcasing the clothes purchased through Chicwish.
So, we are sure it's legit. But is it good? Check my honest Chicwish review below, to find out!
What is Chicwish?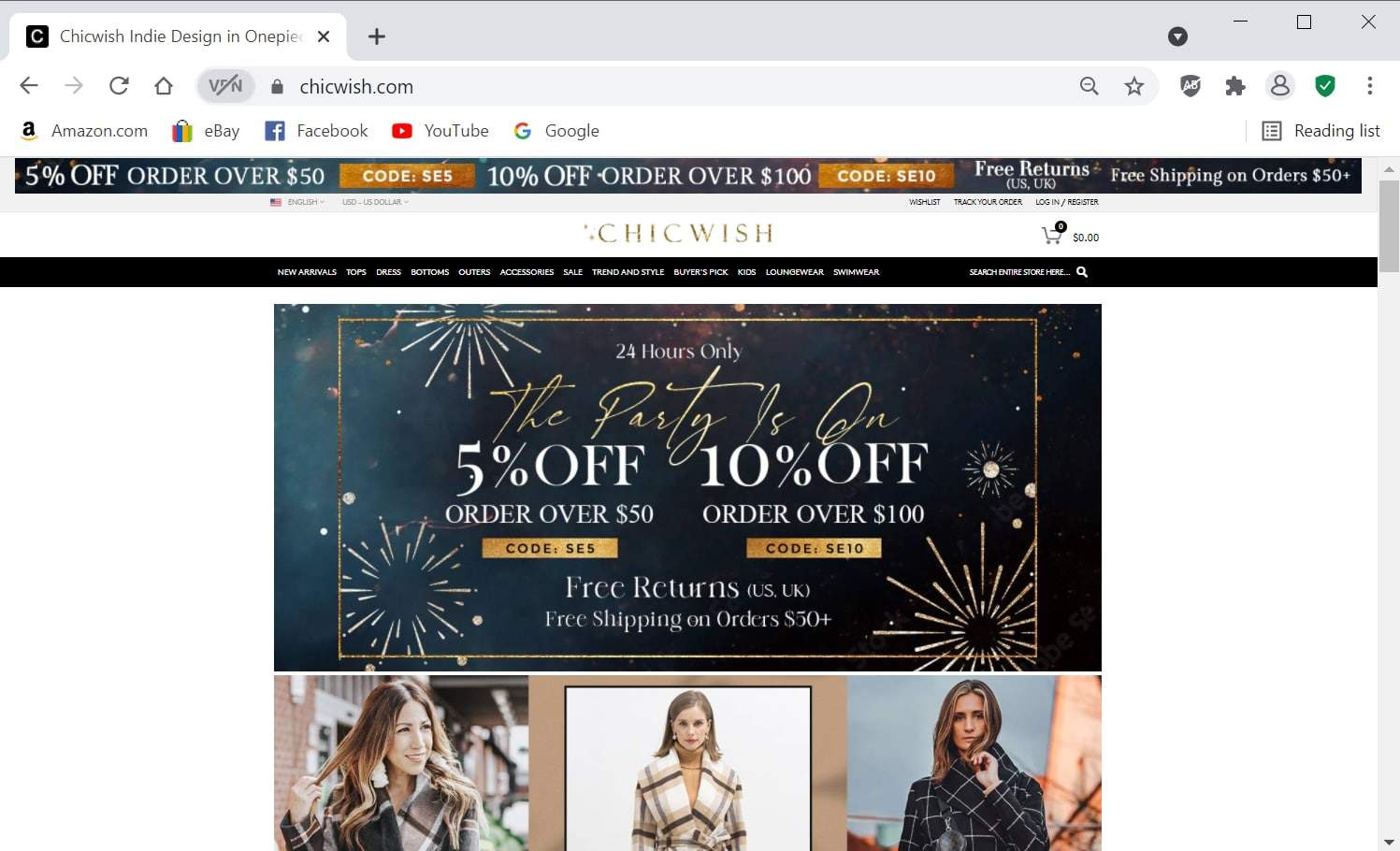 Chicwish is an online apparel site that offers high-quality, affordable, and chic style to the fashion world and its customers. It appreciates vintage-inspired and handmade collections while establishing an online store as a mecca for those with an eye for fun and trendy fashion, providing its indie designers with trending new ideas, allowing them to express their talent and creativity.
With a fantastic selection of accessories, outers, tops, dresses, and bottoms, to name only but a few, it's no wonder that Chicwish is growing in popularity. It has everything you may need, with pieces to go along with every outfit choice of your choosing.
The brand caters to all sizes and ages. Whether you are shopping for back-to-school, a big event, a seasonal spree, or the office, Chicwish has you covered.
There are nearly 3,000 customer reviews on trustpilot.com, proving the legitimacy, but also raving about its products.
Chicwish has ongoing promotions and discounts, and it offers free shipping over $50, promising good quality to its customers.
What is it like to order Chicwish?
Chicwish has a variety of apparel that is unique and trendy, making for a fun online shopping experience. Not only is its webpage fun to shop on, but it is also easy!
Everything is categorized from tops, dresses, bottoms, accessories, loungewear, kids, sale section, and even swimwear. It is found on top of the page, with more options when you visit the category you want to shop.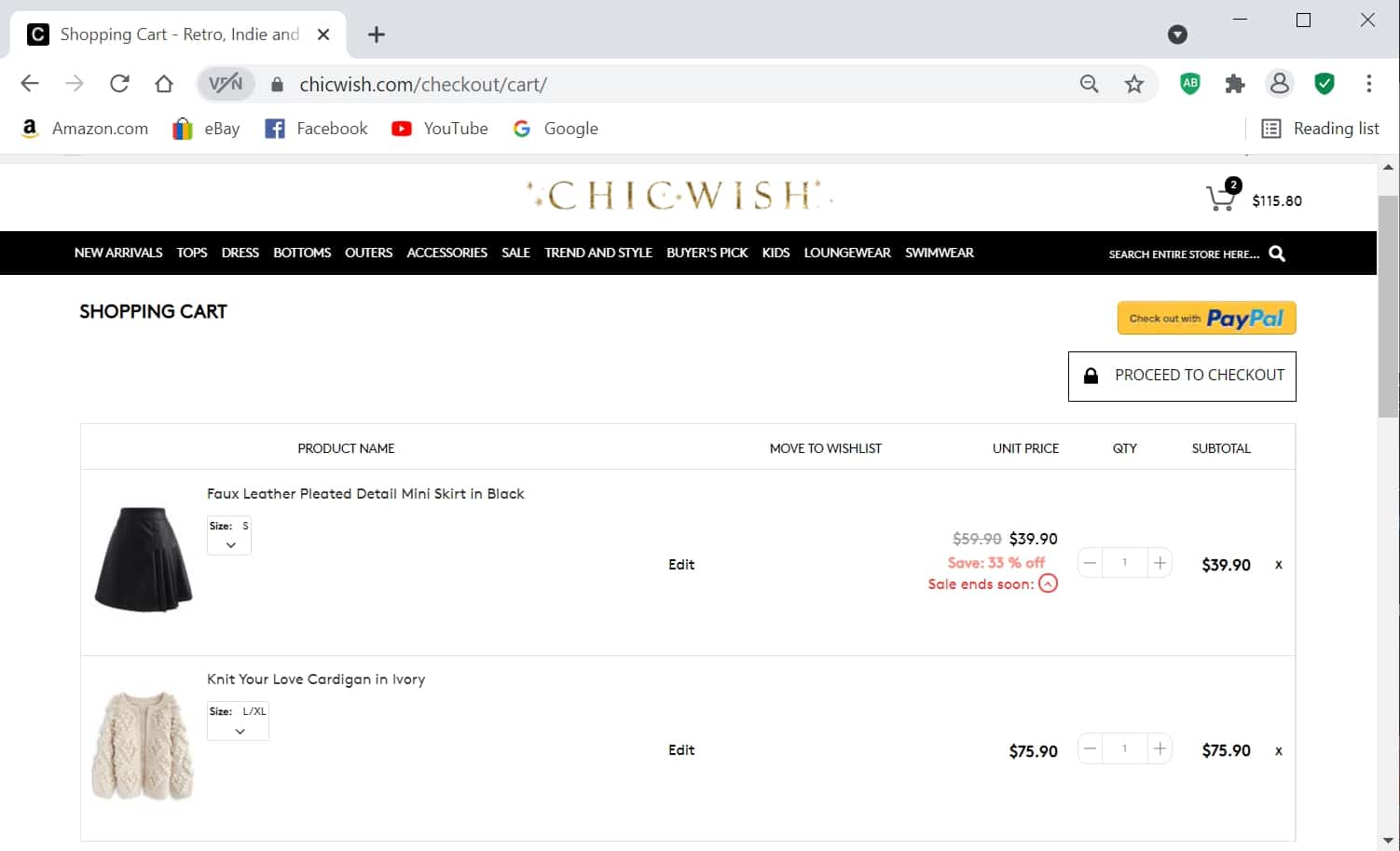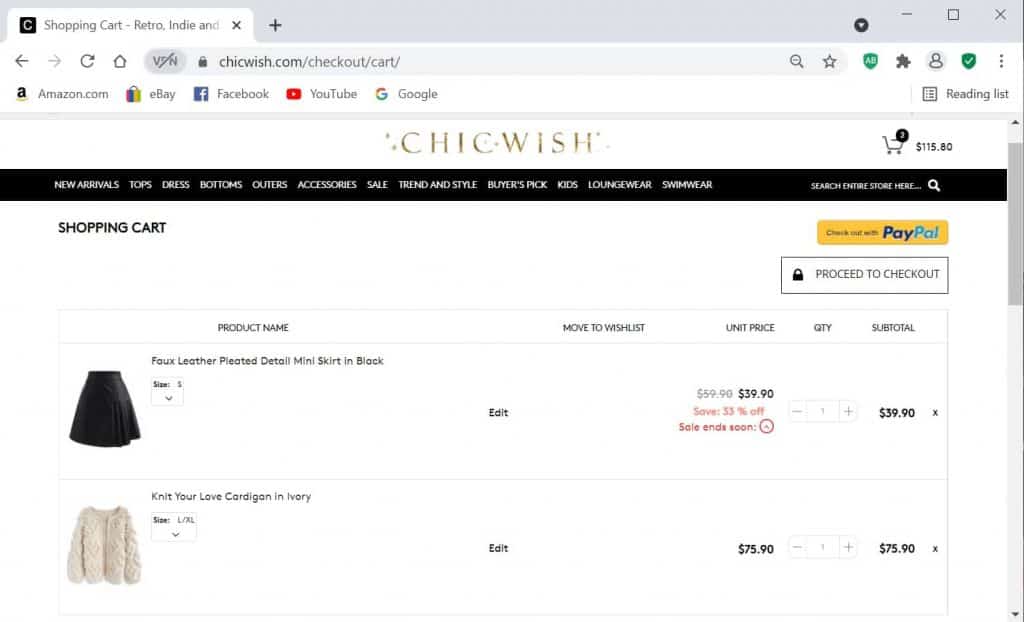 Free shipping is offered for orders over $50, with free exchanges. If you decide to return your order within 30 days, you can expect your payment back in 7 to 10 business days.
Discounts and promotions are continual and will pop up on the webpage during your visit and when you are checking out. If you spend $50, you get 5% off and 10% after $100.
You won't have to wait for your new outfits for too long, either. Shipping time is about 3 to 4 days for processing and 8 to 10 days to receive it. There is free express shipping for orders over $150, so if you need your items immediately, why not throw in an extra gift for yourself?
Chicwish has fantastic and stylish clothing and I can't wait to order more. The website was easy to navigate, and there were endless choices when it came to cardigans and sweaters.
I ordered five pieces of clothing: Two cardigans, one poncho, one skirt and one dress.
I really wanted to try the cardigans because I can wear them everyday, and pair them with anything! That proved to be true as you will find below. I also wanted to find a chic skirt, and a dress for an upcoming wedding so I was excited when these finally arrived.
Whether you're looking for a special event or just every day wear, this is a great brand to find everything you need! I can't wait to show off what I purchased.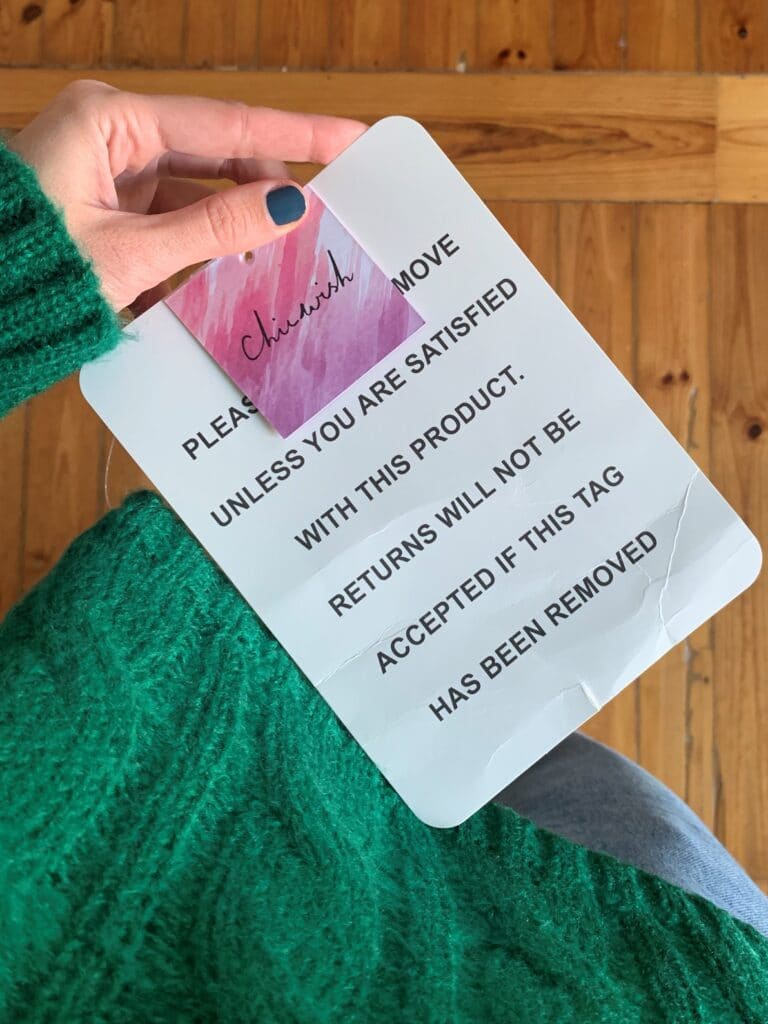 How do Chicwish clothes fit?
Overall impression
All the pieces I had ordered fit true to the size, but I did follow the sizing guide it offers on the website. The pieces are good quality, and they arrived packaged appropriately.
The clothing came with a big label in case you want to return an item. The label is hard to miss! The chic pieces I had chosen were cozy, stylish, and they felt fantastic on!
As per the online reviews, Chicwish fits true to size. The clothing fits great, is comfortable, and is surprisingly correct.
While buying online can be nerve-wracking due to the possibility of clothing not fitting properly, be at ease knowing that Chicwish fits true to you.
For each type of clothes, there is a size chart to help you find a correct size


On the bottom right of the product you are looking at purchasing, there is information about sizing, as well.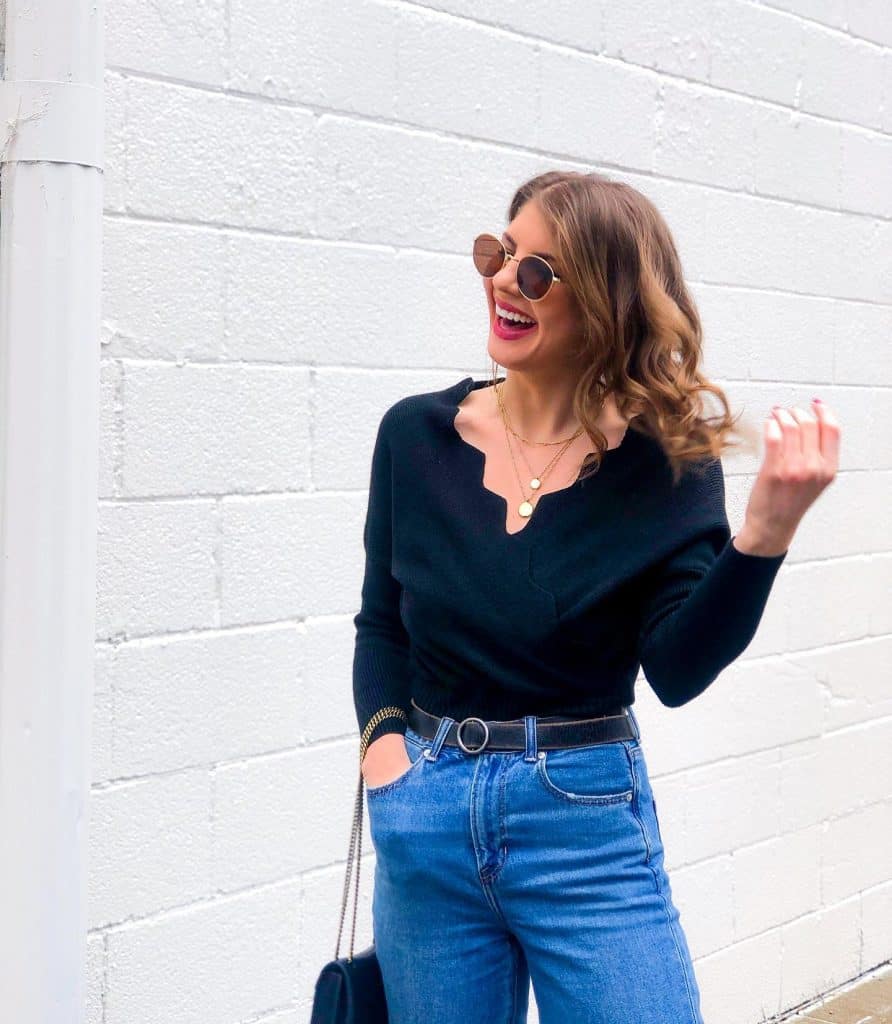 Chicwish Tops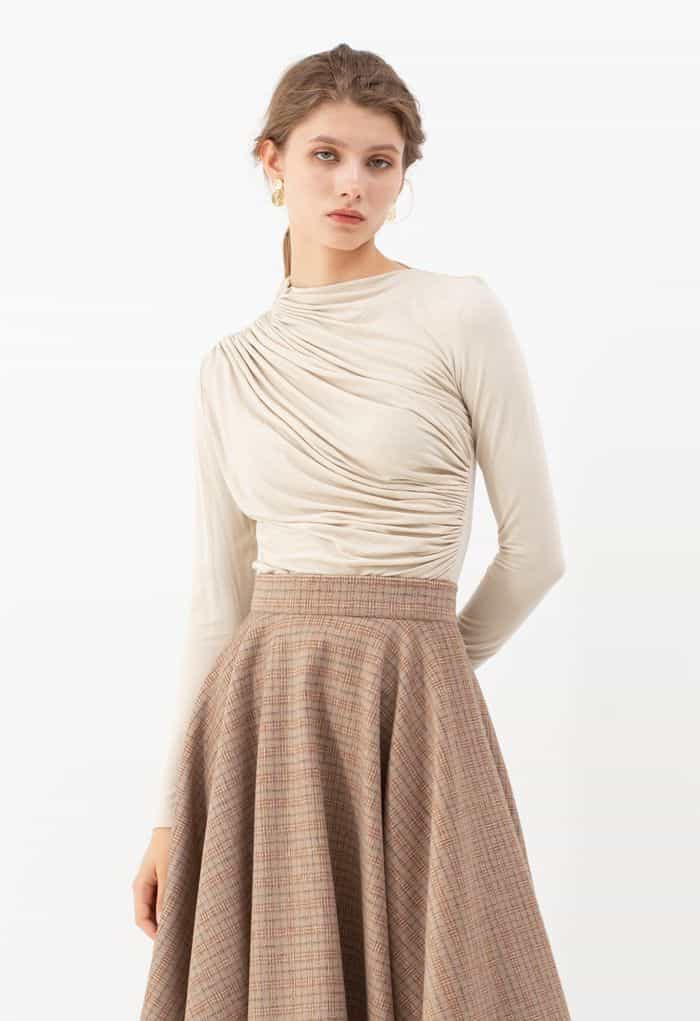 Take a look at this Ruched Long Sleeve.
It is the perfect holiday or everyday long sleeve shirt made of 100% cotton with a slim fit and ruched front detail. The fabric has stretch to it, and it is also available in black!
A pleased customer says, "It is true to size, goes with absolutely everything, and it really does add elegance, with a dash of grace!"
Doesn't it, though?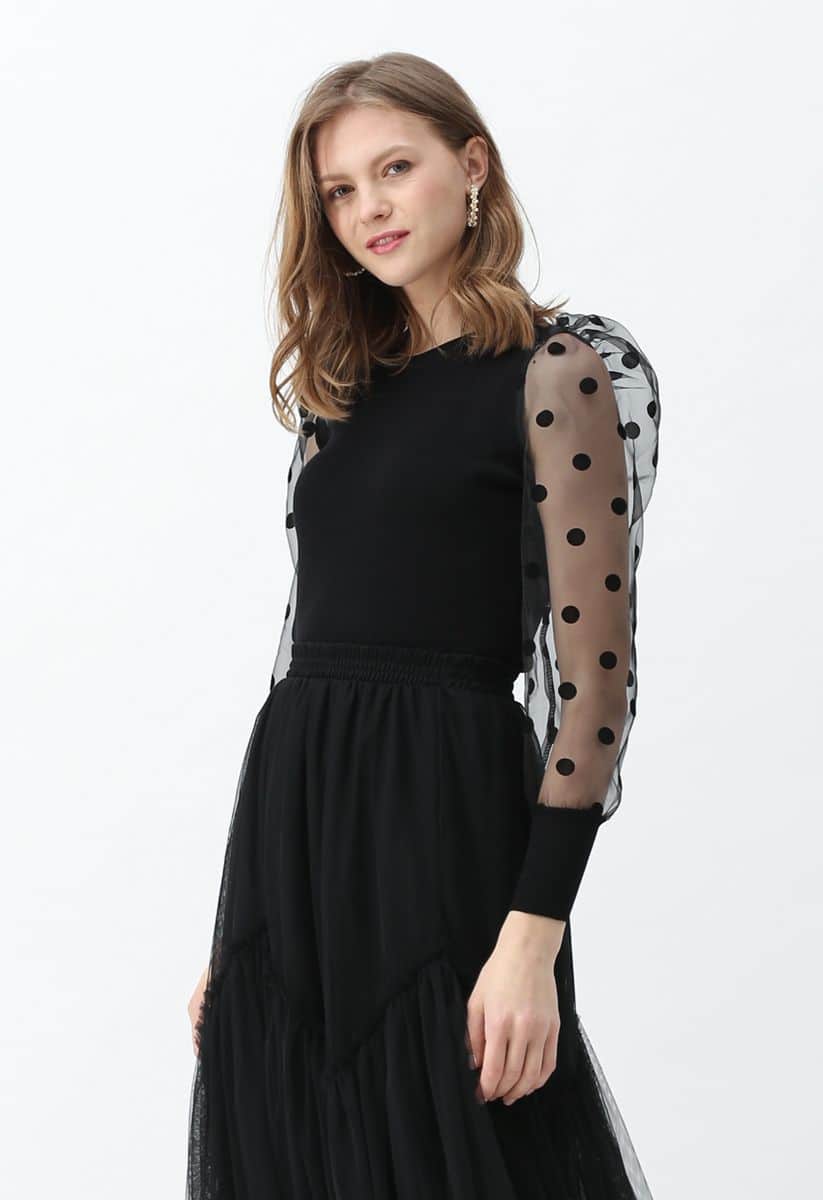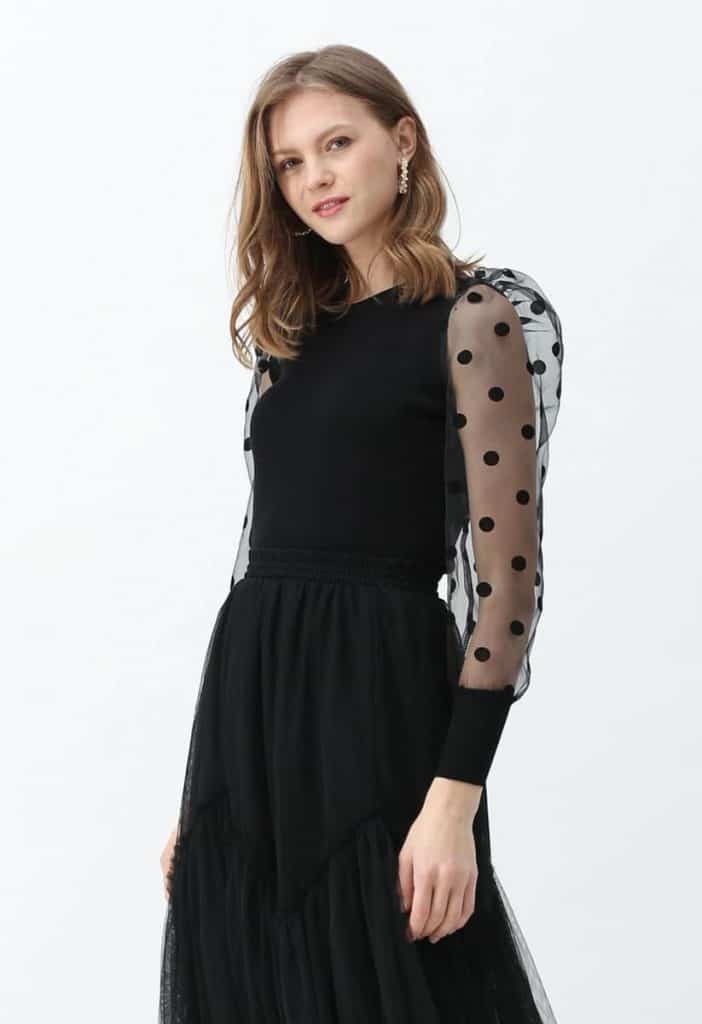 Another honorable mention is this polka dot mesh sleeve top for only $59.90 or $14.98 in installments for four months.
This shirt has long, mesh sleeves with polka dots, and is a ribbed knit fabric that provides lots of flexibility for you to easily move around in! It is not lined and is 100% acrylic, and the sleeves are 100% polyester.
At this time, the shirt is only available in small or medium.
A customer has even raved about it, saying, "It is the perfect jumper to wear over black pants or one of my evening skirts! I love it for the fall days, and everyone absolutely loves the sleeves!"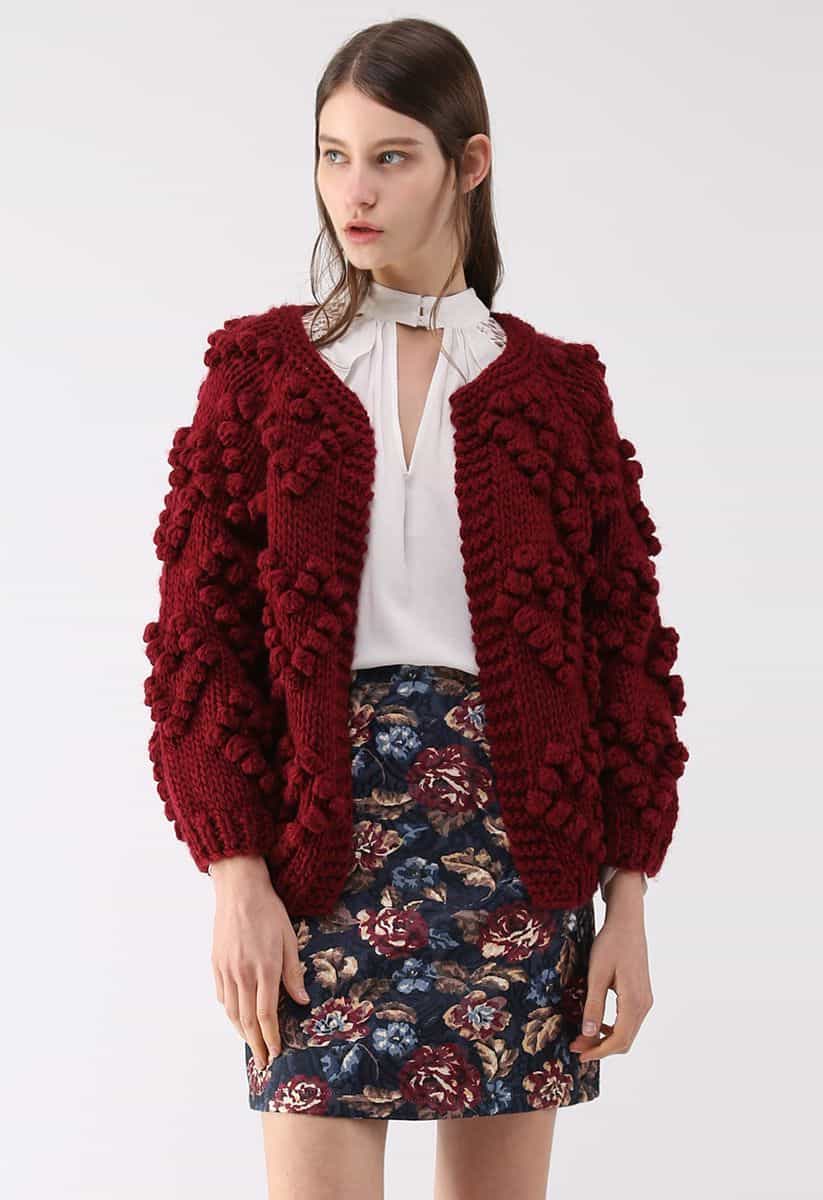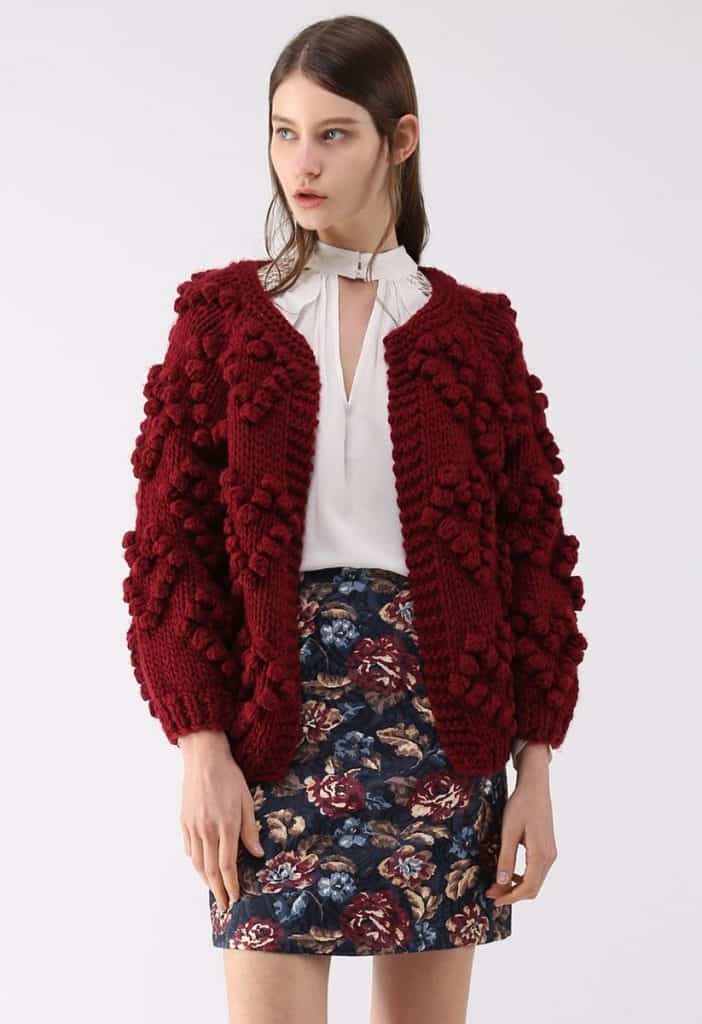 This cozy and vintage cardigan is made up of yarn balls trimmed into heart shape patterns and hand-knit with love by the Chicwish team! It's a perfect cardigan that gives off unicorn vibes yet maintains sophistication!
It is made up of wool and acrylic and must be hand washed and dried cleaned. All sizes are available!
A customer boasted about her new cardigan saying, "This is a very well-made cardigan. It's handmade, which I loved about it, and excellent quality! The color of this sweater is beautiful, and I will be purchasing this for a holiday gift!"
How could you NOT love this sweater?! Cozy vibes all around.
Chicwish Dresses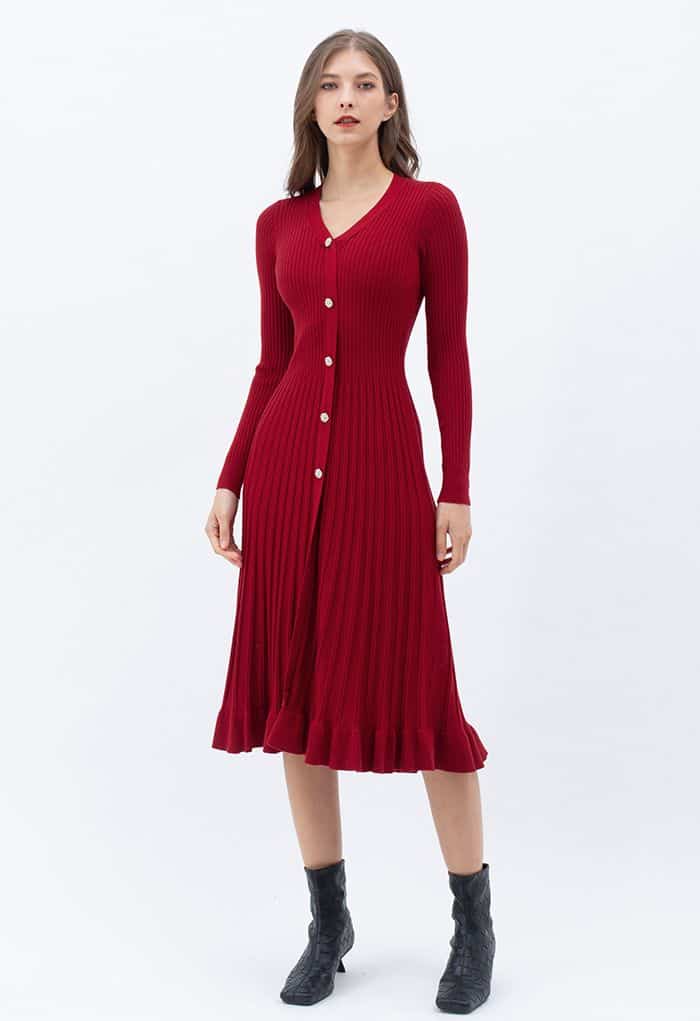 This dress here is absolutely stunning, featuring a button-front design at mid-length and an A-line silhouette. It features a crystal button trimmed at the front and ribbed neck, cuffs, and hem. It has a frilling hemline and knit fabric that provides flexibility.
A customer raves, "This is great quality material – nice and thick that hugs in all the right places! It looks festive and suitable for any party!"
It is also available in black and cream colors. Pair it with a vintage jacket, or felt brim hat, or wear it by itself. Regardless, you are bound to turn heads in this dress!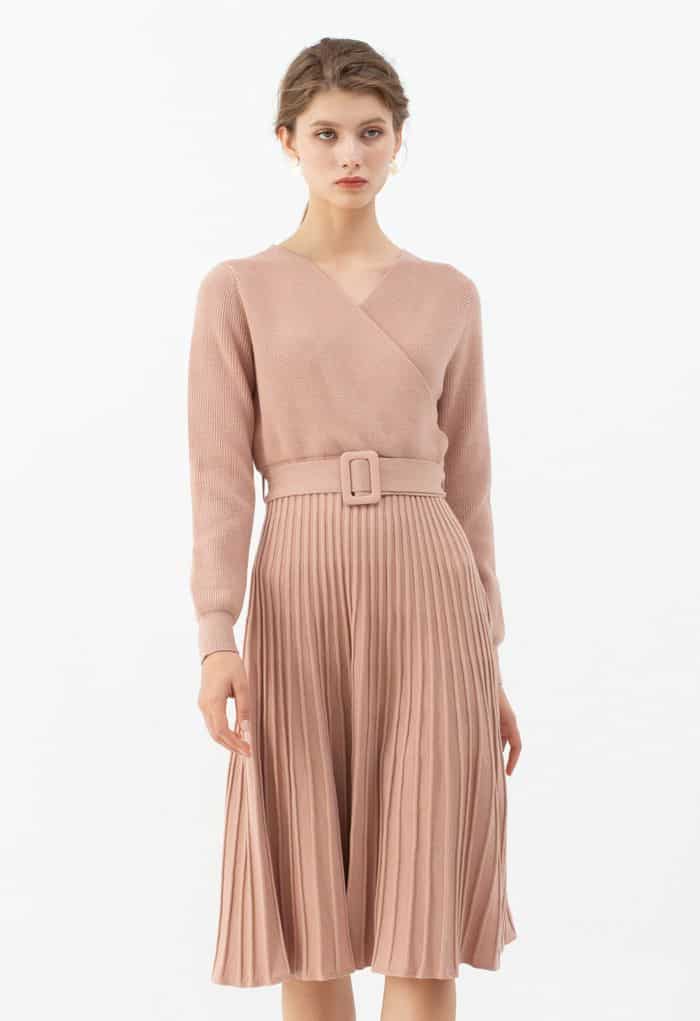 This dress here is trendy and a belted beauty. It is wrapped in a V-neck shape with an elastic fitted bodice and an A-line silhouette bottom. This knit fabric provides flexibility and is 100% acrylic.
"This dress is so pretty! It has a feminine chic look to it!"
Another customer mentions, "This dress looks exactly like what the website described and posted in terms of color, style, and quality! It is very comfortable, too!"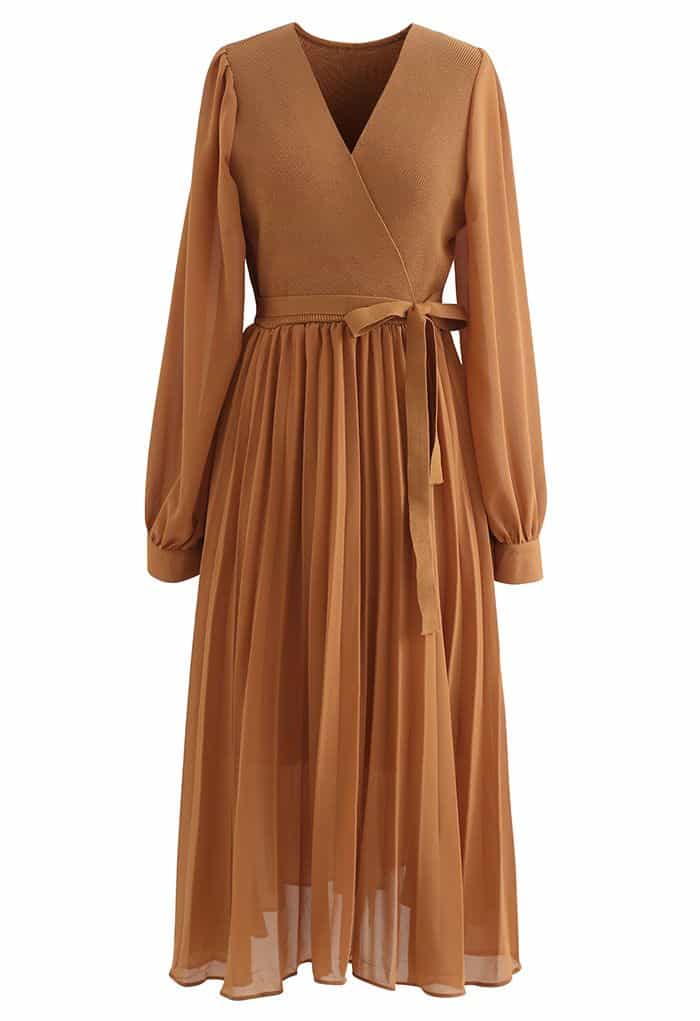 This dress is available in all sizes, luckily. It's a beauty and gives off vintage vibes.
This dress is designed with a ribbed knit bodice and consists of a pleated design at the bottom. It features a self-tie bowknot at the waist, which is perfect for accentuating the waist. Love that! This dress also features buttoned cuffs.
A customer comments, "I love this dress; it is so comfortable, and chic! It is incredibly flattering on my figure, and I love the rich autumn color."
Chicwish Bottoms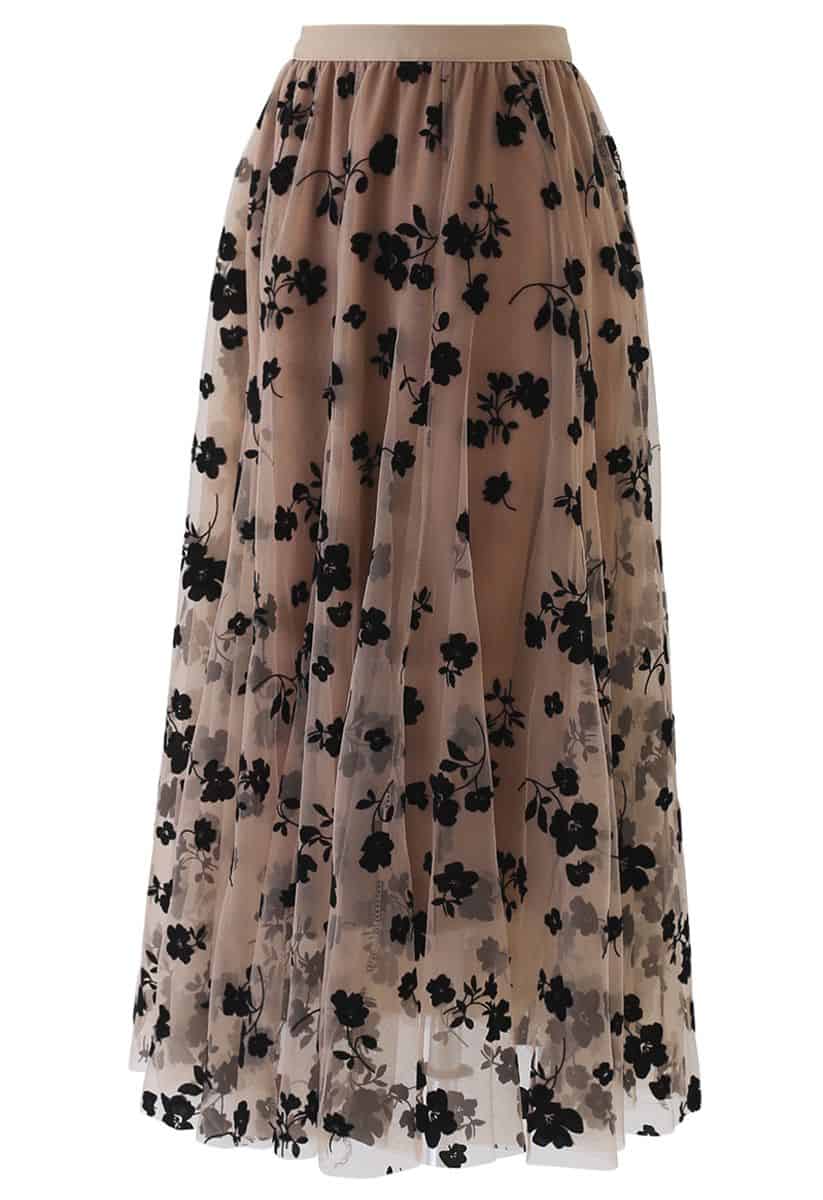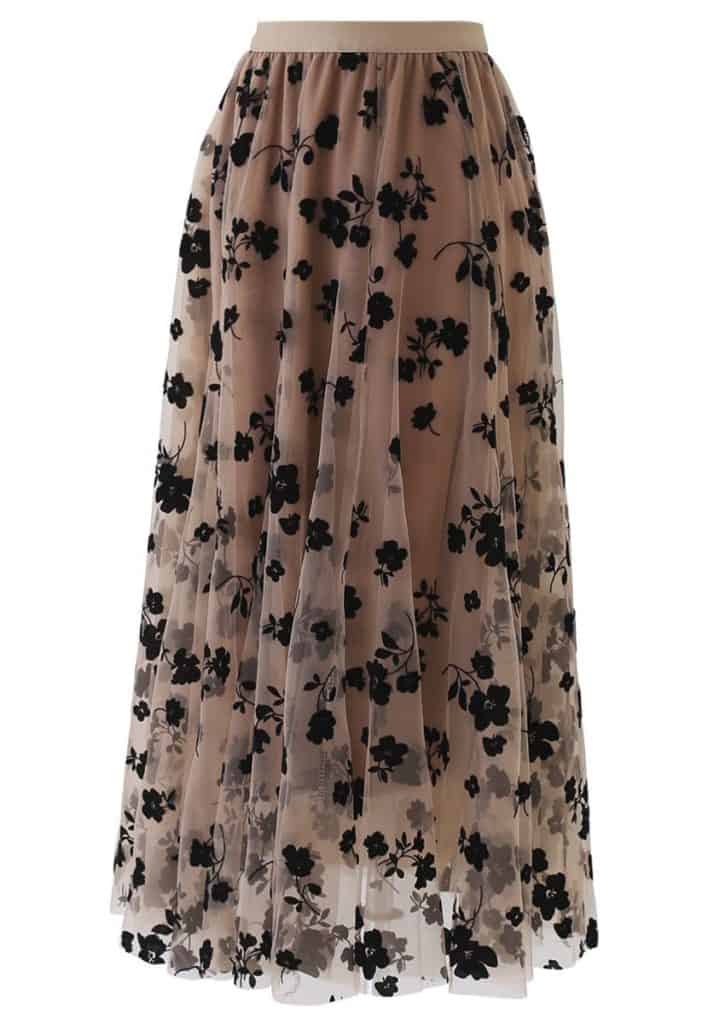 This elegant skirt is available in different colors, and it is crafted of double-layered mesh fabric in a 3D motif trim. It also features an elastic waistband and is available in all sizes!
Click here here to see other colors!
A customer review: "This skirt is so ELEGANT and FUN! Lovely quality, true to size, and so pretty. It has a liner/slip and a layer of tulle. I love it!"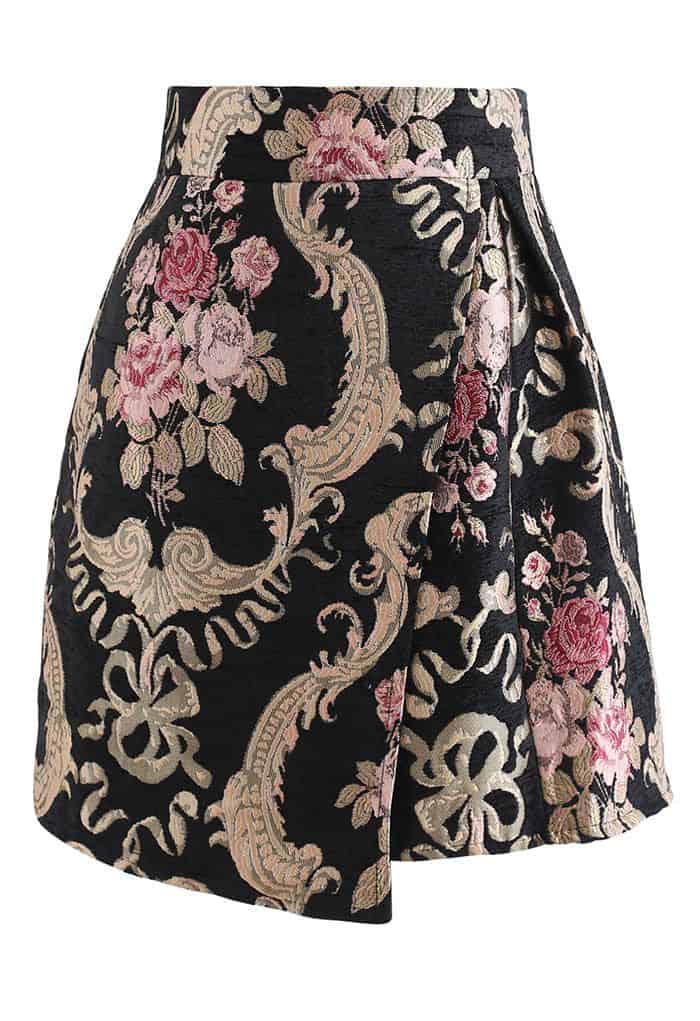 This skirt tops the list of party must-haves! It boasts a vintage baroque and floral pattern, with a front flap design and mini length. There is a concealed back zip closure, which is 100% polyester. The quality is amazing.
"This skirt is absolutely gorgeous, I love the shorts type lining, and I have to say the quality is amazing."
Chicwish Outers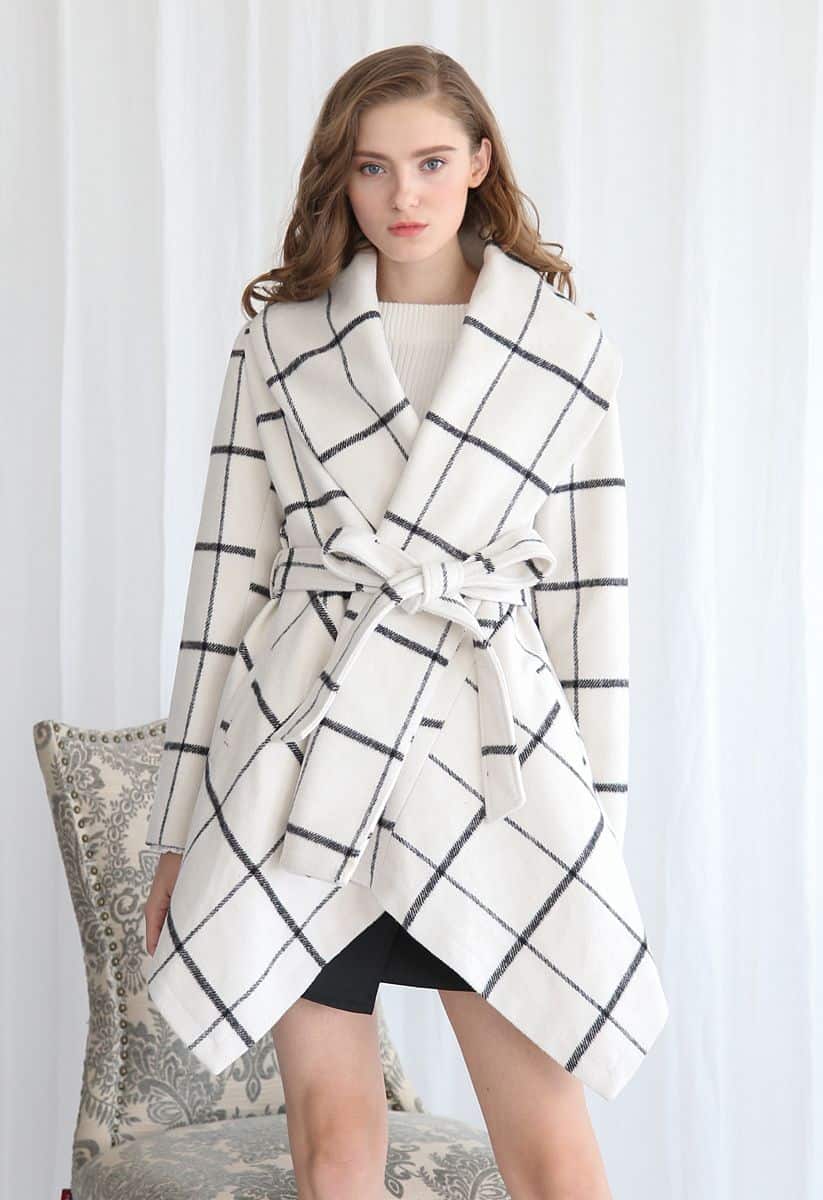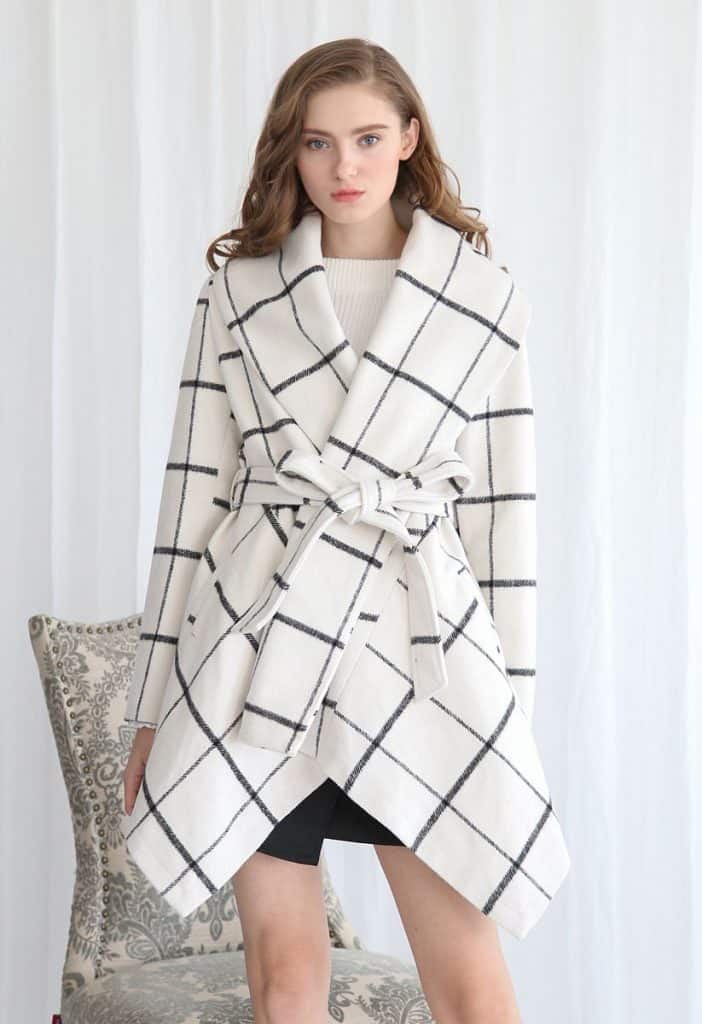 The prairie grid rabato coat is available in different colors and has sized up to XXXL. It boasts an asymmetrical waterfall hemline and a self-tie with grid print.
It also features a wide, turndown shawl collar, removable belt on the waist, and inserted side pockets. The fabric does not provide stretch and is of very durable quality. Dry clean only.
Customers rave about this jacket, and one mentions
"Perfect jacket for fall and winter, and even on that chilly morning! It provides warmth, and is super cute and fits well (thanks to the tie style of the coat), and is sooo comfy. There is definitely room to layer up, too, when it gets even colder!"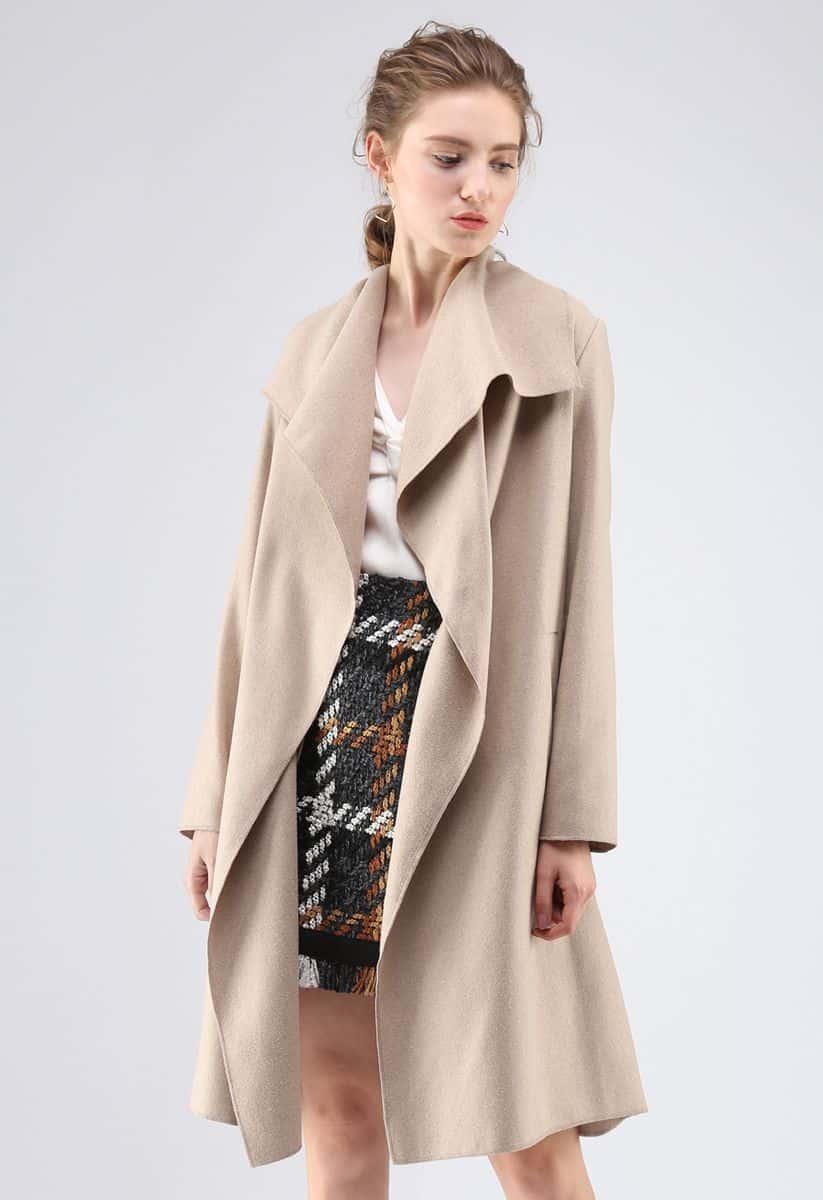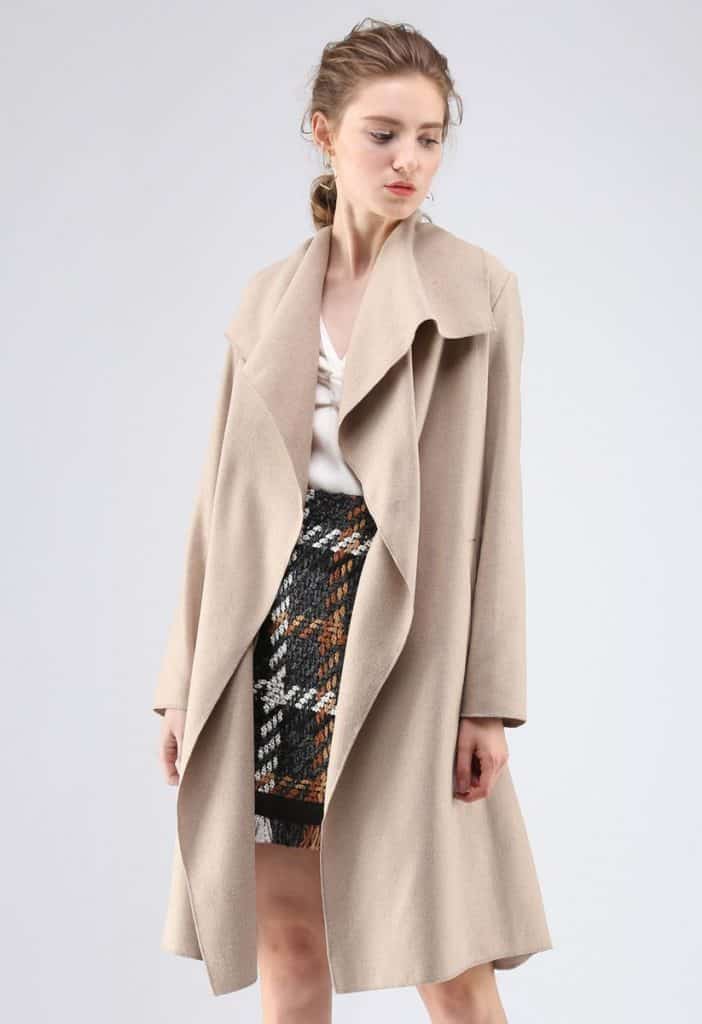 This coat is stunning and chic, featuring a wide turndown lapel and open front design. It has side pockets and a self-tied bowknot belt on the waist. It consists of a wool-blend fabric, giving the material a clean look and soft to touch. It can be worn with an open front, as well.
It is available up to XXXL and worth checking out!
Customer's love this jacket, stating:
"Love this nice draping open front coat. It's so versatile! You can wear it on every occasion and combine it with sporty, casual, or festive outfits."
"I love this piece because it's simple, can be dressed up or dressed down. I get cold easily, so this is a perfect in-between piece for transitional weather."
Chicwish Pros and Cons
Chicwish Pros:
Unique vintage style
Wide range of great style clothes
High quality for an affordable price
Sale section
Kid's clothes
Free shipping over $50
Promotions and discounts
Free returns
Chicwish Cons:
Make sure to measure yourself carefully before you make an order, as you are purchasing online and want to make sure you get the correct size
Shipping can take some time; you may have to wait 10-14 days
Not all the items available in large size
Chicwish vs Shein vs Stitch Fix
Below is a chart comparing Chicwish to other well-known brands; Shein and Stitch Fix. It's easy to compare to other brands that may be cheaper, but are they really the stronger brand?
We'll start with Shein, as it is currently a popular brand. The attraction of Shein is that its affordable; however, the quality is questionable. Shein's website also tends to be overwhelming and harder to navigate than Chicwish. It also has an extensive amount of apparel dedicated to a younger demographic, and it does not have the elegance and vintage vibe that Chicwish has.
Stitch Fix offers a lot of well-known brands. However, it is not unique to its own, and the website is not designed like Chicwish or Shein. It doesn't have tabs at the top of the page that leads to the products. You must go through a number of clicks and pages to find what you are looking for, and there is even a time-consuming form and quiz involved.
Overall, Chicwish may be a little bit more expensive, but as you've learned, the quality of the clothing is worth the higher price tag. Chicwish offers a wide range selection but stays consistent with elegance and trendy, while Shein and Stitch Fix have a little bit of everything and does not stay consistent or unique.
Tops, dresses, loungewear, bottoms, accessories for women and kids` clothes

Clothes, shoes, accessories for women, men and kids

Clothes, shoes, accessories for men, women and kids

Price example for a midi dress

Free standart shipping for orders over US$49

Spend $50 and get 5% off,
10% after $100

10% off for orders over $29;
20% off for orders over $69

If you keep all the items in your Fix delivery, you'll receive a 25% discount at checkout.

Free returns within 30 days

Free returns within 45 days

Free returns within 30 days

Wide range of great style clothes

Good quality for the price

Sale section

Kid`s clothes


Free shipping over $50

Free returns

Affordable

Wide range of clothes for the whole family + items for your pets

It has an App for both iOS and Android devices

Wide range of well-known brands

A personal styling service

A personal styling service

You are saving time at shopping

Shipping can take a while. Be ready to wait for 10-14 days

Not all the items avaiable in large size

Has a lot of complaints about service

Don`t expect great quality

You can buy items without help but need to fill an annoying form first
Chicwish Promotions and Discounts
Chicwish offers consistent promotions and discounts; one currently is 5% off your order over $50 and 10% over $100. There are also free delivery over $50 and free express delivery after $150.
Discounts can be found on the home page, as well as the sales tab, as it does have discounts on particular clothing pieces, too.
Chicwish Reviews
Chicwish is active on social media platforms, including Instagram and Facebook. On Instagram Chicwish currently has over 814,000 followers and posts content nearly every day. The posts are trendy, and share upcoming and current fashion trends and apparel. The tagged photos on Chichwish's Instagram consist of customers wearing its product and boasting about the apparel. Chicwish has hundreds of mentions on Instagram and frequently shares its customer's content when they are wearing the apparel.
On sitejabber.com, Chicwish has hundreds of reviews that exceed four stars, staying consistent with its happy customers on Instagram.
According to trustpilot.com, Chicwish is consistent with good ratings. There are over 2,000 reviews, 80% being in the excellent review range! The remaining is in the great and good range, with a very small percentage offering little criticism.
Overall, Chicwish has legit reviews.
Chicwish Video Reviews
May you have no more doubts after this honest video review! In this product review, Youtuber Anna Porter tries on some stylish and chic pieces from Chicwish!
This is a great video of Anna trying on some new pieces, and she states this is her fourth time ordering from Chicwish! She even makes a joke about mispronouncing the company name. (It's chic-wish… Sounds like sheer-wish!)
Anna ordered a few pieces of clothes, including a couple of skirts, a long black dress with a white stripe and holes on the sides, as well as some cute tops.
She liked the quality of clothes, how they looked, and the fabric. She loved the material of the dress especially, notably the thick, stretchy material that conforms perfectly to the body.
Lizzie in Lace is another Youtuber who is a long-time customer of six years.
She shares her most recent haul. First, she tries on a gorgeous dress, mentioning how much she adores the "twirl" in the dress. Who doesn't love a good twirl, am I right?!
She also mentions that the quality is amazing for the price, having washed things repeatedly and the products always hold their shape. Shas experienced no issues with holes.
Overall, Chicwish delivers and stays consistent with high-quality and fashionable pieces!
Chicwish Returns
You can return any item for a refund within 30 days from the date you receive it.
For US customers, we provide a shipping label to you for your return, and the shipping label cost of $8.00 will be deducted from your refund payment.
Returns will be processed within 7-10 business days upon receipt of your package, and the refund will be issued to your Chicwish store credit or the original payment account as per your request.
So, is Chicwish Worth it?
Yes!
If you want a brand that stays consistent with a unique, boho, and vintage style while delivering high-quality clothes – you should definitely try Chicwish!
Free shipping for orders over $50 and free returns is a great feature, along with their great range of apparel.
Chicwish is dedicated to its customers and is consistent with promotions and offers returns if you are unhappy with your product.
Some of our latest posts about stores like Chicwish: