Blenders Eyewear vs. Shady Rays: Which Brand is Better?
I'm on the run all the time. Staying active is not just a hobby for me, it's a lifestyle. If I'm not running I'm hiking. If I'm not hiking I'm climbing. If I'm not climbing I'm surfing. Ok, you get it.
I have struggled for a long time to find the perfect sunglasses. I need shades that are going to last. They can't slip or scratch easily. I need major UV protection as I'm in the sun all the time, year round.
Recently I heard about two brands that I was eager to test out: Blenders Eyewear and Shady Rays. Both brands are geared towards sports enthusiasts, but which is better? I tried both to give you a better idea. 
Best Selling Shady Rays Sunglasses
Best Selling Blenders Eyewear Sunglasses
Overall Differences Between Blenders Eyewear and Shady Rays Sunglasses
Blenders Eyewear and Shady Rays are two sunglass companies that cater to active people. Both brands offer a very similar selection of sunglasses, blue light glasses, and snow goggles. Their prices are similar as well. At first glance it's hard to get an idea of which company is better. For me, the biggest difference between these two companies lies in their designs. In the end I did find one company to be the better fit for me.
How Do Blenders Eyewear Differ from Shady Rays

Blenders Eyewear and Shady Ray have a lot of similarities but also quite a few differences. Because they are both similarly priced, it's worth going over the details of each company to understand which one is the better buy.
Blenders Eyewear was started by professional surfer Chase Fisher. He was selling sunglasses out of his backpack. His dream and hustle with his social media following created one of the fastest growing eyewear companies in the world. I love surfing so obviously that story is a big bonus for me. 
Blenders Eyewear has a team of brand ambassadors that grew from Chase's group of professional athlete friends. It's a cool story that makes you feel like you're a part of someone's journey. Shady Rays doesn't have a start up story like that.
One thing I did like about Shady Rays is their commitment to fighting hunger. They partner with The Global Food Banking Network and donate 10 meals to fight hunger with every order. 
Blenders Eyewear has a huge traction on social media with over 550 thousand followers on Instagram. Shady Rays has over 100 thousand. 
From what I see on their websites and on their social media, I get a sense that Blenders Eyewear is a real trend-setting company founded and worn by genuinely cool people. Shady Rays, although they have some cool designs, seems to be more of a copycat company jumping on the trend bandwagon. They seem less on the cutting edge of designs.
Of course it also matters how they hold up in real life. For me, a flashy design is not enough if the glasses fall off my face easily. I need sunglasses that are ready for the road.
Blenders Eyewear vs. Shady Rays the Pros and Cons
When comparing companies with similar designs and similar prices it's important to be objective and look at all the pros and cons. It's not enough to just jump on your first impression. After all, no company is perfect. It's about finding the company that best fits your needs.
Shady Rays Pros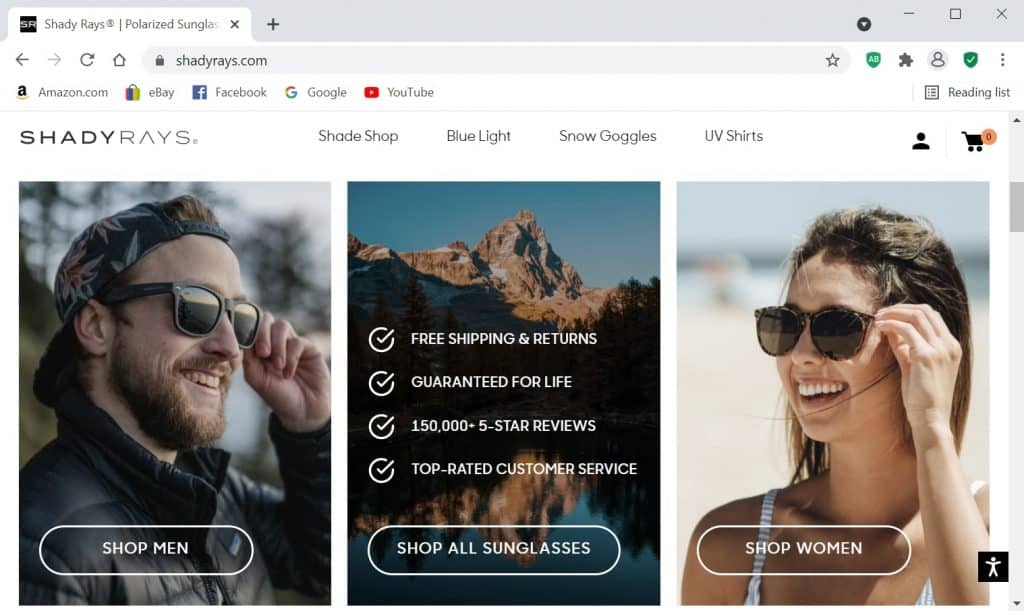 Good Reviews.
Shady Rays has good reviews on Trustpilot. Overall they have a 4.6 rating out of 5 with 200 reviews. Some clients rave about the glasses. A few people talked about the positive experience they had dealing with customer service. These reviews show me they are a legit company.
Lifetime Craftsmanship Guarantee.
If you have any problems with your Shady Ray sunglasses they will replace them at no cost for life. That's a pretty impressive guarantee. They also state that there is no limit to how many times a pair can be replaced. 
Philanthropy.
I love the fact that they work with The Global Food Banking Network. If you're comparing two companies that are so similar then obviously every detail matters and if they have a heart behind the hustle then it's a big selling point. I noticed on their Trustpilot reviews that other people feel the same way. 
Shady Rays Cons
Ugly logo and accessories.
When it comes to logos I like a minimal design. Shady Rays has, in my opinion, an ugly and intrusive logo. The Blenders Eyewear logo is cooler in my opinion. Also, Shady Rays has a lot of ugly accessories. They are all black and grey with the logo thrown on top. The accessories look like an afterthought and don't enhance the brand. 
Blenders Eyewear Pros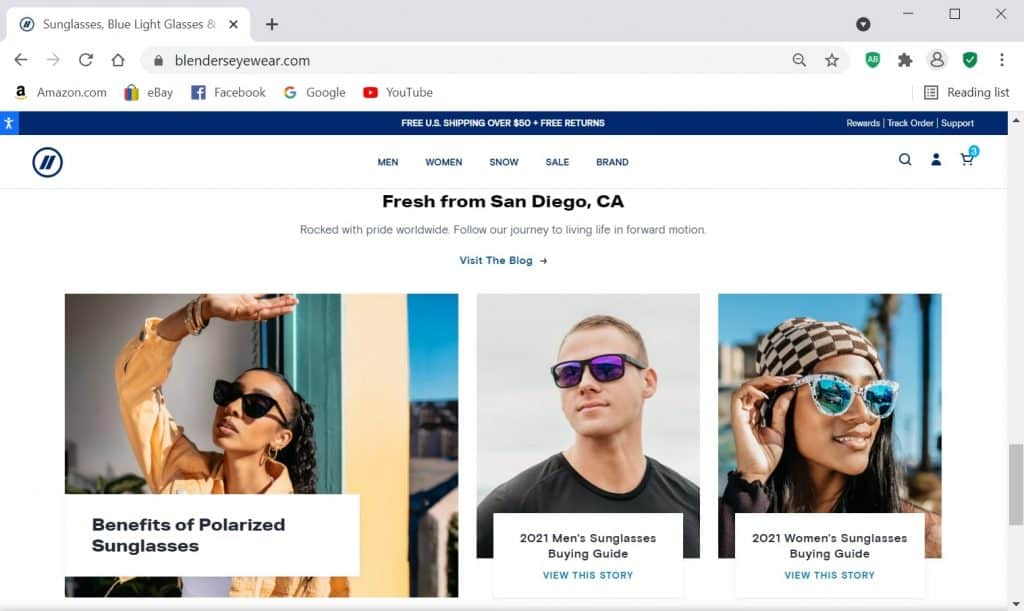 Cool designs.
I have to say that I find the designs at Blenders Eyewear to be slightly cooler than Shady Rays. They look more original. Shady Rays looks like a copy of Blenders. I don't know if that's the case because it's impossible to know, but that's what it looks like to me. 
Origin story.
I like the origin story of Blenders Eyewear. The story of Chase Fisher being inspired to create a brand for himself and his pro athlete friends makes me feel like this company is genuinely cool. It makes them seem more original. Also, it puts a name and face to the company. I'm an athlete and entrepreneur so I can relate to his dreams.
Rewards.
Blenders has a great rewards program with many different ways of gaining points that can be redeemed for discounts. You can earn 25 points to sign up, 5 points to follow on Instagram, 5 points to follow them on Twitter, and 5 points to follow them on Facebook. You earn 20 points if you add a photo in a review and 50 points if you spend $100. 
Blenders Eyewear Cons
No lifetime guarantee.
Unfortunately Blenders Eyewear does not offer a lifetime guarantee like Shady Rays. They do give you the option to return after 45 days.  
Which Brand is Better?
After ordering similar models from both companies I have to say that I prefer Blenders Eyewear. Firstly, the design is slightly cooler. The logo is sleeker. I don't like the generic looking logo on my pair of Shady Rays.
Both sunglasses fit well and I didn't have a problem with slipping, which is great.
Another thing I prefer about Blenders Eyewear is their story. I relate to Chase Fisher as a pro surfer and entrepreneur. Also, you can't beat the rewards program of Blenders Eyewear. I'm ready to follow, write a review and start gaining points for my next pair.