Finding the perfect pair of glasses can be stressful. You'll have to choose between different brands, frame styles, and colors. And you have to be 100% sure of the pair you get. But, it will be your daily accessory, so you can't just settle for the first thing you see.
What makes eyewear shopping tedious is that you have to go to different stores to check out your options.
That means driving to many brick-and-mortar stores or opening dozens of tabs to check different brand websites. All that is to find a single pair of glasses suitable in terms of style and function.
Thankfully, there's a way around this: Eyeconic. This online retailer takes different eyewear options (from luxury to everyday brands) and puts them all on one website. Eyeglasses, contacts, shades—you name it, they've got it.
But is Eyeconic just another old eyewear emporium, or does it have more to offer? Let's find out. Read on for the ultimate Eyeconic review to help you make the right decision for your next eyewear purchase.
About Eyeconic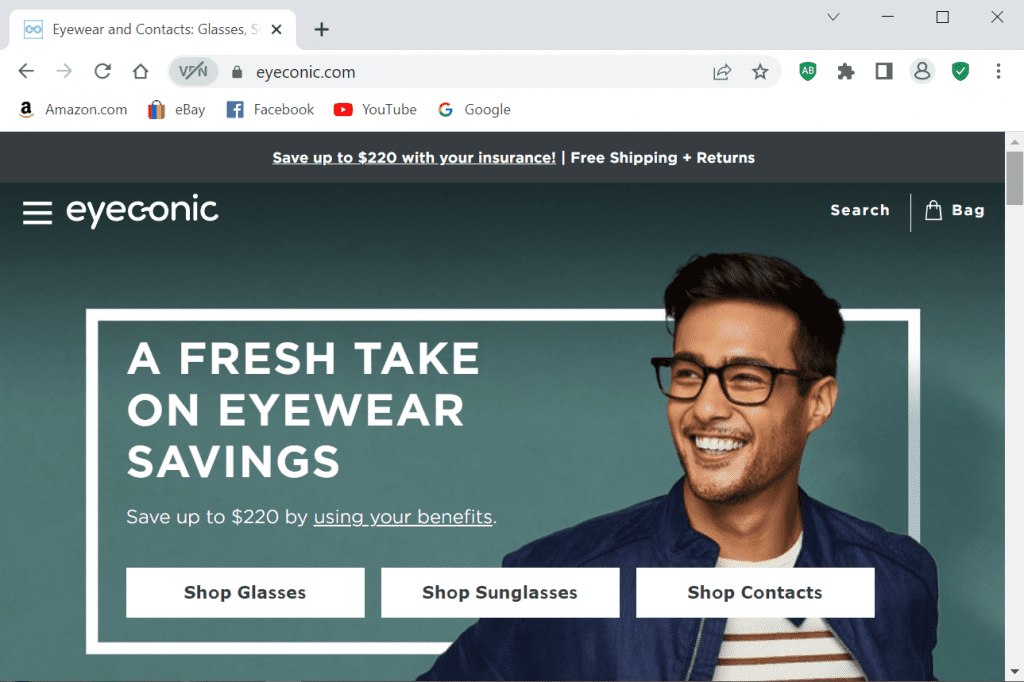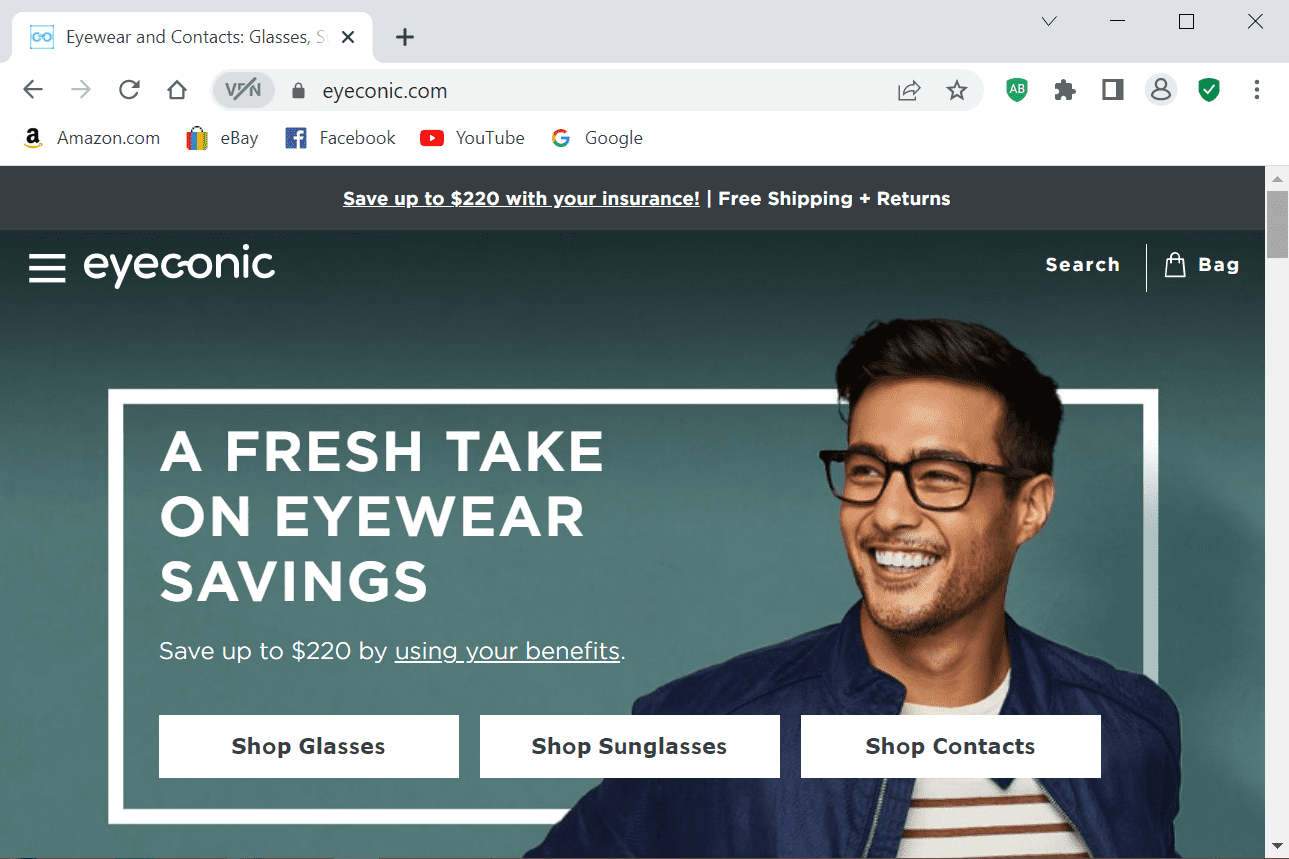 Eyeconic was launched in 2011 by VSP Global, a non-profit that aims to provide everyone access to quality eyewear. They believe that seeing correctly is part of a well-lived life, so it's a must for everyone—no exceptions.
That's why Eyeconic is a source of eye care and eyewear products. They offer helpful stuff, like reading glasses and no-nonsense contacts. But their selection follows style and fashion trends.
So, you'll find numerous styles here, from rimless to thick and bold pairs.
Eyeconic's primary mission is to help you find the pair of glasses that will be perfect for you. They have a network of more than 39,000 eye doctors to help assess your eye health. Then, you can shop among hundreds of glasses designs on the website to help address any concerns.
The best part is that Eyeconic has a seamless system for eye health checks. In addition, they connect with your insurance to make sure everything goes as smoothly as possible.
Every pair of glasses you'll find on the website is of the utmost quality. In addition, they only carry eyewear built to last, none of those flimsy glasses that break within months of use.
When it comes to the brands Eyeconic carries, they don't skimp. They have eyewear from over 50 of the biggest fashion names today. This includes reputable luxury brands like Ray-Ban, Chloe, Gucci, Calvin Klein, etc.
Eyeconic even goes the extra mile of going through a 25-point inspection when you make a purchase. This is to ensure that the eyewear you buy is proper for you. And if you're still not satisfied with your order, they have a free return policy.
Today, Eyeconic has 47,000 likes on Facebook and 16,000 followers on Instagram.
Still not convinced about Eyeconic? Here are 5 things to know before buying the next pair of glasses from them:
Their selection of frames ranges from trendy designer pieces to affordable, high-quality glasses.
All frames come with lightweight polycarbonate lenses. However, you can choose to get non-prescription lenses if you want them for aesthetics.
For a smoother purchase, they connect you to your vision insurance (VSP, MetLife, and Cigna). They also accept FSA and HAS credits as payment.
No hidden fees—the total amount you see on the product page is the all-in pricing. Shipping and returns are always free.
Frame adjustments are free at VSP eye doctors' clinics.
How to order from Eyeconic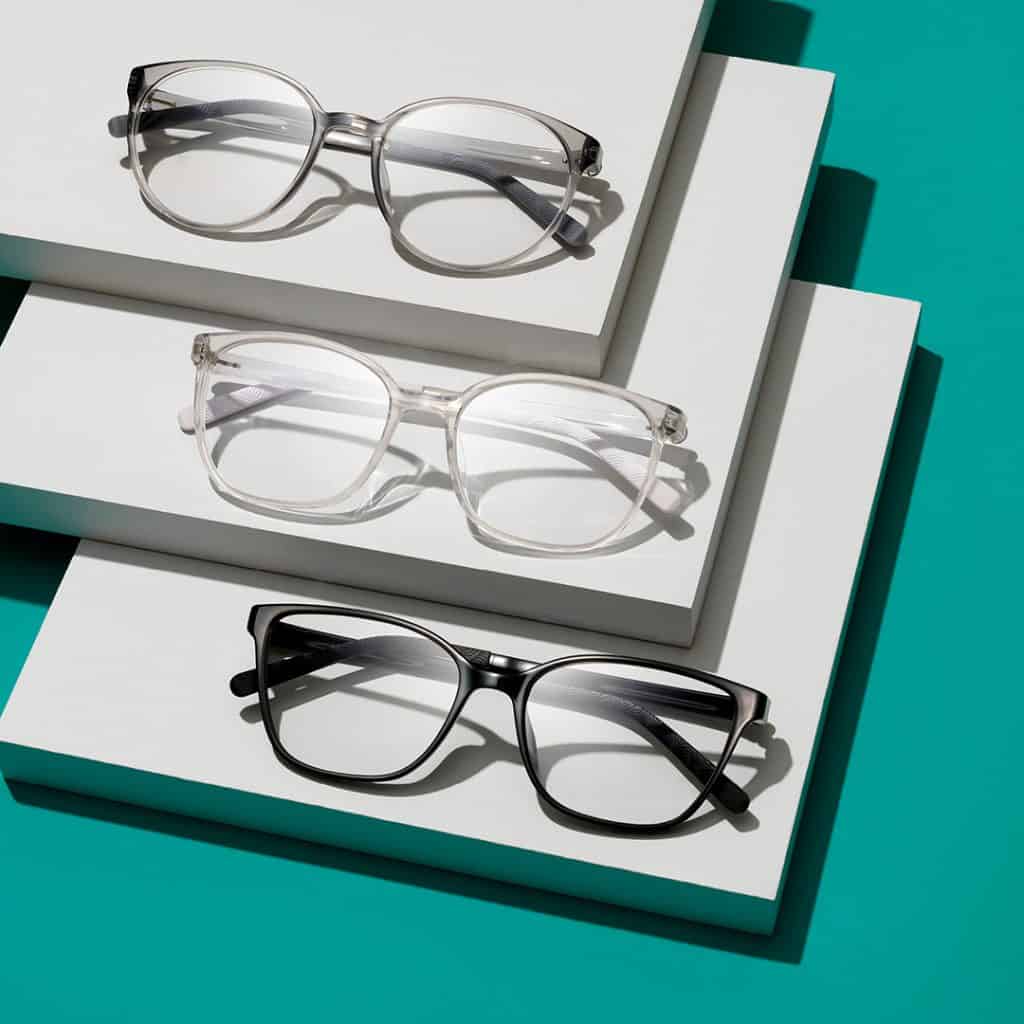 On the Eyeconic website you can look through glasses for women, men, and children. The frames are also divided into eyeglasses and sunglasses. If you're not shopping for frames, there's a separate menu for contact lenses.
You can also filter the glasses you want to look at by frame shapes. You name it, Round, aviator, cat-eye frames, Eyeconic's got it. And if you have a specific brand in mind, you can filter it down to that as well!
Shopping for glasses can be scary, especially if you don't know how to choose a pair correctly. Luckily, Eyeconic has different resources to help out.
They have articles on different face shapes and what frames will flatter them the most. There are also materials on buying glasses online or choosing the right lenses.
But the most helpful feature on the website is the virtual try-on page. This feature uses digital tech to measure your face and gives you a sneak peek at how their frames look on you. This is an excellent solution if you're worried about not seeing how you look with your frames before buying them.
All you have to do is take a quick video of yourself according to the instructions given. When you're done, you'll be able to check how hundreds of available frames look on you!
Are you looking to get beautiful frames for cheap? Eyeconic currently has a sale for select luxury brands. Labels like Gucci, YSL, and Salvatore Ferragamo are 25% off. It's a fantastic steal for a lavish summer look!
Of course, Eyeconic also has more practical non-designer options. In addition, they have a special tab for affordable frames, all under $139.
Eyeconic Glasses Reviews
Eyeconic Women's Glasses Reviews
Any woman knows that eyewear is the smartest, chicest everyday accessory you can wear. So here are some of our favorite women's designs available at Eyeconic.
Ray-Ban RX7046

If you have robust features, round frames like these Ray-Ban ones will flatter you. So, if you want to soften that square jawline or an oblong-shaped face, check it out.
These basic, plastic, round frames are great for everyday wear. They come in two classic colors—transparent and Havana. Either one will be easy to pair with daily outfits.
What people like about it:
Lightweight frames
Look precisely how they are advertised in the photos
The colors go well with any outfit color palette
Chloé CH0005O

Cat-eye glasses can look intimidating for some. It may be too flashy for everyday wear at school or the office. But they're still excellent for slimming down the look of rounder cheeks. So, it makes sense to want to use them daily.
These Chloé glasses are made with a softer cat-eye, so it's much friendlier for regular wear and casual looks. In addition, the frames have the brand's signature 3D braided temple for added style. They also have a teardrop-shaped cutout on each side to make eyewear jewelry and straps space.
The frames are made of bio-injected material to the utmost sturdiness and quality. In addition, they come in two semi-transparent colors: red and orange.
What people like about it:
Gorgeously shaped frame
Fun colors to choose from
Gucci GG0636SK
Have fun in the sun without losing your sophistication when wearing these Gucci sunglasses. The frames come in an ultra-flattering cat-eye, which will turn heads. In addition, the Gucci double logo and gold accents give anyone an elegant look as they bask in the summer sunshine.
The frames are made of acetate, so they're pretty lightweight. That said, they're also very durable.
It only comes in one color—classic Havana brown.
What people like about it:
The cat-eye frame is very flattering
The Gold Gucci logo and accents make it look even more opulent
It comes with a luxurious velvet box
Eyeconic Men's Glasses Reviews
Were you looking to buy a pair of glasses for your boyfriend or dad? Check out some of the men's frames we thought looked pretty cool.
Ray-Ban RX5154
The Clubmaster is a square-shaped frame design that gives any man that brooding, bookish look. The thick upper portion is reminiscent of bold eyebrows—a sultry look for men. So, if you want to look smart and sexy, these are your frames.
These frames are made of acetate for a balance between weightlessness and sturdiness. It comes in three shades—shiny black, transparent, and classic Havana. It also has metallic accents that are classic for Ray-Ban designs.
What people like about it:
Material is of excellent quality
It makes you look smarter
Retro style
Calvin Klein CK19573
If you're looking for something simple but does the job well, these Calvin Klein frames will be terrific. The rectangle frame isn't that sexy compared to other glasses shapes. But when it comes to substance and functionality, it always shines.
These frames are available in many different colors. You can get it in plain shades like black and white or fun ones like hunter green and crystal blue.
What people like about it:
Light and comfortable essential glasses; excellent as spares
Unisex design makes it great for women too
Lacoste L900S
These chic rectangle sunglasses from Lacoste are enough to make any woman swoon. It's a mix between Men in Black and the Matrix, making for a cool, intense look.
These frames are made of plastic but are still built to last. In addition, they come in a variety of colors. With the classic Lacoste alligator logo on the side, these frames are sure to command attention.
What people like about it:
Simple yet still stylish
Comfortable on the face and has the perfect fit
Eyeconic VS Warby Parker VS EyeBuyDirect
You can find designer glasses from famous brands for men, women and kids:
eyeglasses,
sunglasses,
contacts

You can find glasses for both men and women: reading glasses, sunglasses, contacts and etc

You can find glasses and sunglasses from Eye Buy Direct and other premium brands

Free shipping on all U.S. orders

Free shipping only from $99

The only shop that works with insurance


Dozens of your favorite brands

On every order, you'll get a FREE frame adjustment or contact lens consultation from a doctor

Often has promotions and sales

You can add anti-scratch coating on the lenses

Some frames can be pricey

Delivery takes up to 12 working days

Free shipping only from $99


Delivery takes up to 14 working days
It's not difficult to see why Eyeconic is, in fact, so iconic (wink, wink!) when you compare it with its top competitors.
At first glance, Warby Parker and EyeBuyDirect may seem like good options for eyewear. But when you look at their offerings and services, it's clear that Eyeconic is much more ideal.
First of all, Eyeconic carries many designer brands. Warby Parker is just one brand on its own. Meanwhile, EyeBuyDirect only has a few premium brands in its selection.
Eyeconic also gets plus points for being the only one among the three to connect with your insurance. That way, shopping for prescription glasses is never a hassle.
The only downside is that Eyeconic has the most expensive pieces among the three. But that's only because the selection on the site is full of high-quality, renowned luxury brands.
Eyeconic Reviews
Eyeconic has a high score on Sitejabber, with 4.7 out of 5 stars. But on Trustpilot, it has an average score of 2.8 after garnering 280 reviews.
People who rate the brand on these sites praise the quality and style of the frames. The process of ordering is also always smooth. However, people do have complaints about how slow the shipping can be.
As of writing, there aren't any Eyeconic reviews on YouTube yet. However, if you come across one, please don't forget to share it with us!
Eyeconic Pros and Cons
Eyeconic Pros:
Wide range of eyewear, from reading glasses to sunglasses to contacts
Carries dozens of luxury brands on one website
It has a virtual try-on feature
You get 5% off your first order
The only eyewear store that connects with your VSP, MetLife, and Cigna insurance
Shipping and returns are always free.
Each order comes with a free frame adjustment or contact lens consultation with a doctor.
They have a lot of promotional freebies and sales.
Eyeconic Cons:
Some of the designer glasses can be super-pricey
There have been complaints of slow delivery
Is Eyeconic worth it?
Yes, checking out Eyeconic for your next eyewear order will be worth it. Sure, the designer items on their site may be more expensive, but the ease of shopping for many brands makes the job easier for you.
Eyeconic carries some of the most high-quality frames in the industry. So whether you're looking for sunglasses, reading glasses, or some contacts, they have them. They boast of products from humble, meticulously crafty brands to opulent luxury labels.
They also have a wide range of products for men, women, and even children. So, there's something for the entire family when you shop here.
You get free shipping, free returns, and a 5% discount on your first order! If that alone doesn't make Eyeconic worth a shot, we don't know what does.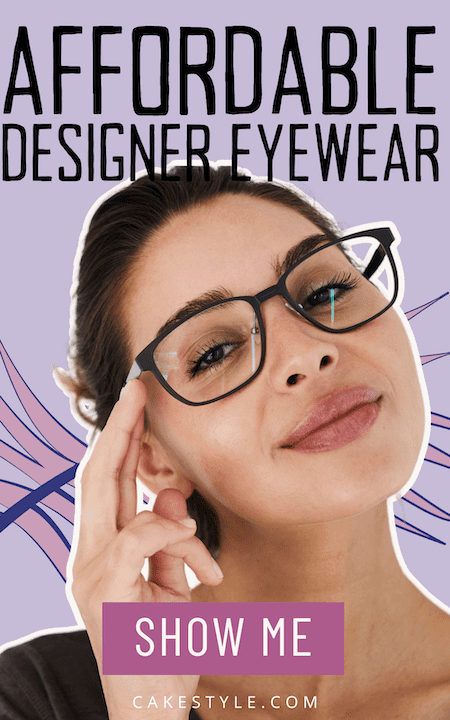 Read This Next: