WMP Review: When you search for that perfect pair of sunglasses or glasses, what is most important to you? Is it the name on the frame that catches your eye first, or is it the design and quality?
Glasses are an accessory, and if you need more than a few pairs, they can get costly.
WMP Eyewear is an eyewear brand with a simple concept: No need to overpay for a logo. Good quality glasses can be affordable.
You can still look fantastic and chic, as well as proud to wear the brand and have money left to spare.
Keep reading if you want to know more about WMP Eyewear!
About WMP Eyewear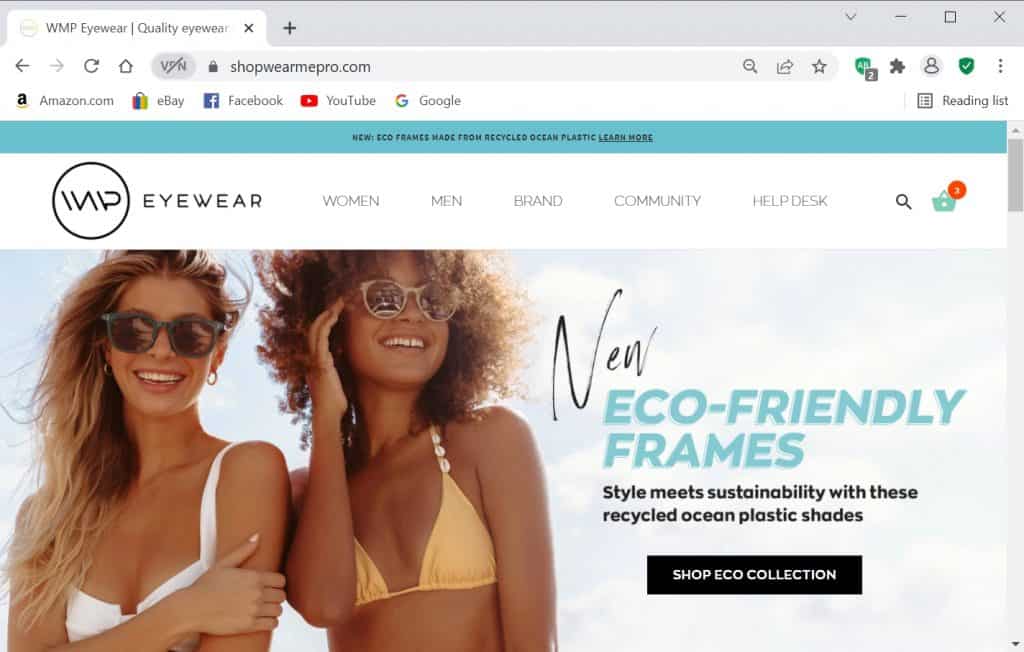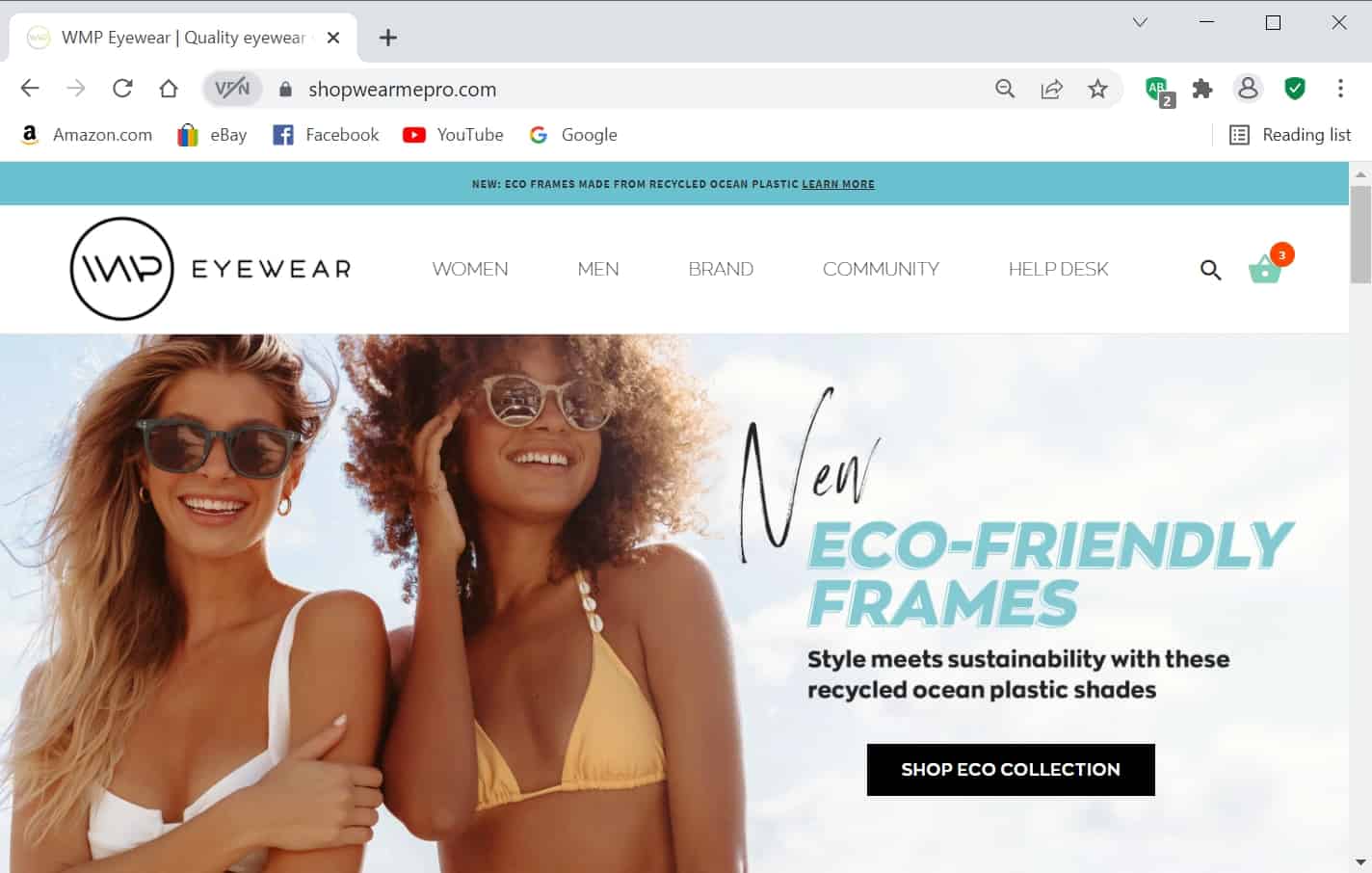 WMP is a small, independent, and family-owned business that offers crafted and trendy eyewear with a bonus… No luxury brand price tag.
The brand believes in the high-quality yet affordable and fashionable products that its clientele feels proud to wear.
WMP not only cares about style and quality but also about giving back. The brand donates to charities and prides itself on its environmentally-friendly attributes.
It is also a proud supporter of the Arizona Humane Society, a portion of each product sold going toward animals in need. To this date, WMP has donated over one hundred thousand cans of food and more truckloads than you can imagine.
The newer collections at WMP also include an eco collection with styles made out of 100% ocean plastic. We think that's neat!
So, when you buy from WMP, you are helping make a positive impact, and that's what it's all about! We like brands that care more about making a difference than profit.
But is it legit?
They have over forty-five thousand followers on Instagram with hundreds of mentions from loyal clients. Pretty legit so far! If you keep reading, you will find honest reviews below.
Ordering From WMP Eyewear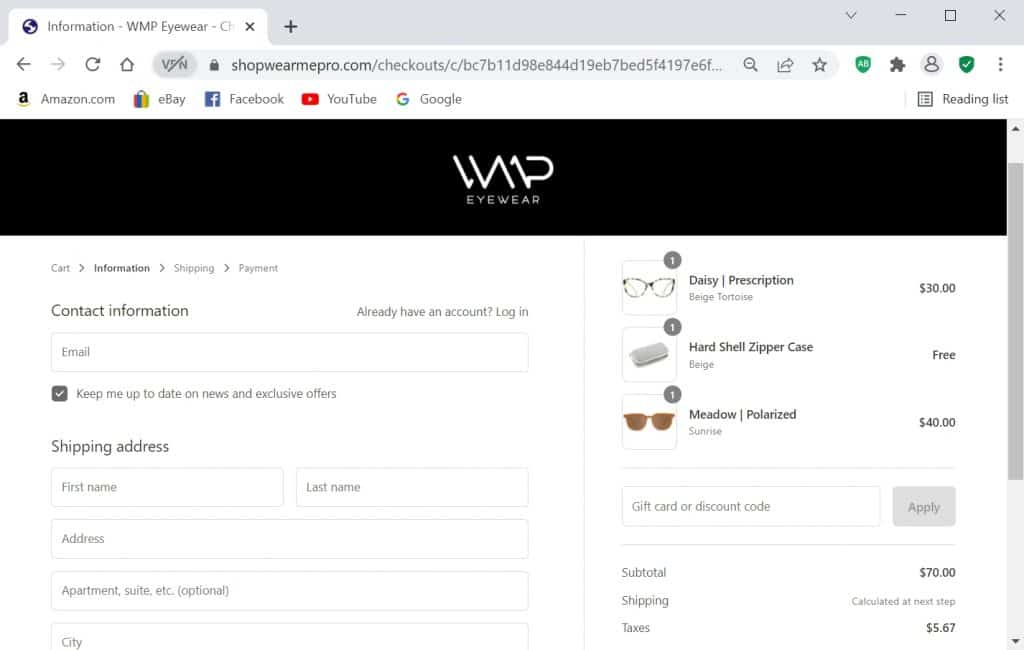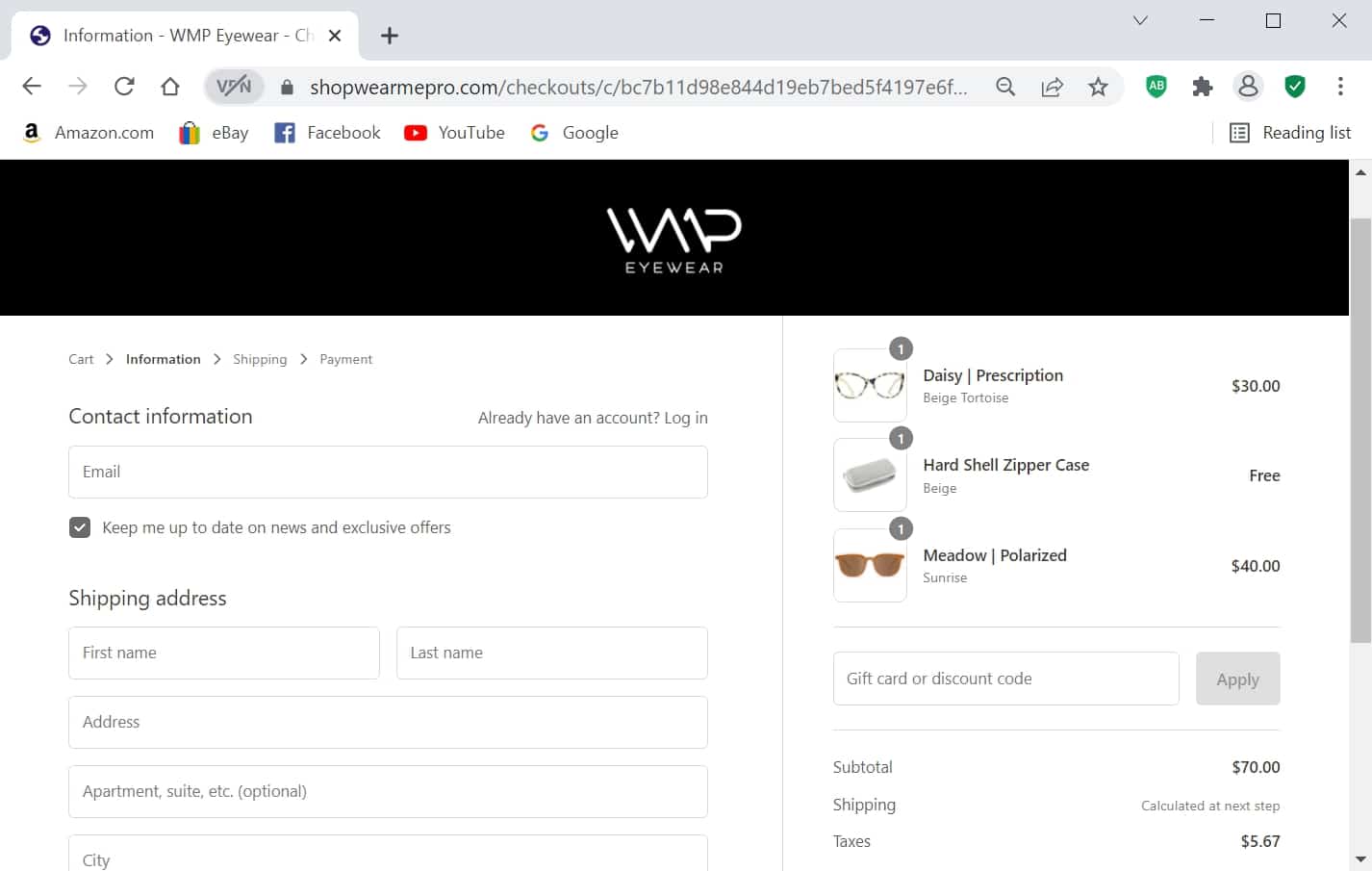 Shopping online has never been easier. You can find sunglasses for both men and women and are categorized appropriately and simple to navigate. In addition, blue light glasses are offered with special releases like the new Eco Collection or Active+ glasses.
The Active+ glasses, you might ask? This is a collection of high quality similar to that of designer brands. It is exclusive, fashionable, and crafted with sturdy frames with stainless steel hinges and polycarbonate lenses.
Each order comes with a hardshell case, and expect your order to go in a few days with free delivery.
Even though WMP prices are more than affordable, you can even find discounts and sales regularly. For example, there is a 15% discount currently just by signing up for the newsletter!
You also have 14 days to return your order and get a refund with a small fee of $5 for shipping expenses. Producing is a hassle-free process.
However, all sales from the BOGO (buy one get one) and ones that are labeled final sale have a no return/exchange policy.
Don't forget, with each order you help with an animal! You are making a difference.
WMP Eyewear Pro's and Con's
WMP Eyewear Pros
You are making a difference with every order
Every order you support animals in need
Used recycled plastic
Chic and fashionable designs
Free domestic shipping in the US
Free 2-day shipping on domestic orders over $55
Easy returns after 14 days
High-quality
Excellent reviews on Trustspot and reviewmeta
Affordable
WMP Eyewear Cons
$5 fee for returns
Double-check your orders to ensure everything looks correct
WMP Eyewear Bestsellers
Top 3 Styles for Women

Nevada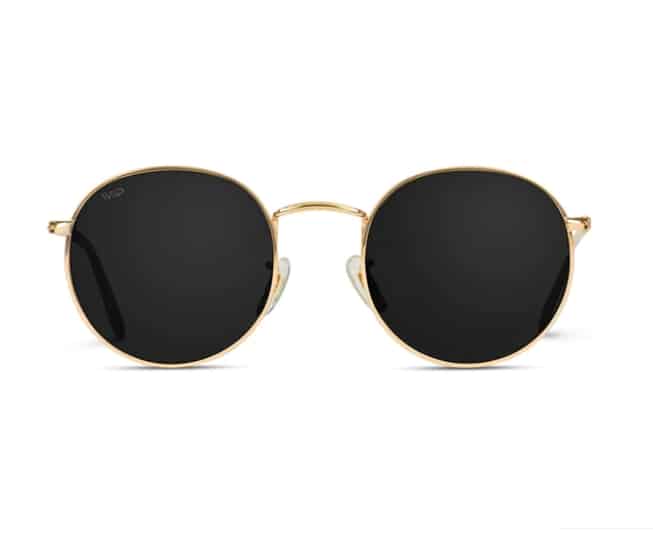 We love these chic, round polarized stylish glasses that can be paired with just about anything! The glasses have around, mirrored Nevada frame. These shades give a modern look with a retro-style frame.
It even comes available in seven colors to choose from!
These include green, blue, or even pink. Each is enveloped in an elegant gold metal frame to ensure you stand out in every crowd. Yes, please!
The Nevada glasses are unisex and have 100% UVA/UVB protection (UV 400).
If you're wondering if this style is for you, the frame and lenses fit almost all faces, including oval, square, and longer face shapes. You can also read about finding the right sunglasses for you here. If you are unsure of fitting glasses, you can always visit the size chart available on the website.
Lucy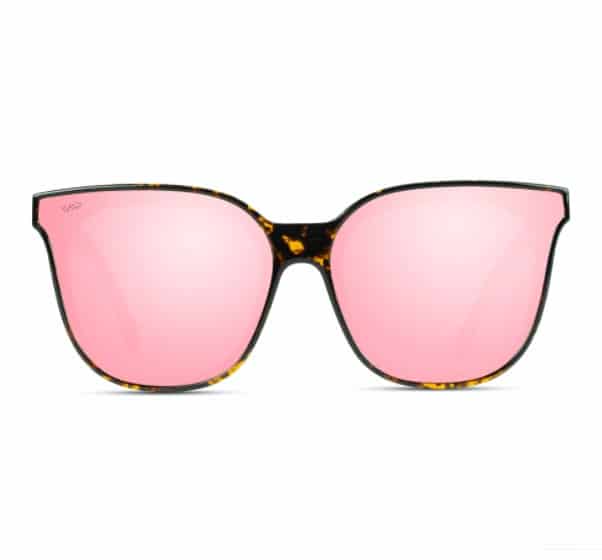 The Lucy sunglasses are top-rated for a reason. Sleek, effortless, and gorgeous, they come in four different colors to suit your preference.
They are an oversized trendy and cat-eye style of sunglasses that can be paired with multiple outfits for different occasions, whether it's going to the beach with your friends for the day, going for coffee, or sitting outside of the pub on the patio. They make a great addition to the perfect Instagram photo!
There are also different lenses to choose from! You have the choice of fun mirrored lenses to a classic solid lens.
These are specific to women and offer a frame and lens of Polycarbonate and 100% UVA/UVB protection.
Alex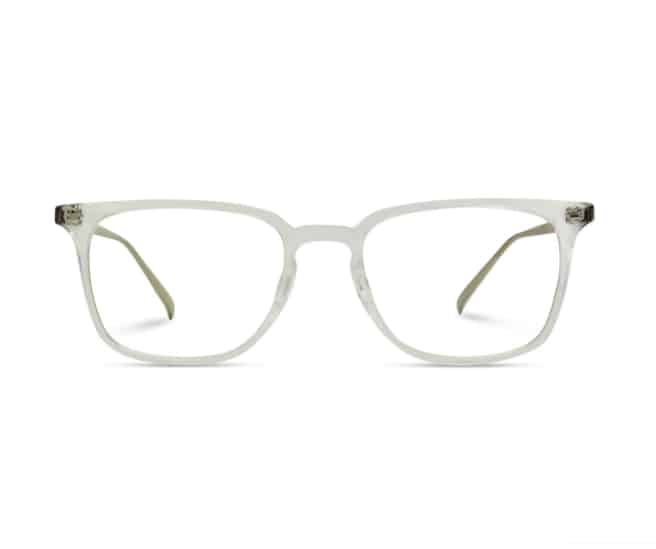 These sleek and elegant styled glasses have a blue-light-blocking lens that protects eyes from screen time.
Blue light glasses are convenient for anyone who uses a cellphone computer tablet often and may be exposed to fluorescent lighting. The rectangular design and lens help you ditch the digital eyestrain while still allowing you to look chic and stunning.
We believe anyone can benefit by wearing these lenses as they genuinely protect your eyes. WMP offers many designs to choose from, with styles for every face shape. These particular glasses are unisex and look fantastic on men and women.
They are also available in three colors.
Top 3 Styles for Men
Wesley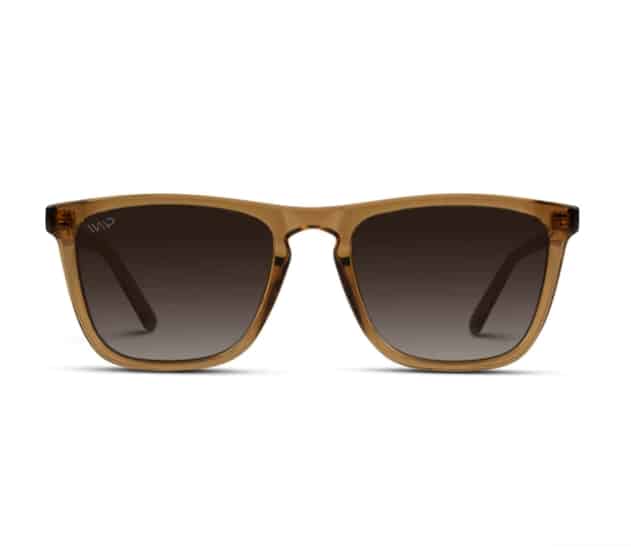 These sharp-looking Wesley glasses come in three different colors: Navy blue, black, and crystal brown with polarized lenses.
The style is a sleek and classic square frame that can be dressed up or down to suit your preference. Wear them out golfing, to date, or even to a wedding! They honestly could be your go-to daily sunglasses.
These glasses have 100% UVA/UVB protection and polycarbonate lenses for maximum optical clarity.
They also are scratch resistant and have an anti-glare coating feature.
Harvey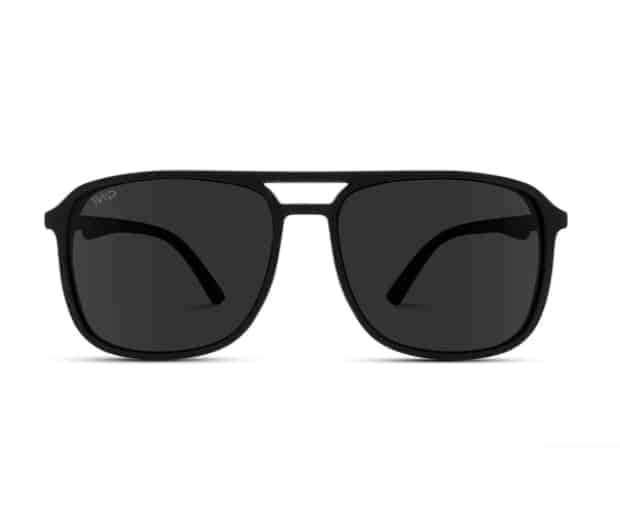 Does anyone else think of Harvey Specter from Suits wearing these stylish glasses? Not a Suits fan? That's okay; we'll move along now…
Harvey is a unique and modern pair of sunglasses for men with a slightly retro take on the classic aviator style.
The extra-thick frame around the eyes gives you extra protection from UV rays and is the perfect choice for driving or if you are out in bright lights for the day. The lenses are polarized and reduce reflections, as well as improve clarity!
Maxwell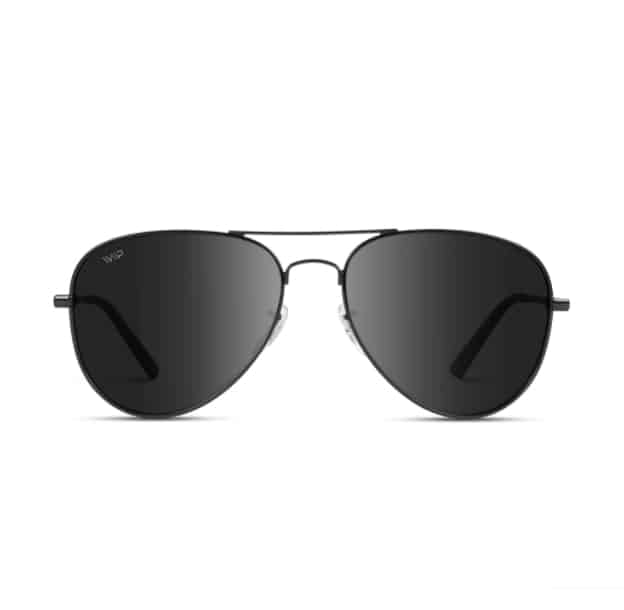 Maxwell glasses are timeless and an absolute classic to the aviator style. These particular glasses are traditional with a blacked-out design. They are a great pair of sunglasses for men or even women to love to rock a classic aviator style!
There are also three frame colors to choose from, and it comes with polarized lenses that offer 100% UV protection.
The lenses reduce reflections, enhance contrast, and improve clarity. Perfect for any outing!
WMP Eyewear VS Shady Rays VS Blenders Eyewear
You can find sunglasses for both men and women: reading glasses, blue light glasses, new eco collection or active+ glasses.

Sunglasses, readers, snow glasses, polarized glasses, blue light and even floating glasses for men and for women

Shade, blue light, readers, non-polarized glasses for men, women and kids

Free 2-Day FedEx Shipping on domestic orders over $55

With every order you supports animals

Affordable prices and sales

Amazing reviews at trustspot and reviewmeta

Woldwide shipping and free returns 

Free U.S. Shipping Over $50

Have offline store in California

Meals donation - with every pair glasses the company offers 10 meals 

Most of the models go to medium to large face size 

Have just one offline shop

Some people complaint about large sizes and bad customer servise

WMP Eyewear Reviews
WMP Eyewear Review meta
Almost nine thousand reviews on reviewmeta with a good score of 4.3 out of 5 stars! Worth checking out if you want genuine, honest reviews before purchasing.
WMP Eyewear Trustspot
4.6 out of 5 on Trustspot with over 700 reviews.
WMP Eyewear Amazon
4.5 stars on Amazon! Another link that is worth checking out for honest reviews.
WMP Eyewear YouTube Review
Cassidy Coles ordered a few products and liked the style, design, and affordable prices. She also appreciated the packing it comes in! The blogger mentions that they come super protected, so they don't get damaged.
She was very impressed with how they fit her face and looked.
Is WMP Eyewear worth it?
Absolutely!
We believe it is worth it for both men and women. The brand is consistent with great prices, vast selection, and sales. They also offer free delivery for all orders with a return policy.
Also, remember that by buying from WMP, you are making a difference and supporting animals in need!
Read This Next: