An Honest Cocofloss Review – Is It Worth Buying?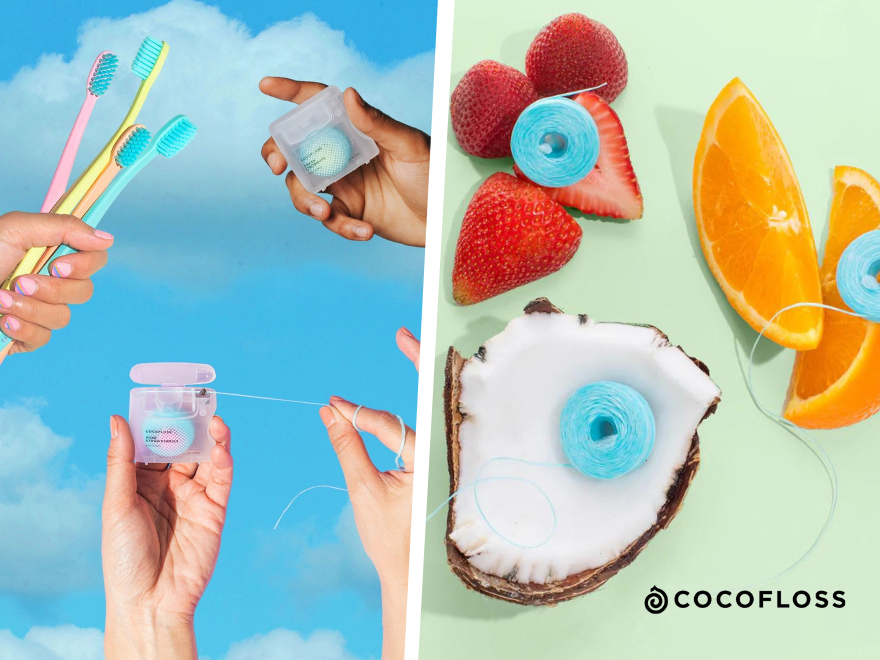 Cocofloss review: Flossing is one of those things everyone knows they should do but never get around to doing. Many people believe that brushing their teeth is more than enough for the dental routine. But it's not!
Let us introduce you to dental floss that will get you excited to do it daily—Cocofloss. This luxury dental brand offers floss in fun scents, like Fresh Coconut and Banana Daiquiri. Whatever your taste, there's a Cocofloss fragrance for you.
And it's not just about the charming aromas. Cocofloss is also textured and pliable enough to remove plaque and debris from your teeth.
As an affiliate partner of various brands and sponsored content, CakeStyle may earn commission on qualifying purchases. Disclaimer | Advertise With Us
Do you want to hear more about this dental care brand and its offer? Read on to see our thoughts.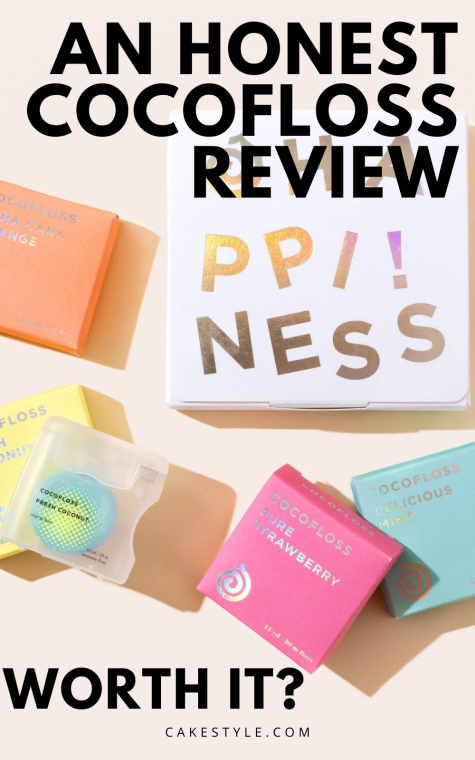 About Cocofloss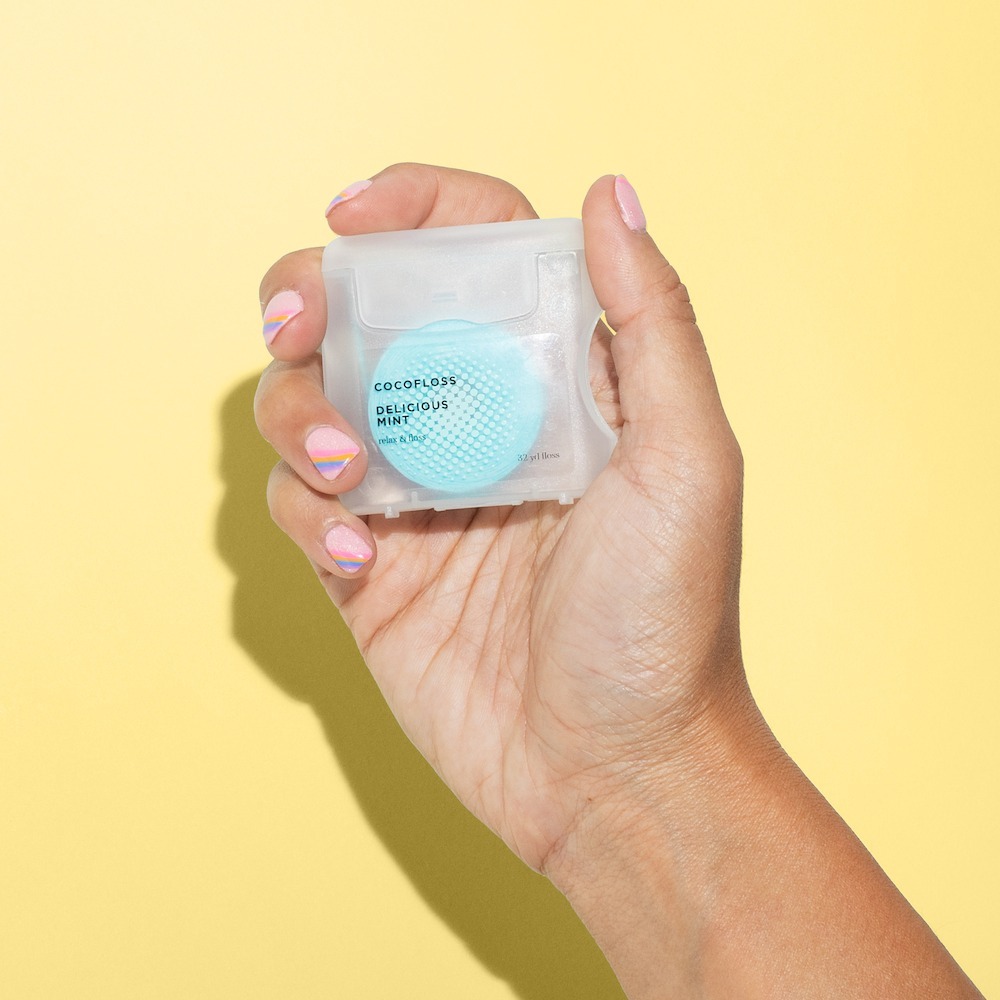 Cocofloss dental floss was founded by two sisters— Dr.Chrystle, a dentist, and Catherine, a former financial analyst. Their goal was to get people more excited about improving their oral hygiene.
They wanted to get people to use high-quality floss to clean and protect their teeth effectively. This was a challenge since dental hygiene is a more boring aspect of personal care. They invented Cocofloss, a luxury floss that comes in various fun fragrances.
The dentist-designed brand is also eco-friendly. Their dental floss is made from recycled water bottles, so it's highly sustainable. The brand is proud to be on track to upcycle over 500,000 water bottles from landfills this year! They also offer refills, so you don't need to toss your dispenser every time you run out.
The brand has garnered many awards in recent years from Allure and Cellerant. The company is even on the Inc. 5000 list.
They have 75k followers on Instagram. They're also loved by celebs like Olivia Wilde and Gwyneth Paltrow (who claims to use the floss every night).
What is Cocofloss made of ?
Cocofloss is different from the standard "gliding" floss you'll find in your drugstore. It is made with over 500 interwoven filaments. The woven texture gives it both scrubbing power and elasticity. The dynamic threads contract to fit between tight spaces, and then expand to sweep the surfaces clean.
This makes it thick and pliable and easier for the floss to snatch away the debris between your teeth and gums.
It's like an exfoliating loofah—it whooshes and scrubs away all the sticky, stinky plaque and cavity-causing bacteria grime to make your pearly whites clean and sparkly. The threads are bright turquoise so you can see all the gunk on the floss and get immediate feedback.
Each strand is infused with coconut oil, a natural antimicrobial. This prevents bacteria growth, ensuring a superior clean for your teeth. Coconut oil is also known to keep your breath pleasant-smelling.
Ordering from Cocofloss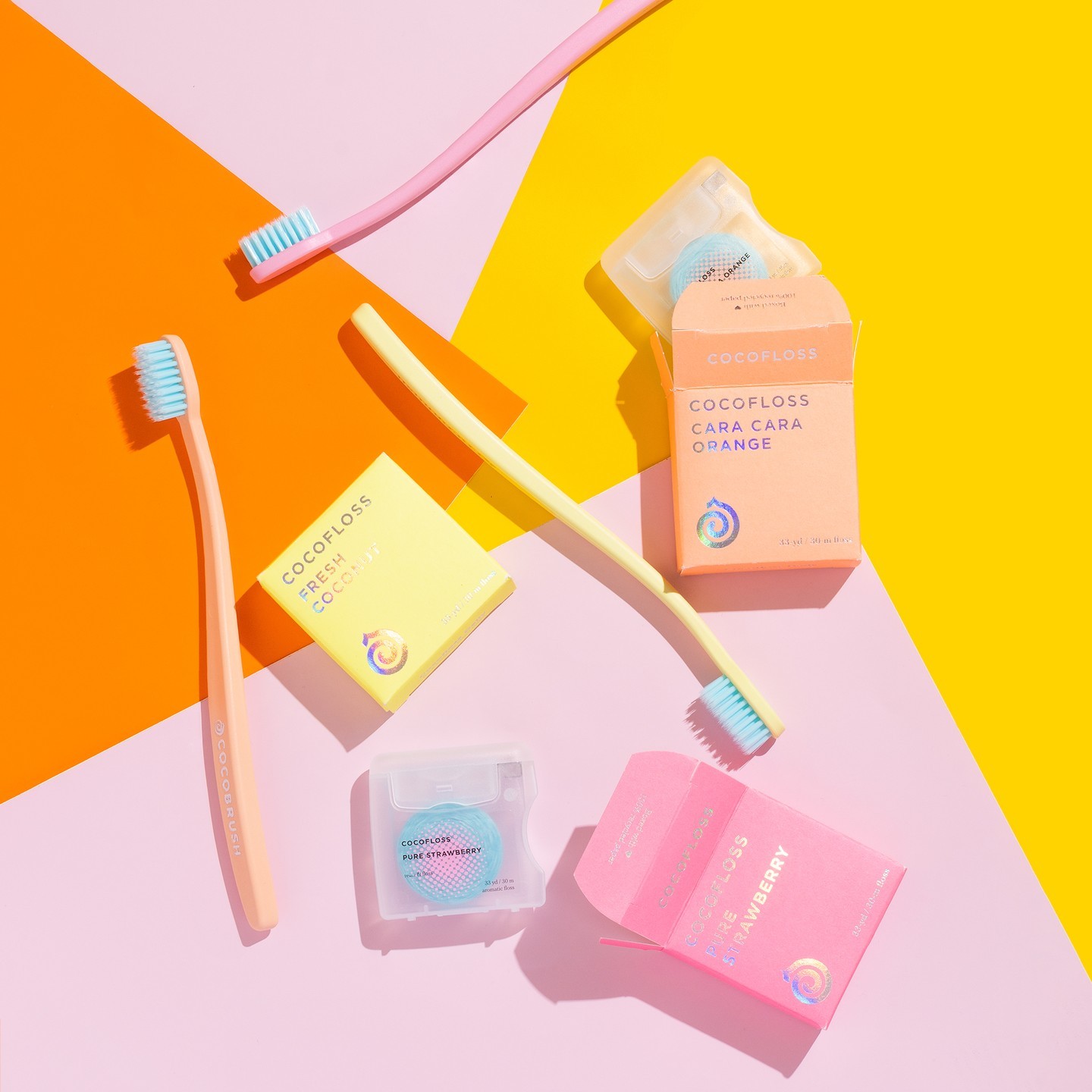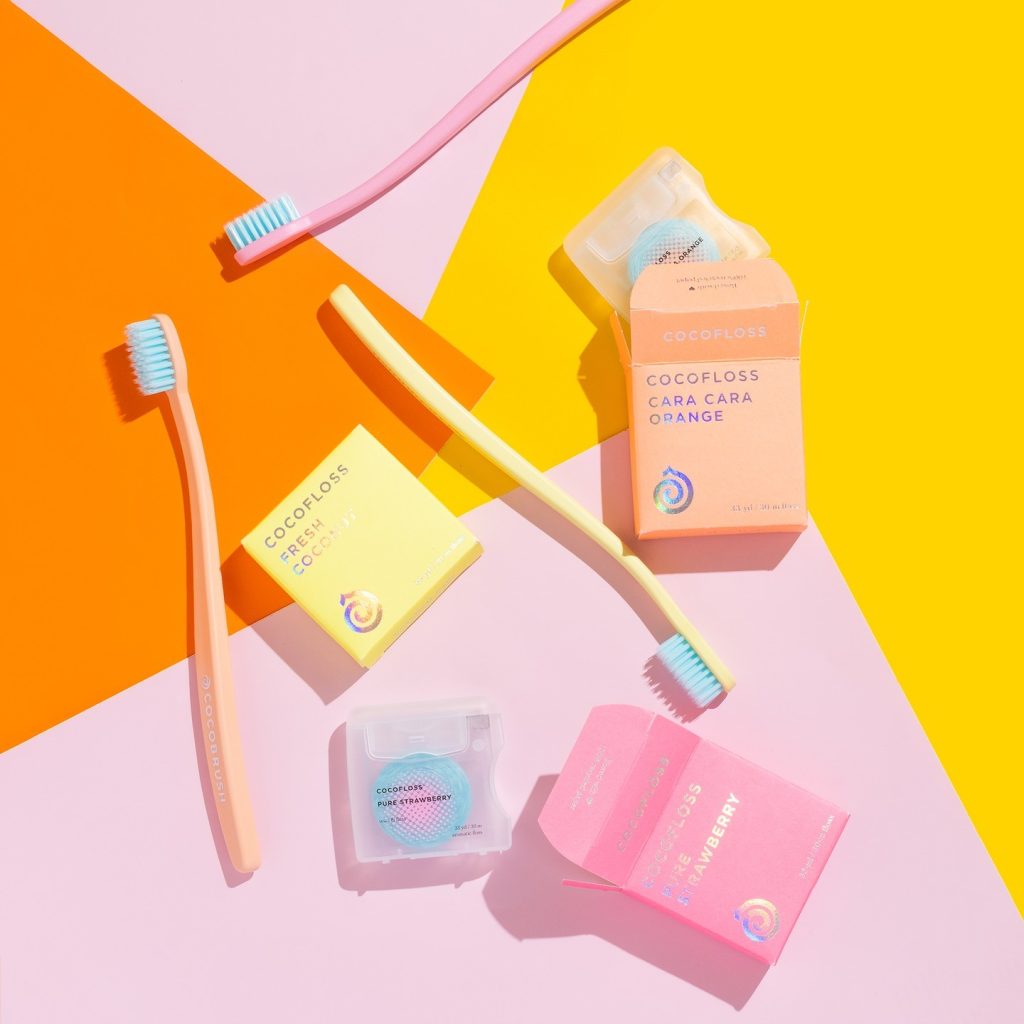 You can buy lots of luxury dental products on their site. They offer dental floss, toothbrushes, care kits, and floss refills (in fully compostable packets). They all come in colorful and cute packaging.
The flosses come in fun and unique scents, like Fresh Coconut, Cara Cara Orange, Delicious Mint, and even Banana Daiquiri. You can buy one spool at a time or try a sampler to check out a variety of scents. And don't worry. Their products are cruelty-free and made without toxins like PFAS, parabens and SLS.
All their scents are super kid-friendly — something parents will likely appreciate. They've recently come out with new products for children. They have the Kids Refillable Cocoflosser and Trick-or-Treat Set, specifically aimed at younger flossers.
On the website, you'll see tons of rave reviews from customers and dentists.
Shipping is free on all orders $25+ and delivery takes 3-14 days. And all orders are covered by an extremely flexible refund policy. If you're unhappy with your order, you can get a full refund at any time. Each order is also covered with a 30-day return window.
You can also get a CocoBox subscription, where you get all your dental care needs in a box year-round! You get 10% off each one, which comes every six months.
Cocofloss Bestsellers Review
Cocofloss Happiness Set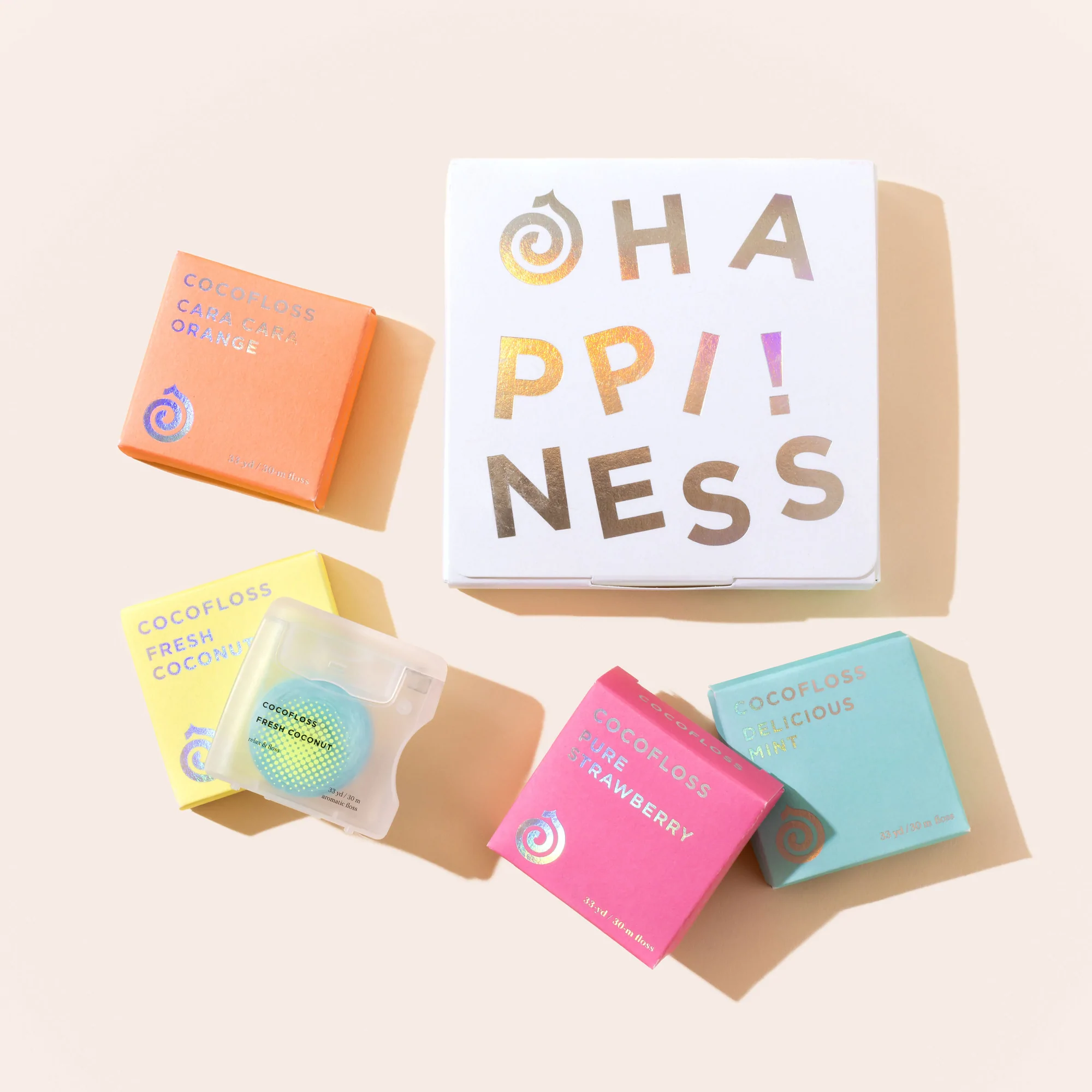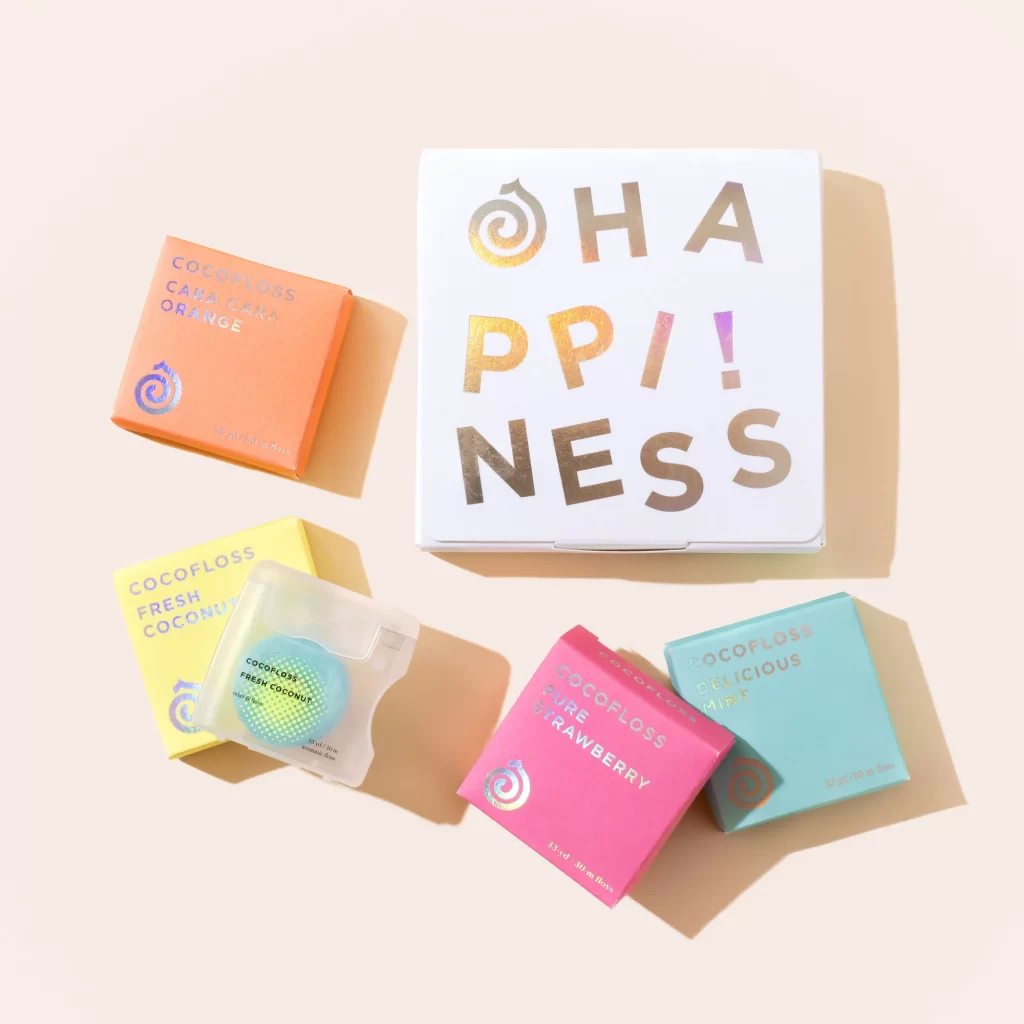 If you want to try out a variety of all the brand's scents, this is the set for you. The Happiness set gives you four spools of Cocofloss at 33 yards each in different scents. It comes in Delicious Mint, Fresh Coconut, Pure Strawberry, and Cara Cara Orange.
These textured flosses remove plaque and debris to give you a clean, sparkly smile. Coconut oil also soothes your gums and lovely scents boost your mood.
Designed by a dentist
Many scent profiles
Gives your teeth a deep yet comfortable, clean
Thick, textured and flexible for effective flossing
Cleanly spun from recycled water bottles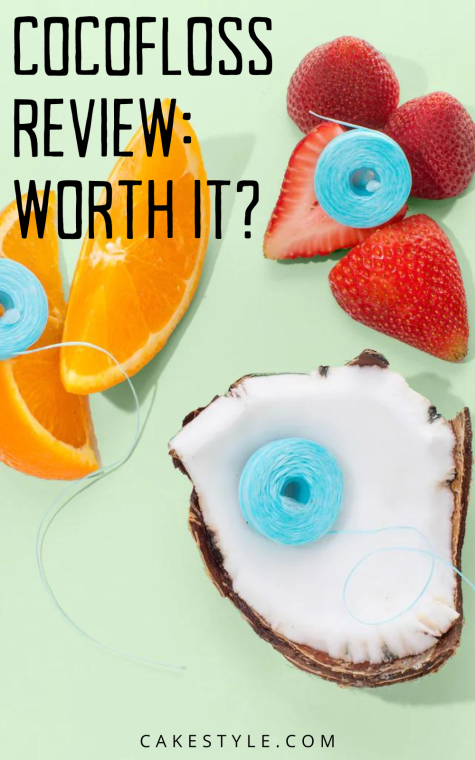 Cocobrush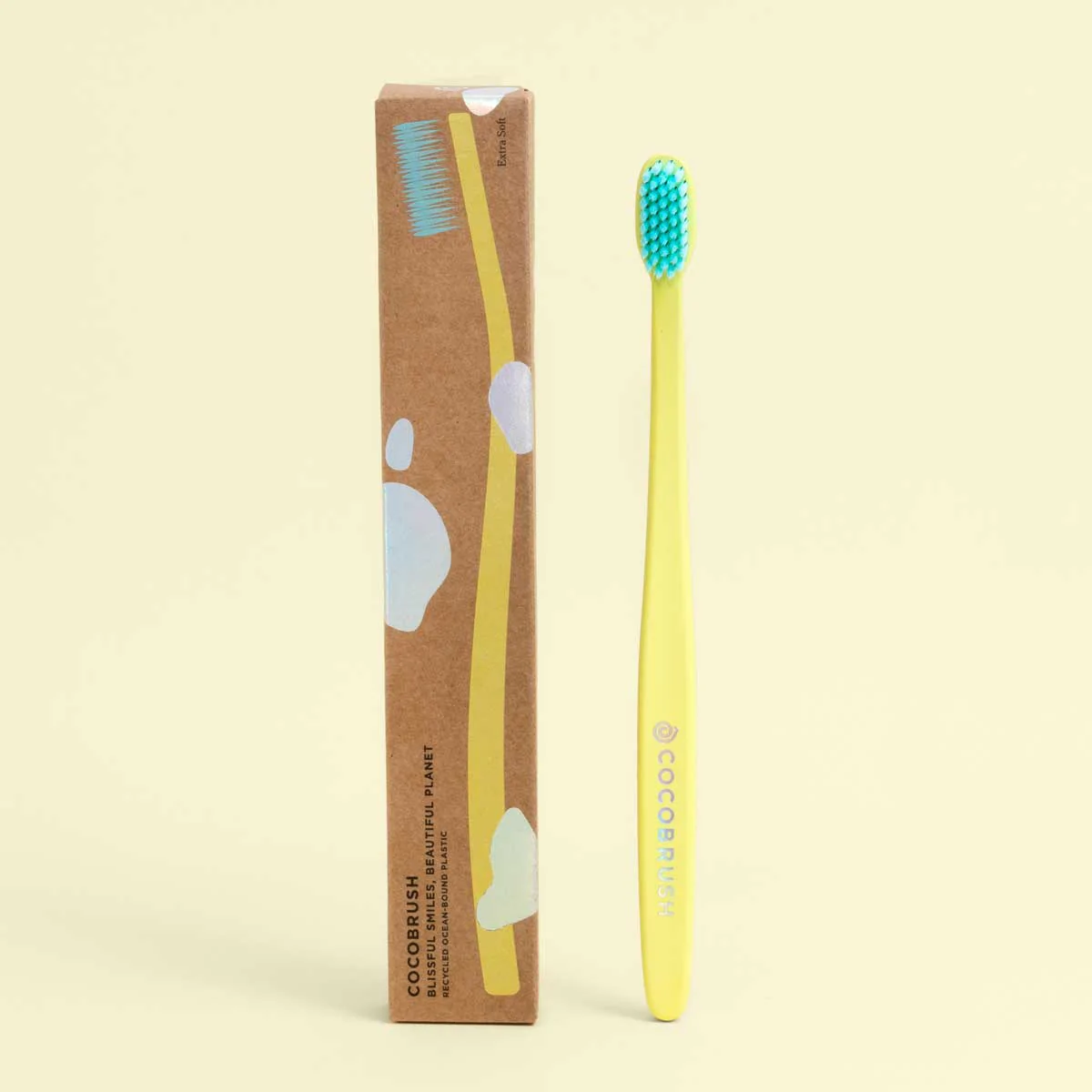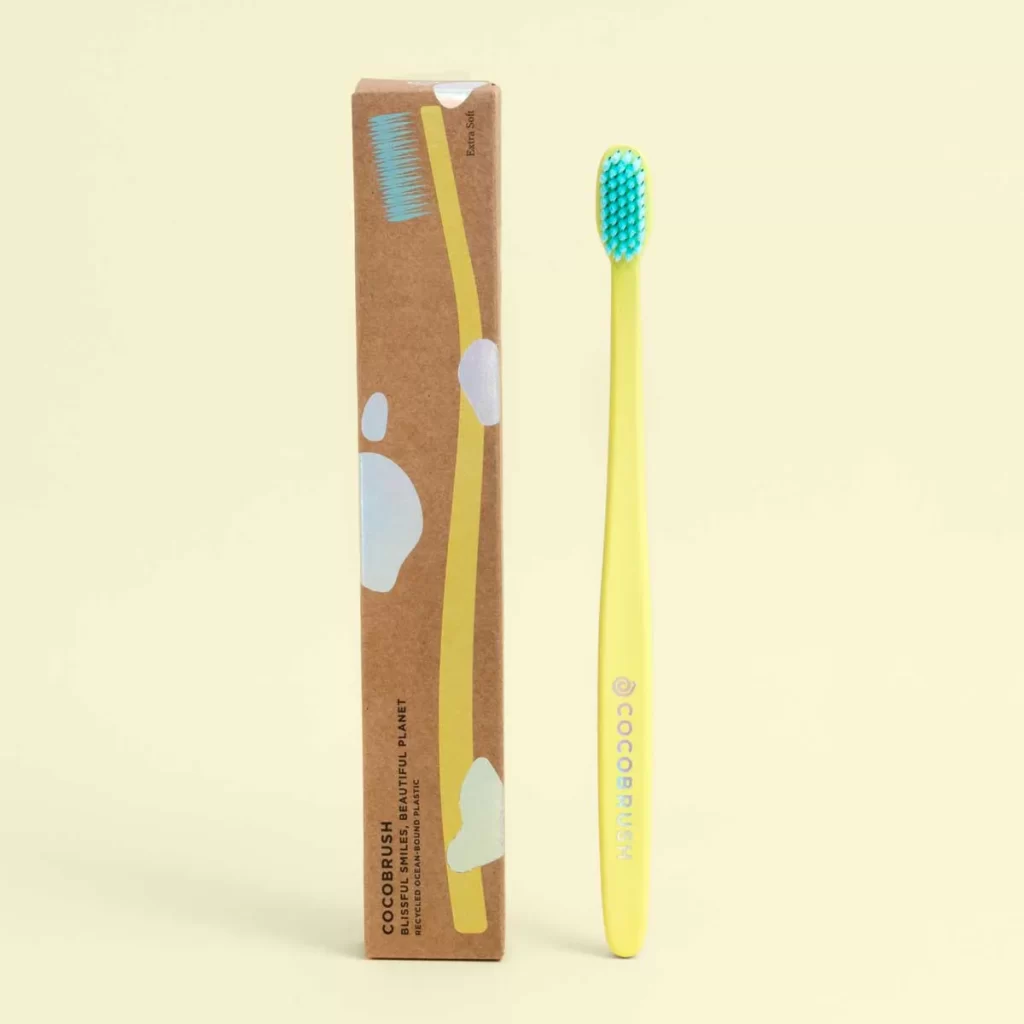 The Cocobrush is made with extra-soft multi-tiered bristles that eliminate smelly, cavity-causing bacteria that can harm your teeth and lead to gum disease. With 40% finer bristles, the Cocobrush is gentler than an ordinary toothbrush.
These finer bristles also reach between your teeth and under your gumline to clean 16 times better. It's made with soft micro-bristles that eliminate smelly, cavity-causing, bacteria that can harm your teeth and gums.
The angled brush helps you reach tricky, tartar-prone areas. It also has a curved handle to make it easy to hold. The handle is made with recycled ocean-bound plastics, which is an eco-friendly product.
What's cool is that for every Cocobrush you buy, the company will remove 10 brushes' worth of plastic from coastal areas.
It's available in four cute colors—Orange Zest, Limoncello Yellow, Blue Bliss, and Tickled Pink.
Designed by a dentist
Multi-tiered bristles are super soft
Massages gums as you brush your teeth
Handle made of recycled ocean-bound plastic
Trick-or-Treat Set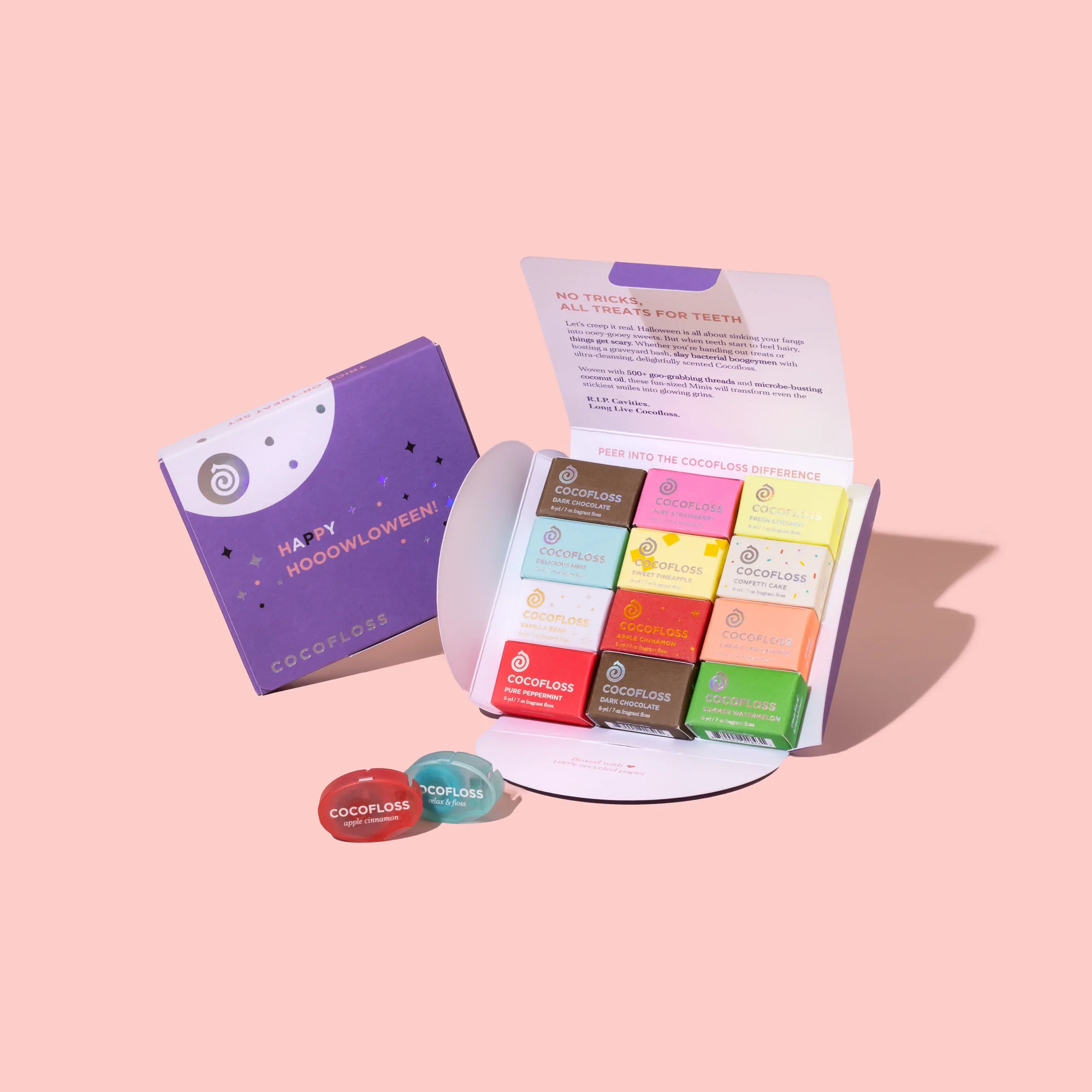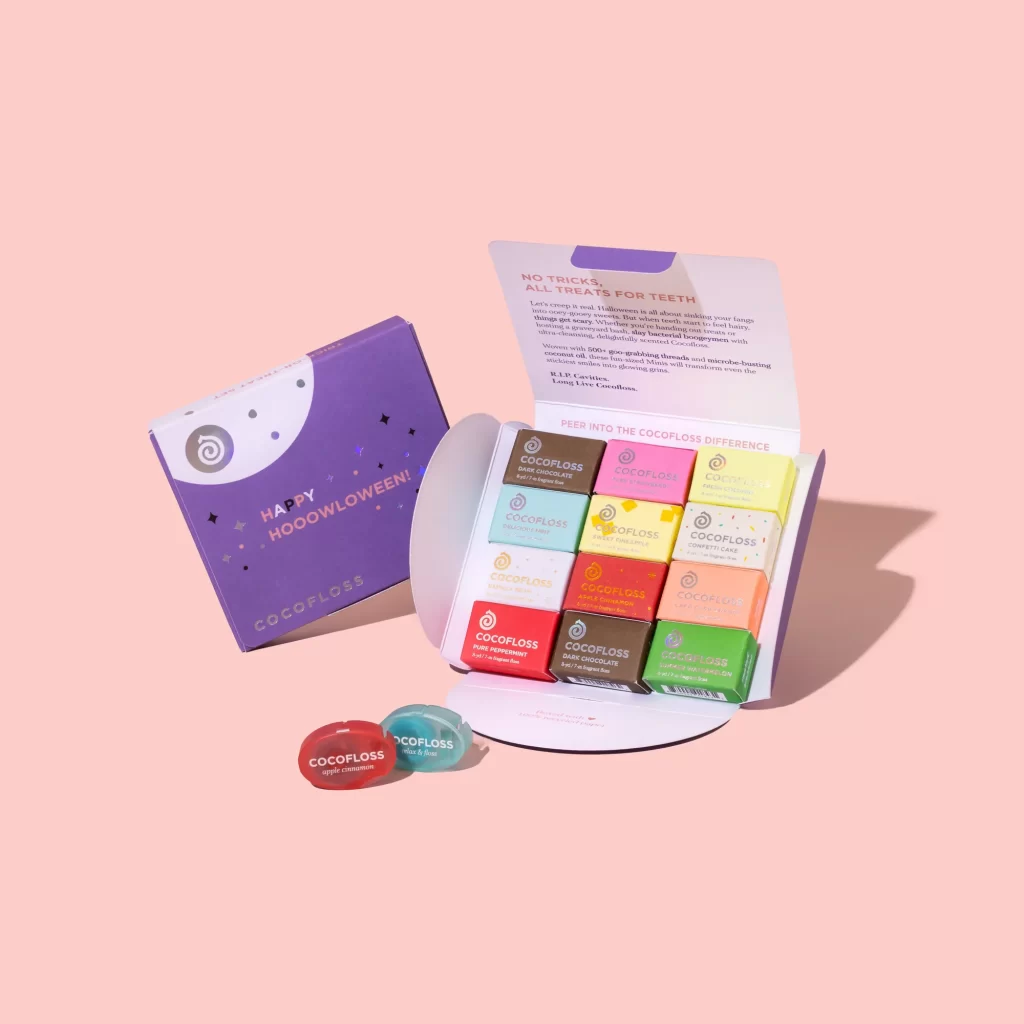 Kids sink their teeth into a ton of candy and chocolate as Halloween rolls around. So, it's just as important to give them floss as treats.
This set of 12 fun-sized Cocofloss Minis is an awesome way to get kids to start flossing this Halloween season. It comes with kid-friendly scents, like Confetti Cake, Vanilla Bean, Apple Cinnamon, and Dark Chocolate. Kids love it so much that this set was sold out last year.
A cute treat to give away for Halloween!
Compact, so it's good for travel
So many sweet scents for both kids and grown-ups
Free shipping
Pros and Cons
Pros:
Dentist designed to prevent gum disease and tooth decay
Variety of fun, tropical scents
Adorable packaging
Excellent reviews
Dentist-designed
Sustainably made from recycled water bottles
Has tons of awards for beauty and dental hygiene
No parabens, SLS, and PFAS
Cruelty-free
Free shipping on all orders $25+
Cons:
More expensive than regular floss
Cocofloss Customer Reviews
The brand has over 4,800 reviews on Amazon, where it's garnered a score of 4.6 out of 5. This is an amazing score for that number of reviews.
Now, let's check what people say about dental floss on YouTube.
First up, we have SunshineSmilesofOrangeCounty, who is a pediatric dentist. She said her other dentist friends rave about it and recommend it to patients. So, she decided to try it herself.
"I will absolutely stand by the effectiveness of this floss," she said. "It takes so much stuff out from in between [my teeth]. Not just food—you can actually see the plaque that's coming out in this. It's both gross but very satisfying as a dentist."
Another short review is by BaselineDental, another dentist.
He talks about everything from the features of the flows to how to use them properly. He's been in the dental industry for over 14 years and says this is his "second favorite dental floss!"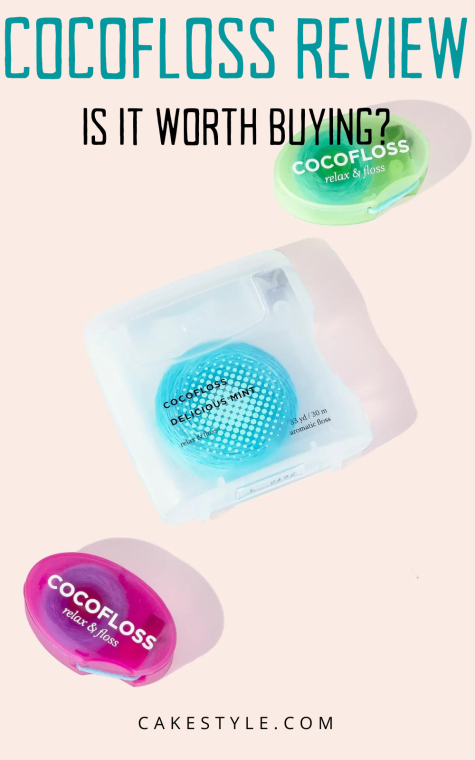 Is Cocofloss worth it?
Investing in Cocofloss is worth it for anyone who needs that extra push to floss their teeth. It's completely different from boring, regular dental floss in quality and novelty. Even dentist reviews say that it's great.
They offer dental health products to help you care for your teeth better. It's also an eco-conscious brand that cares about its environmental impact, which we like.
To conclude our Cocofloss review, we believe that this brand is worth the hype. You'll fall in love with all the delicious floss scents. Try them out yourself, and tell us which one you like best.
READ THIS NEXT: