Oral care is a must for everyone. And caring for your teeth doesn't need to be boring.
We've already discussed a few oral care products, like the Auraglow teeth whitener (check out here!). And we're always looking for the next big thing regarding modern oral care.
Today, we'll be taking a deep dive into Mode. This stylish, electric toothbrush is powerful, from space-saving to making oral care much easier.
Its technological advances and modern style will change your approach to brushing your teeth. Read on to learn more about one of the best-looking toothbrush.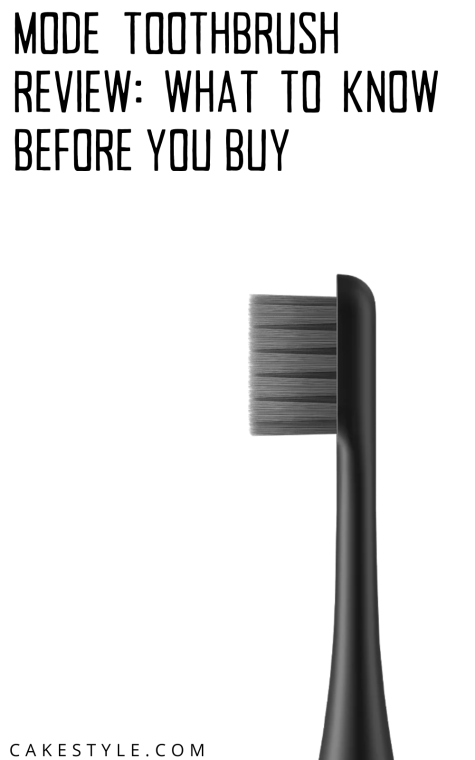 About Mode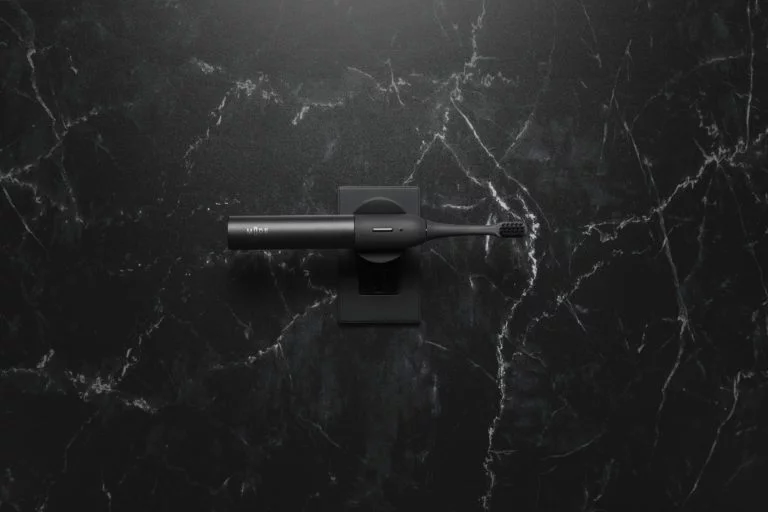 Mode was founded by one of the creators of teeth whitening brand Auraglow. This time, the goal was to develop an innovative oral care device that could change how people brush their teeth.
Most people don't care what toothbrush they end up using. Whatever's in the drugstore is usually okay for them. However, manual toothbrushes can be too rough on your teeth (and arm).
Others use basic electric toothbrushes, but they can be a hassle because of the cables involved when charging. In addition, that's a huge risk in the bathroom, where the wires can easily get wet.
Mode solves all these problems. You don't have to exert so much physical effort to brush your teeth since it's electric. But you don't have to stress about the wires and cables as you charge it either.
Instead, it has a magnetic charging dock that can be placed on your bathroom wall. There are no cables and plugs involved. Put your toothbrush on the dock, and it starts charging.
It's the first toothbrush that can be charged wirelessly. This patented design creates a sleek, luxurious aesthetic for your toothbrush that fits any modern bathroom.
They offer free and fast two-day shipping within the US. In addition, the brush has a one-year warranty. This can be extended to a lifetime warranty if you have a subscription for brush heads.
Curious to see how the brush works? Let's have a closer look at its innovative specs.
Mode Toothbrush Review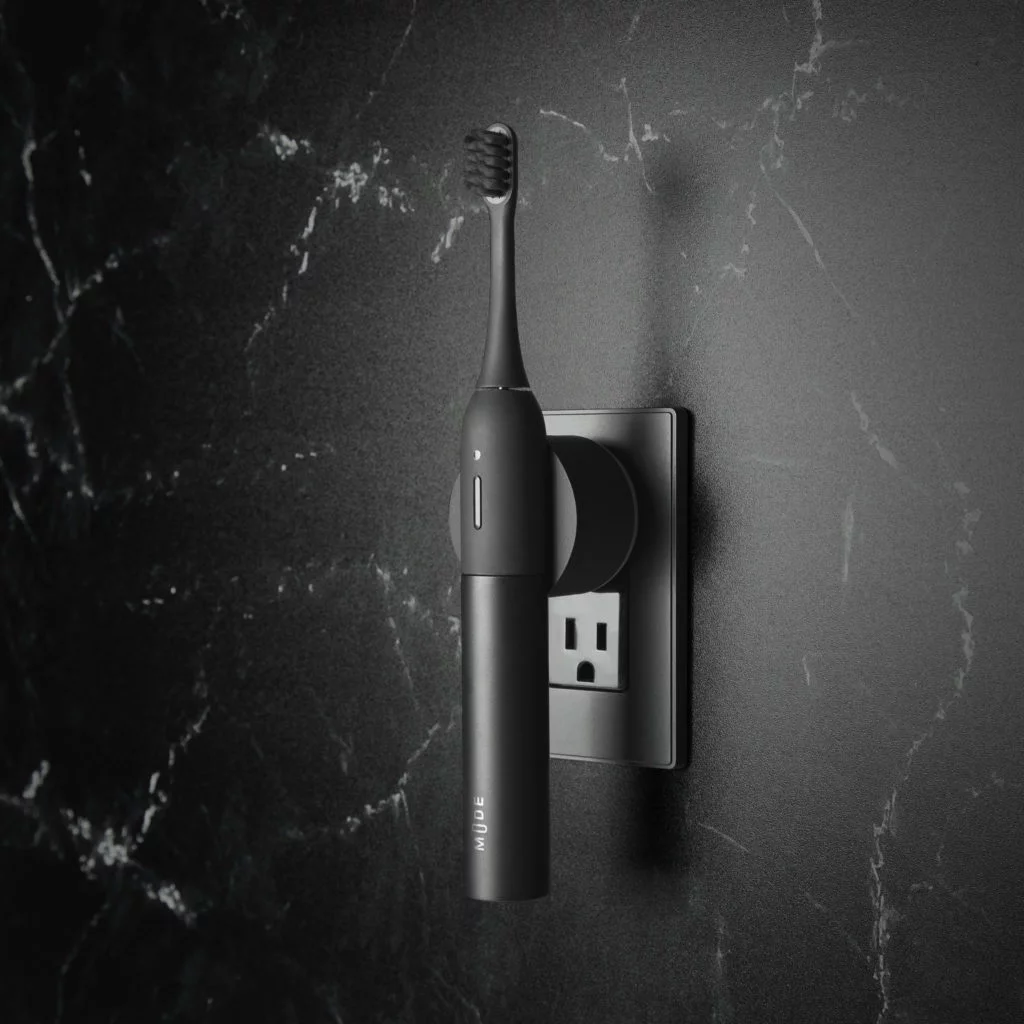 Mode electric toothbrush is the first of its kind. Instead of charging it with a regular cable charger, it docks magnetically and without the need for wires. This saves a lot of space on your bathroom counter.
It has a sleek, black design that creates a modern aesthetic. The aluminium handle and rubber upper make it look even more fashionable.
The IPX7 waterproof toothbrush emits powerful sonic vibrations as you clean your teeth. It brushes your pearly whites at the equivalent of 38,000 strokes per minute. But you don't even notice how strong it is, thanks to its whisper-quiet motor.
The soft-tip, tapered bristles make the brushing motions feel gentle. But that doesn't mean it gives you a half-baked cleaning. Because of its sonic power, you are still guaranteed the deepest clean possible for your teeth. That way, your mouth feels super clean and healthy after each use.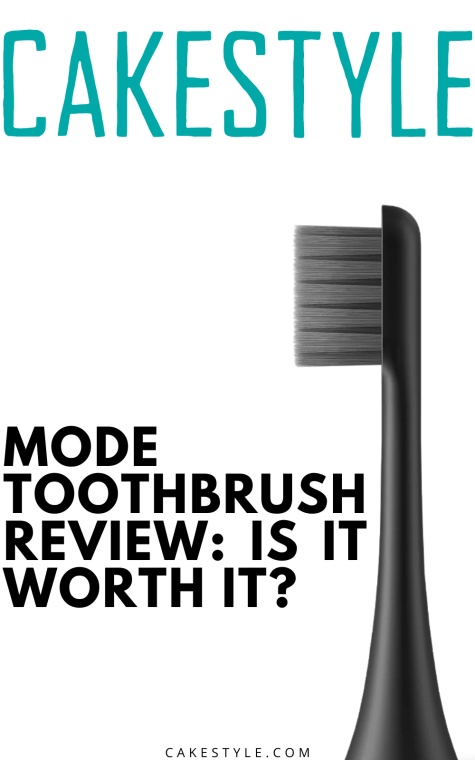 Worried about the charging dock blocking your other outlets? Thankfully, the magnetic dock only takes up one plug. In addition, you can rotate the dock to make space for the other outlets beside it. So, using your hairdryer or trimmer will be hassle-free even as your toothbrush sits on the dock.
There's also a built-in nightlight on the toothbrush's charging dock. This illuminates your bathroom in the dark, making it look flashy and contemporary. It fits any smart home with a practical, simple bathroom design.
When you buy this toothbrush, it comes with one head, a charging dock, and a free brush cover. And if you sign up for a subscription, you get brush head refills every three months (dentists recommend you change your toothbrush this often).
What customers like about it:
The bathroom counter is more organized
Docking and undocking the toothbrush is fun and easy
More powerful than other electric brushes
Nightlight is a beautiful and modern-looking
You can rotate the dock to make space
Mode Customer Reviews
Unfortunately, there aren't many reviews since it's a fairly young company. However, their website already has some good reviews from verified buyers.
If you feel a little apprehensive because of the lack of reviews, don't worry. If anything goes wrong with your Mode toothbrush, you can have it returned within 30 days. Plus, it has a lifetime warranty covering any problems you encounter.
Mode vs. Philips Sonicare vs. Quip Toothbrush
Let's see how Mode fares compare to these other popular electric toothbrush brands.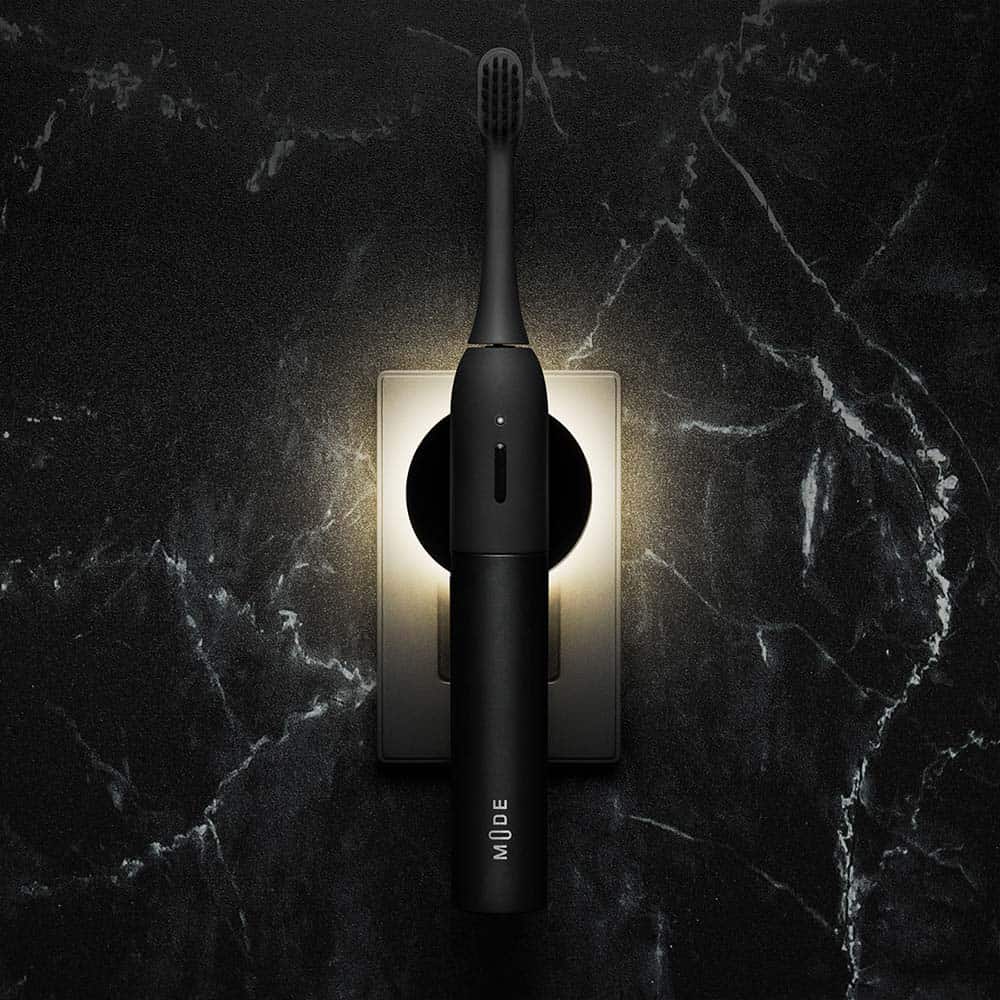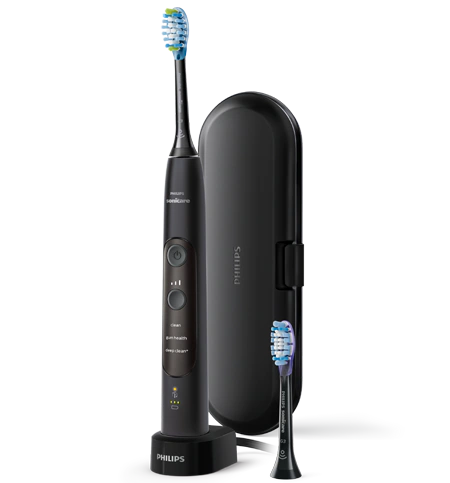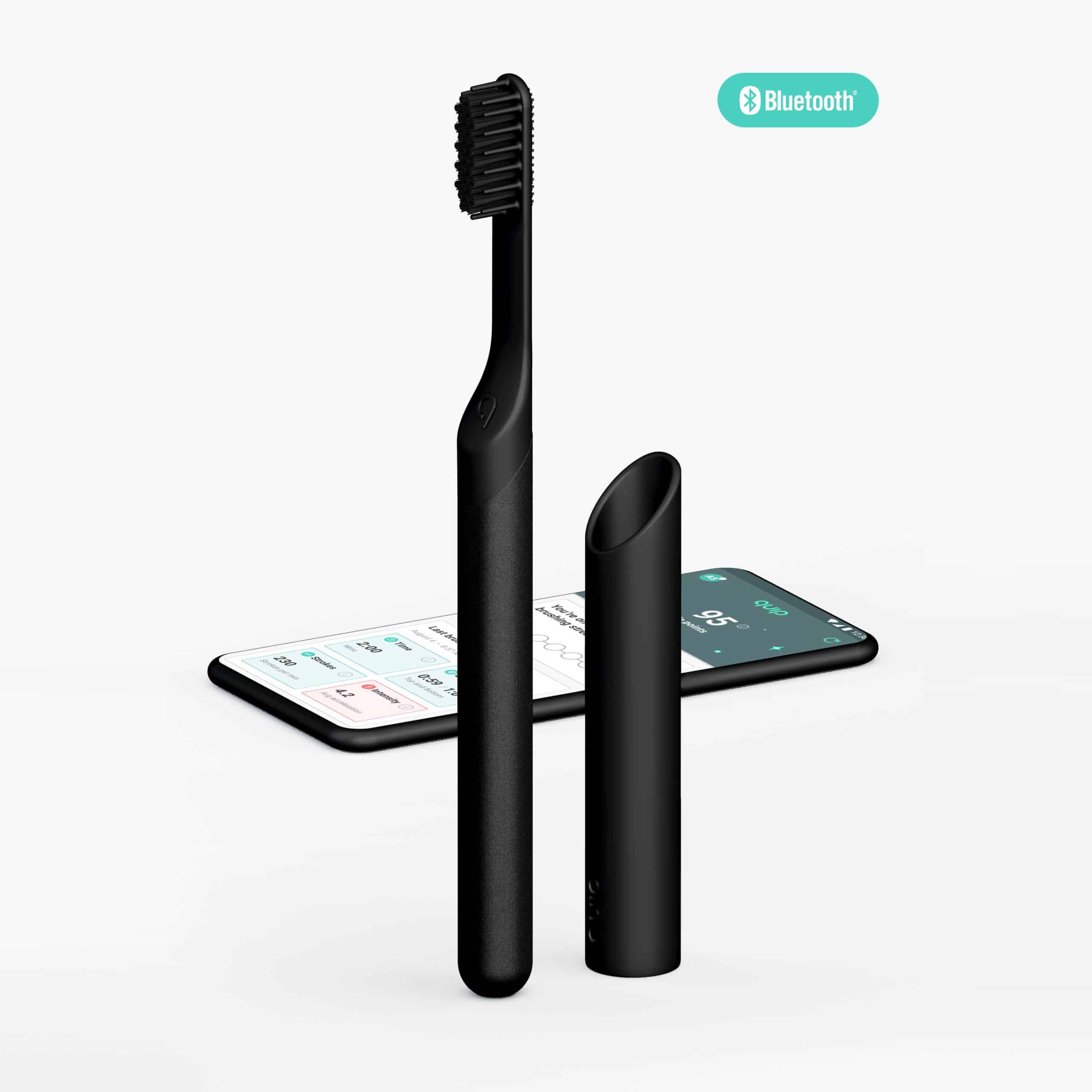 Product Title
Product Title
Philips Sonicare ExpertClean 7300
Quip Smart Electric Toothbrush
Warranty
Warranty
LIfe-time warranty
2-year warranty
Lifetime warranty with an active refill plan
Free Shipping
Free Shipping
Fast 2-days free shipping
Free standart shipping
Yes
Power
Power
38,000 brush strokes per minute
31,000 brush strokes per minute
15,000 brush strokes per minute
How long stay charged
How long stay charged
30 days
14 days
Powered by a replaceable AAA battery that leasts for 3 months
Waterproof
Waterproof
IPX7 waterproof brush and IPX4 splash proof dock
Yes
Yes
Wireless charger
Wireless charger
✅ No charging cables or wires
❌
Doesn't charge. Powered by a replaceable AAA battery.
Price
Price
from $150
$169.96
from $60
Unlike the Mode brush, the Quip one isn't rechargeable. Instead, you'll need to replace it with new AAA batteries every time it dies on you. That's a huge hassle and an even bigger safety risk when you change it in the bathroom.
While the Philips Sonicare ExpertClean is rechargeable, doing it can be a hassle. It requires plugging in the charger with a long wire, which can be dangerous near the sink. Charing the Mode toothbrush using the magnetic dock is safer and easier.
Regarding the power of these brushes, it looks like Mode is the best. The Quip and Philips brushes emit the power of 15,000 and 31,000 brush strokes per minute, respectively. However, Mode's sonic power of 38,000 strokes per minute still comes out on top.
Pros and Cons
Pros:
Electric toothbrush
Stylish, aesthetically pleasing design
First toothbrush model with wireless, built-in charging dock
The dock has a nightlight
Waterproof
Free two-day shipping
30-day return policy
You don't need a subscription to buy the toothbrush
Cons:
Currently available within the US only
The toothbrush model isn't customizable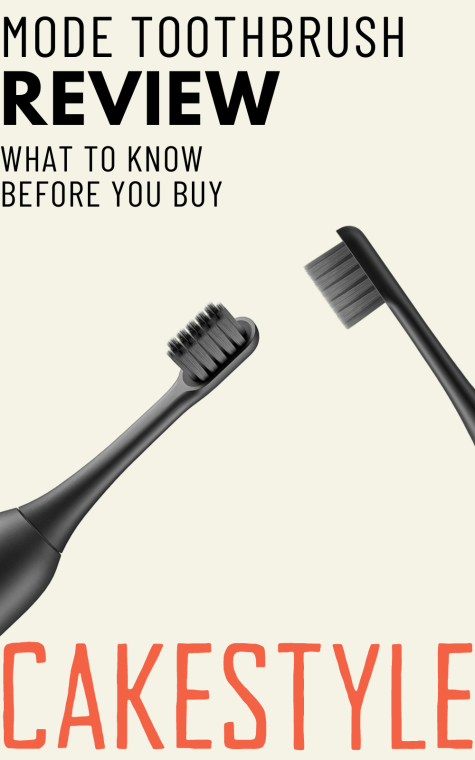 Is Mode worth it?
If you're into sleek, ergonomic, good-looking products, Mode is worth every penny. In addition, it's great for people who want to spruce up their bathroom or try something new.
The electric and ergonomic design makes it a breeze to use. You are no more brushing your teeth with rough, aggressive arm movements. And with a wireless, patent-pending docking station, it elevates the overall look of your bathroom.
A lifetime warranty covers the toothbrush. With a subscription, you'll also receive a new brush head every three months. It's a game-changer that you need to try. After one use of this, you'll never go back to brushing your teeth the same way again.
Read This Next: