Looking for a fuller, thicker head of hair? How about a pair of thicker, more dramatic eyebrows? What about more radiant, youthful skin? If these describe you, then Revela is your new beauty crush.
Revela is a unique beauty company built to challenge the status quo in the industry.
Determined to use real science in their formulas, they offer a limited number that promises big results.
But the price ticket for their products is pretty high, so is it really worth it?
We've decided to review their three product lines and determine whether or not the costs are worth the end results.
About Revela
Revela is a revolutionary wellness beauty brand that was founded to challenge the status quo and raise the bar in the industry.
Its founders met while researching advanced cancer treatments at Harvard, and decided to combine cutting-edge bioengineering and AI techniques from their research, and apply them to beauty.
This focus on innovation has allowed them to create intentional products that focus on hair and skin revival.
Best sellers review
1. Hair Revival Regimen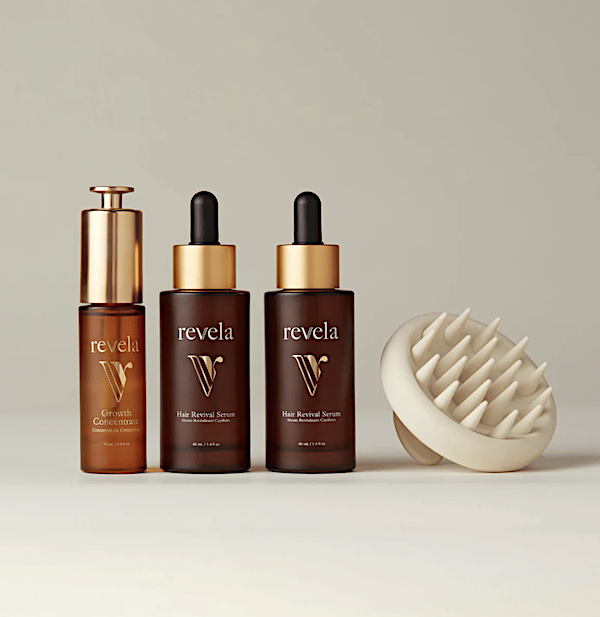 It's kind of cheating to count the Hair Revival Regimen as a single product since it technically features three products.
But if you're going to kick your hair revival game into full gear, you'll need this set. It features:
2 bottles of the Hair Revival Serum
1 bottle of the Growth Concentrate
1 Rejuvenating Scalp Massager
These three products work together to make (scientific) magic in your hair, reducing hair loss and stimulating growth.
This kit is intended to last for two months, which should be long enough for you to start see some results.
Revela's signature Hair Revival Serum works to revitalize areas of your scalp that are experiencing hair loss. But you can also use it if you're aiming to prevent future loss.
It's a lightweight formula that's built for all hair types.
The Growth Concentrate is meant to act as an intense leave-in treatment for those of us with dry scalps and curly hair. It works to nourish your scalp and helps to strengthen and support the work that the Hair Revival Serum.
Finally, the Rejuvenating Scalp Massager is intended to complement the routine. You use it to apply products, while it helps stimulate circulation which ultimately supports a healthy scalp.
Reviewers say they see results quickly. Their hair feels thicker, their hairlines are visibly fuller, and they've noticed less shedding overall.
Some did mention that the results weren't as dramatic as they thought — but ultimately it's a great product for those trying to fix damaged hair.
To see the best results, Revela recommends that you use the products consistently, as directed, for the full six to eight weeks.
2. The Fibroquin Essence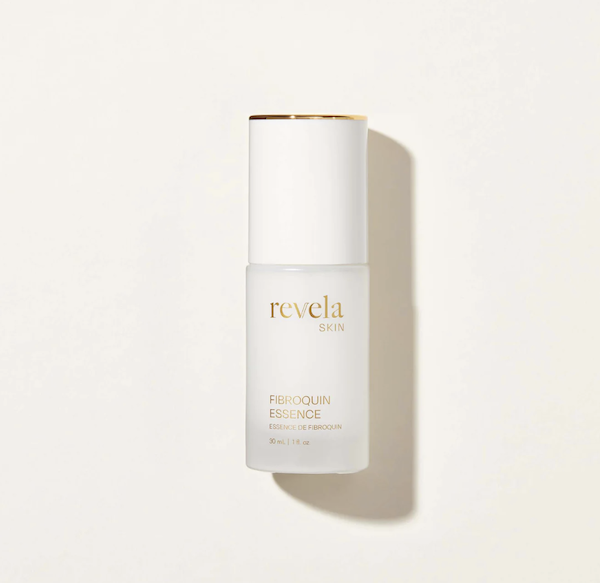 If brighter skin is what you're itching for, Fibroquin Essence is for you.
This lightweight, layer-friendly formula is ideal for addressing existing skin vivacity, along with providing some well-needed proactive protection.
Revela has made this product with easy-integration into whatever your daily routine is. It's intended to be the first step post-cleanse, which you then follow with your typical skincare routine.
You'll want to use it twice daily for a consistent six to eight weeks to see the best results.
Fans say that the skin has a more youthful glow after using it as directed.
It's great for sensitive skin, and while it doesn't magically erase signs of aging it does make a noticeable impact.

Fine likes are noticeably reduced, the formula has a pleasant but light fragrance, and it's quickly absorbed leaving your skin feel soft and dewy.
3. The Brow Serum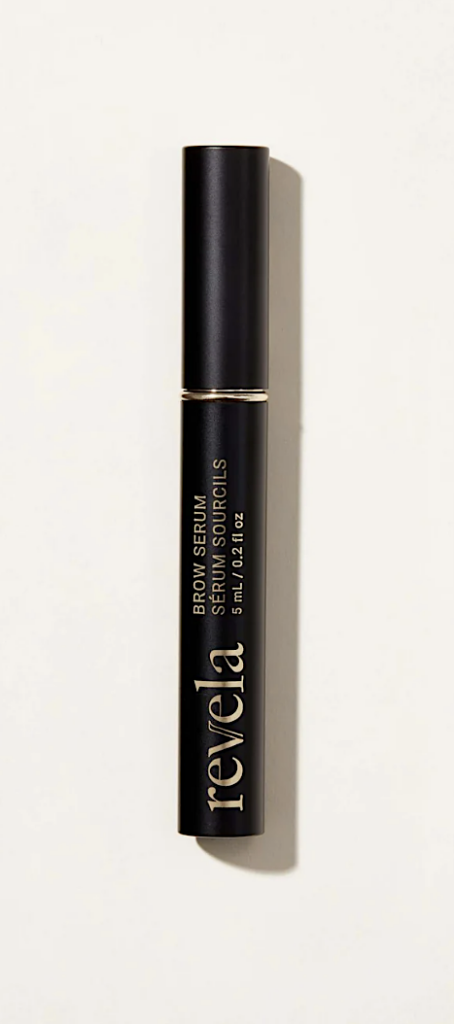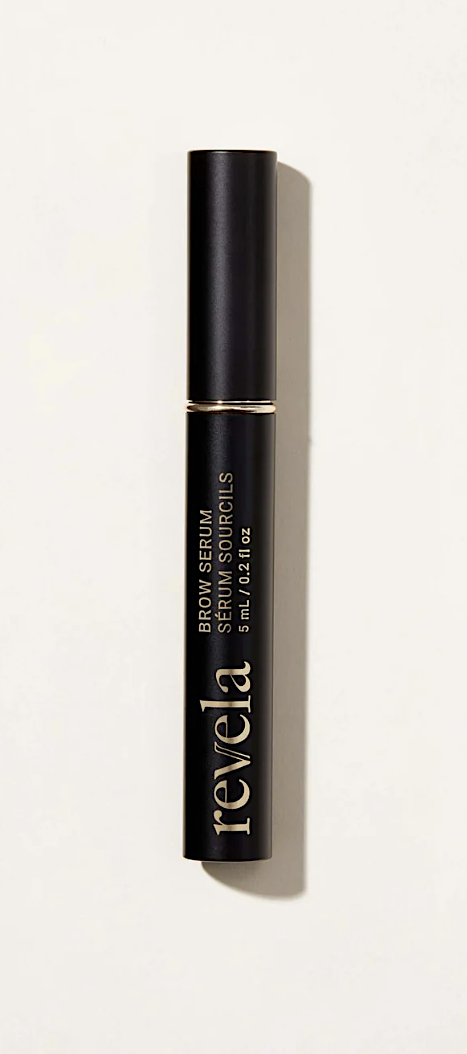 For those with thinning brows, The Brow Serum is for you. Each individual tube of the serum features a two-month supply with an easy-to-use applicator.
Made of Revlela's signature ProCelinyl™, it'd designed to help you see fuller, bolder brows in as little as six weeks. The formula is quick dry, so you can style your brows as your normally would.
The Brow Serum is designed to be used twice daily.
It's made of a water-based formula that's safe to use with all skincare and makeup products. And the reviews are outstanding!
Most reviewers report that they start to see results at about week six to eight, and it continues to work after that. It helps combat eyebrow thinning caused by age and overplucking.
Overall, it helps you create a more youthful appearance. Ultimately, the revived hairs are healthy, fully and have the same rich-looking color as your regular brows!
Revela pros
The biggest pro in Revela's basket is the fact that they have so many stellar reviews (some with photos) that prove their formula does what they say it does.
However, it's important to note that results can vary (as with any other product). Not only can it help correct hair loss or thinning, but it can prevent it.
The products are designed to be easy to use and blend into your daily routine.
That means you don't have to plan a full new routine to integrate any of their products. This is a BIG deal for those of us with established beauty routines that are already working for us.
Revela does have a money-back guarantee, which can make paying the higher price worth it.
You'll need to take a high-resolution photo on Day 1 (before you start the treatment), use at least 4 bottles of the hair serum (or 2 of the eyebrow serum), and take after photos.
If they don't see thicker, healthier and fuller hair or eyebrows, you may be able to get your money back.
Revela cons
While Revela makes stellar products, their biggest drawback is that their products are expensive. The higher ticket price points certainly won't fit into everyone's budget.
But if you have the room and you're looking to stimulate hair growth or promote skin health, it can be a great addition to your daily routine.
The second big con is that their products don't offer instant results. To be clear: you should never expect instant results.
However, some reviewers note that they were expecting faster results OR more results than they can see.
That said, most agree that eventually, Revela products do eventually show exceptional results. Revla also only ships to Canada, the United States and Australia, so if you're anywhere else you can't benefit from their products.
Finally, while there is a money-back guarantee you need to buy and use multiple bottles and document the process to get the refund. Make sure that you document the process in case you need to use the guarantee.
Revela ingredients
Revla's ingredients are what make them really shine. They use two main (trademarked) ingredients, along with a complement of other natural-based add-ins to create their stellar formulas.
ProCelinyl™ is the star of Revela's hair treatment formulas. It's designed to reawaken your hair follicles and has been clinically proven to suppor hair revival. You'll find this in both their eyebrow and hair revival serums.
Fibroquin™ is the primary ingredient in their skincare formula.
It promotes healthy, active collagen pathways which ultimately helps your skin to remain strong, toned and supple.
They pride themselves on their intentional ingredients. In addition to the ProCelinyl™ and Fibroquin™, Revela also uses elements of the following supporting ingredients in their products:
Allatoin: helps boost scalp moisture
Aloe Vera: possesses moisturizing and healing properties
Argan oil: rich in linoleic acid
Broccoli Seed Oil: possesses anti-inflammatory properties
Caffeine: helps hair grow thicker and faster
Capric/Caprylic Triglycerides: helps deliver ingredients to your skin while maintaining moisture
Castor oil: nutrient rich and supports a healthy scalp
Dimethyl Isosorbide: solvent that enhances absorption to the epidermis
Dipotassium Glycyrhizate: anti-inflammatory properties that soothes the scalp
Ganoderma Lucidium Extract: may be able to decrease 5-a-reductase activity
Glycerine: increases skin hydration
Inositol: may combat hyperandrogegism
Isostearyl Isostearate: provides a soft texture on your skin
Malus Domestica Fruit Cell Culture Extract: rich in energetic factors and metabolites
Olea Europaea (Olive) Leaf Extract: shown to inhibit Type I 5-a-reductase
Panax Ginseng Root Extract: has potential to remedy hair-related issues
Panthenol: essential for generating red blood cells and penetrating the hair cuticle
Pinus Pinaster Bark Exract: anti-inflammatory properties
Piper Nigrum Fruit Extract: shown to reduce 5-alpha reductase activity
Polymethylsilsesquioxane: hair moisturizer
Pyrus Malus (Apple) Skin Extract: supports thicker hair
Reservatrol: natural polyphelo that promotes the anlagen phrase of hair cycle
Serenoa Serrulata Fruit Extract: inhibits production of dihydrotestosterone (key contributing factor to hair loss)
Tetrahydrocurcumionids: known to act as a antioxidant and anti-inflammatory substance
Tocopherol: Vitamin E that promotes hair health
Trifolium Pratense Flower Extract: inhibits 5-a-reductase activity
Their focus on intentional, supportive ingredients contributes to the success of users of their products experience.
Note that this is an abbreviated description of their ingredients — check out their website for the full explanation!
Revela Review: Is Revela Worth It?
Revela makes high-quality, high-priced beauty products that are built to revive both your hair and skin. If you're willing to invest both time and money in the products, it could be seriously worth it.
You will need to be consistent to see the results you're looking for, committing to twice-daily use for at least six to eight weeks.
But the reviews are promising, and if you have the budget it could be seriously worth it.
Read This next: