Here at CakeStyle, we are on a mission to find and celebrate the best sustainable, eco-conscious brands. And that is what you will discover in this Tru Earth review.
Tru Earth laundry strips are an eco-friendly replacement for detergent. Instead of using messy liquid detergent, just use a strip of dehydrated soap. It sounded pretty gimmicky, but lots of people online raved about it.

I got quite curious about whether it works, so I did some research on these strips as well as on Earth Breeze. Here's what I found.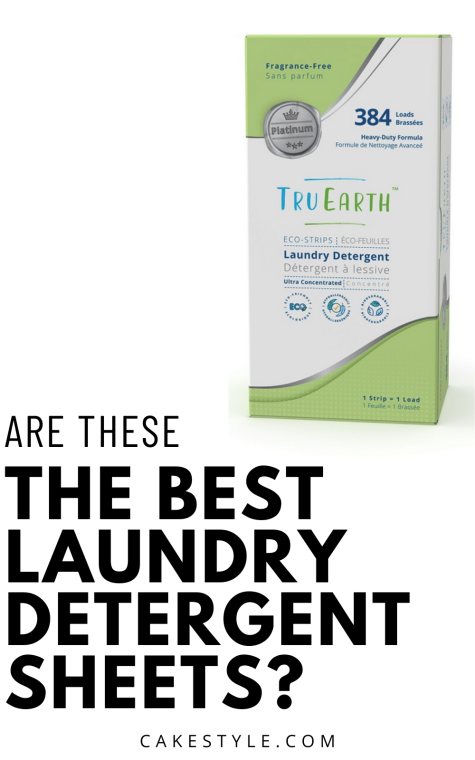 About Tru Earth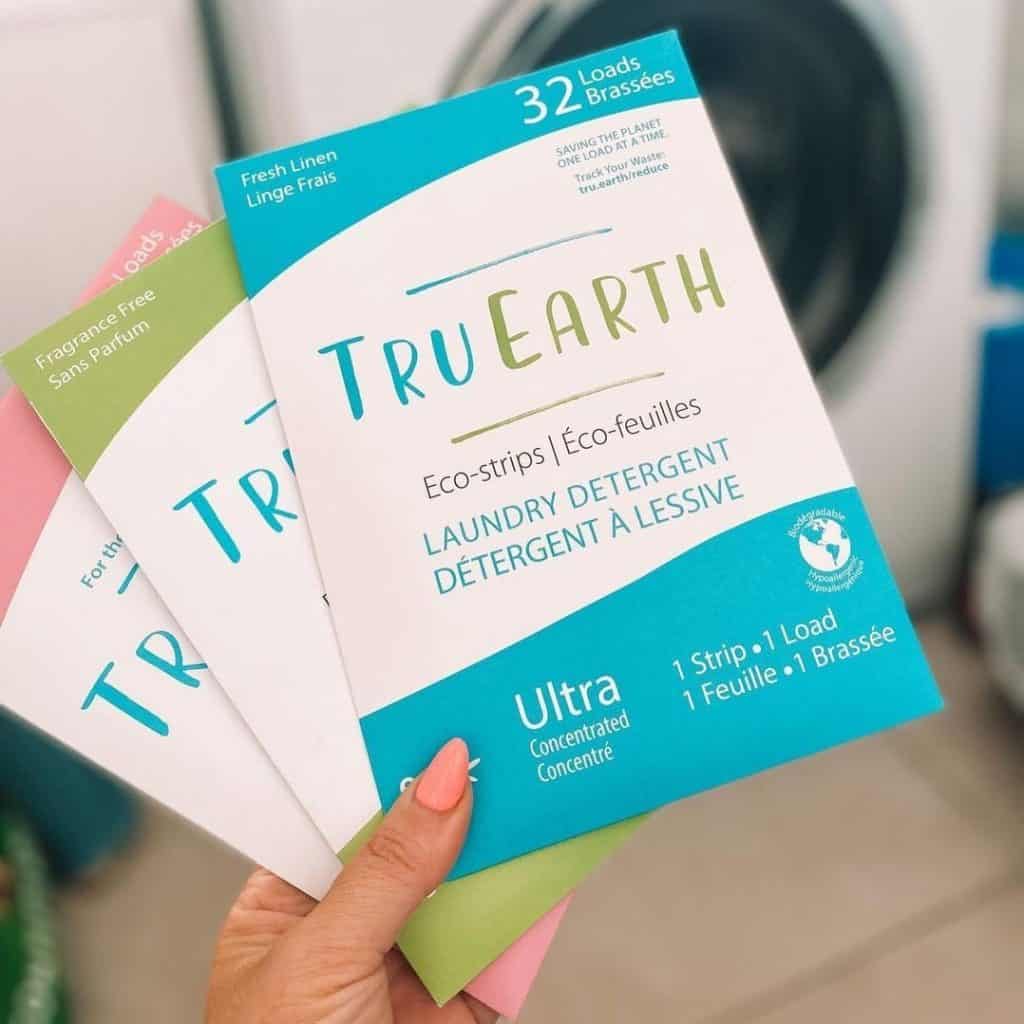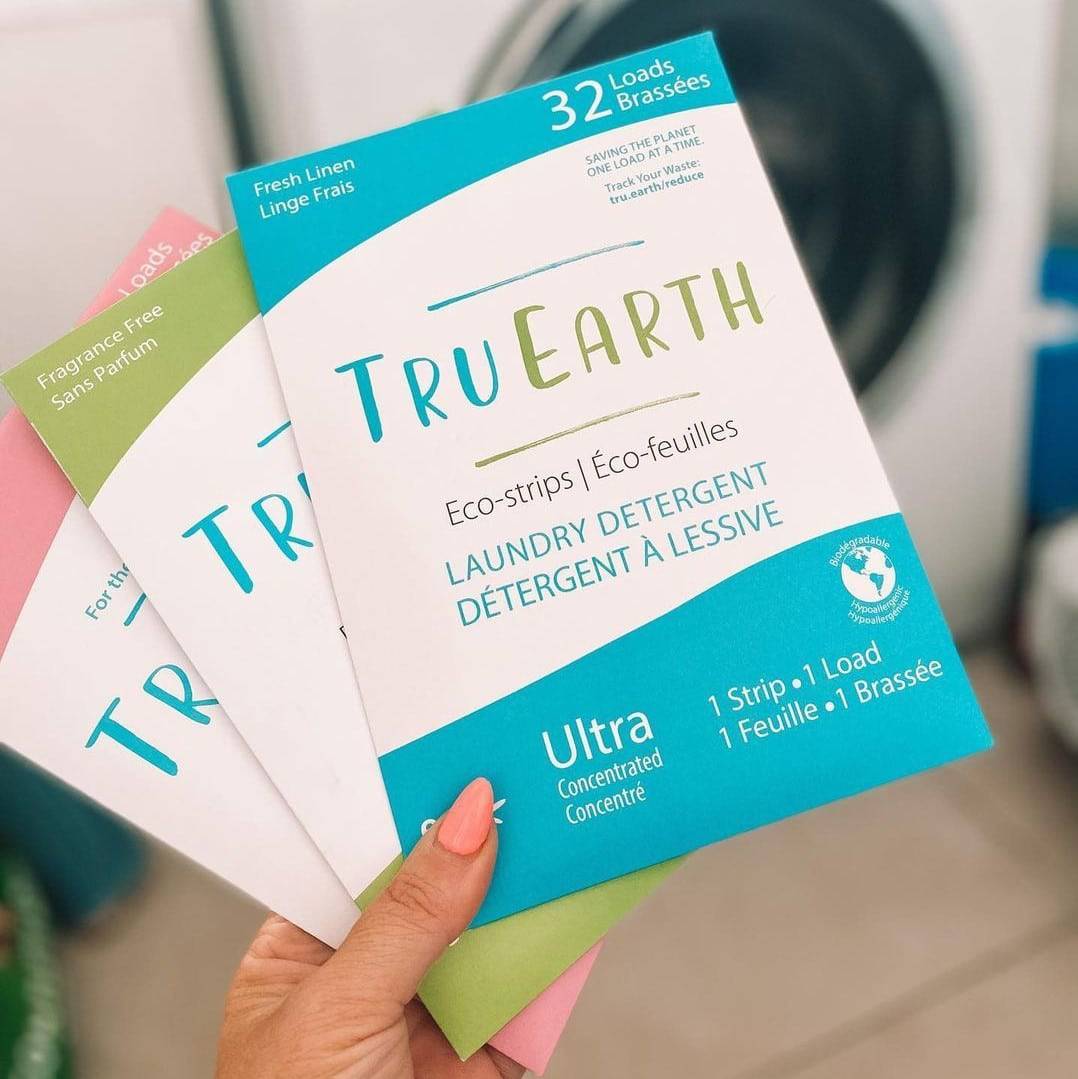 Tru Earth is an eco-friendly brand that aims to make laundry more convenient while being friendly to the environment. It stands against plastic pollution and harsh chemicals, which translates to their goods.
The brand offers high-quality products, but also strives to make an impact in the world. It has active advocacies like school fundraising and forming a solid green community. Tru Earth has even donated over 5 million loads' worth of detergent strips to help people form the habit of doing eco-friendly laundry.
Their flagship product is the laundry eco-strips. Replacing your detergent with these strips is a smarter and more environmentally conscious way to do your laundry.

These eco-strips don't come in huge plastic jugs like other detergents. Instead, the ultra-concentrated strips are packed and compressed in slim, recyclable packaging. It's zero waste and saves space.
Each strip is pre-measured to be good for one load of clothes. All you have to do is toss a strip into your washing machine with your clothes in, and you're good!
Manufactured in Canada.
The vegan formula doesn't contain harsh chemicals like parabens and phosphates.
It's also free of artificial dyes and chlorine bleach, which can be irritating on sensitive skin. Plus, the formula is hypoallergenic. That makes it suitable for allergy-prone skin.
These strips have a whopping 17,356 reviews as of writing. It has a super high rating of 4.9 stars out of 5.
Tru Earth has over 80k followers on Instagram. This is quite impressive given that the eco-strips are their only flagship product.
They also have supplementary products—eco-bags, dryer balls, and a multi-surface cleaner.
But are their famous eco-strips really worth the hype? Let's take a closer look.
Tru Earth's environmental claims
One tiny, pre-measured strip is equal to one load of clothes in the wash.

Each strip can be used for 3-5kg worth of clothes, given that they're only lightly soiled. You can bump up to two strips if your clothes are extremely dirty or stained, but that's more than enough.
Because they come in easy-to-tear strips, it's easier to adjust how much you use depending on your need. If you have an extremely small load, you can tear your strip in half. This is unlike pods and uni-dose detergent beads that aren't as flexible.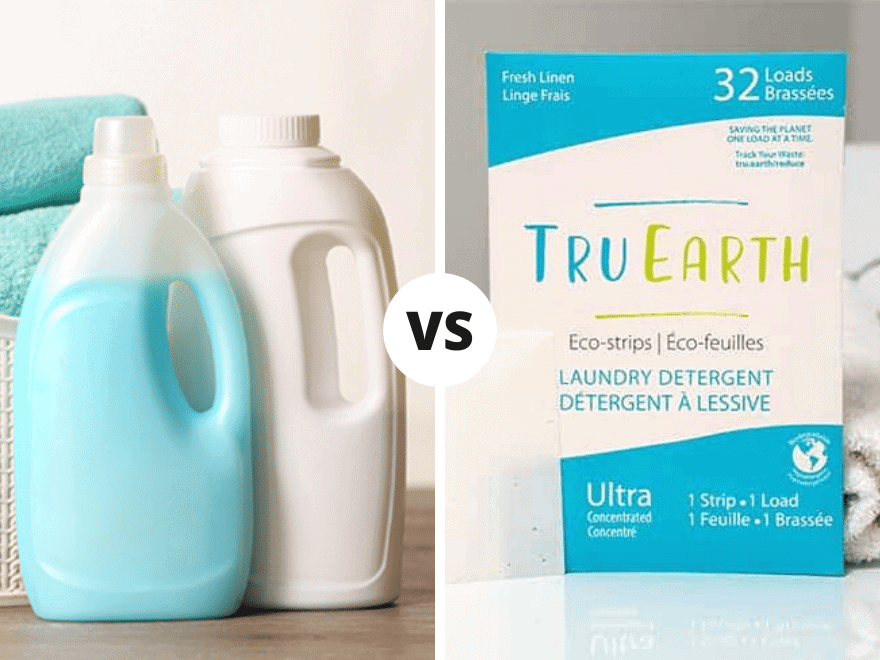 How else does it compare to traditional detergents? Here's a side-by-side of how these Tru Earth strips fare:
TRADITIONAL DETERGENTS

TRU-EARTH ECO-STRIPS

⦁ Very accessible—affordable and easy to find in any store

⦁ What most people are used to for laundry

⦁ Need to be measured according to the size of your load

⦁ Can be harsh on the skin and cause allergies

⦁ Comes in a huge plastic tub, contributing to plastic pollution

⦁ Environmentally friendly—made of natural materials and has biodegradable packaging

⦁ Vegan formula that's hypoallergenic

⦁ Small and compact, so it's easier to store

⦁ Lightweight and travel-friendly because it isn't water-based

⦁ More expensive than detergent and hard to find in stores
Each one has its highs and lows. However, the eco-strips' ability to reduce packaging waste should be enough to convince you that it's the responsible choice to make.
See, according to a Tru Earth study, eco-savings would be enormous if more people used the strips. If everyone switched from detergent, we could potentially eliminate one billion plastic jugs. This saves about 700 million from going to landfills.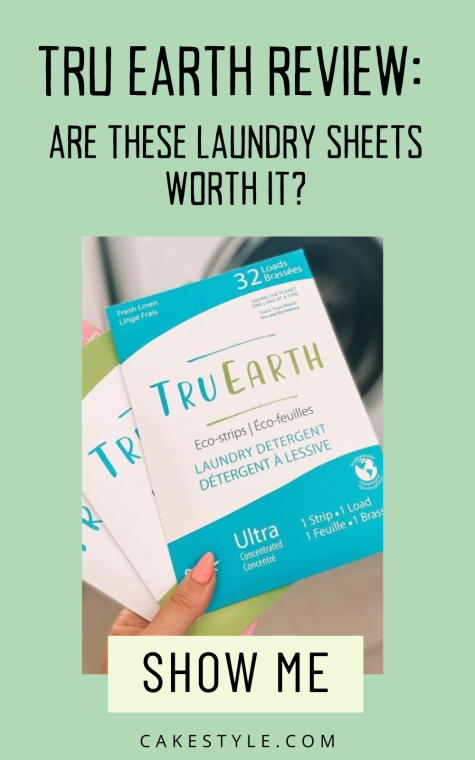 Do the Tru Earth laundry strips work?

There are thousands of customers happy to report that these strips have worked for them. They've plastered rave reviews all over the internet, from Amazon to YouTube videos.
People love how it's a dehydrated concentrate, so it's convenient and never messy to use. It's also loved because the hypoallergenic formula is easier on sensitive skin. Many are amazed that such a small, eco-friendly product can do the same exact thing as the usual detergent.
Even content creators love these strips!
In Eric Novak's YouTube video, he did a little experiment. He tried cold-washing a kitchen towel stained with ketchup, barbecue sauce, chocolate, and mustard with the strips.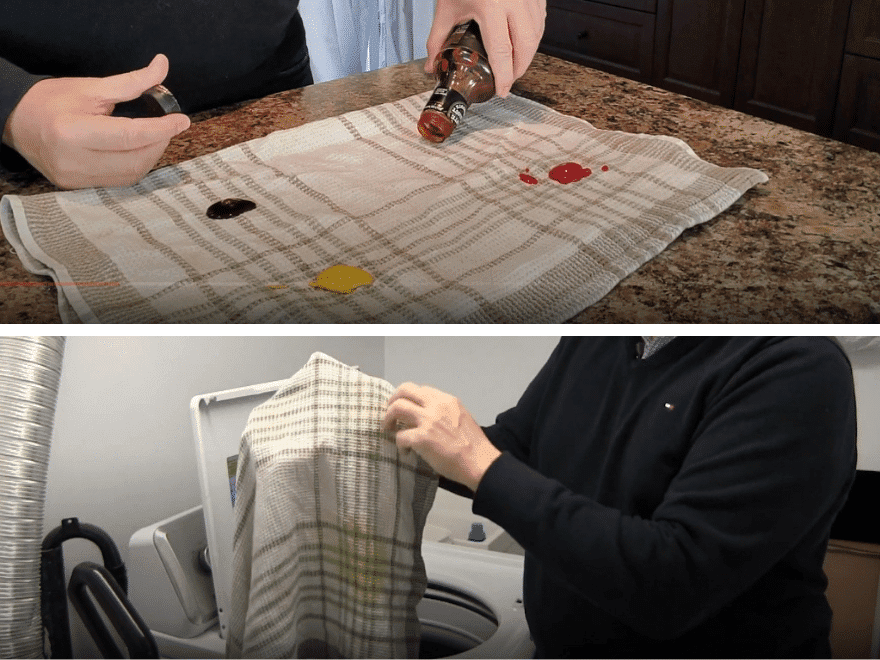 Amazingly, the ketchup, barbecue sauce, and chocolate all disappeared. There were still some remnants of the mustard. But mind you, he only used one eco-strip. There's no doubt that had he used two, the towel would have been mustard-free and pristine.
Сan laundry strips do the same work as regular detergent?
The short answer is yes, they do.
They aren't water-based, so they're easier to work with. But they contain cleansing properties that make them as beneficial as regular detergents. All that without the hassle of measuring liquids and storing huge jugs.
Just remember that one strip is enough for one load of clothes that aren't that dirty. If you have a particularly bigger load or have clothes with stubborn stains, allot two strips.
Read: Tru Earth vs Earth Breeze
The environmental impact of Tru Earth laundry strips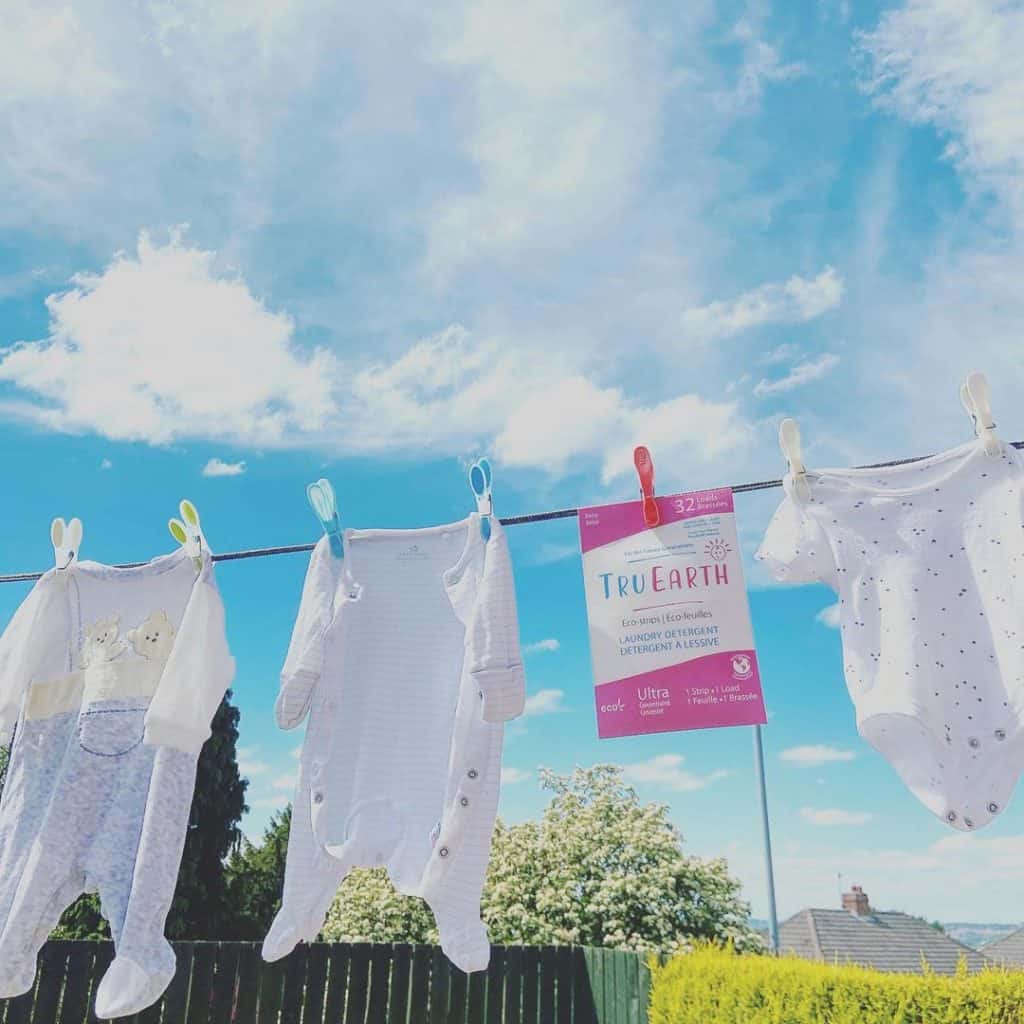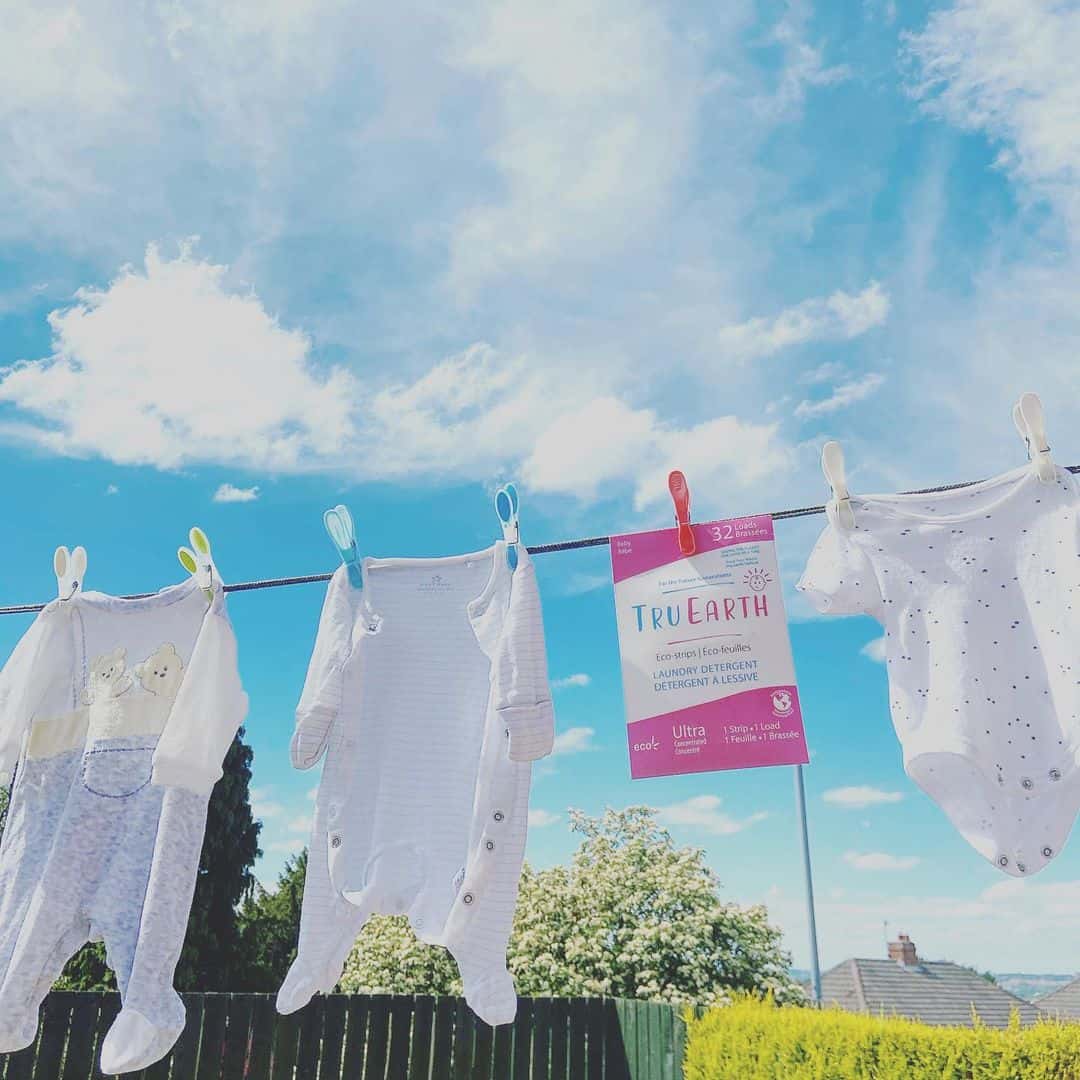 These Tru Earth eco-strips aren't just fun and innovative. The brand also cares about the planet and does its part in reducing the world's carbon footprint.
The strips provide an alternative to the liquid and powder detergents most of us are used to.
They allow us to have a smaller eco-footprint as well. In fact, their slim, compact, biodegradable packaging already lessens transportation pollution by 94%. That's because the strips and their packaging don't contain any plastic at all.
They're lightweight, so they're easier to distribute.
It cuts down enough fuel and carbon emissions equal to taking almost 30 million cars off the road or planting 9 million trees. This is a far cry from the non-existent efforts of leading detergent brands to save the environment.
Just think about it. In North America, 30 billion loads of laundry are done every year. Yes, it's a necessity for everyone, but the toll on the environment is significant.
Plus, you need about 40 grams of detergent to wash one load of clothes. One Tru Earth eco-strip, on the other hand, weighs barely 3 grams. It's so much lighter, less of a hassle to keep in your home, and is mess-free.
Eco savings: How Tru Earth prevents plastic pollution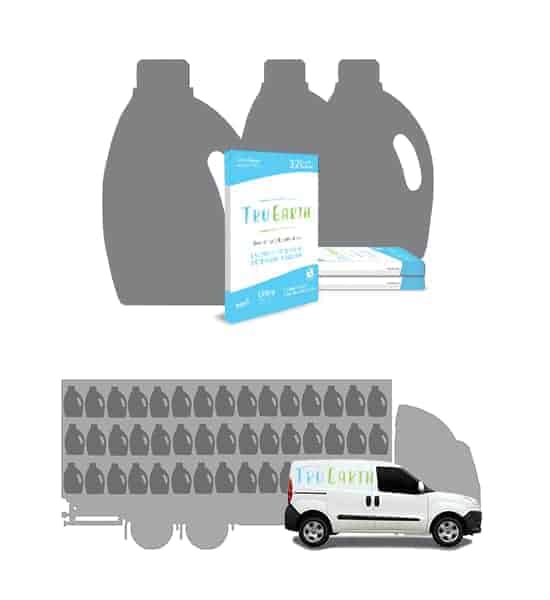 Every year there are about 700 million plastic jugs thrown into North American landfills. These jugs come exclusively from detergents that people use on a daily or weekly basis.
But Tru Earth solves the plastic pollution problem of doing laundry. It's plastic-free and zero waste, but still does an excellent job keeping your clothes clean.
Instead of being stored in plastic, these detergent strips come in biodegradable packaging. The cardboard sleeve it comes in is compostable.
Plus, the slim, lightweight packaging doubles as a shipping envelope when you order it. Because of this, it cuts down in even more waste for deliveries via post.
Business model: Is it possible to change the way people do laundry?
You can't change people's habits and behaviors on doing the laundry overnight. It's especially hard to convince people to switch to the Tru Earth eco-strips when they've used detergent all their lives. It's what they're used to already.
Changing people's minds about how they should be doing laundry is a huge task. But if we all do our part, we could save the planet.
Many people will probably have a hard time switching based on the assumption that the eco-strips aren't available at their local stores.
Remember, it's still a niche product and might only be carried by smaller, eco-friendly shops.
Of course, the goal is to one day be available to everyone in all stores. If it's readily accessible to the masses in huge supermarkets, more people will make the switch to strips. But for now, you have to be smart about where you shop for them.
You can also order these eco-strips online via the Tru Earth website. However, they'll only get to your doorstep in two weeks at the earliest. Because of this, you need to plan your laundry in advance. That's especially if you're ready to quit environment-harming detergents as soon as possible.
Pros and Cons of Tru Earth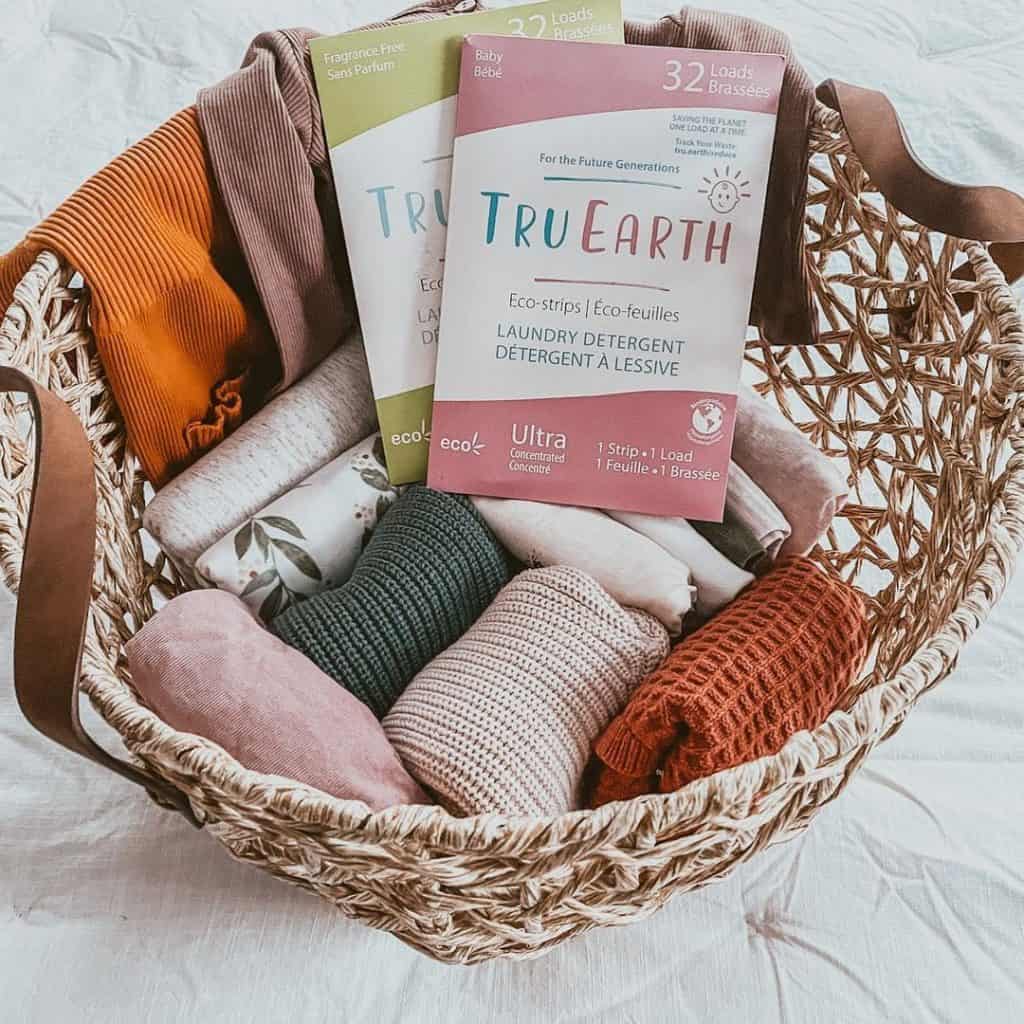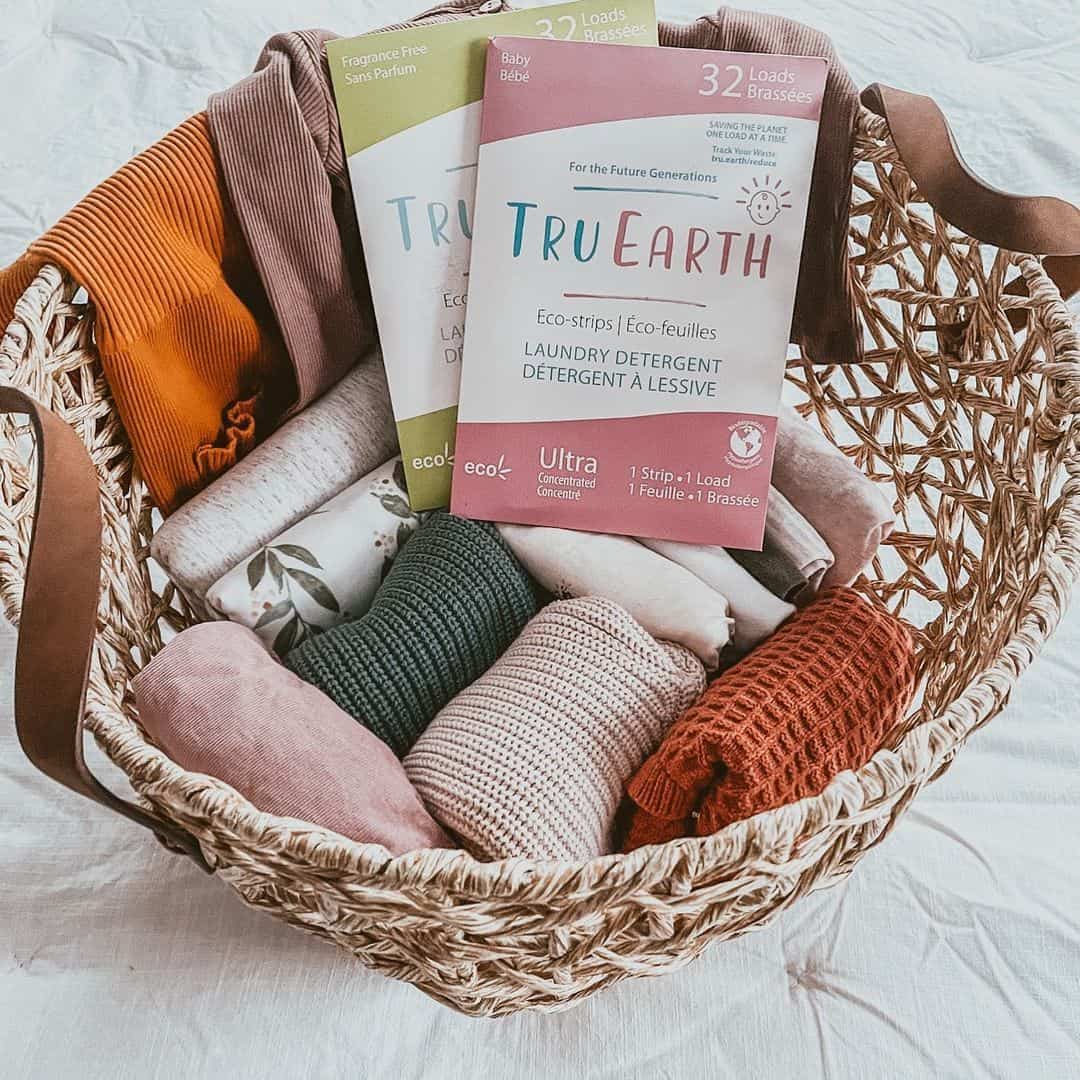 While the Tru Earth strips sound exciting, especially because of the advocacy behind them, they're not perfect. Most have nothing bad to say about them, but it has a couple of downsides too.
Here are the pros and cons of switching over to the Tru Earth detergent strips:
Pros:
Free shipping!
You get a 100% money-back guarantee until 30 days after your purchase
Dissolves completely, so it doesn't produce extra waste
The formula is vegan and free of irritating ingredients like phosphates and parabens
Doesn't have unnecessary dyes and bleaches
Hypoallergenic, so it's safe for sensitive skin and even baby clothes
You don't have to measure out how much to use (one strip equals one load)
Isn't messy, unlike liquid detergents that can easily spill on the floor
Tru Earth offers subscriptions. You can get big discounts by ordering 384 strips good for laundry for an entire year
Cons:
Delivery from online shopping may take long—sometimes up to 20 days
A bit more expensive than regular liquid and powder detergent
Tru Earth Customer Reviews
Tons of verified buyers write rave reviews about these eco-strips. Some even post photos happily holding up their new fave laundry detergent!
Many fall head over heels for its clean, compact format that doesn't make messes at home. It's especially relevant to busy people who can't afford the extra steps of measuring liquid detergent and clean up any spills.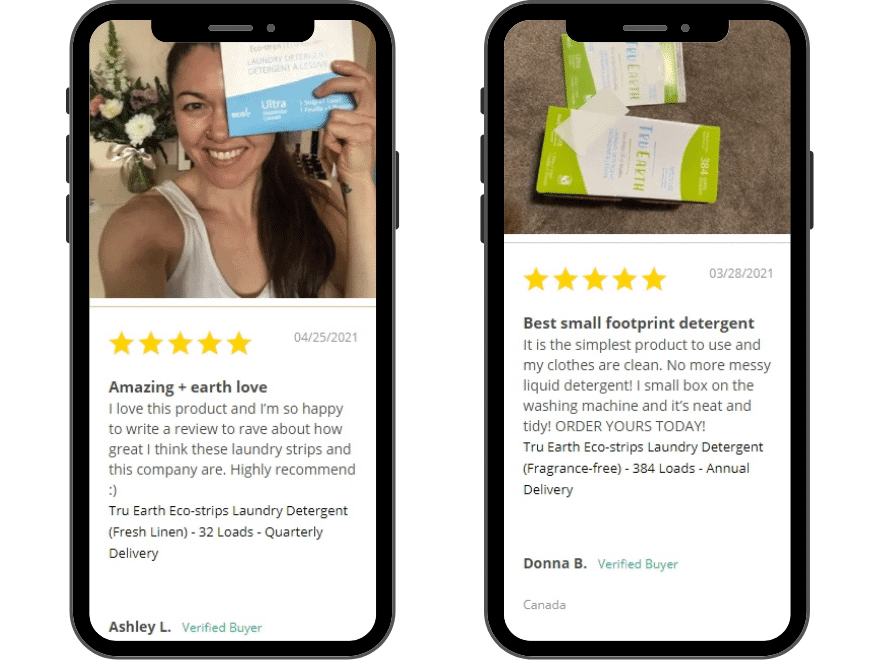 Meanwhile, others are moved by how impactful it is for the environment. Granted, some had reservations and apprehensions about the product at first. But after seeing how well it worked and how huge of a difference it can make to society, they ended up loving it.
Avid travelers also express their excitement over the strips. They say it's a more convenient way to wash your clothes when you're traveling.

They also love the choice between unscented strips and ones that smell like fresh linen. It's excellent for a range of customers that prefer either no scent or one that mimics pure and clean cotton.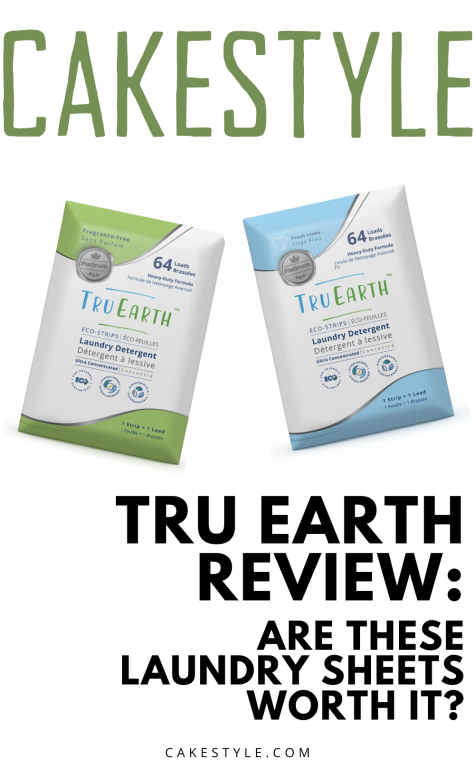 Is Tru Earth worth it?
If you're committed to making more responsible, purchases to save the environment, you should try out these Tru Earth detergent strips. They cut down on plastic pollution, so they're absolutely worth a shot.
They're also worth the more expensive price if you have easily irritable skin or are caring for a baby. The gentle, hypoallergenic formula will be safe for you and your loved ones' skin, and you can't put a price tag on that!
There are already thousands of happy Tru Earth customers ready to vouch for this innovative product. In any case, you can always get your money back up to 30 days after you bought it.