Dropps vs Tide Pods: Eco-products are the best for your laundry as well as good for the planet. We are always on the hunt for the best eco-friendly cleaning products for a more sustainable home.
In our previous article, we found that Blueland tablets are a great sustainable solution for cleaning your clothes. But there are more brands to consider, too.
In this article, we will make a comprehensive comparison between the worldwide known laundry brand Tide with its eco competitors Dropps and Earth Breeze.
Scroll down to see what we find out.
How Do They Work?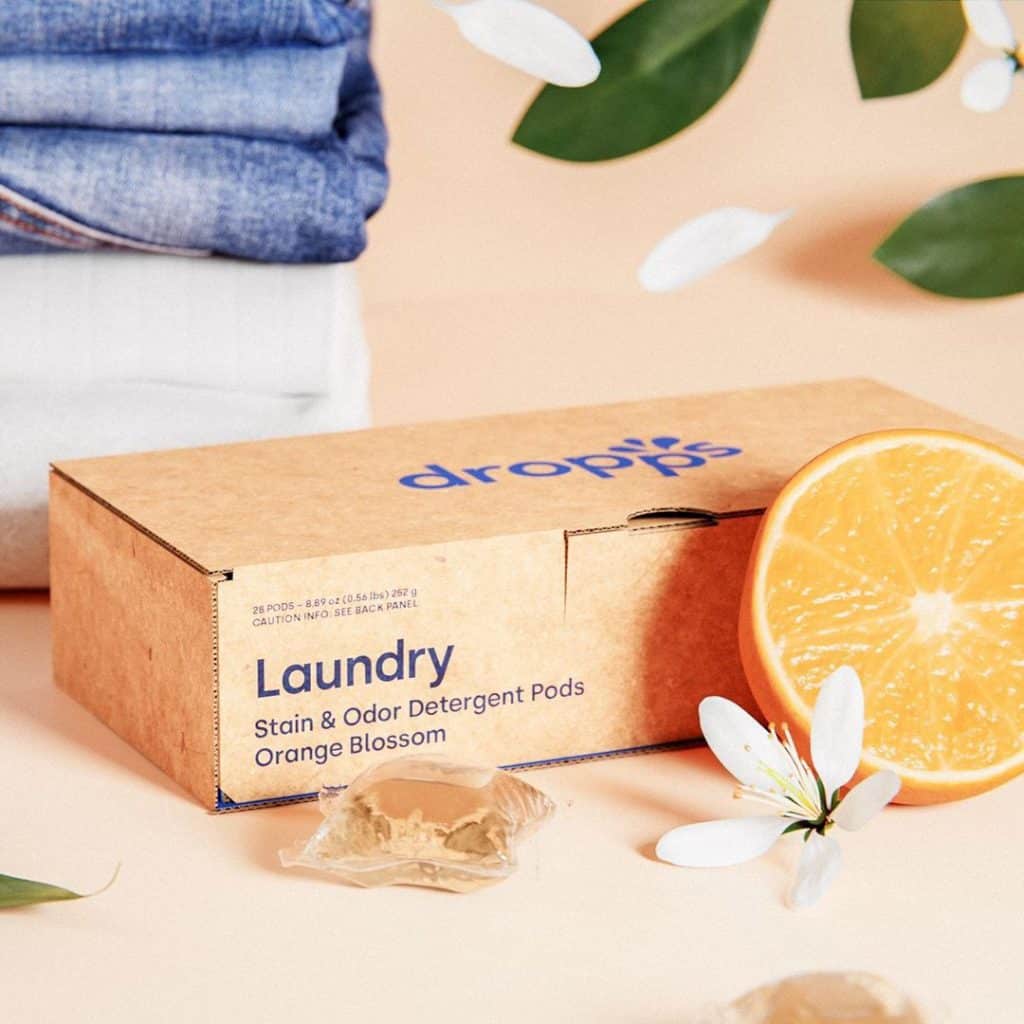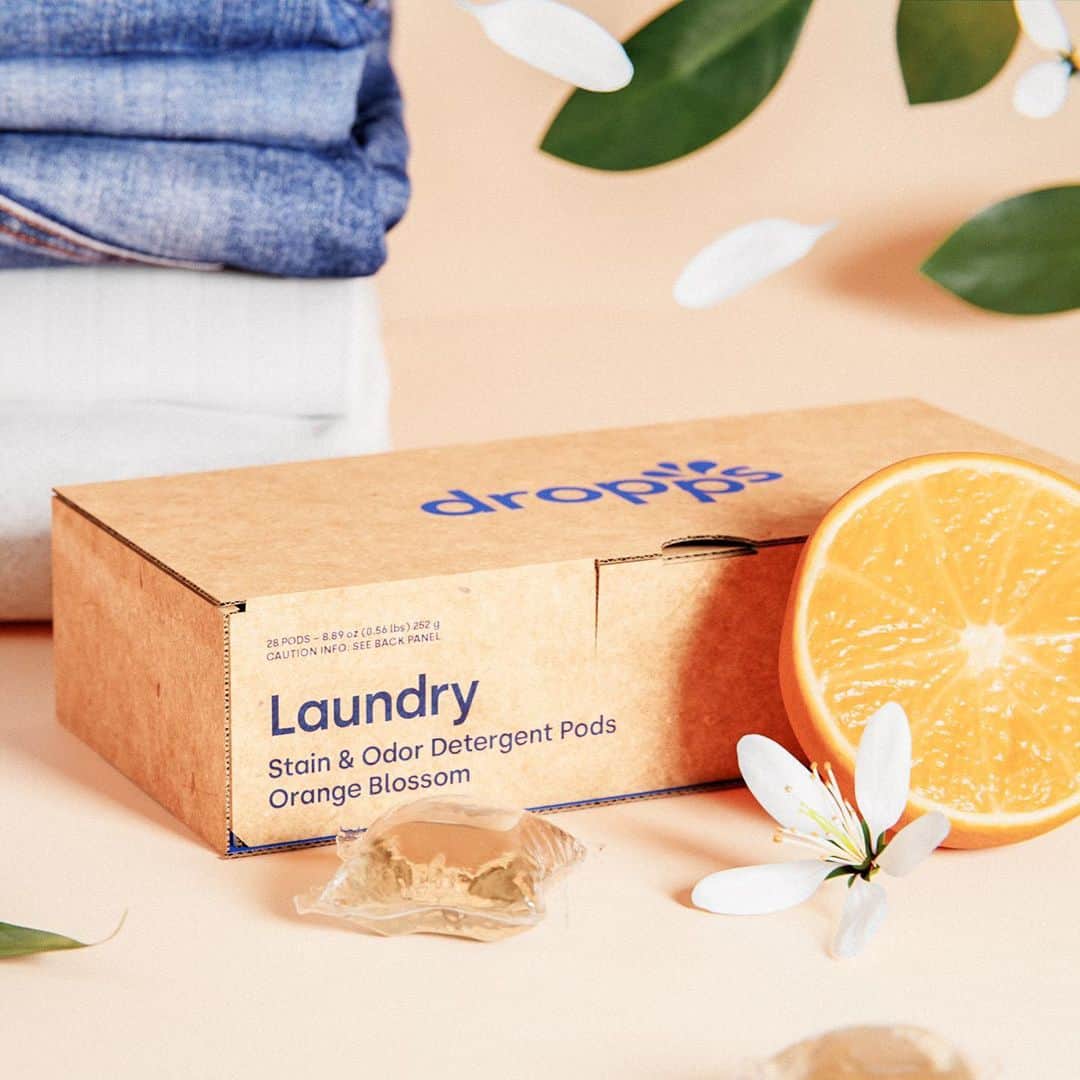 Dropps is a cruelty-free laundry detergent pod in compostable packaging, making a massive difference between the two. Its development is more of the old school. This water-soluble detergent has been made with a dye-free, phthalate-free, phosphate-free, and animal cruelty-free formula.
Its formulation also features a biodegradable, water-soluble casing popularly known as Polyvinyl Alcohol (PVOH). This element is designed to dissolve upon contact with water. As a result, microorganisms also consume it alongside carbon dioxide.
When it comes to putting this detergent into practical use, its components make it easy. All you need to do is toss the pod into the washer drum and throw in an armful of laundry. Then, choose your wash cycle, and voila, the washing is set in motion.
The best part of this detergent is that it contains enzymes that mainly fight stubborn stains. It also guarantees a mess-free cleaning, and all you need is just one pod for one load. If you plan to order this detergent for your laundry, you are promised 100% Carbon Neutral Shipping.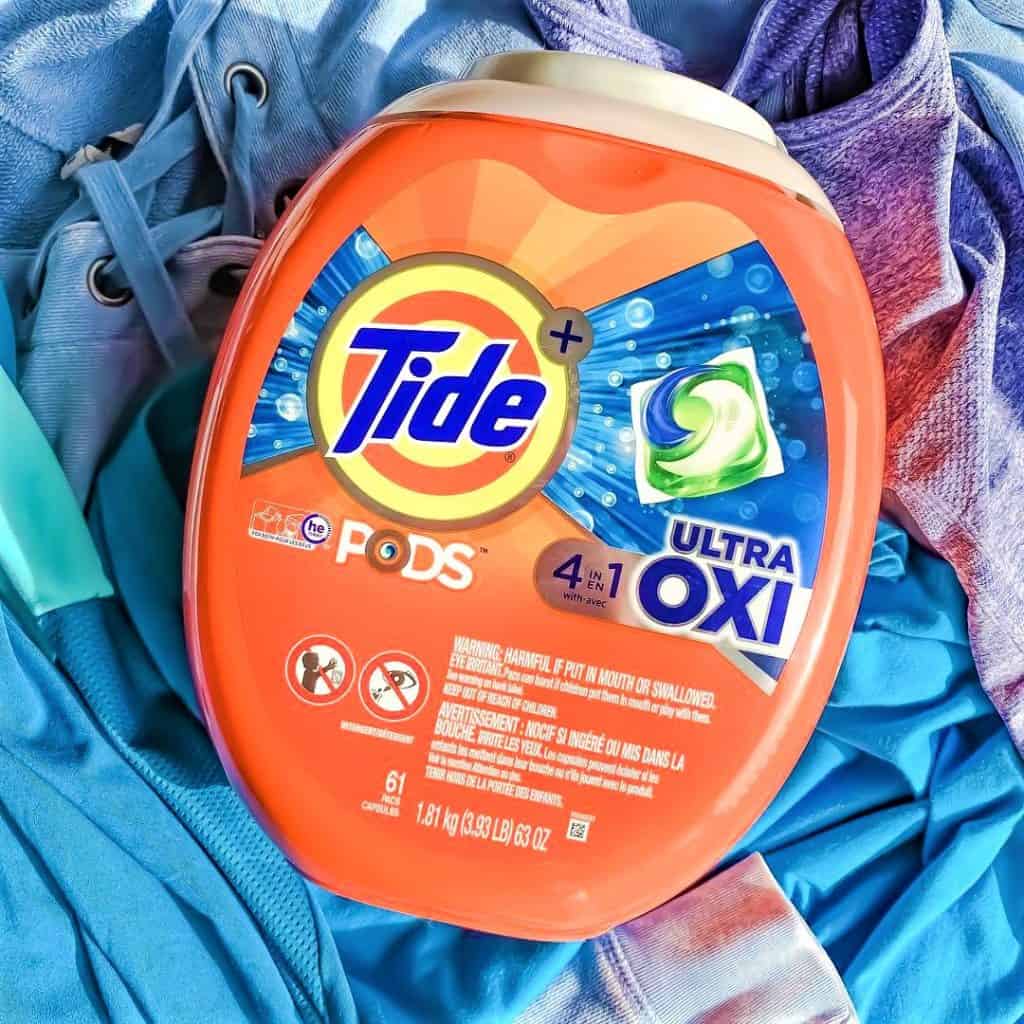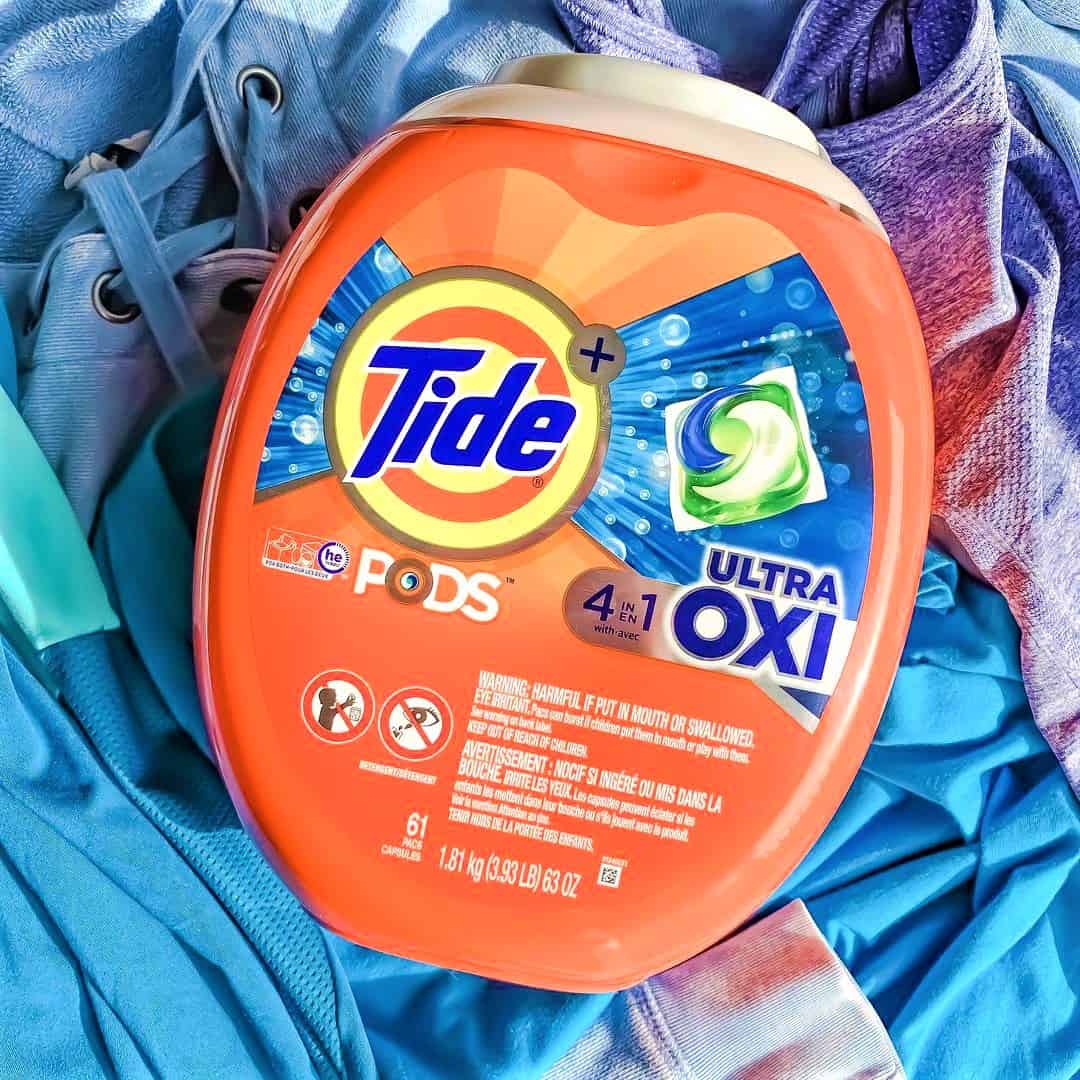 Tide Pods is a liquid laundry detergent that offers a surprisingly powerful clean. Like any other pod, place the required amount in the washing machine drum and add your clothes. Then, turn on the cycle and set the machine to the desired temperature. However, it is worth noting that there are 10+ options for different kinds of clothes and fabrics.
Each pack of Tide Pods is concentrated to take away the odor and smell from your fabric. In addition, the brand promises that the capsules dissolve entirely in all water conditions for maximum performance.
On the flip side, this super detergent is non-vegan, and it has been tested on animals. Therefore, it is not eco-friendly.
In addition, most people believe that the PVA contained in it is microplastic. It is not. PVA (Polyvinyl Alcohol) "is a non-toxic widely used thermoplastic polymer that is benign to living tissues and harmless."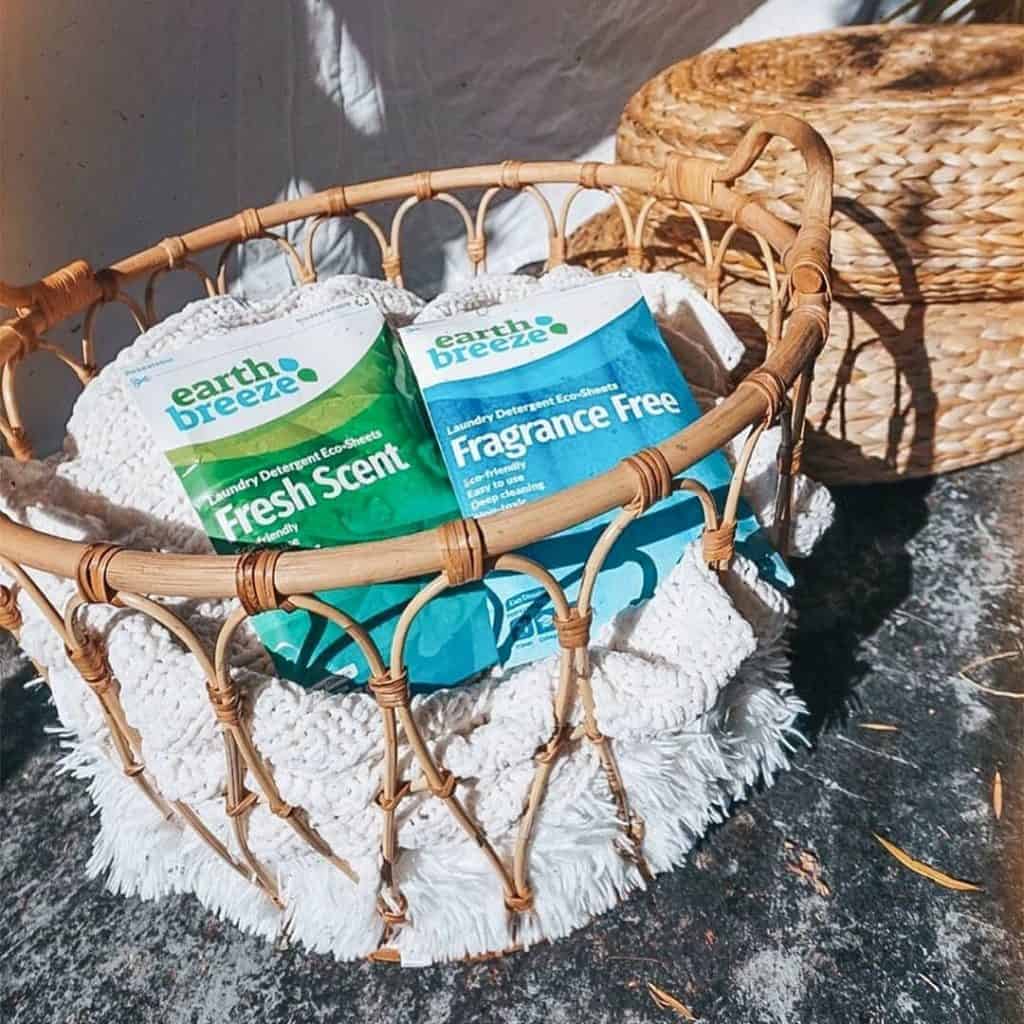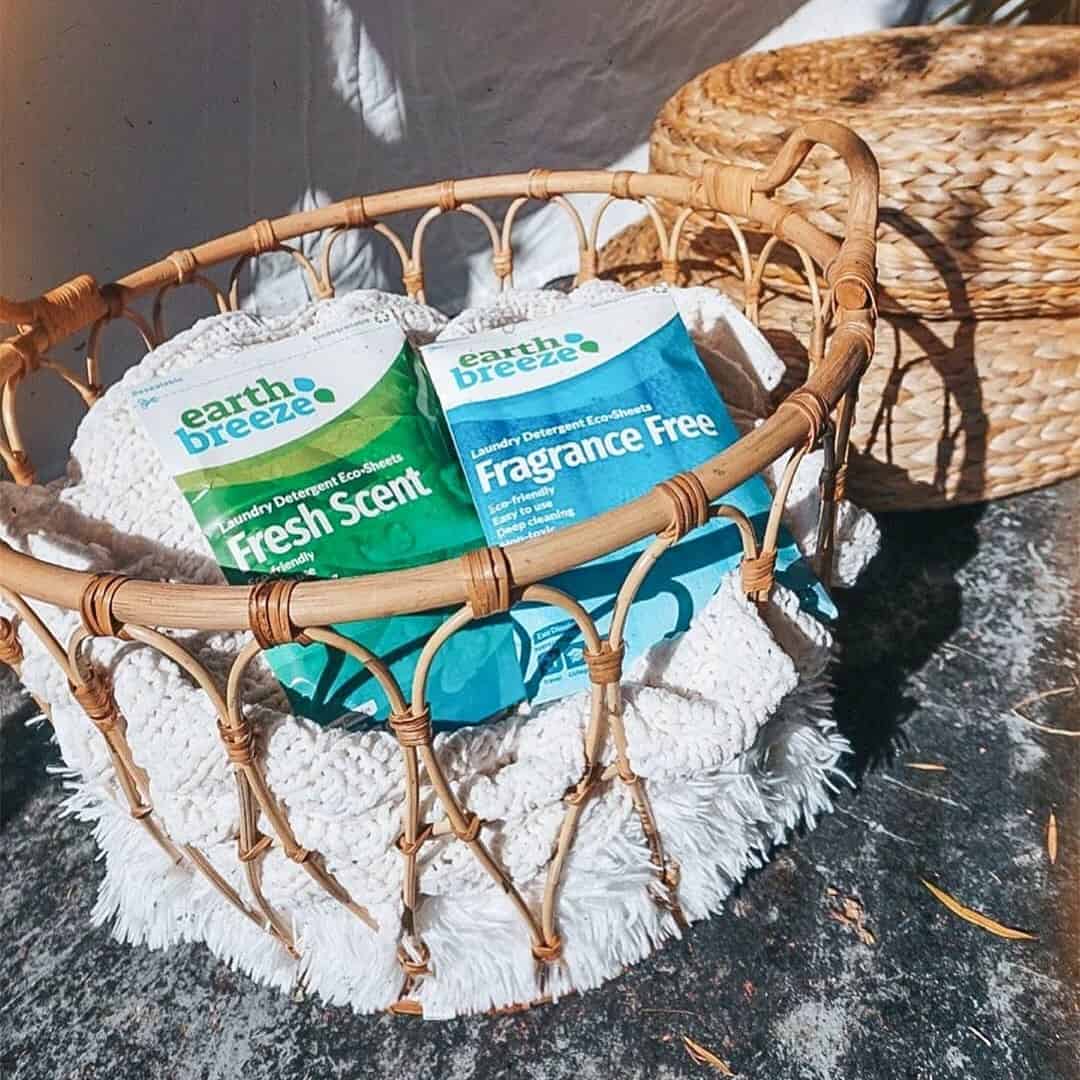 Earth Breeze is a liquidless laundry detergent that is 100% biodegradable. It comes in a package of laundry strips intended to reduce plastic waste and chemical use.
When you think of eco-friendly laundry, this strong detergent must come into mind. It is phthalate-free, dye-free, and phosphate-free bleach.
Unlike the Dropps and Tides, which come in pods, Earth breeze comes in a unique dissolve sheet.
These sheets are concentrated, low sudsing, and biodegradable. Suppose you are an impatient fellow who wants things done quickly; these superfast sheets come in handy. They easily dissolve within seconds in both hot and cold water.
Whether stubborn stains or filthy laundry, this detergent will deliver a powerful clean. Most liquid detergents are 90% water. For Earth Breeze sheets, they are 100% plastic-free with no-mess formula.
They are also easy to use, especially with a laundry machine.
All you need to do is place your dirty clothes in the laundry drum and add the liquid. You will neither see any residue nor undissolved sheets but squeaky clean done laundry.
Aside from that, all you need is one sheet of detergent for one load.
Dropps VS Tide Pods VS Earth Breeze
| | | | |
| --- | --- | --- | --- |
| | | | |
| | | | |
| | | | |
| | Laundry Detergent Eco Sheets | Super-concentrated detergent | |
| | | Started from 12 Pods and up to 96 | |
| | | | |
| | | | |
| | Starting from $12 per month | Starting from $4.94 for package of 16 loads | Starting from $18.00 per month |
| | | | |
Pros and Cons
Dropps Pros
Plant-based ingredients.
Compostable packaging.
Eco-dissolve completely.
Paraben and phosphate-free.
Manufactured in the United States.
Free shipping.
You can buy a big package and save money with a bundle of 384 stripes for laundry for the whole year with a subscription.
100% carbon-neutral shipping.
Dye-free, phosphate-free, phthalate-free, paraben-free.
Vegan and cruelty-free.
Dropps Cons
One load is expensive, $0.32 per load.
Every pod weighs 9 grams. This is a lot compared to sheets. So even if the package is compostable, the carbon footprint is much more significant.
Tide Pod Pros
Cheap if buying a big package.
Available in many stores and outlets-easy to buy.
Wide range a price, amount of pods and scents.
Strong- remove stains.
Tide Pod Cons
No subscription.
Neither cruelty-free nor vegan.
Aggressive ingredients that may cause allergy.
Strong scent.
Not eco-friendly.
Earth Breeze Pros
A complete bio formula- Easily dissolve in hot and cold water.
Phthalate-free, phosphate-free bleach, and dye bleach.
Reduces your footprint.
Cancel any time without a contract.
100% satisfaction guarantee or your money back.
Hypoallergenic and kind to skin.
Biodegradable packaging.
Space and time-saving design.
Every purchase donates ten washes.
Gray water and septic safe.
100% plastic-free packaging.
Space and time-saving design.
Tough on stains and odor removal.
Vegan and cruelty-free.
Earth Breeze Cons
Not all that good for old and robust stains.
Prices
The number of households that spend detergents per load varies greatly. Tide Pods have been known to be much cheaper than Dropps. If you buy a bundle of 96 pods, the price would be similar in the long run.
It is all about doing the math before a haul purchase to avoid spending more than you should. For example, 1 load of Dropps is more expensive at $0.32 per load. On the other hand, Tide Pod will go as low as $0.22 in a bundle. However, if you buy a haul of 16 pods, you will spend $0.31.
For the Earth Breeze Eco-sheets, you will have to spend $0.20. That is if you are talking about a subscription. However, you would typically pay 33 cents per load. Signing up for a monthly subscription makes it cheaper and more accessible.
So, this leaves us with the million-dollar question; which of the three products will allow you to save loads of money?
This is probably a tricky question to answer. You are likely to spare a few coins from buying the detergents if you go about it wisely. However, there are more important factors that you should consider, like going green initiatives to offset carbon emissions.
Customer Reviews
Dropps Reviews
According to ZippNada on YouTube, her sheets weren't looking great before because of her dog. However, since she started using the Dropps pod, the sheets have become much better. According to her, they smell fresh, and they look and feel clean.
Another YouTube user StrollingThroughLife had a lot of good things to say about Dropps Pods. According to her, the detergent does a great overall job, especially in cleaning clothes. She notes that the product is similarly priced to the competitors therefore neither expensive nor cheap.
However, there are always two sides to every coin. Though she would recommend this product any day, she notes that the product does not work out to eliminate stinks, especially from sweating. So, if you are working out, perhaps you should look for other options to dissolve the after-sweat smell from your clothes.
Tide Pod Reviews
David Genovese did a very impressive review on YouTube on Tide Pod. In a great demo, he shows how the product is good at removing tough stains. According to his unpaid evaluation, he also did a test on other brands, which woefully failed against Tide pods.
Earth Breeze Reviews
In a sponsored YouTube vlog by Unnatural Vegan, everything came out clean and smelling nice after using Earth Breeze. According to her, the product works perfectly on sweat areas like the armpits. All you need is just a sheet for one load, and you are good to go.
Which is Better?
When choosing between these three products, it all comes to what you are looking for.
If you are looking for an old-school detergent that will get rid of the stains but does not care about the environment, animals, and the planet- Tide Pods is the product you should go with.
However, if you want to be more eco-friendly and to go green with your laundry- if you're going to be a mindful customer, make both Dropps and Earth Breeze are your best friends.
If your laundry pods are more convenient, Dropps would be the best choice for you. On the other hand, if you need to save space and a cheaper eco-friendly detergent, Earth breeze is the definite pick.
Both Dropps and Earth Breeze are more eco, sustainable, and with no harm policy.
Is It Worth It?
A mindful of the ecosystem will deeply care about how much their actions impact the planet. It is important to order these eco-friendly laundry pods, sheets, or capsules if you are that person.
If you are looking to become an eco-products customer, Earth Breeze is the best point to start.