There's nothing more refreshing than taking a shower to start and end your day. It's like a reset button for your mind and body, but with refreshing scents.
However, most body wash products in the market today have the same old scents. There are fruity, floral, and even spicy. But a lot of the time, they can be overpowering and smell too "artificial."
Showering doesn't have to be boring because of the same humdrum scents. So today, we'll take a deep dive into Outlaw. This bath and fragrance brand rethinks the usual concepts for bouquets, bringing to life actual, natural scents that surround us every day.
About Outlaw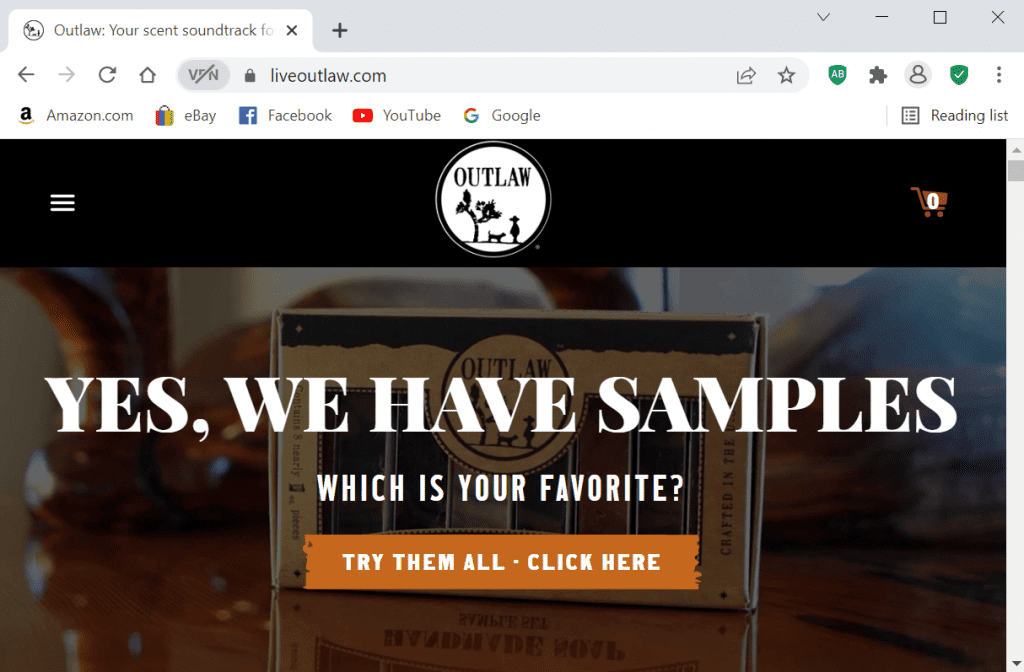 Outlaw is a brand that sells soaps, colognes, and other personal care items that make you smell fantastic. They've been around since 2013. Their goal is to make people feel inspired even when they're doing something as trivial as showering.
What makes Outlaw different from other bath brands is the type of scents. Instead of familiar fruity, floral, and gourmand aromas, they carry true-to-life ones. These include leather, campfire, clove, freshly cut grass, etc.
The company believes that real, authentic people crave actual scents. In addition, a study has proven that people feel better when they smell scents inspired by everyday life.
That means their scents will tickle your adventurous spirit that loves the outdoors. After all, an "outlaw" can often be described as a badass American hero that isn't afraid to get down and dirty.
And while it sounds like this concept is just for men, it's not. Outlaw is a unisex brand that's wonderful for any gender.
Outlaw is cruelty-free and proudly made in the USA.
They use natural ingredients and sustainable packaging for all their products. They're also proud of their outstanding employee and customer satisfaction.
Today, Outlaw has over 38,000 followers on Instagram. That's quite a lot for an independent brand. However, it's a testament to how much their concept of true-to-life scents resonates with others.
How to order from Outlaw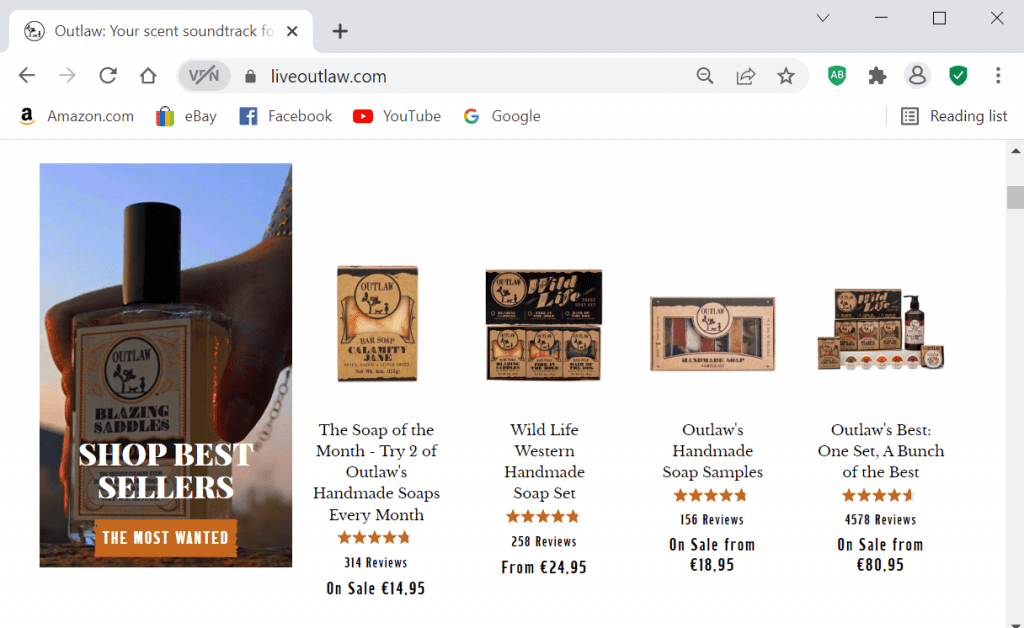 If you like rugged, natural, and outdoorsy scents, you'll have fun navigating the Outlaw website. They have shower gels, soaps, cologne, lotion, and more.
Outlaw also carries sample sizes of their products. You can try those out first before committing to a full-size version.
To make shopping easier, filter the items according to Outlaw's six signature scents:
Blazing Saddles: leather, sandalwood, and gunpowder
Fire in the Hole: warm whiskey and campfire
Lust in the Dust: musky sandalwood and sage
Calamity Jane: spicy cinnamon, sweet orange, and whiskey
Home on the Range: clean, sweet scent of laundry and freshly cut grass
The Gambler: bourbon and tobacco
There are many ways to save a few bucks while shopping on Outlaw. You can choose pre-bundled sets that usually have discounts. You can also sign up for a subscription, giving you up to 25% off orders.
One fun way to get a discount is by taking a quiz that helps you find the right scent for you. After finishing it, you're rewarded with a 20% off voucher!
A 100% satisfaction guaranteed policy covers all orders.
If you don't like the scent you end up with, Outlaw can refund you or replace it for free with another fragrance.
Although shipping differs according to your location and method, it's still affordable.
Outlaw Bestsellers Review
Fire in the Hole Handmade Campfire Soap
If you love campfires and hikes, this explosive soap is perfect. It smells of fire, sage, gunpowder, and notes of whiskey. It also has an excellent marble-like fire design to spruce up your bathroom.
The soap has hydrating ingredients like avocado, olive, and coconut oils. It's perfect for washing your skin without stripping it or leaving it dry.
What customers like about it:
The marbled design looks cool
It smells better and better the more you use it
Blazing Saddles Natural Body Wash
Not a fan of bar soap? A shower gel might be better for you. We recommend the Blazing Saddles one for a sensual but masculine and musky aroma.
This body wash has notes of leather, sagebrush, and gunpowder. It also has a musky sandalwood smell to make you ruggedly irresistible, like a cowboy in a Hollywood movie set.
It's aloe juice, coconut oil, sunflower seed oil, and other moisturizing ingredients. Together, they add a glow to your skin, making it super soft.
What customers like about it:
A sultry, masculine scent
Forms a rich, bubbly lather
Blazing Saddles Western Solid Cologne
I loved how we described the Blazing Saddles scent? Try using this solid cologne to make sure you smell like it 24/7.
This wax-based cologne is travel-friendly, so that you can bring it everywhere with you. Just rub a small amount on your pulse points (wrists, neck) when you need to freshen up.
It's rich in natural, nourishing ingredients. These include vitamin E, cocoa butter, and beeswax. Those are all awesome for adding moisture to the skin.
What customers like about it:
Outlaw's Handmade Soap Samples
Find the perfect Outlaw scent for you with this soap sample pack. You get to try out all eight Outlaw scents in this set. This includes the six flagship fragrances and two others (Outlaw's Garage and Hair of the Dog).
This set is a great way to explore what Outlaw offers before committing to a signature scent. You can also use the soaps on different days, depending on your mood and what you want to smell like.
What customers like about it:
You can try multiple scents before buying larger sizes
Outlaw Pros and Cons
Outlaw Pros:
Unique, niche scents that are hard to find
Made with natural ingredients approved by Whole Foods
Fast shipping (around 2-4 days within the US)
Cruelty-free and uses sustainable packaging
100% satisfaction guaranteed
Affordable pricing
Outlaw Cons:
Some scents may be solid and overwhelming if you have a sensitive nose.
Outlaw Soap vs. Dr. Squatch
Unisex products, such as:
Shower gels,
Handmade soaps,
Body lotions,
Spray or solid cologne,
Beard care,
Deodorants,
Air freshener
Bundles

Products for men, such as:
Bar soaps,
Hair care,
Deodorants,
Tooth pastes,
Shower busters,
Bundles

The shipping cost depends on shipping method

Free shipping for orders over $50

100% Satisfaction guarantee
It's tempting to compare Outlaw to other soap brands with niche scents, like Dr. Squatch. But they have a lot of significant differences.
Outlaw is a proudly handmade, independent soap brand. Meanwhile, Dr. Squatch seems to be more on the mainstream side of the market.
Another difference is that Dr. Squatch mainly talks to men. On the other hand, an outlaw is a unisex brand that is terrific for any gender, as long as you love adventurous scents.
Lastly, Outlaw is a cruelty-free brand. Unfortunately, there's not much info on Dr. Squatch in that regard, so it's hard to tell if they are too.
Outlaw Reviews
There are hundreds of happy reviews from customers on the Outlaw website alone. These verified buyers only have good things about the products and customer support.
On Trustpilot, Outlaw has garnered a high score of 4.6 out of 5 stars.
People also make videos of their Outlaw purchases. For example, natural Soap Man on YouTube has an entire video on his Blazing Saddles products.
"It left my skin feeling smooth!" he gushed as he recommended the soap to people who love the smell of leather.
Is Outlaw worth it?
If you like outdoorsy scents and love feeling that American hero vibe as you shower, Outlaw is worth it. Its unique scents are something you'll keep coming back to. Plus, it's handmade, natural, and animal cruelty-free. What's not to love?
Support an all-American brand today by trying out Outlaw's range of soap, colognes, and shower gels!