There are many ways to make your everyday habits more eco-friendly. Some start using metal straws, while others opt to buy organic skin care products. But one of the easiest ways to be eco-friendly is switching from single-use plastic bottles to insulated ones.
Insulated water bottles are handy. Fitness junkies can use them while hiking, cycling, or even hitting the gym. Working professionals can use it to stay hydrated as they go from meeting to meeting. Anyone will find an insulated water bottle of good use.
Switching to a recyclable water bottle isn't as simple as you think. There are tons of brands in the market, all in different innovative designs and materials. So, which one should you choose?
Today, we'll be zeroing in on Super Sparrow. This brand puts its environmental advocacy at the forefront. And they do so by providing a wide range of stainless steel water bottles.
About Super Sparrow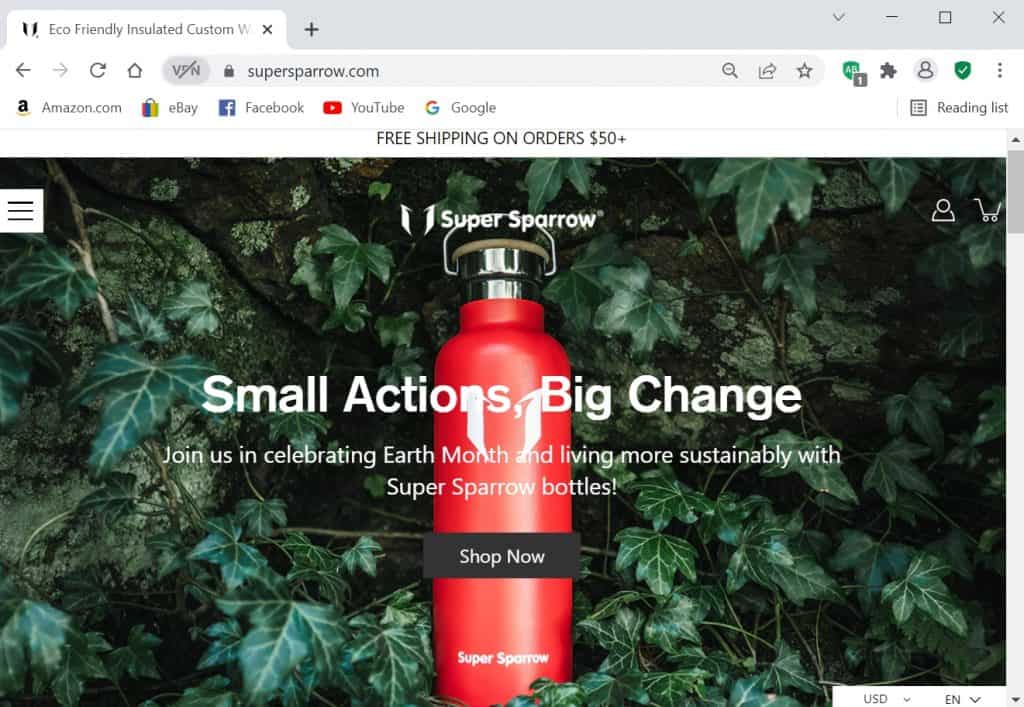 Super Sparrow is a brand focused on making an impact on the environment. Instead of using single-use plastic for every drink, they've come with reusable, stainless steel bottles.
But the bottles don't look like your basic eco-friendly jug. They're designed for adventure junkies that always need to stay hydrated. Not only do you help save the planet, but you also do it in style as you do your favorite outdoor activities.
The quality and functionality of Super Sparrow bottles are top-notch. They're designed to be durable enough to withstand the elements. Each bottle is made only with premium stainless steel. They make for a sturdy, stylish companion as you go through your day-to-day adventures.
Aside from being reusable, it's also friendly to the environment in the materials used to make it. The bottles are free of BPAs, phthalates, and lead. This also makes it safe to drink water.
For example, each Super Sparrow bottle has an ergonomic design. This allows you to carry the bottle with one hand as you drink quickly.
Super Sparrow water bottles can keep your drink at the perfect temperature. It maintains hot drinks for up to 12 hours and cold ones for 24 hours without condensation; excellent for long days, like hiking or going overtime at work.
Are you thinking of giving Super Sparrow as a gift? Every bottle comes with a gift box—perfect for wrapping it up and sending it over to a friend. All bottles come with a lifetime guarantee as well.
The brand has been featured in significant publications, like The Guardian, The Independent, and The Big issue.
It's also a growing label on Instagram, where it has almost 9k followers.
How to order from Super Sparrow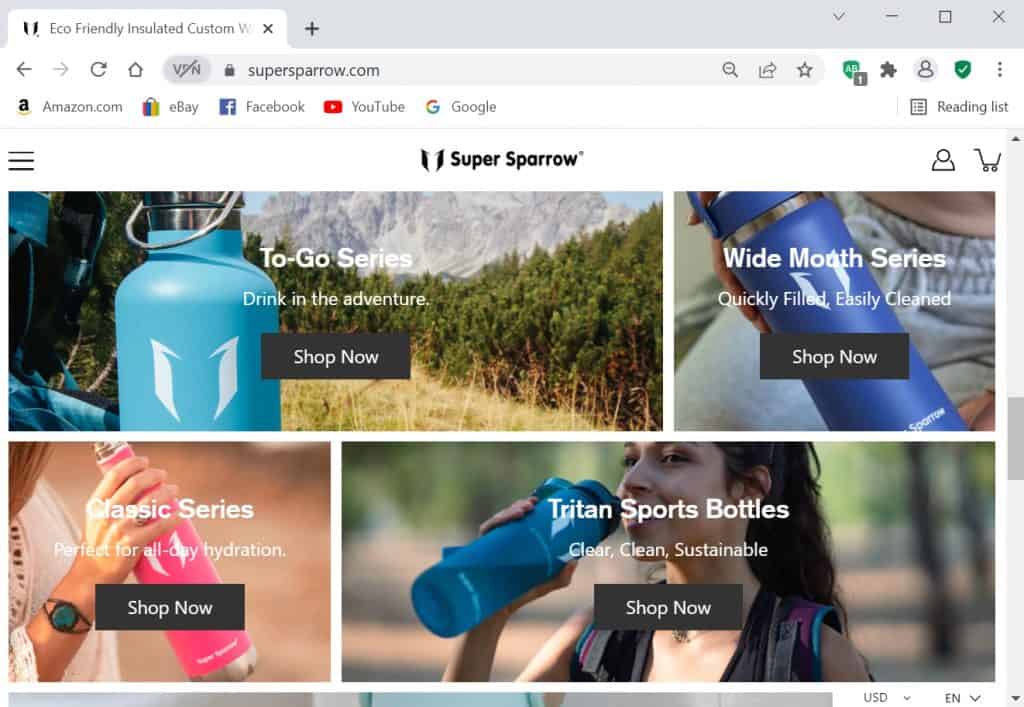 The Super Sparrow website is easy to navigate. They have seven major bottle collections, divided neatly into separate pages:
To Go: For adventure-seekers; available in five sizes
Tritan: Their clean and sustainable line; is designed with clear, BPA-free Tritan plastic
Free Enjoy: Weightless stainless steel bottles with a flip-open lid
Wide mouth: For easy drinking and cleaning; designed with LockTemp technology
Classic: For everyday use
Ultra-light: Made only with 18/10 food-grade stainless steel
Patterned: Bottles with cute, charming designs and colors to express yourself
With a range like that, you'll be sure to find something fit for your lifestyle.
Every bottle from any of the lines comes with a lifetime guarantee. While they're designed with durability, you still get a warranty.
This is in case any manufacturer's defects manifest later on. You can get your bottle replaced or get replacements for the parts that are defective.
You'll also find many water bottle accessories for sale on the website. These include wearable slings, lids with straws, extra caps, etc.
They also offer free shipping for purchases over $50.
Super Sparrow Bottle Review
Super Sparrow Insulated Stainless Steel Water Bottle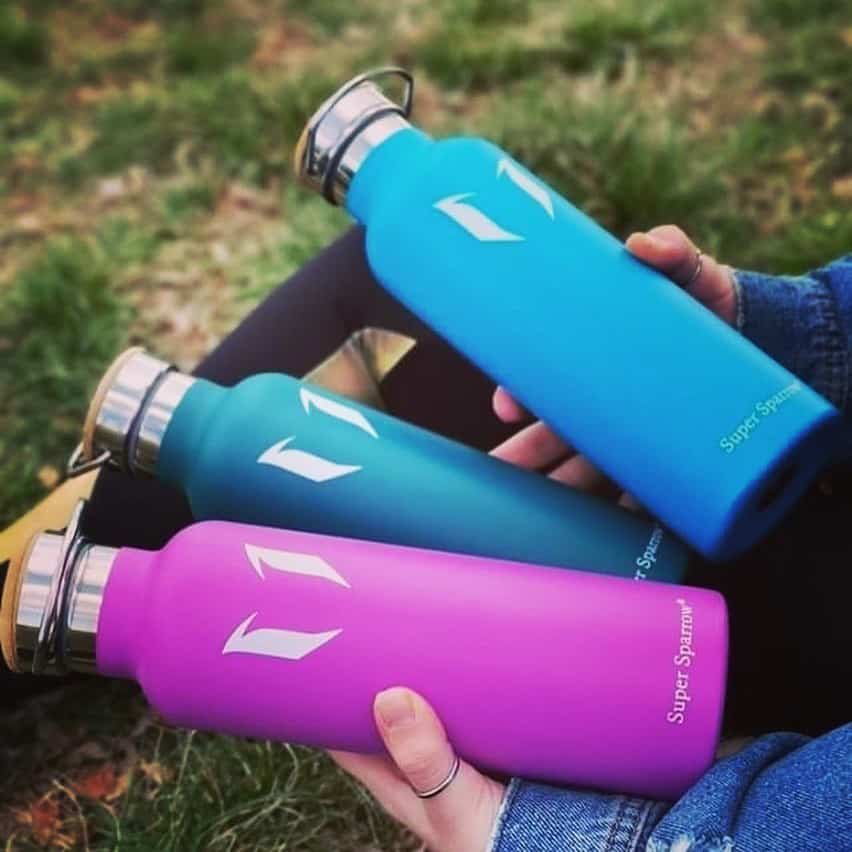 This ergonomic bottle has interchangeable caps. That makes it easy to customize according to your need. The sports cap is excellent for immediate drinking without taking off the cap. Meanwhile, the loop cap is excellent if you want to carry your bottle easier or secure it in your bag.
It's made with BPA-free, pro-grade steel for durability. It's also leakproof, so you don't have to worry about spills.
The bottle is designed with double-wall technology. There are two layers of vacuum insulation helping to hold your drinks' temperature. That means your cold drinks stay nice and chilly. Meanwhile, your coffee and hot drinks can stay scalding hot when you want them to.
This technology allows your drink to maintain its temperature, no matter the season. So even in the winter, your hot drinks stay warm for 12 hours. And on hotter days, your iced drinks still stay cold for 24 hours.
There are 19 vibrant colors to choose from. Each color comes in a long-lasting, dishwasher-safe powder coat. This makes it easy to grip without slipping.
You can choose between four sizes: 12oz, 17oz, 25oz, and 32oz. Each bottle comes with cleaning brushes, two caps, and a storage case.
What people like about it:
Wide, vibrant color range
Keeps drinks cold the entire day
Super Sparrow Pros and Cons
Super Sparrow Pros:
Put eco-friendliness and sustainability at the heart of the brand
Free shipping for orders over $50
Wide range of designs, so even picky shoppers will find something they like
Plenty of colors to choose from
High-quality, BPA-free materials
Dishwasher-safe
Super Sparrow Cons:
The brand doesn't sell other drinking products aside from water bottles.
Super Sparrow Reviews
Most of the reviews on the official website are suitable. They often praise Super Sparrow's ability to keep drinks cold, refreshing each sip.
According to MCM Outdoors' YouTube review, Super Sparrow is as good as its pricier competitors. The channel has a very detailed unboxing and review of the product.
The brand has a great score on Review Meta. It has a rating of 4.2 from over 16,000 reviews online. Occasionally, you'll also see Super Sparrow in travelers' and sports enthusiasts' blogs.
Super Sparrow VS Hydro Flask
Insulated Stainless Steel Water Bottles
Accessories

Bottles
Tumblers
Bottles and mugs for coffee
Beer and wine bottles
Bags and accessories
Let's compare Super Sparrow with Hydro Flask, another famous water bottle.
Hydro Flask offers a range of other drinking products (like mugs and tumblers). Super Sparrow stays true to its eco-friendly mission and only carries stainless steel bottles.
Super Sparrow gives you more value for money, too. A 25oz bottle costs about $20.99. Meanwhile, a 21oz Hydro Flask costs upwards of $32.95.
But the most significant difference is the range of colors and designs of their bottles. While there are 19 colors to choose from when shopping with Super Sparrow, Hydro Flask only has 12. Super Sparrow comes in different designs, while its competitor only has solid colors.
Is Super Sparrow worth it?
Yes. If you're thinking of making lifestyle changes to positively impact the environment, getting a Super Sparrow bottle is worth it.
Sure, there may be plenty of bottle brands already, but Super Sparrow is an excellent choice. That's because they have eye-catching designs and top-notch quality materials. Plus, they're more affordable than other leading brands.
The best part is that their bottles are durable. So, they'll be sure to last you many years.