Why Aren't You Dry Brushing Your Skin Yet?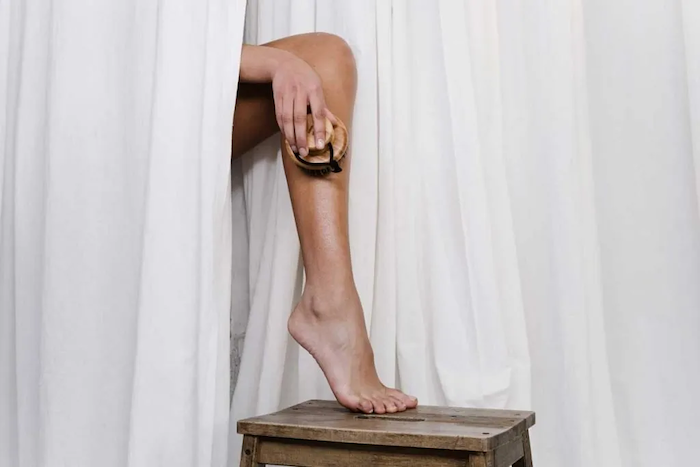 I first learned about dry brushing from a friend who is an esthetician. She told me that dry brushing was a great way to exfoliate the skin and promote circulation. I was intrigued (even though I thought it was totally weird), but I decided to try it! So, I purchased a dry brush specifically designed for the body.
I followed the instructions and began dry brushing my skin a few times a week. At first, I didn't really notice any difference. But after a few weeks, I started to notice that my skin was softer and smoother. I also felt like my circulation had improved.
I continued dry brushing for a few months, and I am now I'm hooked. I truly believe that it has made a difference in the appearance of my skin. My lotion glides on smoother, and my skin just feels better overall.
As an affiliate partner of various brands and sponsored content, CakeStyle may earn commission on qualifying purchases. Disclaimer | Advertise With Us
So, what exactly is dry brushing?
It's kind of exactly how it sounds! Dry brushing is a method of exfoliation that involves using a dry, stiff brush to massage the skin. This helps to remove dead skin cells and promote circulation.
Allegedly, it can also help to improve the appearance of cellulite. I'm not sure about that last claim, but I can tell you that dry brushing definitely makes your skin feel incredible!
The benefits of dry brushing
There are many benefits to dry brushing which is why I started in the first place!
Improved circulation: Dry brushing can help to increase blood flow and circulation throughout the body.
Detoxification: Dry brushing can help to remove toxins from the body by stimulating lymphatic drainage.
Exfoliation: Dry brushing can help to slough away dead skin cells, revealing softer, smoother skin.
Unclogged pores: Dry brushing can help to unclog pores and improve the overall appearance of skin.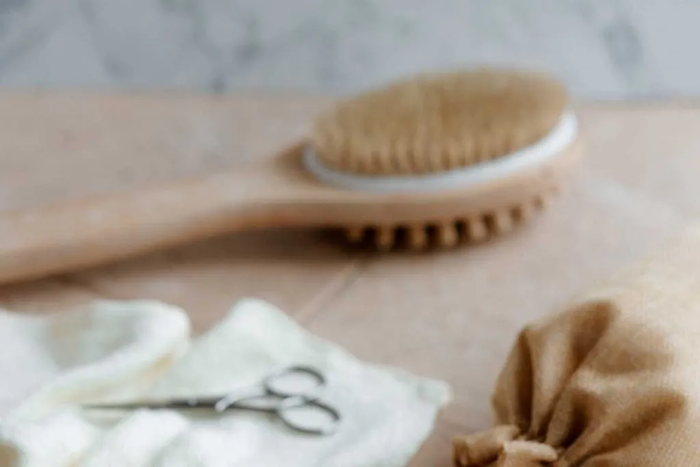 How to dry brush
Dry brushing is really really easy.
To dry brush, start at your feet and work your way up the body. Use long, firm strokes in an upward motion. Avoid scrubbing too hard, as this can irritate the skin. Spend a few minutes on each area of the body before moving to the next.
When you're finished, take a shower to rinse off any dead skin cells. Your skin will feel incredibly smooth and soft!
If you're interested in trying dry brushing for yourself, I recommend purchasing a natural bristle brush. You can find them online or at most health food stores. Be sure to avoid synthetic brushes, as they can be harsh on the skin.
Dry Brushing Body Brush
Natural Bristle Dry Skin Exfoliating Brush Body Scrub for Flawless Skin, Cellulite Treatment, Lymphatic Drainage and Blood Circulation Improvement, Medium Strength…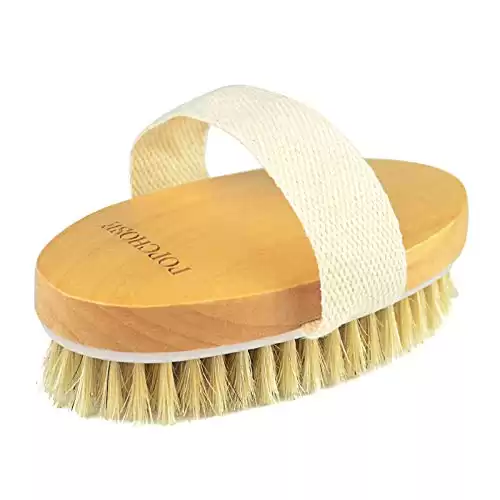 Tips for dry brushing
Here are a few tips to keep in mind when dry brushing:
Use a soft-bristled brush: Avoid using a brush with harsh bristles, as this can irritate the skin.
Start slowly: Begin with gentle circular motions and increase the pressure gradually.
Be mindful of broken skin: Avoid any areas of broken skin, cuts, or scrapes.
Rinse off afterward: After dry brushing, rinse off with warm water and moisturize the skin.
Avoid dry brushing too often: Once or twice a week is sufficient.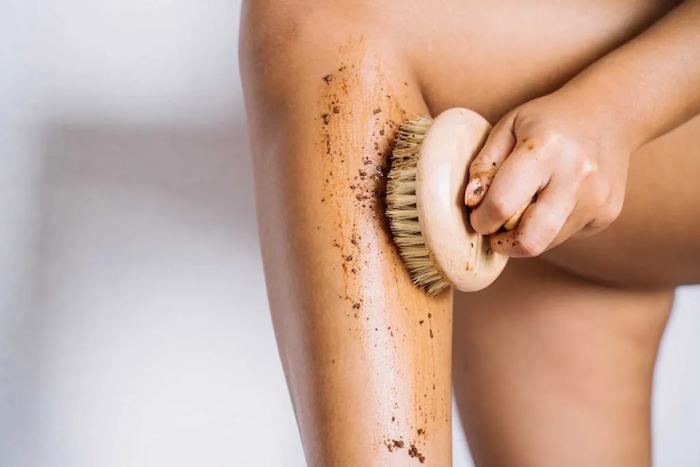 What are some other ways to exfoliate your skin?
If you're not totally sold on dry brushing, I get it. It can seem a little weird at first. But I promise it's totally worth it! If you're looking for other ways to exfoliate your skin, here are a few of my favorites:
Sugar scrub: A sugar scrub is a great way to exfoliate the skin and leave it feeling soft and smooth. Simply mix together some sugar, olive oil, and lemon juice to form a paste. Massage the scrub onto damp skin in a circular motion, then rinse off with warm water.
Coffee scrub: A coffee scrub is another great way to exfoliate the skin. Simply mix together some ground coffee grounds and oil of choice. It also smells incredible – especially in the morning!
Salt scrub: Sometimes, I like to mix it up and use a salt scrub. Salt scrubs are great for exfoliating the skin and can also help to improve circulation. To make a salt scrub, simply mix together some sea salt, olive oil, and essential oils. Massage the scrub onto damp skin in the shower, then rinse.
Do you dry brush? Let me know in the comments below! I would love to hear about what kind of brush you use and your technique. Also, when did you start to notice a difference?
Read This Next: