Glycelene Anti-Aging Ointment Review: Glycelene is a luxury vegan skincare line founded by Kim Borio. Her goal was to create a Petroleum Jelly alternative made with natural, organic ingredients. The Glycelene brand now offers many natural ointments, serums, body oils, and hair care.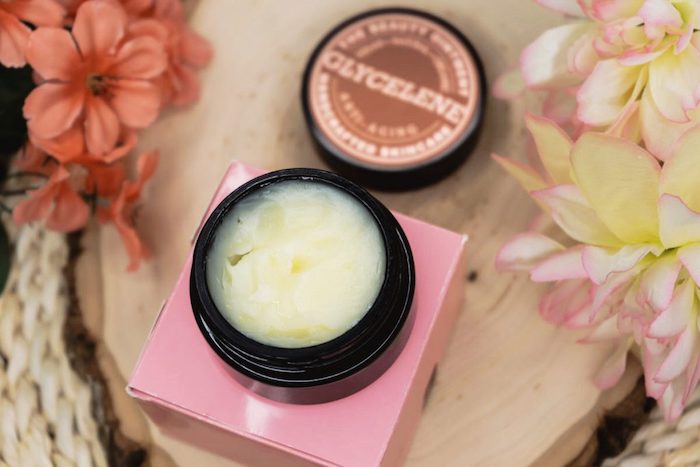 The entire Glycelene line is cruelty-free, vegan, clean, and effective. I love supporting smaller businesses that follow these high standards. They formulate their products fresh daily from high-quality organic ingredients. It really doesn't get much better than that.
I stumbled upon Glycelene Beauty Ointment when I was searching for a cleaner alternative to Vaseline. I'll admit, I was hesitant to try their products because they're pricey and they don't offer returns. However, I'm so happy I found this Petroleum Jelly alternative! I use this on my lips, hands, feet or wherever dry patches might show up. I don't think I'll ever go another winter without this stuff.
While you can use this product on your face, I found it to be a bit too heavy for that area. That being said, if any dry patches show up, this would make a wonderful overnight treatment. They also make a lavender-scented version! I opted for the unscented version (and it is truly unscented), because I can be very sensitive to scents.
You May Also Like: Cruelty-Free Makeup For Mature Skin (Top Brands)
If you're looking to try Glycelene they make a smaller jar of their beauty ointment. This stuff lasts a really long time, and I would recommend a small jar if you're not sure how you will like it. Around the holidays they sometimes offer kits with smaller sizes of their products. Follow them on Instagram to stay in the loop.
Key Ingredients
Organic Shea Butter, Organic Vegetable Glycerin, CoEnzyme Q10, Tocopherol, and powerful antioxidants such as Acai, Babassu and Passion Fruit.
Another perk of Glycelene is its beautiful presentation. The elegant packaging is high quality and looks good on any shelf or vanity.
If you're looking for an effective, natural alternative to Petroleum Jelly, I really think this is the best option. Get your order in here.
Read This Next: