Today we are comparing Mad Hippie and Drunk Elephant's Vitamin C serums.
Let's talk about taking your vitamins. Vitamin C is one of those ingredients you would be crazy not to incorporate into your skin routine. Packed with anti-aging and brightening benefits, it's a key ingredient in achieving smooth, radiant skin.
Vitamin C is said to boost collagen production, protect against sun damage, and reduce the appearance of under-eye circles. I have been using vitamin C every morning for over a decade now, and I don't plan on stopping anytime soon!
While vitamin C usually doesn't give people much trouble, always, always, always do a patch test first. If you're not familiar with a patch test, it's when you try a small amount of a new product on an inconspicuous spot of skin. I usually use the inside of my arm or wrist. In the event you have a reaction to the product, it won't be all over your face.
I also recommend introducing new products slowly, especially vitamin C serum. If you use a lot of products at once, it will be more difficult to pinpoint which are effective and which are not. Also, if something makes you break out or gives you a reaction, you may not know which product caused it! My skin is rather sensitive, so I always incorporate products slowly.
Mad Hippie Vitamin C vs. Drunk Elephant Vitamin C
There are loads of vitamin C products on the market today. Serums, moisturizers, cleansers, you name it. Two popular brands of vitamin C serum are Mad Hippie and Drunk Elephant. Of course, there are lots of competitors on the market. After doing my own research, these are two vitamin C serums I have come to trust the most.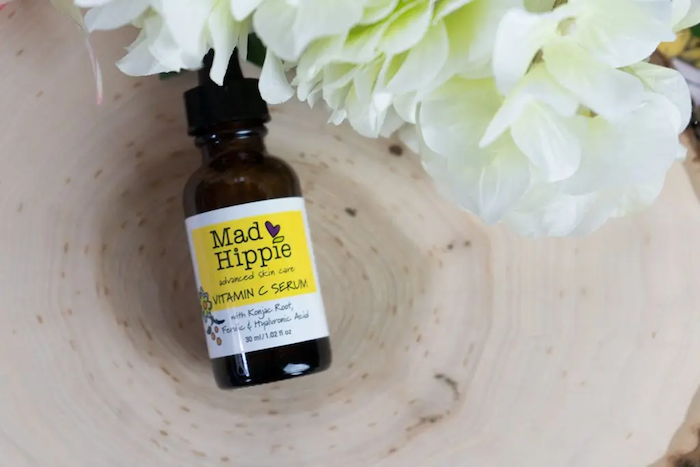 Mad Hippie has some wonderful ethics behind its company. $1 of every website is dedicated to conservation. I love when companies give back to nonprofit organizations. Drunk Elephant stands behind ingredient transparency. They craft their formulas with effective ingredients that benefit the skin – instead of nonsense and fillers.
Drunk Elephant was purchased by Shiseido, which, unfortunately, is not cruelty-free. However, the entire Drunk Elephant line remains cruelty-free. Understandably, this causes a bit of an ethical dilemma for some.
When it comes to choosing the best serum for your skin, there are a few different things you should consider.
Price
So, the difference in price between these two products is sizeable. At the time of writing this post, the Drunk Elephant Vitamin C serum costs about $80, while the Mad Hippie version is about $34.
Both companies offer a satisfaction policy. If you really dislike the product, reach out to customer service and they'll make it right.
Vitamin C Serum Packaging
When it comes to vitamin C serums, packaging is extremely important. When exposed to light or air, the vitamin C serum may degrade in quality. I also keep my vitamin C serums in the fridge to make them last longer. Move over salad dressing!
Both of these companies do an excellent job at packaging their serum. The Mad Hippie Vitamin C serum comes in a light-proof dropper bottle, while the Drunk Elephant serum comes in a hygienic pump bottle. I prefer the Drunk Elephant packaging and pump for ease of use. I enjoy knowing that the product isn't being exposed to the air at all.
However, it can be difficult to determine much product is left inside. That being said, the dropper bottle is certainly not a deal breaker, and it still hygienic and easy to use.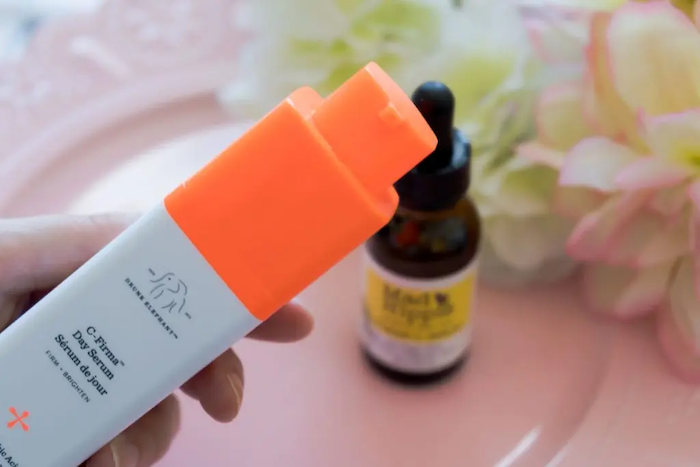 Consistency and Scent
The consistency of the Drunk Elephant serum is slightly thicker than the Mad Hippie serum. It feels stickier and takes a bit longer to dry. I usually wait a good 10 minutes for the Drunk Elephant serum to absorb. Then I go about the rest of my routine. To make it easier, apply the serum, then do something else (like blow dry your hair or drink coffee). By the time you're done, the serum will be absorbed.
The Mad Hippie serum initially feels jelly-like, but it absorbs very fast. After applying this product, I don't need to wait long before applying moisturizer or makeup. I appreciate this on days I may be rushing around. It almost feels like jelly-water and it glides all over my face beautifully.
Now let's talk about the scent. The Mad Hippie serum barely has a scent at all. It is extremely faint. Many people do complain about the scent of the Drunk Elephant serum. Personally, I don't find it offensive at all, but it is there. I can't tell you exactly what it smells like, but it definitely has a scent. It does not linger on the skin and you won't smell it for the rest of the day.
You May Also Like: Cruelty-Free Makeup For Mature Skin (Top Brands)
Key Ingredients
Drunk Elephant Vitamin C Key Ingredients
Antioxidant Complex (Vitamin C, Ferulic Acid,Vitamin E), Pumpkin Ferment, Pomegranate Extract, Chronocyclin
Mad Hippie Vitamin C Serum Key Ingredients
Vitamin C, Vitamin E, Ferulic Acid, Hyaluronic Acid, Konjac Root, Chamomile Extract, Clary Sage
I suggest checking out the entire ingredient list before purchasing. These are available on both the Mad Hippie website, as well as Drunk Elephant. Make sure there are no ingredients that may not agree with your skin.
Effectiveness
Probably the most important thing to consider is effectiveness. I really do think both of these products are wonderful. I have noticed a difference in my skin using both vitamin C serums.
In my personal opinion, I feel as though the Drunk Elephant serum is more potent. However, the Mad Hippie serum is light, pleasant to use, and perfect for sensitive skin. They also have great reviews and before-and-after photos on their website.
Mad Hippie Vitamin C vs. Drunk Elephant Vitamin C – Conclusion
When deciding which serum to purchase, take all of these things into consideration. Have you tried either serum, or both? Which is your favorite? Leave us a comment with your experience on either one of these products.
Read This Next: