I've struggled with acne scars all my life. It doesn't help that I have fair skin because these pesky spots are stark against my complexion. I've heard of many "miracle products" claiming to zap away stubborn dark spots, but not all of them work.
When I first heard about Meladerm, I was immediately intrigued by it. It lightens the complexion without hydroquinone, so I knew right away that it was good for the skin.
But after being let down by so many lightening products in the past, I wasn't sure about this one. So I took matters into my own hands and did research on it. Here's what I found.
Is Meladerm Legit?
Meladerm is a lightening cream offered by the skincare brand Civant. It corrects hyperpigmentation and any sort of scarring.
There are over ten skin-loving ingredients, excluding the controversial hydroquinone. The ingredients are all known to eliminate dark spots, scars, and discoloration.
Civant is renowned in the beauty industry for its innovative skincare products. It's been featured in publications like Allure, Health, and InStyle.
It's also a member of PETA's Beauty without Bunnies program, so you know they're a proud cruelty-free biz.
What Makes Meladerm Unique?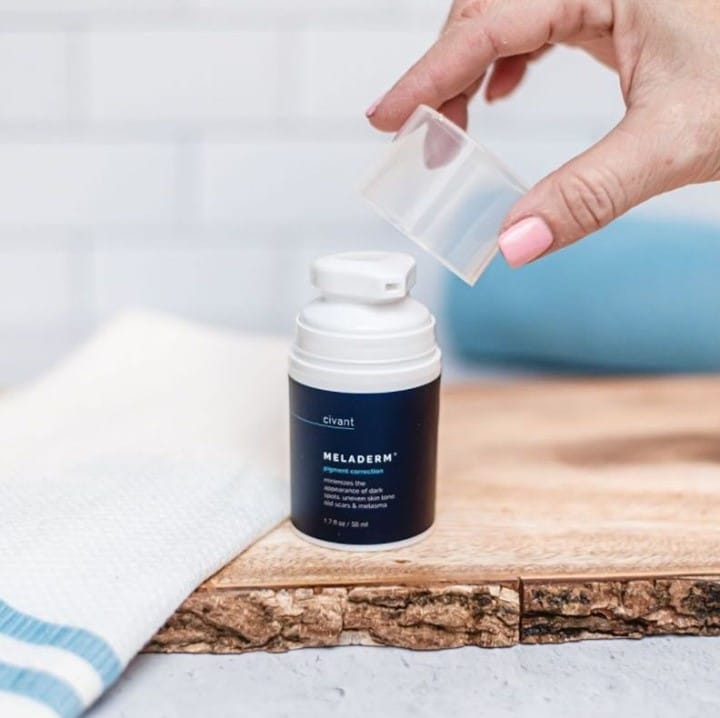 Civant is easy to trust because it makes sure that every product goes through clinical research. Everything they put out is proven by science.
What's unique about Meladerm is its combination of active ingredients. Instead of relying on harsh actives like hydroquinone and steroids, it has botanical extracts. These extracts come in the highest concentrations tolerable for the skin.
These actives allow Meladerm to be effective on almost all kinds of scarring. This includes dark spots left behind by melasma, aging, acne, and more.
The fantastic thing about Meladerm is that it's well-preserved. There are vacuum desiccators to prolong the product's shelf life.
The production team also works to micronize and filter every ingredient to ensure efficacy. That means the actives are potent and in their purest form when you use them.
You May Also Like: Cruelty-Free Makeup For Mature Skin (Top Brands)
The Pros and Cons of Using Meladerm
Of course, Meladerm isn't a perfect miracle product. It won't magically even out your skin tone overnight. While there are many things to love about it, you need to consider its cons too. Here are the good and bad things about Meladerm:
Pros
Works on almost all types of scarring and pigmentation issues
Suitable for all genders, races, and skin types
Vegan and cruelty-free
Contains natural ingredients
Formulated without hydroquinone, parabens, and other irritating ingredients
Offers a 30-day money-back guarantee
Safe because it's manufactured in a CGMP-compliant facility in the USA
Cons
Pricier than other lightening products
One bottle will last just about seven weeks
You'll only start seeing noticeable results after using it for 2-3 months
Meladerm Key Ingredients and How They Work:
There are over ten ingredients in Meladerm's formula that brighten the skin and eliminate dark spots.
This includes mulberry extract, an antioxidant rich in vitamins C, E, A, and riboflavin. It helps even out your complexion by diminishing stubborn dark spots.
It's also rich in niacinamide, a derivative of vitamin B3. Niacinamide is a holy grail ingredient in the skincare world. People love it for its ability to brighten the skin tone and keep acne at bay.
Meladerm also contains kojic acid and alpha-arbutin. These two ingredients are known to lighten the skin without being too harsh on it.
The formula contains extracts from licorice root, skullcap root, bearberry, and more. It's also infused with innovative whitening molecules like Sepiwhite, SymWhite, and GigaWhite.
How Long Does It Take for Meladerm to Work?
You'll typically see an improvement in your skin after just 2-4 weeks of using Meladerm. However, you'll have to wait 2-3 months for a very noticeable change. This is when you'll see the full result in all its glory.
How to use Meladerm?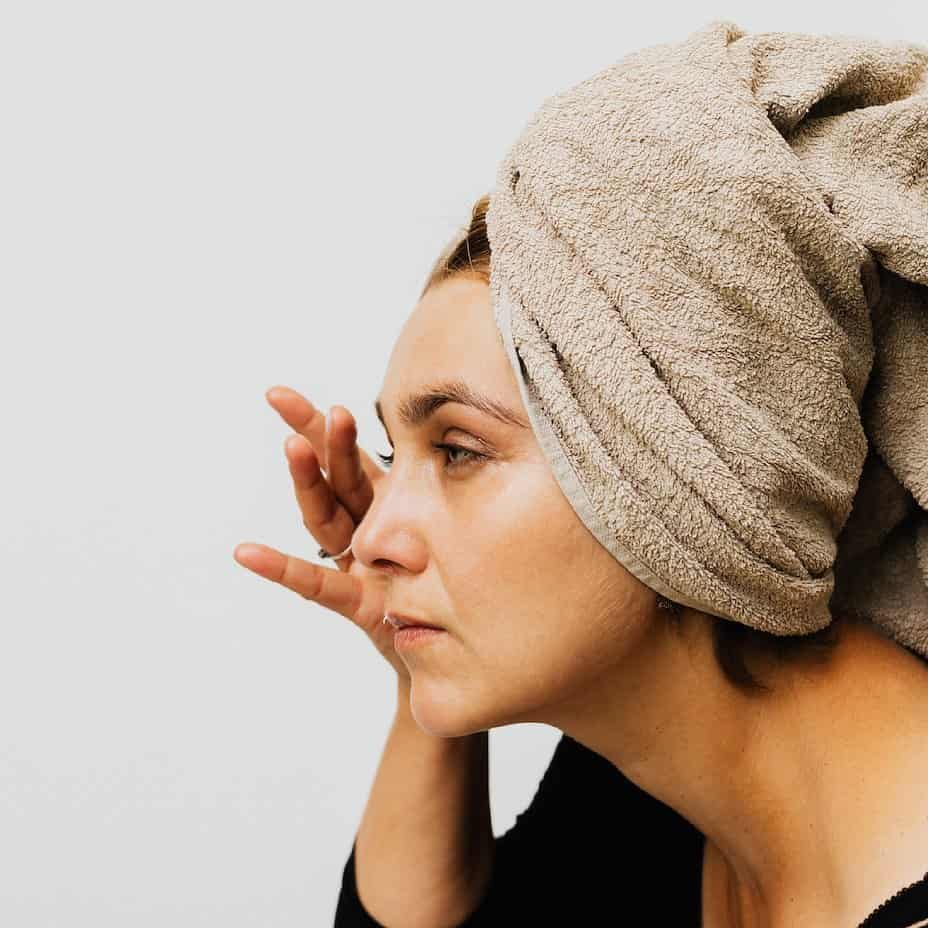 Apply Meladerm once per day after you have cleansed and washed off all traces of soap from your skin, or twice per week at night (or other nights).
Do not try using anything else after applying Meladerm like make up or moisturizer because this will not produce the desired results.
Wait 20 minutes before applying makeup over top of the cream so that it has time to be absorbed into your skin and dry completely.
The best way to see visible improvements is by using their product consistently for at least two weeks; however patience and consistency are key!
We recommend that you do not use this product with retinol because it will cause irritation or adverse effects to the skin.
You can use Meladerm with retin A but be careful not to apply both at the same time because they will cancel each other out.
It is also recommended that you do not mix this product with a vitamin C serum or any other type of moisturizer such as lotion, sunscreen or make up for best results.
Can Meladerm be used All Over the Body?
Meladerm was designed for sensitive skin areas like the face and neck. But you can use them all over your body too.
Can I use Retinol with Meladerm?
Avoid using Meladerm alongside retinol in your routine. Both products are concentrated and can be too harsh on your skin at the same time. If you want to include both in your routine, try alternating them instead.
Any Side Effects?
Lightening your skin with any product can cause irritation. This is especially so if you have sensitive and allergy-prone skin.
Some side effects to watch out for include redness, rashes, itchiness, and irritation. If you have sensitive skin, consult with your dermatologist to see if you can tolerate Meladerm.
Before and After Meladerm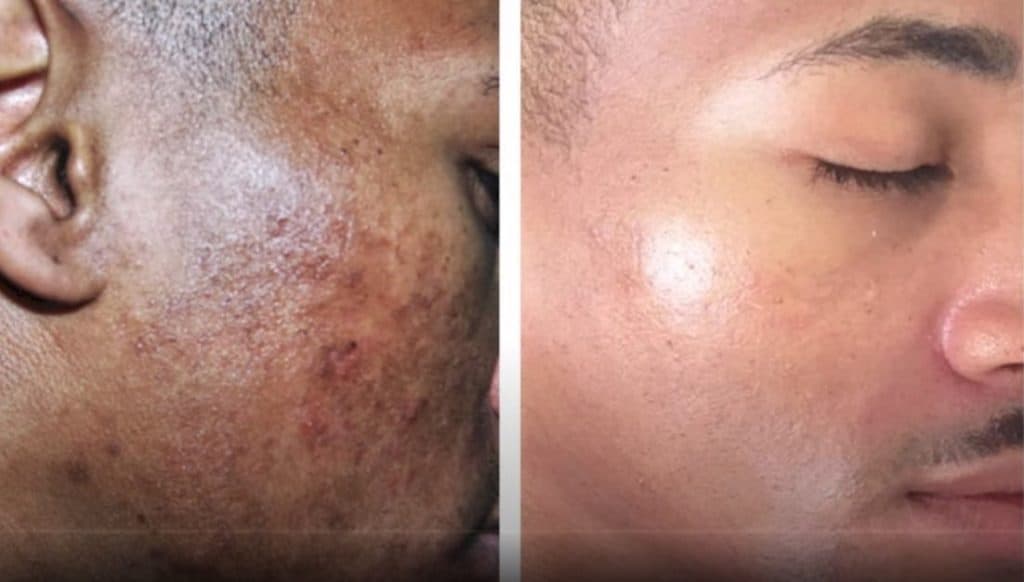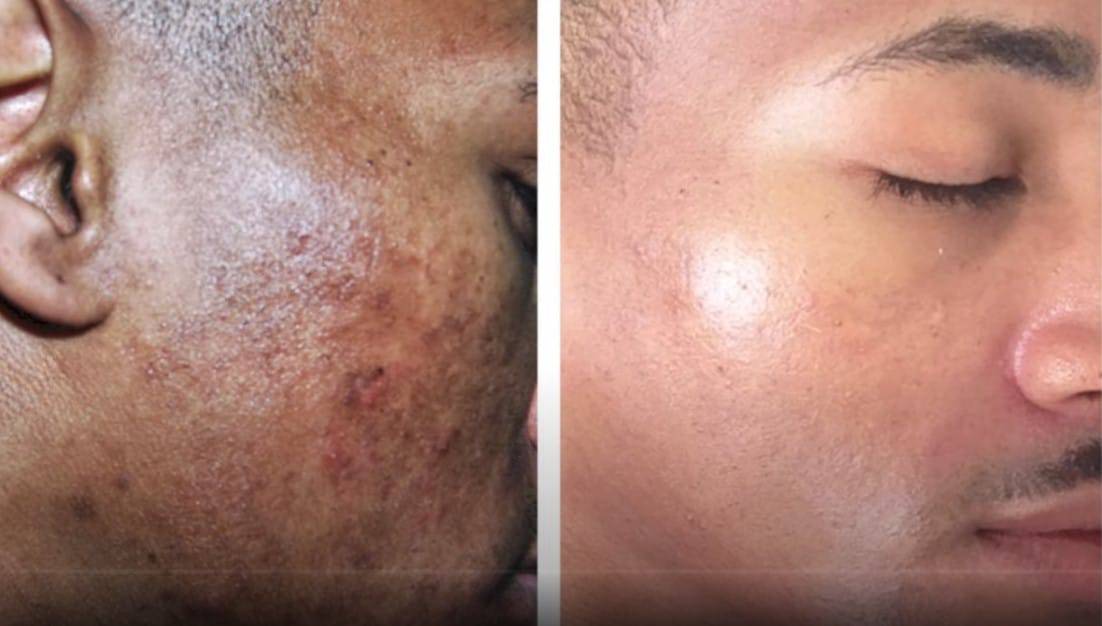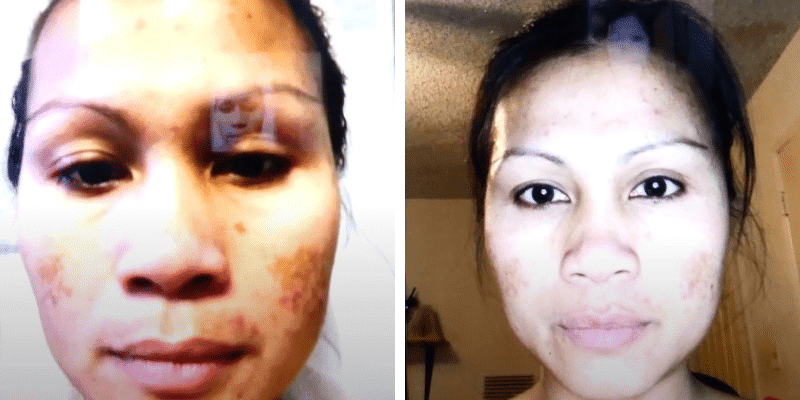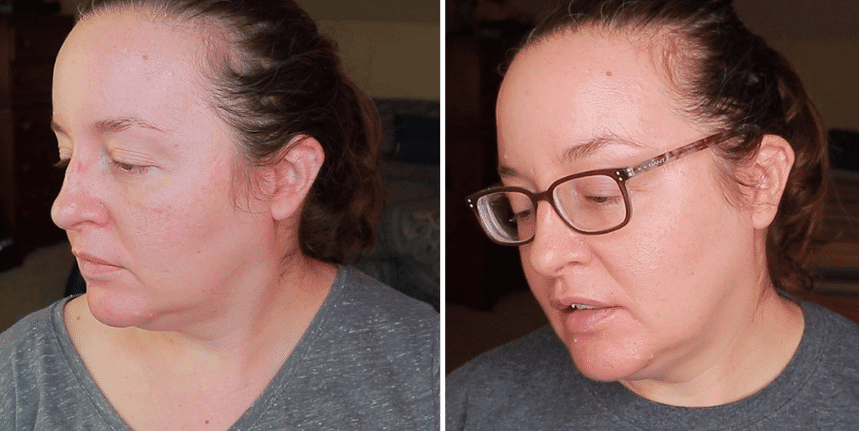 There are tons of before-and-after shots online from people who have used Meladerm. You can see from the photos how well Meladerm works to diminish dark spots and stubborn scars. The result is almost always brighter, clearer, blemish-free skin.
Meladerm vs Hydroquinone
Hydroquinone is very controversial in the skincare world because of how harsh it can be.
The US FDA has proposed to ban hydroquinone in over-the-counter products. This chemical is also linked to cancer and other adverse side effects, such as even more skin discoloration.
You'll be happy to know that Meladerm doesn't contain hydroquinone. Instead, its 10+ organic active ingredients help to brighten your skin safely.
Meladerm does have bleaching ingredients, like alpha arbutin. But these are a lot safer on sensitive skin and aren't likely to cause adverse effects.
Meladerm vs Murad vs True Alchemy vs Simple Beauty
Meladerm is hardly the only skin-lightening cream out there. Skincare brands like Murad, True Alchemy, and Simple Beauty have their own brightening products.
Murad's Rapid Dark Spot Correcting Serum relies on glycolic acid and resorcinol to bleach the skin. On the other hand, True Alchemy's Spot Sheck Serum boasts white shiitake mushroom extracts for theirs.
Simple Beauty's Skin-brightening Spot Corrector is the most similar to Meladerm's ingredients. It contains niacinamide and a derivative of kojic acid, just like Meladerm.
But Meladerm has more brightening ingredients in the form of organic extracts. This makes it superior in lightening the skin without being as harsh as the others.
Meladerm also comes out on top when it comes to product volume. You get 50ml of product from Meladerm. The other three serums only come in 30ml bottles.
Murad and Simple Beauty promise noticeable results in as little as two weeks. Meanwhile, True Alchemy sort of makes overpromises instant results.
While all that sounds desirable, you can't rush diminishing dark spots on your skin. Meladerm will give you results in 2-4 weeks, which means it works slow and steady. This is a sign that it's gentle on the skin and won't strip it of essential nutrients in mere days.
It seems that the only thing these brands have over Meladerm is their shipping and guarantee policy. Civant's money-back guarantee policy lasts just 30 days. Murad and True Alchemy will give you 60 days. Meanwhile, Simple Beauty offers a whopping 90-day money-back guarantee.
| | | | | |
| --- | --- | --- | --- | --- |
| | | | | |
| | Meladerm Cream Pigment Correction | Rapid Dark Spot Correcting Serum | | Simple Beauty Skin-Brightening Spot Corrector |
| | | | | |
| | Strong Complex of plant based ingredients with Alpha arbutin | Patented Resorcinol Technology, Tranexamic Acid, Glycolic Acid | Tridroxy Acid Blend, White Shiitake Mushroom and Niacinamide | Kojic dipalmitate and Tocopheryl acetate |
| | Vitamin B3, vitamin C, White Mulberry Root Extract, Kojic Acid, and more than 10 advanced ingredients | Rice Amino Acids, Urea, Yeast Amino Acids, Taurine, Betaine, Zinc Gluconate, Allantoin and etc | Hyaluronix® - patented hydrator and Polyglutamic Acid | Niacinamide, Glycerine, Sorbitan Olivate and etc |
| | | | | |
| How long it takes to see first results? | | Reduction of Dark Spots in 14 Days | It promise first results after very 1 application, but we won`t b that sure. | You will experience skin tone improvement within 2 weeks |
| | Apply once in the morning and once at night for best results. Do not forget to use SPF 30 or higher | Twice per day, AM and PM on clean skin and don`t forget about moisturizer | Use morning and night. In the morning, follow with sunscreen. | Morning and evening. Can be used on face, neck, hands and decolletage when needed. |
| | | | | |
| | | | | |
| | | Discount for students and 10$ discount for auto-orders every 2 month | 7% OFF for 2 bottles and 13% off for 4 bottles | |
| | | | We couldn`t find oficial information if True Alchemy is vegan | We couldn`t find oficial information if Simple Beauty is vegan |
| | | | | |
| | Free shiping over USA for orders over 100$ | Standard FREE shipping for orders over $50 | Free shipping available after subscription | Free shipping available after ordering package of 4 jars or Free US Shipping for Orders Over $97 |
| | 30 day money back guarantee | 60-day money-back guarantee | 60-day money-back guarantee | 90-day money-back guarantee |
Brightening Kits Review
Meladerm is the first step for brightening your skin and getting rid of dark spots and scars. But if you really want to commit to lightening your complexion, you can venture into Civant's other products: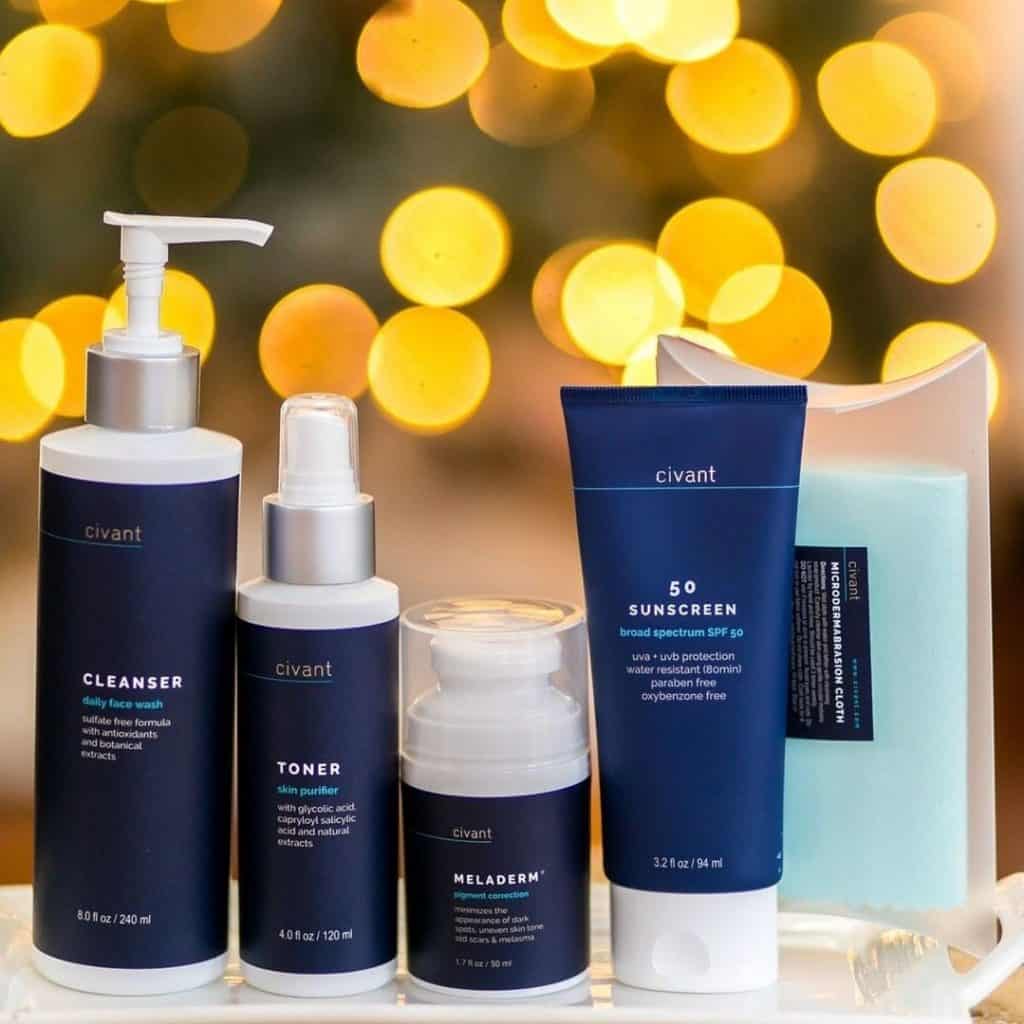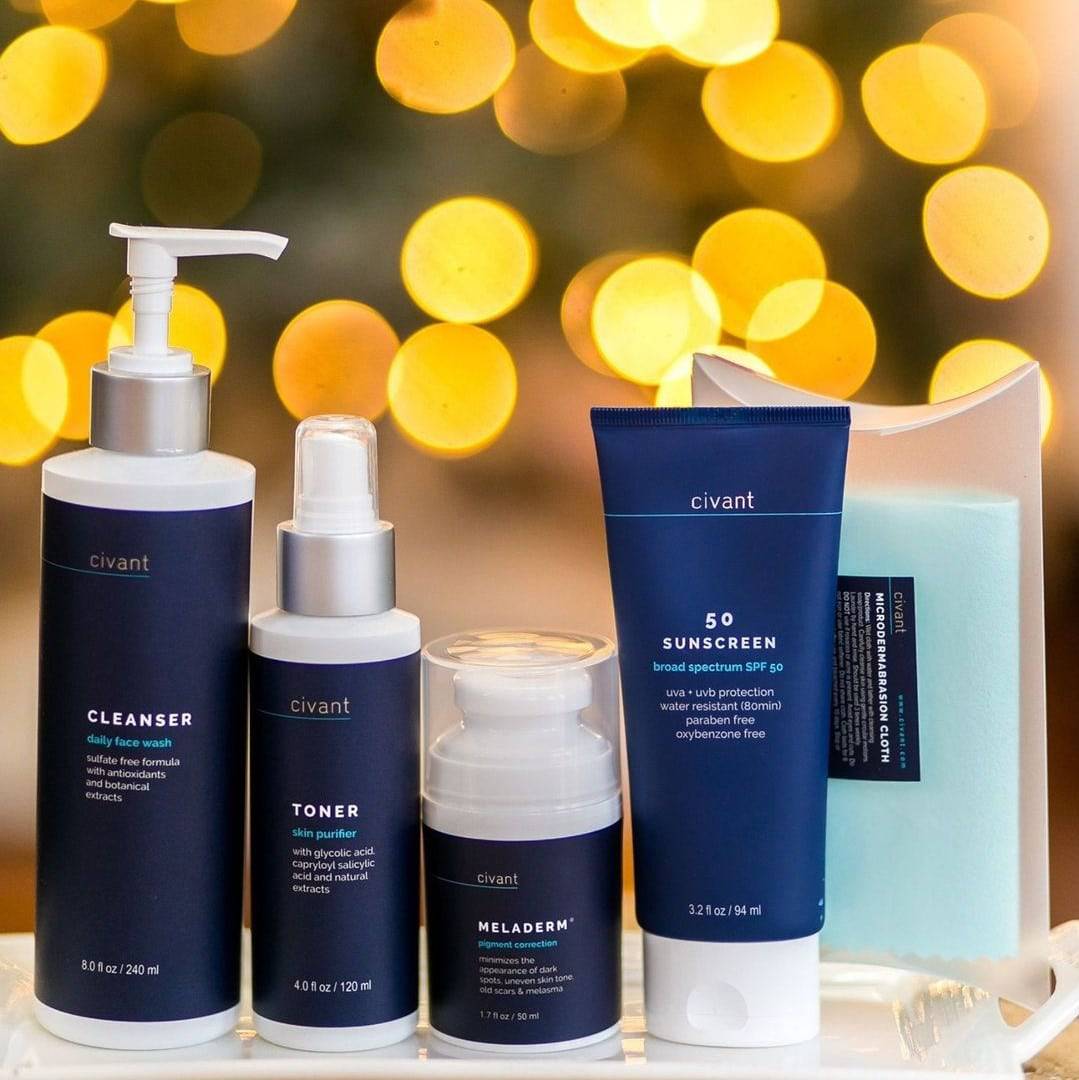 This kit contains every step of a basic skincare routine. There's an antioxidant cleanser, purifying toner, and sunscreen with SPF 50.
Of course, there are two packs of Meladerm included as well. It even comes with a microdermabrasion cloth for exfoliating.
Every product in this line is designed to brighten your skin. Use each step every day, and you'll be flaunting clear, scar-free skin in no time.
If you're just starting out in your skin-lightening journey, this kit is for you.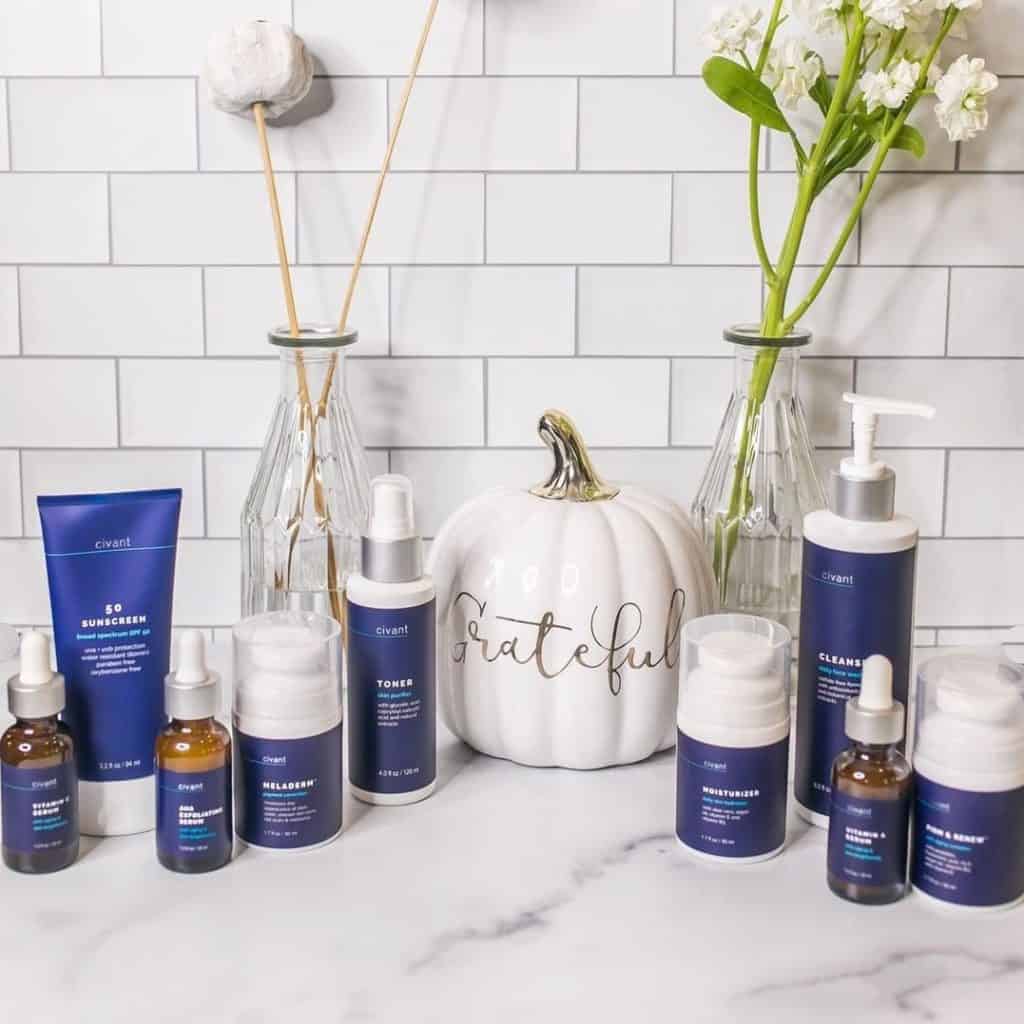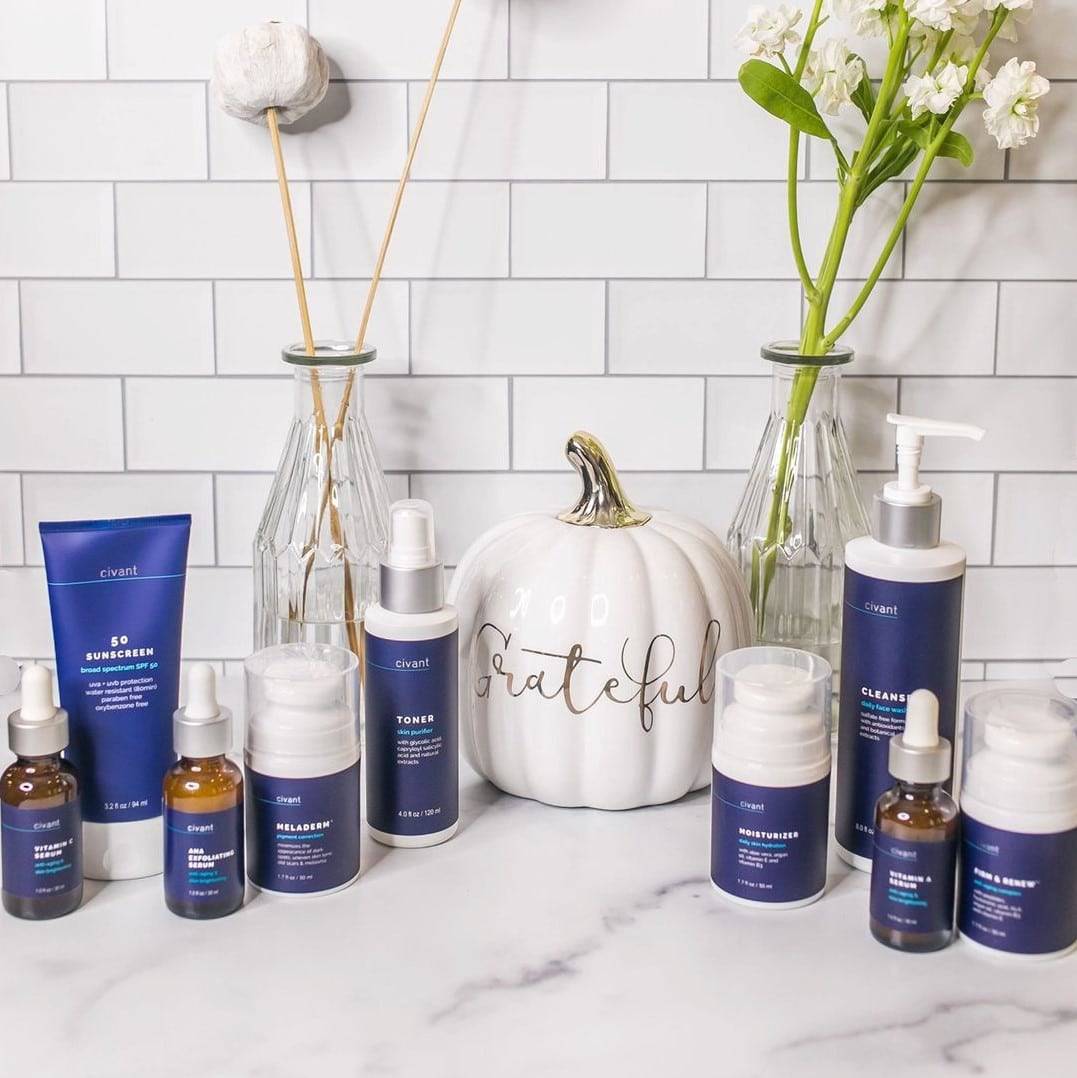 If you're more experienced in using serums and exfoliators, you can opt for this advanced skincare kit. It has everything the starter set has, with the inclusion of three serums.
There's a vitamin A, vitamin C, and AHA exfoliating serums. All these help brighten your skin even more. They're fantastic on resilient skin that can take on more actives in their routine.
This advanced set is perfect for skincare junkies who love their actives and aren't afraid to use them.
What happens when you stop using Meladerm?
For most people, hyperpigmentation is a skin condition that is permanent. Your condition won't go away just because you use a skin-lightening product.
Because of this, you need to maintain your skin-lightening with Meladerm by making it a regular part of your beauty regimen.
Meladerm Reviews
Meladerm has 213 reviews on the official Civant website. The average score comes out to 4.5, which is very high. Almost every customer is extremely happy with their results.
One review from Taylor raves about the product, saying it's one of the only skincare products that have worked for her. Trish, another Meladerm fan, wishes that the product would work faster.

There are also many good reviews about Meladerm on social media, mainly on YouTube and Reddit.
Content creator Mary Bell did a three-month review of her Meladerm experience. She's happy to report that it cleared up her melasma and acne.
Meanwhile, on Reddit, users often talk about how Meladerm is a must for reducing scars left behind by acne.

Meladerm FAQ
1. Is Civant cruelty-free?
Yes! Civant is a proud member of PETA's Beauty without Bunnies program. That means all of their products, including Meladerm, are vegan and cruelty-free.
2. Can you buy Meladerm in stores?
Unfortunately, Meladerm isn't available in-store for now. You can purchase Meladerm and other Civant products on their website. It's also available in select clinics and spas.
3. What is Civant's Return Policy?
If you're worried about spending so much money on something that you won't even like, don't worry.
Civant offers a 30-day money-back guarantee for all new customers. This is applicable to all first-time purchases. So if Meladerm doesn't work for you, you can always get your hard-earned money back.
4. Can i use meladerm with vitamin c serum?
We recommend that you do not use this product with a vitamin C serum because it will cause irritation or adverse effects to the skin.
Please Note: Make sure your face is clean before applying Meladerm in order for best results! You can't apply any kind of makeup on first, so after cleansing and washing off all traces of soap from your skin, then wait until morning before using anything else like moisturizer. This cream should be applied once every day after being cleansed and refreshed if used as an evening cream; otherwise twice per week at night (or other nights).
5. Can you use Meladerm with retinol??
We recommend that you do not use this product with retinol because it will cause irritation or adverse effects to the skin.
6. Can i use Meladerm with retin A?
Yes, you can use Meladerm with retin-A! The two work well together for evening out skin tone and reducing dark spots. Just be careful not to apply both at the same time because they will cancel each other out.
7. Can Meladerm be used with other products?
You can use Meladerm with retin A, but you need to be careful not to apply both at the same time because they will cancel each other out.

It is also recommended that you do not mix this product with a vitamin C serum or any other type of moisturizer such as lotion, sunscreen or make up for best results!

If you have skin that tends to react poorly with certain products due to its active ingredients, then this formula is not recommended for use. This can be true if you are prone to rosacea or acne breakouts, which will cause Meladerm's active ingredients such as alpha arbutin and kojic acid found in the cream – to worsen your symptoms or make them worse altogether.
8. Can i use Meladerm while pregnant?
We do not recommend using any skin lightening products during pregnancy. If you are pregnant, please consult with your doctor or a dermatologist before continuing use of Meladerm to ensure that it is safe for the fetus and mother.
9. Can i use Meladerm long term?
Yes, this can be used long-term. However, if you are using more than the recommended amount of Meladerm or applying it to sensitive areas such as your eye area then you could cause adverse effects and need medical attention.
10. Can Meladerm make melasma worse?
The Meladerm cream is not a bleaching agent and it cannot cause melasma to worsen. However, we recommend that you consult with a dermatologist to ensure the Meladerm cream is safe for your skin condition.
11. Can Meladerm be used all over the body?
No, this product should only be applied to the face. If you use it in other areas of your body then we recommend immediately washing off and seeing a doctor because there may have been an adverse effect that can cause irritation or redness on those sensitive areas.
12. Can Meladerm be used on intimate areas?
No, this product should not be used on intimate areas. If you use it in these sensitive areas then please wash off immediately and see a doctor to determine if there are any adverse effects that require medical attention.
What Else Should You Do for Your Skin?
Brightening your skin doesn't stop at using Meladerm. There are other things you need to do in conjunction with this cream to promote fairer, clearer skin.
For example, you should always moisturize your skin. This keeps your protective skin barrier healthy and intact.
Make sure you don't mix Meladerm with other products. It's already strong because of its potent ingredients, exfoliators, and extracts.
The most important thing to remember is to wear SPF after Meladerm during the day.
The actives in the formula will make your skin more sensitive to the sun. So, you must protect it with a good sunscreen.
Should you buy Meladerm?
If you've struggled for far too long with acne scars, age spots, melasma, and other pigmentation issues, you should try Meladerm. It's one of the most popular skin-lightening products because of its efficacy.
Civant is a respectable beauty brand that's been in the industry for 20 years, so they're very trustworthy. Plus, it's all-natural and hydroquinone-free, so you know it's good for the skin.
So many people rave about Meladerm. And judging by their before-and-after shots, it works wonders on uneven skin. It's definitely worth a try if you want brighter, blemish-free skin.